Queenstown a famous city of adrenaline and outdoor activities as well as mountains, and beautiful nature. It's often called the adventure capital of the world. If you are seeking inspiration for the best things to do in Queenstown, New Zealand, this is the right place. There are tons of opportunities for hikes with amazing views, adrenaline activities, and other Queenstown attractions.
The following activities are divided into various categories for better orientation. We have also prepared practical tips on accommodation and parking in the Queenstown area:
Best Adrenaline Things to do in Queenstown
There are plenty of activities, tours, and deals for adventure seekers. Let's have a look at the best outdoor and adrenaline things to do in Queenstown. Just mind the fact that New Zealand is not a cheap country.
1) Jet Boats
Queenstown's most famous attractions include jet boats – special boats invented in New Zealand, which can ride on extremely shallow waters. How to choose the best jet boat company in Queenstown? It depends mainly on your expectations. There is a little overview:
The most famous but most expensive is the Shotover Jet. This company is based in Arthurs Point. Their boats ride through the narrow Shotover Canyon. The ride itself takes only 25 minutes and is more expensive than a competitor's 60 minutes ride, but you experience the wild ride in a narrow canyon.
Similar to Shotover is Skippers Canyon Jet. Higher price, remote location, the jet boat ride takes 30 minutes but they have great references. Skippers Canyon is beautiful and there is a guided bus tour included.
There are 2 companies leaving directly from the Queenstown's Main Town Pier. KJet and GoOrange. We tried them both. Our favorite ride was with KJet jet boats. They have slightly smaller and faster boats so drivers can do wilder things. They do 60 minutes rides which take you to the very shallow Shotover river, Kawarau River and Lake Wakatipu. Expect a lot of 360° spins. The driver comments the ride and makes photo stops.
We can also recommend the jet boat and rafting combo by Go Orange. It's an ideal option if want to experience both activities or if you don't have much time to try them separately.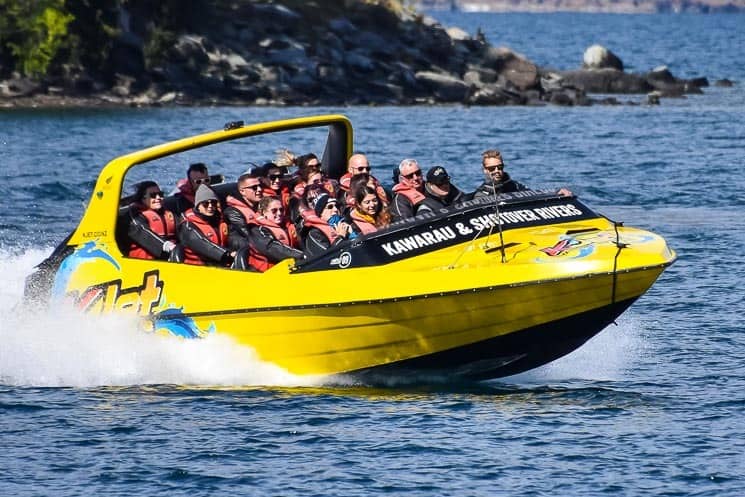 2) Rafting
Rafting is definitely one of the best adrenaline things to do in Queenstown. You can choose from 2 rivers: Kawarau and Shotover. Both take you through a beautiful canyon. The Kawarau River is quite calm with few rapids, Shotover Rivier is a bit wilder.
You can do the Kawarau River as a jet boat combo, or just choose rafting at Shotover River itself. You will also find offers combined with helicopter flights.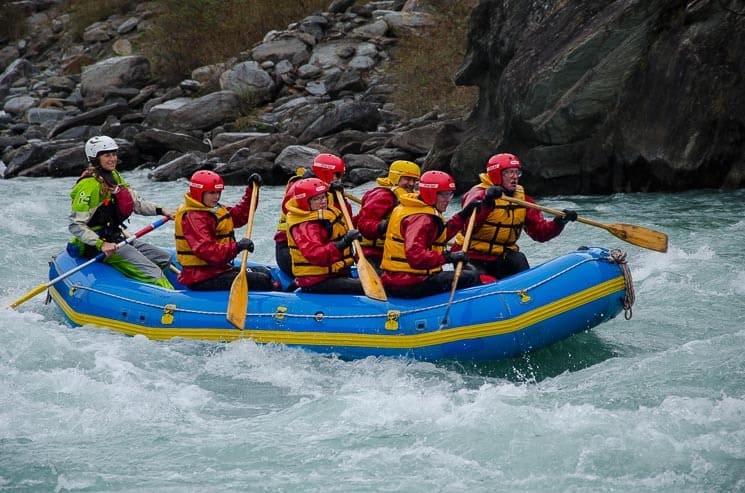 3) Skydiving
Skydiving is an awesome experience anywhere you are, however, Skydiving in Queenstown offers amazing views of lakes and mountains. You can also choose a variety of jumping options. For those who are not yet convinced to jump off the plane, there is an iFLY wind tunnel, so everyone can try weightlessness.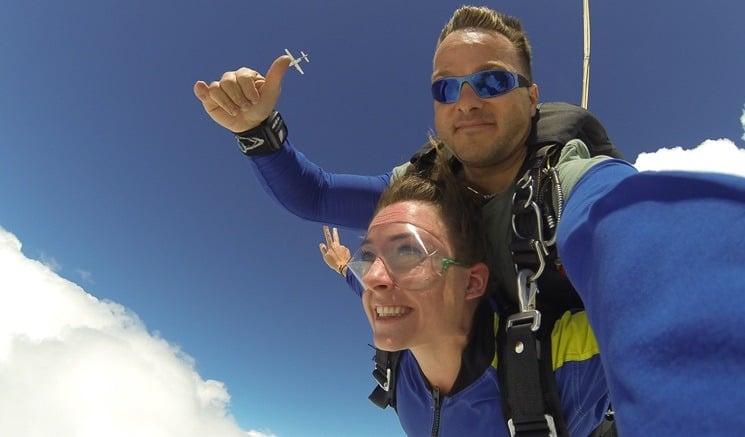 4) Paragliding and Tandem Hang Gliding
Since the very first day, I was surprised by a sky full of paragliders. Well, no wonder! Where else one can fly with better views. Again, there are several operators, who offer classic tandem jumps, aerobatic flights, paragliding or even hang gliding.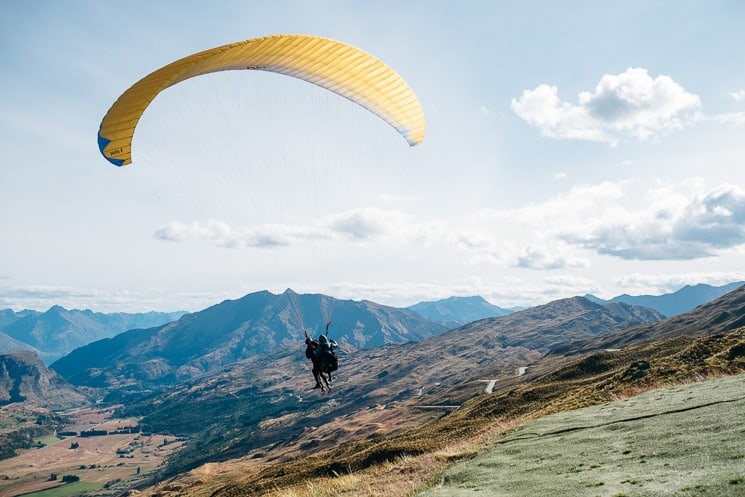 5) Bungy jumping
New Zealand is the first place where bungy jumping was popularized and commercialized. There is also the famous Kawarau Bridge – the world's first commercial bungy jumping site. It's definitely one of the best things to do in Queenstown
Kawarau Bridge – Beautiful old suspension bridge over the charming canyon of the Kawarau River. It's 43 meters high above the river but the jump doesn't look that scary because of deep blue water.
Nevis Bungy Jump – Nevis is a next-level jump: it's 134 meters high jump! That's something for fearless adrenaline seekers. There is also the biggest swing in New Zealand, with a 300-meter arc, 160 meters above the river and speed up to 120 kph.
Check out also other bungy jumping options in Queenstown.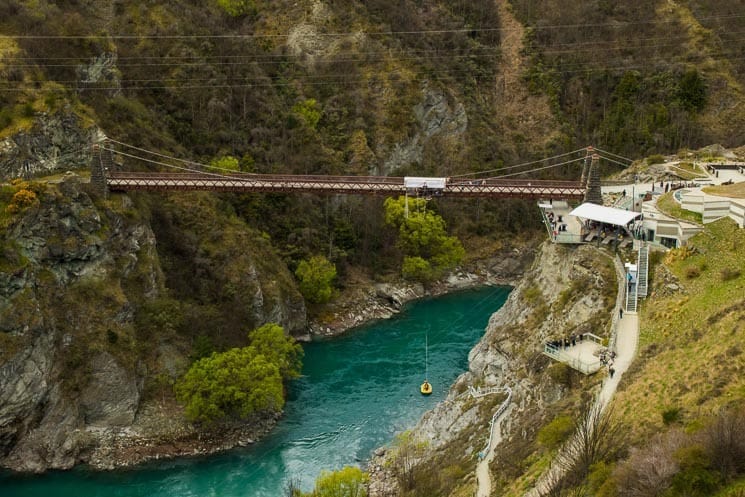 6) Zipline
Ziplining definitely belongs among adventure things to do in Queenstown. You can take a zipline ride with great views at Ziptrek Ecotours. This zipline park is located on a slope at the Skyline Gondola. They offer several options and "combo packages" with other activities.
There is another one, shorter zipline, located at Kawarau Bridge as well.
7) Hydro Attack
Sometimes, it's unbelievable what people invent. The first time we saw this "water machine", it reminded us of James Bond's secret mission scenes. So-called. Hydro Attack is basically a semi-submersible machine shark in which you can ride the waters of Lake Wakatipu. Once you are at Main Town Port, look around the lake if you see something strange like this.
8) Luge
The Queenstown Skyline Gondola offers not only a beautiful view at its summit but also a Skyline Luge track. These Luge carts take you through over 800 meters of banked corners, tunnel, and dippers. We have personally tried Luges in Rotorua, it's not a big adrenaline activity, but it's fun!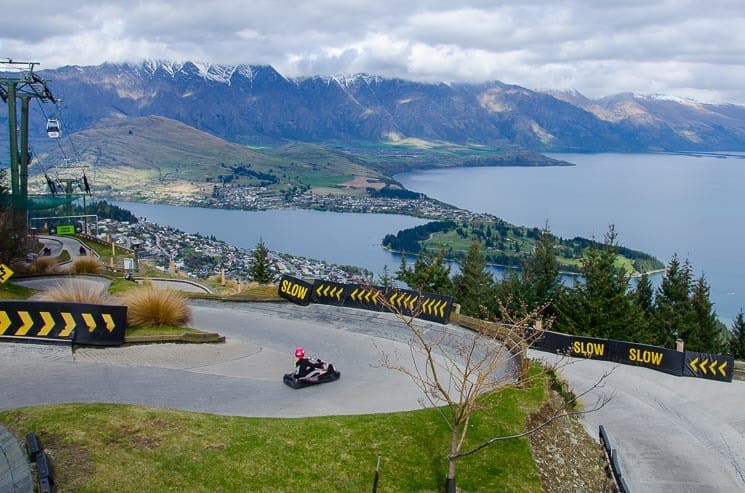 9) Bike Park Queenstown
There is also a large bike park with more than 30 trails of various difficulty levels at the Skyline Gondola. Classic and downhill bikes can be rented at Vertigo Bikes.
10) Ski resorts
Queenstown is also known for its ski resorts: Remarkables and Coronet Peak. They are decent but you can't compare them with ski resorts in European Alps. New Zealand's ski resorts are known mainly because they are one of the few ski centers in the southern hemisphere.
Things to do in Queenstown: Short trips and hikes
Queenstown area offers a wide range of shorter and longer trips around its hills and valleys. Let's start from shorter ones that lead right from town and continue with longer and more distant trips and hikes:
11) Queenstown Gardens and Wharf
A short but nice walk leads directly from the center of Queenstown. Take a nice walk from the harbor to Queenstown gardens. It's just nice to watch the hustle and bustle on the beach and around the pubs on the pier, especially in the evening. During the day, there are local artists with their paintings, creations, and souvenirs. Gardens are very beautiful, especially during the spring when everything is blooming. Discgolf lovers will find there a very nice disc-golf field.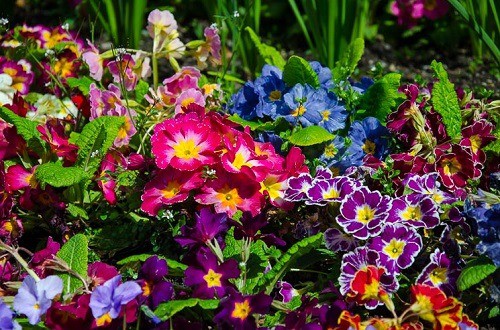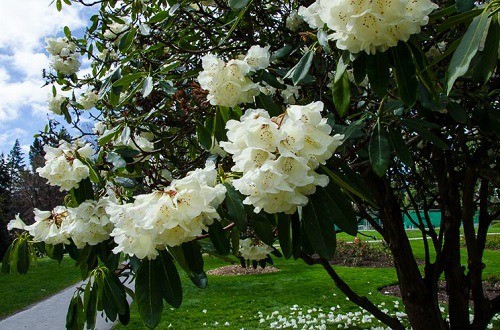 12) Queenstown Hill Viewpoint
The hike to the Queenstown Hill is one of the shorter ones, offering views of Lake Wakatipu and the town. The trail leads mostly through the forest, later up it opens up with nice views. You can park your car on Belfast Terrace at the beginning of the trek.
Duration: 2 – 2.5 h (5 km) from Belfast Terrace car park to Queenstown Hill Viewpoint and back.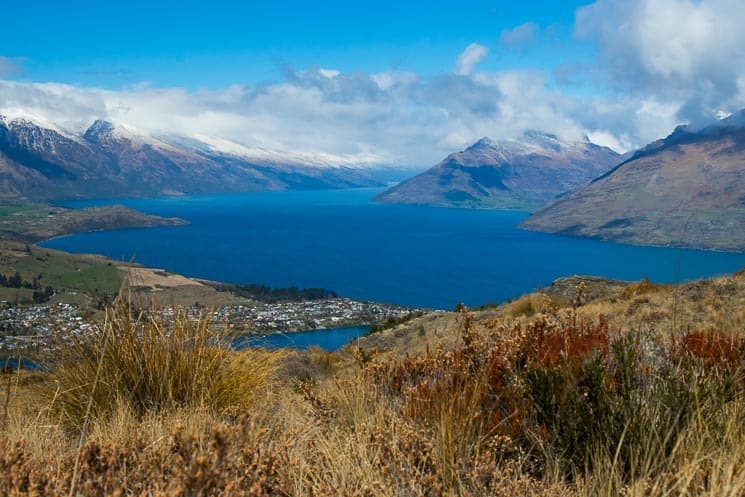 13) Tiki Trail
Probably the most famous viewpoint of Queenstown is at the top of Skyline Gondola station. The Tiki Trail (which starts to the left of the Gondola station), will lead you there. It crosses the bike routes and ziplines on the way up. The view from above is well worth it! The trail takes about 1,5 hours on the way up; it's a little bit faster on the way down. If you don't have much time, you can use the cable car (but it is quite pricey).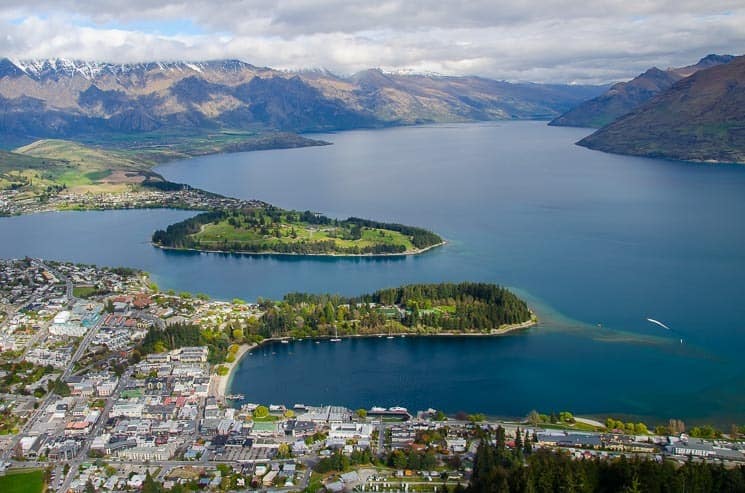 14) Moke Lake
Moke Lake is one of the other beautiful lakes near Queenstown. It' only a 15 minutes' drive from the downtown area. Moke Lake has a very interesting shape. There is a 6km long trail around the lake, as well as DOC campsite.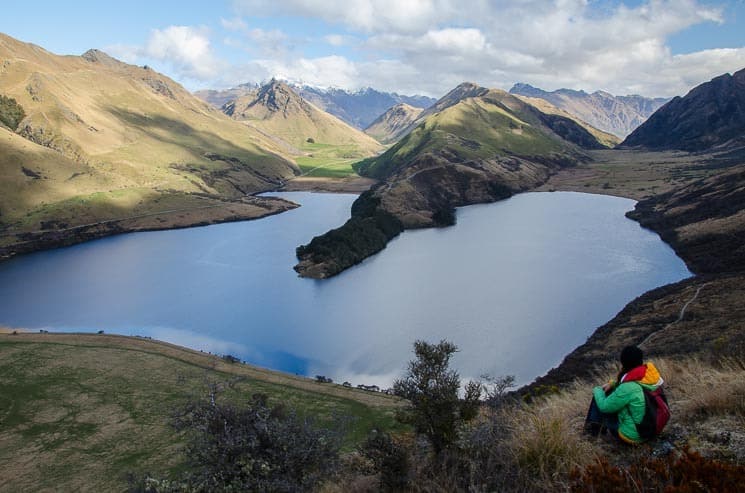 15) Bobs Cove Track
If you have enough time, you can take a short trip along the lake leading to the lookout over Lake Wakatipu. There is also a nice tiny wooden jetty at the Bobs Cove trek.
Required time: approximately 50 minutes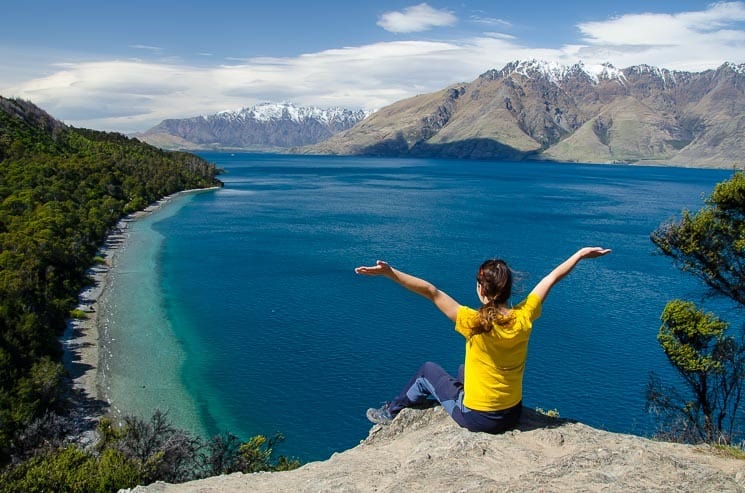 Best things to do in Queenstown: Longer hikes
Important notice for advanced and multi-day hikes – before heading off to the mountain terrain, higher altitudes, and advanced hikes, visit the DOC (Department of Conservation). They have up-to-date information on all the trails in the area. Keep in mind that during the winter and early spring, most of the treks are only accessible with proper equipment (such as crampons, ice axes, avalanche equipment), and previous winter hiking experience is also required.
16) Routeburn Track: One-day hike to Harris Lake and Conical Hill
In case you don't have time to do the whole Great Walk or if all huts are sold out, you can still do at least part of the famous Routeburn Track. The part of it from Routeburn Falls to Lake Harris and Conical Hill is one of the nicest parts of the whole track.
Required time: 1 day
Distances: 11 km to Lake Harris or 13,5 km to Conical Hill. That's 22 km to Lake Harris and back (respectively 27 km to Conical Hill and back).
Distance from Queenstown to the trailhead: 70 km; over 1-hour drive (with spectacular views).
For the complete hike, read this Routeburn Track hiking guide.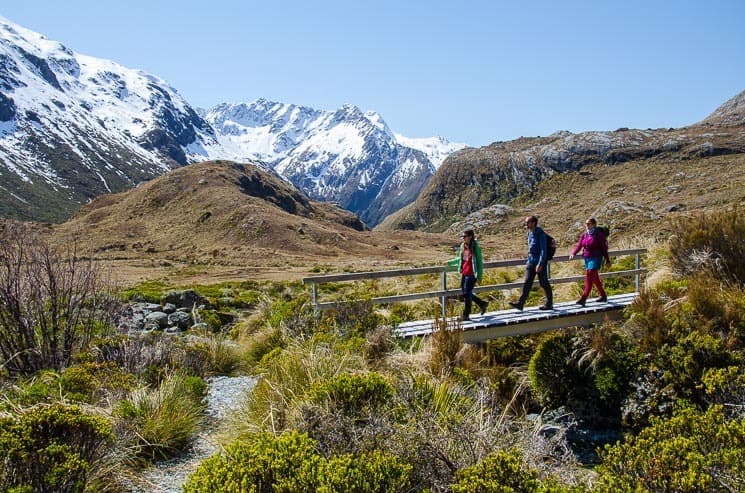 17) Ben Lomond
The trail up to Ben Lomond belongs to one of the most beautiful day hikes in Queenstown. There is usually snow at the top in winter so it's necessary to bring the appropriate equipment. That's why it's mostly a summer hike. From the top, there is a 360° view of Queenstown, mountains and Lake Wakatipu. You can start the trek straight from the town or use a Gondola as a shortcut.
Distance and elevation: 6.5 km one way; 3 hours to the saddle, around 6 hours to the top; elevation gain: 1438 m
For current trail information, visit DOC websites.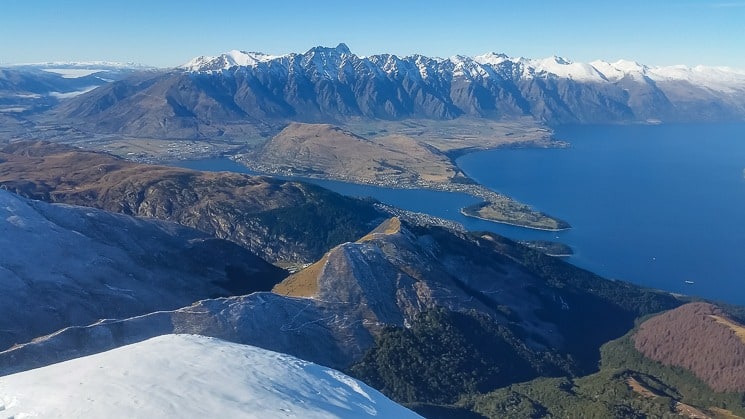 Things to do in Queenstown: Best viewpoints
18) The Remarkables Lookout Point
Personally, our most favorite viewpoint is located halfway up to the ski resort Remarkables. This viewpoint is named in the maps as "The Remarkables Lookout Point" and can be found at an altitude of approximately 900 m. You can find there a nice bench and just enjoy the view. There is also enough space to park your car.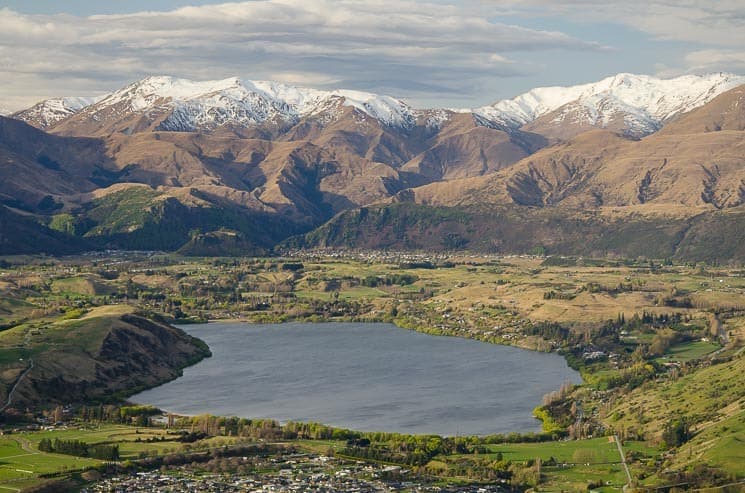 19) Top of the Queenstown Skyline Gondola
Probably the most famous view of Queenstown can be found at the top of the Skyline Gondola. You can go up by cable car or walk there by already mentioned Tiki Trail.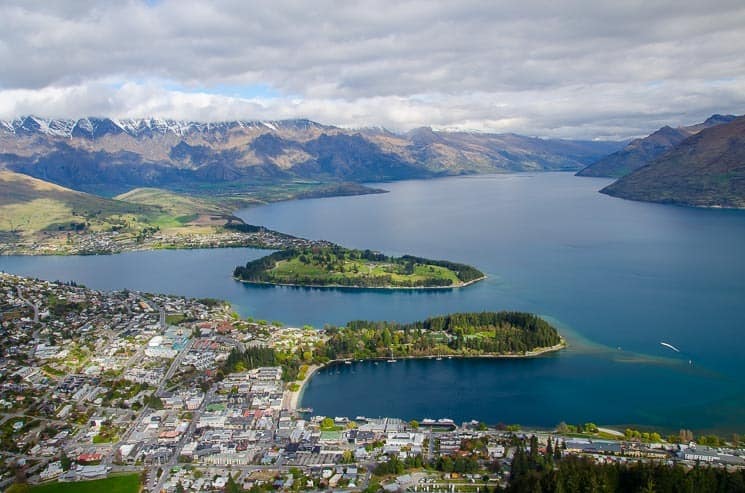 20) One Mile Car Park – view of The Remarkables
Do a short stop at the One Mile Carpark near the town center. On your left side, you will see the Queenstown harbor and in front of you the famous Remarkables with the ski resort on the top.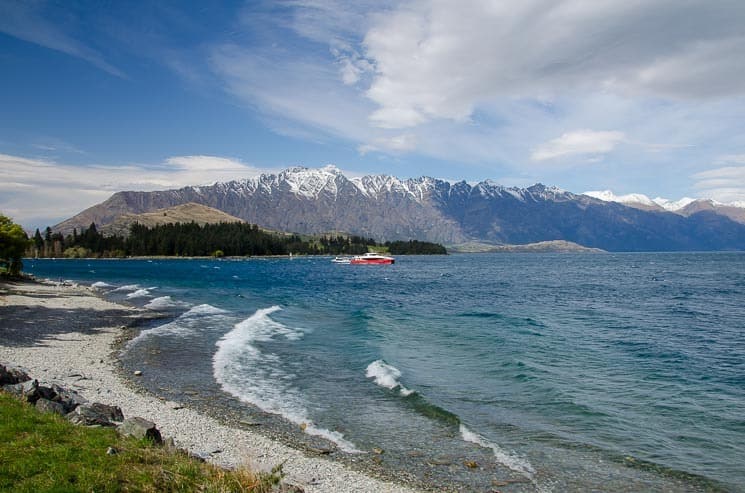 21) Bennets Bluff Lookout – view of Glenorchy
This viewpoint is quite small, only a few cars can stop here. It's basically a pull out along the way to Glenorchy and it's quite easy to miss. Seeing the late afternoon light over there is simply awesome!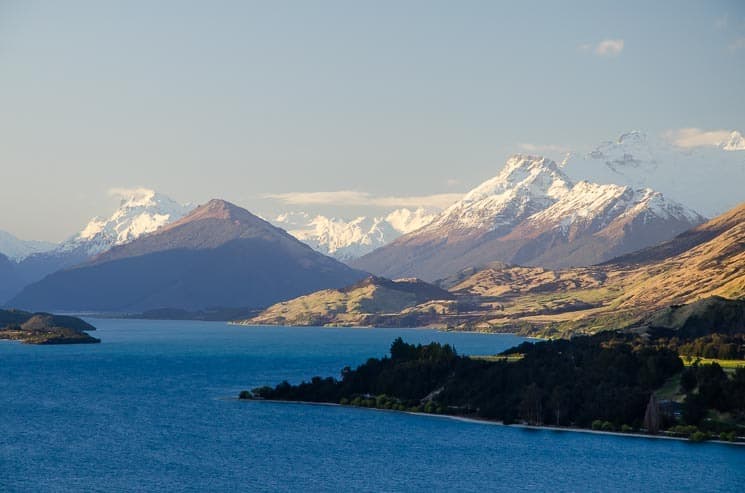 22) Glenorchy
The very north of Lake Wakatipu conceals a small picturesque village named Glenorchy. If the weather is nice, it's definitely worth the ride. The views of Lake Wakatipu and the surrounding mountain peaks are breathtaking!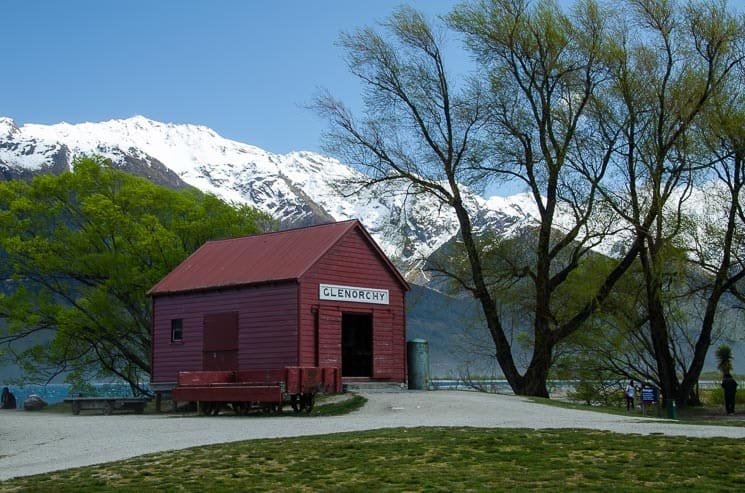 Best things to do nearby Queenstown
Whether you decide to go for a bus trip from Queenstown or take your own car to Te Anau and Milford Sound, be ready for stunning views of lakes and beautiful valley of Fiordland National Park.
23) Milford Sound
Milford Sound is the only fjord in Fiordland National Park accessible by road. The journey from Te Anau itself is an awesome experience! The valley that leads to Milford Sound is magical. Once you are there, don't miss the Milford Sound Cruise through the fjord, where you can see hundreds of waterfalls, mountain views, seals, and possibly dolphins and penguins (if they show up).
We can highly recommend Go Orange Milford Cruise – they offer one of the longest cruises for the same price as competitors (= 2 hours, instead of 1.5 hours). They also have boats for fewer people and a great viewing deck!
Parking directly at Milford Sound Harbor is quite expensive but you can use the more distant free parking, which is located at the beginning of the Deepwater Basin Road. From there, it's about 15-20 minutes by walk (but the views are definitely well worth walking).
Another option is Doubtful Sound. If you don't know, which to choose. Check this guide to Milford Sound vs Doubtful Sound.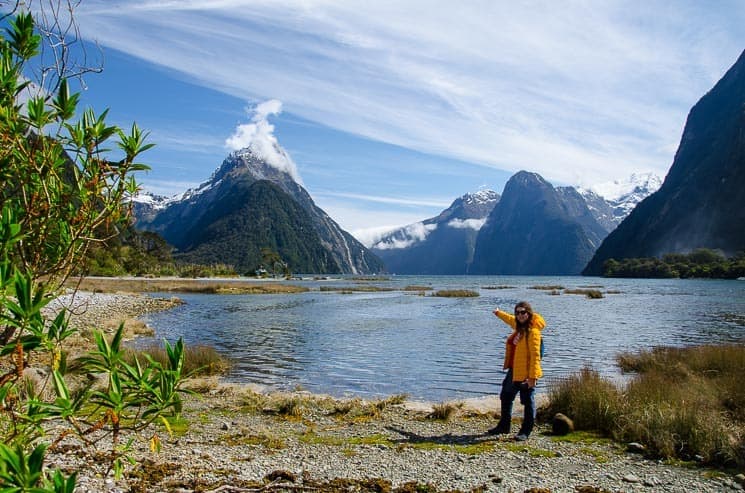 24) Doubtful Sound
Another popular fjord for cruising is Doubtful Sound. It's a little bit more complicated to get there. Most cruises start from Te Anau or Lake Manapouri and are combined with a bus. Doubtful Sound is the deepest of all the fjords; it's wider than Milford Sound and doesn't have that many dramatic mountains as Milford Sound.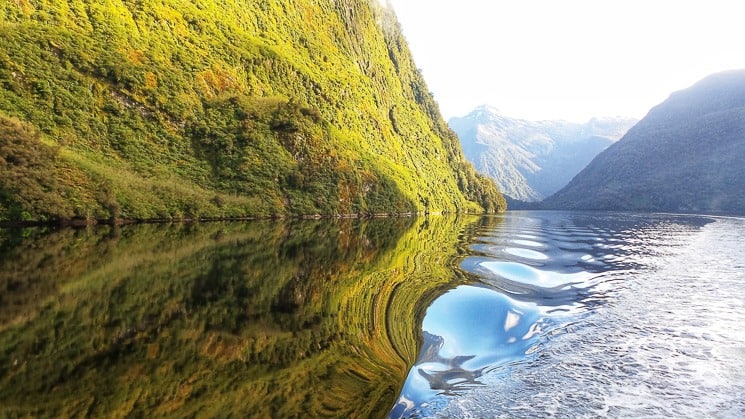 Best food and drinks
25) Fergburger
If you are a fan of burger, you shouldn't miss the renowned burger restaurant Fergburger. You will surely find it, there is always a lot of people around. They offer a range of burgers from classic burgers to various specialties. Burgers from this restaurant are often considered the best burgers in New Zealand!
If you are a wine lover – you can taste 80 different wines in Queenstown Winery, or better, join one of the 10 best wine tours in Queenstown.
Best Accommodation in Queenstown
Take into consideration that accommodation for the season is usually booked long in advance by visitors. If you have a fixed itinerary for your trip, be sure to book your accommodation in advance. Do it now, if you can. Last-minute accommodation can be unpleasantly pricey.
Best hostels
Following hostels have excellent guest reviews, wifi, and also a great location in Queenstown downtown:
Good value accommodation
Nearby Queenstown: Mountain View Lodge
Freedom Camps
Queenstown is not the friendliest place toward freedom camping. Many campsites have been closed. To see the current situation check the CamperMate app. The closest Freedom Camp is at Karawau Bridge, which is 23 km away from the city center but there are no facilities – no toilets or water. Be aware that freedom camping outside the designated area is prohibited in whole Queenstown. It's strictly controlled and you can be easily fined – $200 a ticket.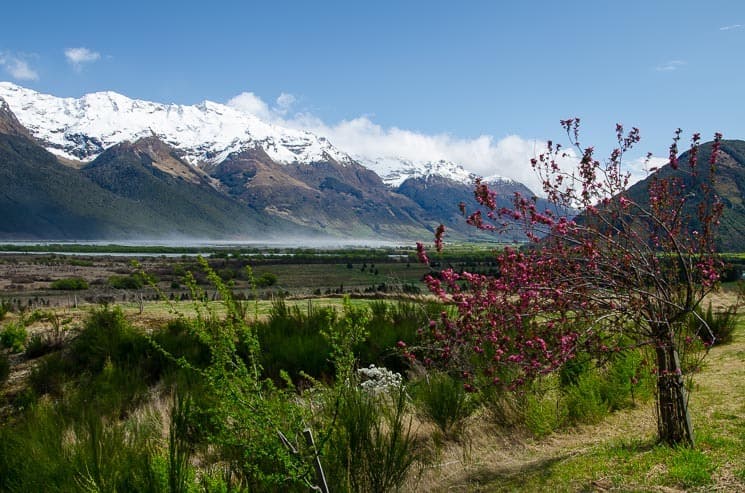 Parking in town
Queenstown is quite a small town that is visited by thousands of tourists, which makes parking more difficult. There are not so many free parking options and it's very hard to find a free space. The standard rate for paid parking spaces is around $4 per hour. If you are staying in a hotel with a car park, it's best to leave your car there.
Free time-limited parking
You will come across signs like "P 90". This means that you can park in destined areas for 90 minutes for free. Do not exceed the limit, they are really strict about it.
Where to Find Free Parking in Queenstown:
Parking along Park Street
Parking at Queenstown Gardens (4 hours max.)
Parking along part of Gorge Road
Henry Street car park (2 hours max.)
Parking at Brecon Street (4 hours max.)
For more information, visit the city websites.
Map of the best things to do in Queenstown
We have prepared a detailed map of all the best things to do in Queenstown to help you plan your trip out. Points of interest are divided by categories. Each category has a different color for easy orientation. The map can be exported and uploaded to the mobile map app like Maps.me or Locus maps.
New Zealand inspiration:
Few more tips on things to do in New Zealand:
Check out a nice video about activities in Queenstown:
More tips for your travels:
We have prepared for you this comprehensive list of links, discounts, and resources for travel planning in one place. Bookmark this page and whenever you plan a vacation in the future, just open it and save yourself a lot of time.
1) Where to book accommodation?
2) How to find cheap flights?
3) How to rent a car?
We recommend a comparison portal RentalCars.com to compare the best offers of all available rental companies.
Pin things to do in Queenstown for later or for your friends: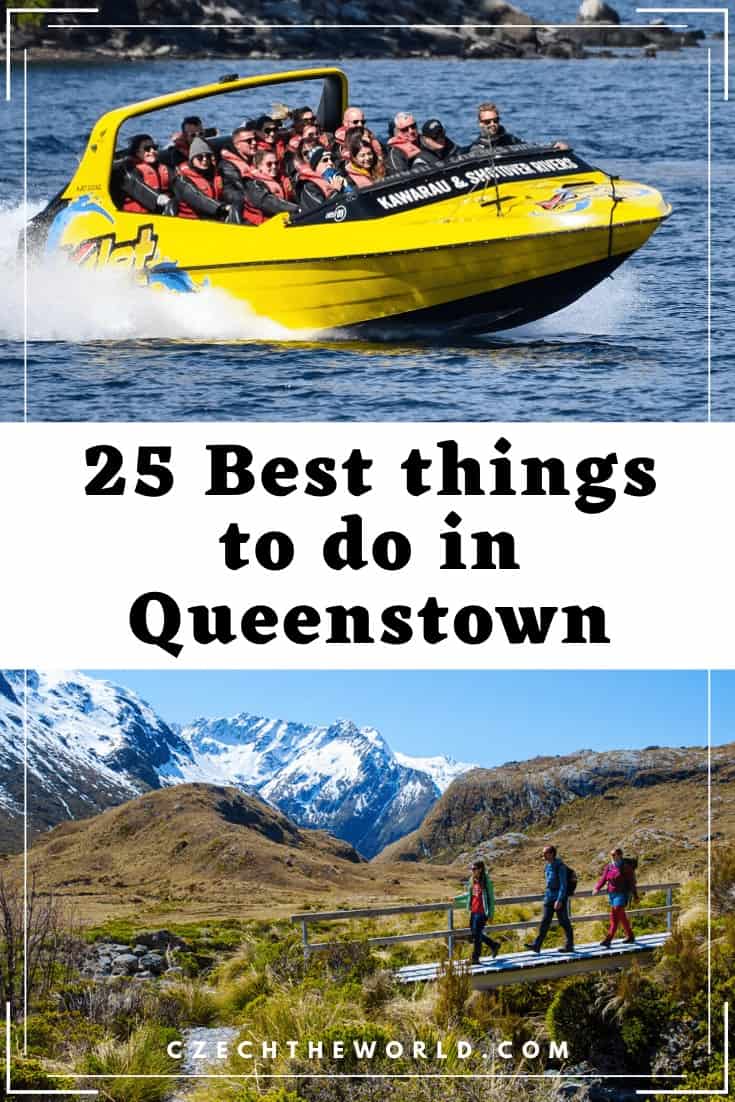 FAQ – Best things to do in Queenstown, New Zealand
Did this post about things to do in Queenstown help you? Share it with your friends! It can help them too!
Disclosure: Please note that some of the links above may be affiliate links, and at no additional cost to you, we earn a commission if you make a purchase. We recommend only products and companies we personally use and we use this income for further improvement of this website. Thank you!