Antarctica. The seventh, icy continent has experiences for you that you won't find anywhere else. Colonies of penguins, pods of whales, seals lounging on floating icebergs, and the most beautiful winter wonderland you can imagine. Visiting Antarctica is an experience that is difficult to describe with words or photos, as it is better and more intense than you could ever expect.
This article is covering all the practical aspects you would like to know before you book your trip of a lifetime to magical Antarctica.
Why Antarctica?
What draws people to Antarctica? The desire to witness and immerse oneself in:
Icy landscapes, majestic glaciers, and stunning vistas
Numerous seal species
Diverse penguin species
Various whale species
An unparalleled adventure
The allure of the seventh continent.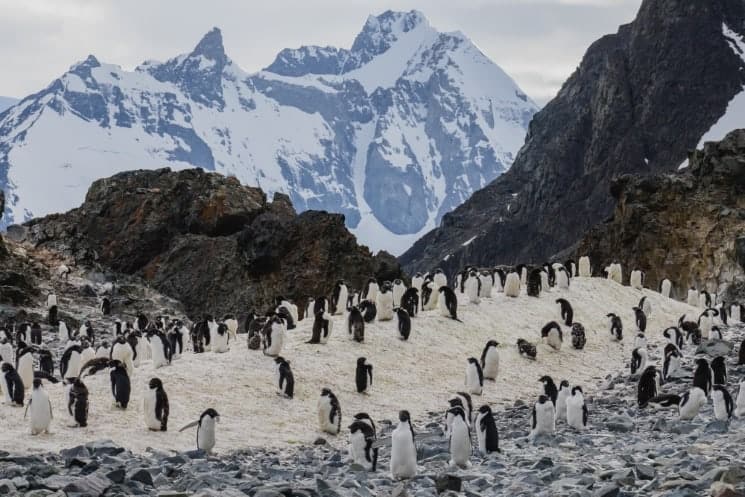 Big vs. smaller ship
Several companies operate ships to Antarctica. There are both larger and smaller ships, and the main differences between them are:
Larger ships
Larger ships accommodate more passengers (up to 500) and are similar to classic cruise ships – you will find plenty of entertainment options on board such as pools, wellness centers, game rooms, bars, etc. However, these ships only sail around Antarctica and do not allow you to disembark on land. On the other hand, they can be cheaper than ships with fewer passengers, and a larger ship will also be somewhat more stable on the wild waves of the Drake Passage.
Why choose a smaller ship?
A voyage on a smaller ship allows you to explore the land in small boats and get much closer to animals such as seals and penguins. Another advantage is the number of passengers – with fewer people on board, it is much easier to get to know each other, and at the end of the trip, you will be in one big group where you will meet travelers and new friends from all over the world. But the main advantage is the opportunity to explore the land, as it is from these small boats that we have the most beautiful experiences of cutting through the water with penguins and seals.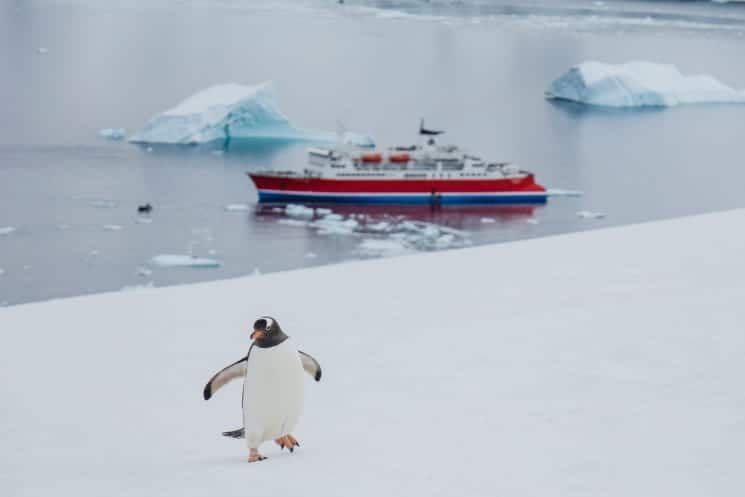 Type and length of the voyage
Although each company offers something slightly different, it can be said that you can choose from three types of trips:
1) Antarctica Classic
The most common format offered by companies is Antarctica Classic. This is a 9-10 day trip that explores the northern part of the Antarctic Peninsula. In this format, you will have about 3-4 days in Antarctica when you can disembark and explore the continent (if you choose a trip that includes landing).
2) Antarctic Circle Crossing
Another format is Antarctic Circle Crossing. In this case, as the name suggests, you will go beyond the polar circle. This area is much less frequented. At the same time, this type of trip is longer – usually 12 days. This will allow you to spend about 7 days in Antarctica, where you will have plenty of trips to the continent, penguin sightings, and whale watching. You will visit places that shorter trips do not have time to see.
We can definitely recommend this format. It may happen that one or two days the sea is so rough that it will not be possible to sail with small boats and land on the continent. With a shorter trip, you may only have one beautiful day left to explore the continent, which would be sad.
3) South Georgia & Antarctica
The longest and most expensive format is the expedition to Antarctica combined with a visit to South Georgia. South Georgia is the kingdom of king penguins – there are about one million of them living there. Trips here last about 22 days and are twice as expensive as the previous formats.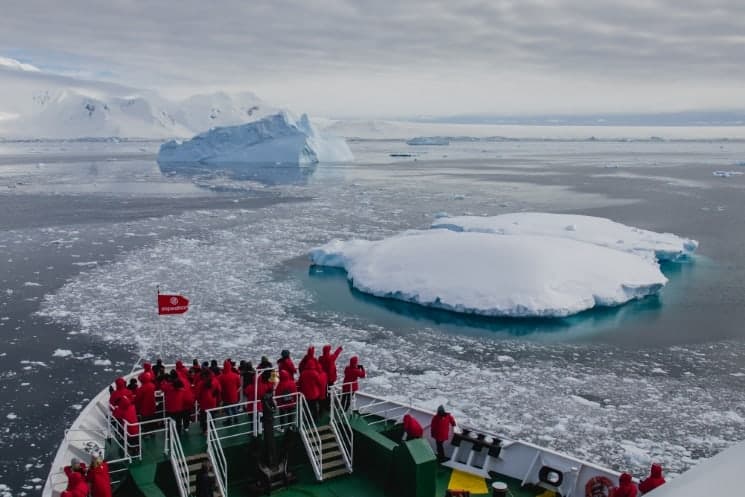 Cruise companies organizing expeditions to Antarctica
G Adventures
Quark Expeditions
Hurtigruten
National Geographic Expeditions
Abercrombie & Kent
Lindblad Expeditions
Silversea Expeditions
Polar Latitudes
One Ocean Expeditions
Oceanwide Expeditions
Chimu Adventures
Intrepid Travel
PolarQuest
Peregrine Adventures
AdventureSmith Explorations
Aurora Expeditions
Cruise Antarctica
White Desert
Exodus Travels
Albatros Expeditions
If you're feeling overwhelmed by options, contact a polar specialist Carly Heyward to help you navigate your options.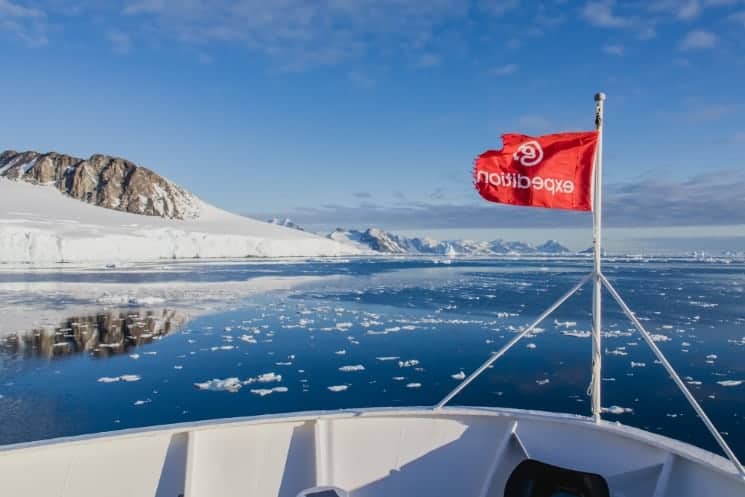 How to find a last-minute deal to Antarctica?
We have heard that if you go directly to the town of Ushuaia and ask around, you have a chance of finding a nice last-minute deal. However, times have changed and it is no longer necessary to go there for last-minute deals but rather to know which websites to look at. How last minute is this "last minute"? It is within a range of approximately 2-4 weeks in advance, so you can still get such a last-minute deal from your home destination and still have enough time to get flights to Ushuaia.
Where to look when searching for last-minute deals?
How can you save some money?
Apart from looking for last-minute deals, you can save a lot of money by sharing cabins. The cheapest cabins are for 4 passengers. It is important to know that cabins are gender-segregated. If you want to travel as a couple or a group, keep this fact in mind.
In my opinion, shared accommodation was great because you can meet other amazing travelers from all over the world and make new friends there.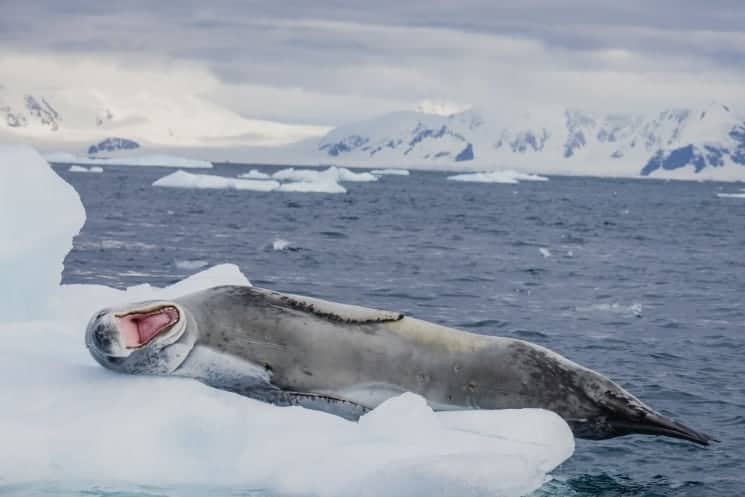 Will you get seasick?
If you foolishly (like me) think that you don't get seasick, believe me, you can feel sick in the Drake Passage. Waves in the Drake Passage can reach a height of 2-3 meters to 10-12 meters. Therefore, it's not a bad idea to take motion sickness pills preventively – at least for the crossing to Antarctica (then you can stop taking them again). Dramamine is a popular brand. You can buy similar pills (but with the same active substance as Dramamine) at a pharmacy in Ushuaia. It's necessary to start taking pills about 40 minutes prior the departure. If you take them after you start feeling seasick, they won't work.
Be Drake ready
The Drake Passage is one of the wildest passages in all the world's seas. As people say, you can experience anything from "Drake Lake" to "Drake Shake". You may be lucky and sail smoothly like in the Mediterranean Sea, or you may experience winds like we did (70 knots – 130 km/h) with waves reaching 12 meters. In those cases, the books fly off shelves, dishes rattle in the kitchen, and you can try to survive this madness lying down. I don't want to scare you, just prepare you for what the voyage can potentially be like. The forecast we had for the Drake passage was about half (wind and waves) of what we got.
But don't worry because one thing is certain, if it were too dangerous, the captain simply wouldn't take the ship there.
When is the best time to go to Antarctica?
It cannot be unequivocally said when is the best time to go to Antarctica. It depends on your preferences. In general, we can say that the Antarctic season is from December till the end of March.
You can see the most penguins in the colonies at the beginning of the season (December).
On the other hand, the largest whale activity is at the end of the season (late February and March). At this time, there are significantly fewer penguins.
Towards the end of the season, there are also more icebergs floating around.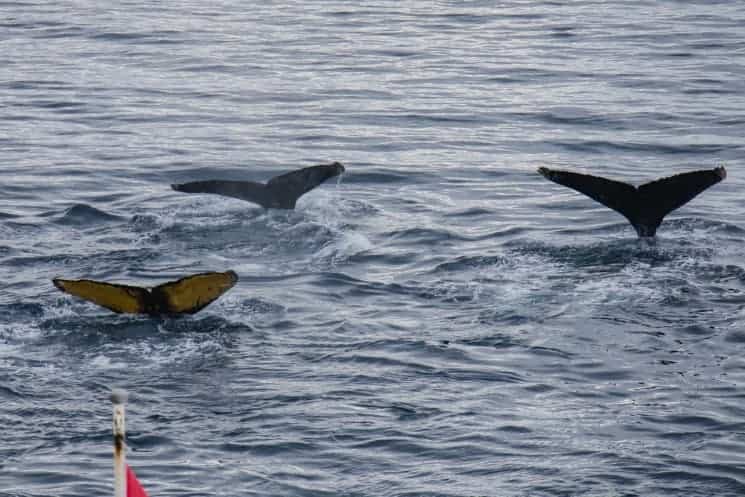 How cold does it get in Antarctica during such a voyage?
Minus temperatures are not particularly dizzying; what makes the winter unpleasant is the wind, which primarily determines the perceived temperature. If it is overcast, it is cooler during the day. If the sun is shining, you may find yourself strolling around in just a sweater at times.
The most important thing for dressing in Antarctica is layers. The top layer should always be waterproof, and you can adjust the rest based on the number of layers needed for the current weather.
Difficulty – how fit you need to be?
Considering that these voyages are popular primarily among older travelers (in their sixties and seventies), we can say that treks or other extremely demanding activities are not required. It is enough to be able to climb stairs onto the boat and move around on the rolling ship. All activities are voluntary, and if, for example, someone found a hill too steep or slippery, they could stay on the boat and instead take a ride around the icebergs where seals were resting. So I don't think there's anything to worry about in this regard.
Zodiac operations and landings
One of the most popular activities on the Antarctic cruise are the so-called "Zodiac operations" – excursions with inflatable boats to the mainland and the surrounding areas. During the cruise, you can expect several landings on the continent (depending on the length of the trip you sign up for). On our 12-day trip, we went on the Zodiacs 8 times, and out of those 8 times, we landed on the mainland 7 times.
It was usually about a 3-hour long activity where we were regularly exploring interesting glaciers and icebergs with seals in the vicinity, and in the second part of the Zodiac operation, we could explore the continent itself – landings were usually where penguins were present.
During these operations, we also visited several abandoned but beautifully preserved British polar bases, and saw incredibly beautiful views of bays full of icebergs and glaciers. And above all, we were able to visit several penguin colonies. Our hearts were won over by Gentoo penguins – cute little guys with red beaks.
Fauna of Antarctica – What animals can you see in Antarctica?
Whales
Humpback whale
Killer Whale/Orca (Typ A, B, B1, B2)
Antarctic Minky whale
Antarctic Blue whale
Southern Right whale
Fin whale
Penguins
Gentoo penguins
Adelie penguins
Chinstrap penguins
Emperor penguins (you need to be lucky)
King penguins (you need to be lucky)
Seals
Antarctic Fur seal
Crabeater seal
Leopard seal
Weddell seal
Ross seal
Birds
Albatros
Petrel
Scua
And many more
On the way back, you will also have the opportunity to see other animal species (including dolphins) in the Beagle Channel.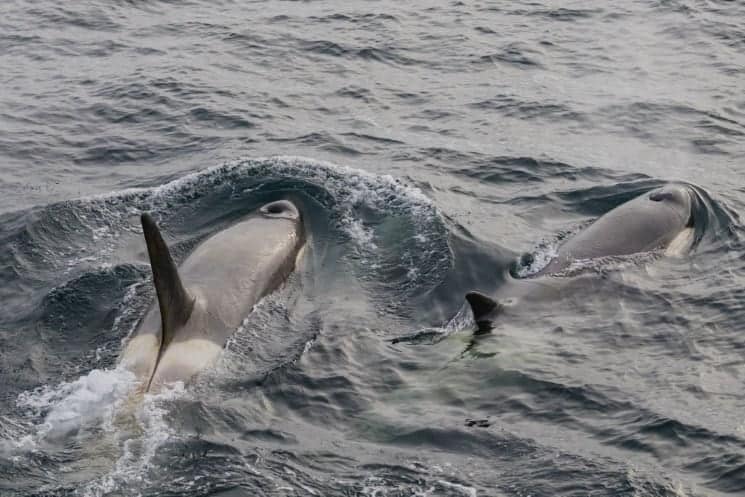 Polar plunge
The polar plunge is undoubtedly a bucket list item. Jumping into the Antarctic icy water beyond the polar circle is not something that happens every day. After this dip, a sauna, a shot of whiskey, and a wonderful feeling of warmth will be waiting for you, accompanying you throughout the rest of the day.
Although it is not primarily a pleasant activity, secondarily, you will feel great after it. Our crew prepared warm towels for us after the swim and even certificates of completion. If these arguments are not enough for you, let me add that cold-water immersion is healthy and beneficial for cell regeneration – so you can do something against aging at least. But most importantly, it's fun because you will encourage each other and anyone who dared to jump received applause from the audience. Plus, who else can claim to have bathed in water at a temperature of -1 °C? (saltwater freezes later)
Kayaking
It's common to have the option to pay extra for kayaks. It's quite an expensive matter (around $1000 per person) so it's good to consider whether you want to take advantage of it. At first, we thought it would be a shame to miss out on this experience, but in the end, we were glad we didn't use the option.
Kayakers spend all their time in kayaks – while the rest of us are on Zodiac operations. Therefore, kayakers often cannot go to the shore, which made personally me the happiest because we got really close to the penguins. It's not that kayakers can't choose not to go kayaking sometimes. I just think it's a pity not to use the option when you're paying for it.
Signing up for kayaks basically meant experiencing a completely different experience than without them. Kayakers had a lot of great chances to observe whales, which were really close to them. They also got very close to the seals. On the other hand, we, landlubbers, could enjoy the proximity of waddling penguins, and we also explored abandoned bases from the hills.
So deciding whether to go for kayaks depends on what you primarily want to see. I would recommend the version without kayaks to everyone heading to Antarctica for the first time, so you can enjoy not only the penguins but also the breathtaking views from the hills and the exploration of abandoned bases.
For more information and personal experience, read here more about Kayaking in Antarctica.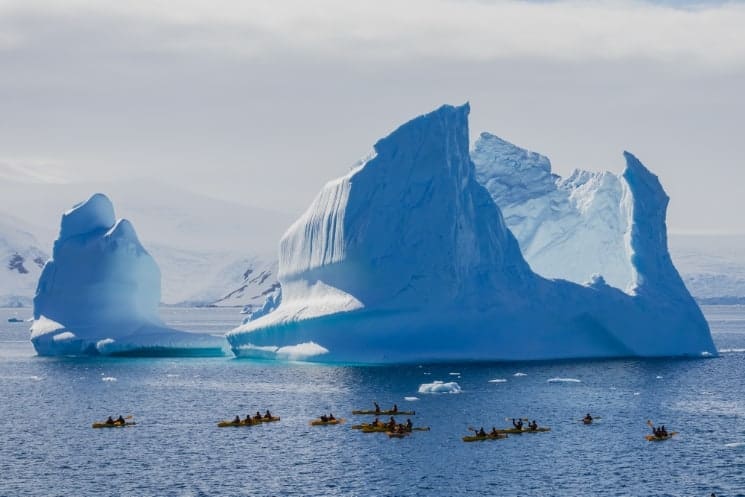 Camping in Antarctica
Most companies offer the option to pay extra for camping in Antarctica. It involves spending one night on the snow instead of staying on the ship. You will receive a sleeping bag, and a mat, and set up your own tent to spend the night. You then return to the ship early in the morning to catch breakfast.
Personally, we did not use this option because it cost around $400 per person, and we usually use camping as a way to save money while traveling. From what we heard from others, it was more challenging than enjoyable. Half of the people were cold and had to spend the night on the ship. On the other hand, I understand that camping in Antarctica is a great addition to a bucket list.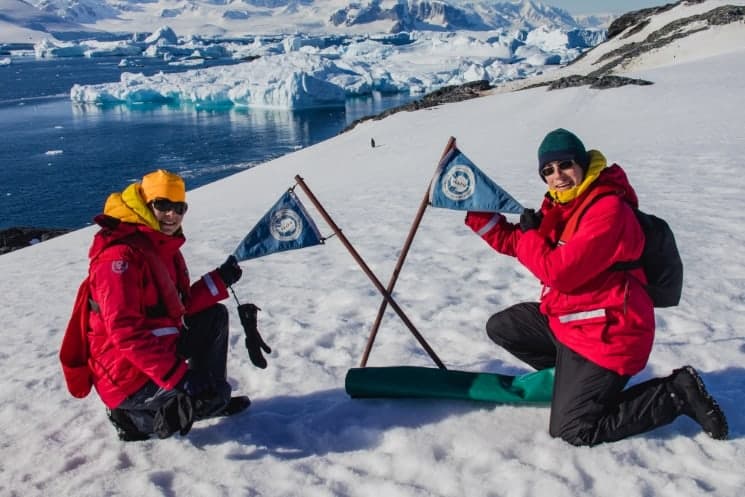 What to pack – Antarctica Essentials
Sunglasses
High SPF sunscreen
Waterproof pants
Waterproof gloves
Hat (preferably two – one thinner and one thicker)
Gloves
Scarf/neck warmer
At least two pairs of pants
Thermal underwear – leggings/base layers
Down jackets (two if you have thinner ones)
Waterproof case for your phone/camera (for Zodiac operations)
Swimsuit (for polar plunge)
Camera and lens with a larger zoom (150mm was enough for us)
What will you get?
Parka – a warm waterproof outer jacket that you will receive as a gift
Insulated boots for walking in Antarctica.
Before departure, verify with your company what equipment they will provide you with, from the mentioned list.​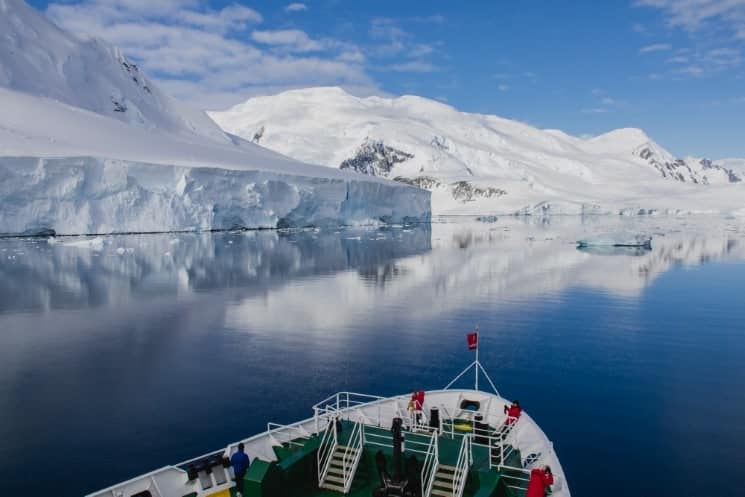 What can you buy onboard?
On board every ship you will find a Souvenir/Gear shop where you can purchase items in case you need them. Typically, these include gloves, hats, sweaters, socks, but also sunscreen, lip balm, postcards, and souvenir t-shirts with the inscription "I have survived the Drake Shake."
Dining and Beverages during the voyage
You don't have to worry about going hungry. You will be served at least 4 meals a day. In addition, there is a coffee station available at all times, where you can find coffee, several types of tea, a basket of fruit, cookies, and cocoa.
Every time you can look forward to salads, soup, main course, and dessert. The ships are well stocked in this regard.
As for alcohol, it was not included, but it could be purchased with any meal, as well as at the bar. The bar had regular happy hours with cocktails at very favorable prices.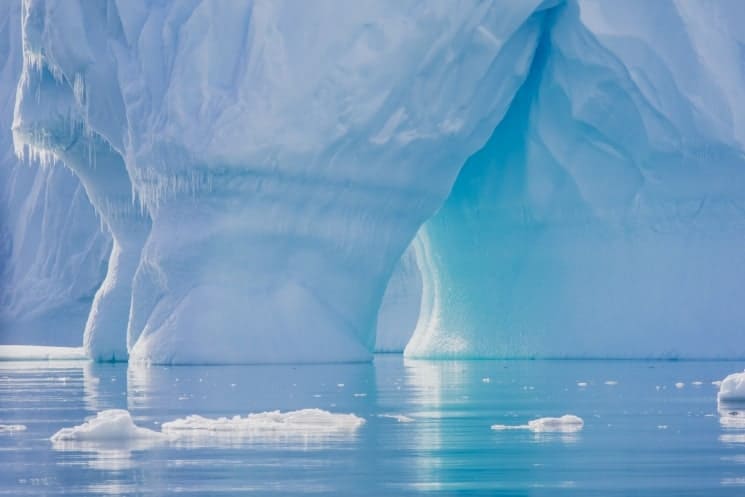 Cabins
It will be individual for each ship. However, I can describe to you what the cabins looked like on our beautiful red ship, the G Expedition.
On the second deck, where we were accommodated, there were shared cabins for 4 or 3 people. The cabins had 2 bunk beds – the top bed was screwed to the wall. Each cabin had its own bathroom with a shower and toilet. This floor had small round windows. There was also equipment for replenishing drinking water on each floor.
On the third deck, there were cabins with larger windows, probably standard double cabins, and the most luxurious cabins were on the fourth deck.
Interesting facts
What is the age distribution of passengers?
The age distribution of passengers was very diverse. The majority of people were between 50 and 80 years old, mostly from America, Canada, and Australia. They were followed by entrepreneurs of all ages. And then there was a smaller group of us – travelers around our thirties (who bought last-minute tickets) and who were on a bigger or smaller trip around the world – well, we were traveling through South America, but most others were traveling even further.
Can I fly a drone in Antarctica?
If you don't have an official permit, which is very expensive and difficult to obtain – usually for research purposes – flying a drone is strictly prohibited. Therefore, it doesn't make sense to bring a drone to Antarctica.
Is it possible to see the Southern Lights?
Yes, but it is very unlikely. The Southern Magnetic Pole is far shifted towards Australia and New Zealand. To see the Aurora Australis from the Antarctic Peninsula, there would have to be a geomagnetic storm at that time. In summer, when trips are organized here, there is also a lot of light, but you need darkness to be able to see the Southern Lights.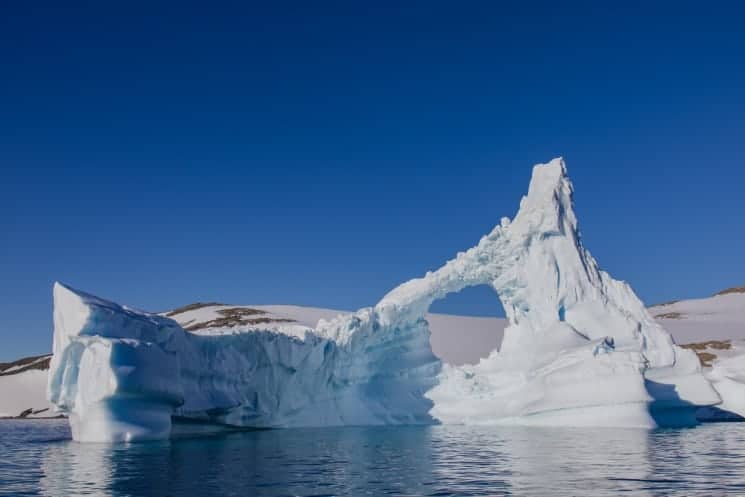 Final thoughts
The experiences described above are from a voyage called "Quest for the Antarctic Circle" with G Adventures and their beautiful ship, Expedition. The G Adventures team was full of professionals, scientists, and enthusiasts in the right places. Words and pictures cannot express our enthusiasm for the whole experience. This trip awakened our passion for exploring polar regions, and we would love to return one day to visit South Georgia and hopefully soon embark on an Arctic expedition as well.
Pin Trip to Antarctica Guide for later or to your friends: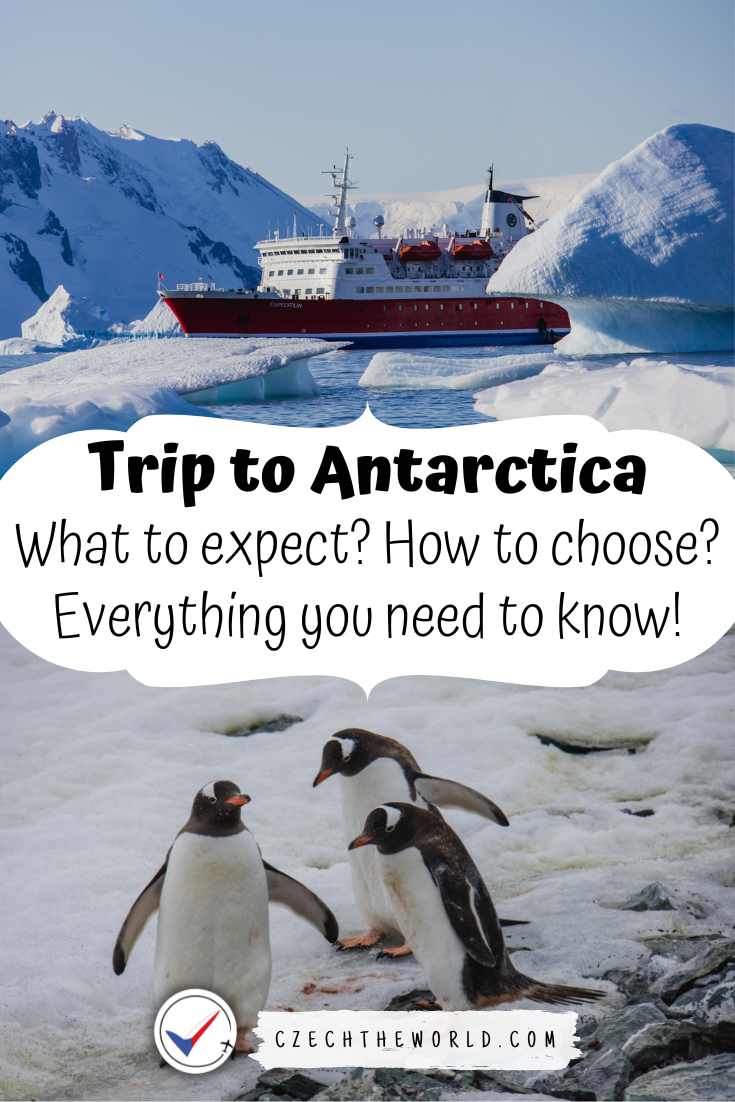 What are the types and lengths of Antarctic cruises?
How to find a last-minute deal to Antarctica?
Do you like our post about Trip to Antarctica? Share it with your friends!
Disclosure: Please note that some of the links above may be affiliate links, and at no additional cost to you, we earn a commission if you make a purchase. We recommend only products and companies we personally use and we use this income for further improvement of this website. Thank you!