Rotorua is the largest geothermal area in New Zealand and one of the best places to visit on the north island. You will find there countless hot springs, lakes, geysers and geothermal features. It's not only a volcanic area but also a center of outdoor activities and adrenaline of New Zealand's North Island. You can even learn a lot about Maori culture while visiting one of the living Maori villages among the thermal springs. There are many cool things to do, so let's have a look at them.
If you only have a day or two to visit Rotorua, we highly recommend visiting the Wai-o-tapu thermal area, the Maori village of Whakarewarewa, and rafting on the Kaituna River which is a great adventure.
All things to do in Rotorua are divided into the following categories:
Best Outdoor and Adrenaline Things To Do in Rotorua
1) Rafting: The World's Highest Commercially Rafted Waterfall
Rafting through the 7 meters high Tutea Falls is truly an awesome adrenalin experience! For us, rafting on the Kaituna River was absolutely the best outdoor-adrenaline experience in whole New Zealand, not only the best thing to do in Rotorua! Even a year back I remember every moment on the Kaituna River. Read the full rafting story here. There are more companies operating at Kaituna but we highly recommend Kaituna Cascades – a family business with an amazing bunch of guides. Book your spot in the raft here.
TIP: If you don't dare to raft the Tutea falls yourself, go and watch how the others are doing! It's fun! Usually, one of the 3 rafts will flip over 🙂 Stop at one of the car parks at Okere Falls Road and stroll around the river, there are few viewpoints including the viewpoint of the 7-meter high Tutea Falls.
Experienced kayakers can join the organized group and paddle down the river as well! Check out the video to see what is waiting for you on Kaituna river (you can see the waterfall at 1:04):
2-5) Activities at Rotorua Skyline
Rotorua Skyline is a center of activities by the Skyline gondola. The most popular activities are Luge, Zoom Zipline, Skyswing or Moutain Bikes. The best is to buy Adventure Pass to enjoy the combination of different activities. There is also a scenic view of Lake Rotorua at the top.
Luge – Those small carts give you a chance to ride down 3 different types of tracks. The first is an easy "Scenic" route, followed by intermediate and advanced. Advanced is the steepest, has sharp turns, and you can even jump a bit at one point. Tickets are available online.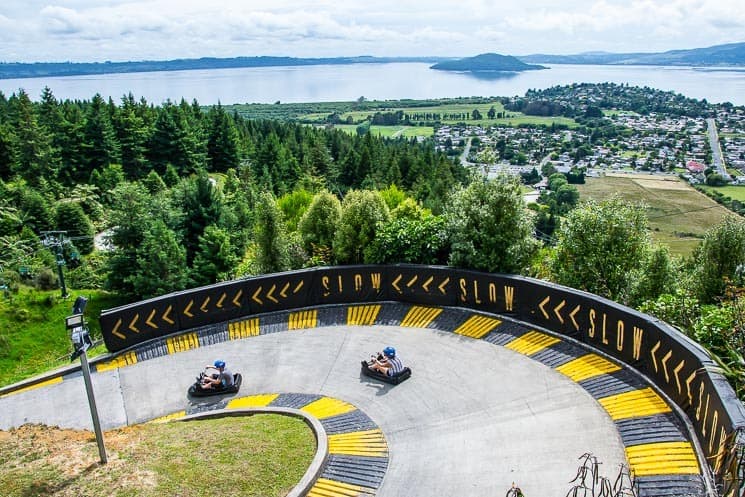 Zipline – local zipline called "Zoom Zipline" starts with a nice view of the Rotorua lake. It is 400 meters long and you can reach up to 80km/h. In the end, you can do the "Quick Jump" – jump off the gangplank for a 13-meter free-fall. The special braking system ensures a soft landing. If you are not brave enough, you can use conventional stairs.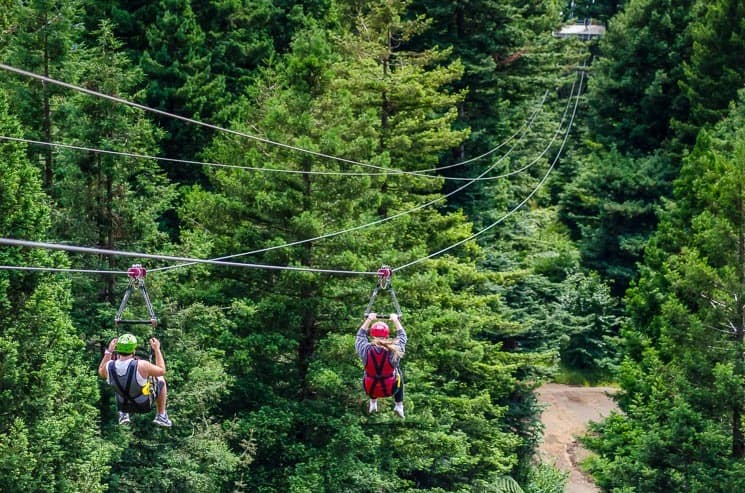 Skyswing – is a giant swing that takes you 50 meters high above the Skyline, then it is up to you when you release the swing. Prepare to speed up to 150 km/h. Usually, it pays out to buy a ticket combined with other attractions.
Bike park – MTB Park gives riders access to a 12-kilometer trail network featuring trails with varying terrain for all ability levels. Mountain bike rental is available. You can purchase individual rides or passes for several days or hours.
Watch the video we made while visiting the Rotorua Skyline:
6-7) Whakarewarewa Redwoods Forest
Whakarewarewa Redwoods, that's 5600 hectares of the forest with 6 hectares of gigantic Californian Coast Redwoods, which were brought and planted in the 20th century. You can walk through several circuits of various lengths. Even the shorter ones are definitely worth it. Admission to the forest is free. You can visit also the official Redwoods website.
Redwoods Treewalk Rotorua – If the "ground experience" isn't enough, go for a tree-walk which sits at 20-metres above the forest at its peak. There are 28 suspension bridges with a length of about 700 meters, which stretch around 27 majestic 118-year-old Redwood Trees. You can visit the tree-walk in the daytime or enjoy the nightlights tree-walk.
Redwoods Bike Park – there are not only walking trails but you will find routes for bikes or even for horses. More information on the official website.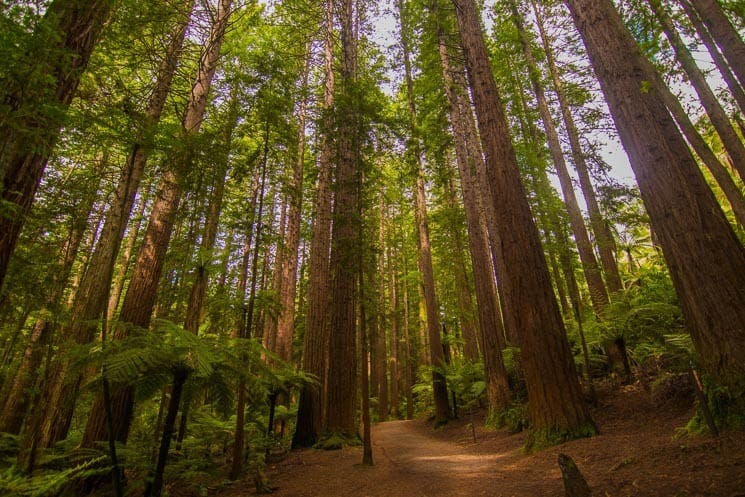 8) Zorbing – ZORB Rotorua
Zorbing definitely belongs to the list of adrenaline activities to do in Rotorua. You can choose from several routes and even decide whether to go inside with or without water. Book your ride here. To get an idea of what zorbing looks like, check out the following video:
Best Things To Do in Rotorua: Thermal Areas
9) Wai-o-Tapu
Wai-o-Tapu is one of the most visited thermal areas in New Zealand thanks to its colorful pools, hot springs, bubbling mud pots and geyser Lady Knox. No wonder – it's a really nice show! You can watch the geyser eruption every day at 10:15 am. Book your tickets online. Unfortunately, they don't accept cash on the spot.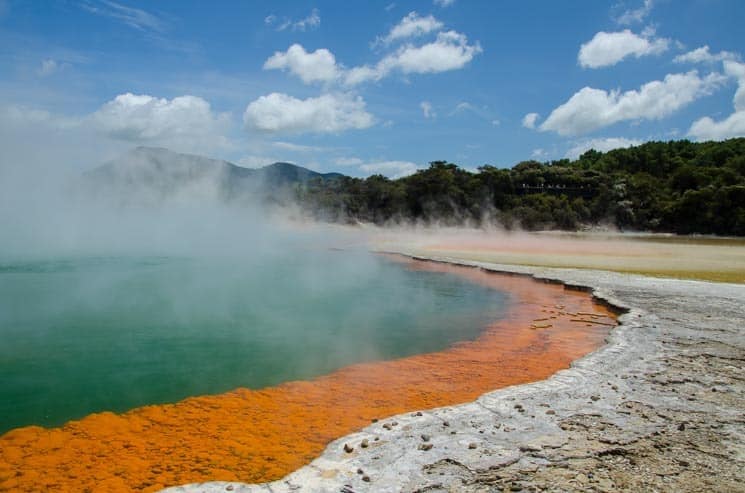 10) Waimangu Volcanic Valley
Waimangu Volcanic Valley is the youngest geothermal area in the world. You will find here the largest boiling lake in the world – Frying Pan Lake. The nature walk through the valley is about 5 km long and takes you around the hot springs. You can take a bus on the way back. Along the way, you will see several lakes, a hot spring with incredible turquoise water, small geysers, fumaroles, and other geothermal features. At the end of the valley is a Lake Rotomahana where you can go for a boat cruise. You can watch black swans and other birds there. Book your tickets here.
Check out our video from Waimangu:
11) Kuirau Park Rotorua – Geothermal Park
Kuirau Park is a freely accessible thermal area, which is situated in the heart of Rotorua. It's New Zealand's only geothermal public park. There are several hot springs and pools of different colors. If you like to, you can even dip your feet in a hot bath, which is nice especially in colder months. Every week, there is a Saturday morning market.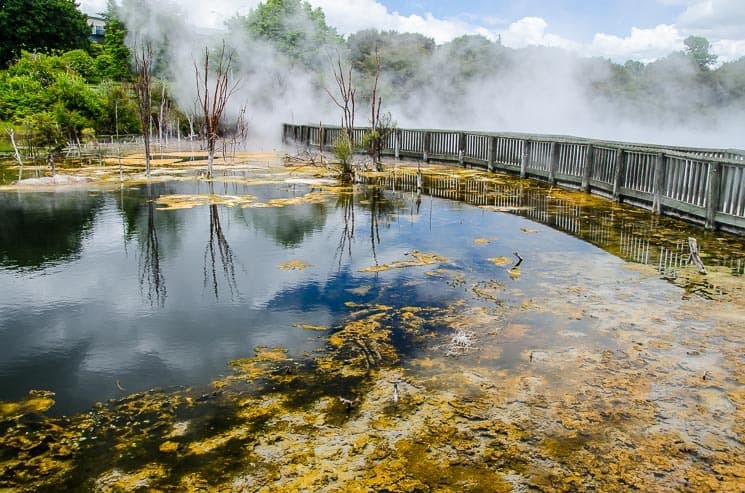 12) Polynesian Spa – Geothermal Bathing Experience
Polynesian Spa is the ideal place for all thermal baths seekers. There are 28 hot mineral pools, just by the Lake Rotorua. Enjoy both, acidic Priest Spring waters which relieve tired muscles, aches and pains and alkaline natural Rachel Spring which nourish the skin. Book your relaxing spa experience. This is one of the most pleasant activities you can do in Rotorua.
13) Kerosene Creek – Naturally Heated Stream
Kerosene Creek is a geothermally heated bathing place in the forest. Come and enjoy a warm thermal bath in the middle of nature in any weather. Hot water from a natural spring bubbles up into the cool waters creating pleasantly warm waters. If you are looking for some free things to do in Rotorua, definitely, check this one out.
How to get there? If you go by car from Rotorua to Taupo, just turn from the State Highway 5 to Old Waiotapu Road (towards Lake Rotowhero). A gravel road takes you to the parking lot. There are dry toilets on the left side. It is only a few dozens of meters through the forest to the Kerosene Creek. Continue until you reach a small 2 meters high waterfall. You can sit in the warm water above the waterfall or go down, where the water is deeper. It's a very nice place!
Cultural Things To Do in Rotorua: Maori Culture and Villages
There are several places, where you can learn about Maori culture of indigenous inhabitants of New Zealand. For authentic experience visit the village of Whakarewarewa, where Maori people still live.
14) Whakarewarewa Village – Living Maori Village
Whakarewarewa is a Maori village, placed in the beautiful thermal area, among pools and springs. Locals will guide you through the village and their lifestyle, and you will also see a Maori cultural performance (including Haka dance). Could you believe that they still cook in hot springs? Tickets are available online. You can also book an experience with a traditional meal.
In addition to Whararewarewa village you may visit also:
Tamaki Maori village – famous for award-winning 3,5-hour evening experience with dinner, welcoming ceremony, and dances. You can find tickets here.
Mitai Maori village – best value evening experience in Rotorua, with dance, hangi, music, and chance to see glowworms. Buy tickets online.
Te Puia – Offering both day and evening experiences. You can also visit a kiwi house and Māori Arts and Crafts Institute. Book evening experience with dinner. or just a day excursion.
More things to do in Rotorua
If you have a little more time or if you are searching for more things to do in Rotorua, you might be interested in the following places and activities:
15) Blue and Green Lake Rotorua (Titikapu + Rotokakahi)
An interesting viewpoint is right between Lake Titikapu and Rotokakahi. Lake Titikapu has a beautiful blue color, while Lake Rotokakahi is dark green. The Blue Titikapu offers various water sports in summer including swimming while Rotokakahi is private Maori land and swimming is prohibited.
16) Government Gardens and Rotorua Museum
The view of the museum and the Government Gardens is really nice. The current exhibition and admission can be found on the official website. You can also stroll around Lake Rotorua. There is a trail behind the museum that leads to the sulfur geyser.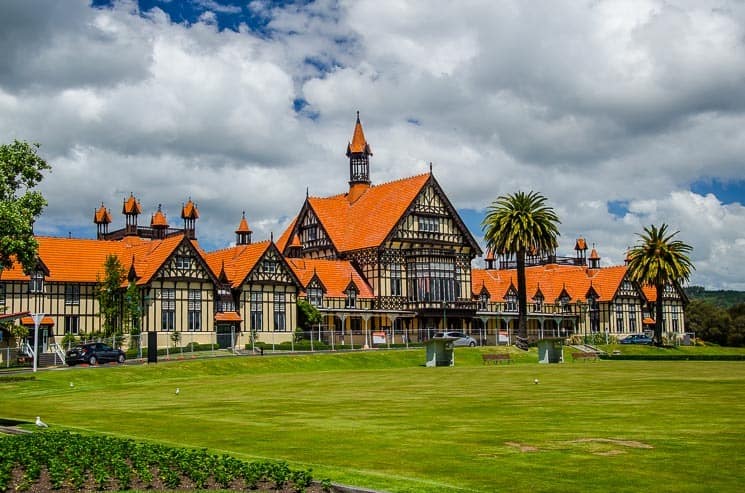 17-20) More Thermal Areas around Rotorua
There is quite a lot of thermal areas around Rotorua. The most visited are:
Orakei Korako (The Hidden Valley) – There is another thermal valley between Rotorua and Taupo called Orakei Korako. There are about 35 active geysers, hot springs, and pools. Tickets and photos can be found here.
Hell's Gate (Tikitere) – home of the highest thermal waterfall in the southern hemisphere. You can buy just the entrance ticket

to the geothermal area or combined admission with

spa and mud baths

.
Formerly free attractions, now insanely overpriced:
Mt. Tarawera – if you would want to hike up this mountain, it would cost you over $165!
Hamurana Springs – $18 for 15-minutes walk by the creek, that's something that even locals are mad about, just read few reviews at Tripadvisor…
Best accommodation in Rotorua
Top-rated hostels (budget options):
The second and third options also offer rooms for two.
Good value accommodation for 2:
Luxury accommodation:
Freedom Camps
For up-to-date information on freedom camps, check the CamperMate app. There are 2 freedom camps for Self Contained vehicles (fills quickly) and one unofficial camp, located near the bike park roughly where Te Ngae Road and Amohau Street meet (toilets with running water available).
Things to do around Rotorua
If you head south from Rotorua, it is worth taking a few more stops along the way.
21) Huka Falls
Huka Falls is the place you shouldn't miss! It is a colossal waterfall with clear turquoise water. The waterfall is about 11 meters high with phenomenal hydro power of more than 220,000 liters of water barreling over the edge per second! That's an insane mass of water! Watching the waterfall is a breathtaking show… There is also the opportunity to look closer to the waterfalls directly from jet boats.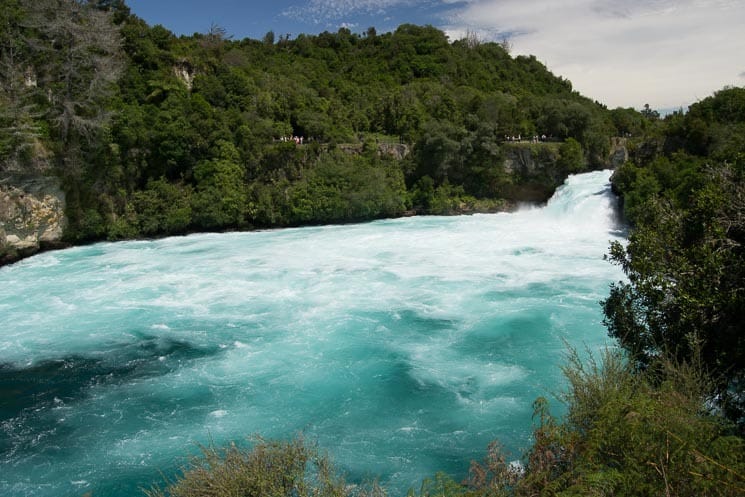 22) Taupo
Taupo is a nice lake area, whether you just take a lunch break onshore or head off for kayaking or paddleboarding. Probably the most famous place on Lake Taupo are Maori Carvings:
Maori Carvings are located in the Mine Bay area. Towering 14-meters high above Lake Taupo, they are only accessible by water. Visitors have various ways to get there. There are several companies in Taupo, which do cruises to Maori Carvings, whether on a yacht or slightly larger boat. Choose your cruise here. You can also get there by kayak.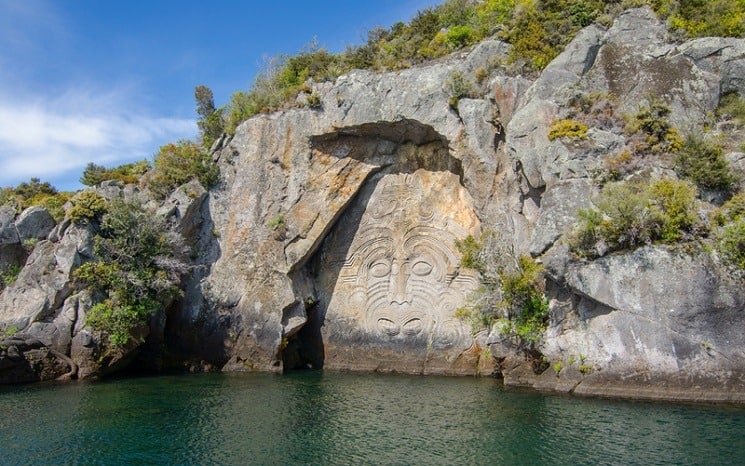 23) Tongariro Alpine Crossing
Tongariro Northern Circuit is the most famous Great Walk on New Zealand's North Island and its part Tongariro Alpine Crossing is a wonderful day hike through the Lord of the Rings landscape.
If you plan to hike the Tongariro Crossing, read this handy guide: Tongariro Alpine Crossing – Guide to the Best Day Hike in New Zealand.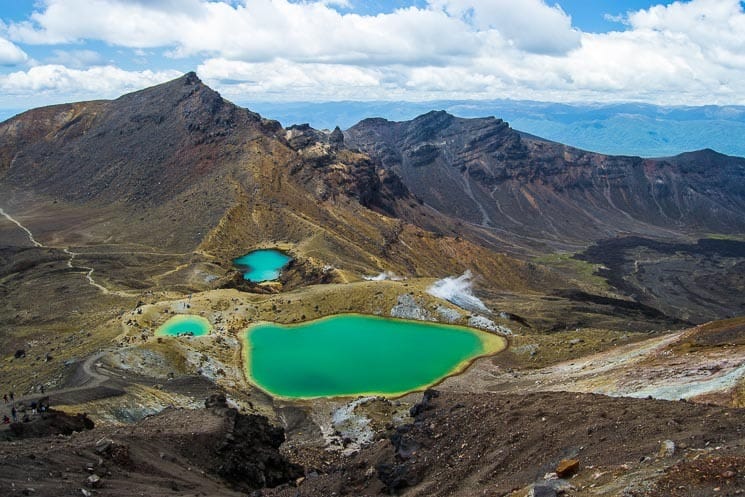 Map of Best Things To Do in Rotorua
We prepared for you a detailed map with all the important places and things to do in Rotorua. Points have different colors according to the category. Each layer can be hidden. You can export this map and import it to your mobile application such as Maps.me or Locus Map.
More tips for your travels:
We have prepared for you this comprehensive list of links, discounts, and resources for travel planning in one place. Bookmark this page and whenever you plan a vacation in the future, just open it and save yourself a lot of time.
1) Where to book accommodation?
2) How to find cheap flights?
3) How to rent a car?
We recommend a comparison portal RentalCars.com to compare the best offers of all available rental companies.
Pin Things to do in Rotorua, New Zealand for later or for your friends: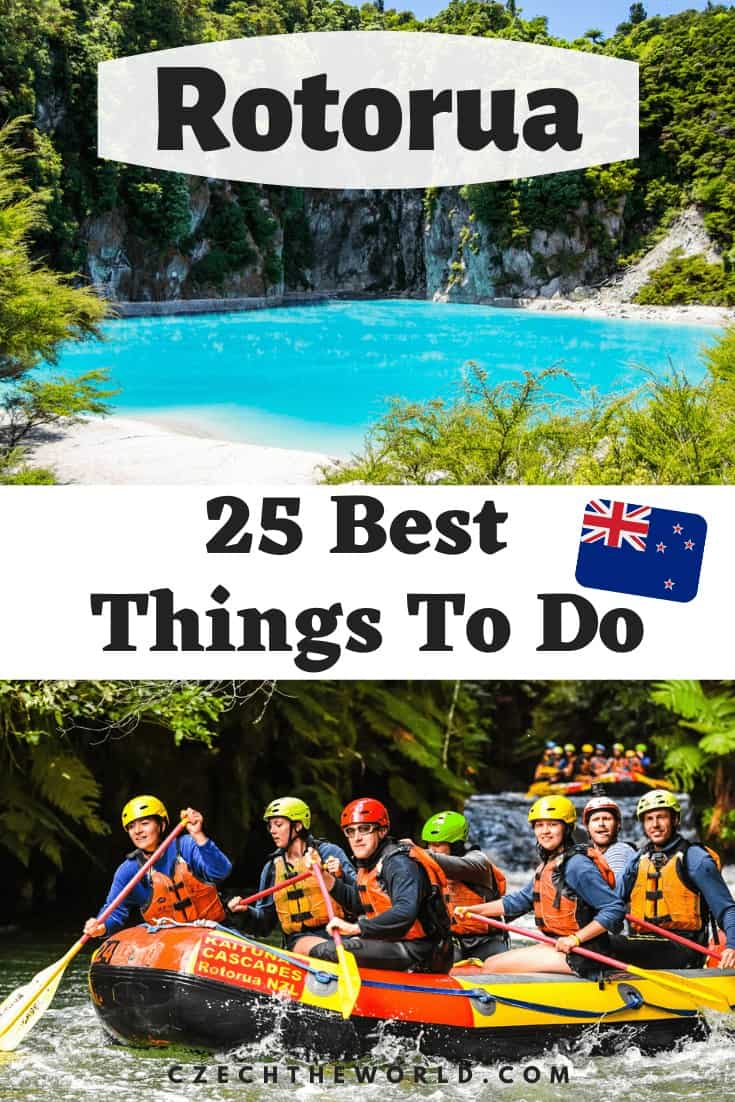 FAQ – Things to do in Rotorua:
Did this post about things to do in Rotorua help you? Share it with your friends! It can help them too!
Disclosure: Please note that some of the links above may be affiliate links, and at no additional cost to you, we earn a commission if you make a purchase. We recommend only products and companies we personally use and we use this income for further improvement of this website. Thank you!