Do you need to send money to or from abroad? If yes, TransferWise could be the best option for you. It's a pretty convenient service, which can save you a lot of money on transfers from one currency to another. This detailed TransferWise review is meant to fully describe how it works and its advantages and disadvantages.
TransferWise – How does it work?
TransferWise is essentially P2P (client-client) online money exchange. Users can transfer money to other currencies and send them to a foreign bank account. In the vast majority of cases, transfer via TrasferWise will be cheaper (often a lot cheaper) than a regular international bank transfer.
How is it possible that TransferWise can make cheaper transfers? It works on a completely different principle than ordinary banks. Thanks to huge financial investments in the company, they were able to open bank accounts in many different countries of the world. Therefore all transfers within TransferWise are essentially domestic and you saves on international fees.
Let's have an example - Czech student goes to the USA for a summer job and needs to send his earned money to the Czech Republic. If he uses international bank transfer, he would lose a lot of money because of disadvantageous rate and fees. He can use TransferWise instead. He will be prompted to send money to TransferWise's US bank account. A domestic transfer is usually free. When the money arrives in the US TransferWise account, the company does not send the money to the Czech account, but leaves it in the US account and sends him the money from their Czech account to his Czech account.
What are the biggest TransferWise benefits?
Let's have a look at all the benefits of sending money using TransferWise:
1) You are changing at a favorable rate
You may think that exchange rate differences are negligible in foreign payments. They are not! Regular banks are using unfavorable exchange rates. If you want to pay abroad using a regular payment card from your home bank, you can lose a lot of money.
TransferWise uses so-called mid-rate for money exchange, meaning it is the exact middle between buying and selling rates. In the vast majority of the time, this rate is much more favorable than rates offered by regular banks.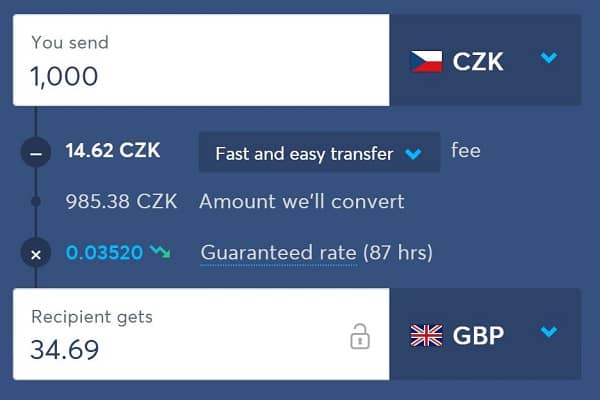 2) Low fees
Most banks charge an international payment fee. TransferWise charges approximately 0.4 - 0.5% for all major currencies. That may seem a lot, but it's much less than you save on a favorable exchange rate
Let's have an example again. We will compare sending of $2,000 to Czech crowns (as of June 5, 2019). If you use an account from one of the largest Czech banks Česká spořitelna, you will get CZK 44,026 and pay CZK 220 fee, therefore you will receive CZK 43,806. Using TrasferWise, after deducting the fee, you will get 44 927 CZK, which is 1021 CZK ($50) more, and that is not a negligible amount. If you send $10,000, the difference will be nearly $200.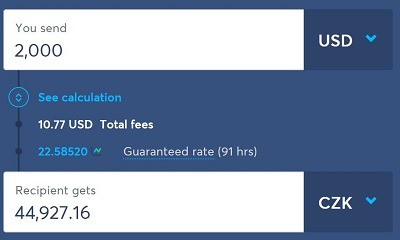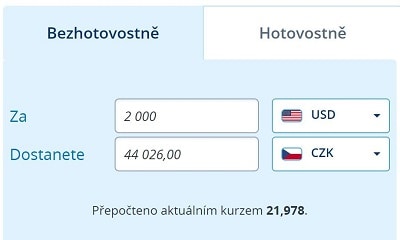 2) Everything is perfectly transparent and convenient
Did it happen to you that the bank charged you a hidden fee that you didn't even know about? This will not happen with TransferWise. On the home page you have a conversion calculator that will calculate exactly how much money you will receive after the transfer including all fees. The amount is really final and you don't have to worry about any hidden fees.
3) High security
It's a very secure platform with a great financial background. The website uses the latest security technologies. For example, if you travel and sign in to your account from another country, the system will always ask for your date of birth to prevent fraud.
4) Managing accounts in several world currencies free of charge
With your account you can keep free accounts in how many world currencies you need. Nothing is charged for maintaining an account, you only pay for currency conversions.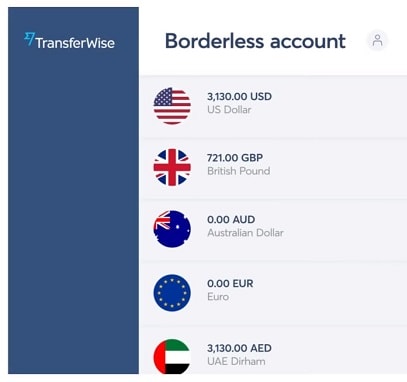 TrasferWise Disadvantages
TransferWise also has some disadvantages. Let's have look at them together:
1) TransferWise is not translated into all languages
Unfortunately, their website and mobile app aren't in all languages, which can be a problem for someone. Fortunately, modern translation technologies already exist today. You can either use Google Translate or have the page translated directly in your browser. For example, in Google Chrome, just right-click anywhere on the page and choose "translate to English".
2) The transfer takes 1-3 working days
You need to recharge your account by bank transfer, which takes longer than paying directly by card. It is, therefore, necessary to count on this in advance. You can charge your TransferWise account using a card, however, there is a fee of 2% of the amount, which is no longer favorable.
3) TransferWise does not support recurring transfers
Unfortunately, TransferWise does not allow automatic recurring payments. You must enter each conversion manually.
What currencies can be converted?
You can convert 48 different world currencies. Specifically, EUR, USD, GBP, AED, ARS, AUD, BDT, BGN, BRL, CAD, CHF, CLP, CNY, CZK, DKK, EGP, GEL, GHS, HKD, HRK, HUF, IDR, ILS, INR, JPY, KES, KRW, LKR, MAD, MXN, MYR, NGN, NOK, NPR, NZD, PEN, PHP, PKR, PLN, RON, RUB, SEK, SGD, THB, TRY, UAH, UGX, VND & ZAR
And they constantly add more and more currencies.
Check this video, which explains how TransferWise works:
Personal vs. business account
Money transfer can be used for both private and business purposes. If you want to use the service for business purposes, create a business account.
Private payments
Money transfer to abroad or from abroad
Purchase of real estates abroad
Payments to investment portals
Business payments
Remuneration for employees abroad
Payment of invoices from foreign suppliers
TransferWise debit card
TransferWise has also introduced a new option to get a payment card. It's a debit card and you can pay with it anywhere in the world. Again, the mid-rate will be used, which is more advantageous than if you pay with a regular card from a regular bank.
For paying abroad, however, we recommend even more Revolut card, which has even better rates (except weekends). Read our review here:
We highly recommend also Curve Card, which is a great service for combining all your payment cards into one.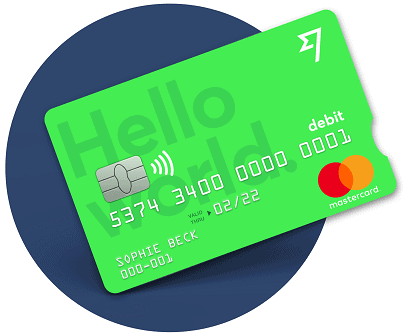 TransferWise mobile application
While traveling, you will love to use their user-friendly mobile app available on both Android and iOS. When signing in the application, it will ask you for a PIN and also a verification SMS code, so don't worry about security.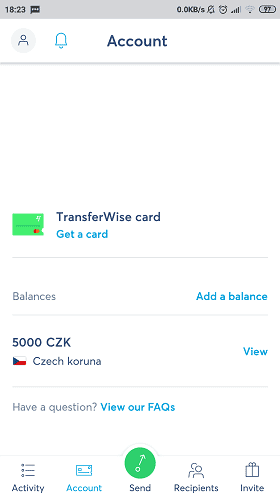 TransferWise Review - Personal experience
When I was on a summer job in England a couple of years ago, I had my earned money sent by ordinary bank transfer. I wish I knew there was TransferWise! I lost almost 5% on the exchange rate and fees. If I transferred money via TransferWise then I would have received $150 more, which was really a lot of money during student years.
We have been using TrasferWise for 3 years while traveling as a supplement to the Revolut card and we can only highly recommend TransferWise!
Get your first transfer free!
If you register using our link, you will automatically receive your first transfer for free without any fees.
Summary
TransferWise really has no major disadvantage besides unsupported recurring payments and can save you a lot of money. Whether you are a traveler or entrepreneur in international waters, we recommend sending money using TransferWise.
Watch this detailed video review:
Did this blog post help you?
Did this blog post help you? You can do us a favor and book your accommodation, buy flight tickets, book a tour or rent a car using our links. It doesn't cost you anything extra and we will have a small commission, which we will use for further improvement of this website.
We have also prepared for you this comprehensive list of links, discounts, and resources for travel planning in one place. Bookmark this page and whenever you plan a vacation in the future, just open it and save yourself a lot of time.
1) Where to book accommodation?
2) How to find cheap flights?
3) How to rent a car?
We recommend a comparison portal RentalCars.com to compare the best offers of all available rental companies.
Pin this review for later or for your friends:
FAQ - frequently asked questions:
What are the biggest TransferWise benefits?
What are the biggest disadvantages of TransferWise?
How to get a first transfer for free?
If you register using this link, you will automatically receive your first transfer for free without any fees (max 600 USD).
Which currencies can be converted?
You can convert 48 different world currencies. Specifically EUR, USD, GBP, AED, ARS, AUD, BDT, BGN, BRL, CAD, CHF, CLP, CNY, CZK, DKK, EGP, GEL, GHS, HKD, HRK, HUF, IDR, ILS, INR, JPY, KES, KRW, LKR, MAD, MXN, MYR, NGN, NOK, NPR, NZD, PEN, PHP, PKR, PLN, RON, RUB, SEK, SGD, THB, TRY, UAH, UGX, VND & ZAR
And they constantly adds more and more currencies.
Did this review help you? Share it with your friends! It can help them too!
---
Adriana & Matěj
Travelers, sport enthusiasts and photographers behind this blog. Creating high-quality and informative guides for your travels. Read more about us here.
Disclosure: Please note that some of the links above may be affiliate links, and at no additional cost to you, we earn a commission if you make a purchase. We recommend only products and companies we personally use and we use this income for further improvement of this website. Thank you!

We are regularly updating all of our posts, however all the places are changing quickly and sometimes it's hard to see all the changes. Theferove we would be glad if you could tell us about any change you have found.