Springtime can be an ideal opportunity to visit Mallorca. The island is green and full of energy! Historic villages adorn many beautiful flowers, trees are full of citruses. The weather is great for the sport and other outdoor activities. There are more cyclists than cars on the roads! Prices of return tickets from the middle of Europe just underline the reason for visiting this beautiful island. E.g. you can find tickets around 80 EUR from Prague or Bratislava.
Trek GR 221 – The most famous walk in Mallorca
This long-distance "dry stone route" through the mountain range Tramuntana starts in town named Arrac. Trail GR 221 is over 120 km long. We decided to start our hiking adventure in the village of Valldemossa. This village captivated us with its picturesque narrow streets with an adorable variety of flowers. Every single house there has its own tile (holly image), which tells the story of Saint Catherine.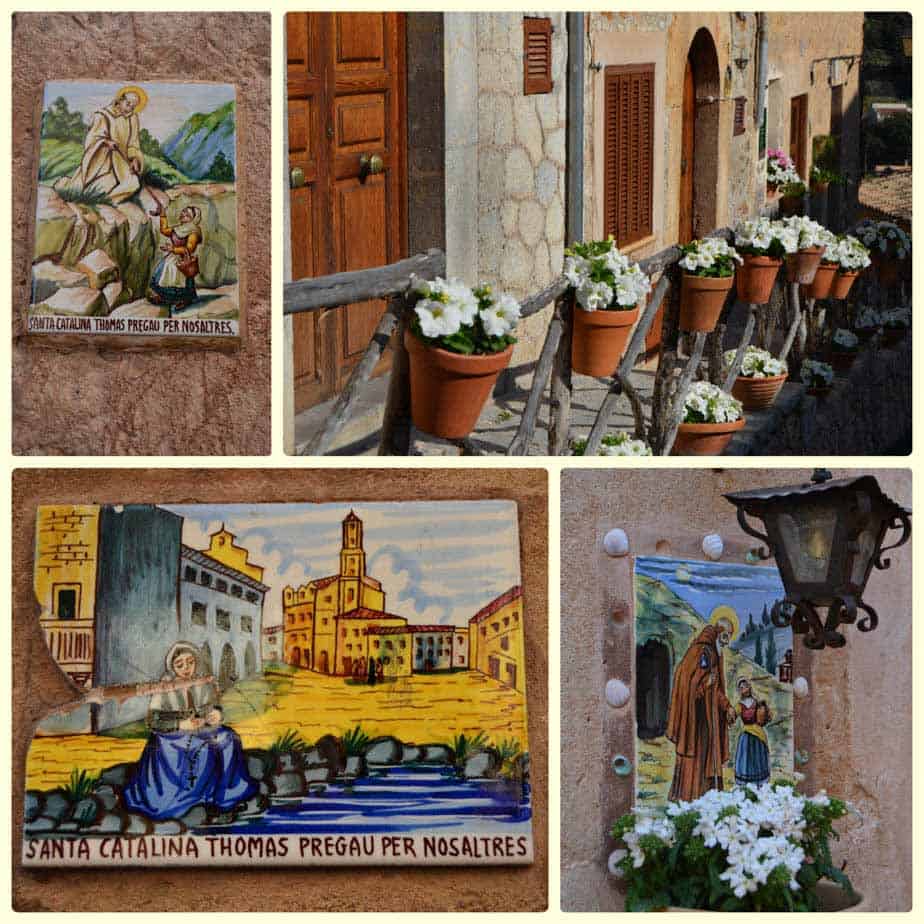 There are 2 ways how to get from Valldemossa to the next village – Deià, You can follow the GR 221 trail, heading there through the mountains, as well as the alternative road, that partly copies the road – this option is good for everybody who wants to skip huge ascents and descends. Those who choose the first option through the mountain peaks and don't want to lose gained elevation, can skip a descent to Deià and follow the mountain trail to the next town – Sóller. We chose the second option with a stop in the village of Deià. From Deià we followed the GR 221 route towards Port de Sóller. The wonderful view is from the lighthouse next to Refugi di Muleta. On the way, there is a beautiful view of the bay with picturesque town of Port de Sóller.
By historical tram to Sóller
If you are in Port de Sóller, it's definitely worth to stop there for an ice-cream and walk down the promenade. There is also a historic tram which leads to Sóller town. From there you can continue hiking on GR 221 trail. A one-way ride costs 6 EUR, but it is a very nice experience. Tram will take you directly to the historic center near the cathedral to the terminal station. The town has a magical atmosphere, especially in the evening. We met some other hikers from the Czech Republic in front of the cathedral. They chose a mountain trail from Valldemossa and skipped Port de Sóller and Deià. Both routes seem similarly long so it depends on your preferences. It is good to have a GPS in Sóller to get through the city back to the GR 221 trail because marking is not so obvious there (at least not in the dark).
Hike to Lake Cúber
After you pass through the city of Sóller, there is the pretty nice ascent to Puig Major mountain range. The trail leads to Cúber Lake. The whole route up is paved with stones which are laid with astonishing precision. There is a very nice view of the waterfalls on the way up. Cúber lake is situated in the saddle between the mountains. Water in the lake is inviting to swim in. There are numerous herds of sheep around the lake (they weren't afraid at all, so you can eventually pet them 😉 ). Trails from Cúber leads in a beautiful mountain area with truly beautiful views. There is also an observatory on the top of one mountain, which can be reached by another trail, but we chose to go further through the mountains to Pollença.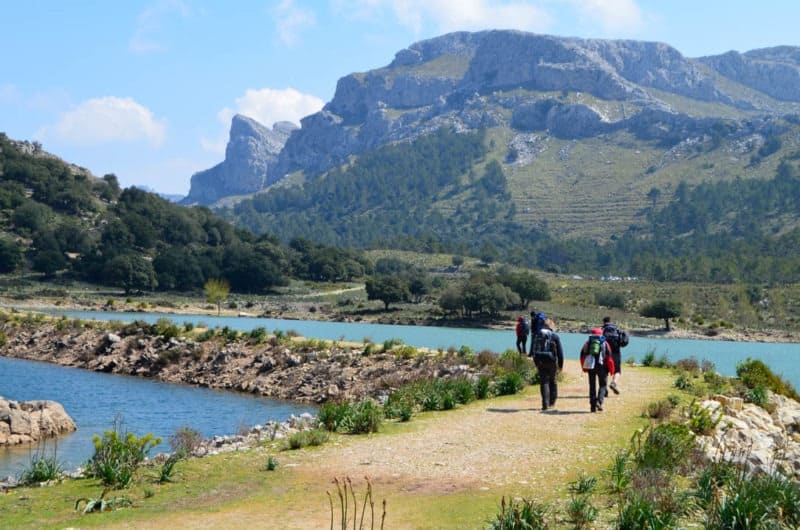 We spent another night in an abandoned house without a roof. Views from there were spectacular! The only imperfect thing was the strong wind which came after the sunset and temperature went drastically down. We recommend to continue down the mountains, for another 30 minutes and build tents in the woods nearby the ruins. The labyrinth of walls of a former settlement seems like a perfect place to sleep at.
Lluc Monastery
Don't get confused with a Cash desk on your arrival to Lluc Monastery – it is only for visitors coming by car. Others have free access to the monastery complex. We didn't resist having morning coffee and desserts in the courtyard. Tour around the monastery and its gardens is not long. Depends on your individual tempo.
It's only about half a day from Lluc to Pollença. Beware that it' not easy to find a place for your tent nearby Pollença. We took an advantage of the forest nearby Puig de Santuiri hill.
Port de Pollença
Beautiful port town. Don't miss a walk along the harbor and stop for another delicious ice cream! It's also a nice place where to swim. It was very refreshing. You can continue to Formentor Peninsula from Port de Pollença and we definitely recommend it!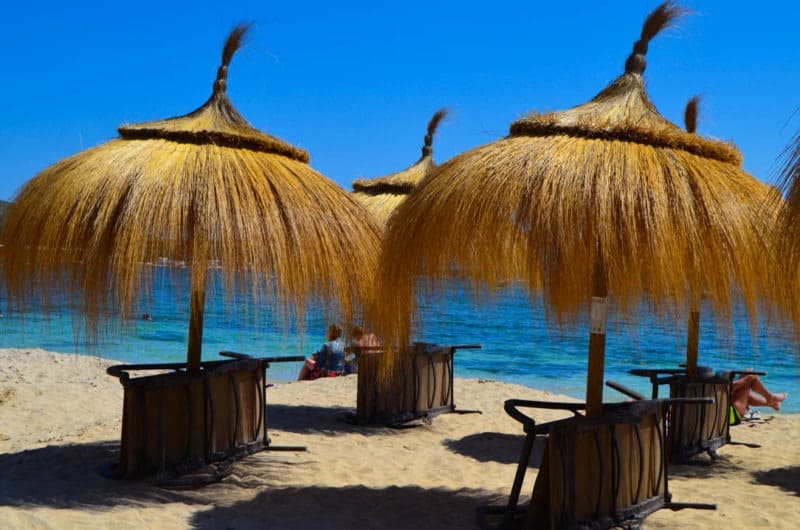 Sunset at the Cap de Formentor
You shouldn't miss this! You can get to the peninsula by bus from Port de Pollença to the stop "Formentor", from where you can get by a short walk to the beach. Price of the bus ticket is around 1.75 €. Unfortunately, the bus can't go further due to the very narrow roads. So, if you want to get further, you have 2 options – hire a car in Pollença or try hitchhiking. And hitchhiking is very easy there, we got a ride within a few minutes.
When you arrive at the lighthouse, you will be greeted by one of the goats that are wandering around. I Bet that the goat will want to get some snack from you.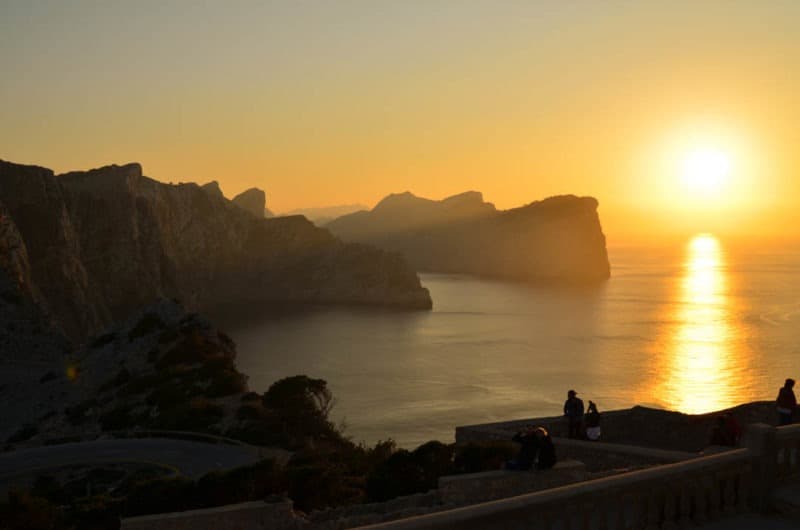 You won't be probably alone waiting for the impressive sunset even in the springtime. Sunset is on the right side from the very impressive rock-cliff formation and it's gorgeous. We stayed until the sun was set and didn't manage to stop anybody on the way back, so we choose to walk in the moonlight to the nearest beach, where we slept another night.
Beautiful beaches on Formentor, Mallorca
The most beautiful beach (in our opinion) is in the bay north from the peak of El Fumat – azure blue water, which attracts not only hikers but at the same time bikers or sailboats. If you want smaller beach, I would recommend going to the one south of El Fumat. Maybe you will meet a bunch of donkeys, who are definitely not afraid of people. They will be even grateful if you pet them or even give them something to eat 🙂
Alcúdia
Alcudia is a picturesque historic town with narrow streets, cathedral and old city walls. There is a nice view from the walls – you can visit them without any admission. Along the seaside, there is a long sandy beach.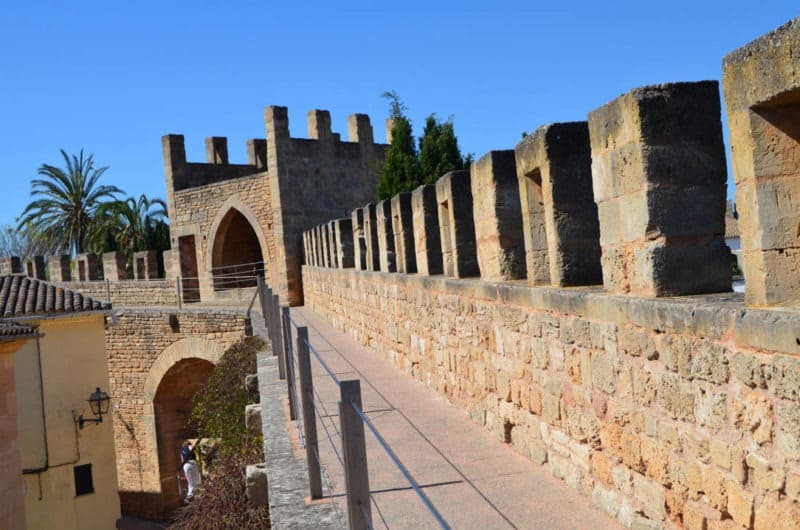 Where would locals go for Tapas – Palma de Mallorca
After a nice walk through the historic center of Palma de Mallorca, we wanted to end this trip with some typical Spanish dinner and we met Czech women, who came years ago to Palma. This nice lady recommended us El Olivo restaurant (Avinguda de Joan March, 7).
She said it is her favorite restaurant, not overpriced like other restaurants in the city center and you get tapas with any order of beer or wine. We were excited! We ordered even more tapas after the first round. It was delicious! Although waiter didn't speak English, we managed to order food wanted.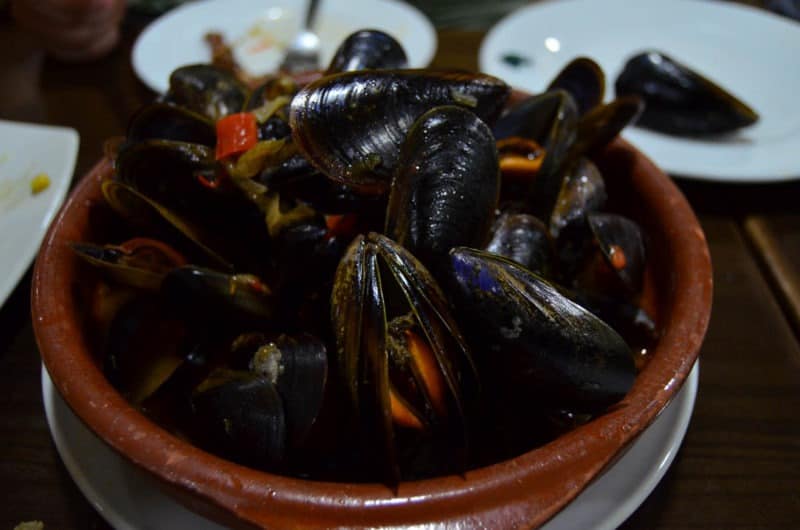 Tips for your Mallorca hiking trip
Siesta – beware of it! If you want to buy something in Palma between 13:00 and 16:00, don't forget it's time to rest! Some shops might be closed at this time.
Cooker – if you're going to cook your meals on the gas cooker, you will not be able to buy a gas bomb in Valldemossa. We bought it in Palma's Intersport or you may buy it also in the small shop in Esporles. Again, beware of the siesta 🙂
Maps – We highly recommend Mapy.cz, they have the best free touristic maps in the world – they are really in detail. Another great application with for offline navigation is Locus. In general, we definitely recommend downloading any offline maps to your phone, although the whole GR 221 trek is relatively well labeled.
Power bank – if you don't plan to spend time by charging phones or cameras in cafes and restaurants along the route, power bank is a great thing, especially if you use your mobile phone for navigation.
Drinking water – Drinking water sources are marked in the mountains, (better to have offline maps), and there is also no problem to find drinking water in every town. We were happy to carry 3-liter camel bag.
Where to sleep – in general, we didn't have a problem to find a place to sleep along the way. The most suitable places are marked as ruins on the map. These places have wide flat areas for a tent or shelter.In the end, you might be wondering how much a trip like this cost – we managed to fit under 160 EUR including flight tickets! If you have any questions or comments, don't hesitate to ask us. And choose the Mallorca for your next trip!
I want to go!
Are you decided? Great, just find a flight ticket: