Hiking on Mallorca – the famous trail GR 221 – is a great experience! What to pack? Where to sleep? What to see? Practical Tips + Offline Map to download.
Mallorca is a really nice place for your Europe bucket list. The island is green and full of energy! Historic villages adorn many beautiful flowers, trees are full of citruses. The weather is great for the sport and other outdoor activities like hiking on Mallorca's GR 221 trail (Dry Stone Walk). There are more cyclists than cars on the roads! Prices of return tickets from the middle of Europe as well as from Valencia just underline the reason for visiting this beautiful island.
You can find cheap flight tickets around 80 EUR from Europe.
Walking route GR 221 – The most famous trek in Mallorca
GR 221 trail with a name Dry Stone Walk is a very nice long-distance route that leads through the Tramuntana mountain range as well as picturesque Majorca's villages. It's definitely one of the best things to do in Mallorca. It is up to you, which way of hiking you choose. You can go the whole length or just a part of it. You can sleep in a tent, in mountain huts or in hostels in villages.
Basically, these are the ways you can hike the trek:
Hiking trek with complete camping gear – if you want to be completely free and sleep wherever you want (along the trek) you will need your camping gear (sleeping bag, mat, hammock or tent). You should be aware that not all the equipment can be taken in hand luggage, so you might need to pay for checked baggage. Camping knife can't be taken into the hand language, neither pegs, tent construction might be also a problem at some airports.
Hiking trek without complete camping gear – If you plan to book mountain huts (refuges) or other accommodation, you can easily flight just with your hand luggage. This option will cost you a little bit more, but you don't need to carry a tent and mat.
Mountain huts, refuges and accommodation at trail GR 221
Mallorca is ideal for hiking and you can find mountain huts along GR 221 trek. They are called refugees and can be described as hikers' hostels. You can book these so-called "refuges" on the following two pages: gr221.info or MallorcaOutdoors.com. There are usually bunk beds, bedding is not provided but is available for a few extra euro. Price is around 15 euro per night.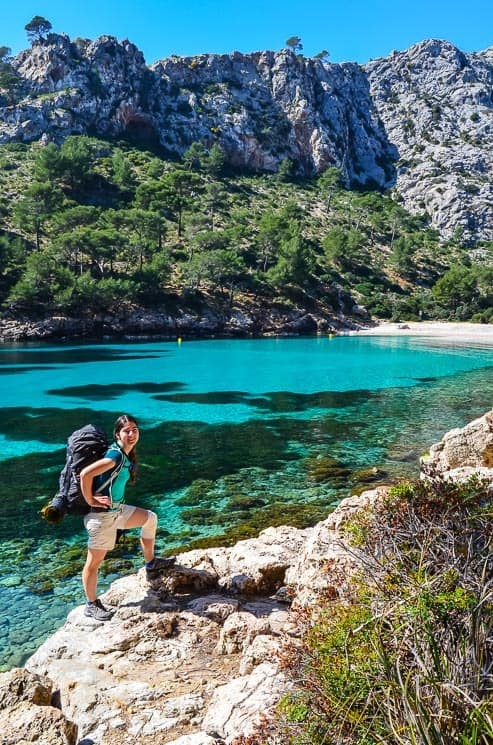 Weather in Mallorca in spring time
The spring season is ideal for hiking and mountaineering. You can escape the cold Mid European weather, and temperatures in Mallorca are perfect for sports activities.
January and February – average daytime temperatures around 15 °C (and about 3 degrees less in the mountains). Sunny 50% of the time, some rain is possible. Sea temperature 14 °C.
March – average daytime temperatures around 17 °C (and about 3 degrees less in the mountains). Sunny 60% of the time, there is less rain. Sea temperature 15 °C.
April – average daytime temperatures around 20 °C (and about 3 degrees less in the mountains). Sunny 60% of the time, it rains rarely. Sea temperature: 16.5 °C – it is already good for swimming, just a little bit refreshing.
May – average daytime temperatures around 23 °C (and about 3 degrees less in the mountains). 70% of the time, hardly any rain. Sea temperature: 19 °C.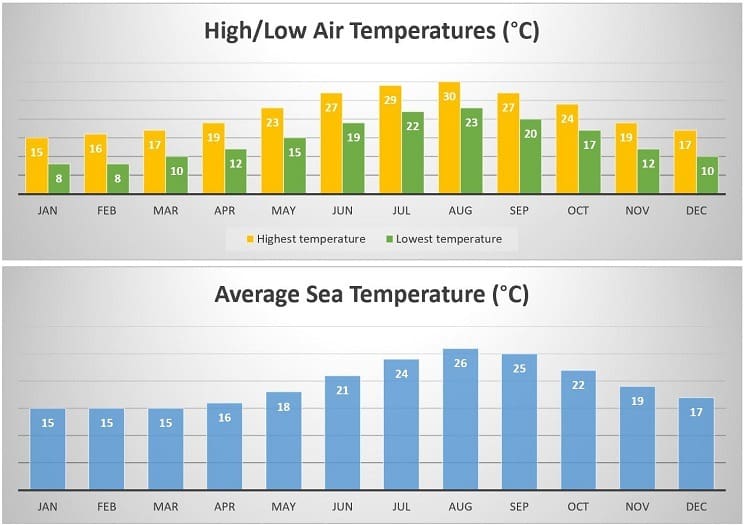 Hiking on Mallorca – Route of trail GR 221
This long-distance "dry stone route" through the mountain range Tramuntana starts in town named Arrac. Trail GR 221 is over 120 km long.
Valldemossa
We decided to start our hiking adventure in the village of Valldemossa. This village captivated us with its picturesque narrow streets with an adorable variety of flowers. Every single house there has its own tile (holly image), which tells the story of Saint Catherine.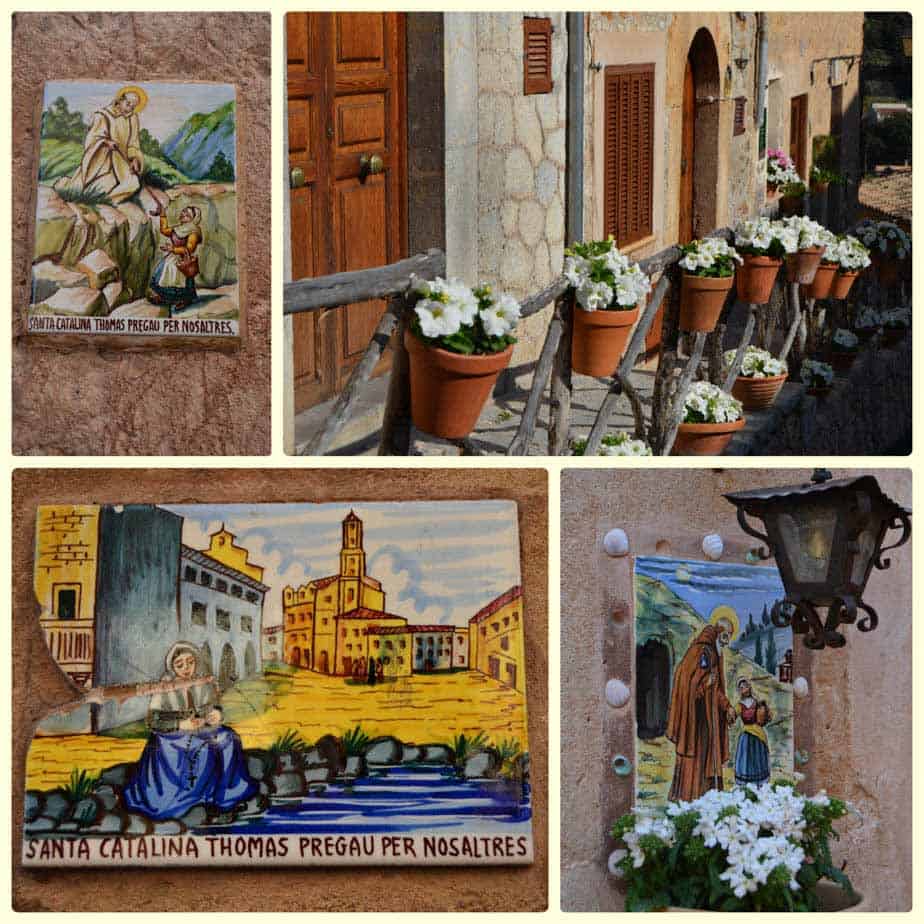 There are 2 ways how to get from Valldemossa to the next village – Deià, You can follow the GR 221 trail, heading there through the mountains, as well as the alternative road, that partly copies the road – this option is good for everybody who wants to skip huge ascents and descends.
Those who choose the first option through the mountain peaks and don't want to lose gained elevation, can skip a descent to Deià and follow the mountain trail to the next town – Sóller.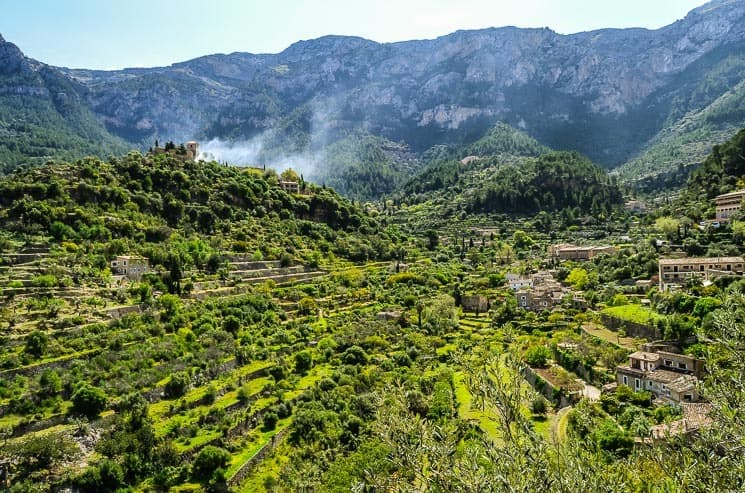 Sóller – historical train
From Deià we followed the GR 221 trek towards Port de Sóller. The wonderful view is from the lighthouse next to Refugi di Muleta. On the way, there is a beautiful view of the bay with picturesque town of Port de Sóller.
If you are in Port de Sóller, it's definitely worth to stop there for an ice-cream and walk down the promenade. There is also a historic tram which leads to Sóller town. From there you can continue hiking on trail GR 221. A one-way ride costs 6 EUR, but it is a very nice experience. Tram will take you directly to the historic center near the cathedral to the terminal station.
The town has a magical atmosphere, especially in the evening. We met some other hikers from the Czech Republic in front of the cathedral. They chose a mountain trail from Valldemossa and skipped Port de Sóller and Deià. Both routes seem similarly long so it depends on your preferences. It is good to have a GPS in Sóller to get through the city back to the GR 221 trail because marking is not so obvious there (at least not in the dark).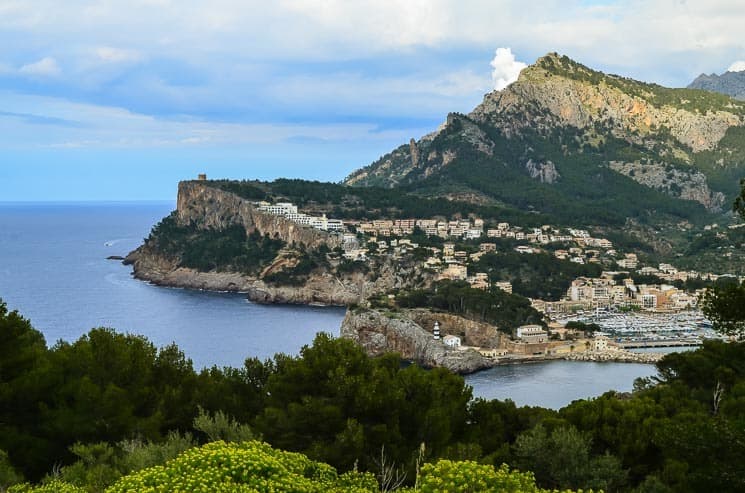 Hike to Lake Cúber
After you pass through the city of Sóller, there is the pretty nice ascent to Puig Major mountain range. The trail leads to Cúber Lake. The whole route up is paved with stones which are laid with astonishing precision. There is a very nice view of the waterfalls on the way up. Cúber lake is situated in the saddle between the mountains. Water in the lake is inviting to swim in. There are numerous herds of sheep around the lake (they weren't afraid at all, so you can eventually pet them 😉 ).
Trails from Cúber leads in a beautiful mountain area with truly beautiful views. There is also an observatory on the top of one mountain, which can be reached by another trail, but we chose to go further through the mountains to Pollença.
We spent another night in an abandoned house without a roof. Views from there were spectacular! The only imperfect thing was the strong wind which came after the sunset and temperature went drastically down. We recommend to continue down the mountains, for another 30 minutes and build tents in the woods nearby the ruins. The labyrinth of walls of a former settlement seems like a perfect place to sleep.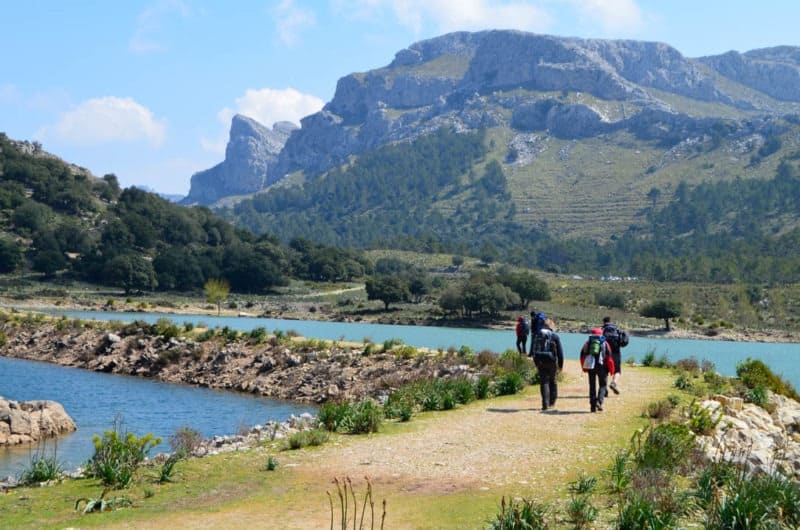 Lluc Monastery
Don't get confused with a Cash desk on your arrival to Lluc Monastery – it is only for visitors coming by car. Others have free access to the monastery complex. We didn't resist having morning coffee and desserts in the courtyard. Tour around the monastery and its gardens is not long. Depends on your individual tempo.
It's only about half a day from Lluc to Pollença. Beware that it' not easy to find a place for your tent nearby Pollença. We took an advantage of the forest nearby Puig de Santuiri hill.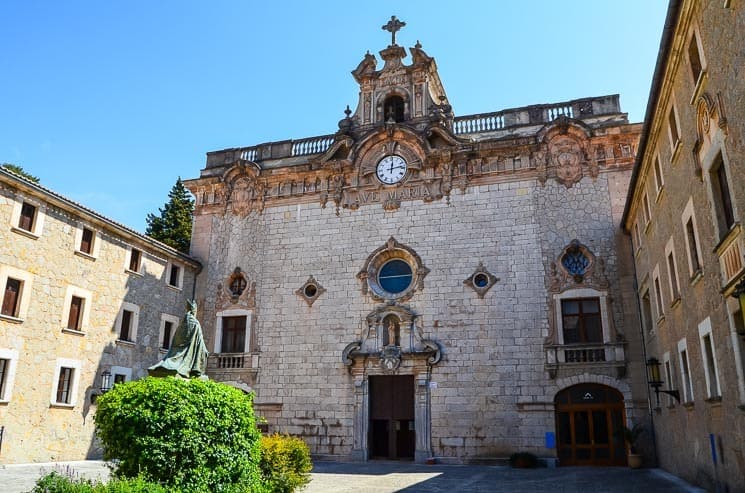 Port de Pollença
Beautiful port town. Don't miss a walk along the harbor and stop for another delicious ice cream! It's also a nice place where to swim. It was very refreshing. You can continue to Formentor Peninsula from Port de Pollença and we definitely recommend it!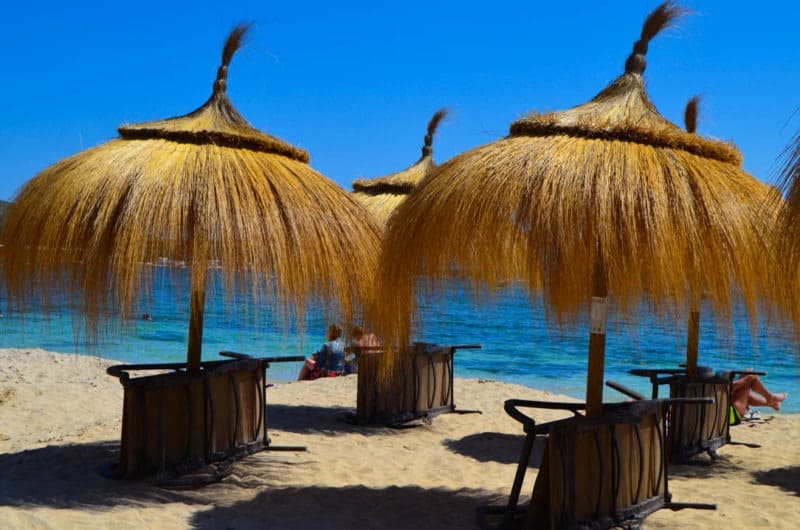 Sunset at the Cap de Formentor
You shouldn't miss this! You can get to the peninsula by bus from Port de Pollença to the stop "Formentor", from where you can get by a short walk to the beach. Price of the bus ticket is around 1.75 €. Unfortunately, the bus can't go further due to the very narrow roads.
So, if you want to get further, you have 2 options – hire a car in Pollença or try hitchhiking. And hitchhiking is very easy there, we got a ride within a few minutes.
When you arrive at the lighthouse, you will be greeted by one of the goats that are wandering around. I Bet that the goat will want to get some snack from you.
You won't be probably alone waiting for the impressive sunset even in the springtime. Sunset is on the right side from the very impressive rock-cliff formation and it's gorgeous. We stayed until the sun was set and didn't manage to stop anybody on the way back, so we choose to walk in the moonlight to the nearest beach, where we slept another night.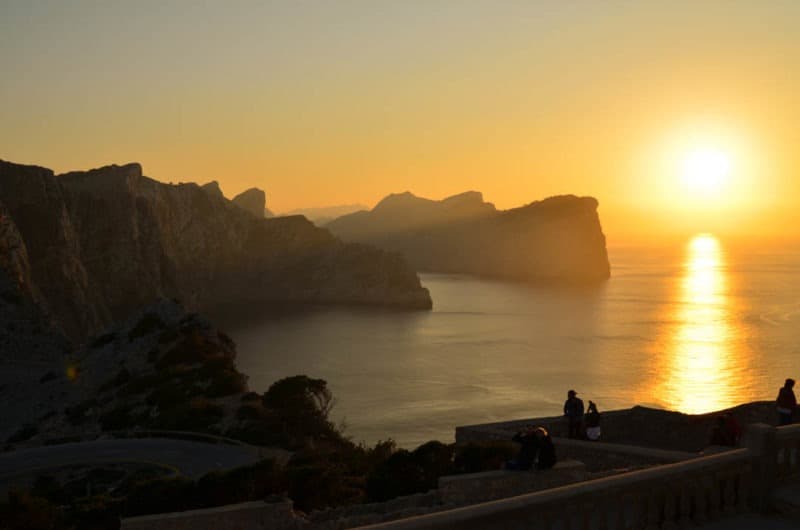 Beautiful beaches on Formentor, Mallorca
The most beautiful beach (in our opinion) is Cala Figuera in the bay north from the peak of El Fumat – azure blue water, which attracts not only hikers but at the same time bikers or sailboats. If you want a smaller beach, I would recommend going to Cala Murta. Maybe you will meet a bunch of donkeys, who are definitely not afraid of people. They will be even grateful if you pet them or even give them something to eat ?
You can see all the beaches on this map, which we have prepared for you.
Alcúdia, Mallorca
Alcudia is a picturesque historic town with narrow streets, cathedral and old city walls. There is a nice view from the walls – you can visit them without any admission. Along the seaside, there is a long sandy beach. Again, you can see all the interesting places to visit in Alcúdia on our map.
If you have more time in Alcúdia. you can check this article about things to do in Alcúdia.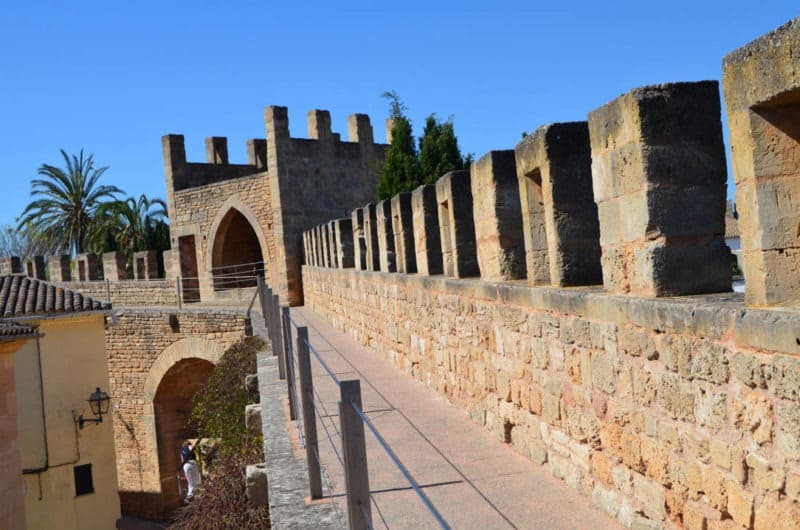 Practical tips for hiking on Mallorca:
Siesta – beware of it! If you want to buy something in Palma between 13:00 and 16:00, don't forget it's time to rest! Some shops might be closed at this time.
Cooker – if you're going to cook your meals on the gas cooker, you will not be able to buy a gas bomb in Valldemossa. We bought it in Palma's Intersport or you may buy it also in the small shop in Esporles. Again, beware of the siesta ?
Maps – We highly recommend Mapy.cz, they have the best free touristic maps in the world – they are really in detail. Another great application with for offline navigation is Locus. In general, we definitely recommend downloading any offline maps to your phone, although the whole GR 221 trek is relatively well labeled.
Power bank – if you don't plan to spend time by charging phones or cameras in cafes and restaurants along the route, power bank is a great thing, especially if you use your mobile phone for navigation.
Drinking water – Drinking water sources are marked in the mountains, (better to have offline maps), and there is also no problem to find drinking water in every town. We were happy to carry 3-liter camel bag.
Where to sleep – in general, we didn't have a problem to find a place to sleep along the way. The most suitable places are marked as ruins on the map. These places have wide flat areas for a tent or shelter.In the end, you might be wondering how much a trip like this cost – we managed to fit under 160 EUR including flight tickets! If you have any questions or comments, don't hesitate to ask us. And choose the Mallorca for your next trip!
Other things to do – check this guide to the best things to do in Mallorca.
Map of trail GR 221 and other interesting places of Mallorca
We have prepared a detailed map of GR 221 walking route with all important places to see for you for easy download to your phone or GPS. You will find interesting places of walking route GR 221 – there, as well as beaches and points for a historical walk in Palma de Mallorca. We recommend using Locus Map, where the GR 221 is well marked + you can import all these points in .kmz format there.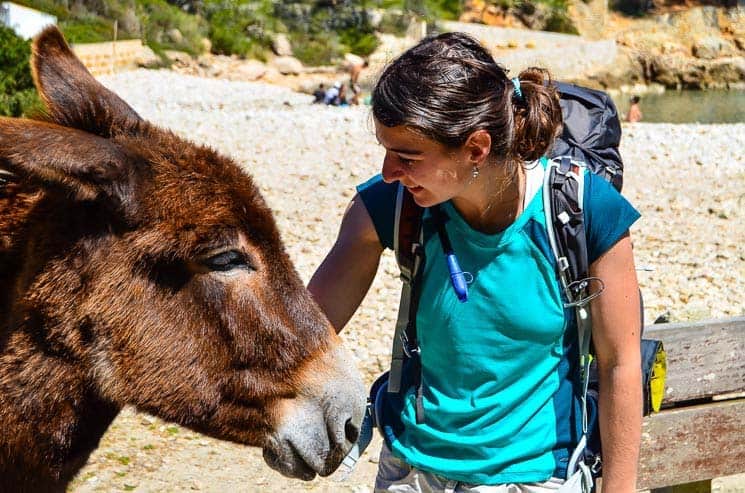 Palma de Mallorca – interesting places to visit
Last day of your trip is ideal for visiting the capital – Palma de Mallorca. It would be a pity to skip this lovely historical town.
La Seu Cathedral is the dominant landmark of Palma de Mallorca – one of the largest cathedrals in Europe (dating from 1230). There is 8 euro entry fee (it's not collected during the mass). Right next to the cathedral there is a Royal Palau de l'Almudaina – the summer residence of Spanish royal family. Royal Palace is a combination of Gothic and Muslim architecture. Admission is 7 euro. These sights are nearby the Puerto de Palma, which is a lovely harbor, especially at sunset.
The Museum of Modern and Contemporary Art – Museu Es Baluard is not far from the port. Admission fee is 6 euro, but it is free on Friday.
Go for a walk also to the historical streets, especially Placa Major, btw. they have delicious ice cream there! From Placa Major, it is not far to Basícila and Claustre de Sant Francesc, which is also worth mentioning – the courtyard is beautiful.
If you need some more inspiration, check this 2-day Mallorca Itinerary with more recommendations on what to visit.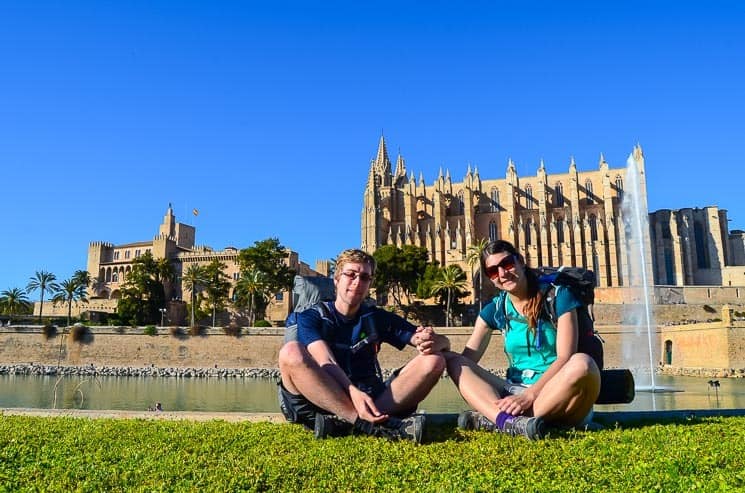 Where would locals go for Tapas – Palma de Mallorca
After a nice walk through the historic center of Palma de Mallorca, we wanted to end this trip with some typical Spanish dinner and we met Czech women, who came years ago to Palma. This nice lady recommended us El Olivo restaurant (Avinguda de Joan March, 7).
She said it is her favorite restaurant, not overpriced like other restaurants in the city center and you get tapas with any order of beer or wine. We were excited! We ordered even more tapas after the first round. It was delicious! Although waiter didn't speak English, we managed to order food wanted.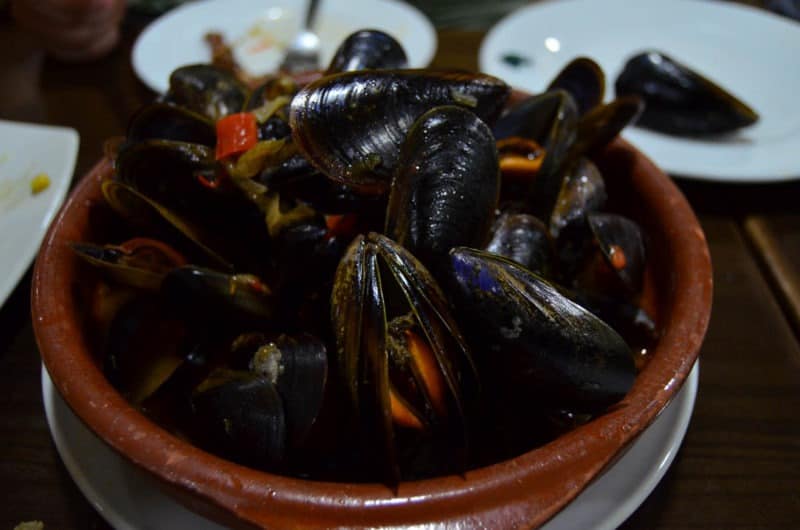 Accommodation in Palma de Mallorca
After arrival to Mallorca, it's worth it to wander a little bit around Palma de Mallorca. You will probably stay there the first night too.
Here are the cheapest hostels with good ratings and private rooms:
We highly recommend booking your accommodation in advance, because Palma de Mallorca is starting point for all travelers and hotels are quite fast fully booked.
Festivals and events in Mallorca
Mallorca Carnival – traditional carnival is held annually last weekend of February or first week of March. Celebrations take place all over the island, but the biggest parade and celebration is traditionally in Palma. You can watch the "Sa Rueta" – children's parade in the morning and "Sa Rua" – the procession of adults and grown-ups at 17 h.
Easter – Easter celebrations are a major event in Mallorca. Everything starts on Holy Thursday and the first parades walk into the streets. Celebrations take place across the island.
Es Firó – Celebration of victory over the Turkish and Algerian pirates in Soller, 1561. Es Firó is one of Mallorca's largest festivals and is held on the second week of May. The celebrations start on Thursday and culminate by the battle reconstruction on Monday. Come to see the battle, fireworks, costumes, and music.
Corpus Christi – Every Thursday, 9 weeks after Easter is the time for Corpus Christi festival. It is the most visited festival in Palma de Mallorca. You can expect floral carpets, a parade, music, and concerts.
I want to do hiking on Mallorca – GR 221
If this blog post helped you, you can make us a favor and buy your flight tickets and book your accommodation using our links. It doesn't cost you anything extra and we will get a small commission, which we will use for further web improvement.
Are you decided? Great, just find the cheapest flight ticket!
Hiking in the Balearic islands
If you'd like to try other hiking trails in the Balearic islands check out: A guide to walking the Cami de Cavalls in Menorca.
And check this amazing video about Mallorca:
More tips for your travels:
We have prepared for you this comprehensive list of links, discounts, and resources for travel planning in one place. Bookmark this page and whenever you plan a vacation in the future, just open it and save yourself a lot of time.
1) Where to book accommodation?
2) How to find cheap flights?
3) How to rent a car?
We recommend a comparison portal RentalCars.com to compare the best offers of all available rental companies.
Pin hiking on Mallorca for later or for your friends: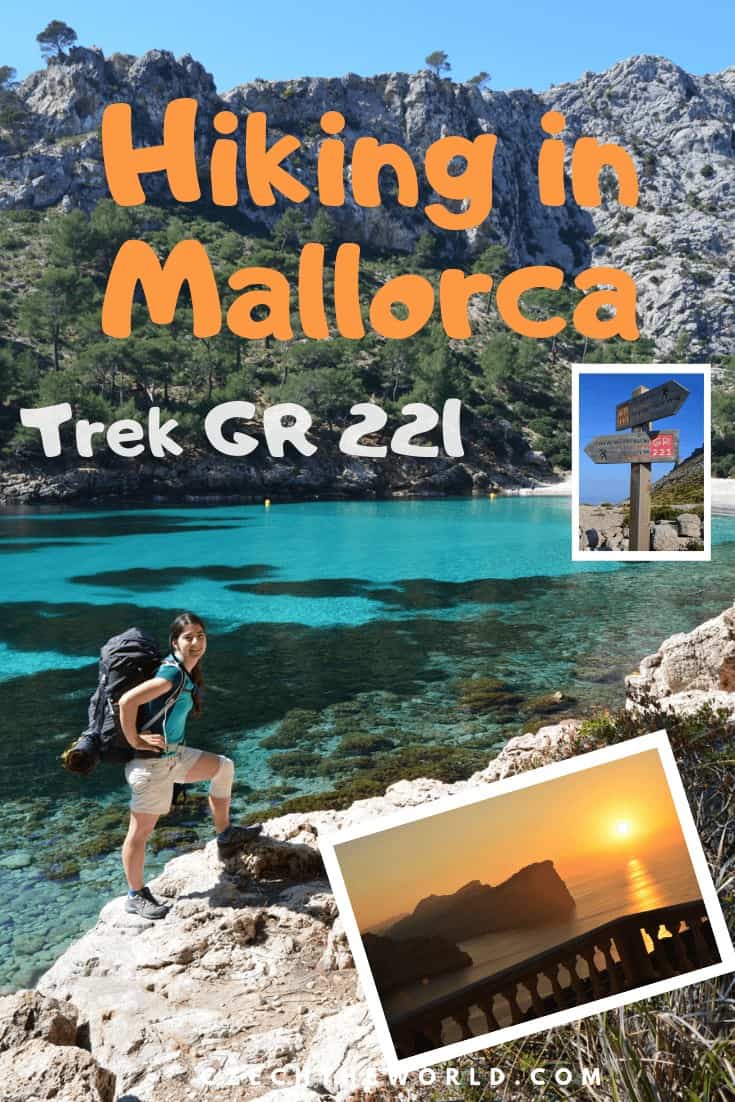 Hiking on Mallorca – FAQ:
Did this post about hiking on Mallorca help you? Share it with your friends! It can help them too!
Disclosure: Please note that some of the links above may be affiliate links, and at no additional cost to you, we earn a commission if you make a purchase. We recommend only products and companies we personally use and we use this income for further improvement of this website. Thank you!