In the previous article, we have summarized the various options for finding the best accommodation around the world. In this article, we'll look at how to search specifically on the popular Airbnb portal.
We are using Airbnb a lot and it's a great platform for finding a nice place to stay, did you know that Airbnb has handled over 825 million guest arrivals so far? We always follow these proven tips when searching and it really works, we have only good experiences.
13 expert tips for searching on Airbnb
1) Get a $44 discount coupon code on your first stay
If you haven't used Airbnb yet, use this link to get a $44 discount coupon code on your first stay. It's not a scam, Airbnb appreciates new users.
2) Use filters correctly
There is a lot of accommodation offers on Airbnb. For example, there are 36,000 places to stay in New York. Therefore, it is a good idea to use filters to find accommodation that suits you the best.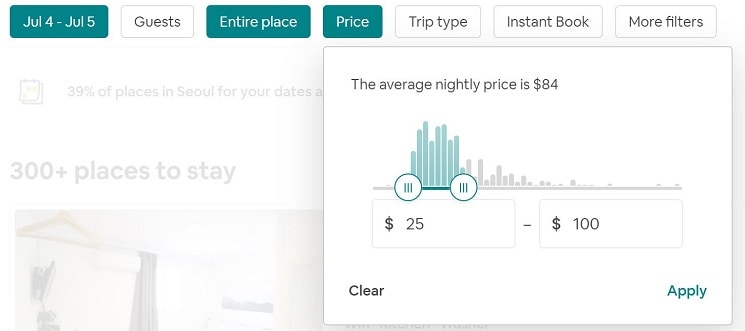 You can filter by:
Accommodation type – you can choose from 4 options:

Entire place – you'll have the whole place for yourself.
Private room – you will share the property with others, but you will have your own room. The most common option is that the owner rents one room in his house or apartment and you will share the place with the owner.
Hotel Room – More and more hotels are signing up for Airbnb recently.
Shared room – you will share the room with other guests. These are mostly hostels.

Price – Set your budget.
Bedrooms, beds, and bathrooms – you can choose how many beds, bedrooms and bathrooms you want.
Airbnb Plus – filters only hosts that meet the following conditions:

Good facilities, thoughtful design, and extra clean and tidy space.
The minimum average rating is 4.8 for the past year.
No cancellations made during the past year.

Superhost – filters only hosts that meet the following conditions:

At least 10 stayed guests in the last year (or at least 100 nights in 3 stays).
Response index 90% – responds to 90% of new messages within 24 hours.
The minimum average rating is 4.8 for the past year.
No cancellations made during the past year.

Instant Book – finds only accommodation deals where you don't have to wait for host approval.
Type of stay – you can find accommodation that meets one of two conditions (or both):

For families with children – Properties with 5-star ratings from families with basic amenities such as kitchen and TV.
For work – top-rated homes with essentials such as workspace, wifi, and self-check-in.
More filters:
Accessibility – you can select features you need to get around comfortably. Wide entrances are at least 32 in (81 cm).
Amenities – Various household amenities such as air conditioning, washing machine, hairdryer, laptop workspace and more.
Social facilities – you can choose a gym, pool, whirlpool, parking and more.
Property type – different types of properties like house, apartment, cottage, hostel, cabin, bungalow and more.
Unique stays – various special options like campervan, boat, treehouse, tent, farmstay and more.
House Rules – Choose accommodation where smoking, pets or social events are allowed.
Host Language – What language do you want the host to speak?

3) Search on a map
If you don't look at the map and accidentally book a cheap hotel which is far from the city center, you may then spend a lot of money and lose a lot of time just on traveling.
Airbnb allows efficient map search. First, filter out your main requirements and then choose a good compromise between price and distance based on the map.
Be careful, however, that Airbnb does not provide exact addresses and places of accommodation for safety reasons. It is always an approximate location. The accommodation will be located near the location, but it does not have to be on the same street.
We recommend using Google Street View to explore the area. You can see if it is a busy or quiet neighborhood or if there is a shop or restaurant nearby.
4) Read carefully the full description of the accommodation
It is important to read carefully the full description of Airbnb accommodation. You will find out, for example, whether the owner allows smoking or pets. Whether you will have Wi-Fi access or air conditioning. Whether you can park on the property or how to get to the accommodation as easy as possible. And a lot other important information.
5) Check all pictures
Photos can show accommodation shortcomings. For example, if the owner has only uploaded two photos, you should beware. If the photos are blurry, it is quite possible that the host is trying to hide something.
Are there photos of all the rooms except the bathroom? This may mean that the bathroom is in poor condition. The best accommodation offers include detailed and quality photos of all the rooms.
6) Trust the reviews and read the comments
It's always good to read reviews and trust them because guest comments will give you the best and most honest description of what the accommodation really looks like. Every host will only write positives in the description and will try to hide the negatives.
Generally, people are not critical enough, therefore rating 4 stars out of 5 is quite below average. We recommend looking for accommodation with a rating of at least 4,5 stars.
The amount of ratings is also important. If the hotel has only 5 ratings, it can be biased.
Review comments also tell a lot. Especially comments on worse ratings. You will find the reason why the user assessed the stay negatively and what to watch out for. On the other hand, you may find that people give low ratings for the small details you don't care about (such as too small towels).
7) Beware of additional fees
Until you enter a specific date, some additional charges that need to be taken into account are not included in the price. These charges include:
Airbnb service fee – you pay between 5 % and 15 % for each booking to Airbnb.
Cleaning fee – some hosts charge an extra cleaning fee.
Extra person fee – In some accommodation, you will pay an extra charge for a person above a certain limit. For example, the price could be the same for 1-3 people, but you will pay extra for the 4th and 5th person.
VAT (VAT) – you have to pay value-added tax in European Union countries and other regions around the world.
Local taxes – Additional local taxes apply to bookings in some areas. Beware that sometimes hosts don't count these taxes towards the price of the accommodation, but will want to pay it on arrival.
8) Book your Airbnb accommodation in advance
If you know the date and destination in advance, do not hesitate to book your accommodation today. A large percentage of the offers on Airbnb are private owners who have only one or two rooms at their disposal and the best deals are booked a few months in advance.
9) More nights could be paradoxically cheaper
Many Airbnb accommodations offer discounts for longer stays. These are usually weekly (7 nights) and monthly discounts (28 and more nights). In some cases, it may be cheaper to book 7 nights instead of 6. Or 28 nights instead of 27.
Some cities also collect so-called city taxes, which are only charged for stays of up to 30 days. The total price may, therefore, be lower for a stay of 31 days than for a stay of 30 days.
10) Avoid public holidays and popular dates
In popular dates (such as Easter, Christmas or New Year's Eve), accommodation is usually more expensive and sold out well in advance. So try to avoid these dates. It is also good to find out when public holidays and school holidays are in the country you are traveling to and avoid these too.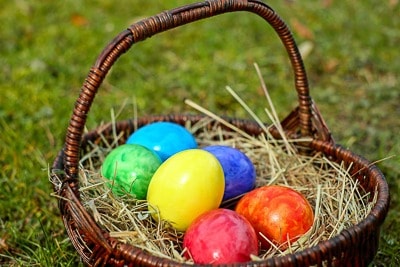 11) Pay only directly through Airbnb
Sometimes it happens that the owner writes to you to pay for the accommodation on arrival instead of paying through Airbnb. He wants to avoid paying part of the earnings to Airbnb. If you do, you will lose any legal protection from Airbnb. You can risk it, but it may not pay off.
Airbnb is not paying the owners immediately, but 24 hours after your stay. This is because of the complaint possibility. If you make a complaint claim within 24 hours, Airbnb may refund you money if you are right. Most often, claims relate to:
Accommodation description is inadequate – for example, not enough beds or rooms or different location
Dirty rooms or surroundings where you don't feel safe.
There is an animal which has not been listed in the description.
12) Call the owner if you have any problem
If you encounter any problems – whether something is broken or you are missing something written in the description, contact the owner. It is in the host's interest to have satisfied guests and they will try to help you and solve the problem in the vast majority of cases.
The worst thing you can do is to be silent, say nothing, and then give the owner a bad rating, even if the problem is easy to solve within a few minutes.
13) Download Airbnb mobile app
We definitely recommend downloading the Airbnb mobile application for traveling. Firstly, you will have a clear overview of your accommodation and, secondly, you will have significantly easier re-booking, cancellation or re-ordering.
The app also allows you to easily contribute with ratings and comments on your stays.
Airbnb – $44 discount coupon code
Would you like a discount coupon code on Airbnb? It's easy, just use this link to get a $44 discount on your first accommodation (if you don't already have an account, you need to create one).
Check this video about 10 Warning Signs to Look Out for Airbnb:
More tips for your travels:
We have prepared for you this comprehensive list of links, discounts, and resources for travel planning in one place. Bookmark this page and whenever you plan a vacation in the future, just open it and save yourself a lot of time.
1) Where to book accommodation?
2) How to find cheap flights?
3) How to rent a car?
We recommend a comparison portal RentalCars.com to compare the best offers of all available rental companies.
Pin this for later and for your friends:
Did this post help you? Share it with your friends! It can help them too!
Disclosure: Please note that some of the links above may be affiliate links, and at no additional cost to you, we earn a commission if you make a purchase. We recommend only products and companies we personally use and we use this income for further improvement of this website. Thank you!