This guide takes you through the best places to visit in Myanmar. You will find out what to visit, where to go, how to travel to a certain destination, how much does it cost or where to stay. General information and practical tips for traveling in Myanmar can be found in the Backpackers Travel Guide to Myanmar.
1) Places to visit in Myanmar – Yangon
Yangon is the starting point for the majority of travelers. This former capital of Myanmar offers nice activities for a couple of days.
Getting around the city
You can use local buses to get around the city, the price is as low as 100/200 MMK depending on the type of bus. You need an exact amount to put it in the box at the driver's door. There are some mobile apps and maps (you can try Google maps), but it's not easy to figure out where the bus line goes. The second option is to use Grab (Asian version of Uber). It's simple, convenient and still relatively cheap.
Shwedagon Pagoda
Also known as the Golden Pagoda – Myanmar's most sacred Buddhist pagoda. There is an admission fee of 10,000 MMK (for foreigners), but that's definitely worth it! Shwedagon Pagoda is open daily from 4:00 to 22:00. They will try to offer you guided tour around pagoda, but it's only up to you if you want to pay extra money for it. We recommend visiting Shwedagon pagoda before sunset so as to enjoy the golden hour for photographing. You can wait there until it gets dark because it has its magic after dusk!
A basic lesson on clothing at places of worship: Always have covered shoulders and knees, and enter barefoot only. If you want to leave Shwedagon Pagoda by another exit, remember where you left your shoes. There are 4 similarly looking entrances/exits.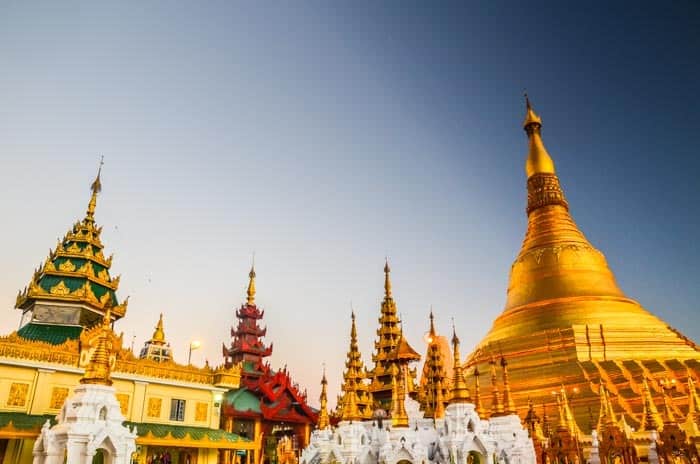 Yangon Circular Train
Taking the trip by Yangon Circular train is the easiest and cheapest way to explore Yangon with its local life. This circular railway is 46 km long, and it has 39 stops. Trains run every 45 – 60 minutes. You get a train ticket for just 200 MMK and you can hop off, explore and wait for the next train at any station. The whole circuit takes about 3 hours. The biggest experience is mainly the ride itself. You might notice that local people carry everything mostly on their heads. People are also walking through the train while selling food or other stuff. It is very interesting to watch all that "bustle" around.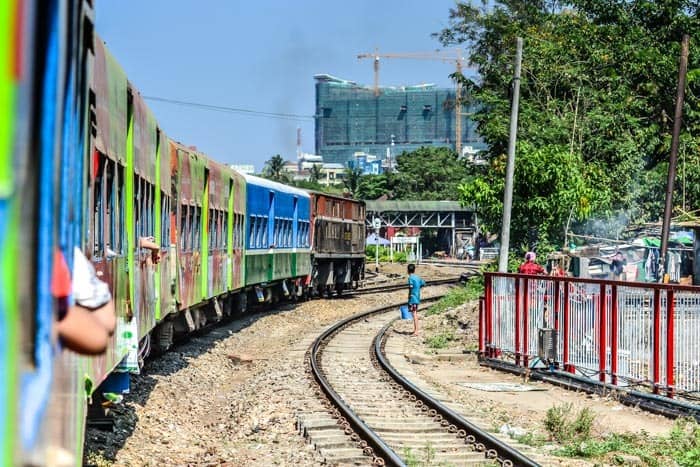 Buddha Tooth Relic Pagoda (Swe Taw Myat)
One of the nice pagodas in Yangon with free entrance.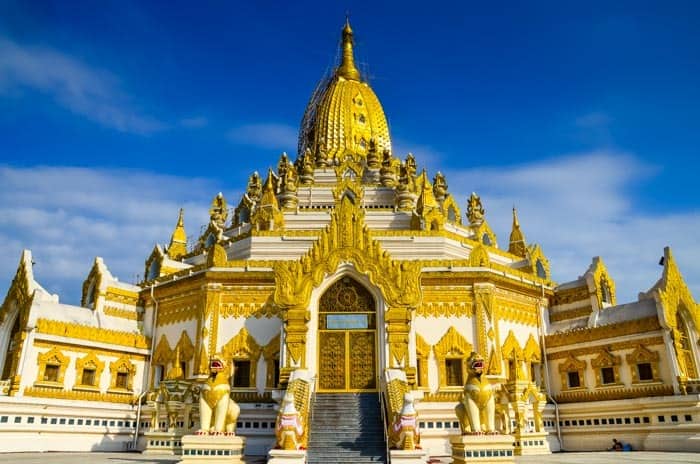 Chauk Htat Gyi Buddha Temple
A temple with a huge reclining Buddha inside.
Bogyoke market
If you like markets and souvenirs, you can enjoy this great place on your way to the train station. Opening hours are following – 10:30 to 17:00, every day except Monday.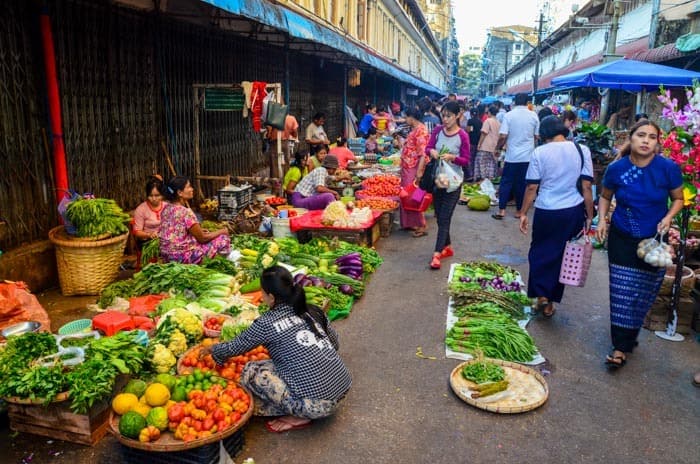 Other places to visit in Yangon
Another favorite tourist destination in Yangon is Sule Pagoda. You can visit it on the way to ferry, which takes you across the river to the village of Dala Township. If you hire a local guide in Dala, they will take you for a tour around the village. Riding on handmade rebuild bike with a sidecar is an experience, plus they will tell you something about the village life as well. They asked 3500 MMK per person for 1,5 h ride. (Price is always negotiable, so it is up to you 🙂
Where to stay in Yangon
You will surely find some nice accommodation at Agoda.com. We stayed at Agga Youth Hotel in the city center. Nice room, shared bathroom, breakfast included.
Recommended time to spend in Yangon
We recommend at least one whole day (2 nights) for Yangon. You will have enough time to experience the Circular Train and visit the Shwedagon Pagoda.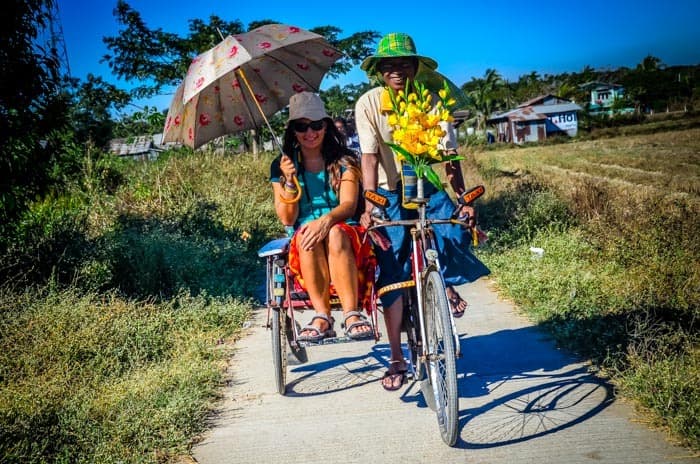 2) Places to visit in Myanmar – Golden Rock
This giant golden stone (alias Golden Rock) with a pagoda on the top balances at the edge of a rock. It's a sacred place for the locals. Thousands of Buddhists come from all across Myanmar to this place. As a foreigner, you won't avoid an entry fee of 10,000 MMK.
Warning for ladies: Unfortunately you can't get to the Golden rock directly. There is a zone, where women are forbidden to enter. Only men can touch the Golden Rock. But don't worry, you'll get close enough to take good photos.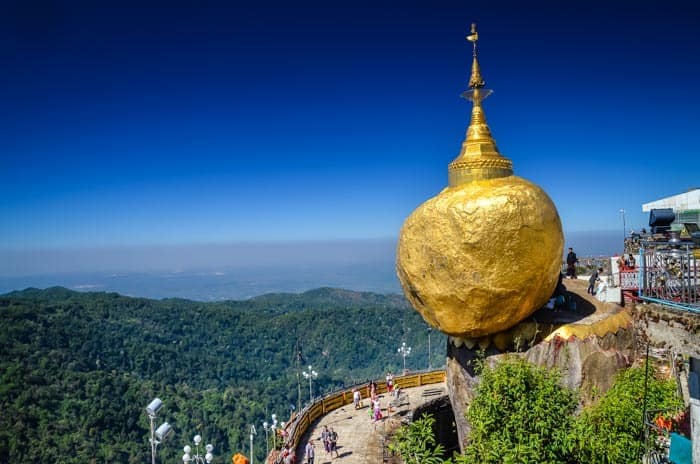 How to get to Golden Rock?
You can take a train to Kyaikto from Yangon. The journey takes 3 hours. The ordinary class ticket costs 1 200 MMK (about $1). From Kyaikto you must take a shared pick-up for 500 MMK. Another option is hitchhiking or taxi.
The second and much more expensive option is to take a direct bus from Yangon (Highway Bus Station) to Kinpun. It costs 7,000 MMK and takes 5 hours.
From Kinpun to the Golden Rock
Kinpun is the starting point for giant sight-seeing pick-ups that will take you up the hill. Price is 2000 MMK per person for one-way ticket.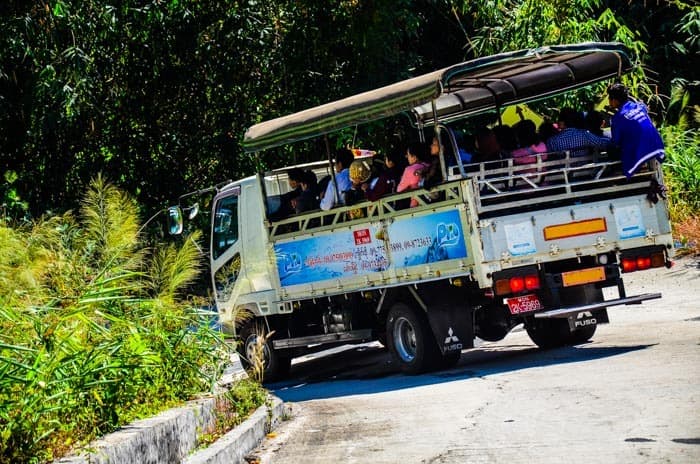 Comparison to the roller coaster is not far from the truth. You are going to feel it! There are several rows of benches in the back of the truck and drivers fear nothing. First, this vehicle makes a stop at the cable car – for those who want to pay some extra money for cable car experience. (There isn't anything special about the cable car. It was built only as an attraction for people to enjoy it). The second stop is at the top (where you want to get out).
Although you are on the top of the hill now, you still have to walk to the Golden Rock. There are carriers on the final station offering their services. Tourists have to pay the entrance fee. The gate is about halfway up. You can leave there your backpacks and refill your water bottles. You have to walk the last 450 m to pagoda barefoot.
Recommended time for Golden Rock
One day should be enough for a trip to the Golden Rock. Of course, it depends on the direction you are going next. It is possible to start from Yangon early in the morning and continue your journey in the evening or simply stay in Kinpun. You can also stop by on your way from/to Hpa An.
Places to stay in Kinpun
A cheap option in Kinpun is Shwe Hinn Thar Hotel. You can also choose from other places.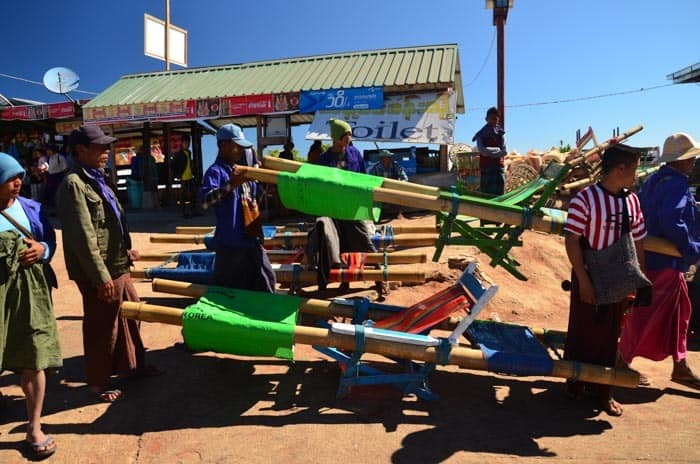 3) Places to visit in Myanmar – Gwa and Kanthaya beaches
Gwa is a small coastal town about 8 hours bus ride from Yangon. If you are a beach lover, you will be excited to come. There are a white sand beaches with palm trees. Beaches are empty, and there is a minimal chance to meet a foreigner in a Gwa village. You can also witness an authentic village life of the Burmese people there.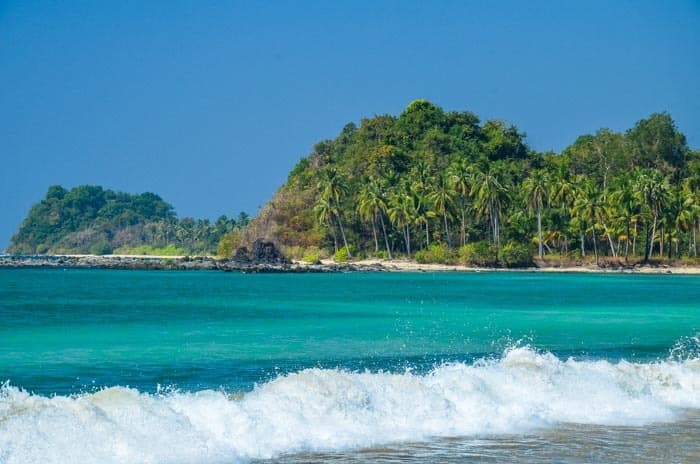 Boat trip to Gwa island and snorkeling
If you want to have a nice relax on the beach, visit Gwa Island. The easiest way is to ask the hostel's owner. He offered us two options: More expensive one for 25,000 MMK (for 2 people) with pick up from the hostel at 8 AM. Or less expensive, but a complicated option: we would have to take the motorcycle taxi to the bay area and take a regular boat to travel to the other side of the bay. This would be for 10,000 MMK for a trip to Gwa island (plus 500 MMK for motorbike taxi per person in 1 way and 3000 MMK per person for crossing the bay).
How did Gwa Island boat trip look like?
When we arrived at the island, our boatmen took us for a tour around the island. I've never seen so many mussels and seashells on the move! This island is perfectly abandoned with beautiful corals around! It makes the island a perfect place for snorkeling! There is only one bamboo construction on the beach (built by our boatmen for visitors) to have shade. He told us, that he takes tourists to Gwa island 2 – 3 times a week.
At 3 o'clock it was time to get back. On the way back, he wanted to show his village and "flower stones" – as we later understood – corals. They weren't in the water because of the low tide. We tried to explain to him that these are living organisms, and he should definitely not walk on them.
If you go on a trip, please tell him the same thing and let us know if he stopped doing that (he promised us). Phone number of this boatmen is 09 770840575 / 09 263110436.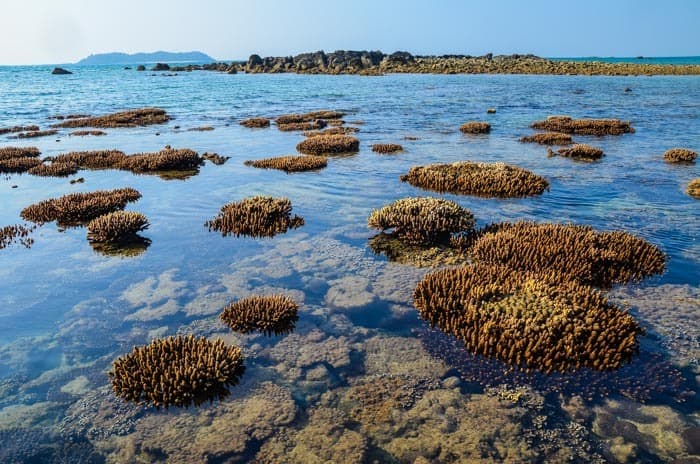 Beaches of Zik Hone and Kanthaya
Rent a scooter and explore the coast and beautiful beaches! Just ask at your hostel. You will pay 10 000 MMK for motorbike/scooter per day.
• Kanthaya – wide bay, coconut palm trees, and soft sand. If you drive from Gwa to Kanthaya you will arrive by a coastal road leading over small rocky cliffs. You can find several accommodation options directly on the road next Kantaya beach.
• Zik Hone – this beach is simply a hidden gem! Zih Hone looks like an undiscovered perfect beach at the end of the world. You can get there it if you turn into a small village of Nyaunggyaung towards the coast. After a while the dirty road disappears, and you will ride only on a tiny path through the grove. Looks as if there was no one before … so please consider it and leave no trash! Coordinates of the beach.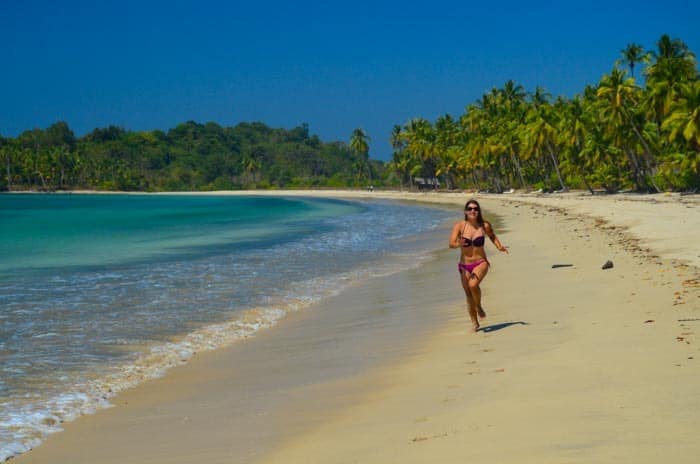 Accommodation in Gwa
We can recommend the Aung Chang Thar accommodation, which has cozy room, drinking water, clean bathroom, nice breakfast and very willing owner who arranged a trip to the island and scooter rental for us. It cost us only 15,000 MMK per night for a room for 2. There are also some other options, but they are not listed on Booking, neither Agoda, you just arrive in person and ask for free room and they will most likely have one.
Where to eat in Gwa
Thanks to the recommendation of hostel owner we tried the KoKo Nyi Nyi restaurant. They have excellent fish, seafood, noodles, … We can only recommend it; the food was delicious!
Recommended length of stay in Gwa
It depends on how many days in total you have in Myanmar and if you are a beach lover or not. In 2 days (3 nights) you can see the beautiful Zik Hone and Kanthaya beaches, including a trip to Gwa Island.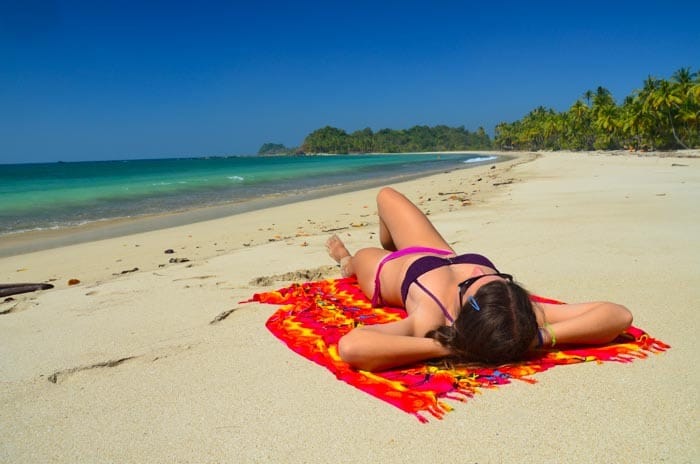 4) Places to visit in Myanmar – Ngapali beach
Ngapali is Myanmar's number 1 beach destination. You will find luxurious hotels, resorts, restaurants, bike rentals (scooters are forbidden for tourists in Ngapali area) and other holiday activities. It is a wonderful area with white sand beaches, coconut palms, and amazing turquoise water! Like a paradise. Although, Burmese say it's busy here, don't believe them so much. There are more tourists than at other beaches, but it is still an uncrowded place compared to any other country or beach destination.
How to get to Ngapali
• Airplane – If you want to avoid looong journey on old bumpy roads, you can fly from Yangon. The nearest airport is in Thandwe (10 km north of Ngapali). There are flights on daily basis from Yangon and you can get the flight ticket for about 150 – 170 USD. Find your flight tickets at Momondo.
• By bus – Buses from Yangon to Ngapali depart at 7:00 and 15:00. Ticket costs about 12,000 – 16,000 MMK. The journey lasts 14-16 hours.
Buses from Gwa runs at 6:00, 8:00 and 15:30. But be careful, sometimes the bus is ahead of time (e.g. bus arrives at Gwa at 14.40 instead of 15.30). The bus from Gwa to Ngapali costs 5000 MMK and ride takes about 4.5 hours.
Accommodation in Ngapali
If you are looking for cheaper backpackers' places, there are not many of those. You can try Northern Star Guesthouse 1, but it's just only a tiny basic room, not very nice shared bathroom and lot of people around. You might find something nice on Agoda or Booking.
Recommended length of stay in Ngapali
If you are a beach lover, you can spend here a week! It is also a nice stop after a long bus drive. We would say at least one whole day (2 nights) is a minimal time to properly enjoy the beach.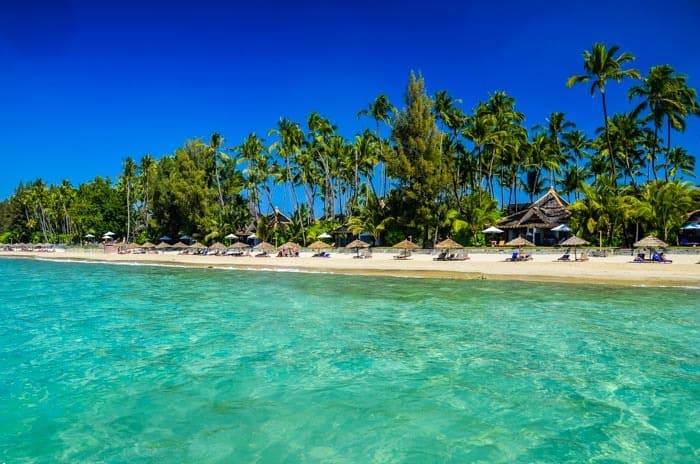 5) Places to visit in Myanmar – Mrauk – U
Mrauk-U is just a magical place. Ancient temples set between the hills, "wake up" each morning in a mystic haze that gives them a magical atmosphere. This place is so remote and poorly accessible, that it only has 2,000 to 5,000 visitors a year. We can confirm it, because we only met two other foreigners during the 3 days we spent here.
There is a universal fee of 5000 MMK to Mrauk U Archeological zone. The fee is collected only at the Shit Thaung pagoda.
We were nicely surprised that there is a bank and ATM in Mrauk U town.
Rent a bike in Mrauk U
Hiring a bike is definitely a great idea for exploring the surrounding area and the archeological zone. You can get a bike for 2000 MMK per day. Mrauk U is ideal for exploring temples and pagodas by your own. Just download the map of temples to the GPS on your phone and head out to discover ancient places.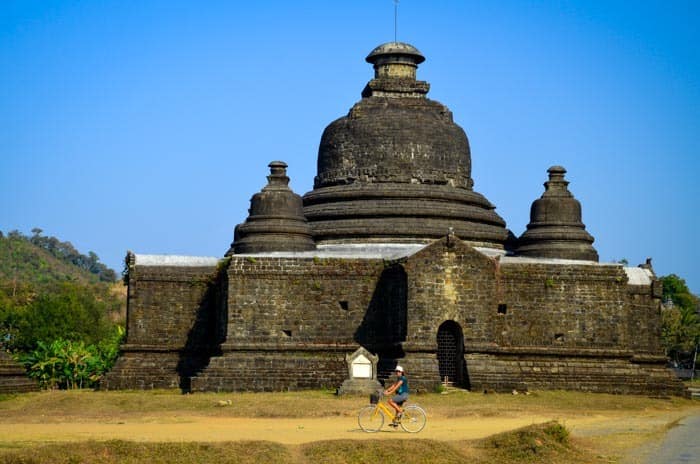 Where to stay in Mrauk U
Agoda will surely offer you several nice options. We were happy to stay at the Prince Hotel.
Where to eat at Mrauk U
Locals recommended us Kaung Than, the restaurant where locals eat. It is cheap and so good! You will be nicely surprised by the amount of food you get. I promise you won't regret visiting Kaung Than restaurant.
Chin villages
You will surely hear about Chin village or at least somebody from Mrauk U will offer you trip there. Chin village is a village of indigenous people living the old way. The biggest "attraction" are older women with face tattoos. These tattoos were made to them to protect them in their teenage years against kidnapping (by men from another tribe).
Recommended length of stay in Mrauk U
If you want to thoroughly explore the Mrauk U by bike, count with at least 2 days (3 nights) here.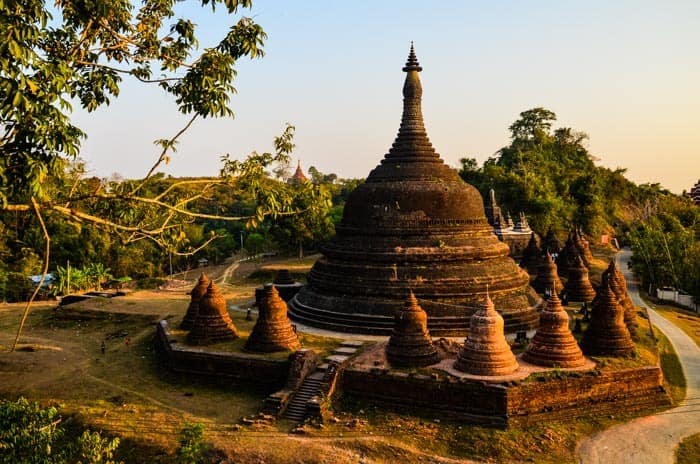 Getting from Ngapali to Mrauk U
Getting to Mrauk U is quite challenging. There is not much information on the internet, so it can also be helpful to ask locals. Basically, you have the following options:
• By Bus – Bus to Mrauk U runs daily from Ngapali at 11.00 AM. The journey takes 15 hours and costs 18,000 MMK.
By Air + Bus / Ship – You can fly from Ngapali (Thandwe airport) to (prices start at $ 75). From Sittwe you can take a bus or boat to Mrauk U. Boat cost 15 000 MMK and we heard it is quite nice.
• Boat + bus – If you take a bus from Ngapali at 13.00, (via Thandwe) to Toungup, you can take a boat from Toungup to Sittwe. Bus from Ngapali to Toungup costs 3500 MMK. Beware: Ship departs from Toungup harbor to Sittwe only on selected days (2 to 3 times a week, early in the morning). It is always necessary to spend a night in Toungup.
We wanted to go by boat because we were already tired of bumpy and dusty roads.
Unfortunately, the boat was scheduled 2 days later. Another solution was to continue by bus. We didn't want to waste time, so we took the Cargo bus (there was only one-third of the seats, rest of the bus was stuffed with anything possible), leaving at 17.00 from Toungup with arrival at Mrauk U about 3:30 in the morning.
From Mrauk U to Bagan
There is a bus going to Bagan every morning at 8:30 from Mrauk U. Price is 23,000 MMK. Be prepared for the long journey (whole day) and extremely dusty roads! Take a scarf on the bus! You will appreciate it very much because the bus is usually full of dust! Extremely full of dust!!!
Unfortunately, the Bagan station is far away from the Bagan city and taxi is the only way to travel to town during the night. There should be the bus/pickup for 1000 MMM per person, during the day.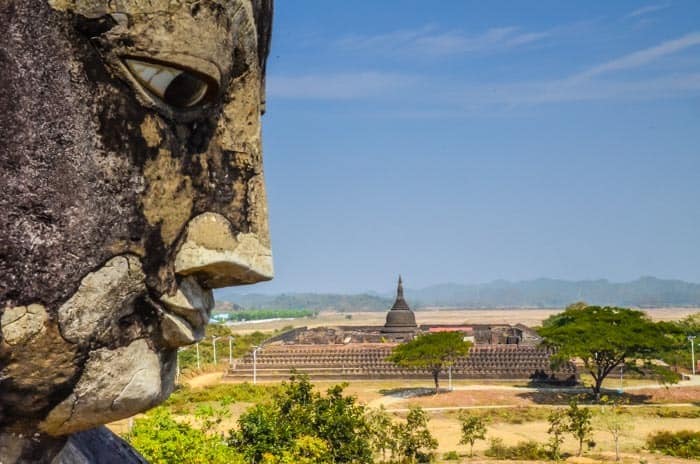 6) Places to visit in Myanmar – Bagan
The town of thousands of monasteries, pagodas, and stupas. There are still more than 2200 temples and pagodas remaining (out of 10 000 original ones) in approximately 4 square kilometers! The most common photos you usually see from Myanmar were photographed in Bagan. It's worth spending a few days in Bagan, which belongs among the most famous landmarks in Asia. There is an entrance fee of 25,000 MMK to the Archeological Zone. It is valid for 4 days and is collected at the largest and most famous pagodas. Keep the card always with you to be able to show it at next temple you visit.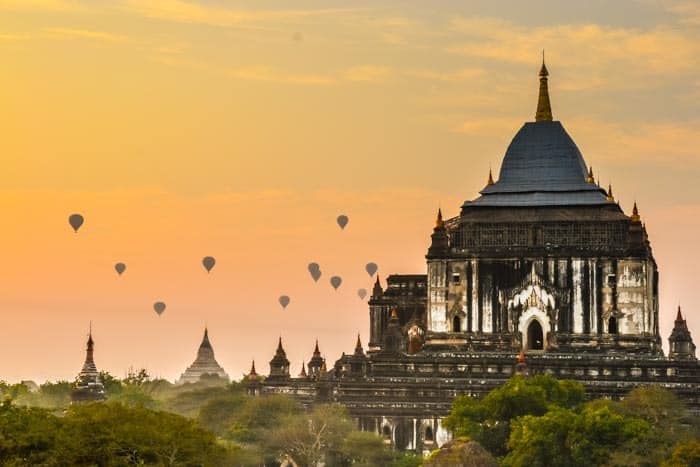 Renting E-bike in Bagan
Foreigners are not allowed to drive motorcycles in Bagan. But you can rent an e-bike on every corner. E-bike is an electric scooter. If you are worried if the battery will last for a whole day you don't have to, in this case, you have a phone number and you can call your bike rental to replace the e-bike for you. Simply tell them your location and they will come with a new e-bike. Usually, battery lasts the whole day. You can get e-bike from 6000 MMK/day in Bagan.
Climbing to pagodas is forbidden
If you have read some older articles, climbing on temples and pagodas used to be allowed. Since November 2017, the ban has been issued to protect monuments, and almost all the temples have staircases closed by gates. However, there were built observation platforms (artificial hills) where you can go to see Bagan from above. The terrace of Shwe Gu Gyi Temple is also open to the public (it is popular for sunset/sunrise – be sure to arrive in advance to take a nice spot, it is always crowded).
If you visit temples further away from the center, you may find smaller pagodas or temples guarded by or monks. They can give you a key so you can look inside or even climb up. It's polite to leave a small tip in this case (about 300 MMK).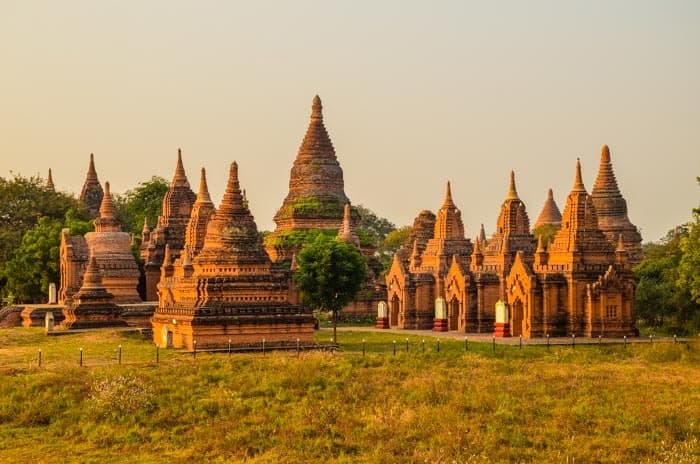 Sunrise in Bagan is magical. Especially photographs at sunrise or sunset are those that you will further show to your friends. We recommend going at some observation platform or at the Shwe Gu Gyi temple roof. Be there in advance, it will get crowded. Take also the admission card to Archeological Zone with you – they are checking it even before the dawn.
If you want to see Bagan from above, there is also a private lookout tower Nan Myint. There is an entrance fee of 5 USD (valid for the whole day). Although the observation tower is a little bit further from the center of Bagan you can still see the whole area. They serve a welcome drink as well.
Balloon flight
Balloon flights above Bagan are very popular. We didn't do it because it was quite expensive. However, it could be just an amazing experience. If you would like to experience it, book your balloon flight here.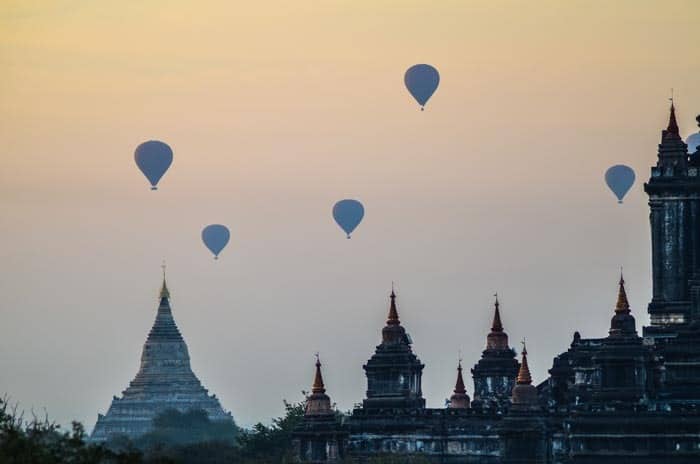 Mount Popa
A trip to Mount Popa and the Taungkalat monastery is well worth visiting! This impressive monastery is built on top of the (already inactive) volcano. You can arrange this trip at your hotel reception desk nearly everywhere. Price for a shared trip is 10,000 MMK per person. Tour departs either at 9 AM or at 15.00 (to see the sunset). There is also a little excursion on the way there. You will stop at Palm workshop, where they make a palm liquor or palm caramel bonbons. We couldn't resist buying palm caramels.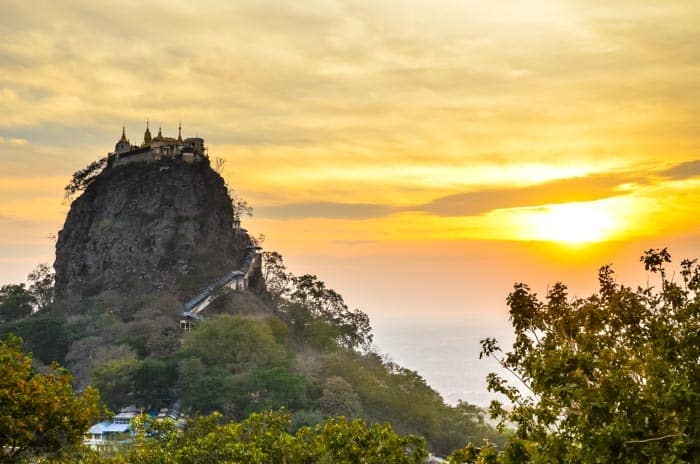 To get to the monastery, you need to climb a very long staircase. Be prepared for cheeky monkeys jumping around. They are everywhere, so beware of them and guard your stuff well – especially drinking bottles. Monkeys have no problem pulling them out of your amazing hiking backpack. Try to speak with your driver and set your meeting earlier to be able to see a sunset from the opposite hill (if you want to have sunset photos like the one above). Otherwise, you can enjoy a sunset from the Mount Popa hill.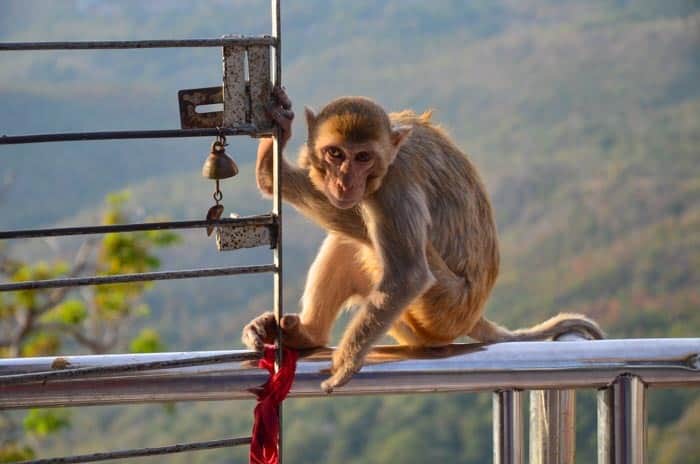 Tamarind Flakes – a typical specialty of Bagan
If there's anything typical for Bagan, it's a Tamarind Flakes. It's a thin flake of dried fruit wrapped in white paper like a candy. Our favorite were Tamarind Flakes branded with green letters on. You can get them in almost any store.
Where to stay in Bagan – Accommodation in Bagan
Based on recommendations, we found Shwe Na Di Guesthouse on Agoda. And we couldn't choose any better. I think this was the best accommodation of our entire Myanmar trip. Beautiful rooms with private bathroom plus a luxurious breakfast and service. Room costs 13 EUR per night on Agoda. This guesthouse has its own e-bike rental (6000 MMK for the day). You can also arrange a trip to Mt. Popa there. They make excellent soup for 300 MMK right next to this hotel (on the left side).
The recommended time to stay – Bagan
Bagan deserves at least 2 days (3 nights) of your attention. Some travelers stay longer. We spent three days there (including a trip to Mt. Popa).
Cruise from Bagan to Mandalay on Irrawaddy river
If you are already tired of traveling by bus, the boat is an ideal option. The cruise from Bagan to Mandalay on Irrawaddy river takes 12 hours. Buy tickets for a cruise from Bagan to Mandalay here.
The journey in the opposite direction (from Mandalay to Bagan) takes only 9 hours (it follows the stream). Buy tickets for a cruise from Mandalay to Bagan here.
To Bagan from Yangon
If you travel to Bagan directly from Yangoon, there are several options. The journey by bus takes 10 hours, by train around 18 hours. The easiest way is to fly. You can book all online tickets here.
7) Places to visit in Myanmar – Mandalay
Mandalay has disappointed us a little bit. It's a big city where tourists are seen as a good source of money. Taxi drivers are sometimes rude, and the entrance fee is paid everywhere. However, there are still some places to visit.
U Bein Bridge
U Bein Bridge is probably the most photogenic place in Mandalay. One of the few places, where you don't need to pay any entrance fee. If you are coming on a motorbike, ride from the east side (there is a path along the bridge which you can enter with your scooter). Approximately in the middle of the length of the bridge, there is a perfect spot to see the sunset. They sell coconut and drinks here. So, you can enjoy the sunset with a fresh coconut in your hand, sitting on one of the dozens of chairs there. Beautiful!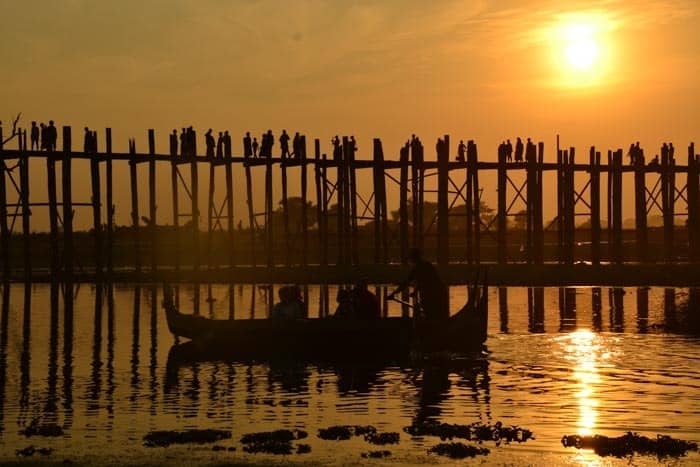 Kuthodaw Pagoda
One of the most beautiful pagodas in Mandalay. Unique unlike others. There is the largest book in the world in Kuthodaw pagoda. If you are walking around pagoda there and back, trying to find the book, look at these little white "chapels" around. There is a page of this huge book carved in the stone slab in each of these little "chapels". Luckily, the entrance is free of charge.
Sandar Mu Ni Pagoda
Another beautiful and unique pagoda in Mandalay. Mainly from the aerial view. The main golden stupa is surrounded by a "forest" of little ones. There is s free entry.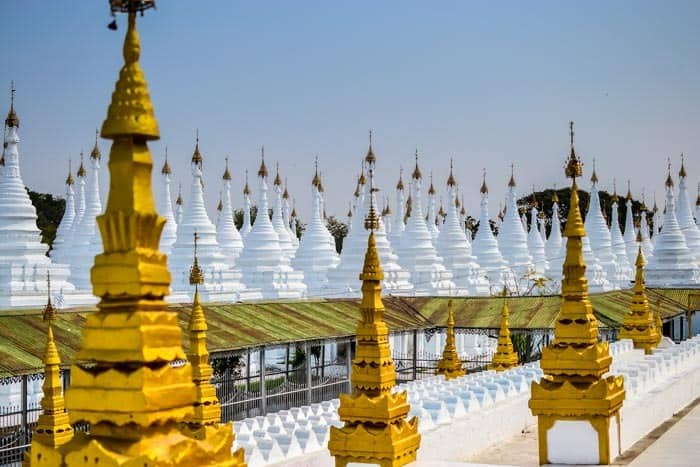 King Galon Golden Leaf Workshop – Mandalay
There is something very interesting on 36th Street of Mandalay. You can visit the Golden Leaf Workshop and see the hammerers at work – turning 12 g pieces of gold into hundreds of sheets. They work 6 hours making the tiny golden leaves which are 0.0003 mm thick.
Burmese buy these leaves to stick them to sacred places (e.g. to the Golden Rock). Only men can touch these places, so some women usually ask men to stick a golden leaf for them.
They will be happy to show you a whole Golden Leaf Workshop. There are also souvenirs which you can buy.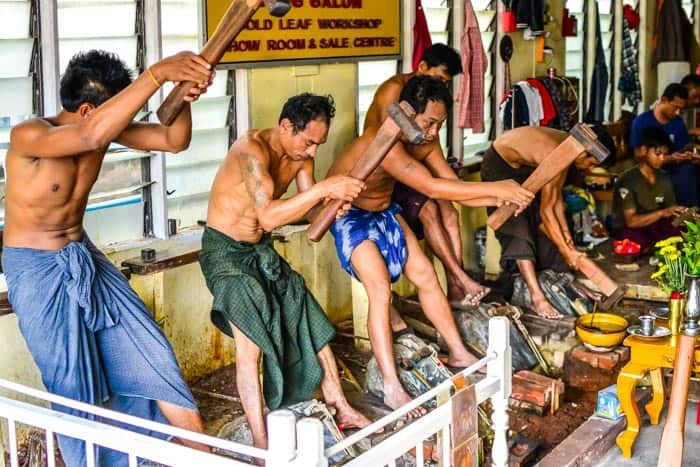 Jade market in Mandalay
The Jade Market in Mandalay is a fascinating place. Hundreds of craftspeople are cutting and polishing jade in the area around 87th St. There's a 2500 MMK entry fee to Jade Market (but it's not always collected). Market is place in a large square area with a grid pattern, where you can find hundreds of crowded workshops, small shops and even game rooms! It is a giant market – Myanmar produces close to 70 % of the world's jadeite.
Mandalay Hill
There is a beautiful view of the whole Mandalay city from the pagoda on the top of the Mandalay Hill. There is an entrance fee for foreigners of 1000 MMK. You must pay 200 MMK to get up the hill with your motorcycle and another 200MK for parking. Shoes must be left downstairs by staircase or elevator.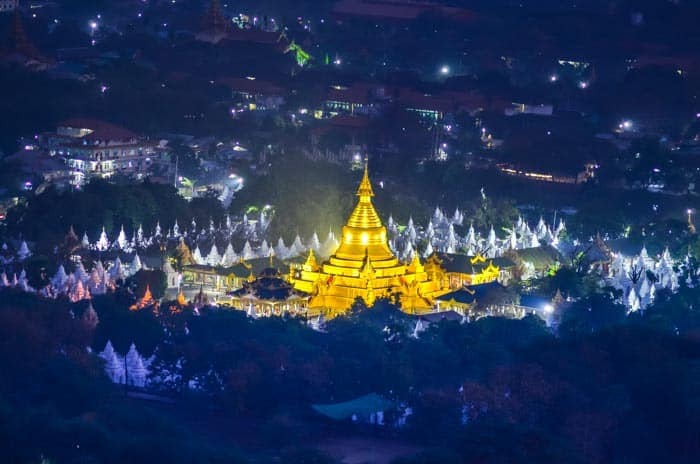 Mandalay Palace
Mandalay Palace was the biggest disappointment of our visit in Mandalay. Entry for foreigners is possible only by Eastern Gate and they made of it a profitable business. Palace itself is nothing super-special. You have to leave your passport and your motorcycle at the entrance. There is an entrance fee of 10,000 MMK per person (locals have free entrance and they can go there by motorbike/car). Palace is 1 km away from the gate. So, you can decide – walk or take a taxi for 5000 MMK! One way! Locals shared pickup for 200 MMK (we wanted to ride with them, but the driver refused and told us we have to take a taxi,…..what a nice cartel here!!)
Moreover, if you walk, they will not let you go anywhere else than on road leading to the Mandalay Palace.
However, if you choose to pay and visit the palace, you can visit also Atu Ma Shi Monastery and the Shwenandaw Wooden Temple. It is included in the entrance fee.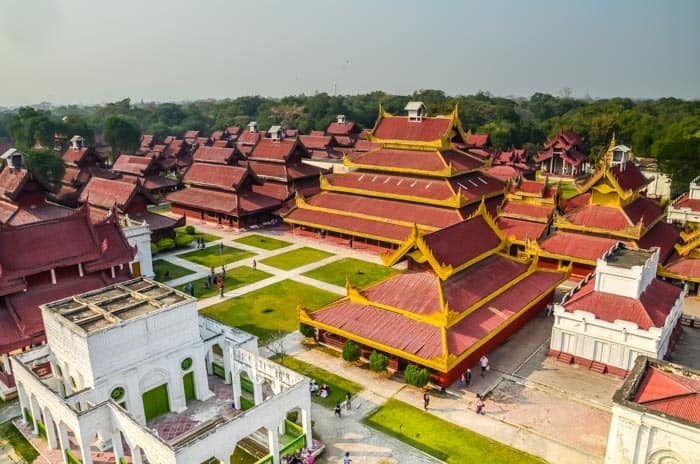 Shwenandaw Monastery
Shwenandaw Monastery used to be a part of the Mandalay Palace (later dismantled and rebuilt at a new place). It's an example of a traditional Burmese wooden monastery.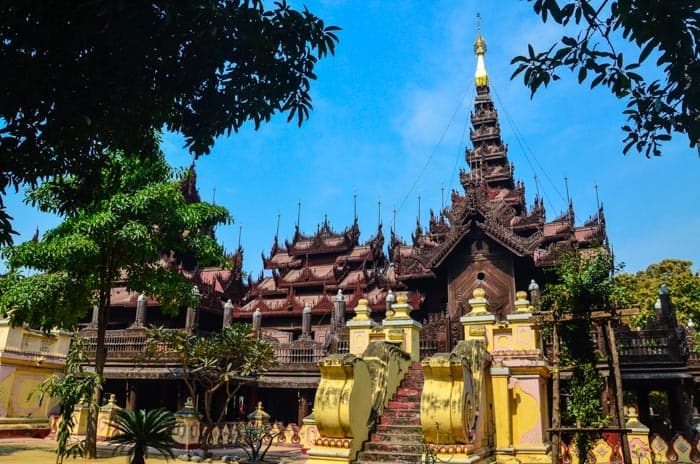 Where to stay in Mandalay
There is a lot of accommodation on Agoda in Mandalay. We liked the Taim Phyu Hotel in the city center. They had a nice breakfast on the rooftop balcony! You can hire a motorbike there as well.
Transportation in Mandalay
The best and cheapest way of transportation is to rent a scooter/motorbike. Usually for 10 000 MMK per day. There is also public transport. Something like a larger shared bus/pickup. You can stop this bus by waving. The price is around 1000 MMK for the ride. The lines are numbered, but numbers are written in Burmese alphabet so it can be a little bit challenging to find the bus in the right direction.
Taxi drivers in Mandalay
Taxi drivers in Mandalay are a bit aggressive, unlike to other areas of Myanmar. When we arrived at Mandalay from Bagan, the boat was full of taxi drivers before we had a chance to get off the boat. Big argue with passengers started. They wanted 8000 MMK for a ride in the city. We tried to escape them and find some public transportation. Two taxi drivers were chasing us and shouting something at each other. One offered that he will take us for 3000 MMK, so we agreed. The other one was terribly upset. In other cases, the price for one ride was about 5000 MMK.
Yangon to Mandalay
If you travel to Mandalay from Yangon, there are 3 possible ways: bus, train or an airplane. Journey by bus takes 9 hours, by train 15 hours. There are day and night conections. The train has the advantage of sleeping cars. Flight is the fastest and most comfortable. You can book all conection between Yangon a Mandalay at 12GO portal.
8) Places to visit in Myanmar – Mandalay surroundings
Mingun
Mingun is the place where you can see the largest functional bell in the world, a giant stupa and last but not least, there is another beautiful and unique pagoda.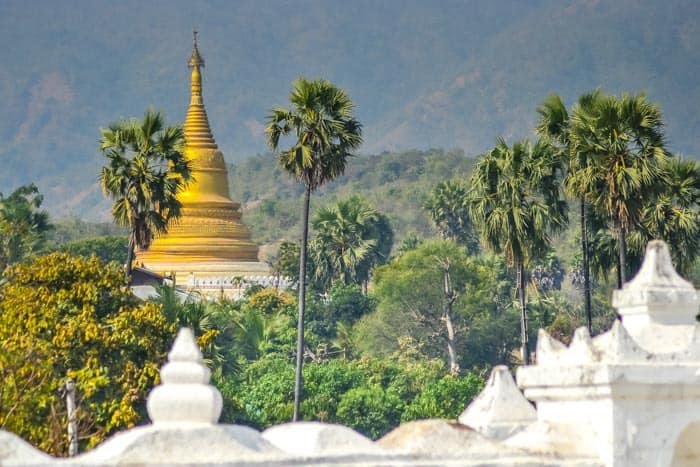 Mingun Bell
Mingun Bell consists of 90,718 kg of bronze and it is the largest functional bell in the world.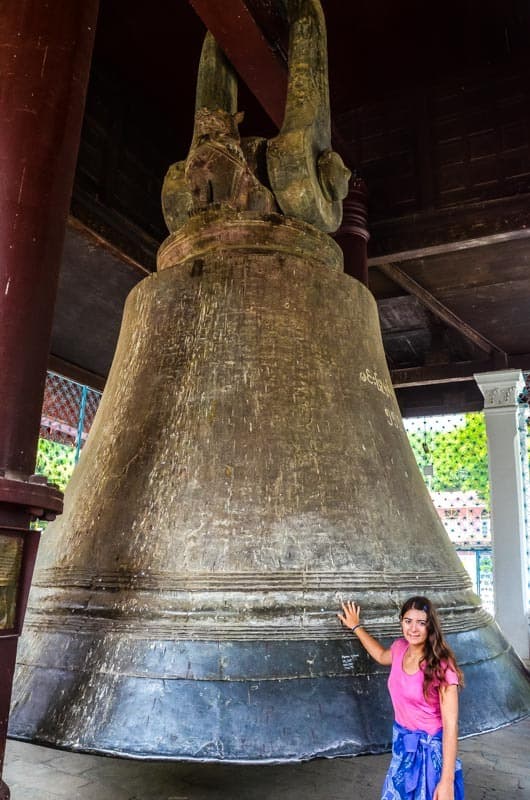 Giant Pahtodawygi
This unfinished stupa is truly a GIANT building. Unfortunately, it is no longer possible to get on the roof due to the earthquake which caused huge cracks to appear on the face of the remaining structure.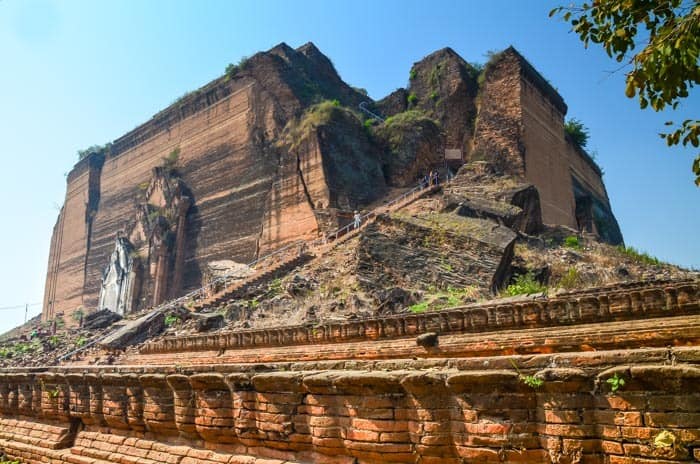 Hsinbyume (Myatheindan) Pagoda
Hsinbyume pagoda is built in a slightly different style than the other pagoda in Myanmar.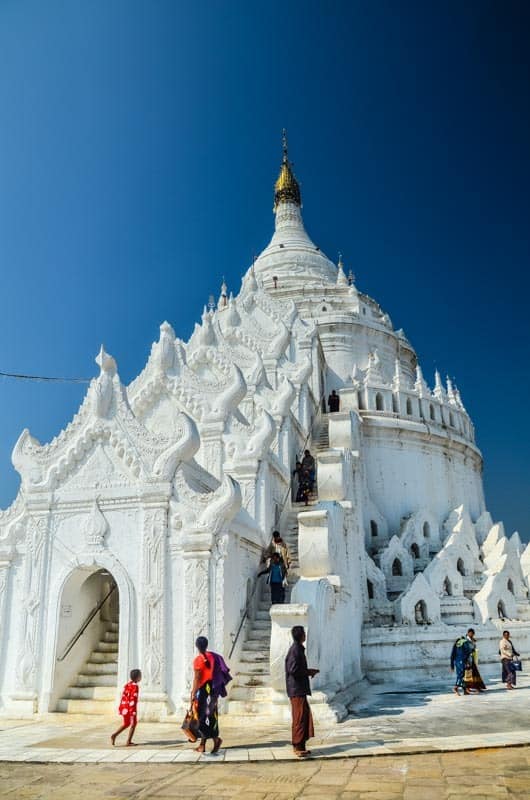 How to get to Mingun?
There are two options how to get to Mingun from Mandalay. If you don't want to ride a motorbike, there is a boat going every morning at 9:00 AM from Mingun Jetty. The boat costs 5000 MMK and includes entrance fees to the Mingun Archeological Zone. The journey takes about an hour. Returns time from Mingun is at 12.30.
The second option is to drive to Mingun (about 40 km drive). On the way back you can stop at the Sagaing hill. If you go by motorbike, you probably won't even pay for the entrance fee to the Archeological Zone. There was one checkpoint which we have noticed on the way back from Mingun. Checkpoint area is placed by the walking path to the boat area.
Sagaing Hill
Sagaing Hill is a nice mountain area and surrounding hills are full of temples and pagodas. Some of them even play music. There is a beautiful view from the Sagaing Hill. You will pay the symbolic fee of 300 MMK for your camera.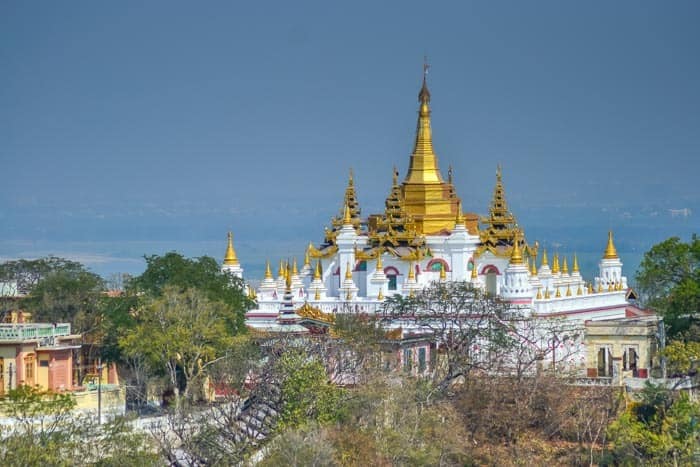 Inn Wa village
Inn Wa (or Inva) village is known as one of the former capital cities of Myanmar. Today you can discover there remaining parts of the old town – massive walls and temple. Entrance fee of 5000 MMK is paid only at the main entrance at Me Nu Brick temple. If you are interested, you can ride a horse-pull hackney. The roads are not in the best conditions yet, but the locals diligently work on the construction.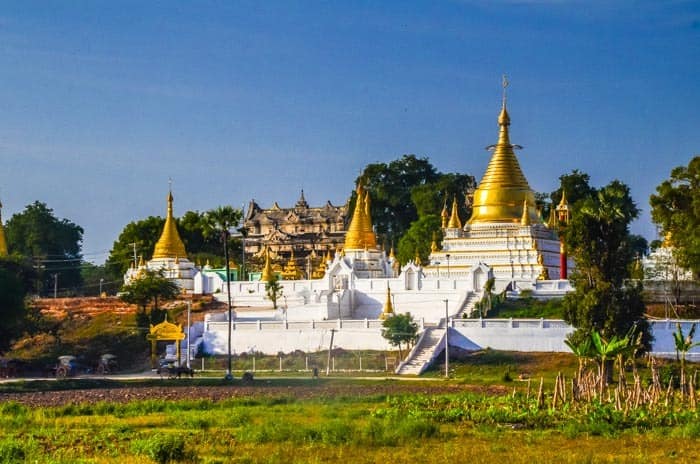 How to get to Inn Wa?
The easiest way to get there is to rent a motorbike or scooter. If you would like to ride a ferry on the way to Inn Wa, the price is 1400 MMK per person. The nearest bridge is 6 km far from the ferry. If you drive around, surely stop at Lay Htat Gyi. This semi-destroyed temple has a very interesting atmosphere (reminding Dracula's castle). It's well worth stopping by!
Recommended length of stay for Mandalay and surroundings
Minimum for Mandalay and its surrounding area is 2 days (3 nights). Reserve one day for a trip to Mandalay surrounding area – Mingun, Sagaing, Inva and U Bein Bridge and the other day for the Mandalay (pagodas, Golden workshop, and others). Planning depends on what you want to see there.
9) Places to visit in Myanmar – Hsipaw
Hsipaw is a starting point for many tourists who came for some hiking in the area. Well-known is Mr. Charles Hotel, which offers guided hikes as well as accommodation in mountain villages with locals. Favorite is to go for 2-days (1 night) trek while staying with local people in their homes. This can be a nice cultural experience (since Couchsurfing is forbidden by the government). If you want to skip the cultural part and sleeping in the mountain village you can go for a walk by yourself. If you would like to join an organized trip, we recommend booking it in advance.
We arrived in the evening and there were no guides or tours left for the next day.
If you don't do any hiking trip, rent a scooter/motorbike and explore the surrounding area! You can rent a motorbike for example at La Wun Aung. By the way – it's an amazing restaurant, one of the best in whole Myanmar!
Hsipaw – Little Bagan
Little Bagan is a part of the of the town "suburb". It has been named Little Bagan because of many old pagods in one place.
Hsipaw – Sunset Hill
If you staying in Hsipaw, Sunset Hill is the place to go to watch the sunset.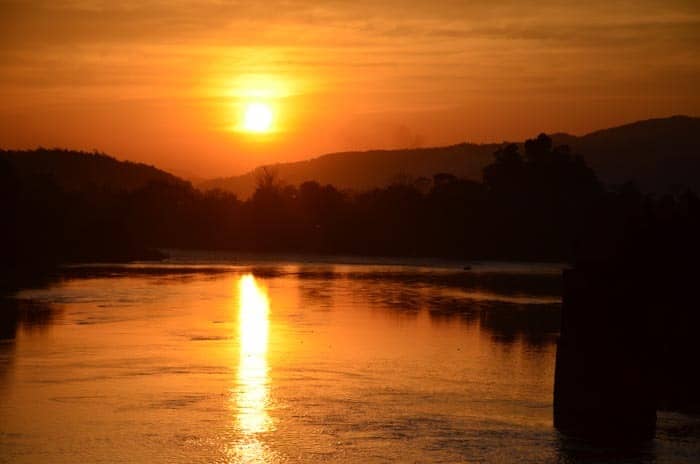 Hsipaw – Hot Spring
The hot spring in Hsipaw is just a small pond by the river with the thermal hot spring. You can take swim suits and try it. Locals use this spring for bathing.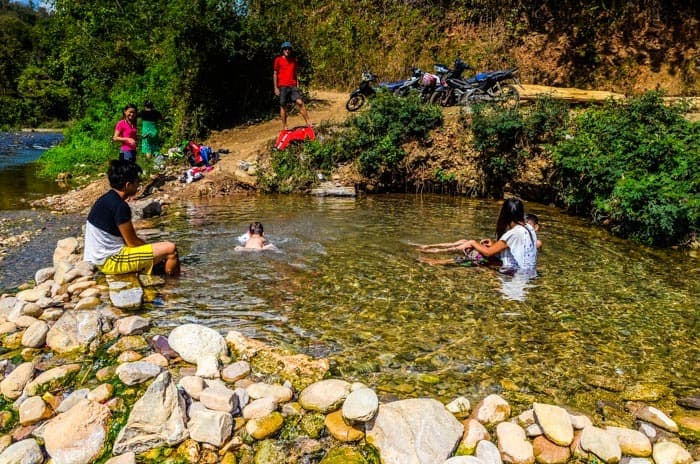 Hsipaw – waterfalls
You can also visit the Nam Tuk or Nam Hun Nwe waterfalls. Nam Tuk waterfalls can be reached by motorbike. You have to hike only last 300 meters. They are bigger and more remote than Nam Hung Nwe.
Seems like locals are building a tourist destination from the area around Nam Hun Nwe falls, (they were building the concrete sidewalk, benches, tables, etc.) There is a parking fee of 500 MMK.
Where to stay in Hsipaw
We can highly recommend Mr. Charles. We also have one anti-recommendations for Yee Shin hostel – it was a nightmare! Cold room – 2×2 meters with the mattress on the ground. Wifi didn't work and whenever someone walked through the corridor, the entire floor was moving.
Recommended length of stay – Hsipaw
At a place like Hsipaw, it matters the most whether you go on a trek or not and how long is it. One day is enough for exploration of the surrounding area on motorbikes.
How to get to Hsipaw
There are more ways how to get to Hsipaw from Mandalay. We can surely recommend taking the train at least in one direction (from or to Hsipaw) because train crosses the famous Gokteik Viaduct (see below). There is also a bus connection between Mandalay and Hsipaw. Bus departs at 14:00 from Pyi Gyi Myat Shin (Highway Bus Station, on the corner of 60th and 37th street). The bus costs 5000 MMK and the journey takes about 5,5 hours.
10) Places to visit in Myanmar – Train ride over Gokteik Viaduct
This route is one of the world's most beautiful railways. The railway track from Hsipaw leads through mountains, villages, and countryside. It is truly a picturesque track. The most interesting and famous place of this track is the 689 meters long Gokteik Viaduct.
The train from Mandalay departs at 4:00 AM. In the opposite direction – from Hsipaw, the train departs at 9:30 in the morning. You can buy tickets from 8.30. If you want upper-class tickets (it's worth the comfort) it's better to be here at 8.15. There is usually a queue and not so many spaces left in upper class. Ticket to regular class costs 2 750 MMK and for upper class, it is 3 950 MMK.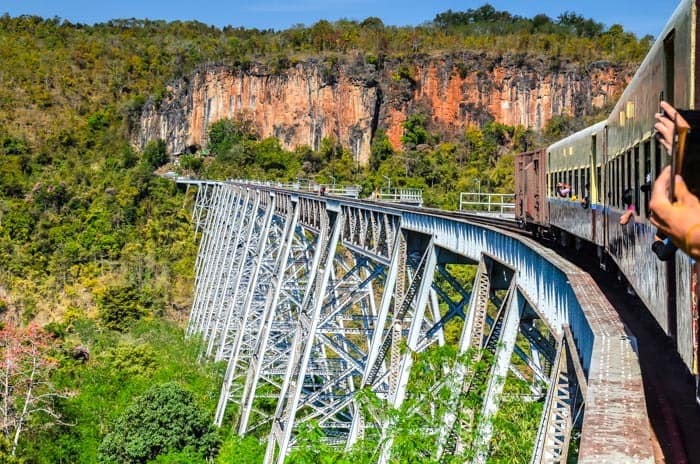 Hsipaw – Mandalay – Inle Lake route
If you take a morning train from Hsipaw to Mandalay on the way to Inle Lake, you need to get off the train at Pyin Oo Lwin station. You can travel to Mandalay from Pyin Oo Lwin without any problem by shared pickup for 2000 MMK/person. This pickup/bus waits right in front of the train station and it waits until there are enough people heading to Mandalay. This shared ride takes you to the train station. To continue to Inle Lake you need to take a taxi to the bus station (it cost approximately 5000 MMK).
Mandalay to Inle Lake by bus
You can get from Mandalay to Inle Lake by night bus at 19:30 or at 20:30. There are also morning buses. Luxury buses operate on this route. Beware of strong air-condition. Night buses arrive at Inle Lake before 5 AM (if you take 20:30 bus).
11) Places to visit in Myanmar – Inle Lake
Inle Lake is a popular tourist destination for its town on the water. You can see famous Burmese fishermen who are known for their typical fishing style with giant "baskets" and one leg paddling style.
There is an entrance fee to Inle Lake Zone of 13,500 MMK per person and is collected right on the bus after arriving at Inle Lake area. The entry permission is valid for 5 days.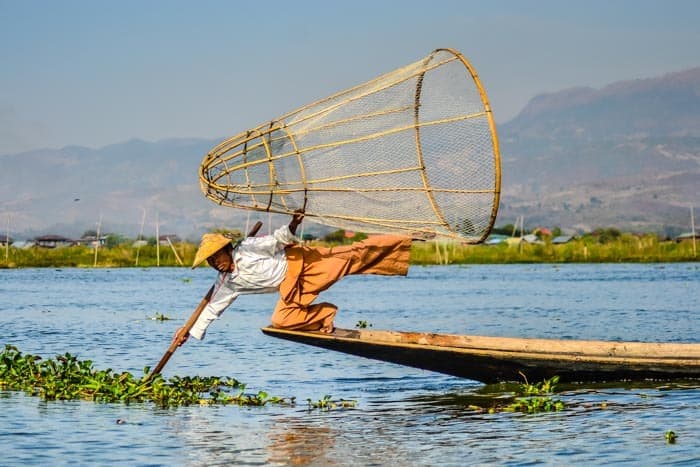 Boat trip around Inle Lake – what to expect
Boat trip around the lake is 100 % worth it. This excursion among the "floating" villages is like a trip 150 years back in time. It's like history excursion. Your boatmen will take you from house to house. There are different kinds of workshops on the way, so you will visit a smith, tobacco workshop, jewelry workshop, weaving workshops, shipbuilders, temples, or long-neck ladies of Padaung tribe…. Well, a lot of great stuff is waiting for you all day long! Boatmen stops for you in a fish restaurant around lunch. There is a magnificent view of the lake from the restaurant. Well, we really enjoyed the whole trip.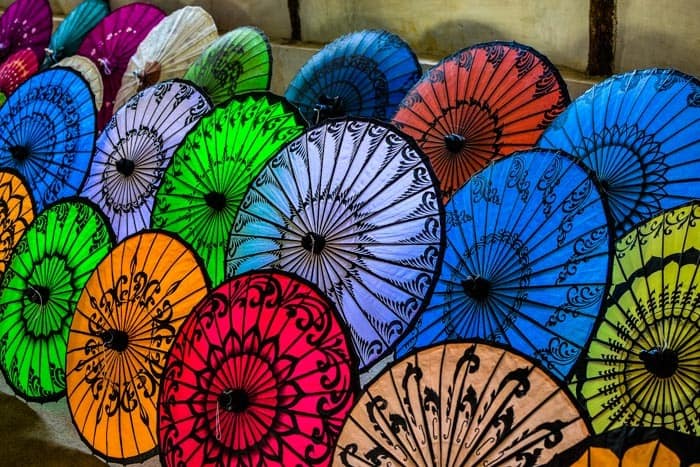 Haggling at Inle Lake
You will most likely meet some boatman right after you get off the bus. Prepare for price negotiation. Our boatmen asked for 36,000 MMK for a trip, but we knew from our friends that they paid only 20,000 MMK a week ago. So, we asked for the same price and we got it. Well, we also wanted to go some extra miles to Indein (where there is a fascinating area of hundreds of stupas at one place), so we ended up paying 25,000 MMK.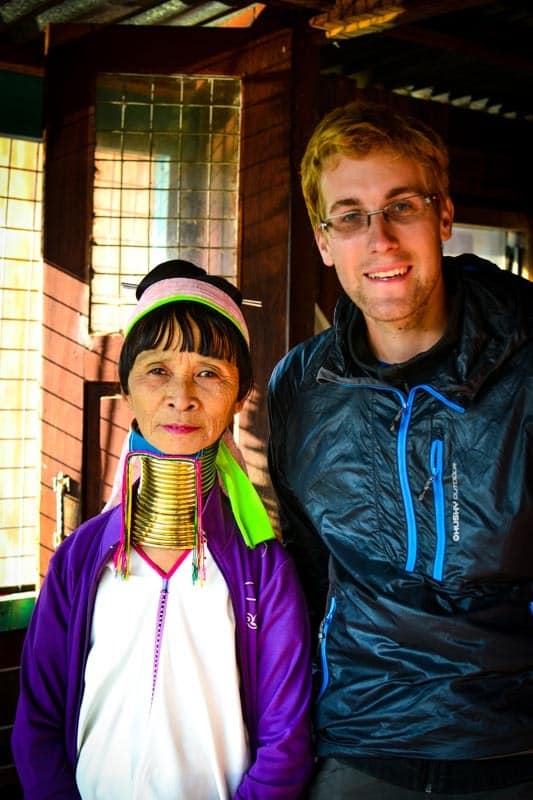 Be prepared for a really cold morning and dress warmly if you want to go on the lake at sunrise. It gets warm again during the day.
At the same time, prepare a bunch of small banknotes for tips. Traditional crafts and workshops are waiting for you at every single stop. They serve you a tea in some places. If you like the workshop and they are nice to you, then you can leave them some small tip.
You don't have to be worried that you won't see a traditional Burmese fisherman. In addition to all these workshops, boats stop nearby fisherman. Burmese fishermen found a better business. Rather than fishing, they are waiting to pose for tourists. They also expect some tips afterward.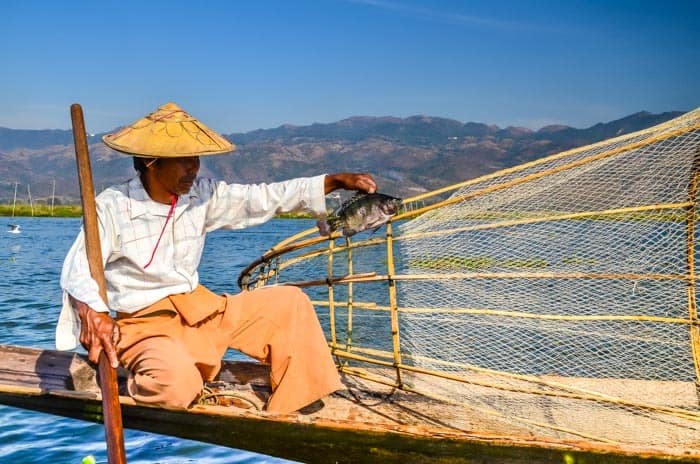 Other places and things you see during the Inle Lake boat trip
Ywama village and Phaung Daw Oo Pagoda
Phaung Daw Oo Pagoda is one of the holiest pagodas in the Shan state. Be sure to leave your shoes in the boat. There is an opportunity to buy some postcards (we haven't seen postcards in many places in Myanmar).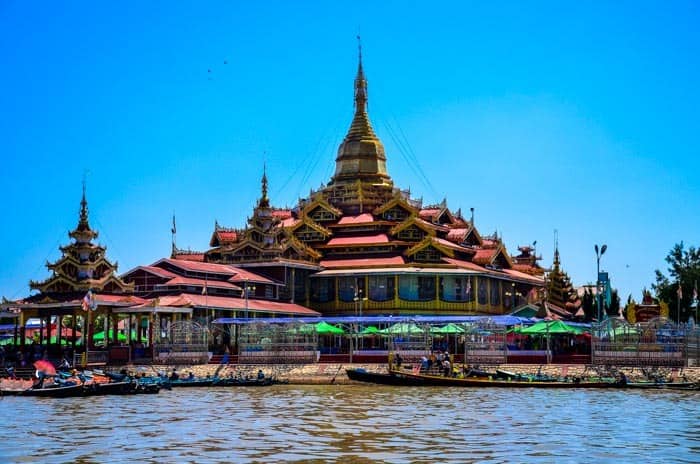 Floating gardens
Your boatmen will surely take you around floating gardens. Vegetables and flowers are grown here.
Nga Hpe Kyaung monastery
A wooden monastery, known as the monastery of "jumping cats". Monks used to train cats to jump through circles, but they don't do that anymore. Although cats are not really jumping, I am sure you will at least meet some cat there.
Indein
Shwe Inn Thein pagoda in Indein is well worth visiting, even for an extra charge. Our boatman gave us 45 minutes to visit the Shwe Inn Thein pagoda, surrounded by hundreds of ancient stupas. It's like walking through a forest of ancient stupas.
Where to go around Inle Lake?
If you are decided to spend some day on the land, we recommend hiring a bike. As a foreigner, you are unfortunately not allowed to ride motorbikes at Inle Lake area. There are several bike rentals. But don't expect bikes in a good condition. If you can adjust the seat, you are lucky. If the derailleur works, you have won the lottery. Bike rental starts at 1500 MMK per day.
Maing Thouk Wooden Bridge
Stop at the village of Maing Thouk and walk through the wooden bridge that reminds the famous U Bein bridge in Mandalay. You can park your bikes at the beginning of the bridge in Maing Thouk. If you would like to get with bikes to the other side of the lake, won't have a problem to get the boat willing to take you there.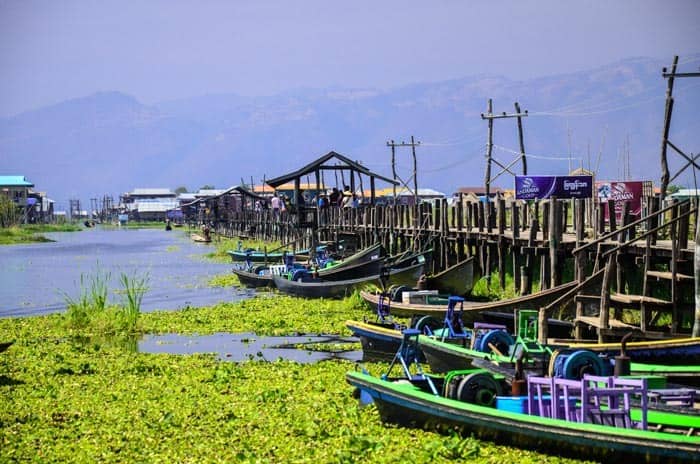 Red Mountain Estate Vineyard
If you belong among the wine lovers, local vineyards can be another nice stop for you. As a reward for cycling up a steep hill, there is a nice view of vineyards, which you can enjoy with a glass of local wine.
Kakku
If you have an extra day, you can go to Kakku. There is another large complex of incredible 2,478 stupas stacked in neat rows in the area of ​​one square kilometer.
How to get to Kakku?
Kakku is about 55 km far from Inle Lake and there is no public transport to Kakku. It is best to talk with other people from your hostel and arrange a bigger taxi together. The journey takes 2,5 hours in one way.
Where to stay at Inle Lake
We can recommend the Joy Hotel. Very nice room with own bathroom, nice personal and very good breakfast. Location is also great – in the central part of the town.
The recommended time to stay at Inle Lake
Again, it depends on your plan and the time you have in Myanmar. One day is enough to cruise the lake. Another day you can take a bicycle trip and visit Kakku.
12) Places to visit in Myanmar – Hpa An
The town of Hpa An is placed in a picturesque landscape. The landscape is perfectly flat with some rocky peaks rising of the flat land. Thanks to the nature of this countryside, Hpa An is ideal for exploring caves and cave temples. The best way to get around is to rent a motorbike (as usual).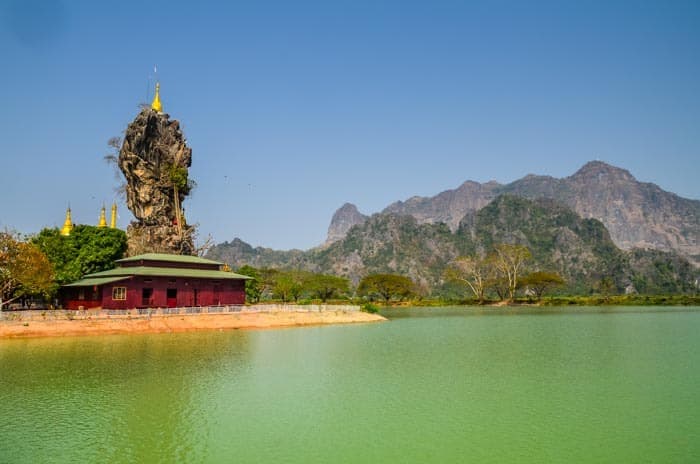 Bat Cave
At dusk, one million bats are flying out of the Bat Cave heading for a hunt every night. It's an incredible number of bats. Flocks of bats are flying out of the cave continuously for 15-20 minutes! Incredible show!
The Soe Brothers hostel arranges a day trip to Bat Cave every day. We went 4 people together and we paid 2500 MMK/person for transport plus 1000 MMK/person for the entrance fee.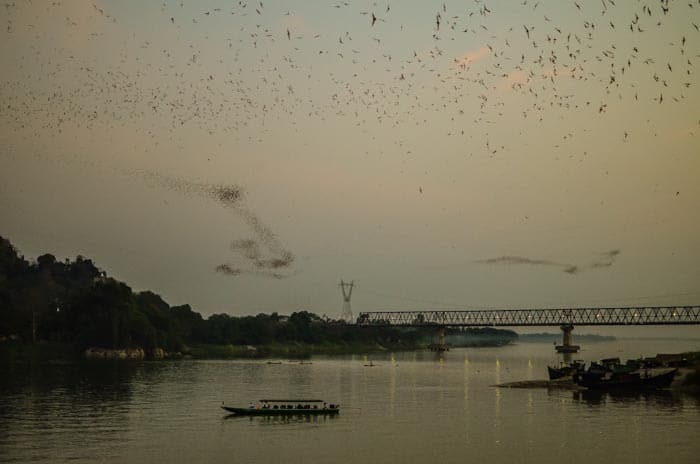 Mountain Zwegabin and the Lumbini Buddha Garden
Hike to a monastery at Mount Zwegabin is beautiful when you plan it later in the afternoon to see the sunset from the top of the mountain. There are few places on the way up. where you can buy a little snack or water. The view from the top is beautiful. But what shocked us was the Lumbini garden. On the way to the trailhead to the monastery, you must pass through this unique place. There are thousands of Buddhas standing in dozens of even rows – truly the Buddha Garden.
If they were doing different things than building Buddhas across the whole Myanmar, they could have better economy…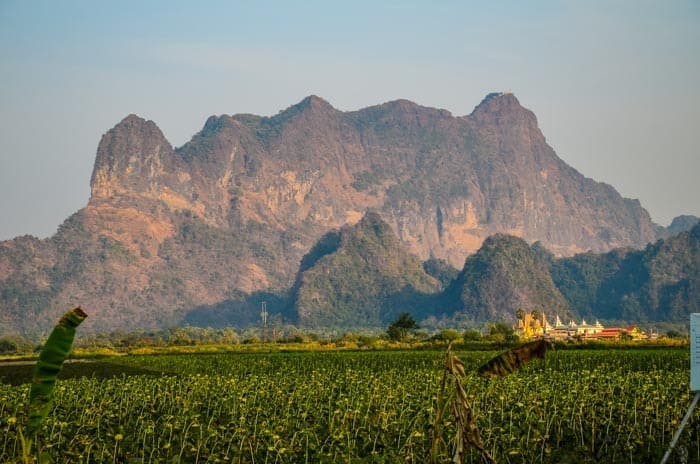 Kaw Ka Taung cave
Maybe more interesting than the Kaw Ka Taung cave itself is a long queue of sculptured monks along the entire road on the left of the cave entrance.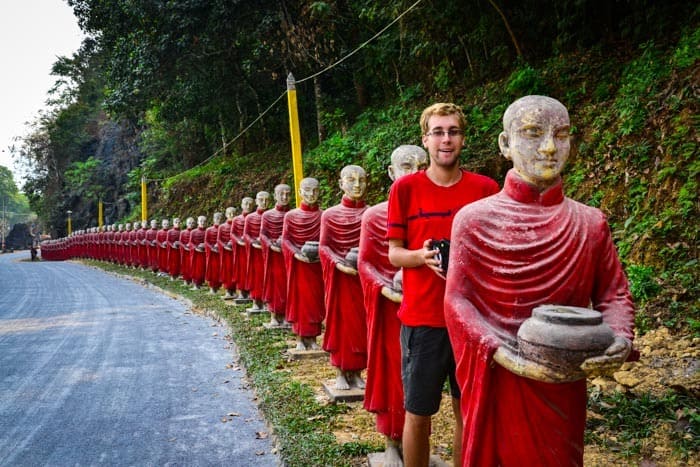 Saddan cave
There is an entry fee of 1,000 MMK in the Saddan Cave. The cave is long and because it is a sacred place you have to walk through the cave barefoot. If you don't want to walk all the way back, you can take a boat around. Take shoes with you! Water channel ends on a different place from the cave entrance.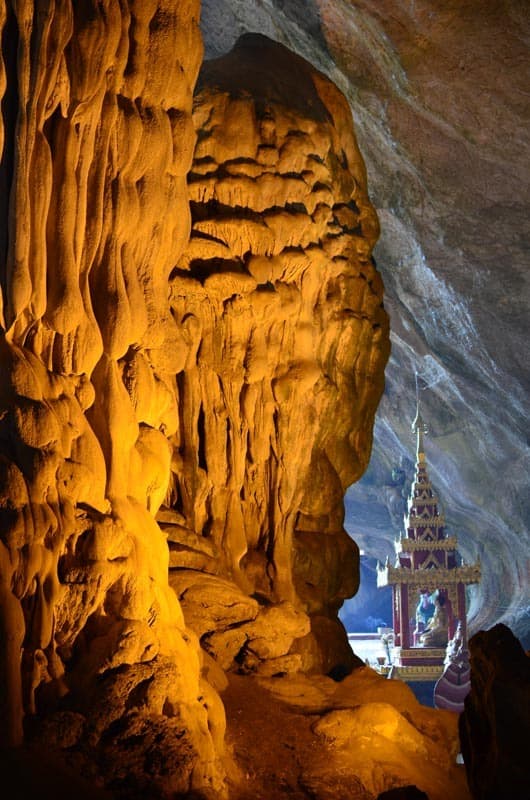 Kyauk Kalap pagoda and water Temple Chan Thar Gyi
Kyauk Kalap pagoda is situated right on the top of a rock in the middle of a pond. Right next to it is Chan Thar Gyi Temple.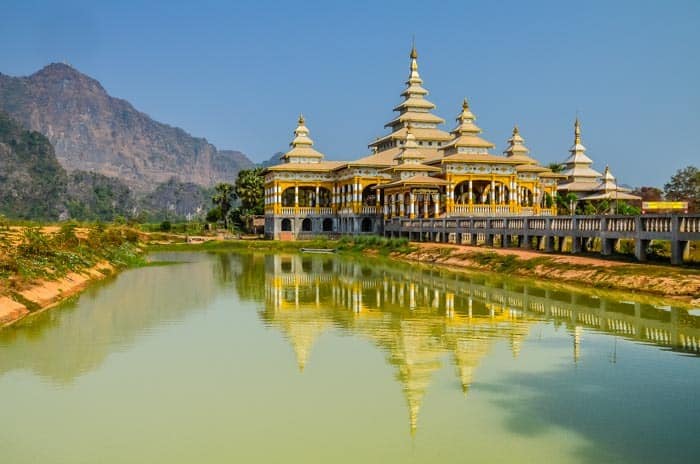 Where to stay in Hpa An?
Favorite place is a Guest House Soe Brothers. You will pay 20 000 MMK for one room with a shared bathroom. They don't serve breakfast, however, coffee, tea, and a barrel of water is available throughout the day. They will give you a map at the reception desk and willingly draw in everything you are interested in. Including good restaurants nearby. In case they don't have, try Soe Brothers II.
How to get to Hpa An?
From Yangon, you can get to Hpa An via Bago. From Bago there are regular buses for 9,000 MMK. The journey takes about 6 hours. The first bus from Bago leaves at 7:30 in the morning.
Recommended time to spend in Hpa An
You can explore the Hpa An area in one full day. We recommend spending 2 nights there, so you have a chance to see the Bat cave at the dusk.
13) Places to visit in Myanmar – Giant Buddha Win Sein Taw Ya
The largest reclining Buddha in the world (in open space). You have never seen anything that enormous before!!!
This monster measures 180 meters (big neatly as 2 football fields) and is 30 meters high. You can also go inside this Buddha (again only barefoot) There is a viewing terrace which can be reached through his ear. One giant Buddha wasn't apparently enough, so they decided to start building another one.
How to get there?
From Mawlamyine you can take a shared bus to the village of Himeinkanein (about 6km north of Mudon). It is only 1.5 km from there, so you can either walk, hitchhike (it worked very well for us here) or take a moto-taxi (1000 MMK/person). Location here.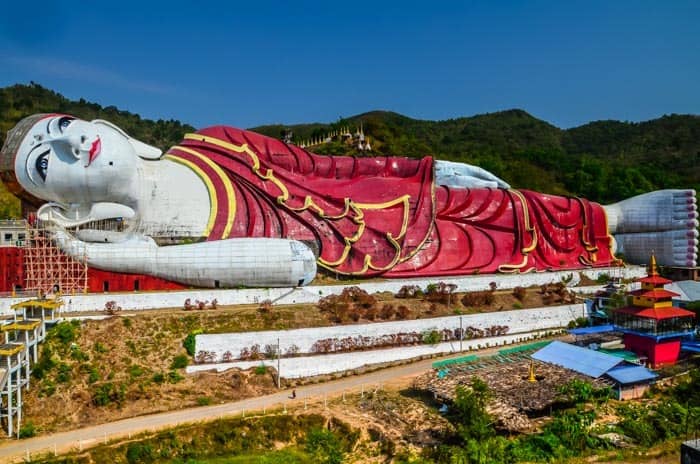 14) Places to visit in Myanmar – Dawei area
Beach lovers will surely like Dawei peninsula. Although there are only a few certified accommodations, it is well worth the trip. You won't find many foreigners there, so locals (especially the children) are extremely enthusiastic to see foreigners. Hire a motorcycle and head to the magnificent beaches and explore Dawei peninsula.
Best Beaches at Dawei peninsula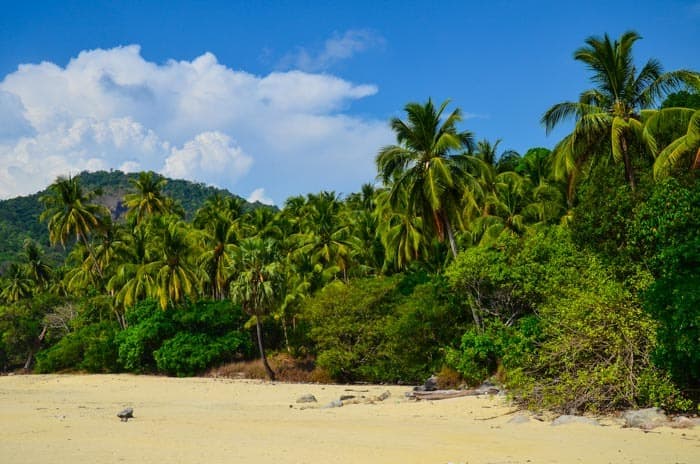 Grandfather's beach
Grandfather's beach is a beautiful white sandy beach with bamboo constructions and restaurants. You can get a fresh coconut for a few kyats or other food at low prices.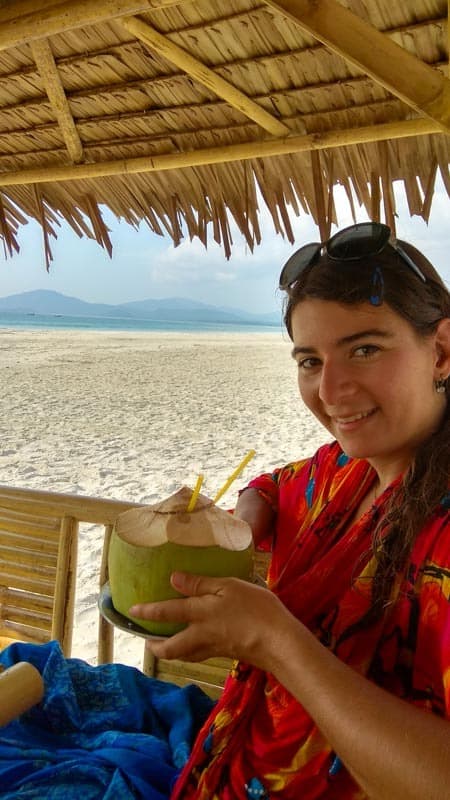 Teyzit beach
Teyzit beach is another empty beach is located at the end of the village and you can reach it by a footpath leading from the other village beach.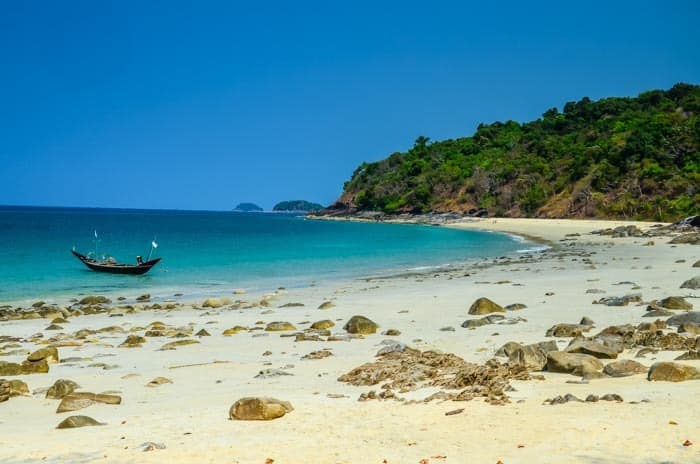 Paradise beach
There is the only accommodation on Dawei peninsula on Paradise Beach. You have 2 options there. Either sleeping in a tent on the beach for 25,000 MMKs or Bungalow for 42,000 MMK.
There are many other beaches you can discover. Maung Ma Gan beach was crowded by people because there is a big number of restaurants (basically one next to each other). San Maria Beach was quite dirty. We tried to get also to Sin Htauk Beach – an hour later, after a very bad, stony road, we gave up because we were afraid to get stuck with our motorbike in sand and mangrove area.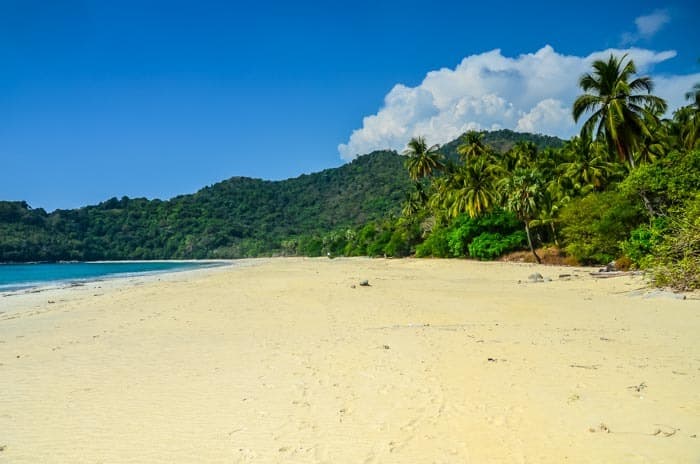 Sin Maw pagoda
At the far end of the Dawei peninsula, there is a pagoda on the cliff. If you have decided to explore peninsula, why not to have a break here.
Where to stay in Dawei
There are a couple of options, Best House Guest House is located in the city center. You can also choose Coconut Guest House nearby the beach. At Dawei peninsula, there is the only certified place, which is Paradise Beach Bungalows.
Beware: City names are usually written in several different ways in Myanmar. You may find different names for the one, same place.
Map of all best places to visit in Myanmar
Here you can see a detailed map of all the best places to visit on your trip to Myanmar. You can export this map and import it to your mobile application such as Maps.me or Locus Map.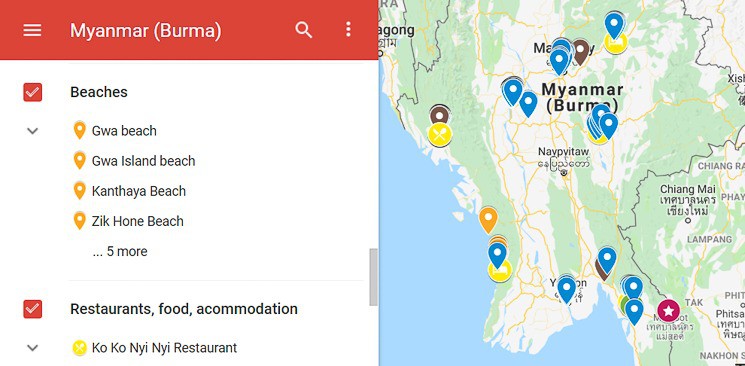 Where to find more information about Myanmar?
You can read our Practical Travel Guide to Myanmar, which is full of all the useful information for travel or vacation.
If you are unsure whether to visit a certain place or not – read some reviews. The same applies for accommodation and restaurants. Reviews tell you a lot.
Are you decided? Great, just find the cheapest flight ticket!
Have you been backpacking in Myanmar and would you like to add something about Myanmar or update some information? Write us a comment!
And check this awesome video about best places to visit in Myanmar:
More tips for your travels:
We have prepared for you this comprehensive list of links, discounts, and resources for travel planning in one place. Bookmark this page and whenever you plan a vacation in the future, just open it and save yourself a lot of time.
1) Where to book accommodation?
2) How to find cheap flights?
3) How to rent a car?
We recommend a comparison portal RentalCars.com to compare the best offers of all available rental companies.
Pin best places to visit in Myanmar for later or for your friends: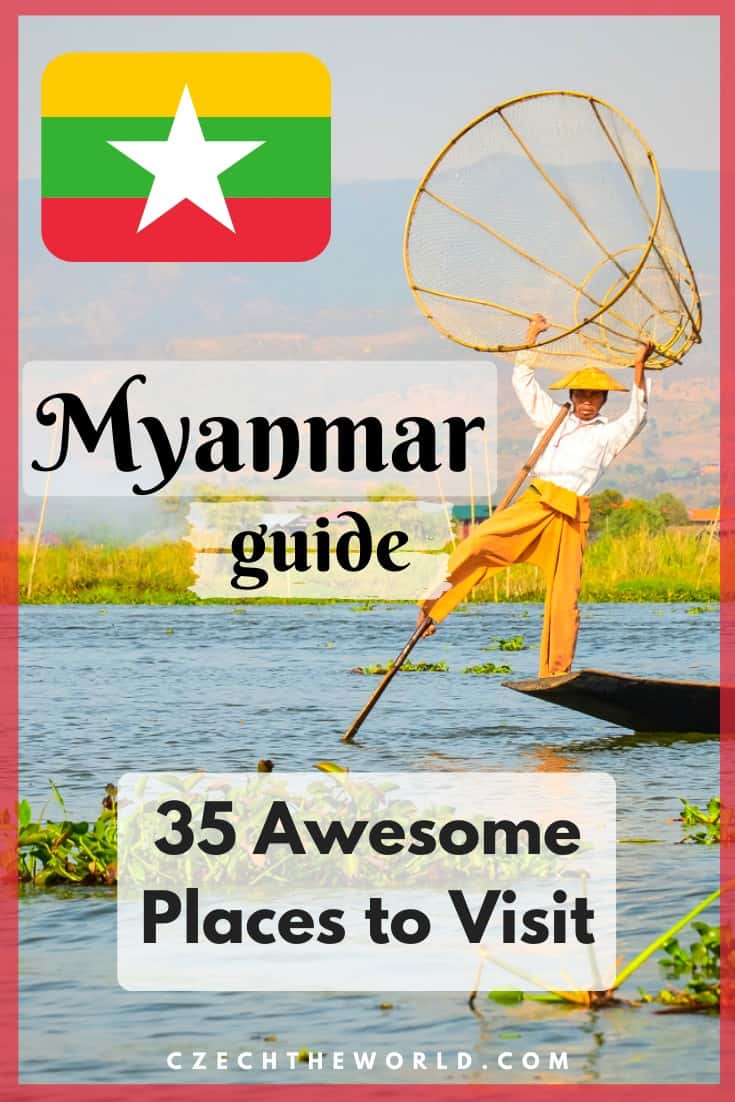 Best Places to visit in Myanmar – FAQ:
Did this post about best places to visit in Myanmar help you? Share it with your friends! It can help them too!
Disclosure: Please note that some of the links above may be affiliate links, and at no additional cost to you, we earn a commission if you make a purchase. We recommend only products and companies we personally use and we use this income for further improvement of this website. Thank you!