Finding cheap tickets is quite a science. If you do not know how to do it, you will spend a lot of time and without success. Read our tips to find cheap flights and save a lot of time and money:
General tips – how to find cheap flights
1) Buy flights 2 to 3 months before departure
The lowest prices are 2 to 3 months before departure. It's not always true, but it's statistically proven. However, do it only if you are sure that nothing will change, or choose a ticket with the cancellation option.
This doesn't count for different special offers and error fares.
2) Use the incognito window
Search for cheap flights through the incognito window. Otherwise, search engines often remember your previous searches and offer you higher prices when you search again.
3) Avoid popular dates and public holidays
Fly outside of high season and avoid public holidays (for example, tickets are several times more expensive during Easter, Christmas or New Year's Eve).
Check also public holidays of your destination country and avoid these.
4) Choose your destination by cheap flights
Choose your destination by ticket price. Every year there are cheap flights to different destinations. If you're flexible, you can save a lot of money.
5) Try different language variations of search engines
Try searching for flight tickets on multiple different search engine language versions. Often prices slightly vary.
Tickets could be significantly cheaper on your local version of Skyscanner than on the English version. For Kayak you can try Kayak.de, Kayak.fr, Kayak.es, Kayak.it, Kayak.pt, Kayak.se or Kayak.co.uk.
6) Try cheap flights to nearby airports
Always try to search for flights to nearby airports. It could be significantly cheaper.
For example, if you fly to Prague, you can try also Vienna, Bratislava, Katowice or Berlin. All these cities can be reached easily and quite cheaply by Flixbus.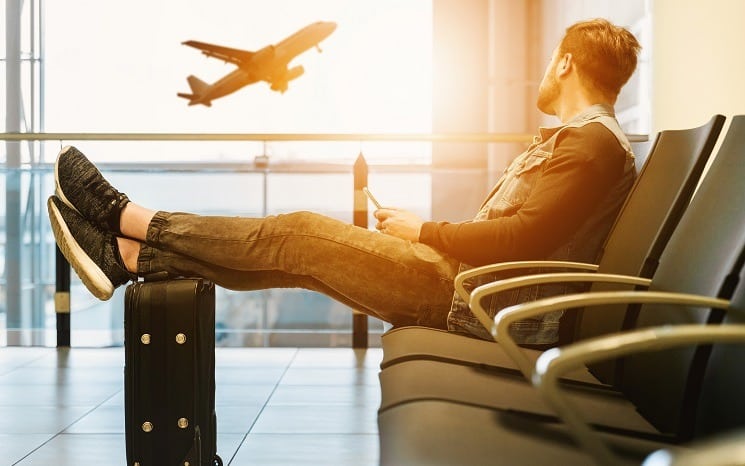 7) Buy return tickets
Return tickets are usually significantly cheaper than two one-way tickets (doesn't count for low-cost flights that you have to buy separately).
8) One way ticket as a return ticket
If you need a one-way ticket with a transfer and want to explore the transfer city for a few days, you can find that ticket as a return ticket with a different return location (multi-city).
As an example, we flew from Prague to New Zealand with a transfer in Tokyo. We had a multi-city return ticket. Flight Prague – Tokyo was like a direction there and Tokyo – New Zealand was like a return flight.
9) Beware of distant airports
Before of distant airports – especially when buying flights with low-cost airlines. Sometimes it may happen that transport from the airport to the city will cost as much as the entire flight ticket.
For example, London Stansted Airport is just over an hour and a half away from the city center, and the bus in one direction will cost you around $ 10, so you must add $ 20 to the ticket price. It is similar in Barcelona and Girona Airport.
10) Buy cheap flights on Sunday
Buy the tickets on Sundays when the flight tickets are the cheapest (we mean the day of purchase and not the day of flight). For example, on Wednesday, airline tickets are on average 4% more expensive than on Sundays, which makes a difference of 16 EUR on a 500 EUR ticket, which is not a completely negligible amount.
11) Sign up for price notifications
If you know the exact date and destination, sign up for price notifications several months in advance. You will be able to see if the ticket price is falling or rising and you will be able to buy a ticket at the right time.
For example, you may want to be notified when a price falls below a certain amount.
12) Make advantage of layover to visit the place
Don't you like transfers and waiting at the airport? Why not use the transfer as an advantage to explore an interesting destination? Try to find a ticket with a transfer in some interesting city with a longer waiting time (at least 8 hours) and walk around the city while waiting. Check also these tips for surviving long flight.
13) Fly only with hand luggage
Especially in Europe, the vast majority of cheap flight tickets have only hand luggage included in price. If you are on a short vacation, there should be no problem packing up into a small suitcase or backpack.
This will save you not only a lot of money, but you will also avoid waiting at luggage belts at the airport and there is no risk of your luggage getting lost. If you don't check in your luggage, you can also arrive at the airport later.
Check the maximum size and weight of hand luggage by your airline here.
Best search engines for cheap flights
We recommend using a Skyscanner.com search engine for cheap flights. It usually finds the best deals. We have bought most of our flights on Skyscanner.
Skyscanner useful functions:
Cheapest month function
Anywhere search
Search on map
Check our ultimate guide to Skyscanner: 13 Smart Tips and Ultimate Guide for Searching Flights at Skyscanner
Do you have dates but not the destination?
If you want to choose a destination based on the flight ticket price, Kiwi.com search engine can be a good alternative. It has a great map search feature.
You can choose a radius of the surroundings and Kiwi will find you, for example, tickets not only from Prague but also from Bratislava or Vienna. You can also set a radius for your destination and find cheap flights for example to all of Spain.
Low-cost flight tickets
We recommend using AZair.com search engine for searching low-cost flights. AZair can find great deals, you wouldn't find anywhere else. Just be careful, most of the low-cost airlines don't include checked luggage in the ticket price.
Also note that if you find flights with a transfer, you will need to buy tickets separately and you are not guaranteed to make the transfer in case of delay. Therefore, have a sufficient time range for the transfer.
Advantages and features of AZair:
Anywhere search feature
Rich possibilities to add nearby airports
Smart broad destinations (eg all islands in the Mediterranean).
Wide choice of flexible term, you can choose:

Maximum number of days
Minimum number of days
Departure on specific days of the week (e.g. only Friday to Sunday)
Arrival on specific days of the week
Departure from another airport
Maximum number of transfers
Read our detailed AZair guide: How to Search Flights on AZair like a Pro – Step by Step Guide!
Cheap flights in and to Asia
If you are looking for flights to Asia or Asia, Momondo search engine is often the best place to try. It's a classic search engine where you enter your departure, arrival, and date. Even Momondo allows you to search nearby airport or search for a different return location.
After finding flights, Momondo will show you a clear chart with prices during the month. You see what days are the cheapest flights.
More options, where to find cheap flights
If you have enough time and really want to try different options, here are other places where you can try to find insanely cheap flights:
If this blog post helped you, you can do us a favor and book your using our links. It doesn't cost you anything extra and we will get a small commission, which we will use for further web improvement. Thank you! Just search your flight here:
If you have any other recommendation on how to find cheap flights, write us a comment.
And check this video about finding cheap flights:
More tips for your travels:
We have prepared for you this comprehensive list of links, discounts, and resources for travel planning in one place. Bookmark this page and whenever you plan a vacation in the future, just open it and save yourself a lot of time.
1) Where to book accommodation?
2) How to find cheap flights?
3) How to rent a car?
We recommend a comparison portal RentalCars.com to compare the best offers of all available rental companies.
Pin this for later and for your friends: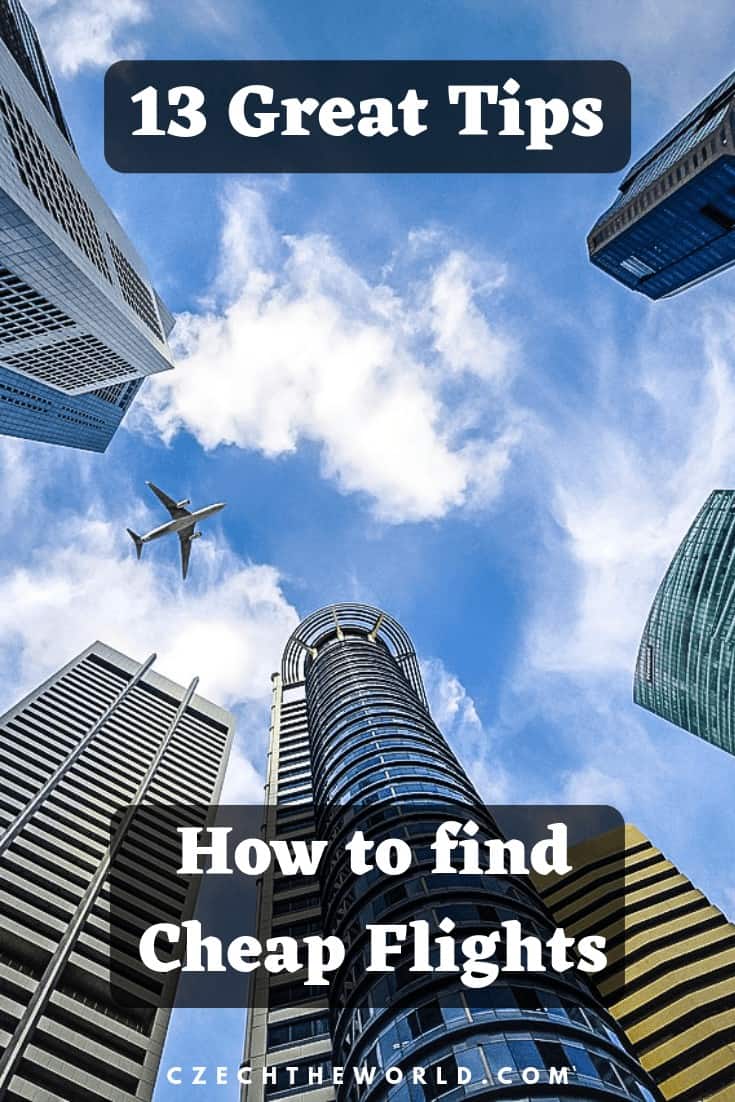 Did this post help you? Share it with your friends! It can help them too!