Yellowstone National Park is a true natural wonderland, undoubtedly one of the best places to visit in the USA. The world's oldest national park sits on top of a giant supervolcano. There is over 60 % of all world's geysers and about 10,000 other geothermal features. There are simply so many beautiful things to see in Yellowstone National Park that you should rather plan a longer visit. With an area of 3,472 square miles (8980 km²) of wilderness, it is home to bison herds, bears, wolves, coyotes, and elks. You will be amazed to see all these colorful hot springs, erupting geysers, bubbling mudpots, and steam coming out of the earth. You should definitely put Yellowstone National Park on your USA bucket list. Nothing can beat what you will see there.
TOP 10 Things to see in Yellowstone National Park
The following places are the absolute highlights of Yellowstone National Park and shouldn't be left out from your Yellowstone itinerary, even if you plan just a short visit.
1) Grand Prismatic Spring
The Grand Prismatic Spring is an iconic hot spring of Yellowstone National Park. You can find its photos everywhere, including the front pages of National Geographic. Hundred thousands of visitors are coming to Yellowstone to see Grand Prismatic, the third-largest hot spring in the world and definitely the most beautiful one. Grand Prismatic is 165 feet (50 meters) deep and has approximately 360 feet (110 meters) in diameter.
The spring's vivid colors are caused by microorganisms. There are so-called microbial mats around its edges. These mats create colors ranging from green to red. The color depends on several factors like the chlorophyll to carotenoid ratio as well as water temperature.
Grand Prismatic Overlook – best view
Enjoy the most magnificent view to Grand Prismatic from the overlook! It's less than a mile by walk from the car park and it is definitely worth it!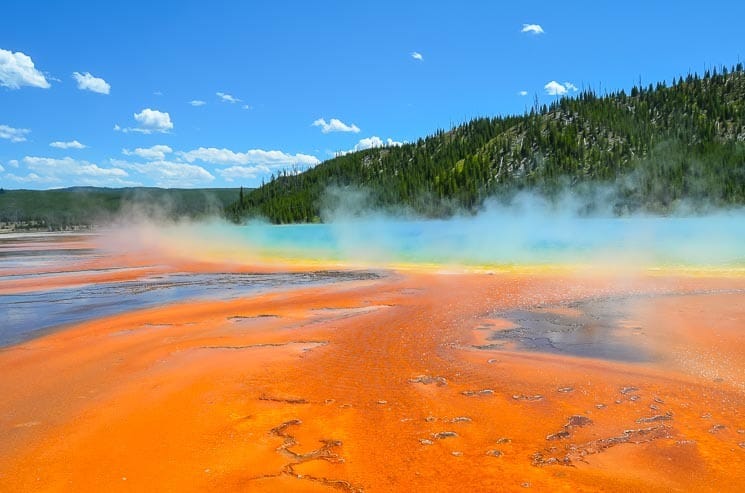 Midway Geyser Basin
The Grand Prismatic is situated in Midway Geyser Basin, which has other amazing geothermal features. You can see them on the way to the Grand Prismatic itself. Admire the deep blue Excelsior Geyser or Opal and Turquoise lake.
There is a nice boardwalk across the area. Always stay on it! Geysers and hot springs are beautiful but very dangerous (very hot and acidic).
Parking at Grand Prismatic: As this is the highlight of the national park, you might have to wait for a parking place (especially during the day).
Photo TIP: If you want nice pictures don't come too early in the morning. There is a lot of steam due to lower temperatures, and the photos wouldn't be that nice.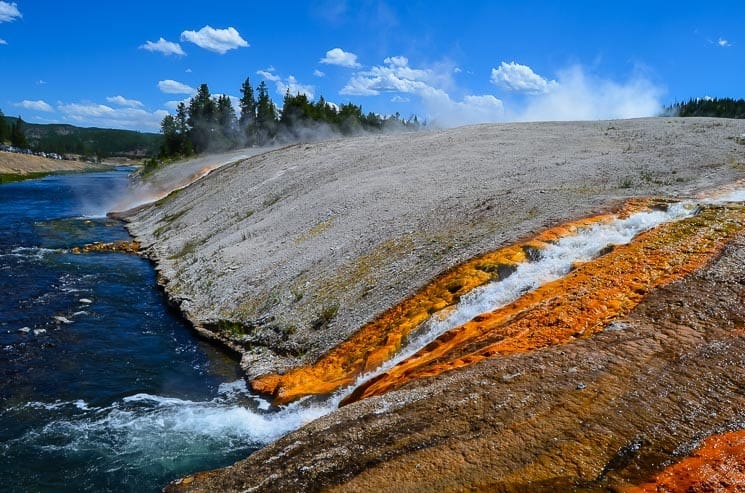 2) Old Faithful
Old Faithful is the most famous Yellowstone Geyser as well a lovely village with another beautiful geyser basins and hot springs nearby. Once you are there visit also the building of Old Faithful Inn and Visitor Center to learn more about geothermal features and other things to see in Yellowstone Old Faithful area.
Old Faithful Geyser
Thousands of visitors come to see Old Faithful going off several times a day. This geyser is exceptional because its eruptions can be easily predicted. Old Faithful goes off every 90 minutes (+ – 10 minutes). It's a spectacular show – eruptions can shoot 3,700 to 8,400 gallons (14,000 to 32,000 l) of boiling water to a height of 106 to 185 feet (32 to 56 m). The eruption usually lasts 1.5 – 5 minutes.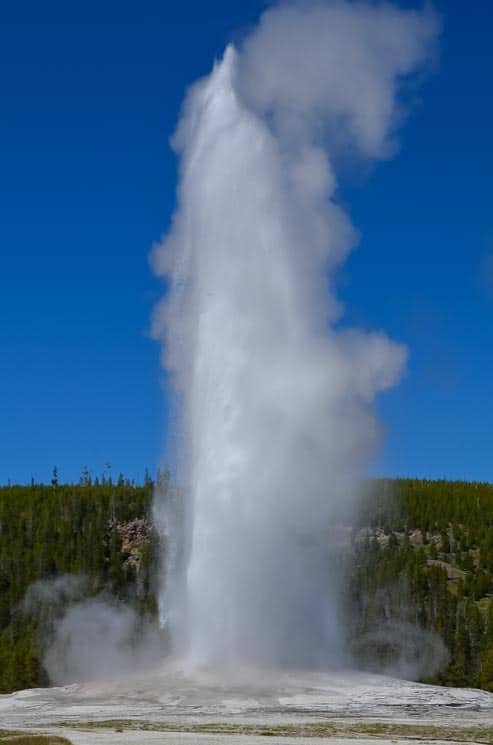 TIP: Look at the board at the Visitor Center, what is the estimated time of the next eruption of the Old Faithful. We recommend coming early to "catch" the ideal front spot at the observation deck.
Old Faithful Visitor Center
The visitor center is right next to the geyser. There is a cinema where you can watch a short documentary about Yellowstone National Park for free. We recommend visiting the Visitor Center because you can find there a forecast for several other geysers in the Upper Geyser Basin.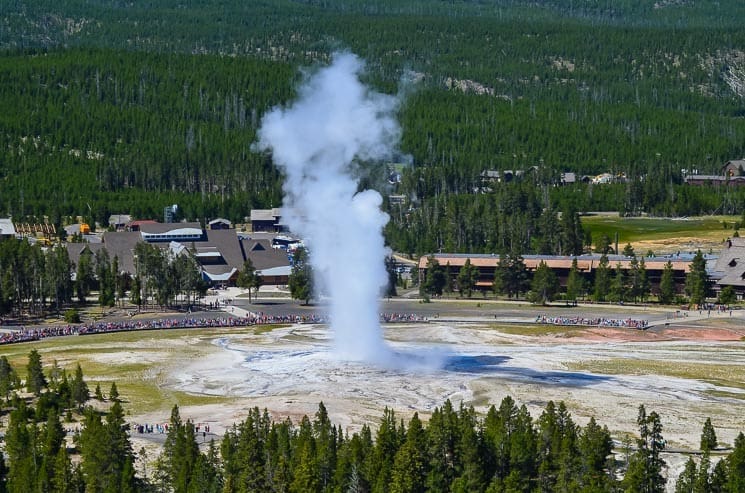 Old Faithful Inn
The Old Faithful Inn is a massive wooden building. It has monumental vestibule with elegant wooden design. There is a big fireplace and many nice spots where you can sit and relax. They also have predictions for geysers in the Upper Geyser Basin there.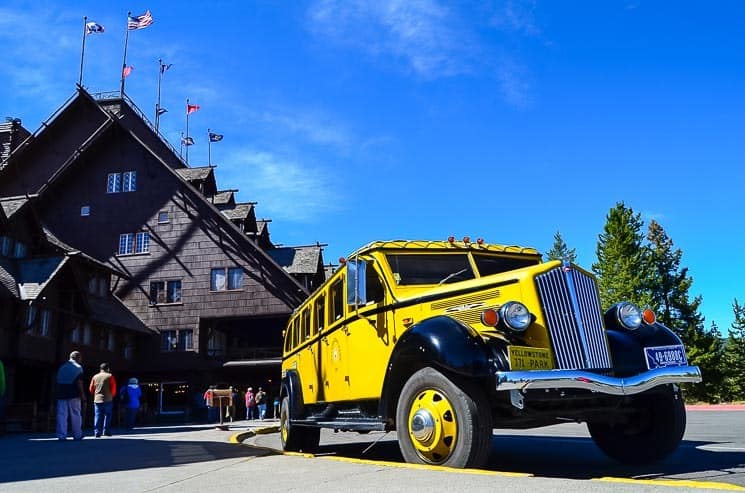 3) Grand Canyon of Yellowstone
You will be amazed by seeing Lower Falls for the first time. Such a massive waterfall in the middle of the monumental canyon! Lower Falls is located at the beginning of 20 miles (32 kilometers) long Grand Canyon of Yellowstone, which is over a kilometer wide and more than 1000 feet (300 meters) deep. You can admire the Grand Canyon from numerous viewpoints at both sides. The most beautiful views await you from its South Rim.
Artist Point – The best view of the Grand Canyon of Yellowstone
If you would have to choose only one viewpoint, it would be Artist Point. You can see the whole monumental canyon from there. It is probably the most beautiful view in entire Yellowstone. The contrast of the wild blue river with the orange canyon is magical. Getting there is easy: South Rim Drive will take you right to a relatively large parking lot by the Artist Point.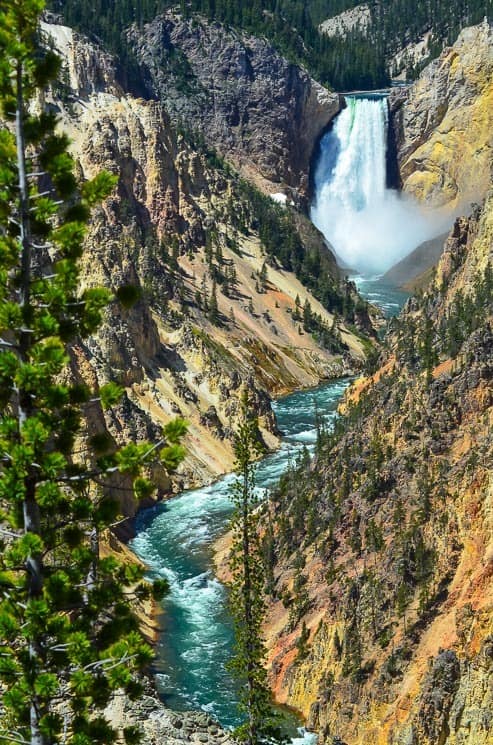 Upper Falls Viewpoint
Upper Falls Viewpoint is a beautiful view of the smaller (but still massive) Upper Falls. The viewpoint is just a few steps from the parking lot. Stop at this viewpoint first on your way to Artist Point.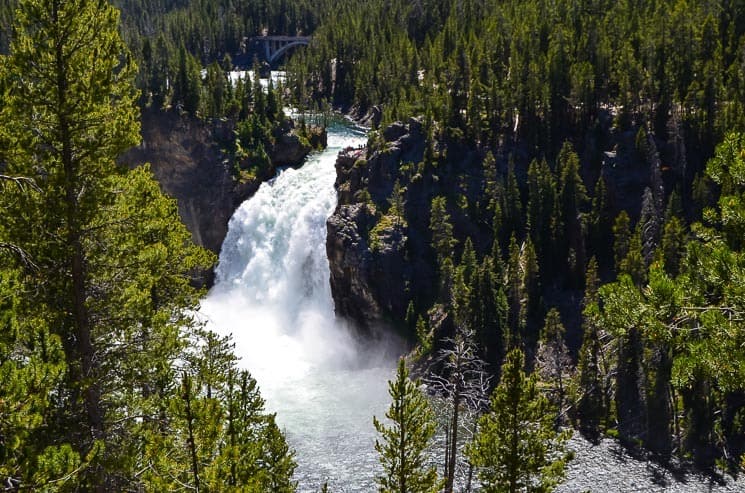 Uncle Tom's Point – Lower Falls viewpoint
If you don't mind hiking a lot of stairs, head to Uncle Tom's Trail. Uncle Tom's trail will take you down the long and steep staircase to a small observation deck, which is quite close to the Lower Falls. You can see a rainbow on a sunny day!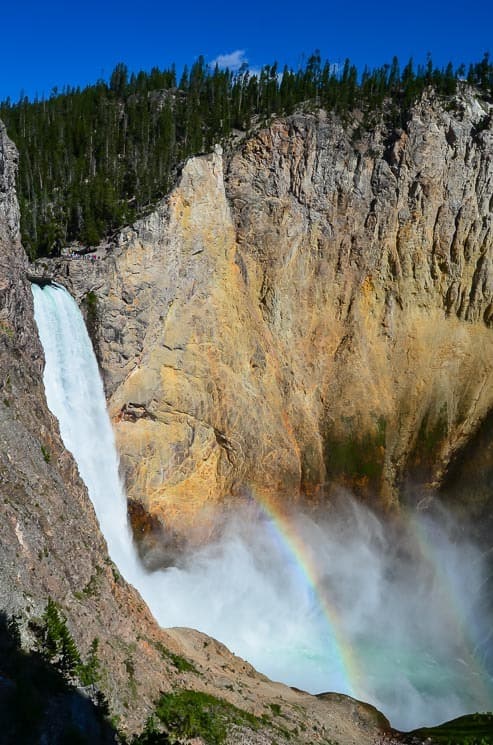 North Rim's viewpoints
Brink of the Lower Falls
The Brink of the Lower Falls will take you above the Upper Fall's edge. It is incredible to watch the enormous amount of water rolling down the waterfall.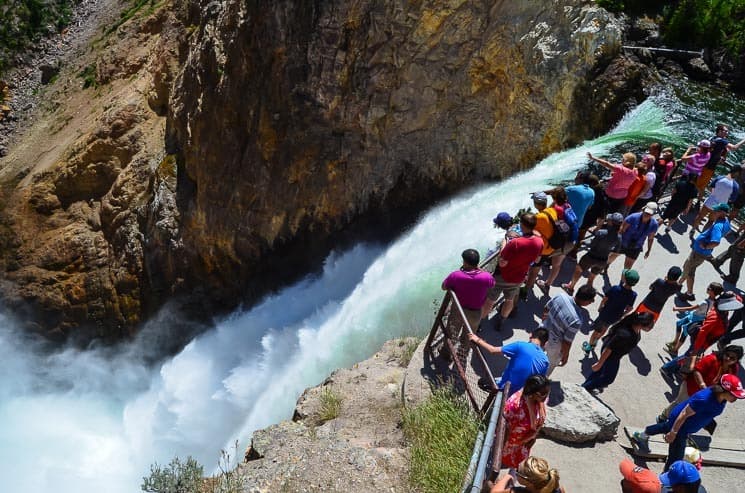 Red Rock Point and Lower Lookout Point
Red Rock Point is a viewpoint that has a common parking lot with Lookout Point. To be able to reach it you have to climb the stairs down. The advantage of this viewpoint is that it is not crowded because most of the people stay on the upper viewpoint.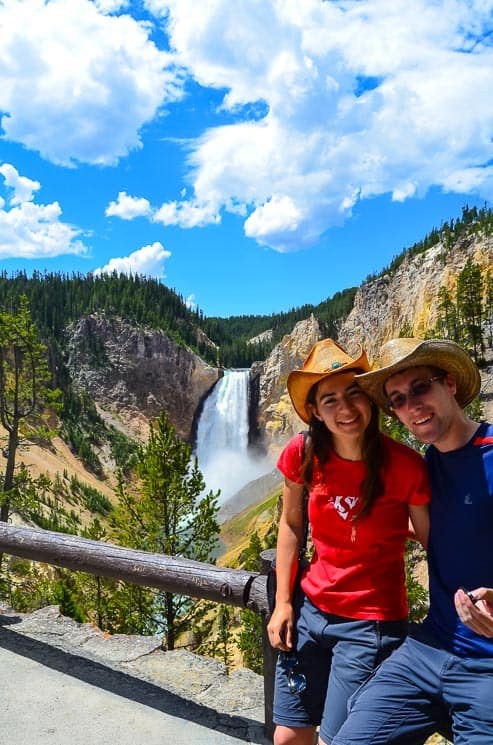 Other North Rim's viewpoints
There are some other viewpoints which are only a few steps away from the parking lot at North Rim Drive: Lookout Point, Grand View, and Inspiration Point.
4) Mammoth Hot Springs Terraces
If you come by the North Entrance, Mammoth Hot Springs is going to be your first thing to see in Yellowstone National Park. Terraces in Mammoth Hot Springs are beautiful travertine terraces full of colors. Be sure to explore both, the lower and upper terraces. A nice boardwalk will take you through the area. Local Visitor Center is always surrounded by elks.
Travertine terraces in Mammoth Hot Springs are active and constantly changing. In 5 years, they will look different than today. Minor changes can be observed even within days. The water temperature here is about 176 °F (80 °C). There are 70 individually named geothermal features.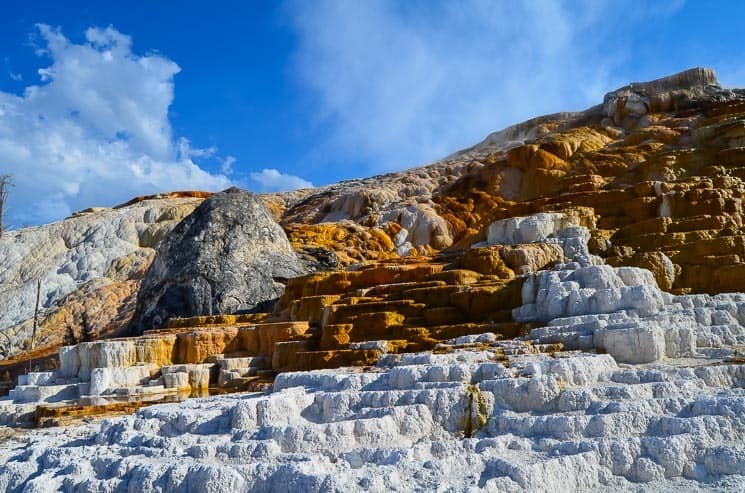 5) Upper Geyser Basin
Upper Geyser Basin is one of those you can't skip! It is a magical walk around the hot springs, lakes, and geysers, just by the Old Faithful. Before you head off, take a picture of the geysers' prediction for the following hours. Maybe you can see the elegant Castle Geyser or the huge Grand Geyser in action.
TIP: Download the Geyser Times app to find out predicted eruption times of individual geysers across the park.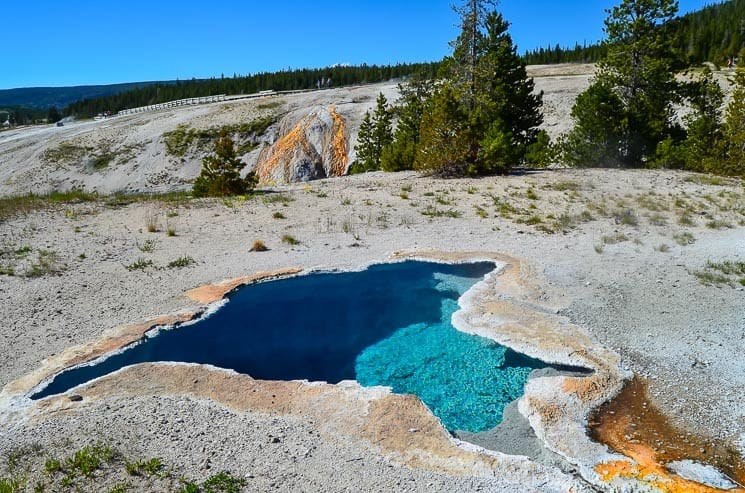 Morning Glory Pool
Morning Glory is a beautiful hot spring in the lower part of the Upper Geyser Basin. The spring got his name after the Morning Glory flower. Unfortunately, the spring becomes a victim of vandalism (never throw anything into hot springs!). It gradually cooled down and changed from turquoise blue to green and yellow. Yet Morning Glory is still beautiful and one of the best places to visit in Yellowstone.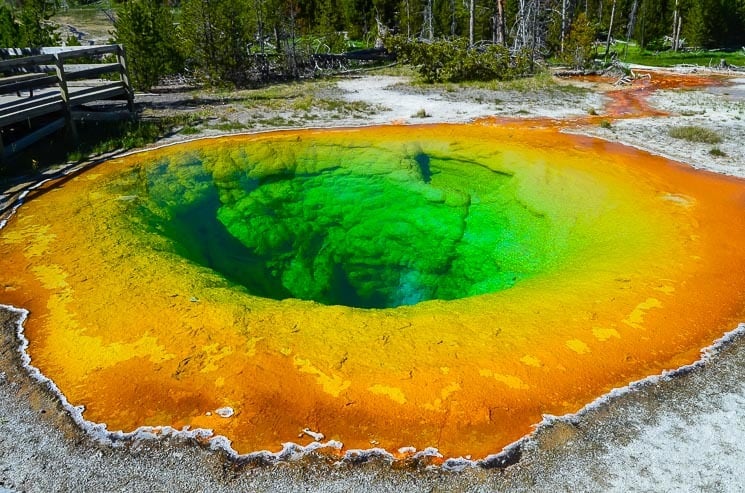 6) Norris Geyser Basin
The Norris Geyser Basin is the oldest, warmest and most dynamic area in Yellowstone. The highest temperature of 459°F (237 °C), was measured 1,087 feet (326 meters) below the surface. The temperature of the local hots springs is usually around the boiling point. Norris geysers and hot springs are mostly acidic with pH around 3.5. The highest geyser in the world is also a part of Norris Geyser Basin – Steamboat Geyser.
Norris Geyser Basin has two different areas: Black Basin and Porcelain Basin. You can head off for the shorter Porcelain Basin Trail on the right from the Visitor Center. The loop is about 3/4-mile (1,2 km) long. On the left, you can explore the Black Basin, which leads to other amazing geysers and woods. The trail is 1.5-mile (2.4 km) long.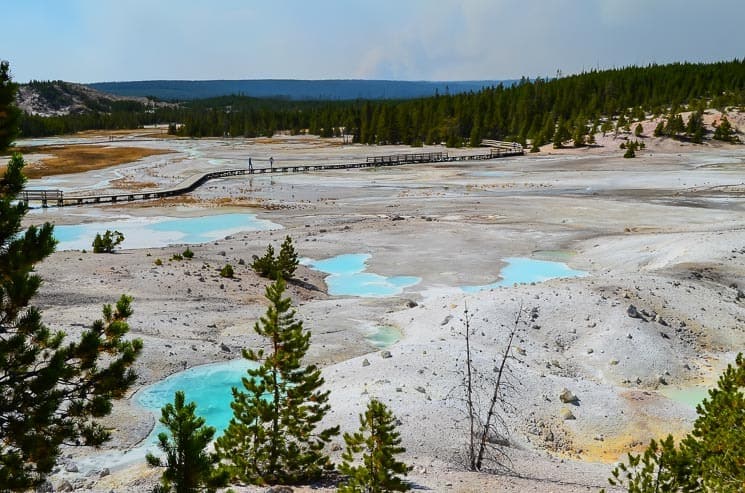 7) West Thumb Geyser Basin
Another from a series of colorful springs, geysers, and fumaroles with a beautiful view to Yellowstone Lake. The geyser called the Fishing Cone is most likely going to get your attention. The first discoverers of Yellowstone used this geyser for cooking the fish straight after they have caught it.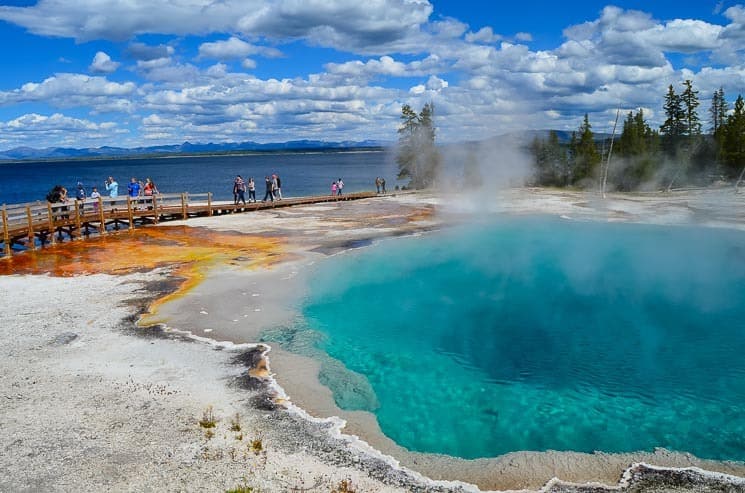 8) Fountain Paint Pot
Fountain Paint Pot is just a short but very interesting walk around bubbling mudpots of a creamy color, loud roaring fumaroles, and some other nice hot springs.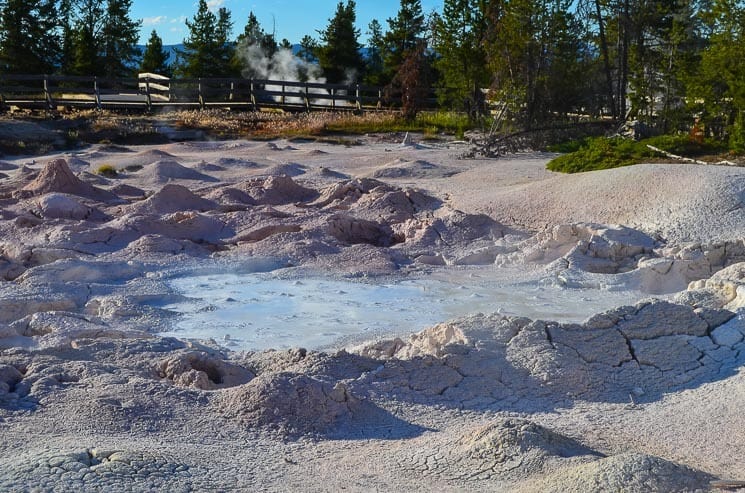 9) Lamar Valley
Lamar Valley is one of the best places to see wolves, bears, buffaloes, and coyotes. It is located in the northeastern corner of the park often called America's Serengeti. If you want to increase your chances of seeing animals definitely go to Lamar Valley. Animals are most active at dawn and dusk. It's also handy to pack binocular.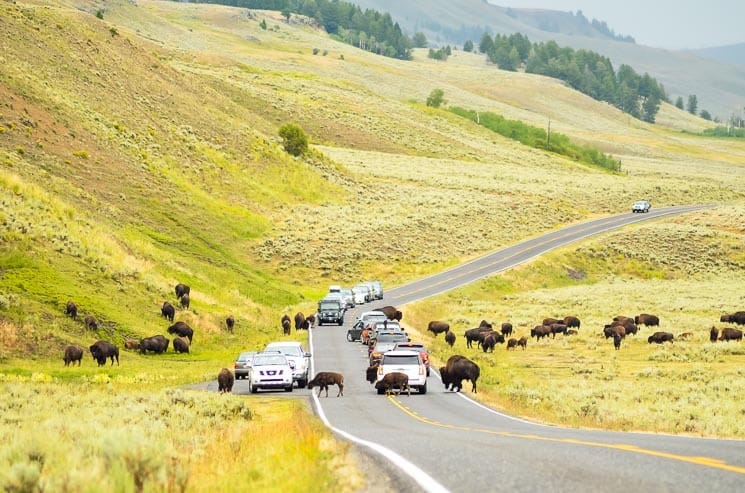 10) Hayden Valley
Hayden Valley is another beautiful valley, that is perfect for watching wildlife in Yellowstone. You will drive through the valley between Lake village and Canyon village. As you drive along you are likely to see herds of bison, elks and occasionally even grizzly bears. There are several pull-outs with panoramic views of the surrounding valley. Hayden Valley is located south of Canyon Village.
Watch this awesome video about animals you can see in Yellowstone:
Other Interesting Places in Yellowstone National Park
If you have more than 2-3 days in Yellowstone National Park, you can visit more awesome places! These places are many times just short stops or drives by the main road.
11) Black Sand Basin
Black Sand Basin is another colorful basin, just 1 mile from Old Faithful village. It is a beautiful small isolated collection of geysers and hot springs. You can see there the Sunset Lake, Rainbows or Opalescent Pool. The most famous used to be a Handkerchief Pool. Until 1920s visitors were encouraged to put their handkerchief into the pool. The water would suck it down for a few minutes and return it to the top nice and clean, like a natural washing machine.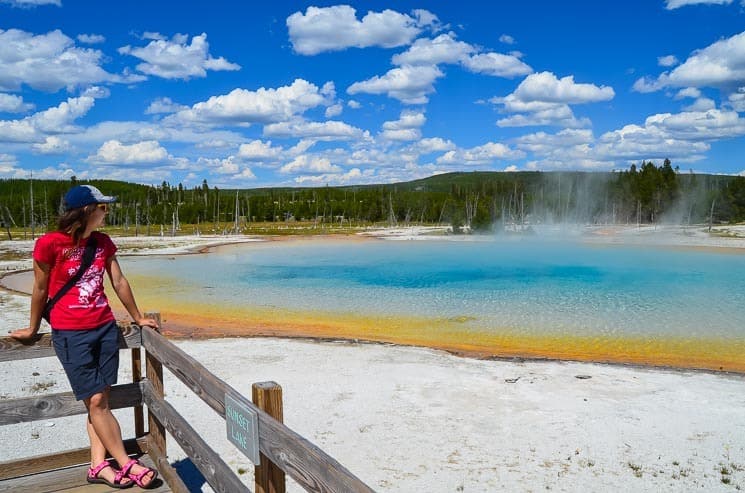 12) Biscuit Basin
Biscuit Basin is located nearby the Old Faithful area. It is only a short walk (2/3 of a mile-long loop) among the hot springs and geysers but it is definitely worth it! The parking lot is big enough. If you have plenty of time, you can continue to Mystic Falls, Observation Point or Summit Lake.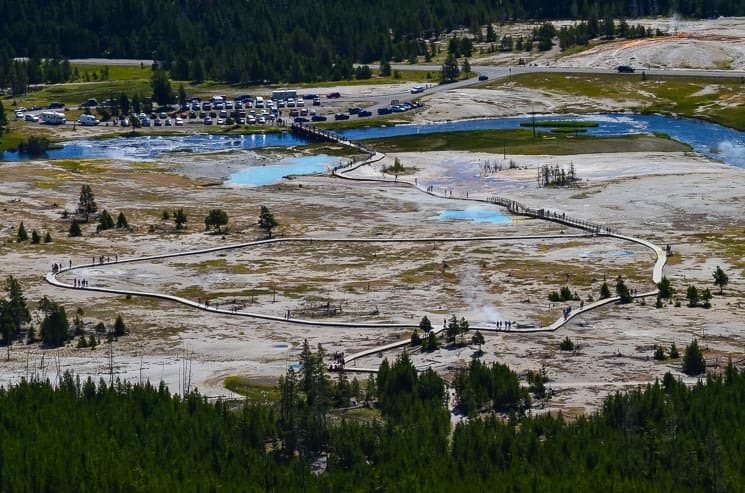 13) Swimming in Firehole River – Firehole Canyon Drive
During the hot summer day, it's very refreshing to swim in the Firehole River. There is a Firehole Canyon Drive just behind the Madison Junction. Once you see the cars parked around the road, you have arrived. There are toilets and changing rooms. Access to the rocky beach area is by wooden stairs. Despite the name "Firehole", don't expect it to be warm. Temperature is similar to an unheated swimming pool – perfect for swimming.
Another swimming spot is the Boiling River at Mammoth Hot Springs.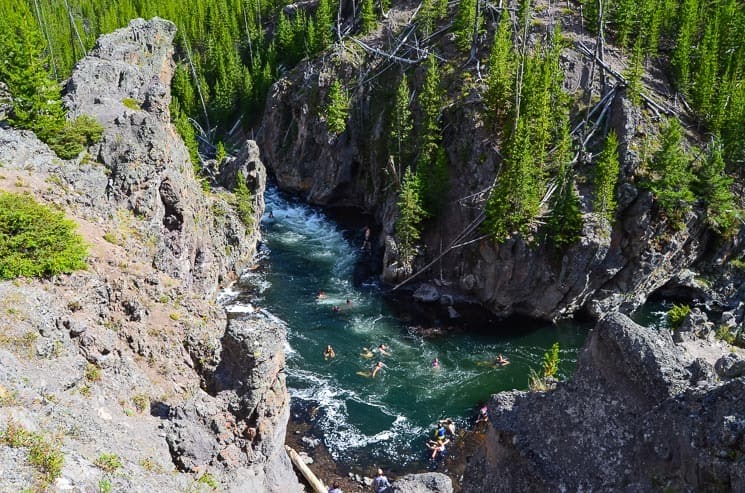 14) Canyon Visitor Education Center
If you want to learn more about the history of Yellowstone Park and the giant volcano, we recommend visiting the Canyon Visitor Education Center at Canyon Village. There is a beautiful model of the entire park and Yellowstone Caldera. You can also see the model of past explosions of this giant supervolcano. You can also watch a short 15-minute documentary about Yellowstone for free at the cinema. These movies are very well done!
15) Firehole Lake Drive
Firehole Lake Drive is 3 miles long one-way road with a lot of geysers and hot springs. The most famous geysers of this area are Great Fountain Geyser, White Dome Geyser or Pink Cone Geyser. All geysers and thermal features are visible from the road or boardwalks.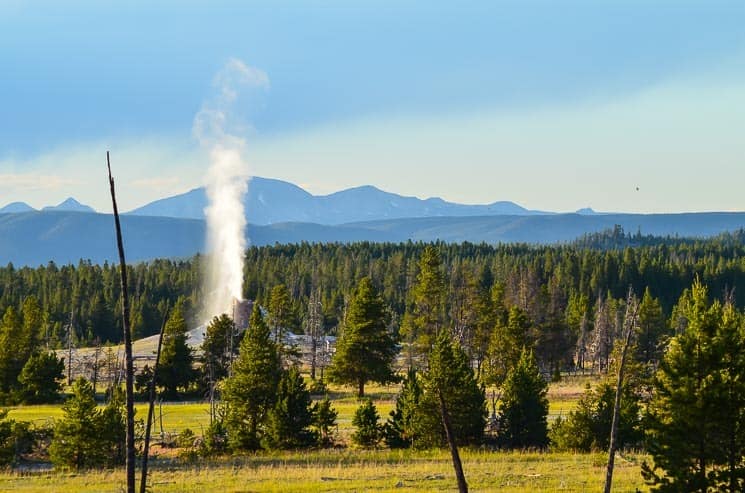 16) Mud Volcano
Mud Volcano is not a volcano itself, but it is another thermal area with geysers and hot springs near one of the Yellowstone Volcano's vents. Unlike other clear and beautifully colored ponds, here you can see the muddy stinky boiling water. It's interesting, but not as nice for photos as other places.
17) Craig Pass – Continendal Divide
Craig Pass is a mountain pass located at Continental Divide. There is a nice sign where you can take a picture. Water from this place here drains into 2 different watersheds – Pacific and the Atlantic Ocean.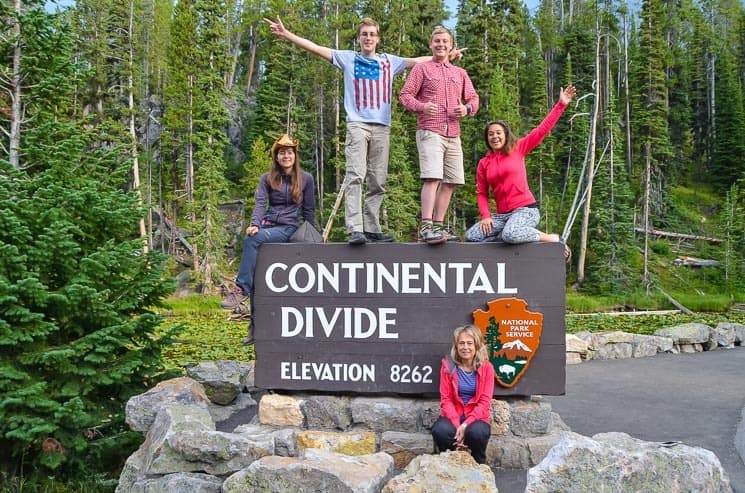 18) Tower Fall
Tower Fall is located in the northeastern part of Yellowstone, approximately 3 miles south of Roosevelt Junction. The waterfall is 132 feet tall and its name comes from the rock pinnacles at the top of the fall.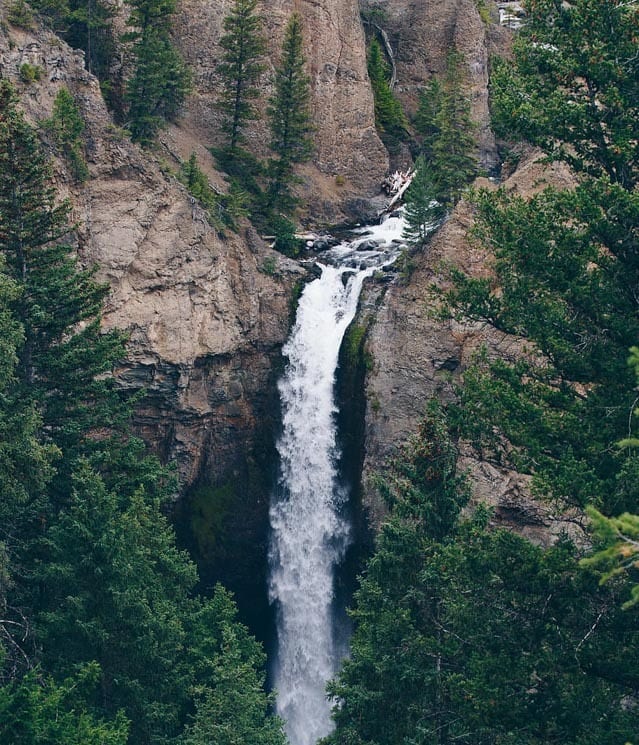 19) Yellowstone Lake
Yellowstone Lake is the largest lake in the National Park. It covers 136 square miles (350 km2) and its average depth is 139 ft (42 m). Lake is quite cold year-round, with an average water temperature of 41°F, that's why swimming is not recommended. You can rent a motorboat at Bridge Bay or join a Scenic Lake Cruise with a ranger.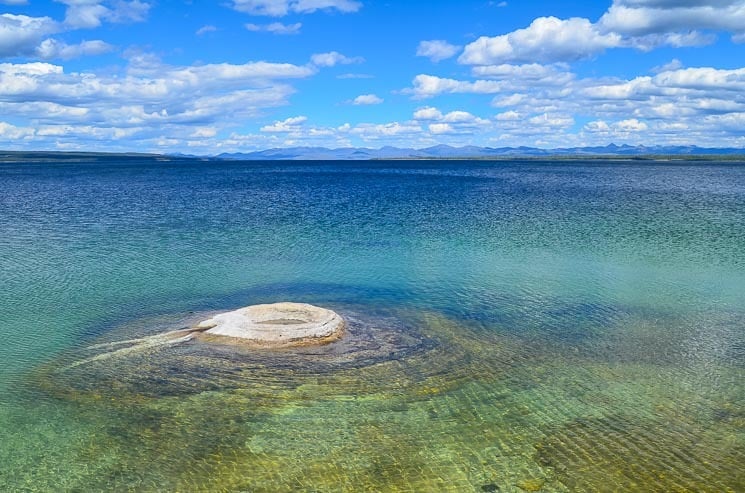 20) Artists Paintpots
Small geyser basin located between Madison Junction, and Norris Geyser Basin. Artists Paintpots is a collection of over 50 springs, vents, geysers, and mudpots. It's not that crowded like other basins.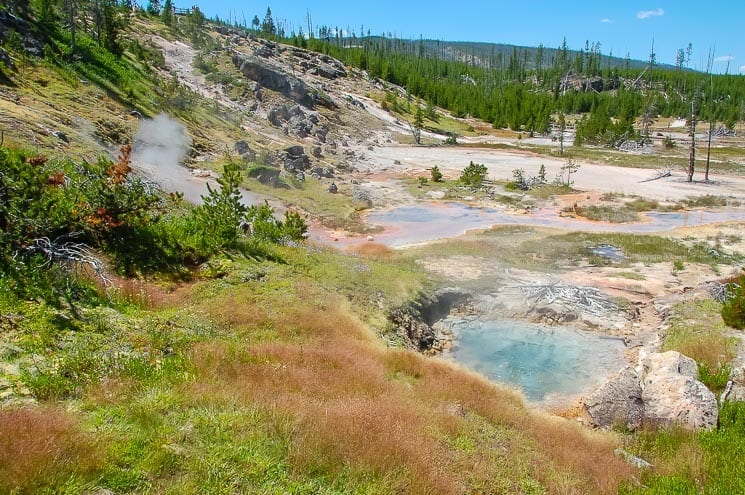 Where to go hiking in Yellowstone National Park
Not all the awesome places in Yellowstone National Park are easily accessible. Some gems are very well hidden and you have to hike some miles in the wilderness to see them. Yellowstone is a hiking paradise and every adventurous soul will love Yellowstone backcountry adventures.
21) Lone Star Geyser and Shoshone Lake
Lone Star Geyser Trail leads mostly through the forest. You will also meet a smaller thermal area along the way. You can expect Lone Star geyser eruption every 3 hours. Eruptions can be 45 feet (14 meters) high. The trail is about 4,8 miles (8 km) long and takes about 2-3 hours (+ a little longer if you wait for the eruption).
You can also continue to Shoshone Lake, which would be a whole day trip.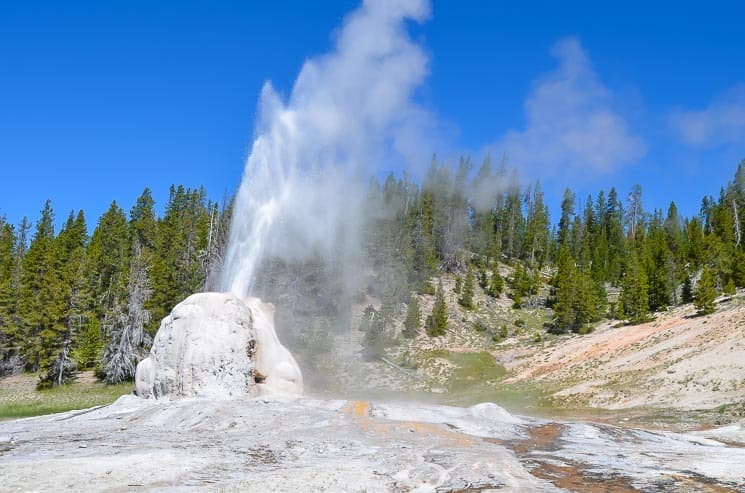 22) Avalanche Peak
If you like mountains and views, hike to Avalanche Peak. It's quite a steep hike. The trail is 2,1 miles (3,3 km) long and can take you about 3-4 hours. Hiking this trail is not recommended in September and October, due to the frequent occurrence of Grizzly bears.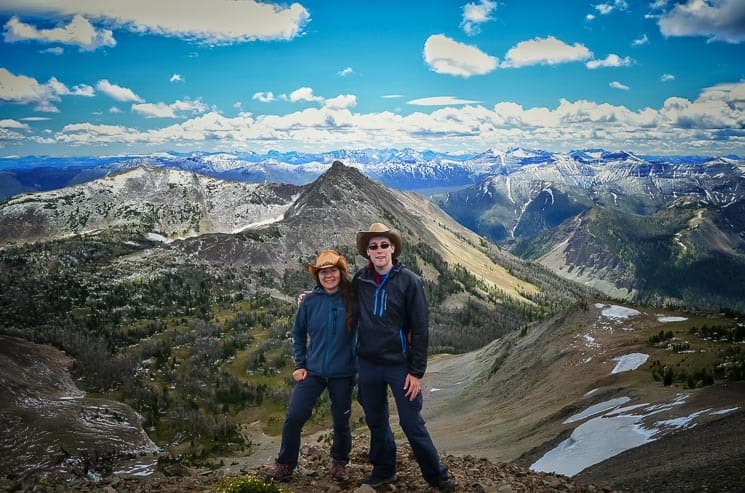 23) Union Falls
Union Falls are the second tallest waterfalls in the park. A hike to Union Falls can be done in one day (15,6 miles / 25 km round-trip) or you can stay overnight and stay at one of these campsites nearby. Trailhead can be reached by a dirt road from Flagg Ranch. You can find a detailed description of the trek here.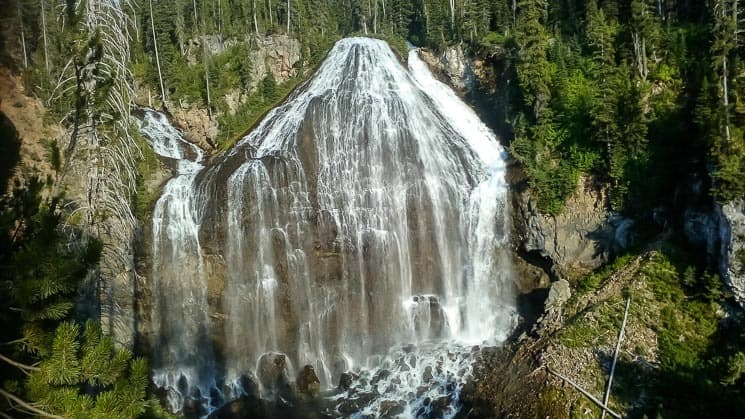 24) Mt. Washburn
Day hike to Mount Washburn starts from the parking lot at Dunraven Pass. The trail is 4,5 miles long (7,2 km) and can be done in 3-6 hours. There is a 360 ° view from the fire lookout. You can have a look at the exhibits at the base of the lookout.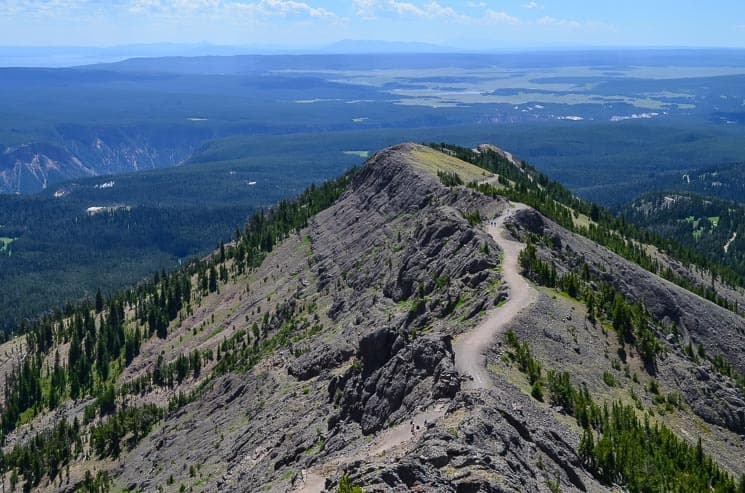 25) Mystic Falls
Mystic Falls can be reached by short day hike. The trail follows a lovely creek through the mixed forest. It's 2,4 miles (3,8 km) long there-and-back trail and it starts at the far side of the Biscuit Basic boardwalk.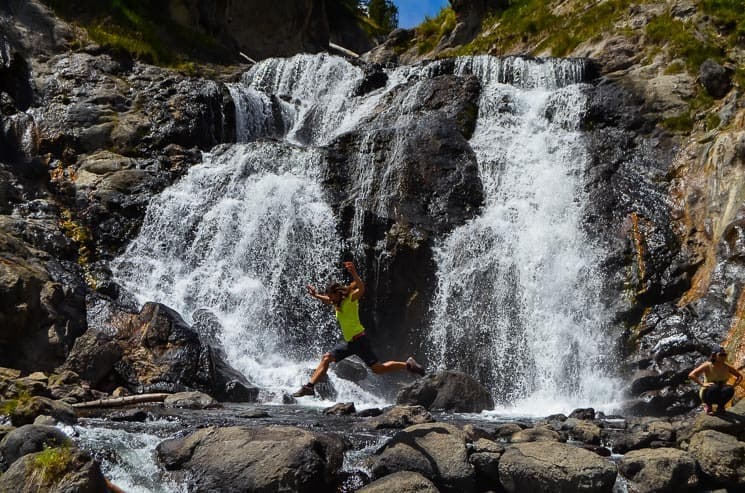 Map of the Best Things to See in Yellowstone National Park
We have prepared a detailed map of all best places to visit in Yellowstone National Park to help you plan your trip out. Points of interest are divided by categories. Each category has a different color for easy orientation. The map can be exported and uploaded to the mobile map app like Maps.me or Locus maps.
Accommodation in Yellowstone National Park
If you are visiting Yellowstone National Park, you have several options:
Hotels and Lodges directly in Yellowstone National Park
Official accommodation in Yellowstone is quite expensive, however luxurious. Prices can be around $ 200-300 per night or more. Once in a while, you can find lower prices (but usually not under $100 per night). The accommodation is often sold out, so it's good to book it in advance. For more information, visit Yellowstone National Park Lodges.
Camping in Yellowstone National Park
Camping is the cheapest option for accommodation directly in the park. Yellowstone National Park offers more than 10 campsites throughout the park. Some campsites have to be booked in advance (cost per night varies from $ 26 to $ 31), others operate on a first-come, first-serve basis (those are cheaper: $ 15 or $ 20 per night). You can see a detailed map and availability at Yellowstone National Park Camping. If you need some advice on gear, check this site with great gear for outdoor enthusiasts.
Accommodation nearby Yellowstone National Park
Another option is to book accommodation near the park. The nearest town is West Yellowstone and it is the first choice for most of the travelers. If you are coming from different directions, Cody and Jackson could be good for the first night. Accommodation in Jackson is great if you plan to spend a few days in Grand Teton National Park.
Watch this awesome video about Yellowstone National Park:
Best Things to See on Your West Coast Road Trip
Before going to Yellowstone, check these mistakes to avoid. Are you planning a road trip vacation? Don't miss the most beautiful places and national parks. We have prepared a list of places and a road trip map for you: Road Trip USA – 23 Best places to visit on the West Coast.
Is Yellowstone going to erupt?
More tips for your travels:
We have prepared for you this comprehensive list of links, discounts, and resources for travel planning in one place. Bookmark this page and whenever you plan a vacation in the future, just open it and save yourself a lot of time.
1) Where to book accommodation?
2) How to find cheap flights?
3) How to rent a car?
We recommend a comparison portal RentalCars.com to compare the best offers of all available rental companies.
Pin things to see in Yellowstone for later or for your friends: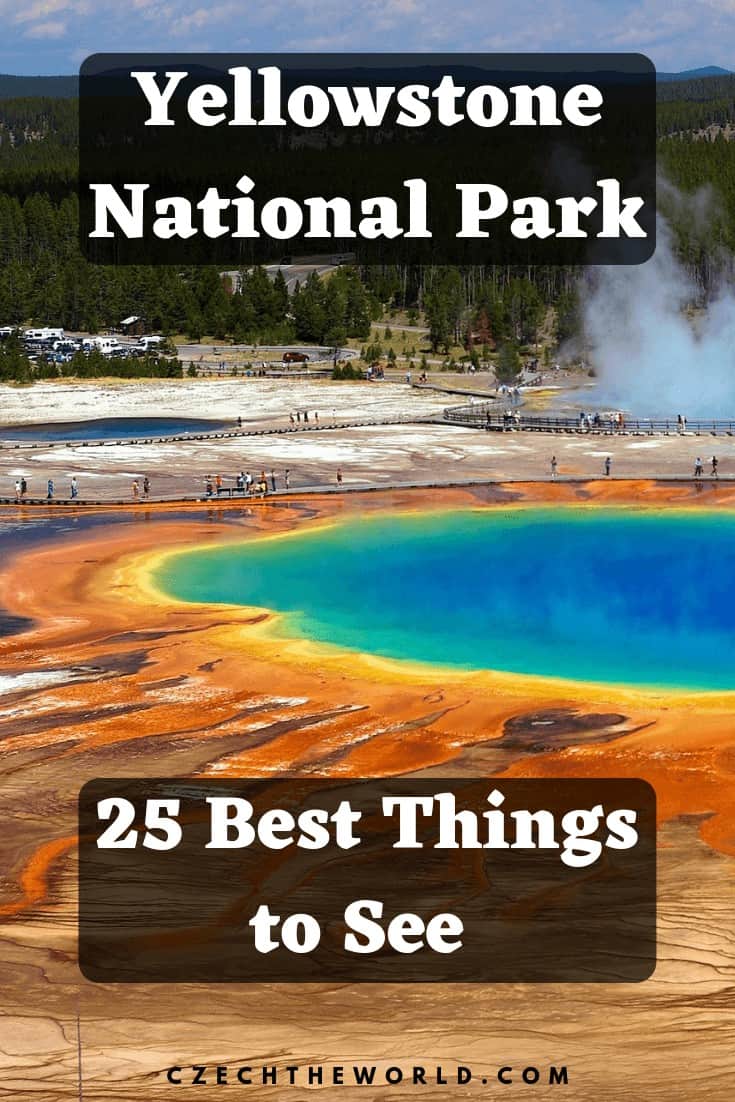 Places to visit in Yellowstone – FAQ:
Is there a downloadable map of the best things to see in Yellowstone?
What are the top 10 things to see in Yellowstone?
Where to stay in Yellowstone?
Official accommodation in Yellowstone is quite expensive, however luxurious. Prices can be around $ 200-300 per night or more. Once in a while, you can find lower prices (but usually not under $100 per night). You can do camping if you want to safe a lot of money. Read more here about the accommodation in Yellowstone.
When is the best time to visit Yellowstone?
The best time to visit Yellowstone is between May and September.
Did this post about best places to visit in Yellowstone help you? Share it with your friends! It can help them too!
Disclosure: Please note that some of the links above may be affiliate links, and at no additional cost to you, we earn a commission if you make a purchase. We recommend only products and companies we personally use and we use this income for further improvement of this website. Thank you!