Koh Tao is one of the best places to visit in Thailand. It's quite a small island (only 21 square kilometers) but you can find there a true underwater treasure. It is simply a diver's paradise! Let's discover the best things to do in Koh Tao!
People from all over the world come to Koh Tao to get their diving certification. It is also a great place for snorkeling! The underwater life of Koh Tao island is incredibly varied, and you can see even sharks! Unlike larger islands like Koh Samui and Koh Phangan, Koh Tao is much more laid back.
Things to do in Koh Tao: Must Do's
You will find many fun activities on this turtle island (as the Koh Tao is nicknamed). Scuba diving and snorkeling are the absolute number 1 activities. You won't find a more amazing underwater life elsewhere in Thailand! At least not at such a concentration.
1. Getting your PADI scuba diving license
People from all over the world come to Koh Tao to take a scuba diving course. Prices are good and underwater paradise is waiting for everybody. The basic PADI license (by the Professional Association of Diving Instructors) will cost you less than $400 and it's 4 days training. Check PADI courses here.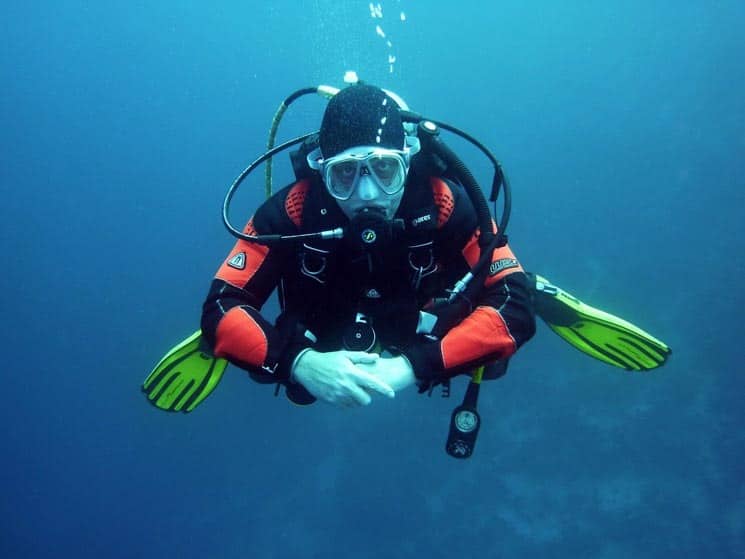 2. Snorkeling tour
The snorkeling tour is the highlight of Koh Tao island and it's definitely worth it. You will see thousands of colorful fish and even sharks! The boat stops at the most beautiful places around the island, plus you will get lunch and snacks during the day. We were completely satisfied with an Oxygen tour. They pick you up at the hotel in the morning and bring you back in the evening.
Here, you can read everything you need to know about Koh Tao snorkeling tours because snorkeling is definitely one of the top things to do in Koh Tao for everyone.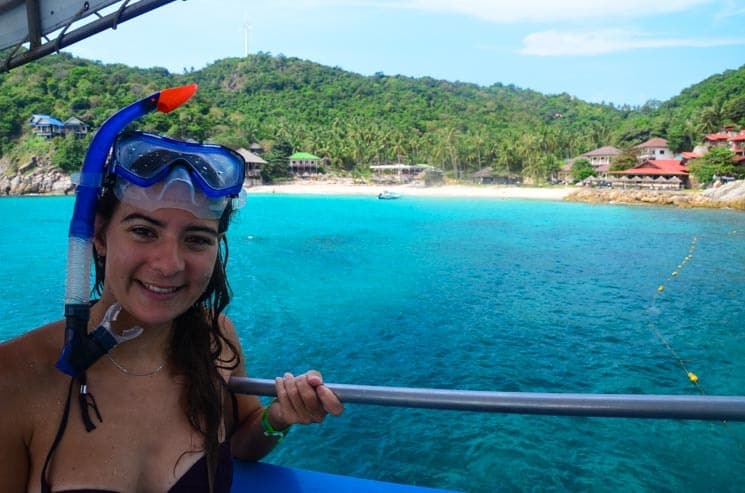 You will also visit the iconic Koh Nang Yuan during this snorkeling tour.
3. Koh Nang Yuan
Almost all the famous pictures from Koh Tao are actually from the little island of Koh Nang Yuan located few hundred meters from Koh Tao. You have several options to get there:
With a snorkeling tour: all snorkeling tours stop at Koh Nang Yuan. The only disadvantage is that you have limited time to visit the island. There is a 100 THB admission fee to the Koh Nang Yuan island, which is usually included in a snorkeling tour fee.
By private boat: another option is to pay for a private longtail boat.
On kayak: If you decide to paddle to the island, there are many benefits. You will have unlimited time to climb to the viewpoint, relax on the beach and explore the beautiful underwater world. In addition, you won't have to pay admission to the island, which is collected at the pier from those coming by boats. No one will either check whether you have a plastic bottle in your kayak or not. All you need to pay is a kayak rental fee.
Note: Plastic bottles are forbidden on the island. They are checking it on arrival (you may leave your bottles on the boat).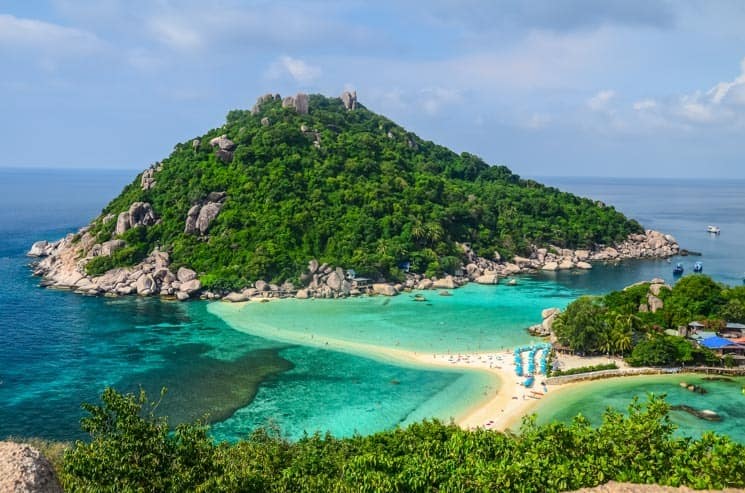 4. Rock climbing
Rock climbers can find over 70 different climbing routes across Koh Tao island. They range from rocky cliffs to perfect bouldering spots. You can hire climbing equipment or join the climbing course at Goodtime Adventures.
5. Cliff jumping
Adrenaline enthusiasts shouldn't miss Tanote Bay. You can find there a perfect 12-meter high cliff, which is a great spot for cliff jumping. There is a permanent rope, which you can climb up. There is deep crystal-clear water with no rocks underneath, which makes it safe for jumping.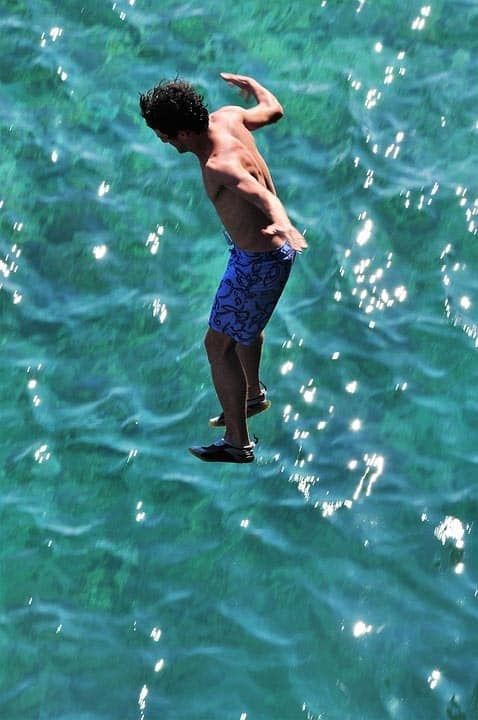 6. Paddleboarding (SUP) and other water sports
If you are a paddleboard enthusiast, you can go ahead and rent a paddleboard to do some awesome trip to the nearest coral reefs. SUP Rentals can be found at Chalok Baan Kao and Sairee Beach. You can choose from a wide range of other water sports like wakeboarding or kite surfing too.
7. Yoga
Thailand is also great for yoga. There are several places to practice yoga and relax on Koh Tao. There is Oceansound studio in the south part of the island and Shambhala Yoga studio at Sairee beach.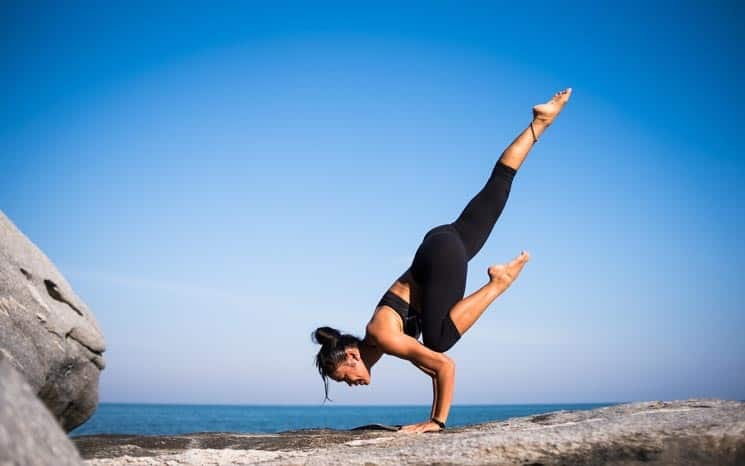 8. Rent a motorbike and explore the island
There are several rental places near Mae Hat Harbor. Renting a motorbike is the best way to explore the island and visit other beaches. The price is about THB 200 per day. They usually require a passport or cash as a deposit.
9. Thai cooking class
Thailand is well-known for its delicious cuisine, and if you enjoy cooking, you can try some Thai cooking class. Learn to make 3 different dishes at the Thai Cooking class. It's one of the best Koh Tao activities in rainy weather.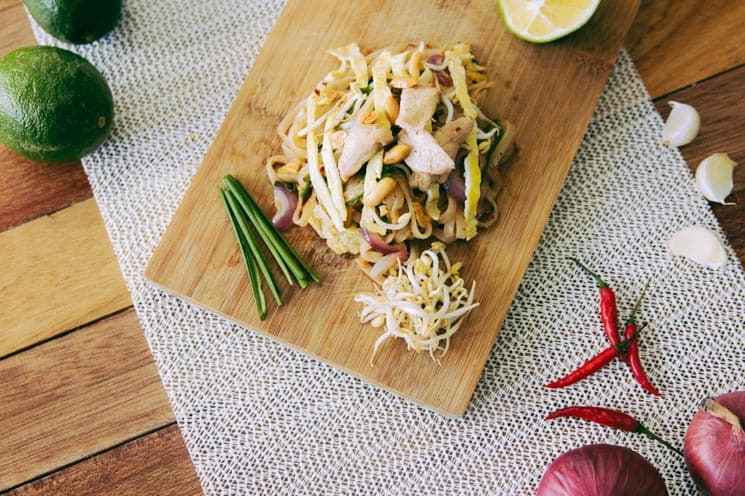 10. Taste Thai pancakes
Have you already tasted Thai pancakes? If not, you definitely should! Especially if you have a sweet tooth (but they also have salty versions). You can find pancake stalls if you walk through the center by the harbor. The chocolate pancake was our favorite one. Great are also salty with eggs or fruit flavors. Everyone can choose. Prices start at THB 40.
11. Hike the viewpoints
If you are a fan of hiking and viewpoints, you can visit some of Koh Tao's viewpoints and overlooks. The most popular ones are John-Suwan viewpoint, Mango viewpoint, West Coast viewpoint or Deisha viewpoint. Beware that entrance fee is usually charged.
Things to do in Koh Tao: Beaches & Best Snorkeling Spots
12. Sairee Beach
Sairee beach is the island's longest and most popular beach. It's almost 2 kilometers long and it starts nearby Mae Hat Harbor. You will find plenty of restaurants, bars, hotels, scuba diving centers, and other activities there. You can rent a kayak at Saiiree Beach and paddle to Koh Nang Yuan island (which is not far from there).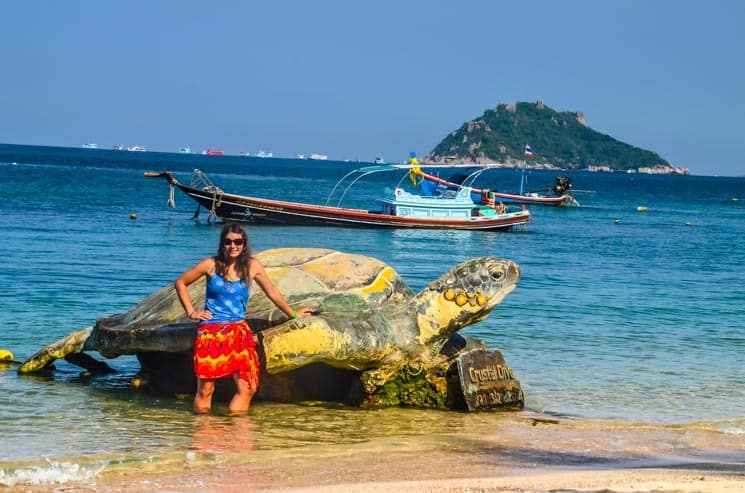 13. Beach at Chalok Baan Kao Bay
Chalok Baan Kao is a small village with the third largest beach on the island, where you can find restaurants, resorts, and scuba diving centers. You can also walk to Freedom Beach – a small private beach nearby. You either have to pay THB 50 (as the entrance fee) or buy yourself a drink.
14. Freedom Beach
Freedom Beach is a private beach on the south side of Koh Tao that's easy to reach, and it's one of the best spots for kayaking, swimming, and just taking some amazing photos of the tropical scenery. You can walk to this beach on a short path through the palm trees, or take a kayak from Chalok Baan Kao Bay. The beach has a small strip of white sand surrounded by giant boulders, and if you go early in the morning, there's usually no one collecting a fee so it's possible to get in free.
Freedom Beach was suggested by David from The World Travel Guy
15. Beach at Aow Leuk Bay
Aow Leuk Bay can be translated as s deep bay, which is a wonderful place for snorkeling. You can find there beautiful white sand and palm trees. Ideal place for an afternoon chill. Shark Island – a great place for scuba diving is not far from here either.
16. Sai Nuan Beach & snorkeling
Sai Nuan is a well-hidden beach with a nice calm atmosphere, reminiscent of the 1980s and 1990s in Koh Tao. Swim to a group of boulders to see many different kinds of fish like Barakuda and many more.
17. Beach at Tanote Bay & snorkeling
Tanote Bay has a beautiful beach surrounded by stones and boulders. It is a perfect snorkeling spot as well as a good place for cliff jumping! You can see colorful fish as well as morays. Snorkeling equipment can be rented at the beach bar for THB 50.
18. Beach at Thian Og Bay / Shark Bay & snorkeling
Shark Bay is a private bay, with tall coconut palm trees. Public access to the beach is from Villas Del Sol Resort – you just need to follow signs and go down the walkway. Thian Og Bay got the nickname "Shark Bay" reasonably. You can actually see the Blacktip Reef Shark there. If you want to see them, you have to swim approximately 250 m from the beach and stay on the left side. If you're lucky, you'll see also turtles.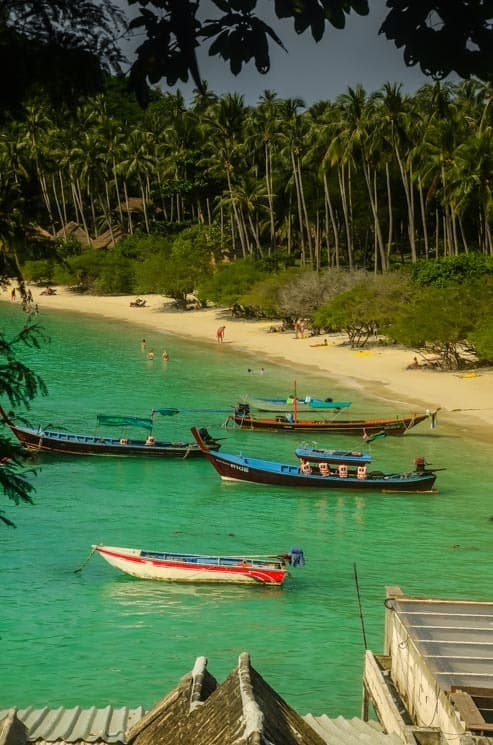 19. Sai Daeng Beach & snorkeling
Small but very nice beach. It is the closest place to Shark Island, which is only 800 meters from there. Sai Daeng Beach and Bay is beautiful for snorkeling along the coast. There is also an opportunity to see the Blacktip Reef Shark and Sea Turtles.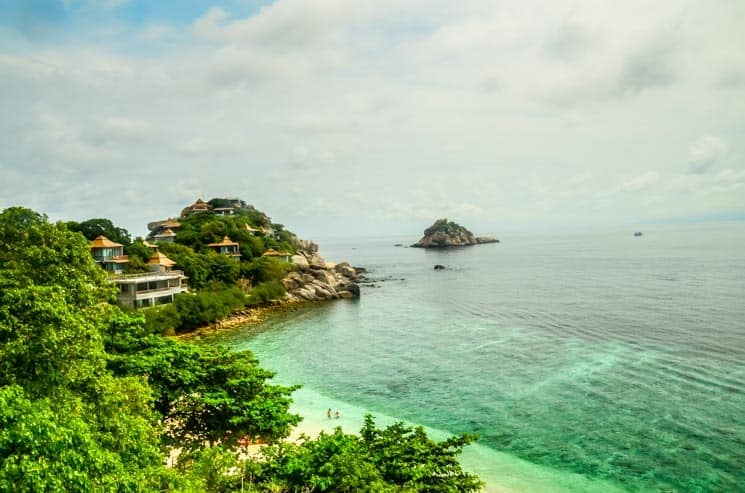 Things to do in Koh Tao: Snorkeling Spots
20. Shark Island
Shark island is another amazing place for scuba diving and snorkeling. You can paddle to Shark Island from Aow Leuk Bay and Sai Daeng Beach approximately in 10-15 minutes.
21. Mango Bay
This bay got its name after numerous mango trees. There is only a tiny beach, but it's one of the TOP three places for scuba diving and snorkeling at Koh Tao. Turquoise water, coral reefs, and rich underwater life.
22. Hin Wong Bay
Hin Wong is a coral reef bay and one of the TOP snorkeling and diving sites in Koh Tao. There are giant boulders and you can see a rich underwater life. You can get there by boat, motorcycle or even by walk (it's about an hour walk from Sairee Beach).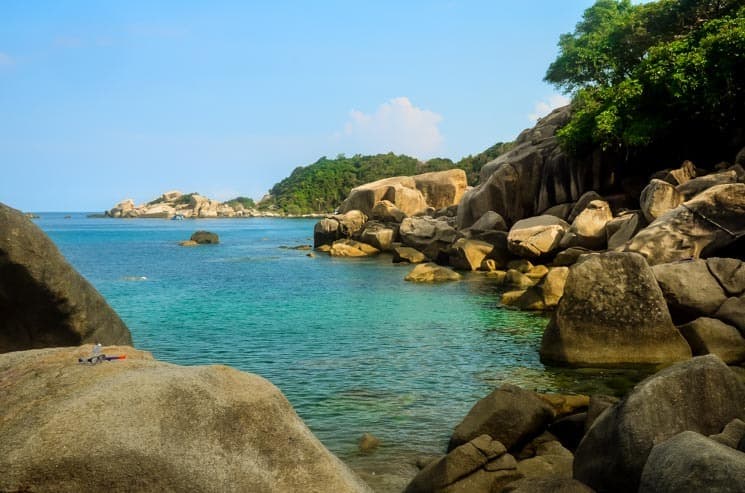 23. Laem Thian
In Laem Thian Bay, you can see fish that are not quite common in other parts of the island like Parrotfish or Unicornfish, and again you can see some sharks. This bay is also famous for cliff jumping. It is up to you to choose the right height for you: 3, 9 or even 12 meters. Rock formations have also created underwater tunnels there, through which you can swim.
Things to do in Koh Tao: Festivals
24. Songkran
Celebrate Songkran – Thai New Year's national holiday. The celebration starts on April 13 or 14. The holiday is known for its water festival. Absolutely anyone can join the water fights! The tradition of watering symbolizes the cleansing from the bad "things" and deeds.
25. Loi Kratong Day
This day is celebrated on 12th full moon of the year – in November. Celebrations bring the symbolism of getting rid of the bad luck. The name comes from the tradition of making decorated lotus-shaped boats and floating them on the sea. The main stage with various performances is at Mae Haad Pier.
26. Koh Tao Underwater World Festival
These celebrations are held annually in the middle of June and the festival is dedicated to the protection of the environment and marine life. Beaches and seafloors are being cleaned up, as well as there are many workshops with valuable information on environmental protection.
Things to do in Koh Tao: Map of places and activities
We have prepared a detailed map of all the best things to do in Koh Tao to help you plan your trip out. Points of interest are divided by categories. Each category has a different color for easy orientation. The map can be exported and uploaded to the mobile map app like Maps.me or Locus maps.
Accommodation in Koh Tao
Sairee Beach – Koh Tao Coral Grand Resort is a popular resort at the northern end of Sairee beach (nearby Koh Nang Yuan island). If you are looking for more basic and cheap accommodation, choose Jom Jam House.
Chalok Baan Kao Bay – Assava Dive Resort has a great value for its price. Another popular place is Big Fish Resort Koh Tao.
Tanote Bay – Great choice is highly rated Montalay Beach Resort – great service, good price, and perfect location. The cheaper option is Montalay Eco Cottages.
Hin Wong Bay – Great choice in this area is Hin Wong Apartments Dive & Snorkel Resort.
Last but not least out TIP for a magical private beach at Janson Bay: Charm Churee Villa.
If you need more inspiration, read this guide to the best hostels in Koh Tao.
Practical Tips for your Koh Tao
Sockets – You will find a combination of different types of sockets (A, B, C) throughout Thailand that vary from hotel to hotel. Bringing the adapter is definitely handy. The voltage is 220 V, frequency 50 Hz.
Vaccination – any vaccination is compulsory in Thailand, but generally recommended are vaccinations against Hepatitis A, B, and Typhoid Fever.
Tap water is not drinkable.
Getting to Koh Tao
Bangkok to Koh Tao
There are various ways to get to Koh Tao from Bangkok. The fastest and most expensive option is a combination of airplane and ferry. You can fly to the nearest airport – either Chumphon, Surat Thani or nearby Koh Samui. You can usually find the best flight deals around Asia at Momondo.
If you travel by land, you can use a train or bus to get to the port. We can definitely recommend a night train, which is the most comfortable option. The journey from Bangkok to Chumphon takes about 8 hours.
You can book tickets online at 12Go. Train tickets are sometimes cheaper directly at the station, but you risk that the trains will be sold out and you will have to wait for a few more hours for the next one.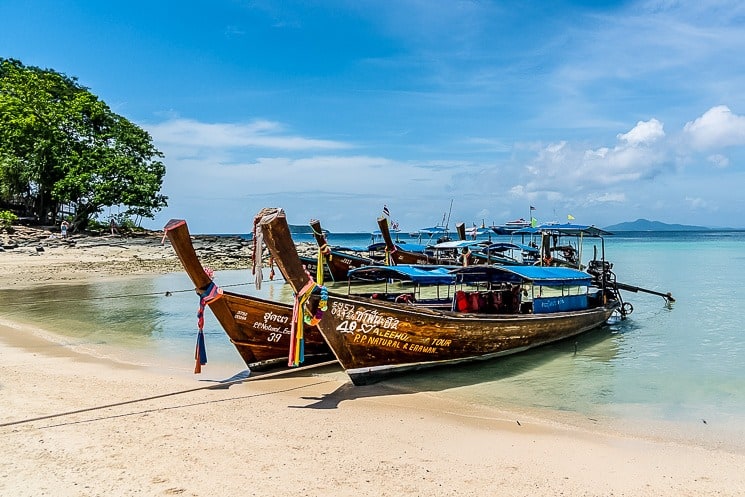 Chumphon to Koh Tao Ferry
Ferry from Chumphon to Koh Tao runs 3 times a day. The ferry departs at 7:00, 13:00 or the night one at 23:00. The day cruise takes 1h 45 minutes. The night freight ferry (where you can sleep) takes 6 hours. Tickets can be booked here in advance.
Surat Thani to Koh Tao Ferry
You can get to Koh Tao from Surat Thani either from the port in Surat Thani or from the nearby port in Donsak:
Lomprayah ferry departs directly from the port in Surat Thani. Since the boat stops on both Koh Samui and Koh Phangan, the journey takes around 5 hours.
A slightly cheaper option is a joint ticket (combined bus and boat ticket) with a bus to Donsak.
If you are going to spend the night in Surat Thani, you can ask for current options and prices at your hotel reception. In advance, you can buy tickets online here, where you can find "joint tickets".
If you are looking for good accommodation in Surat Thani, we can recommend 4Hearts Loft House with incredibly helpful staff (and free transfer to the port).
Ferry: Koh Phangan – Koh Samui – Koh Tao
Ferry to the neighboring islands of Koh Phangan and Koh Samui is part of the ferry lines among the mainland ports of Surat Thani, Donsak and Chumphon. So, if you are already on one of these islands, there is nothing easier than asking directly at the reception of your hotel or buying tickets directly at the port.
Weather: When is the best time to visit Koh Tao?
The best time to visit Koh Tao is from late December until mid-April. The average temperature is around 28 to 32 °C. The weather from May to September is not completely bad, but you have to count on rain showers from time to time. You should avoid October and November because of the monsoon season.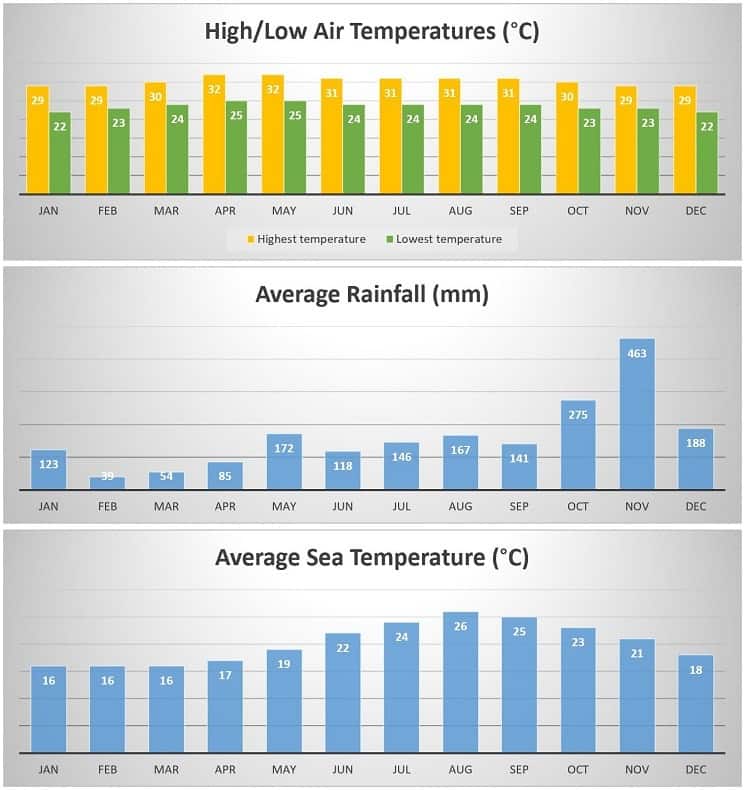 Experience the Top Things to Do in Koh Tao!
Check out this awesome Koh Tao video:
Where to go next?
If you have more time in Thailand, check this nice 2 weeks in Thailand itinerary, where you can find also general practical tips about traveling around Thailand. If you wanna spend some more time on the surrounding Islands, here we have some recommendations:
Ang Thong National Marine Park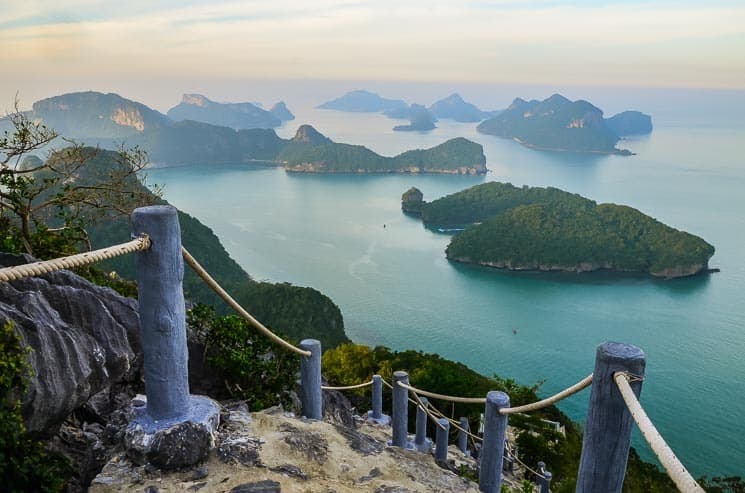 Ang Thong National Park is ideal for day trip or multi-day trip. If you like the tranquil place, we recommend staying at least one night in Ang Thong! Especially if you like kayaking. The national park consists of small islands, among which you can paddle the whole day. There is a beautiful lagoon, a cave, awesome viewpoint, plus you can swim with bioluminescent plankton during the night!
Read all the information you need to know here: Ang Thong National Marine Park, Thailand – Ultimate Guide to (Multi) Day Trip.
Koh Samui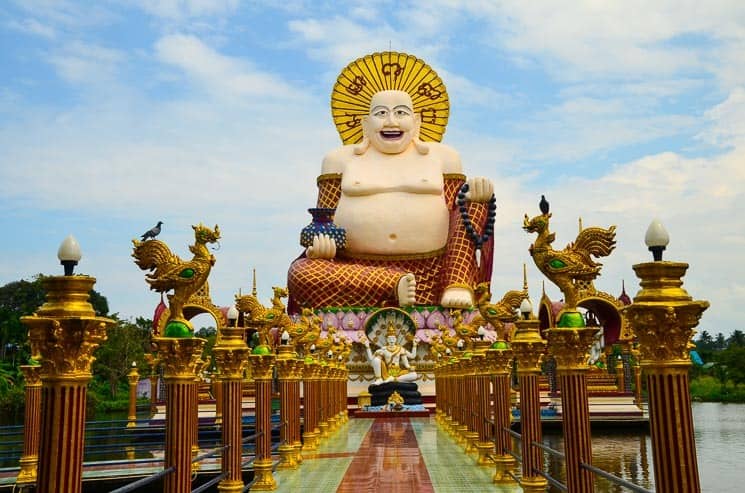 Koh Samui is the largest of all these islands. You will like Koh Samui especially if you like temples and discovering all the corners of the island. There are also great night food markets! Here is some inspiration: 25 Best Things to do in Koh Samui.
Koh Phangan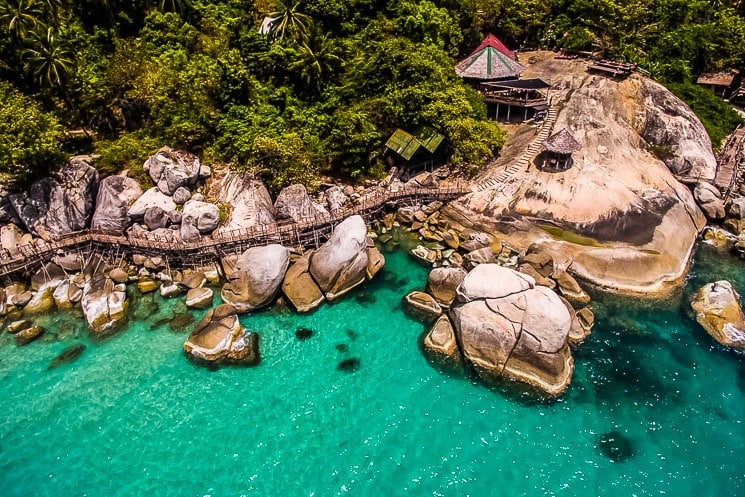 The island of Koh Phangan is slightly smaller than Koh Samui, but it is still relatively large compared to Koh Tao. Koh Phangan is famous for its spectacular Full Moon party! Read our complete guide with 23 Best Things to do in Koh Phangan.
We hope you are going to enjoy 25 Best things to do in Koh Tao and you can let us know in comments how was your stay there!
More tips for your travels:
We have prepared for you this comprehensive list of links, discounts, and resources for travel planning in one place. Bookmark this page and whenever you plan a vacation in the future, just open it and save yourself a lot of time.
1) Where to book accommodation?
2) How to find cheap flights?
3) How to rent a car?
We recommend a comparison portal RentalCars.com to compare the best offers of all available rental companies.
Pin things to do in Koh Tao for later or for your friends:
FAQ – Things to do in Koh Tao, Thailand:
Did this post about things to do in Koh Tao help you? Share it with your friends! It can help them too!
Disclosure: Please note that some of the links above may be affiliate links, and at no additional cost to you, we earn a commission if you make a purchase. We recommend only products and companies we personally use and we use this income for further improvement of this website. Thank you!