Koh Samui is one of the most popular Thai islands, famous for its beautiful beaches, nature, mountains, waterfalls, and numerous temples. It's the second-largest island in Thailand right after Phuket and a popular island hopping destination. Koh Samui offers various activities and entertainment options, so everyone can enjoy it. You should definitely put Koh Samui on your South Thailand itinerary. We have prepared a list of the best things to do in Koh Samui, whether you prefer an adventurous journey around the island with discovering temples, viewpoints, and waterfalls, or prefer relaxing on the beach. Koh Samui is a great place to enjoy your vacation.
This blog post is not only about the best activities to do in Koh Samui – we have prepared a bunch of practical information and complex guide where you will learn how to get to the island, interesting places to see, what are the best beaches, and other practical information such as prices, weather, and other travel tips.
Best things to do in Koh Samui: Activities and trips
Let's have a look at some of our tips on the best activities to do in Koh Samui:
1) Night markets
You will love Thailand especially for its evening markets full of delicious food! Night markets are the culinary gateway to Thai culture. One visit and you will keep coming back. There is everything from seafood, noodles, rice delicacies, grilled meat, to fried insect, perfect desserts, ice cream or fresh smoothies and fruit shakes. All of that for very reasonable prices. You can visit those markets on Koh Samui nearly every day.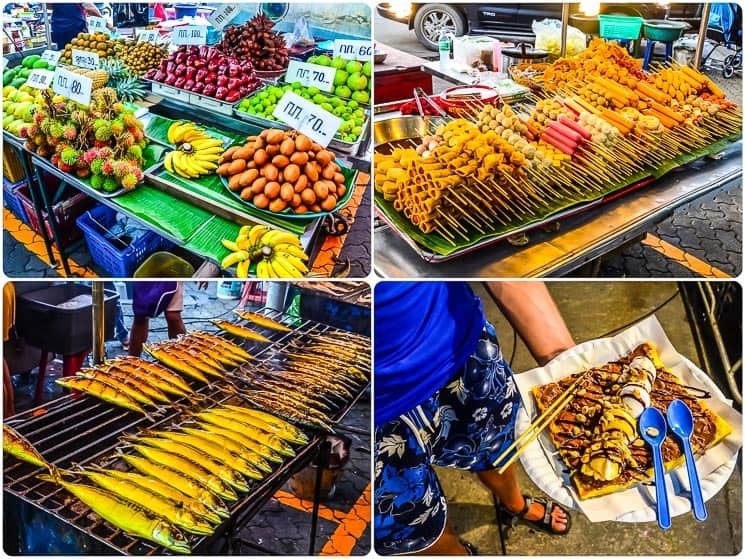 Night Markets:
Fisherman's village, Bophut – The biggest night market on the Samui island. It takes place every Monday and Friday from 5 pm to 11 pm. The Monday market is mainly about food. There are also souvenirs and other goods on Friday.
Chaweng night market (behind the Star Gym) – Mainly food market. It takes place every Monday and Saturday from 5 pm to 11 pm.
Central Festival market – is a combination of the shopping center and classic street food market. The Central Festival market takes place every Wednesday from 5 pm to 11 pm.
Maenam walking street – this market is located in Chinatown. The busiest time is during Chinese celebrations. The market offers excellent street food and takes place every Thursday from 5 pm to 11 pm.
Lamai night market (Lamai Beach) – probably the most visited market which is full of food stalls and souvenirs, it's surrounded by restaurants and bars. It takes place every Sunday from 5 pm to 11 pm.
Nathon Night Food Market – Held every day from 5 pm to 10 pm. The old jetty is full of food stalls with delicious food, where you can find everything from noodles to grilled fish and much more.
What should you try?
Exotic fruit – Durian, Mangosteen
Fried insects (available on the market)
Pad Thai (Typical Thai noodles)
Seafood, grilled fish
And hundreds of other delicious Thai specialties
2) Hin Ta and Hin Yai Rocks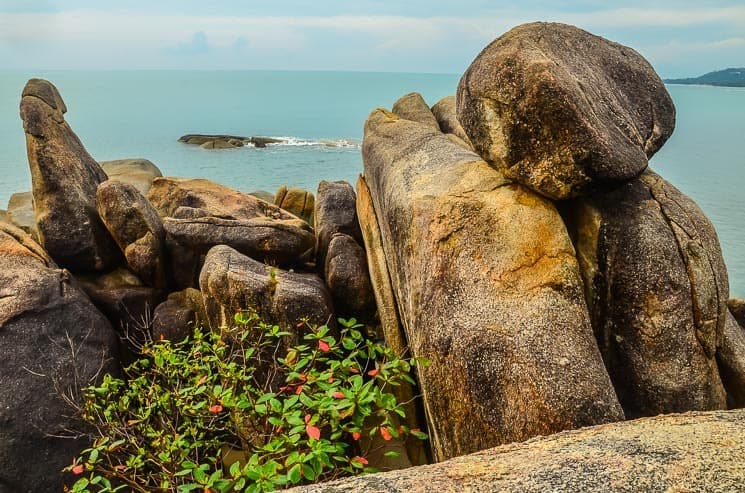 If you rent a motorbike to explore the coast, stop at Hin Ta and Hin Yai Rocks – the Grandma and Grandpa rocks. It's one of the popular places at Samui island. The legend talks about the older couple who died drowning and turned into rocks reminding the shape of the male and female genitals.
3) Secret Buddha Garden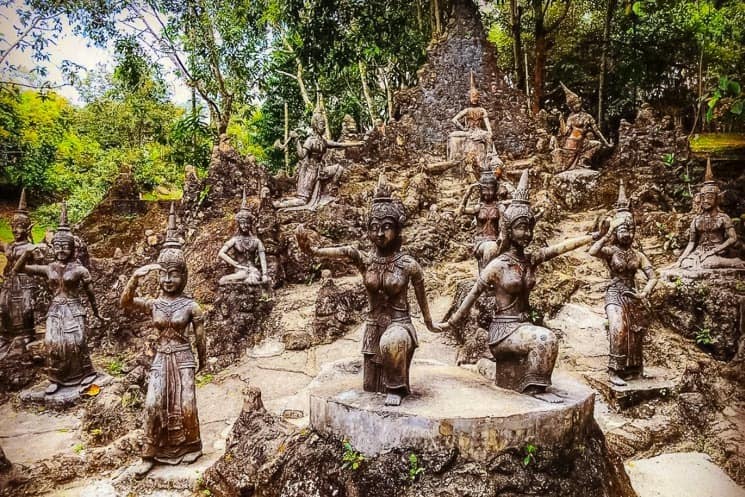 Buddha Garden is hidden in the jungle and offers a unique collection of stone statues. The collection belongs to a local farmer Nim Thongsuka, who was expanding the collection until his 91 years. It's a nice and calm place. The entry fee is 80 THB.
4) Na Mueang 1 Waterfall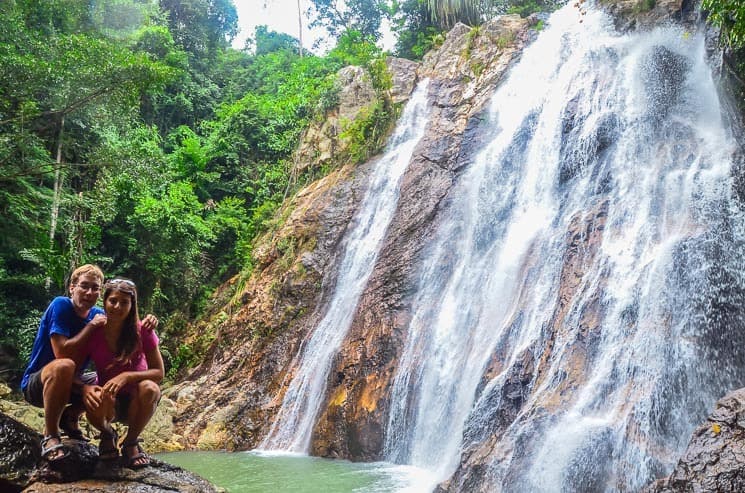 Koh Samui also offers many beautiful waterfalls. Namuang falls are two waterfalls known as Na Mueang 1 and Na Mueang 2. Unlike other waterfalls where an admission fee is collected, these waterfalls are free. You only have to pay around THB 20 for parking/motorbike. Waterfall no. 1 is about a minute walk from the parking lot and you can swim under the waterfall. Hike to the Na Mueang 2 takes about 30 minutes.
5) Go kayaking
You can hire a kayak on most of the beaches. It usually costs around 100-150 THB per hour. There are discounts on all-day kayak rental. Exploring the coast all by yourself is totally one of the best things to do in Koh Samui.
6) Thai cooking class
Thailand is well-known for its delicious cuisine, and if you enjoy cooking, you can try some Thai cooking class. It's one of the best activities to do in Koh Samui during a rainy day. There are various cooking classes, you can try your popular InFusion cooking classes.
7) Try Yoga
Some travelers visit Koh Samui to try yoga. There are several studios that offer both individual lessons and longer courses. You can try Shahda Yoga, which has great references.
8) Ladyboy Cabaret Show
You will soon discover that gender transformation is quite popular in Thailand and you will meet so-called ladyboys quite often in the streets. On Chaweng Beach you can witness ladyboy cabaret shows. If you would like to go, check out Paris Follies Cabaret or Starz Cabaret Samui. Only Facebook pages are available.
9) Massages and Wellness
Thai massages are well-known worldwide, so why not enjoy even more rest and relaxation in the form of massage? Popular are also wellness retreats, you may read this inspiring Wellness Journey at Absolute Sanctuary.
10) Golf Koh Samui
Koh Samui offers one of the most beautiful golf courses in Thailand. The golf course is situated in the hills with spectacular views of the Samui island. It is an 18-hole course that hosted an Asian PGA tour many times. More information about the golf resort can be found at Santiburi Samui.
Khwan Beach Resort offers beachfront accommodation near a golf course.
11) Koh Samui Snake farm
If you are a fan of snakes, then you might like to visit the Koh Samui Snake Farm. They also have crocodiles and scorpions there. Actually, Thailand is home to 170 species of snakes! The entry fee to the show is 300 THB.
12) Other activities at Koh Samui
Koh Samui offers many other activities such as diving, snorkeling, kiteboarding, and other water sports. The only thing we don't recommend is elephant riding. Although this may seem like a cool tourist experience, first read what torture is behind it.
Things to do in Ko Samui: Best Beaches
1) Chaweng Beach
Almost 3 kilometers long Chaweng Beach is one of the most popular beaches. It is very busy because it's located in the largest city on Samui island. There are bars, restaurants, discos, and clubs. If you are looking for a calm and quiet place, choose another beach.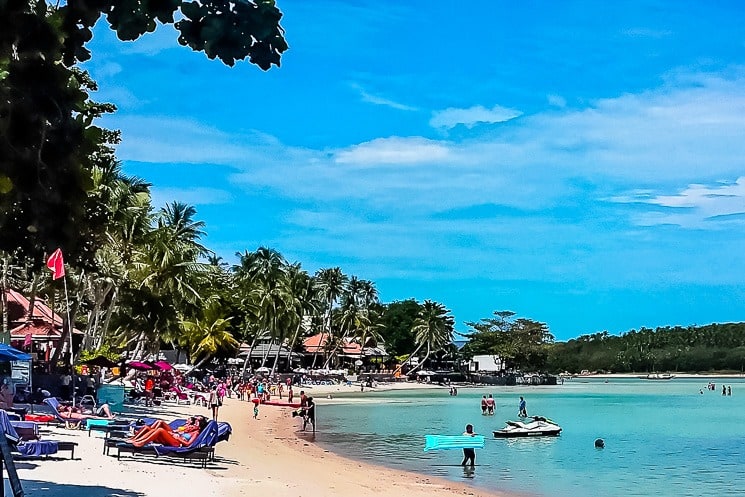 2) Lamai Beach
Much calmer is the beautiful Lamai Beach. The water is also deeper here – ideal for swimming. If you get hungry or thirsty, it is never far to the nearest bar or restaurant.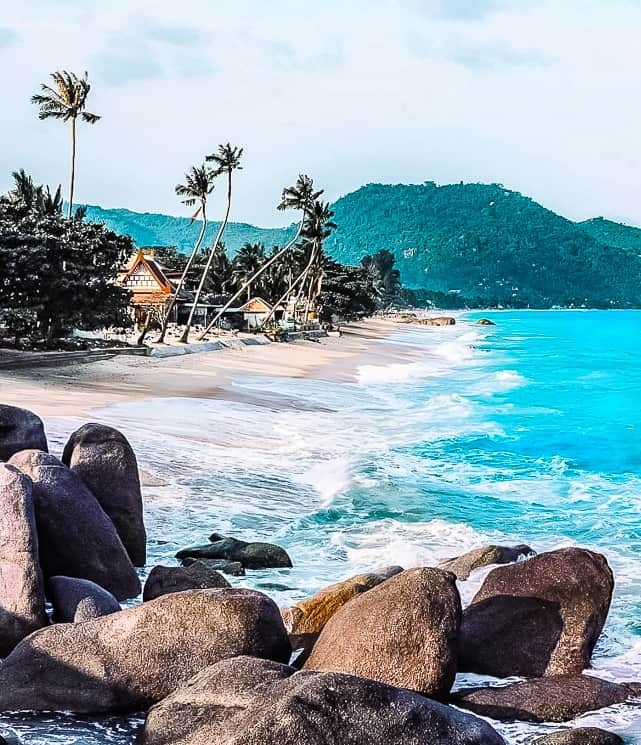 3) Bo Phut Beach
Two kilometers long beach is home to the famous fishing village. It's a quiet area, but you can also find here a variety of water sports centers and rentals like a wakeboard, fly board or water ski centers.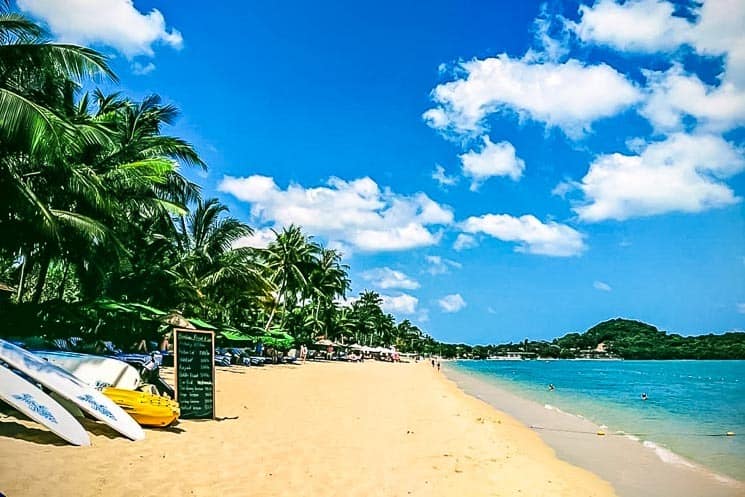 4) Maenam Beach
Seven kilometers long beach is a popular destination for backpackers. The area is relatively quiet and cheaper than some other parts of Samui island.
5) Lipa Noi Beach
Beautiful white sand beach with shallow water and no rocks underwater is a perfect place where to go with kids. There are no big beach parties, but some nice restaurants.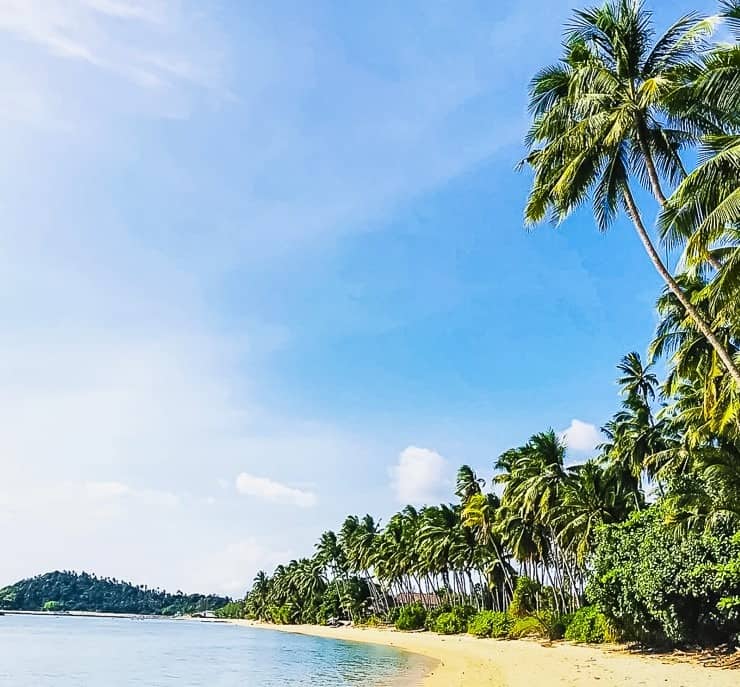 Secluded beaches of Koh Samui
Bang Por Beach
Na Tien Beach
Laem Set Beach
Taling Ngam Beach and many others
Best things to do in Koh Samui: Temples
Exploring the island and temples on a motorcycle definitely belongs among the best activities to do in Koh Samui. There are plenty of beautiful and interesting temples on Samui island:
1) Wat Plai Laem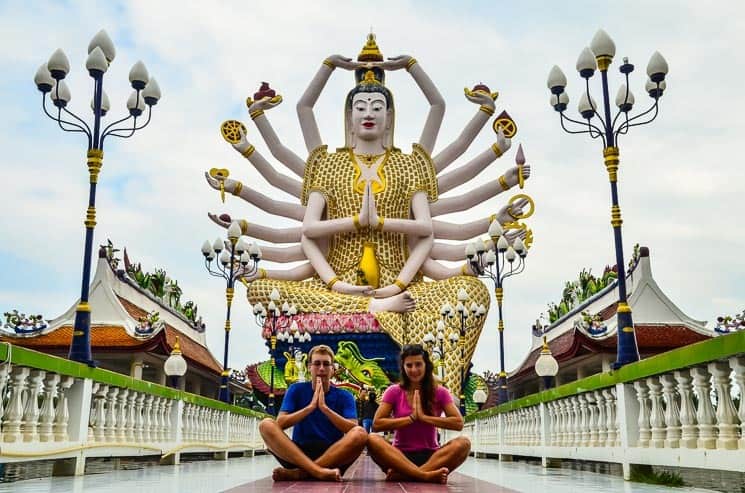 If you should visit only one temple on the island, visit the temple complex Wat Plai Laem. You will find there several colorful temples, laughing Buddha and 18-hand Goddess Guanyin in "maxi" size. Wat Plai Laem is definitely the most beautiful temple area.
2) Big Buddha – Wat Phra Yai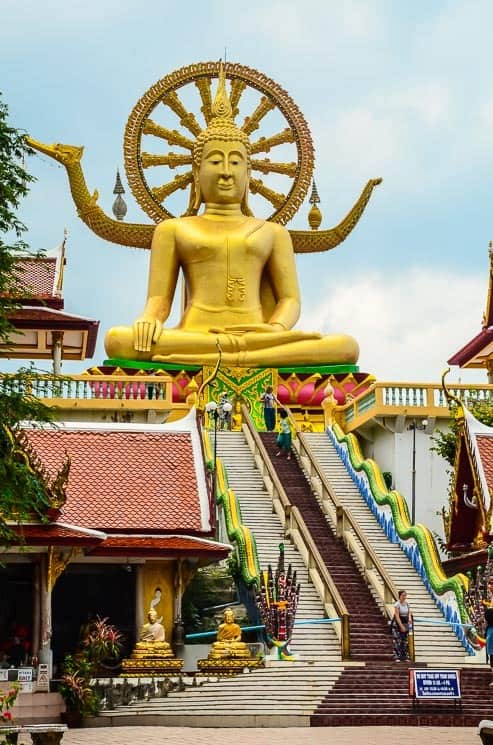 Another of the most visited temples – Wat Phra Yai with a golden 12-meter high Buddha on its top.
3) Laem Sor Pagoda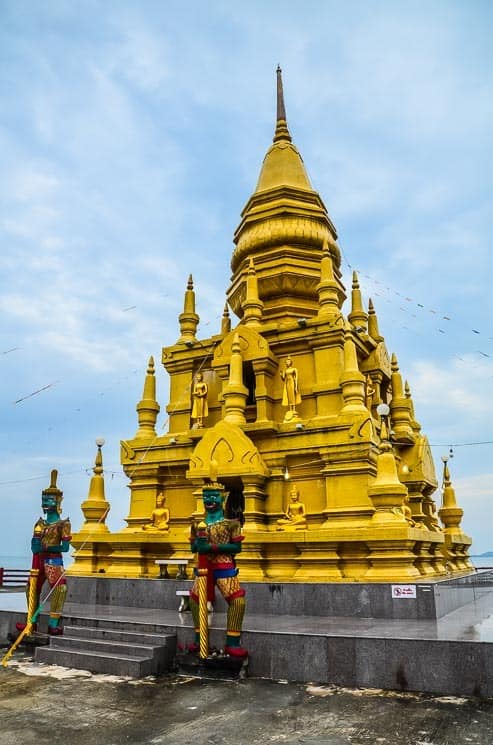 Golden pagoda on the coast. Laem Sor can be a short stop while exploring the island.
4) Wat Khunaram
This temple is interesting for its extraordinary inhabitant – the mummified monk Loung Pordaeng. He died at the age of 79 during meditation and is meant to inspire all who want to follow the teachings of Buddha.
5) Wat Sawang Arom Chaweng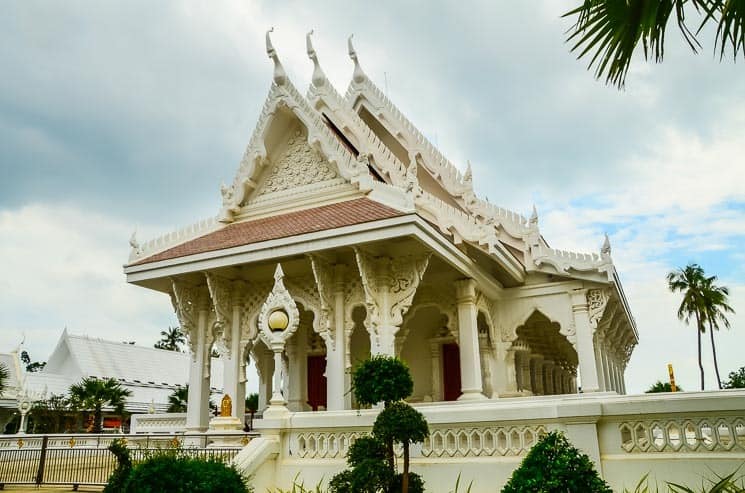 A beautiful white temple.
6) Wat Samret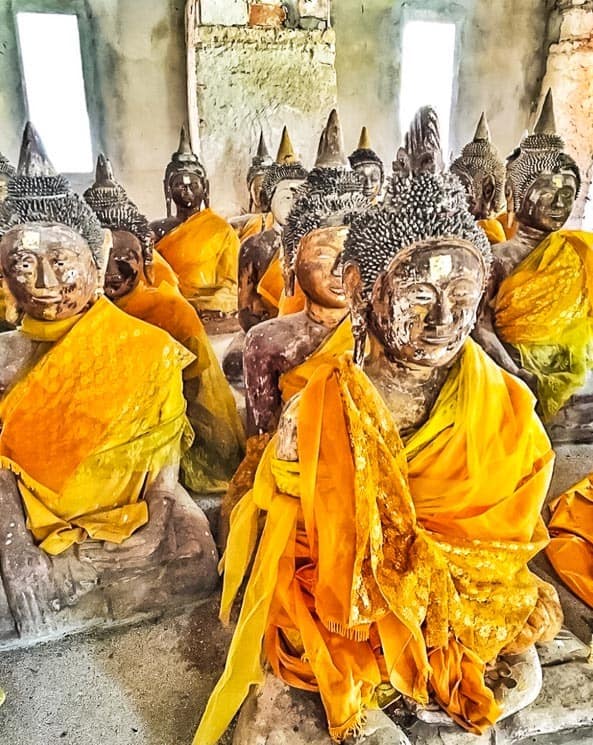 Next to the Wat Samret temple, there is a house full of seated Buddhas.
7) Wat Rattanakosin
This temple is a little bit hidden in the mountainous terrain of the island. There is a golden reclining Buddha, which is built in front of a white pagoda.
Best things to do around Koh Samui
1) Koh Tao
If you are a diving fan, you shouldn't miss a snorkeling or diving trip to the nearby Koh Tao island. Diving lovers from all over the world come to Koh Tao Island to get a cheap PADI diving license. Koh Tao has an incredibly rich underwater life. You can see fish of all kinds and colors including sharks! We have a practical guide with activities and the best places to dive on Koh Tao: 25 Best Things to Do in Koh Tao.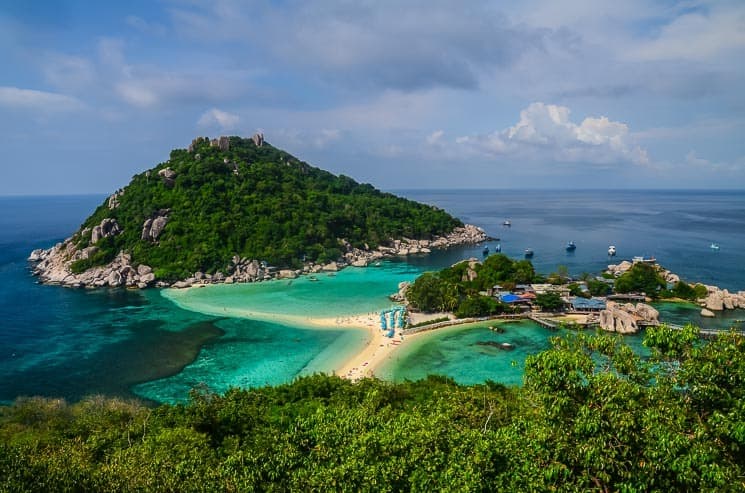 2) Ang Thong National Marine Park
Ang Thong National Park is a hidden gem of the Gulf of Thailand. Head off for an amazing day trip to Ang Thong. If you like the tranquil place, we recommend staying at least one night in Ang Thong! Especially if you like kayaking. The national park consists of small islands, among which you can paddle the whole day. There is a beautiful lagoon, a cave, an awesome viewpoint, plus you can swim with bioluminescent plankton during the night!
Read all the information you need to know: Ang Thong National Marine Park, Thailand – Ultimate Guide to (Multi) Day Trip.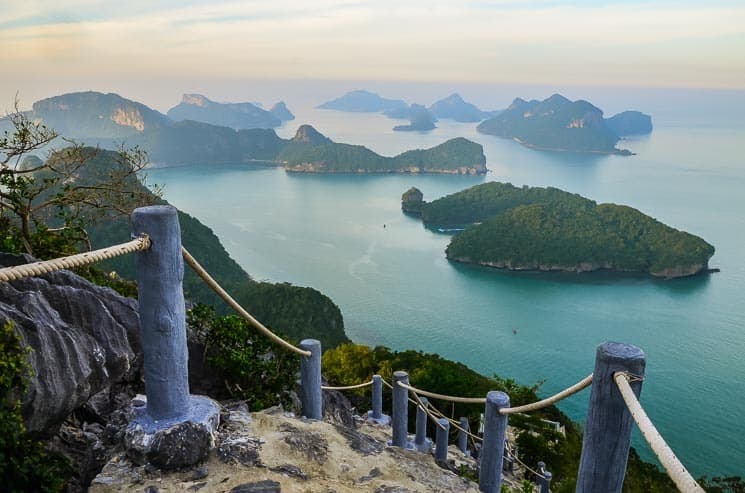 3) Full Moon Party at Koh Phangan
The island of Koh Phangan is famous for its Full Moon Party. It's a huge beach party in Hat Rin, which is held every month, on a full moon night. This famous full moon party attracts from 10,000 to 30,000 visitors from all around the world.
The party starts at dusk and ends at dawn. During the celebrations, you can witness a fire, dance and bartender shows. There are also lanterns, fireworks, color painted people, loud music and alcohol.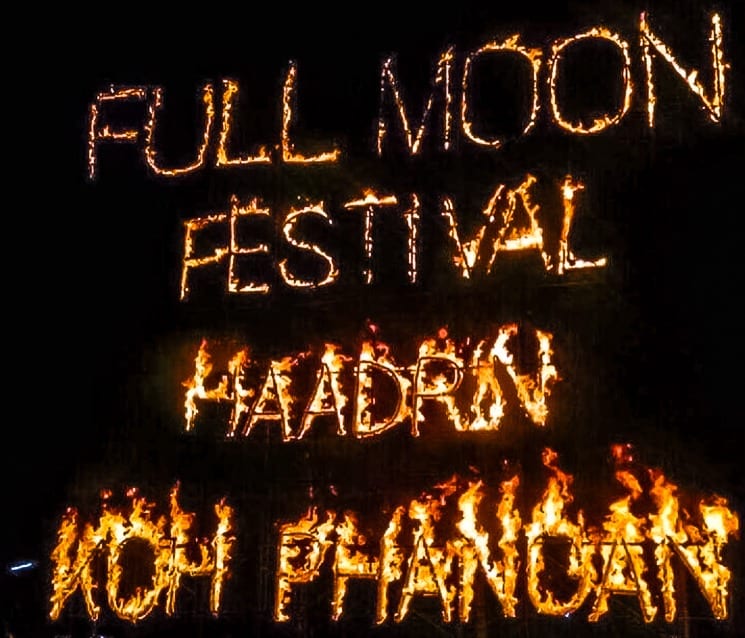 The tradition of the Full Moon party started decades ago when a group of tourists impressed by the beauty of the full moon decided to organize a celebration. Since then, the full moon party has attracted visitors from all over the world.
If you want to make a trip to Koh Phangan for a Full Moon party, but the moon phase doesn't work out for you, you don't have to be disappointed. There are so-called Half Moon parties and Black Moon parties, which means that there is a party every week.
Half Moon party and Black Moon party
Both of these parties have a different organizer, location, and entrance fee. More information can be found on their official websites: Half Moon Festival and BlackMoon culture.
Getting to Koh Samui
Ferry from Surat Thani to Koh Samui
There are several ways how to get to Koh Samui from Surat Thani:
The fastest option is the Lomprayah ferry that departs directly from Surat Thani. The journey takes 1 hour 45 minutes and the boat sails 3 times a day.
Another slightly cheaper option is a combination of bus and boat ticket (so-called "Joint ticket") This boat departs from more distant Donsak.
The last option is a night ferry, which starts at 23.00 and the cruise takes about 5-6 hours. There is bedding and so you can sleep the whole way to Samui island. You save 1 night at ho(s)tel by taking this boat.
If you spend the night in Surat Thani, you can ask for current options and prices at your reception desk. You can also buy tickets online in advance, where you can find "joint tickets" from $10 (Phantip 1970 or Raja Ferry).
If you are looking for accommodation in Surat Thani we can recommend 4Hearts Loft House with incredibly helpful staff and free transfer to the port.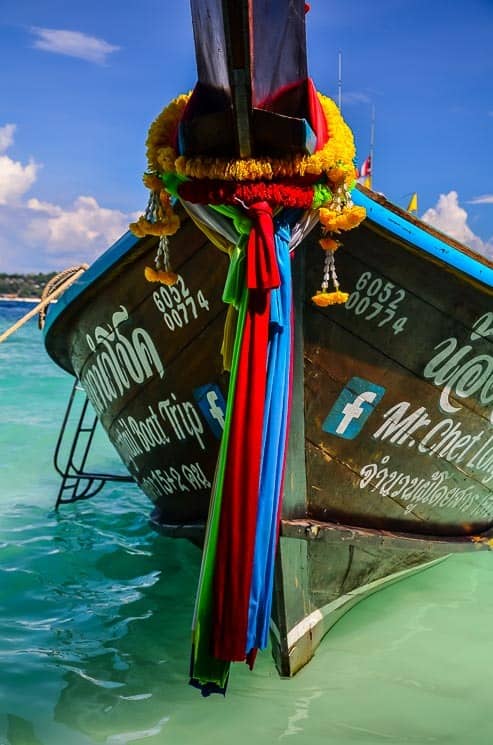 Getting from Bangkok to Koh Samui
There are several options for getting to Koh Samui from Bangkok. The fastest and therefore most expensive option is flight to Surat Thani or straight to Koh Samui. The best flight deals around Asia can be found at Momondo.
The next option is to choose either a train or a bus. We can definitely recommend a night train, which is the most comfortable option. The train journey from Bangkok to Surat Thani takes about 12 hours.
Tickets and their combinations can be booked online at 12Go. You can also buy them right at the station. It can be cheaper but you risk that the nearest connections will be full and you will have to wait a few hours (in that case is better to buy them 1-2 days in advance).
Getting from Phuket to Koh Samui
There are also several options for transportation. The fastest, but most expensive option is flight.
The cheapest option is a bus to Surat Thani / Donsak. Buses leave from Phuket Northern Station and Phuket town's bus station. The journey takes about 5-6 hours. In Surat Thani / Donsak you need to change to the ferry (as described above). You can get the bus and ferry "joint tickets" online (from around $23) or buy them in person at the station.
Ferry from Koh Phangan to Koh Samui
Ferry from Koh Phangan to Koh Samui is part of the ferry line among the islands and the mainland ports of Surat Thani / Donsak. If you are already on Koh Samui, there is nothing easier than asking for tickets at your hotel reception desk. You can also buy ferry tickets in the harbor.
Flights to Thailand
Skyscanner usually has good deals on flight tickets. If you are flying within Asia try also Momondo.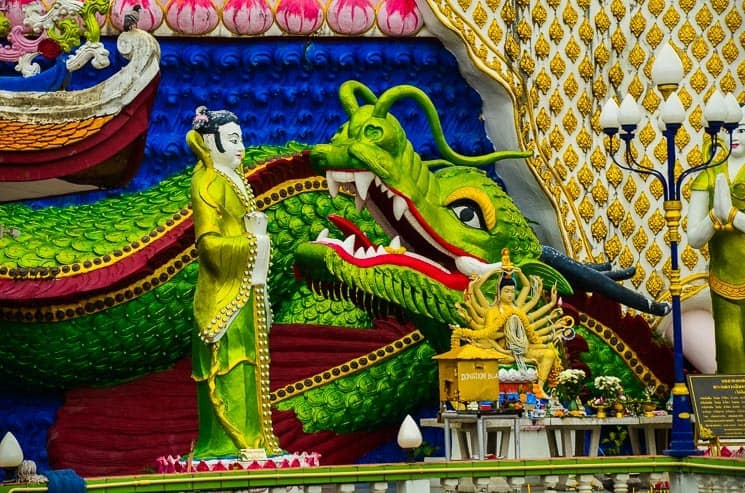 Getting around Koh Samui
If you want to enjoy all the best things to do in Koh Samui, you will need to move around the Samui island a bit. There are several ways to travel around the island:
Songthaews – local transport
So-called "Songthaews" are local pick-up vans/buses. Depending on the size, 10-15 people can fit it. Luggage is usually placed on the roof. These local buses have no stops neither timetables. If you wanna ride, simply wait by the road and stop the nearest pick-up bus. Tell the driver where you want to go and he will tell you the price.
Uber and Grab
If you are used to Uber, you will like the Grab app. Uber doesn't work there, but Grab is based on the same principle as Uber. The advantage is clear – you know the price in advance and you don't have to bargain with anyone.
Taxi
You may not be surprised that only a few taxi drivers will be using a taximeter. If you choose to go by taxi, agree on the price in advance and bargain. Popular is also "moto-taxi" (motorbike taxi), which is ideal for 1 person.
Scooter / Motorbike Rental
There is no better way for island exploration than visiting all the temples, beaches and attractions with a rented scooter. Are you scared because you have never sat on a motorbike? Neither did we, so we tried it and it was a great trip. You will find a lot of rentals on the Samui island, prices are around 150-200 Baht per day. Roads are quite good and nobody drives extremely fast there.
Best time to visit Samui island
The best time to visit Samui island is from late December until mid-April. The average temperature is around 28 to 32 °C. The weather from May to September is not completely bad, but you have to count on rain showers from time to time. You should avoid October and November because of the monsoon season.
Accommodation
Koh Samui offers a wide range of resorts, hotels, and hostels. Here we have a few tips:
Awesome camp with great hospitality: Samui Caravans.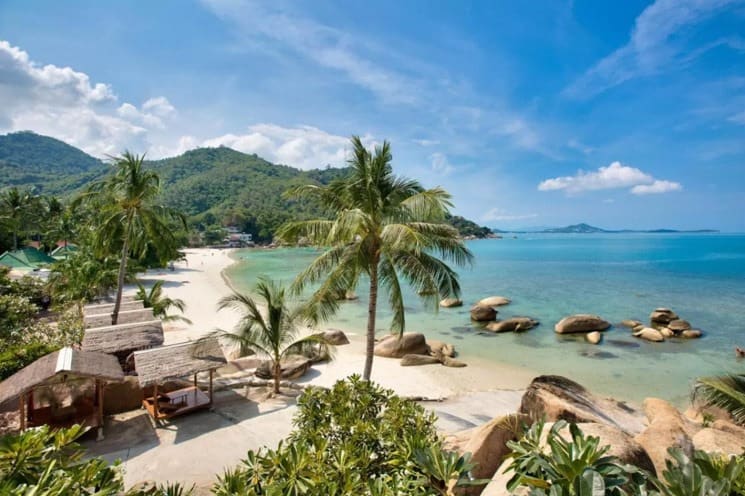 Top Things to do in Koh Samui: Map of places and activities
We have prepared a detailed map of all the top things to do in Koh Samui to help you plan your trip out. Points of interest are divided by categories. Each category has a different color for easy orientation. The map can be exported and uploaded to the mobile map app like Maps.me or Locus maps.
Prices at Koh Samui
100 Thai Baht (THB) is $2.8. You can use the exchange rate calculator.
| | | |
| --- | --- | --- |
| What? | Price in THB | Price in $ |
| Meal at local restaurant | 100 THB | $2.8 |
| Fruit shake | 30 – 50 THB | $0.8 – 1.4 |
| Bananas (1 kg) | 18 THB | $0.5 |
| Petrol (1 l) | 30 THB | $0.8 |
| Taxi (1 ride) | 120 – 170 THB | $3.4 – 4.8 |
| 1 night at hostel | 200 THB | $5.7 |
| Room for two at cheaper accommodation | 350 – 450 THB | $9.9 – 12.7 |
Koh Phangan or Koh Samui?
An easy solution is to spend a few days on both islands. Koh Samui is larger, so it offers more places to see and do (there are more temples than in Koh Phangan). For golfers, Samui island will be the no. 1 choice. Koh Phangan is smaller and you will find calm corners here, as well as a unique Full Moon Party. From Koh Phangan, it is closer to the diving paradise at Koh Tao. Check out also 23 Best Things to do in Koh Phangan.
Practical tips
Plugs – In Thailand, you will find a combination of different types of outlets (A, B, C), they vary from hotel to hotel, so taking the adapter might be handy. The voltage is 220 V, frequency 50 Hz.
Tap water is not drinkable.
Vaccination – there is no compulsory vaccination, but its recommended to be vaccinated against Hepatitis A, B, and Typhoid Fever.
Check out this awesome video about Samui island:
More island in Thailand to visit:
Did you find a place/activity we should add to this blog post about things to do in Koh Samui? Tell us in the comments.
More tips for your travels:
We have prepared for you this comprehensive list of links, discounts, and resources for travel planning in one place. Bookmark this page and whenever you plan a vacation in the future, just open it and save yourself a lot of time.
1) Where to book accommodation?
2) How to find cheap flights?
3) How to rent a car?
We recommend a comparison portal RentalCars.com to compare the best offers of all available rental companies.
Pin for later or for your friends: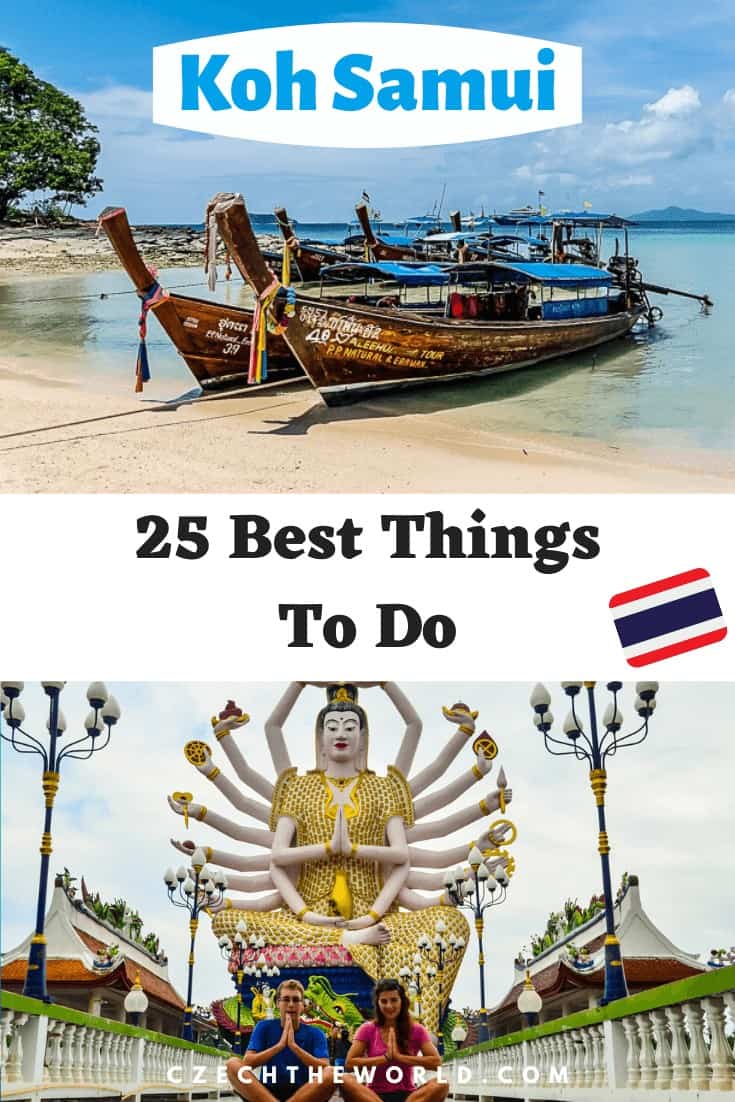 FAQ – Frequently asked questions:
Did this post help you? Share it with your friends! It can help them too!
Disclosure: Please note that some of the links above may be affiliate links, and at no additional cost to you, we earn a commission if you make a purchase. We recommend only products and companies we personally use and we use this income for further improvement of this website. Thank you!