White sandy beaches, turquoise blue seas, limestone cliffs, and sparkling night swimming with bioluminescent plankton. This is Ang Thong National Marine Park – 42 small islands in Andaman sea, Thailand. It's one of the last places which are still quite undiscovered by tourist hordes.
The Ang Thong islands are less known and little bit less accessible islands. This is what makes them an undiscovered paradise! If you prefer avoiding crowds it is a perfect place for you! You can have beautiful white-sand beaches with amazing turquoise water just for yourself. Ang Thong National Marine Park is the right choice if you love backpacking around Thailand and want to avoid the tourist crowds.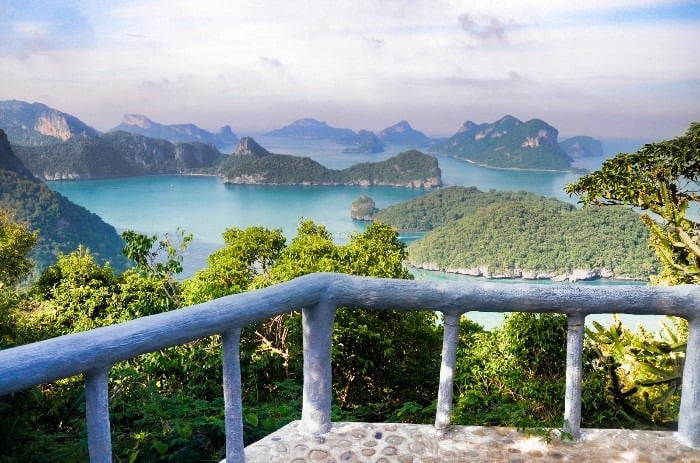 The Thai islands are slowly losing their charm due to the huge boom of tourism. Nearly all popular and so-called "highlight" destination are overcrowded. It makes no sense to travel there unless you are a fan of beach parties or city bustle. Nevertheless, there are still a few calm places, distant from all the touristic craziness.
Weather
Ang Thong National Marine Park is located on the west coast of the Thai Gulf and east from the Koh Samui Island. Ang Thong National Park consists of 42 limestone islands. The best time to visit this Marine Park is between February and August. Even offseason can be nice – you can experience some nice weather and beautiful sunny days there. In the main season, there is a better chance to have nice weather (so important for your incredibly beautiful pictures). But as we said you can be lucky as we were – and we visited Ang Thong Marine Park during the monsoon season.
Swimming with a Bioluminescent Plankton
If the magic exists, it exists right under the water! Thousands of sparkles shine all around when you dive into the night sea! It's like swimming in your own universe! Thousands of tinny little stars are flashing around you! Everyone can become a magician there! The magician, who changes the darkness of the night sea in an amazing light show.
Imagine beautiful night sky full of stars above you and another universe around you. You may face a dilemma –to look up or look down. The bioluminescent plankton isn't well known because it is very difficult to photograph. Swimming with bioluminescent plankton is definitely a lifetime experience. And imagine you have the whole beach for yourself! That is a truly magical moment.
Practical Tip # 1: Set your alarm clock for 2 or 3 in the morning. You can bet that you will be the only one there!
Practical Tip # 2: Beware of the low tide and don't swim too far – you could easily hurt yourself kicking a coral or stepping on a sea urchin, and that's something you definitely don't want to – trust us, we know what we're talking about.
Kayaking Ang Thong – the Kayaker's Paradise
Sea kayaking – another activity you shouldn't miss! You have amazing freedom where to go. Kayaking is a perfect opportunity to explore untouched islands and beautiful empty beaches. Kayaks can be rented at the ranger station for 500 THB per day. Kayaks are available from 8 AM to 4 PM every day.
Kayaking Ang Thong – Where to go
The Thale Nai Lagoon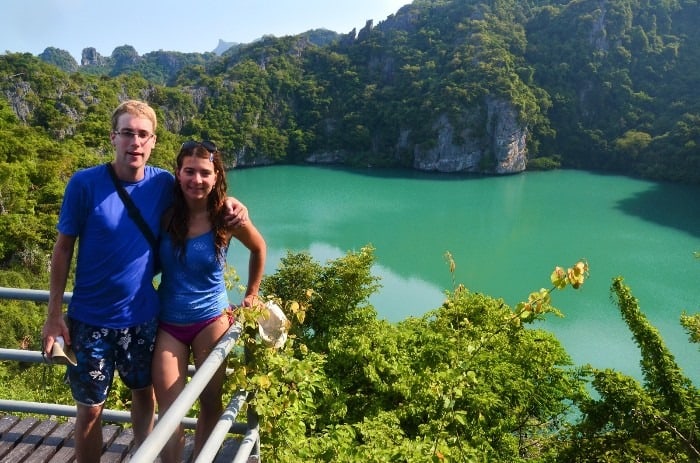 The DIY kayak tour is the best! Paddle to this emerald lagoon early in the morning – when you have it for yourself or later in the afternoon after ferries full of tourists disappear again. This salt lagoon is located on the island of Ko Mae Ko. The Thale Nai Lagoon it is 250 m long and 250 m wide. It is salty water lagoon because it's connected with the sea by an underwater tunnel.
Natural Bridge
While exploring the Ang Thong from the kayak, don't miss the Natural Bridge. You can paddle directly through this beautiful rock formation.
Practical Tip # 1: Don't be afraid to rent a kayak, even if you have never tried kayaking before. These sea kayaks are very stable.
Practical Tip # 2: Paddle to some other island to have a beach just for yourself, e. g. there is a very nice beach on the east side of Ko Sam Sao Island or another one in Ko Hin Dap Bay.
More things to do in Ang Thong National Marine Park
The Ang Thong Marine Park Viewpoint – View of the "Thousand" Islands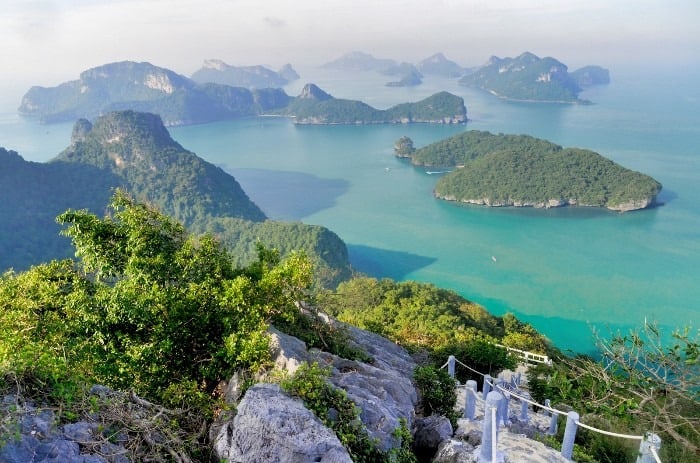 Activity # 1 is the climb to the nearest hill. The trail starts directly at the campsite – it's a concrete path. There are five amazing observation decks along the way. As you are walking up, views are better and better! The final observation deck offers views to the majority of the Ang Thong National Park islands. Climb up takes about 20 to 30 minutes (40 – 45 minutes if you take a lot of pictures) 🙂
Practical Tip: Enjoy the magnificent sunset from the top! If you want to capture the turquoise blue color of the sea, visit the viewpoint around noon.
The Bua Bok Cave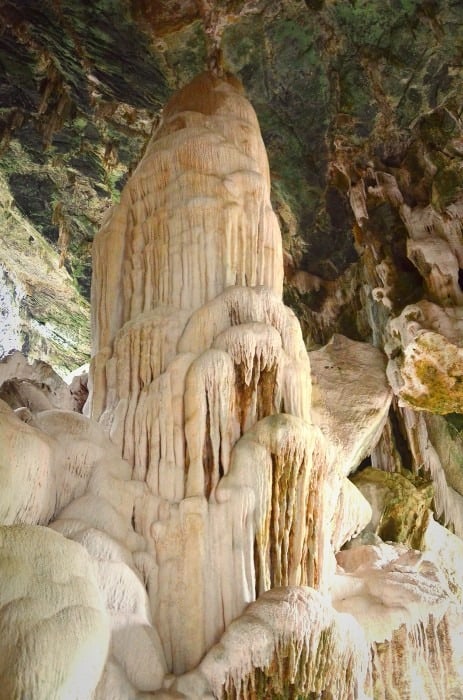 The trail to the Bua Bok cave starts at the South end of National Park beach. Climb up takes about 20 minutes. It is not just a footpath, some parts of this trail are steep, so the ropes are there to help you to climb up (and down). The Bua Bok cave is full of beautiful and monumental stalactites and stalagmites.
Practical TIP: Bring a torch if you want to explore it properly. (The main part is accessible without any light).
Take pictures of nice monkey buddies
Getting a nice shot of these shy Langurs might be a little bit tricky, but as opposed to Macaques, these monkeys won't steal anything from you and they aren't even a bit annoying.
Snorkeling at Ko Thai Phalao
There are some snorkeling spots even at the main beach. But the best option is to rent a long tail boat – a private boat that takes you to the northernmost island of the Ang Thong National Park. The long tail boat costs 1500 BH. Don't forget to bring your underwater camera.
Practical Tip # 1: Beware that the visibility is poor after storms during the monsoon season, so make sure to check the weather and current visibility at the information desk.
Practical Tip # 2: Ask somebody else if they want to join you for a long-tail boat and share the cost.
Star Gazing
When I woke up in the middle of the night for the first time to go to the toilet, I stared several minutes in astonishment at the wonderfully dark and glowing sky. There is no light pollution and it is great to lie down on the beach, watch the sky and listen to waves.
Camping and Accommodation at Ang Thong National Marine Park – (Ko Wua Ta Lap Island)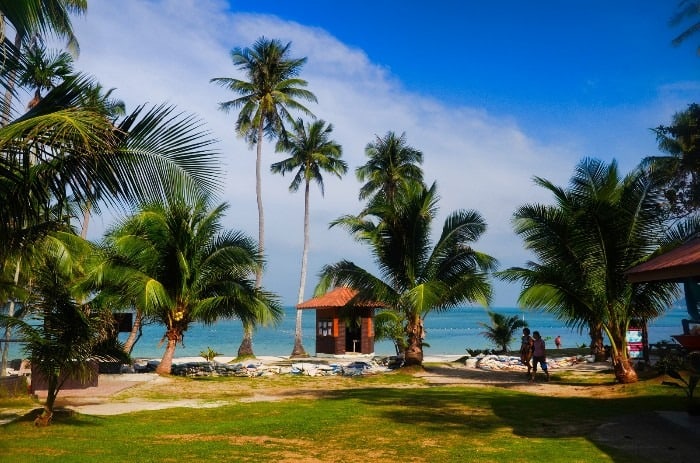 Everybody who stays overnight is rewarded with the tranquility of the island. Just wait until the last boat leaves the island! There will be nearly nobody left at this beautiful place. There is no hotel but there is a possibility of accommodation in bungalows or tents (your own or rented). One night will cost only 30 THB per person if you have your own ten. You can also rent a tent for a small fee or stay in one of the bungalows.
Book the place where to stay at Ang Thong National Marine Park
If you want to be sure there is a place for you, you can book a bungalow or camping place on the official national park website.
National Park Restaurant
Although it may seem that Ang Thong Marine Park must be expensive, you can find local dishes starting at 70 – 80 THB. And you don't have to worry, portions are big enough even for hungry travelers. To avoid the long waiting time, plan your lunch earlier than 12.00 or later than 14.00. Between 12 and 14 h, the cruise ships will arrive, the kitchen will be very busy and you can wait for an hour to eat.
Drinking Water
Don't forget to bring barrels of drinking water, especially for a longer stay. Bottled water is quite expensive on the island (only small bottles are available 600 ml for 20 THB). On large islands such as Ko Samui, you can buy a 6l barrel of water only for 40 – 50 THB.
Few Tips and Recommendations before you go to Ang Thong National Marine Park
Don't take any alcohol with you, the island has a strict alcohol-free zone. Rangers are checking luggage at the entrance of the island.
Bring a LOT of water from the mainland or bigger island. Water at the island is expensive – 600 ml for 20 THB.
If you are an enthusiastic photographer, don't forget to take the headlamp and tripod for night photos (P.S. headlamp is also handy in the Bua Bok Cave)
Repellent!!! There are a lot of mosquitoes.
How to get to the Ang Thong National Park?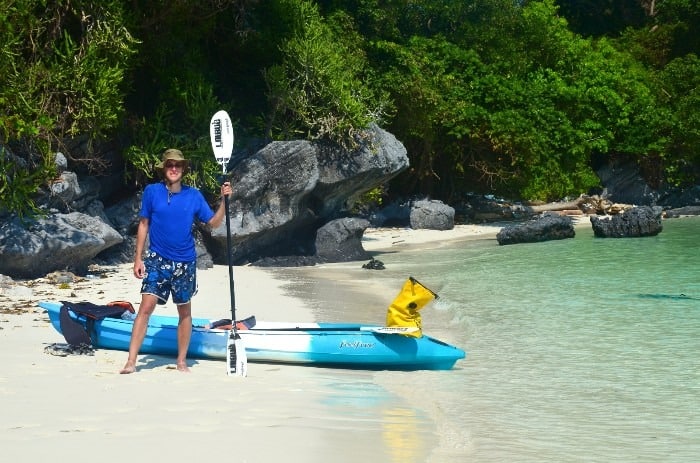 Koh Samui to Ang Thong
There are no regular Ferries to the islands, so the only way to get to the Ang Thong Islands is to join the organized tour trip (kayaking included). You have two choices of one-day tours:

If you have less time and don't mind higher prices, you can take a Speed Boat. The whole trip has a very similar scheme. The boat can handle one way in 45 minutes from Ko Pha Ngan and it takes only 1 hour from Ko Samui instead of 2 hours. It means 2 extra hours for snorkeling and exploring the island.
When entering the Ferry, you will need to inform staff, how many nights are you going to spend on the island, but approximate estimation is enough. You can get back from the island almost at any time. The boat leaves at 15.00 every day.
Ko Pha Ngan to Ang Thong
There are organized trips also from the Ko Pha Ngan island. Ask for your ticket at some office close to the harbor or directly in your hotel.
One Day Trip to Ang Thong by Slower Ferry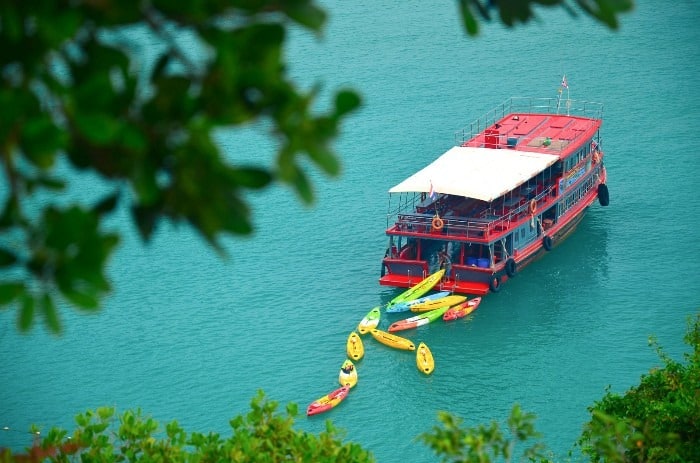 How does a day trip from Ko Samui / Ko Pha Ngan look like?
You board the boat at 8.30 in the morning. Cruise to the island takes 2 hours. Breakfast is served right after the departure, you can expect croissants, bananas, hot and cold drinks. About half an hour later the crew gives brief instructions to the kayakers for a kayak tour.
Once the ship arrives at the shores of the island, the first group of kayakers goes for 30 min. paddling trip to the lagoon. Non-kayaking and 2nd kayaking group is taken to the lagoon by long tail boat. This group has a little bit more time to enjoy the lagoon (about 50 minutes). There are steep stairs to climb up to the viewpoint. After the lagoon, 2nd group of kayakers goes on kayaks, rest of the people can enjoy the lunch on the boat.
Approximately at 12:30, the ship arrives at the main island of Ko Wua Talap. Here is an about 2-hours break, during which you can relax on the beach, climb to the viewpoint or visit the cave. There is also a campground and the headquarters of the National Park. Those who miss the boat at 14.50 simply stay on the island until the next day. There is a small snack on the boat – coffee and fruit on the way back.
Is the one day trip to Ang Thong National Marine Park worth it?
If you go to the island for several nights, you won't regret it! However, the one-day trip with a slower ferry is worth considering – you spend almost a half the day on the boat and you won´t have as much time as you wish at Ang Thong. If you have only one day for visiting National Marine Park and you would like to enjoy it as much as you can, we recommend to take the speedboat, which is more expensive, but the faster option and you will have at least 2 extra hours at the National Park islands.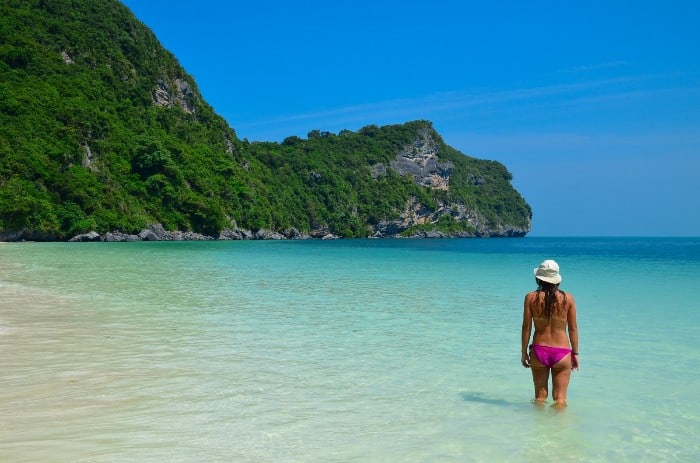 Conclusion
After a month trip traveling around the Thai Islands, we can definitely say that Ang Thong Marine Park is one of the most beautiful places to visit in Thailand. Especially if you like to avoid crowds.
If you have any other questions, don't hesitate to contact us, we will be happy to help you. If you have any feedback, you can leave in comments as well.
Check this beautiful video from Ang Thong National Park:
More Thailand Travel ideas
And if you are planning your Thailand trip, check this in-depth 3 week Thailand Itinerary. Thailand is such a beautiful and interesting country, that you will like it wherever you go. Just beware of tourist scams and read this: 10 Bangkok Tourist Scams – What should You avoid?
Travel Guides to Thai Islands:
Koh Tao – diving and snorkeling paradise with beautiful beaches
Koh Phangan – famous for its Full Moon Parties
Koh Mook – a small island with Emerald Cave in Andaman sea
More tips for your travels:
We have prepared for you this comprehensive list of links, discounts, and resources for travel planning in one place. Bookmark this page and whenever you plan a vacation in the future, just open it and save yourself a lot of time.
1) Where to book accommodation?
2) How to find cheap flights?
3) How to rent a car?
We recommend a comparison portal RentalCars.com to compare the best offers of all available rental companies.
Pin this for later or for your friends: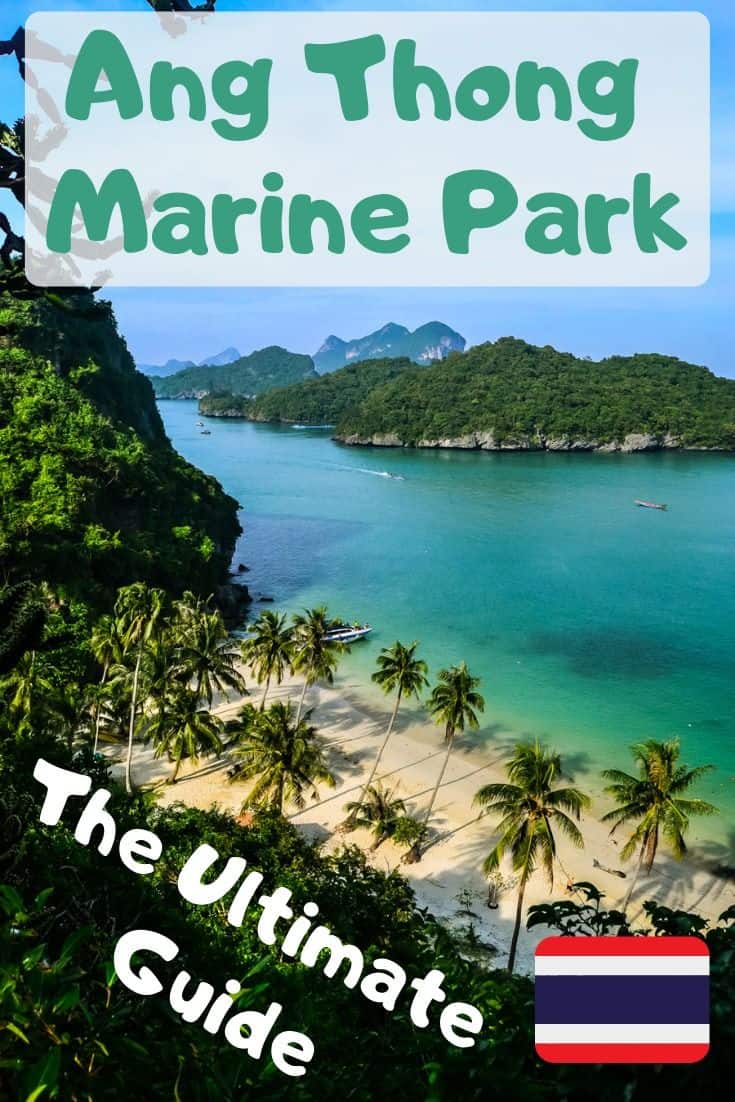 Did this post help you? Share it with your friends! It can help them too!
Disclosure: Please note that some of the links above may be affiliate links, and at no additional cost to you, we earn a commission if you make a purchase. We recommend only products and companies we personally use and we use this income for further improvement of this website. Thank you!