Make your western US road trip unforgettable! What are the best places to visit on Westcoast roadtrip USA?
Bring your friends with you, share a car and make it one of the best experiences of your life. Honestly, we have never seen more beautiful places than on the west coast of the United States. Such a nice variety of different national parks, valleys, mountains, and seashore. Explore stunning sceneries and best spots for your road trip to the top National Parks in the US west coast!
1) Yellowstone National Park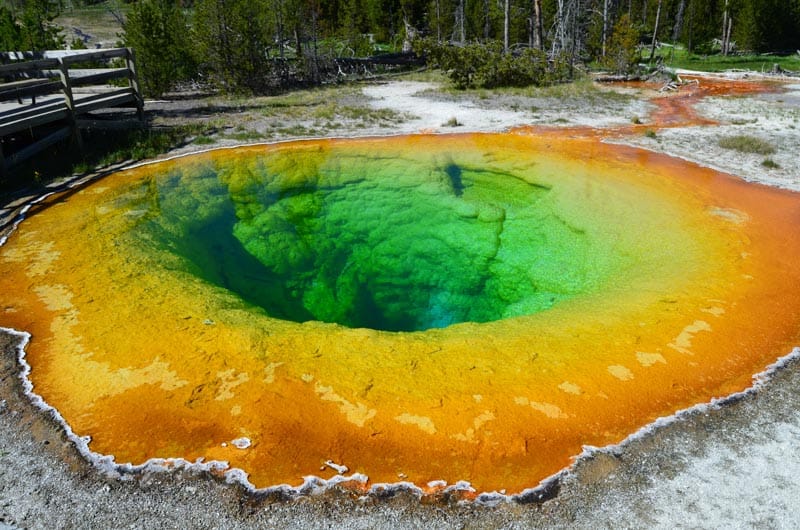 Land of geysers, hot springs, and geothermal features. Yellowstone is sometimes omitted from road trip because it is further than other places, but we think that is definitely a mistake. This place is truly unique. We spent there almost three months working and we still didn't see everything. There is no other place in the world, where you can see such a high concentration of colorful geysers, pools and other thermal features. They are literarily everywhere, it is truly magic! There is so much wildlife in Yellowstone too.
Bison are roaming through the land and is not unusual that some "bison jam" occur because they just decided to cross the road or walk right in the middle of the road. To see a bear is not as usual as bison, but it is definitely possible.
Read our Ultimate Guide to Yellowstone National Park.
Yellowstone Accommodation
The best way to find an accommodation is to search at Booking.com. We recommend finding a hotel or hostel in West Yellowstone, which is a small town right at the park boundary and everything is reacheble from there.
2) Grand Teton National Park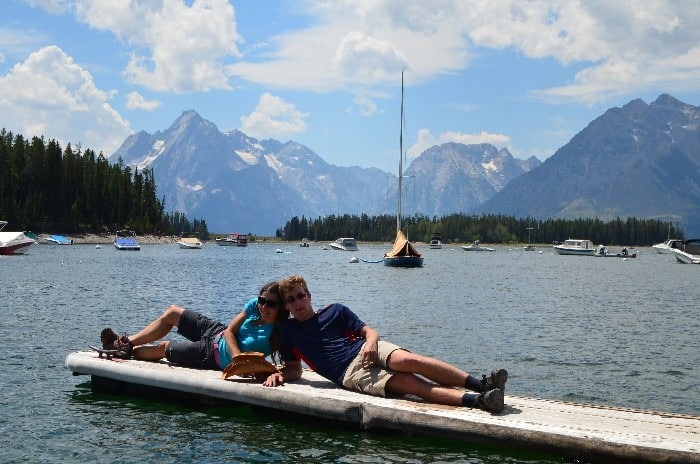 Grand Teton National Park is right next to the Yellowstone National Park. This area is great for hiking and climbing. Even if you don't have enough time, stop over and admire beautiful sceneries of this monumental mountain range. There are amazing views right from the highway between Yellowstone and Jackson town.
If you feel like to go for a great mountain hike, we can highly recommend climbing a Middle Teton. You can climb it up and down all in one day, but you need to start very early in the morning (around 4 AM) and carry a flashlight. Another possibility is to get a permit for overnight camping and sleep in one of the campgrounds on the halfway to the peak and o it in two days. And beware of bears! We saw one close to Amphitheater Lake. Grand Teton National Park is definitely one of the best road trip
places to visit! Check also this article about the best hikes in Grand Teton.
3) Arches National Park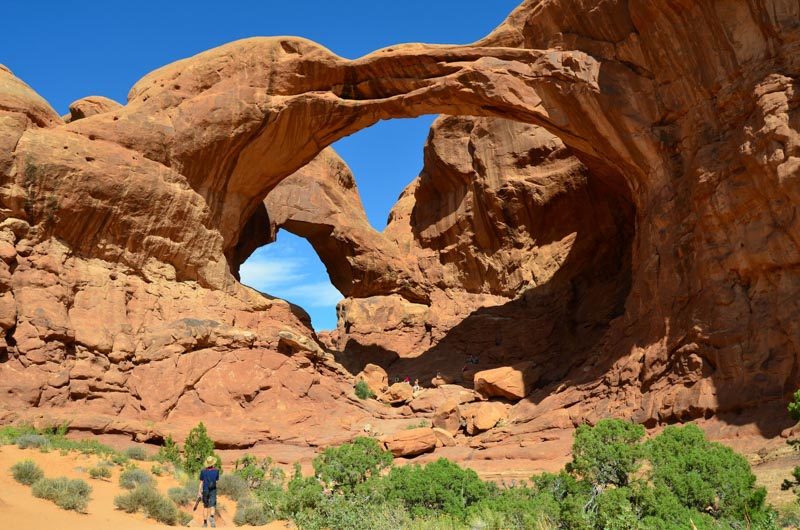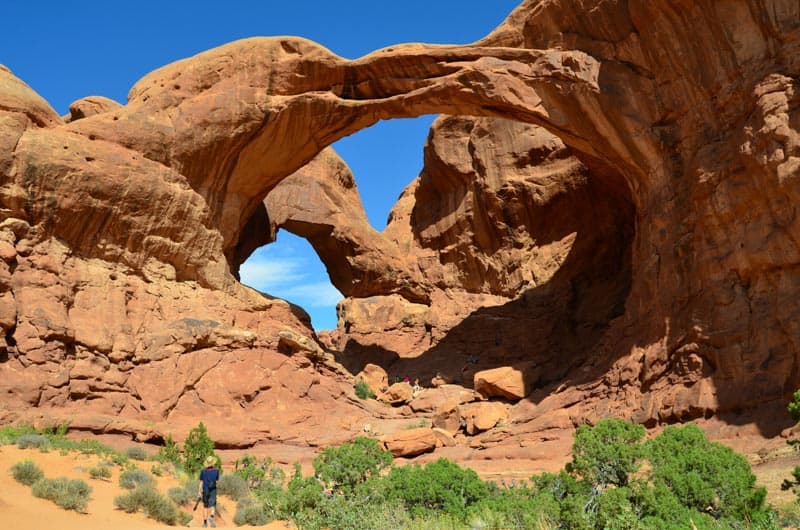 This National Park is a landscape of contrasting colors, monumental arches, and unique shaped rocks. Don't miss this Westcoast roadtrip USA stop. But actually, the most beautiful arch was for us Corona Arch, which is outside of the park. You need to drive approximately 30 minutes from the park entrance and then take a 1-mile hike up there, but it is definitely worth it! The landscape is amazing and there are no tourists at all. You can even climb up on top of that arch and fly with a drone (which is forbidden inside of the national parks).
4) Canyonlands National Park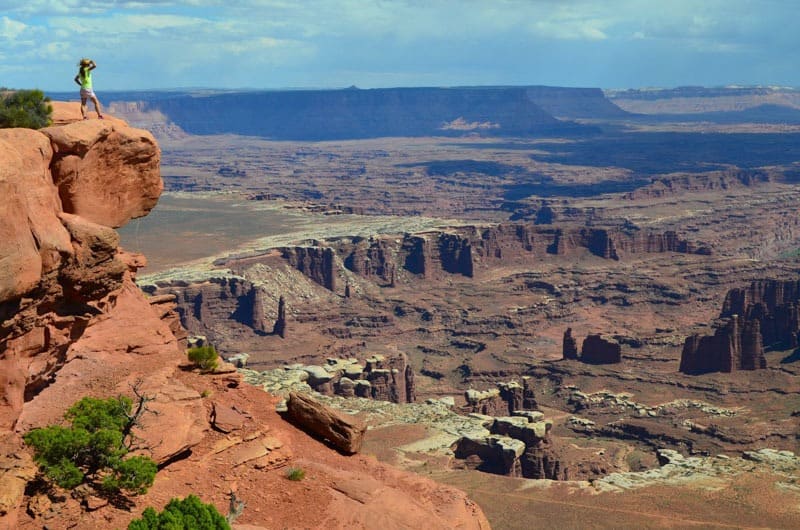 The largest national park in Utah. Breathtaking canyons, beautiful views and fantastically formed buttes. If you want to see the true wild west – this is the place! One can sit at one viewpoint many hours and it doesn't get old. We didn't expect much from Canyonlands, but it definitely exceeded our expectations. One of the top places on our road trip. We liked it more than Grand Canyon. One of the most famous and beautiful places is Island in the Sky. Check also this article about the best hikes in Moab to get some more inspiration.
5) Monument Valley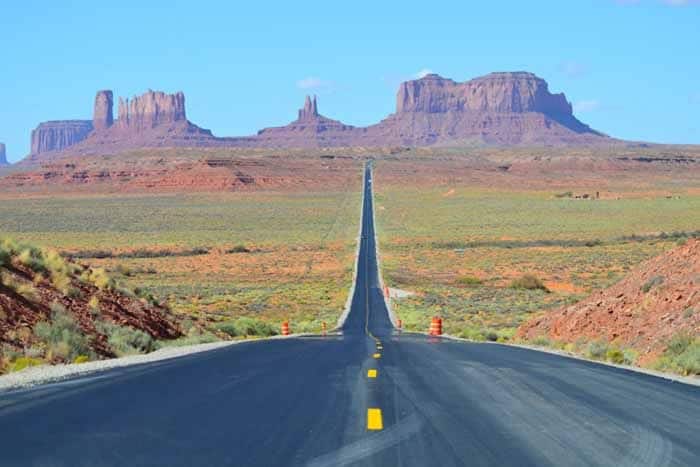 If you are a fan of old western stories or Forest Gump. Monument Valley is a must visit place for your road trip. Many typical photos from the U.S. road trips are taken there. You don't need much time for visiting Monument Valley, but it is definitely worth it.
6) Horseshoe Bend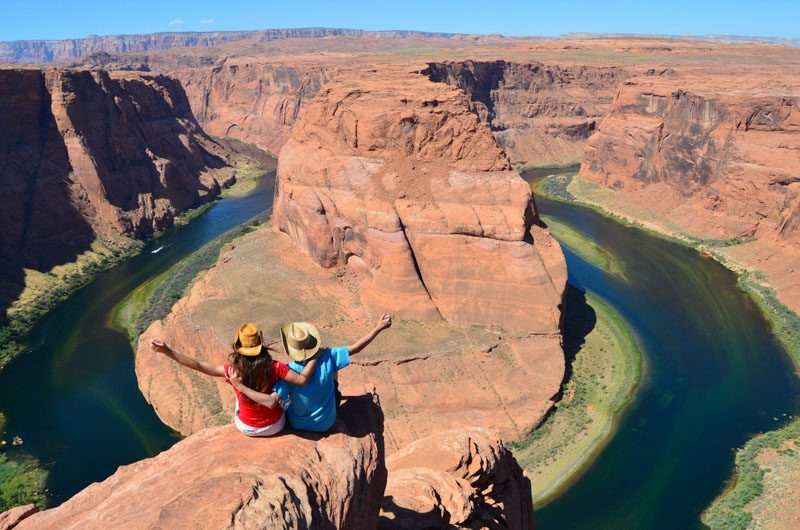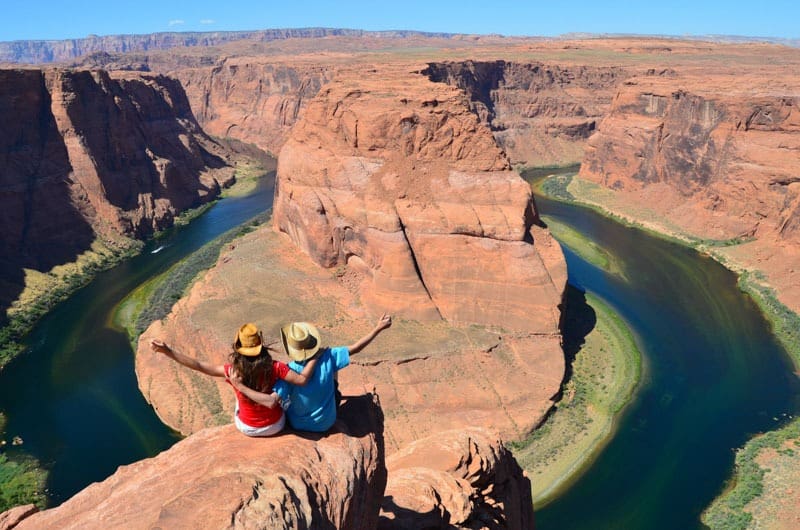 The famous Colorado River and its amazing canyon in Arizona is one of the most photographed areas in the entire USA. You can combine this visit with Antelope Canyon, which is nearby. Both of these places are must stops during your road trip.
7) Antelope Canyon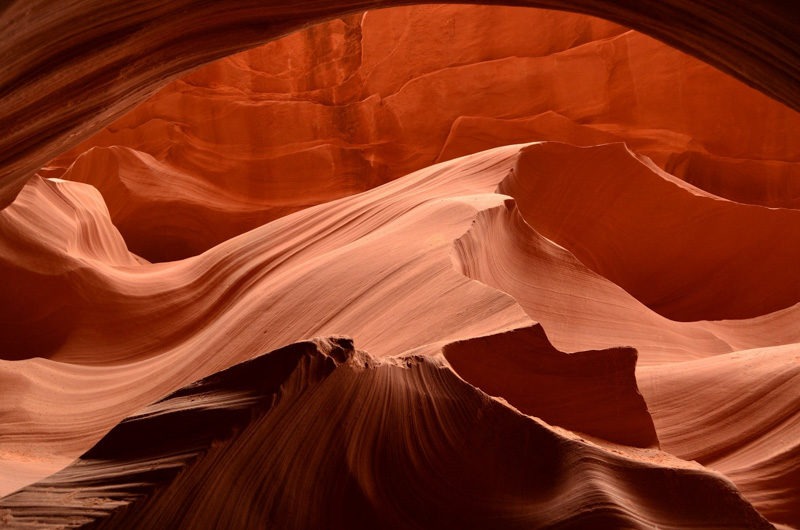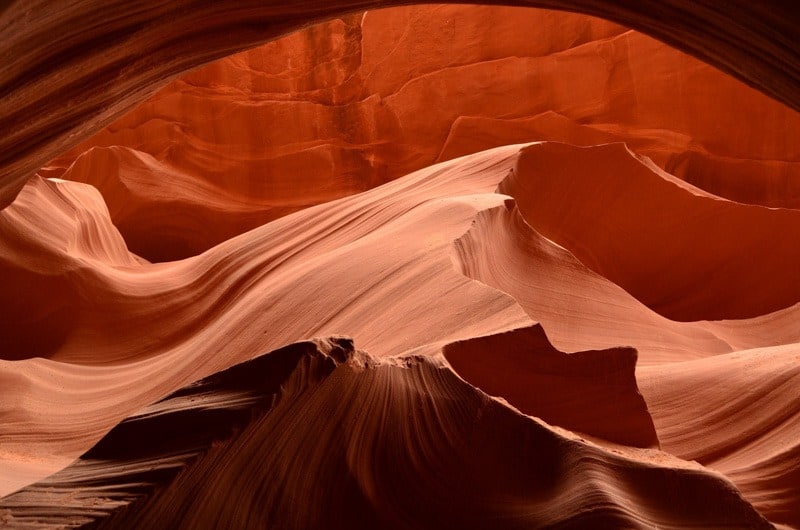 Antelope Canyon belongs to Navajo Land. You can visit two individual beautiful slot canyons there - Upper Antelope Canyon and Lower Antelope Canyon. Entrance fee is quite high, but its well worth the money! Beautiful light beams and shapes of this canyon won't let you be unemotional. Many computer companies are using background pictures from the Antelope Canyon. Both canyons are quite similar, so it is fine to visit just one, but if you have time, you can go to both. Upper Antelope Canyon is wider and easier to walk through. Lower Antelope is more narrow and you need to climb many stairs by walking through. So, grab your camera and be ready to shoot amazing pictures! If you have some spare time, check these other great things to do in Page.
8) Zion National Park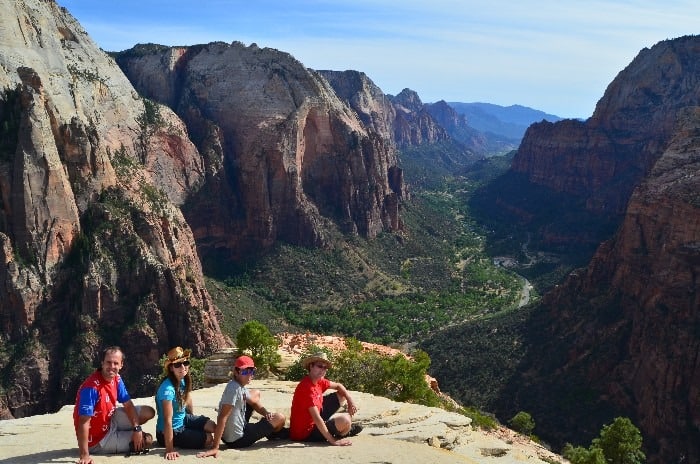 Zion National Park made it to the list of 20 best National Parks in the World. If you like hiking, Zion is the right place to visit for you! You can do some really amazing hikes in Zion Valley. We can highly recommend Angels Landing trail.
Angels Landing
It is really adventurous, especially if you are a fan of via ferrata routes. You don't need any special equipment but there are metal chains along the road, which can help you to climb up. You will be rewarded with beautiful sceneries on the top and you might meet some cheeky chipmunks as well.
Hike the Narrows
The Narrows is another absolutely amazing trail. But be prepared to get wet, the trail goes directly through the river inside a steep gorge. You may rent neoprene boots for your comfort but you will love this river hike. Especially when the weather is hot it is really refreshing to walk in this stunning gorge.
The Subway
If you are into a little canyoneering don't miss another hike - the Subway. You have to apply for a permit at visitor center though. Apply in advance online otherwise don't forget to wake up really early in the morning to get your permit because they sell out quickly.
9) Bryce Canyon National Park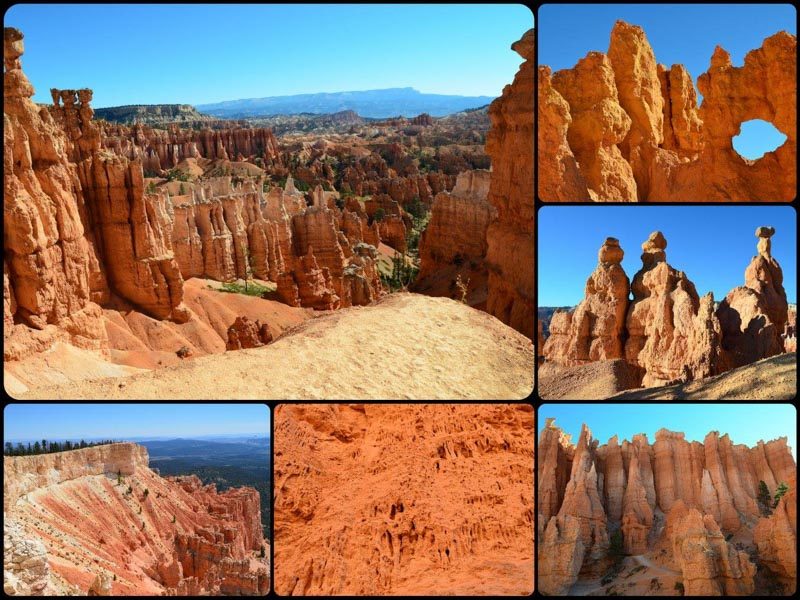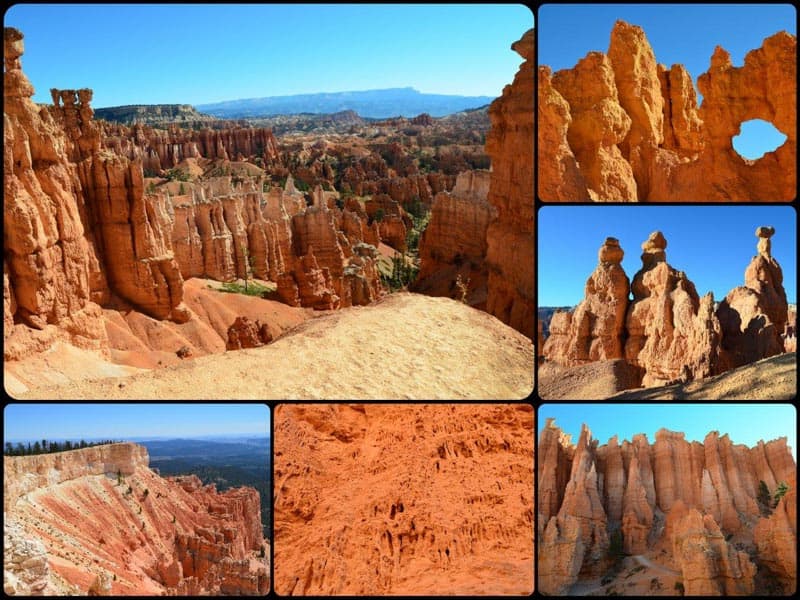 Bryce Canyon is unique National Park. Sandstone pillars and bizarre rock formations - which were shaped by the forces of erosion. There are not enough words to describe the beauty of this place. You should come and see it. One can't believe what nature can create. We would recommend not only to stop at all viewpoints but to take at least one hike down the canyon too. Stargazing in Bryce Canyon National Park is an amazing experience, be sure to spend at least one night there. Check also this article about the best hikes in Bryce Canyon to get some more inspiration.
10) Cedar Breaks National Monument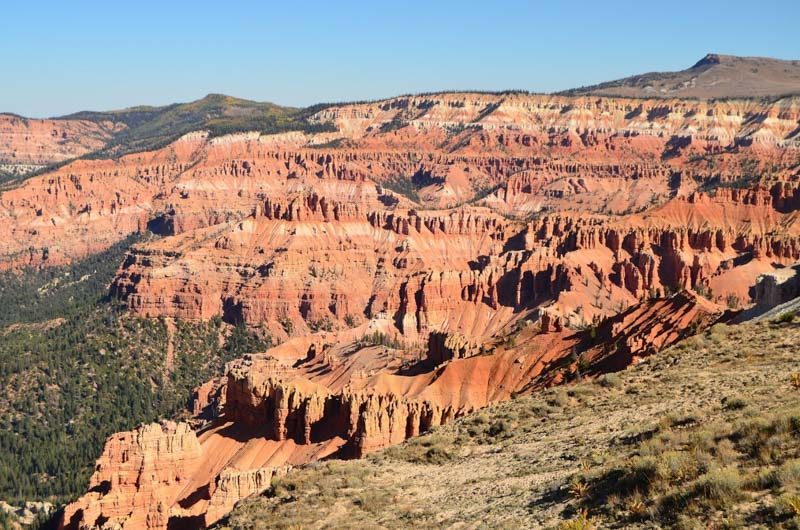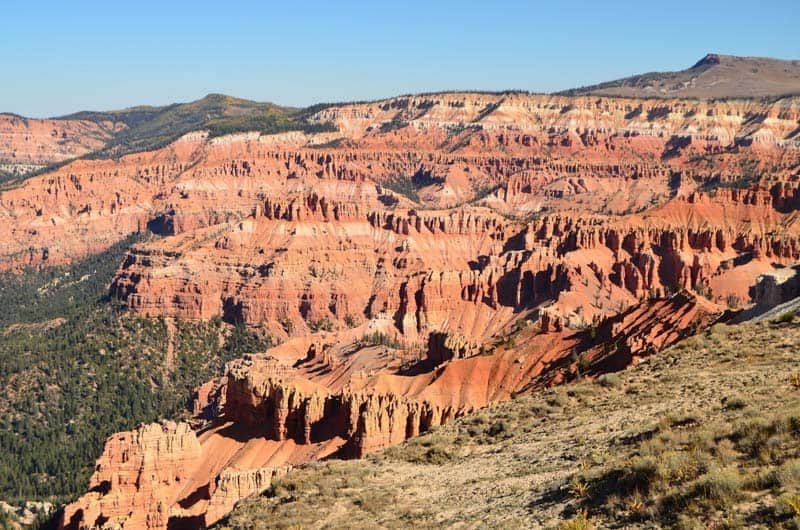 Cedar Breaks is a State Park and we would call it a little brother of Bryce Canyon. There is a couple of nice views to stop at but we would recommend visiting this par prior to Bryce Canyon NP. If you see Bryce Canyon first, you will maybe think that Cedar Breaks is not that spectacular.
11) Grand Canyon National Park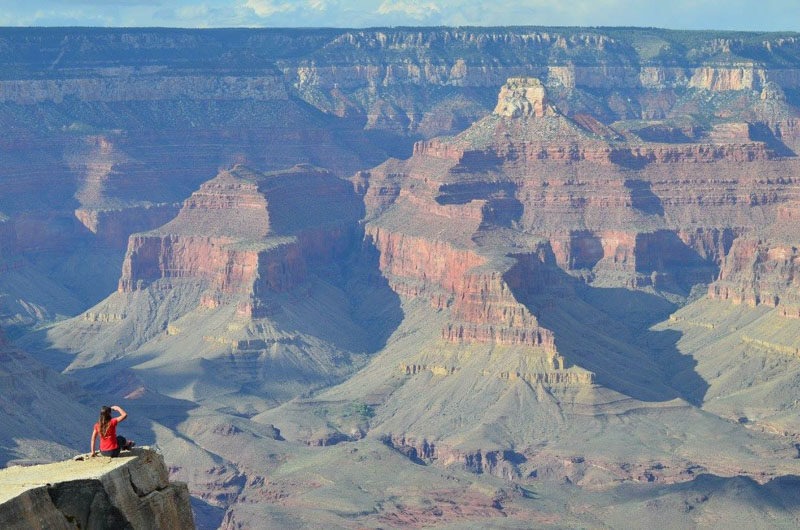 I bet you have already heard a lot about Grand Canyon. This national park is the most famous and one of the most-visited attractions in the United States. I would say you can't imagine how massive it is until you are there. Grand Canyon is a must visit for your Westcoast roadtrip USA either if you have a couple of days to trek to the bottom or just a few hours for several stops on numerous viewpoints. South Rim is more famous and more beautiful, but if you have a lot of time, you should visit North Rim too. Less crowded and still spectacular. If you have enough money, you can take one of the Grand Canyon helicopter tours.
12) Las Vegas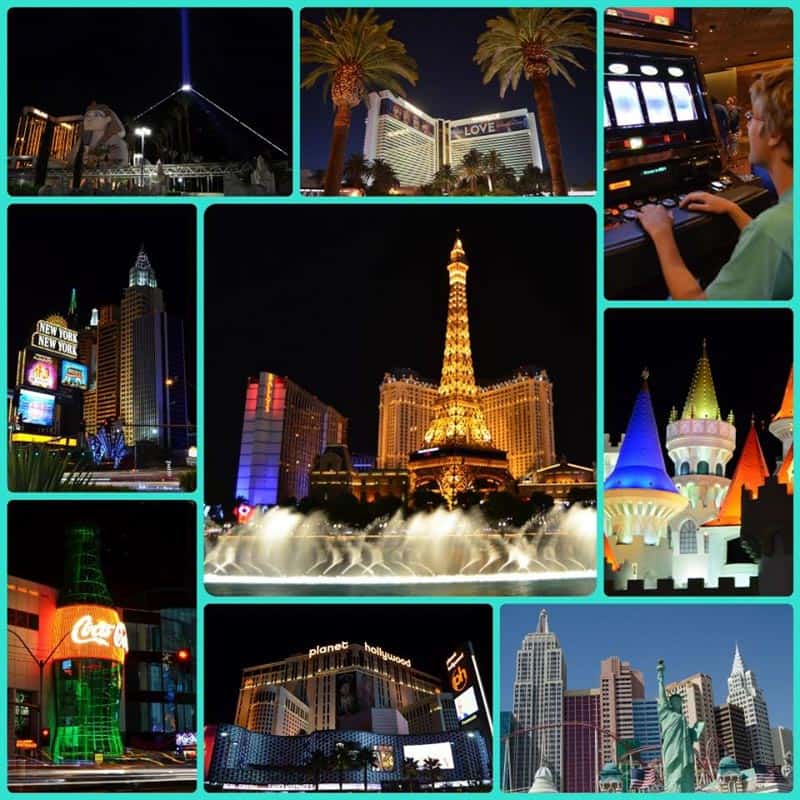 After visiting Las Vegas we finally know, how Alice in the Wonderland felt. This is a totally crazy city. Extravagancy, kitsch, luxury, casinos, and neon. Casinos are literally everywhere and owners are trying to offer everything to get you to visit their casino. Spectacular shows, attractions, fountains or swimming pools. Therefore, Las Vegas is a popular elopement destination.
Prices of hotel rooms are very inviting. You can find whatever you wish in this city. Adrenalin, fun, parties, food, hazard, photography, pyramids, Eiffel Tower, Statue of liberty, Venice gondolas and more...There are artists in the streets as well as beggars.
This is a really unique place and if you go there, don't forget to "lose" your dollar on roulette, because who didn't bet haven't been in Vegas 😉 If you primarily love nature and don't like big cities, half a day is well enough for Las Vegas. But if there is one city which is worth it to visit on Westcoast roadtrip USA even for "city haters" – it is Las Vegas! Check this comprehensive guide to free and cheap things to do in Las Vegas.
If you stay in Las Vegas longer, there is a lot to do around, check this guide to Las Vegas day trips to get some inspiration.
13) Hoover Dam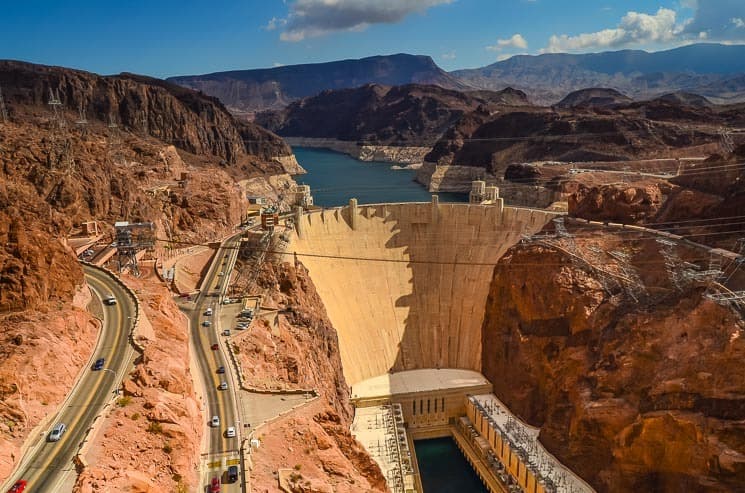 The famous Hoover Dam is phenomenal technological masterpiece and it's well worth the visit. You can take excursion into the powerplant for about $15.
14) Death Valley National Park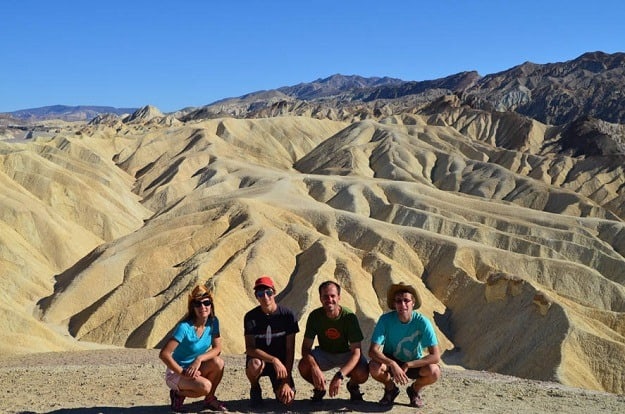 Steady drought, the world heat record and the lowest elevation in entire North America. The real land of extremes. Even a price of gas is higher than in the rest of California. But the visit is definitely worth it! Beautiful sceneries are waiting even at this place. We can highly recommend spending some nights at one of National Park campgrounds because the night sky is spectacular! We have never seen more beautiful sky! This was definitely the best stargazing of my life!
15) Sequoia National Park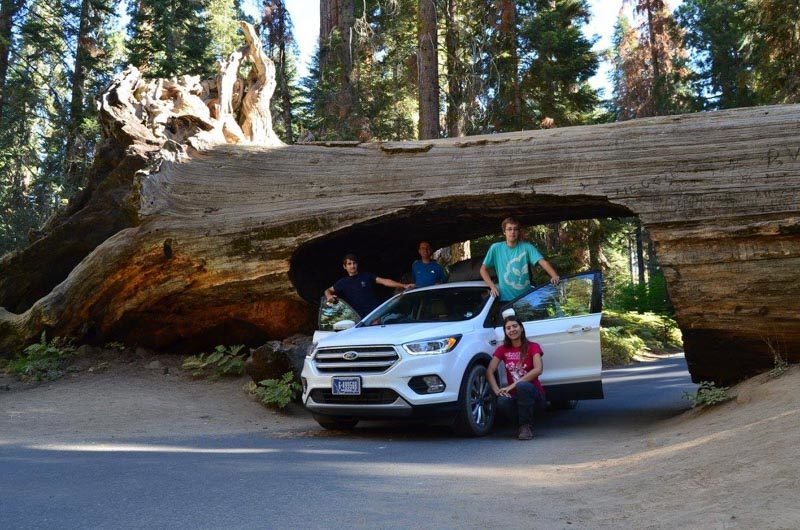 National park with mountains, deep canyons, vast caverns, and the world's largest trees. I bet you will meet even some bear on the way. Try to hug some of these giant trees, you will need a big group of friends to be able to hug these trees around 😉 Driving through the enormous tree log by car is a truly unique experience too.
16) Yosemite National Park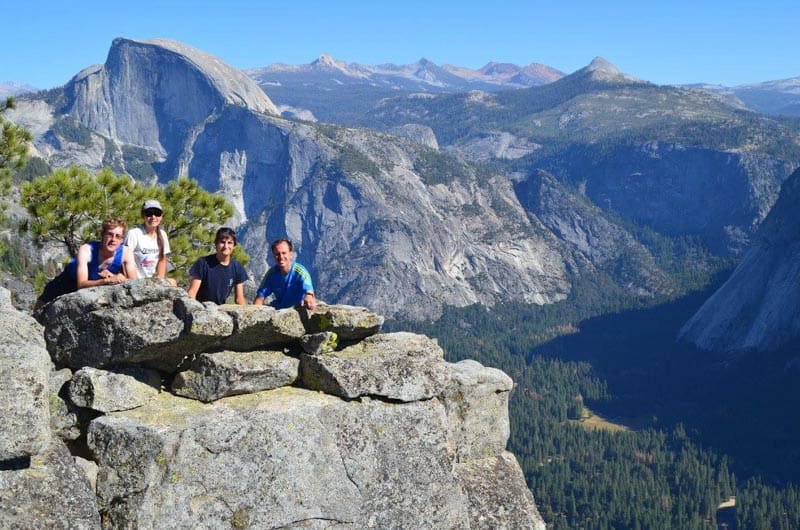 Subalpine wilderness, climbing paradise, land of bears and stunning views of El Capitan or Half Dome - that's only the beginning. This is a second home for every mountain lover! Come and visit this beautiful granite walls and emerald-green Valley!
Hike the Half Dome
If you want to enjoy the view from the top of Half Dome, don't forget to apply for a permit! There is a lottery, so if you want to have a bigger chance to get the permit, send several requests from different phones. Check out how to get a Half Dome permit here.
Be also bear aware and keep everything smelly, mainly food and cosmetics in bears box (bears plunder about 130 cars per year!) If you want to enjoy waterfalls it is better to come during the spring (there was no water during September).
17) The Wave, Arizona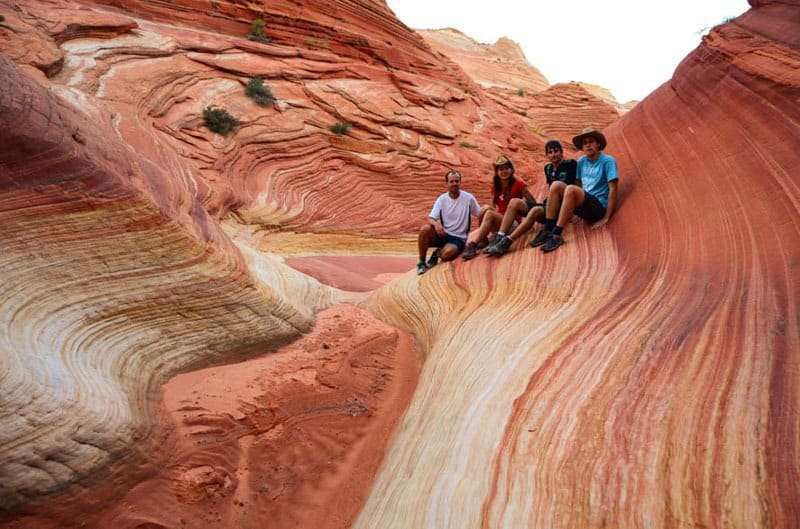 Breathtaking and colorful sandstone rock formation located in Arizona! Make sure you have enough time and permit for this trip! The permit is not easy to get, you have to win a lottery few months in advance, but it is definitely worth to try it! Check this ultimate guide to The Wave, where you can find all information about permits.
Our hike to The Wave was one of these unforgettable memories! It really is that colorful! The pictures aren't "Photoshopped".
18) San Francisco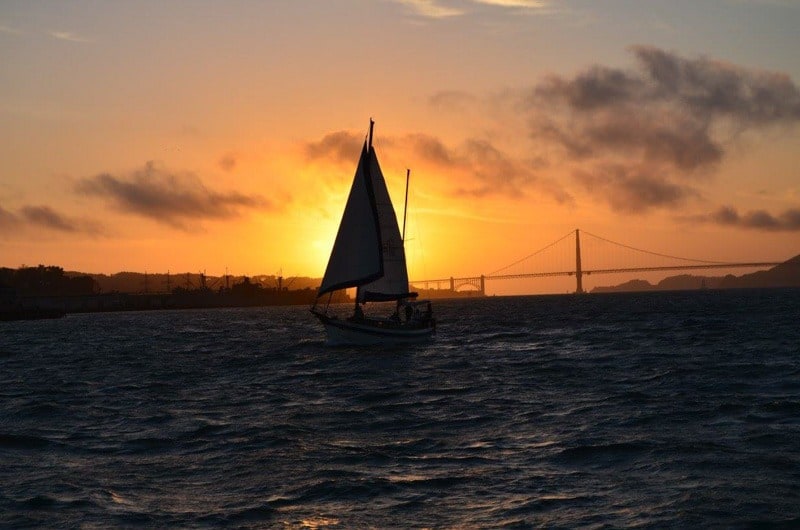 Famous Golden Gate Bridge, Alcatraz, cable cars and steep roads. San Francisco is the second and last city we recommend to visit. You shouldn't miss a photo with the Golden Gate Bridge! Its name – Golden Gate comes from its beautiful sunsets and also because boats carrying gold to San Francisco were sailing under the Golden Gate Bridge. Take a walk or ride a famous cable car on steep and beautiful streets of San Francisco city! You may also visit a legendary Alcatraz prison, don't forget to book tickets in advance. They are usually sold out a week or two in advance.
Alcatraz TIP: If you are there without a ticket you can always try your luck and ask around the cashier, maybe you will find somebody who needs to get rid of some extra tickets (it worked for us).
19) Joshua Tree National Park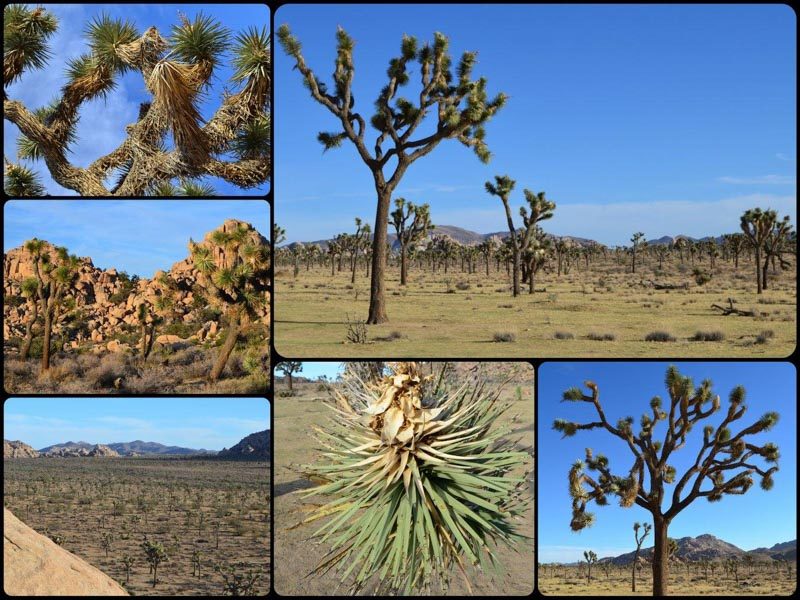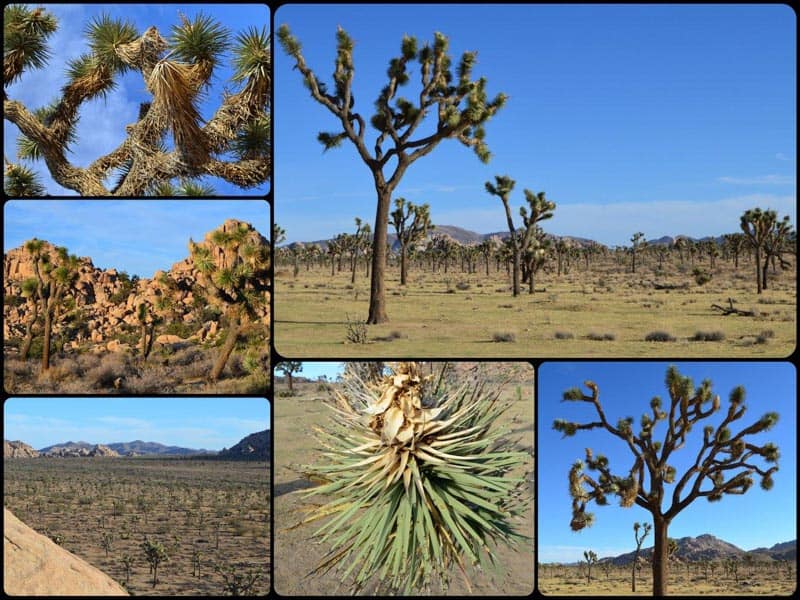 A fascinating variety of plants and animals, dark night skies, deserts, cactuses, coyotes, tarantulas, climbing paradise and mainly - typical "Joshua" trees. If you are passing around, Joshua Tree National Park is definitely worth to visit! Check this guide to the best hikes in Joshua Tree.
More exciting places to visit during your Westcoast roadtrip USA!
Are you enjoying your Westcoast roadtrip USA? Great! If you have some extra time or if you are passing around, see these too:
20) Slot canyons in Escalante NM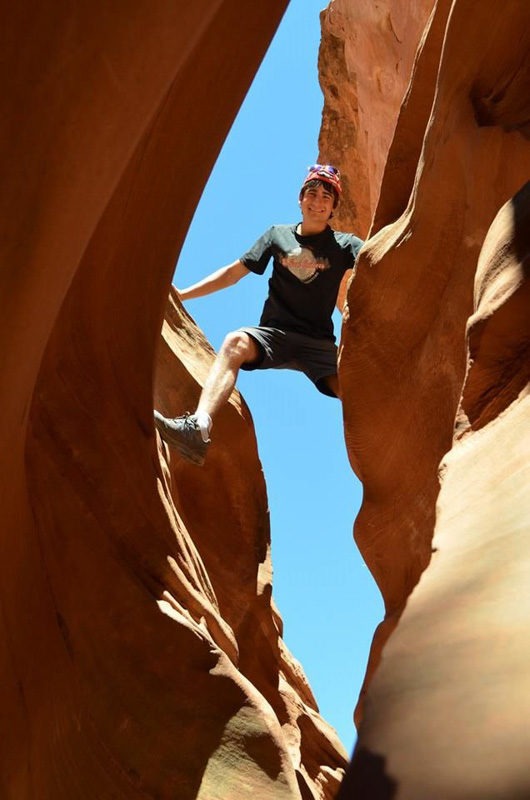 If you saw the movie 127 hours than Slot canyons Spooky Gulch and Peek-a-Boo in Escalante are "must see" place for you. It is truly adventurous trek, sometimes even little bit of bouldering! We enjoyed these canyons a lot. It is more like a great outdoor playground for adults. If like like slot canyons, check this guide to the best slot canyons in Utah and Arizona.
21) Mono Lake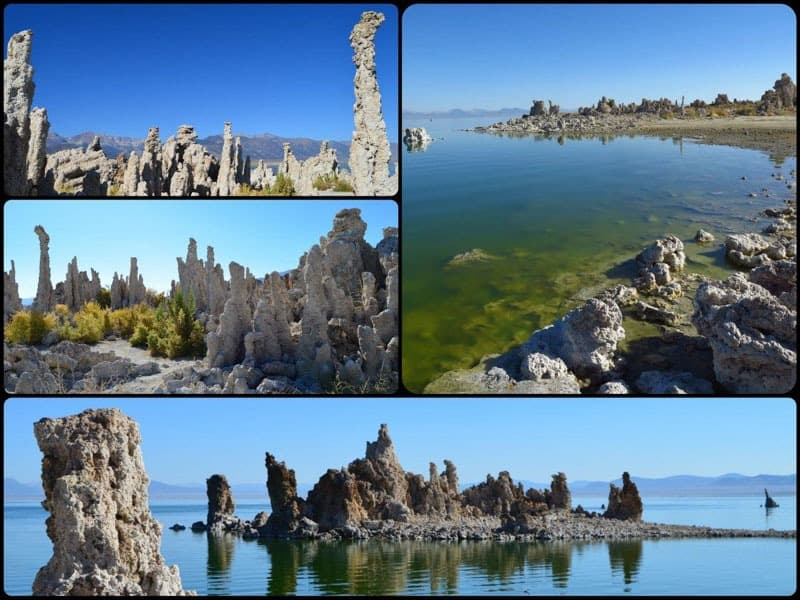 Large and shallow saline soda lake, which was formed at least 760,000 years ago! It is drying out, so visitors have a unique chance to take a "bottom" walk between unique coral formations.
22) Bodie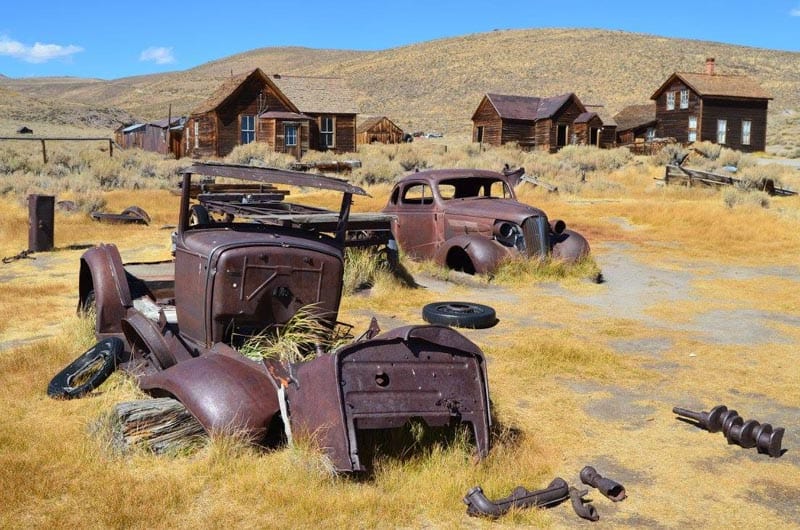 An authentic Wild West ghost town and old abandoned gold mining village. Time has literally stopped there. Bodie is a State Historic Park nowadays. You can take a walk down the deserted streets to visit casino, pub, bank, or gold mine. If you like western stories, Bodie is a place you shouldn't miss!
Read our Ultimate Guide to Bodie State Historic Park.
23) Highway #1 from San Francisco to LA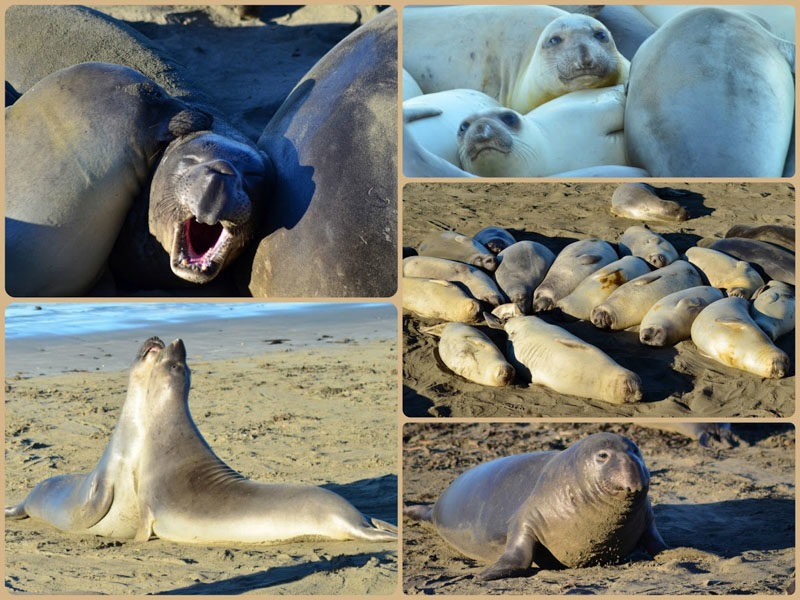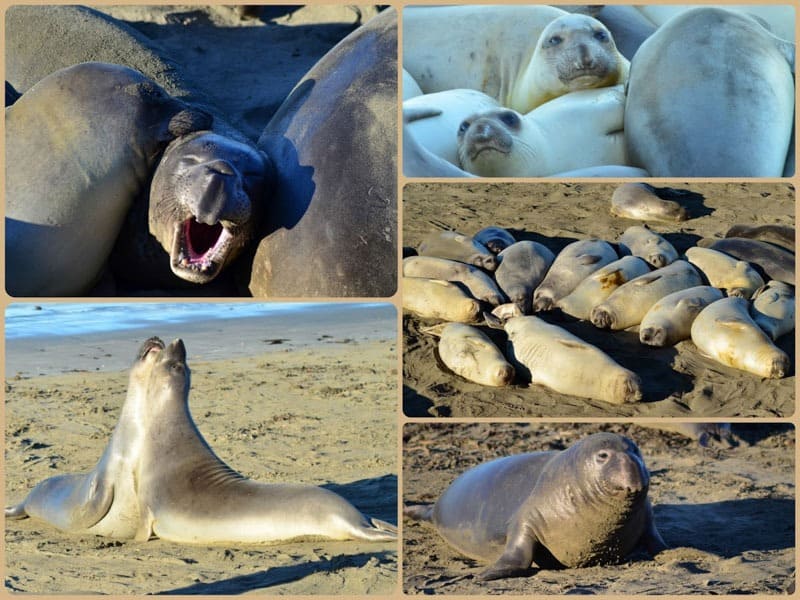 The Pacific Coast Highway is well known as one of the most scenic drives in the USA. Beautiful views of the ocean, cliffs, elephant seal colonies, Big Sur State Park and much more! Even just driving this highway is a very nice experience. If you have some spare time in Los Angeles, check this ultimate list of 100+ Things to do in LA. You can also try surfing on one of the best surfing beaches in California.
Here is our Road trip video, to make you excited about your own Westcoast Roadtrip USA even more!
Now it's up to you which places you pick for your Westcoast Roadtrip USA. If you fly from Europe, you can usually find cheap flights to LA or San Francisco. You can visit all the places listed above in approximately 3 or 4 weeks long road trip.
Westcoast roadtrip USA Budget
Cost of this Westcoast roadtrip USA can be as low as 1200 – 1300 USD (without flight tickets).
And if you would like to know, how we made money for this Westcoast roadtrip USA, check our post about Work and Travel in Yellowstone:
Westcoast roadtrip USA Map
We have prepared a detailed map with all important places to visit. We hope it will help you with planning your perfect Westcoast roadtrip USA.
The map can be exported and uploaded to the mobile map app like Maps.me or Locus maps.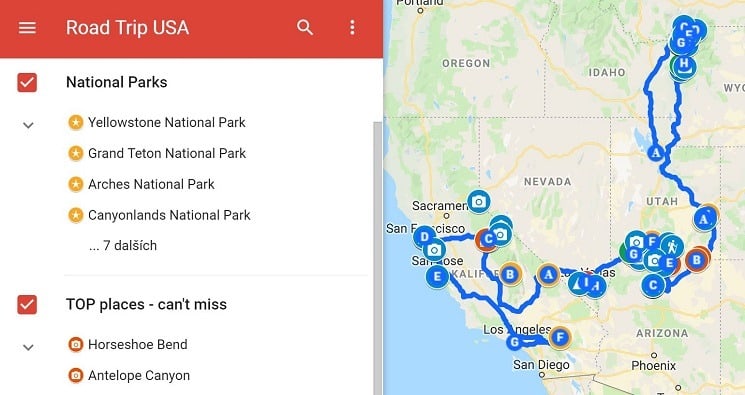 I want to do a Westcoast roadtrip USA!
Are you decided to do a Westcoast roadtrip USA? Great, just find the cheapest flight ticket!
And you need to rent a car! The cheapest car rental options are here.
Check this video from Westcoast roadtrip USA:
It's time to pack your large suitcase! We wish you safe travels! If you have some other favorite places in the Midwest, please share them with us in comments and if you have any questions, don't hesitate to ask in the comment section 😉
Did this blog post help you?
Did this blog post help you? You can do us a favor and book your accommodation, buy flight tickets, book a tour or rent a car using our links. It doesn't cost you anything extra and we will have a small commission, which we will use for further improvement of this website.
We have also prepared for you this comprehensive list of links, discounts, and resources for travel planning in one place. Bookmark this page and whenever you plan a vacation in the future, just open it and save yourself a lot of time.
1) Where to book accommodation?
2) How to find cheap flights?
3) How to rent a car?
We recommend a comparison portal RentalCars.com to compare the best offers of all available rental companies.
Pin this Pin about Westcoast roadtrip USA for later or for your friends:
FAQ - Westcoast Roadtrip USA
Is there an offline map with best places to visit?
Which places are absolute must while visiting West Coast USA?
Which places are also worth visiting on West Coast USA?
Did this post about Westcoast roadtrip USA help you? Share it with your friends! It can help them too!
---
Adriana & Matěj
Travelers, sport enthusiasts and photographers behind this blog. Creating high-quality and informative guides for your travels. Read more about us here.
Disclosure: Please note that some of the links above may be affiliate links, and at no additional cost to you, we earn a commission if you make a purchase. We recommend only products and companies we personally use and we use this income for further improvement of this website. Thank you!

We are regularly updating all of our posts, however all the places are changing quickly and sometimes it's hard to see all the changes. Theferove we would be glad if you could tell us about any change you have found.