New Zealand is well known for its pristine nature, mountains, unique fauna, flora, great beaches and much more. Although New Zealand's South Island gets a lot of attention North Island has a lot to offer too. Come to explore hot springs, volcanoes, beautiful beaches, waterfalls, surf perfect waves or hike the famous Tongariro Crossing. I guarantee that you won't be bored by the North Island. Let's have a look at the best things to do in New Zealand North Island:
Things to do in New Zealand North Island: TOP 10
We choose the best things to do in New Zealand North Island, you shouldn't miss once you are there:
1) Visit geothermal wonderland
New Zealand has many natural wonders and geothermal areas full of erupting geysers, neon green pools or turquoise blue lakes. North Island, (especially the area around Rotorua and Taupo) is rich with hot springs, geysers, bubbling mud pools, silica terraces, and sulfuric pools.
The best thermal areas to visit are:
Wai-o-Tapu
Wai-o-Tapu is one of the most visited thermal areas thanks to its colorful pools, hot springs, and geyser Lady Knox. No wonder – it's a spectacular show! You can watch the geyser eruption every day at 10:15 am. Book your tickets online. Unfortunately, they don't accept cash payments. Wai-o-tapu offers the most colorful pools and we recommend it most out of all geothermal areas around Rotorua.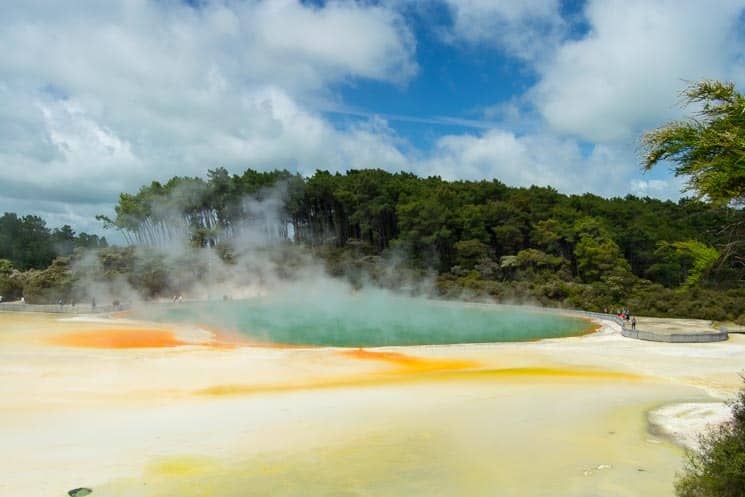 Waimangu Volcanic Valley
Waimangu Volcanic Valley is the youngest geothermal area in the world. You will find here the largest boiling lake in the world – Frying Pan Lake. The nature walk through the valley is about 5 km long and takes you around the hot springs. Along the way, you will see several lakes, a hot spring with incredible turquoise water, small geysers, fumaroles, and other geothermal features. At the end of the valley is a Lake Rotomahana where you can go for a boat cruise. Book your tickets here.
Kuirau Park Rotorua
Kuirau Park is a freely accessible thermal area, which is situated in the heart of Rotorua. It's New Zealand's only geothermal public park. There are several hot springs and pools of different colors. If you like to, you can even dip your feet in a hot bath, which is nice especially in colder months.
There are also some other places like Polynesian Spa or Hell's Gate (where you can enjoy thermal bath).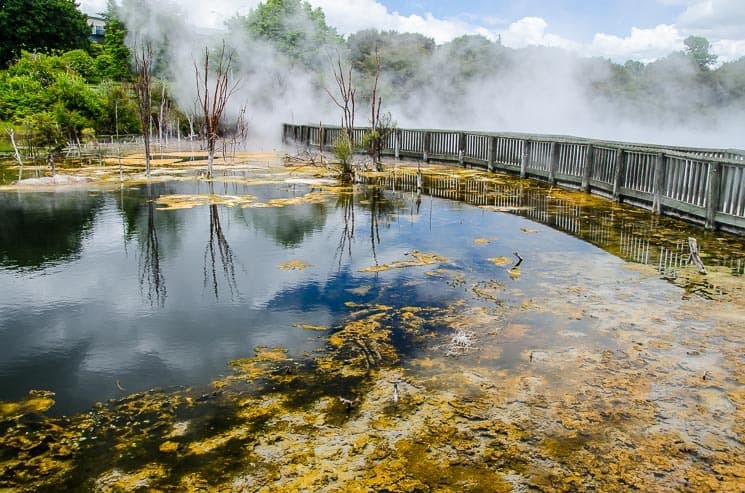 2) Go Rafting the World's Highest Commercially Rafted Waterfall
Rafting through the 7 meters high Tutea Falls in Rotorua is truly an awesome adrenalin experience! For us, rafting on the Kaituna River was absolutely the best outdoor-adrenaline experience in whole New Zealand! Read about the whole rafting experience here. There are more companies operating at Kaituna but we highly recommend Kaituna Cascades – a family business with an amazing bunch of guides. Book your spot in the raft here.
TIP: If you don't dare to raft the Tutea falls yourself, go and watch how the others are doing! It's fun! Usually, one of the 3 rafts will flip over 🙂 Stop at one of the car parks at Okere Falls Road and stroll around the river, there are few viewpoints including the viewpoint of the 7-meter high Tutea Falls.
Experienced kayakers can join the organized group and paddle down the river as well! Check out the video to see what is waiting for you on Kaituna river (you can see the waterfall at 1:04):
3) Ride down Giant Sand Dunes in Te Paki
On the far North in New Zealand's Northland, there are Te Paki Giant Sand Dunes. All adventurous souls will surely love this spot! Sandy hills reaching up to 100 m with the Tasman Sea in background. Beautiful views combined with a nice dose of adrenaline are waiting for everyone stopping by Te Paki Sand Dunes to enjoy some sandboarding. We have prepared a complete guide about sandboarding in Te Paki, where you can find handy tips like where to rent the cheapest sandboards and other tips.
4) Experience Maori culture at Whakarewarewa village
Maori are the indigenous Polynesian people of Aotearoa – New Zealand. The easiest way to learn about their history and customs is to visit one of their villages. Whakarewarewa is a Maori village, placed in the beautiful thermal area, among pools and springs in Rotorua. The village is owned and operated by locals, who still live there. They will guide you through the village and their lifestyle, and you will also see a Maori cultural performance (including Haka dance). Could you believe that they still cook in hot springs? Tickets are available online. You can also book an experience with a traditional meal.
In addition to Whararewarewa village, you may visit also other Maori places and villages:
Tamaki Maori village – famous for award-winning 3,5-hour evening experience with dinner, welcoming ceremony, and dances. You can find tickets here.
Mitai Maori village – best value evening experience in Rotorua, with dance, hangi, music, and chance to see glowworms. Buy tickets online.
Te Puia – Offering both day and evening experiences. You can also visit a kiwi house and Māori Arts and Crafts Institute. Book evening experience with dinner or just a day excursion.
5) Visit Hobbiton
It wouldn't be a complete visit of New Zealand's North Island without visiting Hobbiton (especially for Lord of the Rings fans). In the Waikato region, near Matamata, you can experience the "real" Middle-earth with Hobbit Holes, Mill and the famous Green Dragon Inn. A guided walk around Hobbiton is about a mile long and starts from Shire's Rest. You can book your tickets online or there are also plenty of Hobbiton tours from Auckland.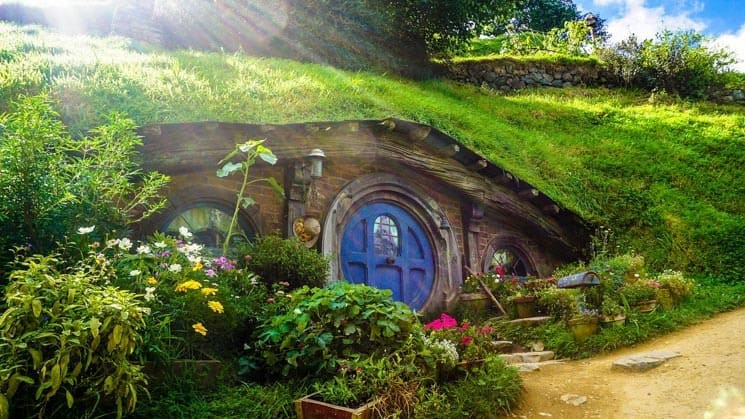 6) Hike the Tongariro Alpine Crossing
The Tongariro Alpine Crossing is considered to be one of the TOP 10 most beautiful one day hikes of the world and often called as a most beautiful hike in New Zealand. This 8-hour trek across a volcanic alpine landscape with dramatic contrasts of steaming vents, ancient lava flows, vivid crater lakes, and stunning views is undoubtedly one of the biggest attractions of the New Zealand North Island. The hike is 19,4 km (12 miles) long and you need to plan ahead if your wish to do it. Find out practical information about the Tongariro Alpine Crossing trek, shuttle buses, weather, and recommended equipment.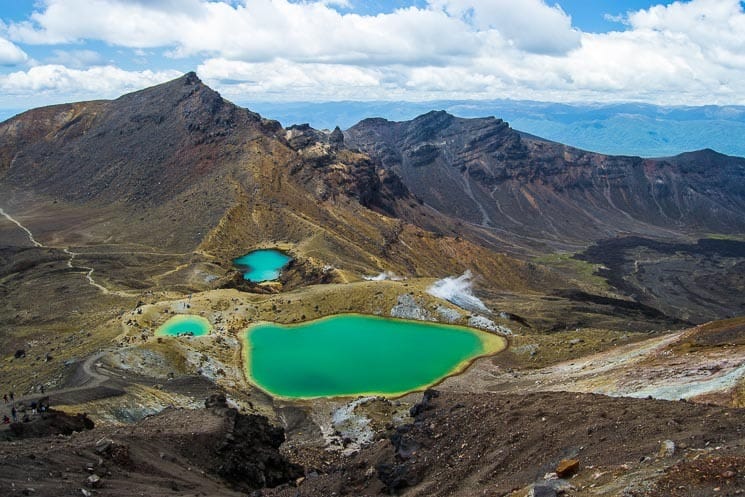 7) Admire giant volcano – Mt Taranaki
Mount Taranaki is an impressive and still active stratovolcano on the west coast of New Zealand's North Island. You can climb to the top of the mountain but already the view of the Mt Taranaki is spectacular. There are several great photo spots around the mountain, but among the most popular belongs the trek to Pouakai Hut. There is a small pond where you can see a mirror reflection (if you are lucky and the weather is nice). Visit also the visitor center of Egmont National Park, there is a freedom camp and several nature walks around.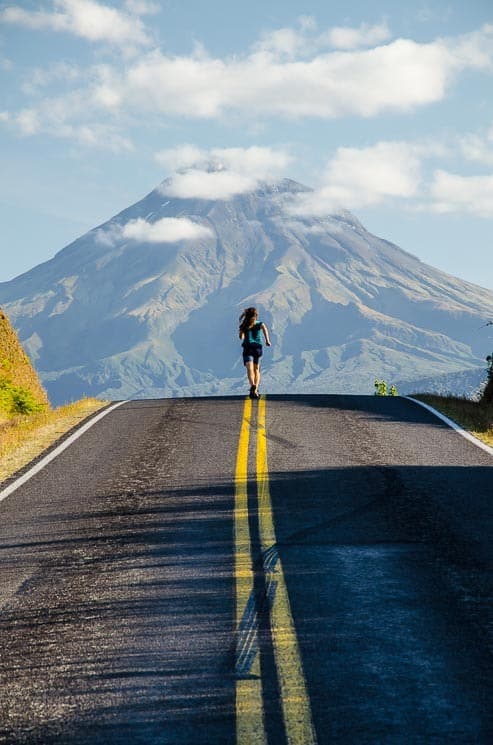 8) Watch the sunrise at Cathedral Cove
You have probably seen the famous Cathedral Cove scenery many times before (maybe in Narnia movies or as a background of Microsoft computers). You will instantly fall in love with the tunnel cave view of the massive rock. We recommend getting up early to be here for sunrise. It's definitely worth it because you will avoid crowds and the morning light is simply perfect for pictures.
We recommend to park in the town of Hahei (at Visitor Car Park) and walk from there to the trailhead (It's about half an hour walk). Hahei Visitor Car park is very well marked. You can also take a shuttle bus during the summer (a return ticket costs around $ 5).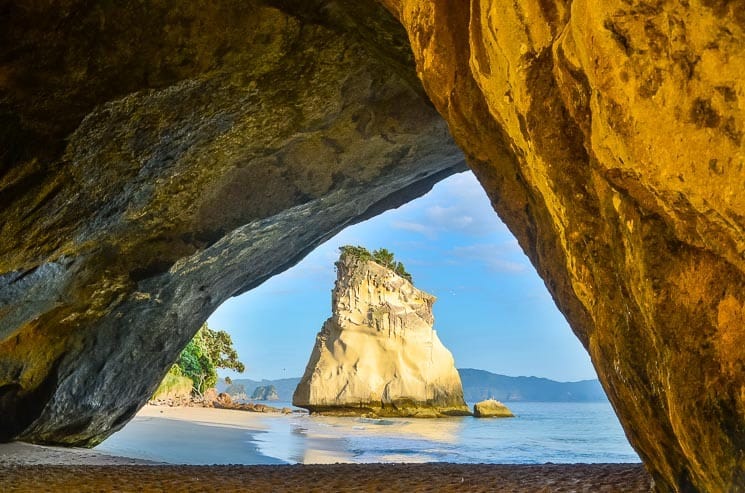 9) Make your natural whirlpool at Hot Water Beach
This beach is unique due to the hot spring rising from the ground in the middle of the beach. There's nothing better than digging your own natural whirlpool! You can rent a shovel directly in the Café at the main parking lot. You have to be on the beach at the right time window – 2 hours before and 2 hours after the low tide. Tides are changing every day, so check the forecast here.
Hot Water Beach is also a popular surfing spot (great for advanced surfers). Surf Rescue operates here. Be sure to swim only in the area between the Flags because there are some sharp rocks next to the hot spring.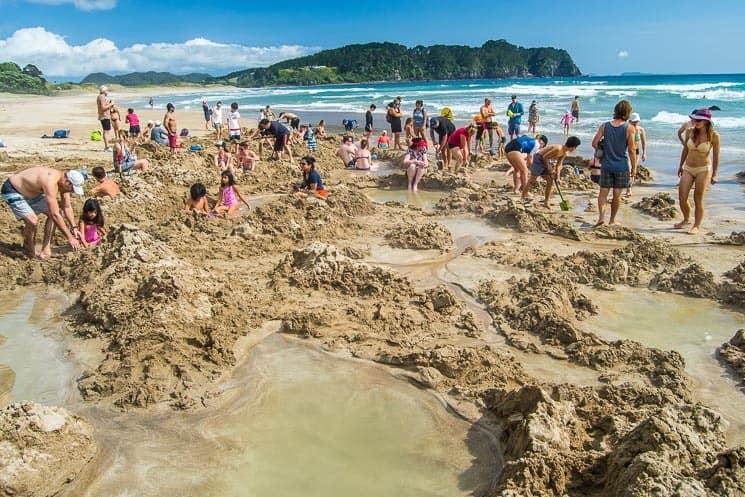 10) See the Glowworms
New Zealand and Australia are the only countries in the world, where you can witness an awesome natural phenomenon called the glow worms. Glowworms (Arachnocampa Luminosa) are a special kind of bioluminescent insect that lives only in New Zealand's Caves and bushes. Seeing glowworms is truly a magical experience. Mostly in caves, they make an illusion of millions of stars right above your head.
The most popular is Waitomo Caves, where you can witness thousands of glowworms during the guided tour. There are also caves with a free entry like Waipu Caves, Abbey Caves or bushy places where you can see glow worms as well.
Why do they glow?
The larva spins a nest out of silk and hangs down with small sticky droplets. They glow to attract prey into these threads. The hungrier they are, the more they shine.
Things to do in New Zealand North Island: More great places
Are you a fan of water sports or hiking? What are other things to do in New Zealand North Island?
11) Surf at Raglan Beach
Raglan is a small coastal town famous in the surfing community for its perfect long waves and relaxed vibes. The main point breaks of Manu Bay, Whale Bay, and Indicators are world-renowned for their large, consistent waves suitable for experienced surfers. During the days with a large swell wave can provide a ride of more than two kilometers! There is also a place at Ocean Beach which is suitable for beginners and Raglan surf school runs surfing lessons year-round.
12) Rere Rockslide
Rere Rockslide in Gisborne is an absolutely amazing natural water slide. Get yourself anything suitable for a downhill slide and enjoy this natural "aqua-world". Usually, people are using bodyboards which you can buy even in the Pak n Save supermarket. Additionally, you can use your bodyboard later on for surfing or bodyboarding in the sea. This amazing waterfall slide is located about 50 km north-west from Gisborne at the Wharekopae river. Find out more about Rere Rockslide.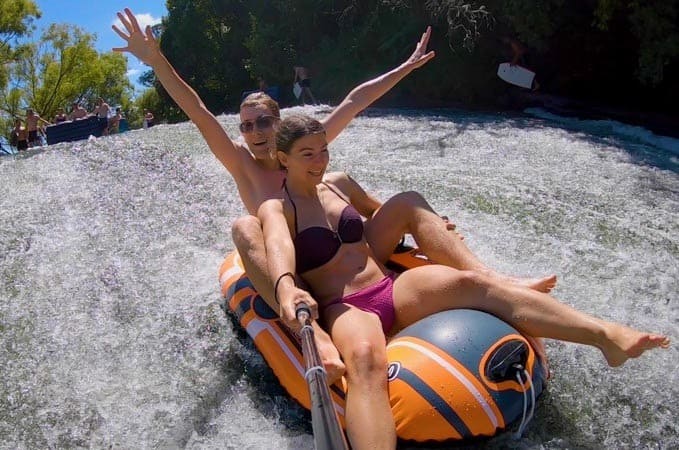 13) Castle Point Lighthouse
Castle Point Lighthouse is a truly majestic lighthouse standing on a rocky cliff which was formed 2 million years ago. With its 23 meters (standing 52 meters above the sea level) it's the tallest lighthouse in New Zealand North Island. It's a charming place, which every photographer will love. It takes less than 15 minutes to walk to the top viewpoint. You can still see some fossil shells in the rock if you walk to the end of the boardwalk. There is a freedom camp by the beach and another beautiful walk to Castle Rock. The lighthouse is located in the Wairarapa region, about 1 hour's drive from Masterton. Find out more about Castle Point Lighthouse.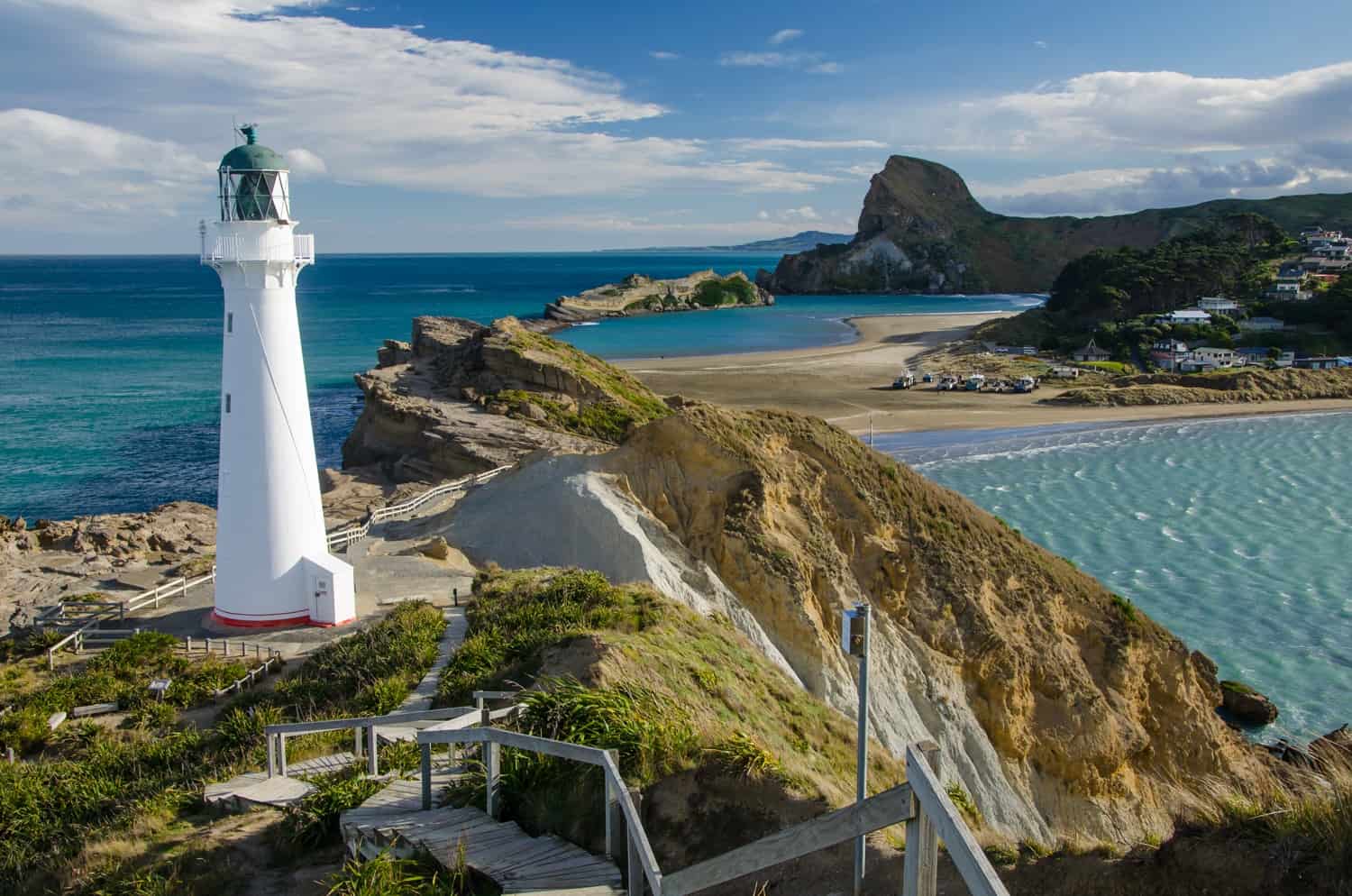 14) Huka Falls
Huka Falls is another place you shouldn't miss! It is a colossal waterfall with clear turquoise water. The waterfall is about 11 meters high with phenomenal hydropower of more than 220,000 liters of water barreling over the edge per second! That's an insane mass of water! Watching the waterfall is a breathtaking show… There is also the opportunity to look closer to the waterfalls directly from jet boats.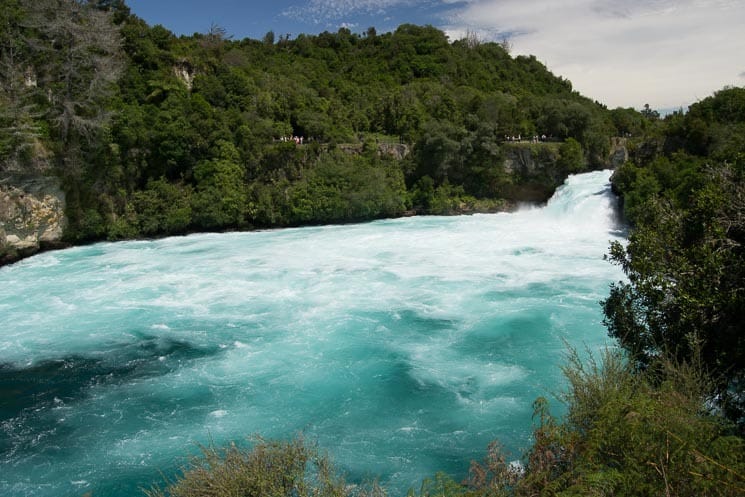 15) Wellington
Once you are in Wellington, you shouldn't miss the national museum Te Papa, it's huge and definitely worth visiting. A great thing is that there is no entrance fee. A beautiful view is from the top of Mt Victoria and you can also enjoy the ride in an iconic red cable car from Lambton Quay to Kelburn. Lord of the Rings fans shouldn't forget to visit the Weta Cave workshop.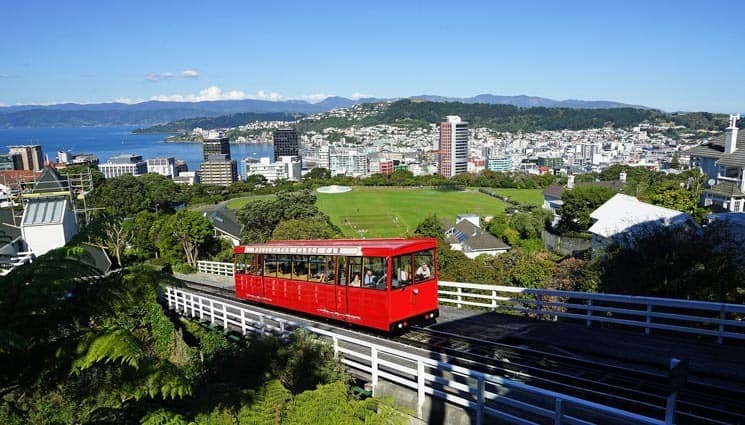 16) Putangirua Pinnacles
Putangirua Pinnacles Scenic Reserve is a place that takes you to the land of Lord of the Rings. It's a truly different world, those spectacular geological formations are a perfect example of badlands erosion. Take a walk and explore an incredible valley of pinnacles. Putangirua Scenic Reserve is located in very south of North Island nearby Cape Palliser.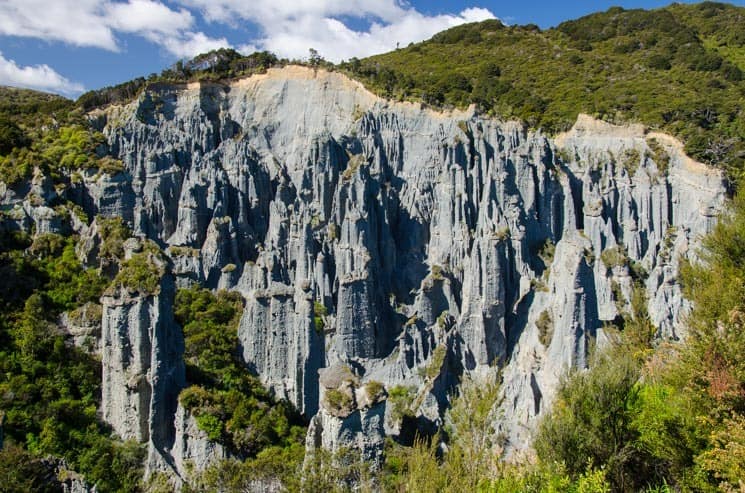 Things to do in New Zealand North Island: For extra time
Some of those places are a little bit more distant than others, but if you are spending more time in New Zealand or if you have extra time in the certain area, check those places and things to do as well:
17) Cape Palliser
Cape Palliser is the southernmost point of New Zealand's North Island. You can find there a beautiful lighthouse and the largest fur seal colony on North Island. Coastal Road to Cape Palliser offers dramatic scenery with a fascinating coastal landscape.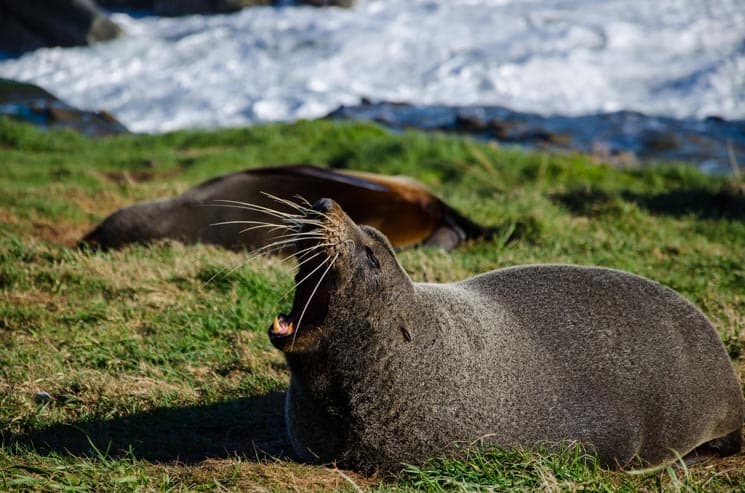 18) Taupo
Taupo is a nice lake area, whether you just take a lunch break onshore or head off for kayaking or paddleboarding. Probably the most famous place on Lake Taupo is Maori Carvings, which are located in the Mine Bay area. Towering 14-meters high above Lake Taupo, they are only accessible by water. Visitors have various ways to get there. There are several companies in Taupo, which do cruises to Maori Carvings, whether on a yacht or slightly larger boat. Choose your cruise here. You can also get there by kayak.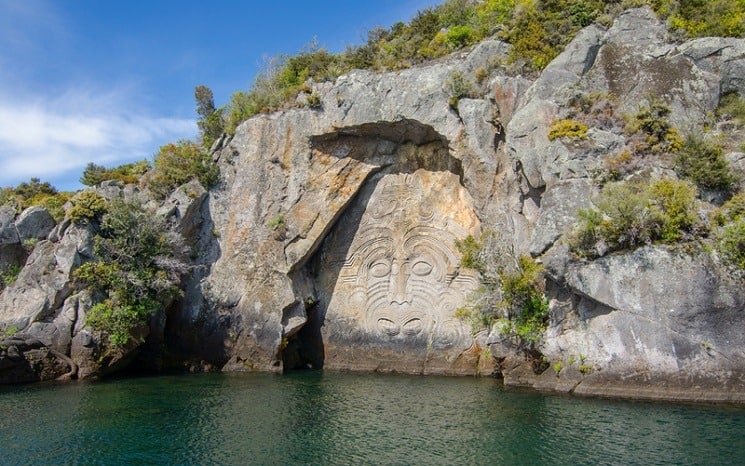 19) 90 Miles Beach
The legendary Ninety Miles Beach is a great place, where you can drive your car/van! If you are lucky to have 4WD, you can easily drive the whole way. In case you don't have 4wheeler, there is still a very nice part of the beach which can be enjoyed by driving the car. You can enter the beach at several places, the main ramp is the Waipapakauri ramp.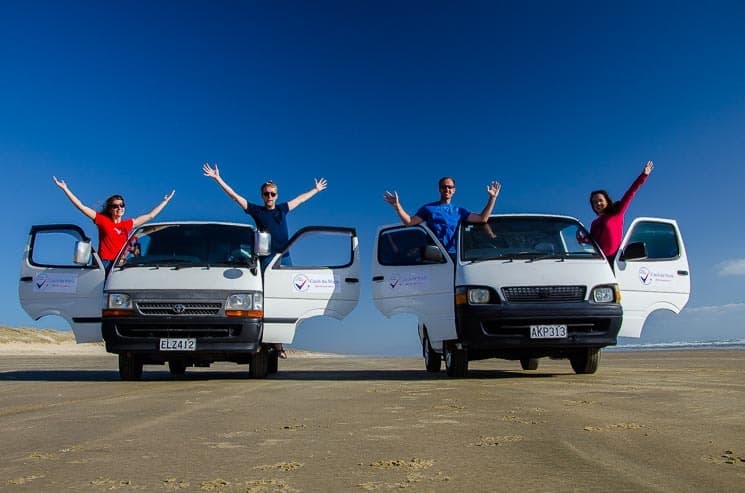 20) Waipoua Kauri Forest
Waipoua Forest is a beautiful native forest, full of original New Zealand's Kauri trees (Agathis Australis). These massive trees measure up to 50 meters and can be 2000 years old. A person feels so small in comparison to these giants! Waipoua Kauri forest is located in Northland.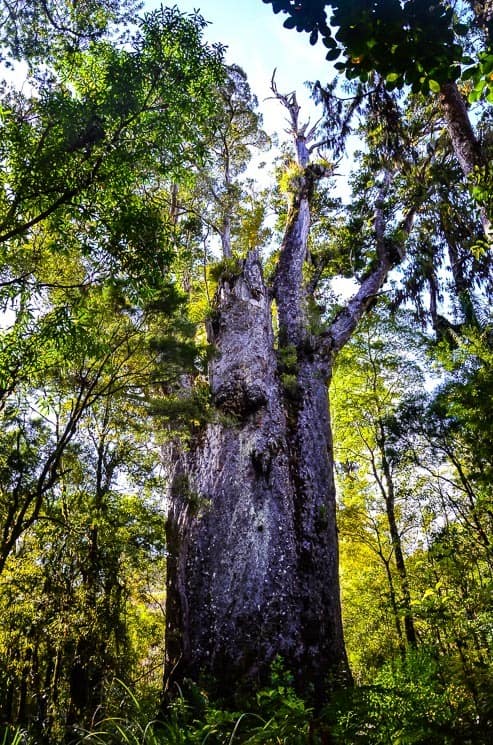 21) Piha Beach
Piha is not only a beautiful beach well known for its gorgeous views but it's a perfect surf location. I am sure you will meet a lot of surfers there. The Lion Rock is the Piha Beach dominant landmark, you can climb up to the top – there is a quite a nice path. If you would like to try surfing, you can arrange a surfing lesson directly at Piha beach or at the campground. Piha is only 50 minutes' drive from Auckland.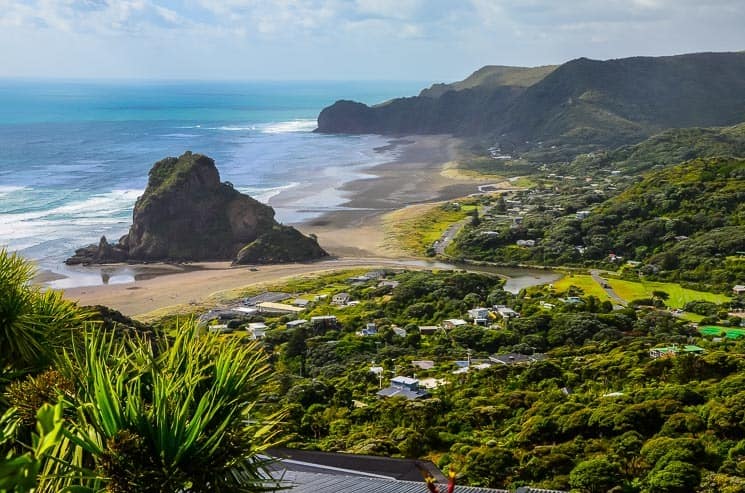 22) Cape Reinga
Cape Reinga is the northernmost point of New Zealand with a beautiful lighthouse at the end. It is the place, where the Pacific Ocean meets the Tasman Sea. You can take a nice walk from the parking lot to the lighthouse or try a longer and more adventurous coastal walk. There is the Te Paki Coastal Track with stunning views of the dramatic coastline. The whole track takes about 3-4 days, but it's worth it.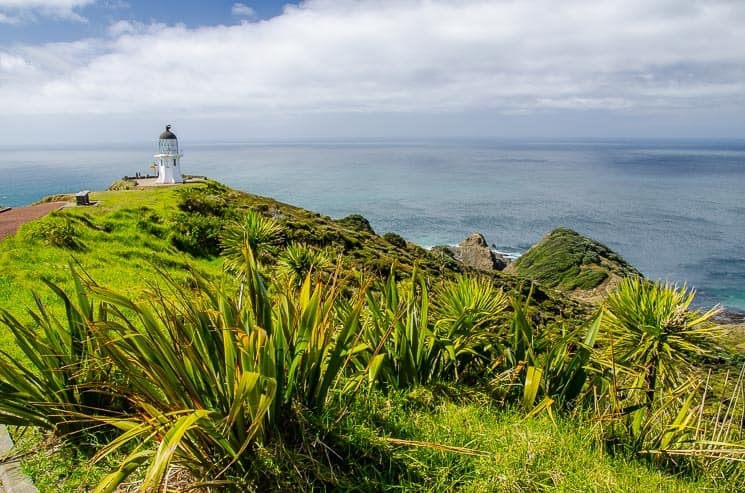 Things to do in New Zealand North Island: Regions
If you are planning your trip and deciding which things to do in New Zealand North Island, it may be very handy to have separate guides to different areas. We have prepared for you, handy guides to the following regions:
23) Northland
Northland is a beautiful New Zealand's area, home of monumental Kauri forests, dramatic cliffs, as well as unique 90 Miles Beach. Let's explore Northland's magical glowworm caves, stunning waterfalls or Te Paki Giant Sand Dunes. Find out the best places and handy tips on things to do in Northland.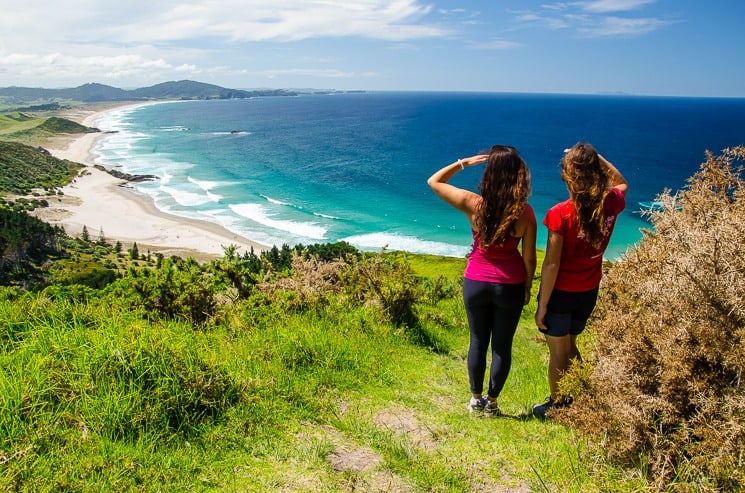 24) Coromandel
Come and explore the unique Coromandel Peninsula, the land of white sand beaches, dramatic cliffs, green pastures, and deep native Kauri forests. The northern part of Coromandel is a home for wild Kiwis and if you are lucky enough, you can still spot them. Check out this ultimate guide to the Coromandel Peninsula.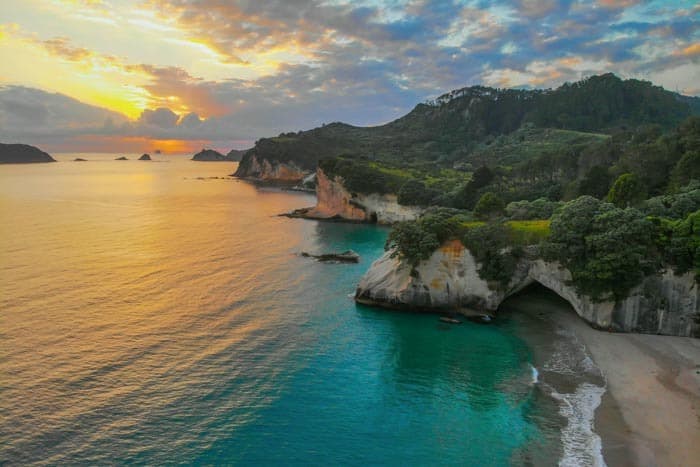 25) Rotorua
Rotorua is the largest geothermal area in New Zealand. You will find there countless hot springs, lakes, geysers and geothermal features. It's not only a volcanic area but also a center of outdoor activities and adrenaline of New Zealand's North Island. You can even learn a lot about Maori culture while visiting one of the living Maori villages among the thermal springs. Check 25 best things to do in Rotorua.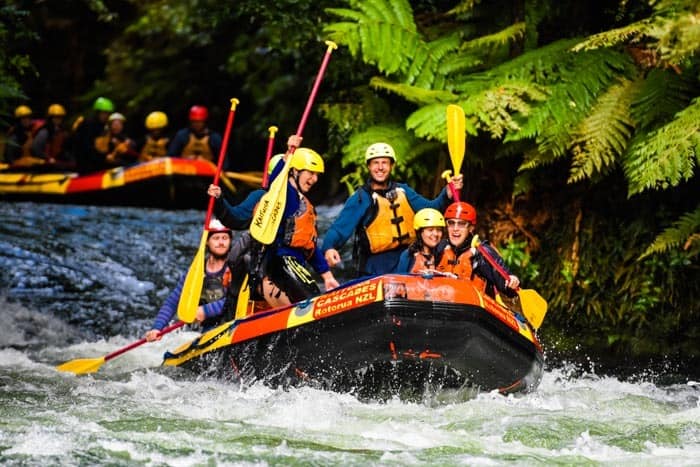 Things to do in New Zealand North Island: Map
We prepared for you a detailed map with all the places and things to do in New Zealand North Island. Points have different colors according to the category. Each layer can be hidden. You can export this map and import it to your mobile application such as Maps.me or Locus Map.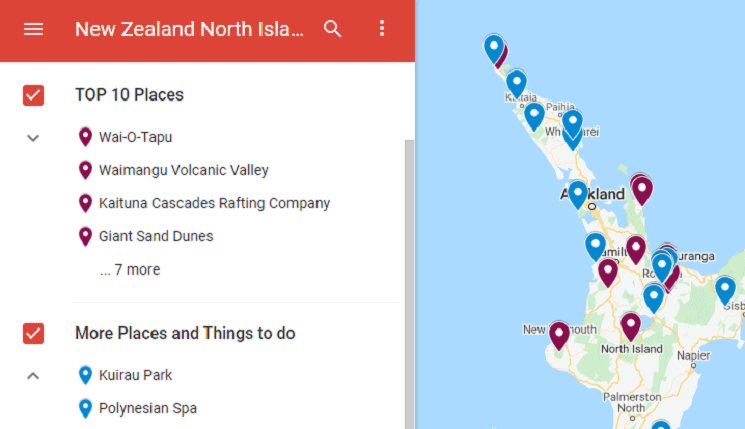 Practical information for your road trip
Renting/hiring campervan in New Zealand
Traveling New Zealand North Island by van is the most popular way to explore it. The best offers of car rentals can be found here. There is enough camps and camping sites. The best apps for van/car travels are the following:
CamperMate – The handiest app for all travelers traveling by campervan. You will find there not only campsites and Freedom Camping areas, but you can search also for showers, toilets, Wi-Fi or drinking water nearby. There is always detailed information about each place or campsite. You will find out whether the camp is paid and what facilities you can expect there.
WikiCamps – Similar app to CamperMate, it's good to have both because sometimes happens, that one app is missing some campsite and vice versa.
Gaspy – A mobile app for finding the cheapest gas stations
Check out several more very useful apps for New Zealand, depending on your travel style.
Check this guide about what it's like travelling in a van.
I hope you enjoy reading and you will choose the best combination of things to do in New Zealand North Island just for you! Kia Ora!
More tips for your travels:
We have prepared for you this comprehensive list of links, discounts, and resources for travel planning in one place. Bookmark this page and whenever you plan a vacation in the future, just open it and save yourself a lot of time.
1) Where to book accommodation?
2) How to find cheap flights?
3) How to rent a car?
We recommend a comparison portal RentalCars.com to compare the best offers of all available rental companies.
Pin New Zealand for later or for your friends: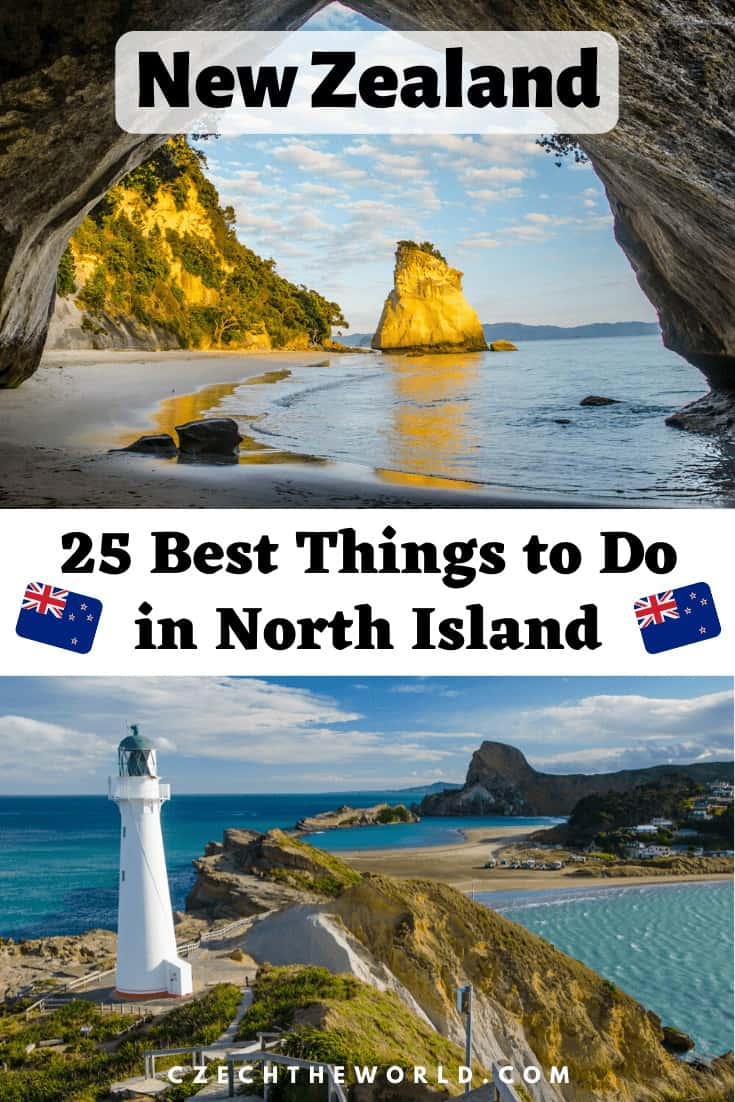 FAQ – Frequently asked questions:
What are the TOP things to do in New Zealand North Island?
Among the best things is Tongariro Alpine Crossing, geothermal area aroud Rotorua, rafting of the world's highest commercially rafted waterfall, Maori villages and much more. Read the article to get more inspiration.
What are the best things to do in Northland area?
Among best places to visit in Northlad are: Cape Reinga, 90 Miles Beach, Giand Sand Dunes Te Paki, Waipoua Kauri Forest, Waipu and Abbey Caves, Piha Beach and much more.
What are the best things to do in Coromandel?
Coromandel's top places are the Cathedral Cove, Hot Water Beach, Coromandel Pinnacles walks and more.
What are the best things to do in Rotorua?
Hot springs, lakes and geyser in Rotorua's geothermal area, Maori villages, Redwoods, rafting Rotorua of the world's highest commercially rafted waterfall and more outdoor and adrenalin activites.
Did this post help you? Share it with your friends! It can help them too!
Disclosure: Please note that some of the links above may be affiliate links, and at no additional cost to you, we earn a commission if you make a purchase. We recommend only products and companies we personally use and we use this income for further improvement of this website. Thank you!