Galapagos Islands are an incredible animal paradise – a paradise where Charles Darwin came up with his theory of evolution. And it's no wonder because, on the Galapagos Islands, we find many endemic species (that is, species that cannot be found anywhere else in the world).
Galapagos is a place where people and animals live together in perfect symbiosis, without animals fearing humans in any way. Beautiful nature goes hand in hand with this.
In this guide, you will find everything you need to arrange an amazing vacation in the Galapagos Islands.
Why go to the Galapagos?
What are the main reasons to visit the Galapagos Islands?
You love diving and snorkeling.
You love animals (especially giant tortoises, sea lions, iguanas, and pelicans).
You like the sea and beautiful beaches.
You want to see something you won't find anywhere else in the world.
It could be said that the entire Galapagos is a national park – 97 percent of it, to be exact. It's simply a very well-protected piece of the world, which has become, from our perspective as visitors, the best zoo in the world!
Everywhere else in the world, wild animals are afraid of humans, but in the Galapagos, sea lions won't hesitate to throw a human off a bench because they know humans will give way. Here, you just have to watch your step, so you don't accidentally step on something, because even iguanas don't have a tendency to move away.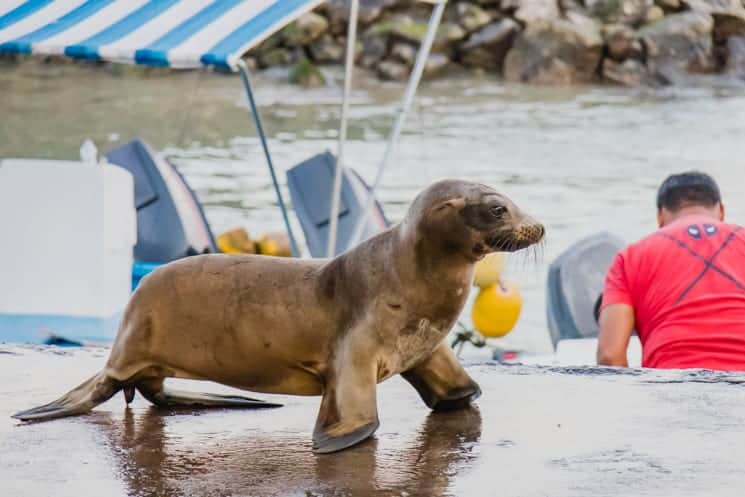 When is the best time to go to the Galapagos?
You can visit the Galapagos practically all year round, but the best season is from December to May when it is warmer and the sea is calmer. This also means better visibility for diving and snorkeling.
From June to November, it is cooler. During this time, you will need a wetsuit for snorkeling and diving.
Weather in the Galapagos
As the Galapagos Islands are located on the equator, the weather does not change significantly throughout the year. The temperature ranges from around 16°C (lowest temperatures) to 32°C (highest temperatures).
For a better overview, you can check the temperature chart for the Galapagos Islands during each month.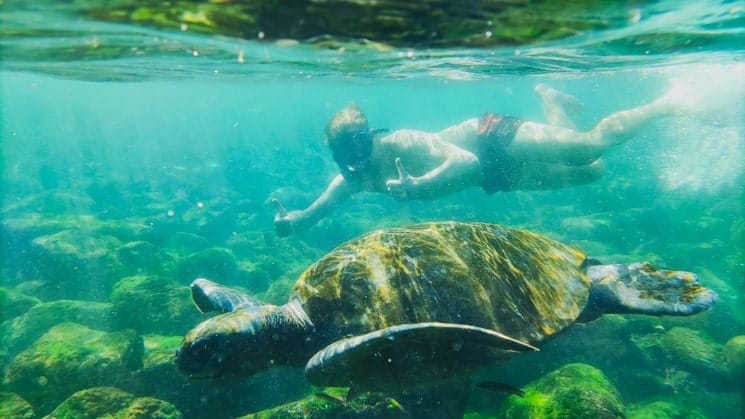 How to get to the Galapagos?
Flights from Europe
Finding good flights from Europe to the Galapagos can be tricky. It is ideal to first search for round-trip flights from Europe to Ecuador (either Quito or Guayaquil) and then separately from Ecuador to the Galapagos. We recommend trying to search for flights from other airports than your nearest ones. Because we live in Prague, I would be searching flights from cities like Vienna, Frankfurt, Berlin, Munich, or Madrid. We usually use our favorite Skyscanner, or alternatively Kiwi or Kayak for searching.
Also read our article: Smart Tips for Finding Cheap Flights
Flights to the Galapagos from Ecuador
Two companies fly from Ecuador to the Galapagos – Avianca and Latam. Latam can be a little bit cheaper.
Watch out for the cheapest fares (XS)! Be careful to check if the fare is only for Ecuadorians – they have exceptions and double prices for locals and tourists. If you buy a ticket marked only for locals (XS fare), you risk having to pay an additional $150 at the airport.
You can search for flights to the Galapagos from Quito or Guayaquil and fly either to Santa Cruz (Baltra) or to San Cristobal.
TIP: To save time and travel between islands, buy tickets to St. Cruz and return from San Cristobal (or vice versa).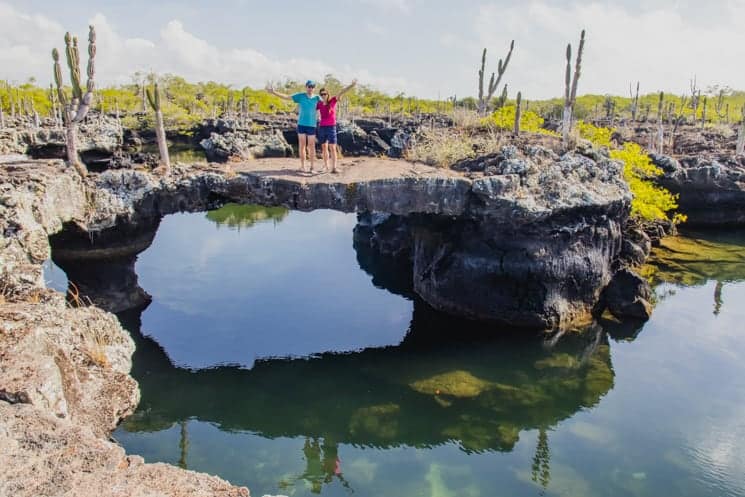 Entry requirements for Galapagos
Visa for Ecuador
When entering Ecuador, be careful that you must have a return ticket from the country – officially, it should be enough to provide proof of financial means for staying in Ecuador and a ticket, but it happened to us that we almost missed our flight from Panama due to this formality.
We were saved by the clever service for renting a one-way ticket, Onewayfly – for 20 USD, you can get a document for leaving the country in a few clicks. This comes in handy when you don't know how long you want to stay in Ecuador.
Upon entry to Ecuador, you will receive a stamp in your passport for 90 days.
Entry requirements for Galapagos
You must register online in advance here.
At the airport in Ecuador, you must request a transit card – they have a special counter, and the card costs 20 dollars. It's better to pay in cash (they charge a percentage for card payments).
You then have to go scan your luggage at a special place (they will show you when they issue the transit card).
It is forbidden to bring fresh items such as fruits, vegetables, and animal products. Items in their original supermarket packaging will pass (so, for example, cookies, candies, etc.). It is forbidden to bring spray repellent!
Entry to Galapagos costs 100 dollars – payment is made at the Galapagos airport and can only be made in cash.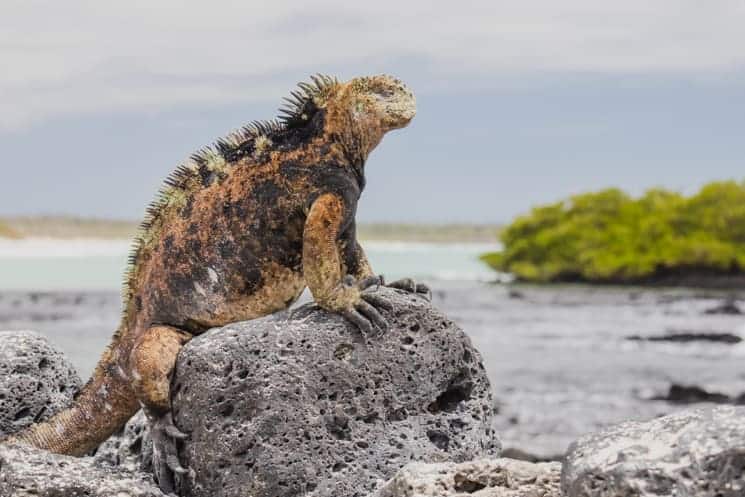 Prices in Galapagos
Prices in Galapagos are significantly higher than in Ecuador, perhaps even double. The most expensive are tours (boat trips to places that cannot be reached otherwise). Let's take a look at some other examples:
Bottle of water (1.2l) – 1-2 $
Refill of one liter of water – 1 $
Barrel of water 2.5 – 4.5 $ (depending on the island)
Lunch or dinner menu 5-8 $ (depending on the island)
Food in a restaurant – from 7-10 $
Room for two per night – 30-40 $
Bread – 40-60 cents
Fresh cheese (about 400g) – 8.5 $
Ice cream – 1 $
Cocktails (happy hour) – 2 for 10 $
Water taxi – 1 $
How much does a vacation in Galapagos cost?
After considering all expenses, including flights from Ecuador, food, fees, tours, transportation, and others, our 12-day vacation in Galapagos cost us $1200 per person (in 2023).
If you don't plan to save much, it's possible to spend even more. It's difficult to go on a smaller budget (except by skipping tours, but those are the best thing about Galapagos).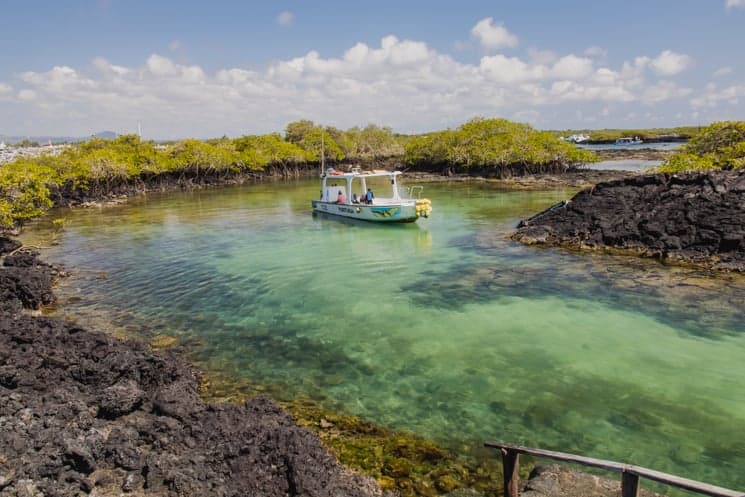 Accommodation
When comparing accommodation prices with mainland Ecuador, accommodation here is significantly more expensive. The lowest price for a room for two starts at $30. For accommodation reservations, we traditionally used Booking.com or Airbnb.
Transportation
Most accommodations are close to the ports, and everything will be within walking distance. For trips to the beach or longer distances, taxis are available on all islands (they are relatively cheap).
Bicycles can be rented on Isla Isabela.
Water taxis operate from the port to Las Grietas on Santa Cruz (for a dollar).
Ferries between islands
All ferries between San Cristobal – Santa Cruz – Isabela have a fixed price of $30. It may increase over time, but if someone tries to sell you two differently priced tickets, tell them, "No, no, no." (That's how a man on Isabela tried to sell us tickets for $5 more).
Although the price is the same, the boats and their comfort level vary, so ask for the Gaviota company, which has very comfortable and cushioned seats compared to others. The journey between the islands takes over 2 hours (and because it rocks beautifully, you might even have a good nap).
Also, prepare some change when boarding the boat – $1 per person upon boarding and disembarking because a smaller boat, a water taxi, will first take you to all the boats from the pier.
TIP: Try to be among the first on the boat and take seats towards the back, where it rocks the least.
Baggage check during departure and fees
When boarding the boat, you will need to be at the port about 45 minutes before departure time (specified on the ticket). There will be baggage checks because, just like upon arrival, fresh fruit, meat, or vegetables cannot be transported.
In addition, you will have to pay a departure tax:
Santa Cruz: $1 upon arrival and departure
Isla Isabela: $10 upon arrival
Inter-island flights
Flying between the islands is also an option. It is much more expensive. Airfare starts from $160 and above. Flights are provided by the company Emetebe. However, this option can save you a lot of time when transferring from Isla Isabela to Cristobal (or vice versa).
Taking the ferry for a direct transfer from Isabela to Cristobal will take up your entire day because only two ferries depart from each island daily. So, if you take the morning one (around 6-7 a.m.), you will have to wait on Santa Cruz for the afternoon ferry (around 3 p.m.).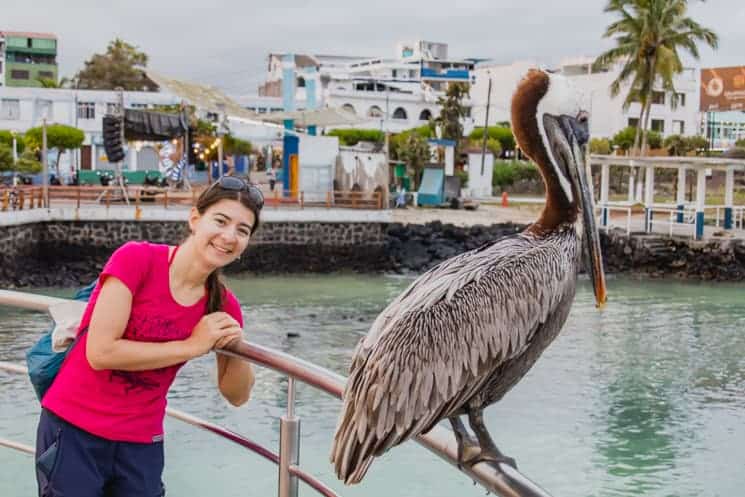 Food
When it comes to food, it's similar to mainland Ecuador, with the difference that the Galapagos Islands offer excellent fish, shrimp, and other seafood. For lunch and dinner, you can find set menus that include soup, a main course, and a drink. Look for "Almuerzo" (lunch) and "Cena" (dinner).
Soup is often fish or shrimp-based, but you can also find chicken or vegetable broth. Among the popular main courses are fish or shrimp, usually served with lentils and rice. You can get such a lunch or dinner menu on Santa Cruz and Cristobal starting from $5 and on Isla Isabela from $7-8 and above.
Prices in traditional restaurants with menus are much higher, and on average, meals start at $10 and above.
If you haven't tried lobster yet and enjoy fish and seafood, we recommend giving it a try!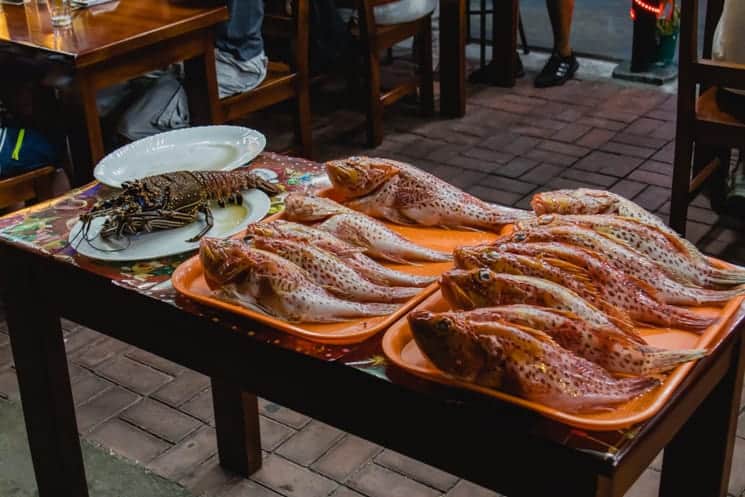 Tours
The most expensive item on the Galapagos Islands are tours and organized excursions. However, we must say that they provide the greatest experiences and are definitely worth it. We're not suggesting going on tours every day, but for example, the 360° tour on Cristobal was the highlight of our month-long trip to Ecuador. So, which tours are worth investing in?
If you could only afford two tours during your entire stay, we recommend booking the following:
360° Tour on Cristobal
Los Tuneles on Isabela
If you have the time and budget, the following tours are also enjoyable:
Las Tintoreras
Sierra Negra Volcano
If you have the money and time to spare, you can also consider visiting:
Bartolomé Island
North Seymour Island
Floreana Island
And then there are many other options available, but keep in mind that tour prices are quite high, especially for the more remote islands.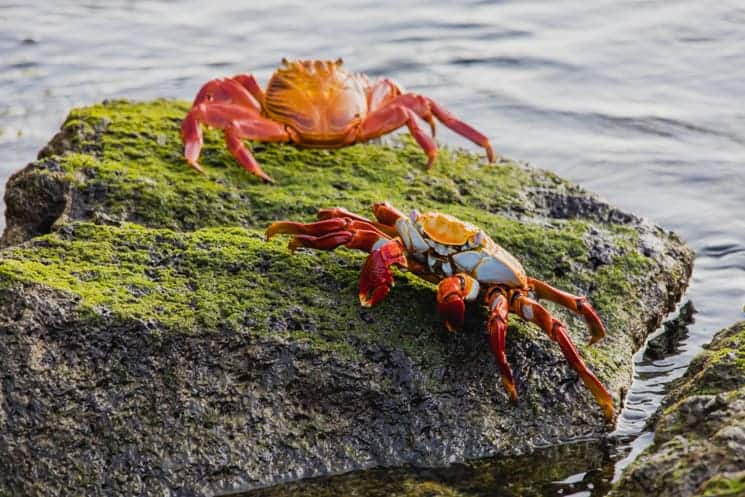 Galapagos Must-See Attractions and Itinerary Planning
You will need to allocate your time among the three main islands (you can reach the smaller islands through organized tours). Personally, we believe that 9 days is enough to explore everything important in the Galapagos Islands. If we divide those 9 days among the different islands, we would suggest spending 2 days on Santa Cruz, 3 days on Isla Isabela, and 4 days on San Cristobal.
If you're looking for a minimum amount of time to spend here, we would recommend at least one week.
Santa Cruz Island
Santa Cruz Island is traditionally either the arrival or departure island due to its large airport. It often serves as the first taste of what the Galapagos Islands have to offer.
How to get from Santa Cruz airport to the town?
The St. Cruz Airport is located on a tiny island above Santa Cruz. To reach the town, you'll need to take a bus, a short ferry, and another bus. The bus from the airport runs at regular intervals, and you can buy tickets at a booth directly at the airport for $5 (on the right side after exiting the terminal).
The next is a short ferry, which costs $1. After that, you'll take another bus for $5. Taxis are also available ($25), but buses are always prepared whenever a flight arrives. The second bus ride takes about 45 minutes.
What to see and do on Santa Cruz Island?
1) Charles Darwin Research Station
If Santa Cruz is the first island you arrive at, take a walk to the Charles Darwin Research Station. It's like a museum where you can learn about the islands. Entrance to the station is free unless you want to pay extra for a visit to the tortoise center, which costs $10 and includes a guided tour (tortoise centers are located on all three main islands).
Speaking of tortoises, you can see all sizes here, from tiny ones to truly massive ones aged 100 to 200 years.
2) Las Grietas
Las Grietas, which can be simply translated as cracks, have formed incredible natural pools within the lava cliffs. It made there a beautiful natural canyon.
To reach Las Grietas, you'll need to take a water taxi from the main dock, which costs $1. It's a short boat ride, but there is no other way to access it. From there, you'll have about a 10-minute walk ahead of you. Like most places, you must visit Las Grietas with a guide. The guided tour always starts at half past the hour. With your guide, you'll first visit the salt flats and make a few other stops before reaching the viewpoints. However, the highlight is the swimming experience itself. We recommend bringing a snorkeling set as you'll encounter fish here. The depth of Las Grietas is truly astonishing!
The entire tour, including swimming, takes about 1.5 hours, and the entrance fee is $10.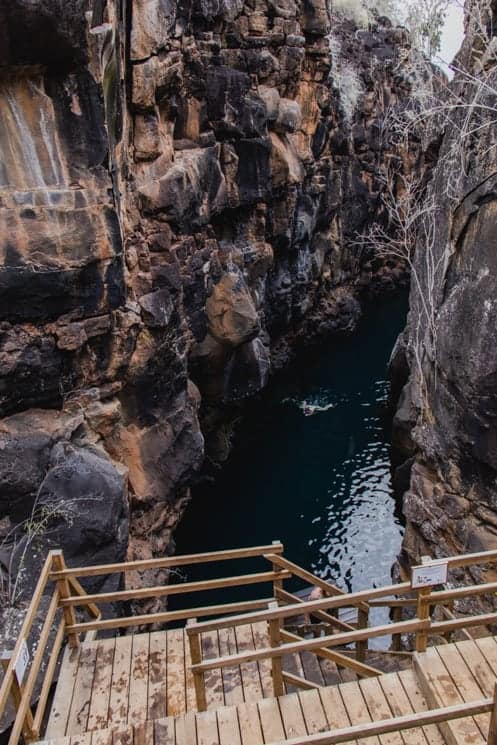 3) Tortuga Bay
Tortuga Bay is a beautiful beach where you can spend a whole day. If you're in a hurry, you can visit Tortuga Bay in the morning and later head to Las Grietas in the afternoon. To reach Tortuga Bay, you'll need to walk (about a brisk 45-minute walk). At the beginning of the trek, you'll need to register again. Admission is free. Tortuga Bay is a popular destination for surfers, but swimming is not recommended due to strong currents. However, there is a bay where you can swim, just a 15-minute walk along the beach, around the corner. The water in the bay is also much warmer than at Tortuga Bay.
Between Tortuga Bay and the adjacent bay, you'll find plenty of iguanas and pelicans.
4) Fish Market
While strolling through the town, don't miss the fish market. It is located on Charles Darwin Street near the intersection with Matazarno Street. It's an incredible spectacle, with sea lions sprawling around the fish vendors, iguanas on the walls, and pelicans eagerly waiting for any leftovers. You can spend hours observing the hungry creatures. We repeatedly visited this theater.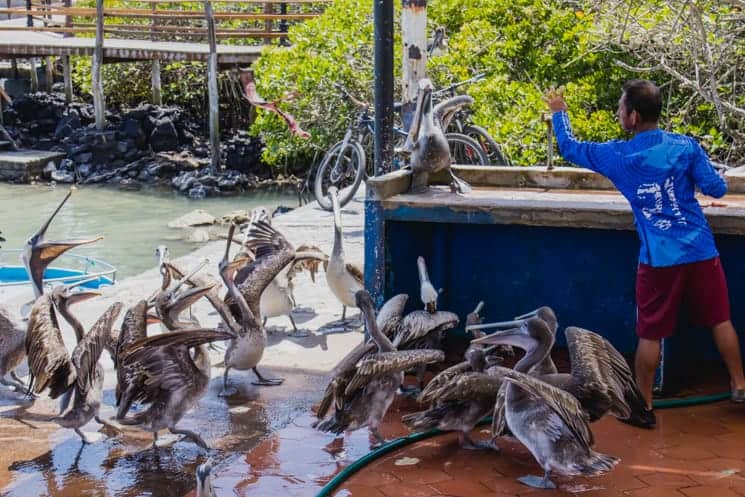 5) Harbor and Main Pier
The main pier offers a similar show to the fish market. If you have a transfer from one ferry to another, you won't be bored. Sea lions occupy the benches meant for travelers, and giant rays, small sharks, massive schools of fish, and occasionally flamingos fly over the railing (especially in the evening).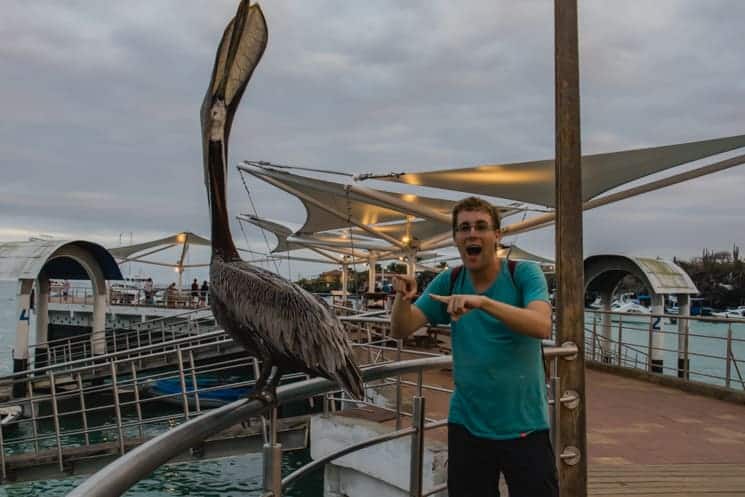 6) El Chalto Tortoise Reserve and Lava Tunnels
The El Chalto Tortoise Reserve is a great place to learn about the giant tortoises found in the area. There are plenty of them freely roaming around the entire island.
In addition to the guided tour, you'll also have the opportunity to walk through lava tunnels. It's a beautiful cave tour with illuminated tunnels. You enter through one entrance and exit through another on the other side.
Taxi drivers commonly offer tours to the tortoise reserve. It costs around $40 and includes the tortoise ranch, tunnels, and a visit to the Los Gemelos craters. The whole experience takes about 3 hours.
7) Los Gemelos
Los Gemelos are craters that are not of volcanic origin. They are sinkholes that formed when the roof of empty magma chambers collapsed due to tectonic shifts. The visit to Los Gemelos takes around 15-20 minutes.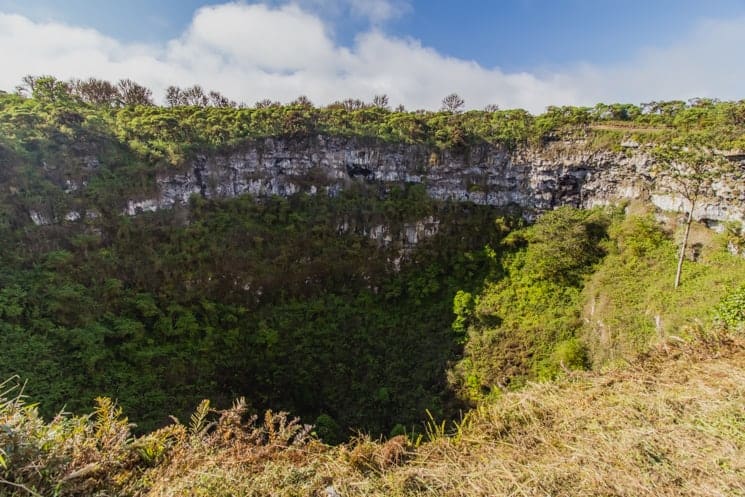 Where to Eat on Santa Cruz Island?
If you're looking for good and affordable food, there is a street called Charles Binford (from the intersection with Av. Baltra) near the center (close to the harbor). You'll find one restaurant after another, all offering lunch and dinner menus for $5. The menu includes soup, a main course, and a drink (some kind of juice).
We fell in love with this street and visited regularly. The most common items on the menu were fish, shrimp with rice, and lentils. The soups were either fish, shrimp, chicken, or vegetable broth.
In addition to local menus, you can also have a whole fresh fish or lobster (around $25).
Where to Stay on Santa Cruz Island?
We stayed at Nuevo Gala House in Santa Cruz, and we highly recommend it. The owner was amazing, and very welcoming, and helped us arrange ferries, tours, and even accommodation on Isabela Island. He can even speak a little English (which is rare in the Galapagos). The rooms are clean, and you can use the kitchen with a refrigerator. The only drawback is that it's not located in the city center (although it's just a 10-minute walk).
Isla Isabela
Isla Isabela, unlike the other two main islands, has only experienced tourism for the last 17 years. According to the locals, it is about 20 years behind Santa Cruz or Cristobal. This is evident even in the poor mobile signal, including Wi-Fi (sometimes even sending messages was a problem). Although it's the largest island in the entire Galapagos archipelago, you can only explore about 3 percent of its area. The rest of the island, like everywhere else in the Galapagos, is a national park.
Regardless of where you stay, everything will be within walking distance. The beach, small shops, and restaurants. It is a really small town, and there isn't much to do.
Isla Isabela is also the most expensive of all the islands (whether it's water, food in restaurants, or shops).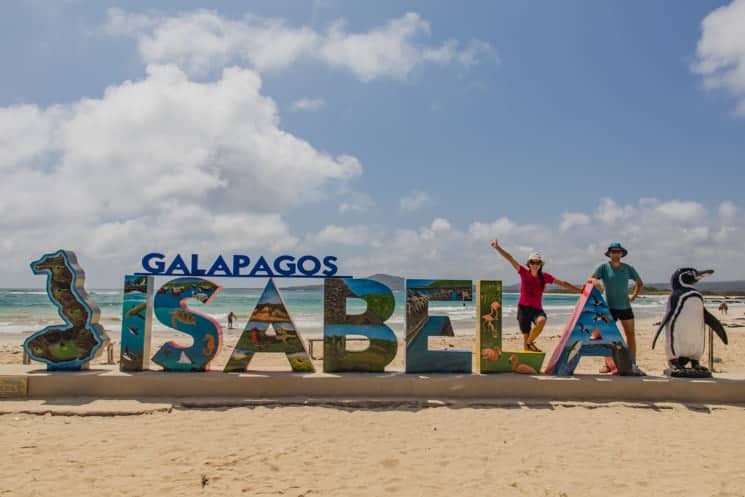 Must-See Places of Isabela Island
If you're wondering what to see on Isabela Island, here are some tips on the most interesting places and activities. The first three on the list are the top ones that you definitely shouldn't miss. If you're short on time, you can start crossing off the items that follow (although visiting these places usually doesn't take up much time).
1) Los Tuneles
Time required for the tour: 7:00 AM – 1:00 PM
A tour to Los Tuneles is one of the greatest experiences awaiting you in the Galapagos. It's a snorkeling trip where you will truly experience what the Galapagos have to offer. First, you'll take a walk on the lava formations, which provide a magnificent view of the clear water. There are fish and turtles swimming in the sea among the cliffs. Then comes the snorkeling part. For us, it was an incredible experience – one giant tortoise after another, and they're not afraid at all, so you can swim closely with them. There are so many different species of fish, seahorses, octopuses, and finally, a cave full of sharks and huge rays.
It's necessary to book the tour in advance because there is a high demand for it. The number of boats allowed to visit Los Tuneles each day is limited. The boats are small and can accommodate a maximum of 10 people. It's best to book the tour ideally before arriving in Isabela (for example, through companies in Santa Cruz).
The price of the tour ranges from $110 to $130. We went with the Medusa company (based in Isla Isabela), which had a price of $120 (if you stay at the Tero Real hostel on Isabela Island, they can arrange it for you at $110). Most agencies on Santa Cruz Island sell this tour for $130.
2) Las Tintoreras
Time required for the tour: 2.5 hours
Las Tintoreras is a group of islands located right by the port. This short snorkeling and sightseeing tour will take you along the coast and also to one of the lava islands, where you can admire the local fauna. You'll visit a beach full of sea lions and a lava corridor where sharks are resting. Besides sharks, we also saw a few penguins on the shore (their presence depends on the season).
The snorkeling part of this tour takes you to explore the lava corridors. During this part, we had the opportunity to see many fish and sharks.
The tour costs around $45.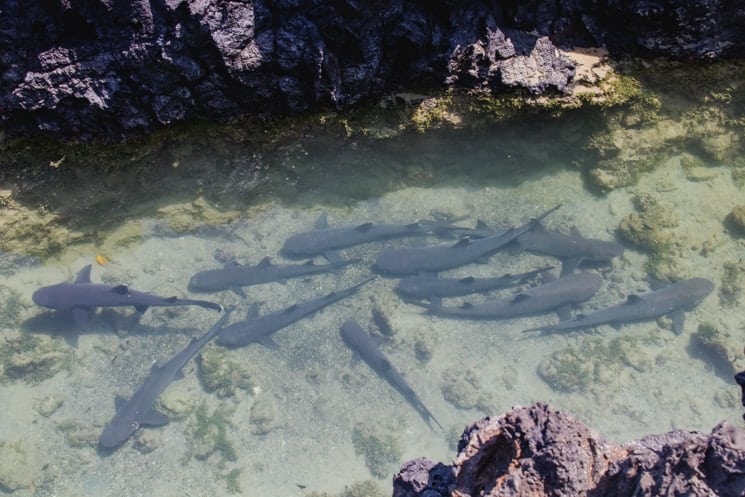 3) Concha Perla
Concha Perla is a beautiful bay where you can swim and snorkel on your own without a tour. You can borrow snorkeling equipment either at the hotel reception or at any dive center (usually for $5 per day). A visit to Concha Perla takes about an hour, but you can spend much more time there because you can enjoy sea lions and their pups along the way, lounging in the mangroves and especially on the benches near the pier, from where you can go swimming.
Underwater, you will encounter many species of fish, corals, turtles, and even sea lions.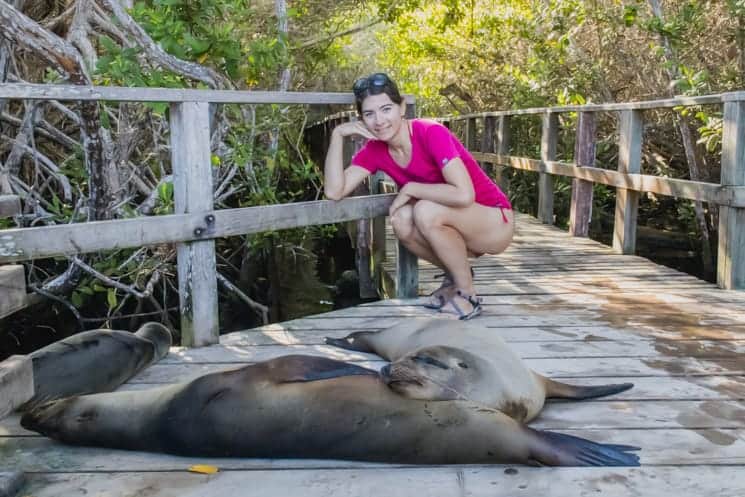 4) Sierra Negra Volcano
Time required for the tour: 7:00 AM – 2:00 PM
If you want to take a hike with views of the rest of Isla Isabela, you can join a volcano tour (unfortunately, you can't go there without a guide, just like most places in the Galapagos).
The tour is half-day long and costs around $35. It starts in the morning when a truck picks up all the people from their hotels. The journey to the volcano takes about 40 minutes. The ascent is usually through clouds and is pleasant, but the descent can be quite hot.
You should be prepared for a brisk walking pace and limited time for photography (usually, we walk quickly, but here it felt like the guides went crazy). Just adding an hour would be enough to do everything without rushing. The trail is 16 km long (8 km there and back) and people usually complete it in 5 hours, including lunch breaks and stops at viewpoints. As part of the lunch package, you get a sandwich, a snack bar, and a small juice.
The Sierra Negra crater is truly enormous, but we found the smaller crater called Vulkán Chico to be more interesting, which is the farthest point you can visit.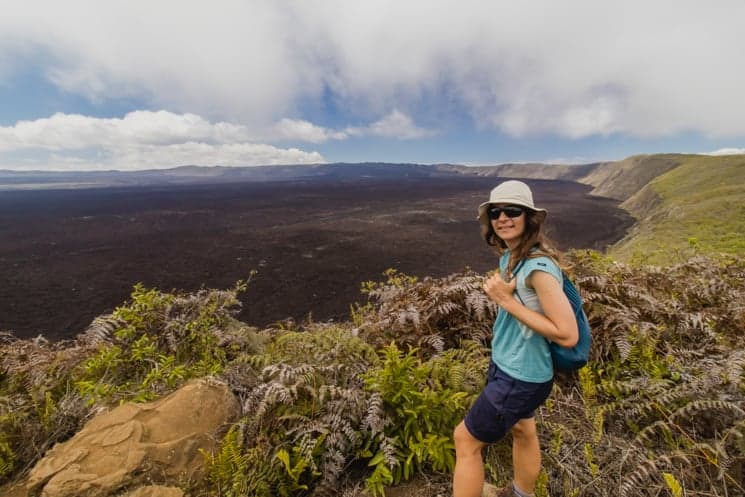 5) Cycling to Muro de las Lagrimas
In the town, you can rent bikes at many places, and it will cost you about $10 per day. One popular trip is to the Wall of Tears, which is a memorial for political prisoners. Besides the wall, you will probably encounter some giant tortoises, you can stop and swim at lizard-filled beaches, explore viewpoints near the lakes, or climb two peaks with viewpoints – Mirador Cerro Orchilla and El Radar at the end of the trail.
You need to register when entering the section where cars are not allowed. Entry is free, they will just ask for your passport number and nationality.
6) Tortoise Breeding Center (Centro de Crianza de Tortugas Gigantes)
An interesting stop is the tortoise breeding center, which is located just a few hundred meters from the town. The entrance fee is $10. Here you can see tortoises that are slightly different from those on Santa Cruz Island. These have somewhat flatter shells. The guided tour takes about half an hour. Afterward, you can walk around and stay as long as you like. The most interesting sight was the turtle eggs and newly hatched tortoises.
During the tour, we learned a lot of interesting information, such as the fact that the older generation still believes that turtle meat is very healthy and excellent for longevity, which is why some of the large turtles (over 100 years old) are kept in closed breeding stations.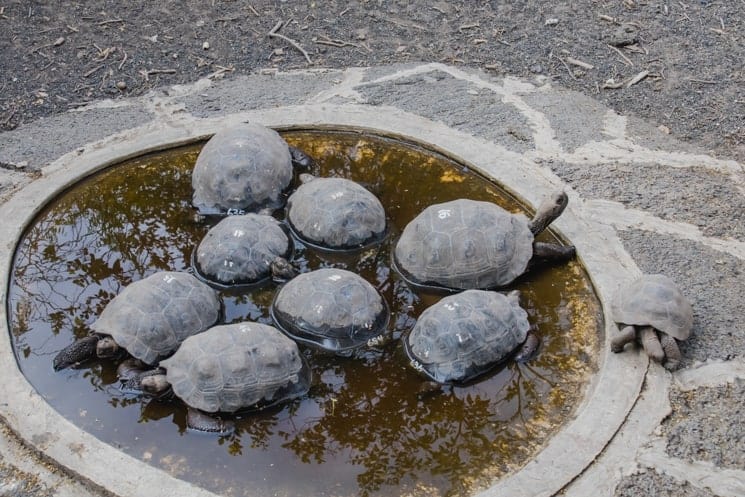 7) Flamingos
Whether on foot or by bike, you can go to observe flamingos. There are three places here. The first is Laguna Salinas, the next is the ponds on the way to the tortoise breeding center – they are called Flamingo Estuary, and you can see the flamingos up close there. The last place is Laguna de Flamencos, which you can find about 250 meters north of the tortoise breeding center.
8) Lizard Nursery at the Beach Viewpoint
If you have any spare time on any day, go and see the beach with the observation tower. On the lava cliffs, you will find a literal lizard nursery, with lots of small lizards. Just be careful not to step on them, as they are well camouflaged.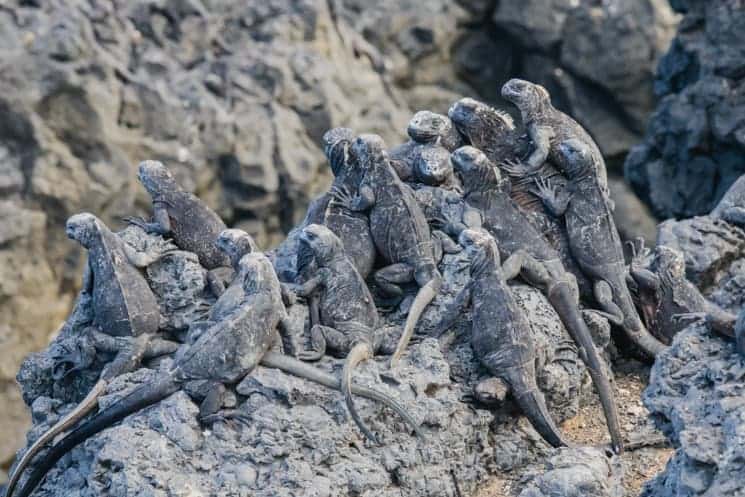 Where to stay on Isla Isabela?
On Isabela, we chose to stay at Hostal Insular. Again, we can recommend it. It is one of the cheapest accommodations on the island, located right in the town center. Comfortable beds, clean bathrooms, and a simple kitchen. You can also rent snorkeling gear or bikes directly at the hostel.
San Cristobal Island
Our favorite island was San Cristobal. If you love animals, diving, and snorkeling, you will love it too! Right upon arrival on the island, you will be greeted by sea lions and seal pups. The beaches of the town are literally swarming with sea lions. You can go and watch this amazing colony, which never gets boring. Sea lions are incredibly playful animals (when they are not sleeping).
The town is very pleasant and lively until the evening, and there are several beaches within walking distance where you can snorkel and swim with sea lions.
What to see and visit on San Cristobal Island
1) Tour 360°
I consider Tour 360° to be the best day not only in the Galapagos but also during the entire trip to Ecuador. We simply hadn't experienced anything like it before, and I have to say it was worth every dollar we paid for the tour.
Tour 360° takes you around the whole island, with several snorkeling spots, excursions, and wildlife observation.
The most famous stop is at Kicker Rock, known for its hammerhead sharks. Well, we saw a whole school of them, about 20 swimming around us at once. Besides sharks, there were also plenty of turtles, fish, and even the inflatable one!
Along the way, we came across a school of dolphins and even a whale with a calf (this wasn't completely planned, but we were lucky). We also saw a jumping manta ray.
During the snorkeling stops, we saw lots of fish and an amazing sea lion that was playfully interacting with us.
And apart from marine life, we observed birds as well. The most famous ones are the Blue-footed Boobies, which indeed have blue feet.
And it wasn't just about that; the service on the boat was luxurious, with lunch, snacks, coffee, and water, they took good care of us, and provided wetsuits, excellent masks, and snorkels. Here, we can recommend the agency Hammerhead Discovery.
2) Kicker Rock (León Dormido) for diving
If you have a diving license, it's highly recommended to pay for dives at Kicker Rock. Just based on what we saw while snorkeling there, it's clear to us that diving must be phenomenal.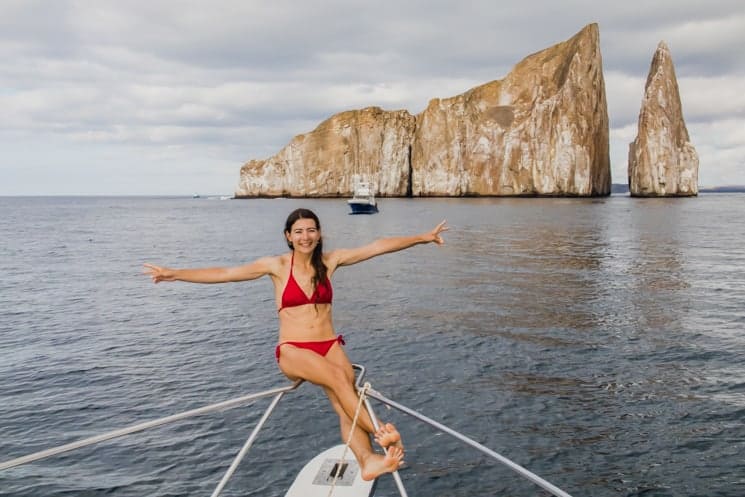 3) La Loberia Beach
About 2.5 km from the town, you can walk or take a taxi for $4 to reach La Loberia Beach. From where the road ends, you have to walk a little further. As the name suggests, it's a beach full of sea lions. And not just sea lions – snorkeling here is divine. We swam with about 6 sea turtles all at once, so close that it was almost a challenge not to bump into them.
Upon arrival, you need to register again. If you want to snorkel in the water for a longer time, we recommend renting a wetsuit because the water is quite cold.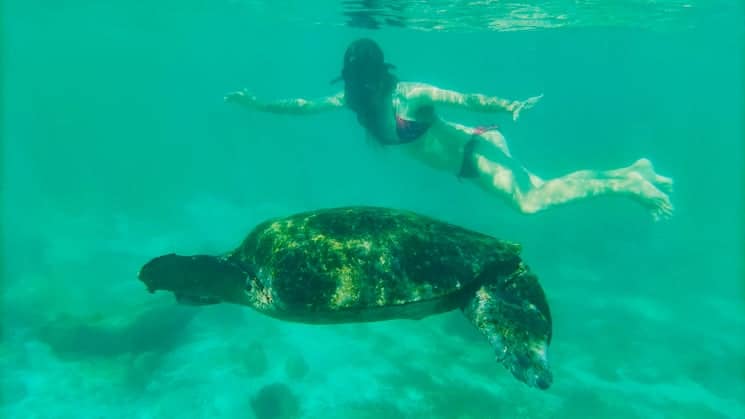 4) Snorkeling and Sea Lions at Punta Carola Beach
On the way to Tijeretas Bay (or on the way back), make a stop at Punta Carola Beach near the lighthouse. They have a literal sea lion kindergarten here. Little sea lions play and frolic in the water, and the larger ones even surf on the waves! Snorkeling here is also an experience. There are turtles, but most importantly, you can have fun in the water with the sea lions, which they clearly enjoy!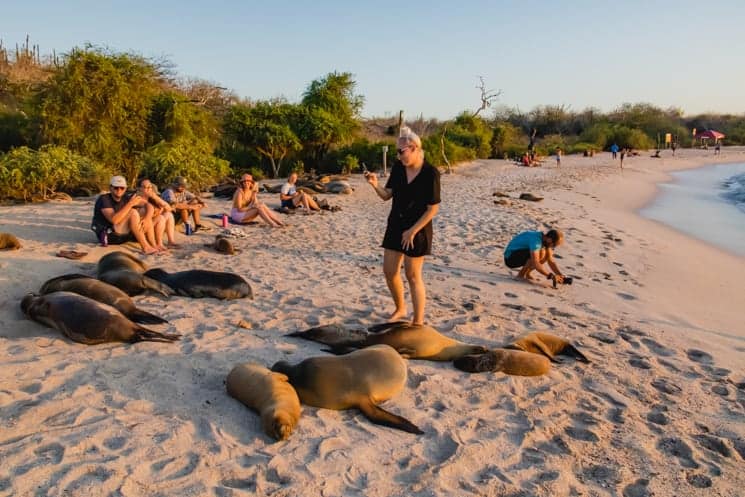 5) Cerro Tijeretas Viewpoint
On the way to Tijeretas Bay, don't forget to climb up to this beautiful viewpoint.
6) Tijeretas Bay
One of the most renowned snorkeling spots is Tijeretas Bay. This beach is heavily influenced by currents, and unfortunately, snorkeling can be quite dangerous here during high waves due to the reefs. You can tell if it's safe to enter the water based on the flag displayed. If you're lucky with the weather, be sure to snorkel here.
7) Highlands Tour
If you want to take a trip around the island, you can arrange a taxi for $60-80. The tour takes about 3-4 hours, and you will visit the following places:
Laguna El Junco – the hike to the lagoon takes about 15 minutes. If it's not cloudy, there are nice views from there.
Galapaguera Tortoise Reserve – San Cristobal also has its own tortoise reserve. Admission is free; you just need to register at the entrance.
Puerto Chino Beach – the final stop is at Puerto Chino Beach, which has beautiful white sand!
8) Interpretation Center
On the way to Tijeretas Beach and the viewpoint, you will also come across the Interpretation Center. It's a visitor center where you can learn interesting information about the islands.
9) Playa Mann
On the way to the beach with the lighthouse (or to Tijeretas), you will come across an inconspicuous little beach. If the waves are too big elsewhere, this one is sheltered and suitable for swimming. There are also friendly food stalls where you can find a meal for $5.
10) City Beach with Sea Lions
As I mentioned at the beginning, you can spend hours at the beach with sea lions. You can observe territorial fights, feeding young pups, or little sea lions playing in the water. This never gets boring.
Where to stay on San Cristobal Island?
On San Cristobal Island, we stayed at La Casa de Jeimy, which we can also recommend. Pleasant owner, comfortable beds, drinking water, a simple kitchen, and a clean bathroom. The accommodation is just a short walk from the main pier and the beach with sea lions.
Map of the all most beautiful places to visit in the Galapagos
Here, we have prepared a detailed map of the Galapagos with all the important points worth visiting.
The map can be exported and uploaded to mobile apps like Locus Map or Maps.me. This way, the map can be used completely offline!
You can find all our travel planning maps here.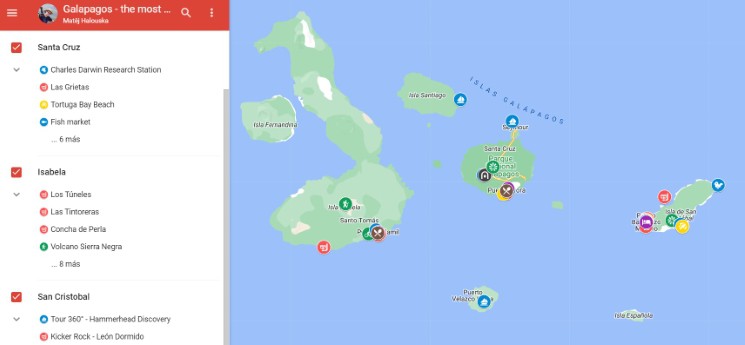 Also, read our comprehensive article about Ecuador:
Pin Galapagos Islands Guide for later or to your friends:
When is the best time to go to the Galapagos?
Galapagos Must-See Attractions
Do you like our post about Galapagos? Share it with your friends!
Disclosure: Please note that some of the links above may be affiliate links, and at no additional cost to you, we earn a commission if you make a purchase. We recommend only products and companies we personally use and we use this income for further improvement of this website. Thank you!