Where and how to find cheap hotels and accommodation? We have some tips from our personal experience on how to save money on accommodation during travels.
Booking.com – cheap hotels around the world
You will find the best deals on Booking.com in most of the world. We book the majority of our accommodation through Booking website and we have only great experience.
Use this link to get a 10% discount for your first accommodation.

Agoda – cheap accommodation in Asia
If you are searching for accommodation in Asia, you can find the best deals on Agoda.com website. We have also booked a lot of our accommodation through Agoda and we can totally recommend it.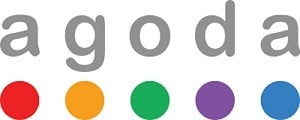 The lowest price guarantee for cheap accommodation
Both Agoda and Booking offer the lowest price guarantee. If you have booked for example your hotel on Booking and you will find a cheaper deal anywhere else, they will pay you the difference.
Airbnb – $40 discount for cheap accommodation
Another option is to use the Airbnb website. You can usually find a really nice apartment for the price of a budget hostel. We also have only great experience with Airbnb.
If you don't have an Airbnb account yet, use this link to get a $40 discount for your first stay.

Couchsurfing
If you want a cultural exchange and experience in addition to accommodation, you can try Couchsurfing. The hosts offer free accommodation at their home.
However, you shouldn't just take it as free accommodation but give it something extra from you. For example, bring a gift from your country or cook dinner for your host. Tradition is also to sit and talk in the evening together.
Personal experience
We have already used Couchsurfing several times in different countries and so far we don't have a single bad experience. The hosts were always nice and prepared for us a feast for dinner many times. Sometimes they even guided us around town or gave us great tips on what to visit.
How to use Couchsurfing?
First, you need to register at Couchsurfing.com. It is important to fill out your profile carefully, upload a photo, and ideally ask your friends who are already on Couchsurfing to write you some reference. It's good to add your friends to your network too. The profile then looks more trustworthy.
How to reach guests? In the basic version of Couchsurfing, you have the possibility to send 10 applications per week. You can purchase a verified membership with which you can send an almost unlimited number of requests. This membership is permanent (it is paid only once).
It is a good idea to choose hosts carefully, ideally with similar interests and good response rates. Write about what you have in common and why you would like to stay with him or her. You can send out more requests, some of them will usually not be currently available.

House sitting
House sitting is another way to get accommodation for free. It works so that people who have pets leave for vacation and need to help with the animals for the duration of their vacation. You can get accommodation in a beautiful home in exchange for animal care.
The world's most widely used house sitting portal is
TrustedHouseSitters.com. An exception is New Zealand, where most of the house sitting offers are on the Kiwihousesitters.co.nz portal.
Personal experience + How to use house sitting?
We have tried house sitting in New Zealand and we can only recommend it. It's the cheapest way to stay. It is important to thoroughly fill out the profile, including photos (ideally with pets). In addition, we recommend you to set an alert for newly added house sitting offers and write them off as soon as possible.
For some homeowners, even a Skype or phone conversation is enough, others prefer a personal meeting. Initially, it is a good idea to take house sitting even for a shorter period of time (eg a weekend) to get a reference. Once you get the first reference, you won't have a problem finding the next house sitting.


More tips