Ultimate Online Guide to the best places to visit and see on your South Norway road trip. Hiking trails, glaciers, waterfalls, viewpoint, cities, national parks, famous tourist attractions, hotels and more.
Norway is an incredibly beautiful country to visit, so it should be part of your Scandinavian itinerary. You can find more general information about traveling in Norway in this detailed guide. Let's have a look at the most beautiful places to visit on your South Norway road trip. We divided this guide to the following sections: hiking trails, glaciers, waterfalls, viewpoints, cities, and others.
Hiking trails in South Norway
1) Trolltunga – Troll's tongue
Trolltunga is probably the most photographed place and one of the most beautiful places in Norway. If you want to take a picture on the "Troll's tongue", get ready for an all-day hike. This trek is 25 km long and you will need to climb 900 meters of elevation. The shortest time to do whole Trolltunga trek is about 8 h, but count rather 10-12 h for hiking. Especially if you can't get to the troll's tongue early in the morning or late in the evening. There is a 1-2 hour long line for a photo during the day.
In terms of difficulty, it's mainly about the long distance. Technically, the journey to Troll's tongue is not difficult and everything is well marked. The advantage is that you don't need to bring water for the whole trip because you will encounter several sources of drinking water in the form of mountain streams during the walk.
Parking at Trolltunga trail
It is possible to shorten the journey and head out from the upper parking lot. However, this car park has a capacity of only 30 cars, so it is almost impossible to get a place (you have to arrive at 6 am when the parking opens and hope for an empty place). The second option is to take a bus that costs 130 NOK (13 EUR). However, even the lower car park is filling up quickly and it has a capacity of approx. 200 cars. It's usually completely full by 9 am.
Upper parking lot fee is NOK 700, lower is 500 NOK. The third option is to leave your car in the Odda village and take a bus for NOK 250 including a return trip. If you don't have a car, check this guide on how to get to Trolltunga.
Hotel near Trolltunga: For those who do not want to sleep in a tent, the closest options are in Tyssedal. We recommend Fjellheim Apartment.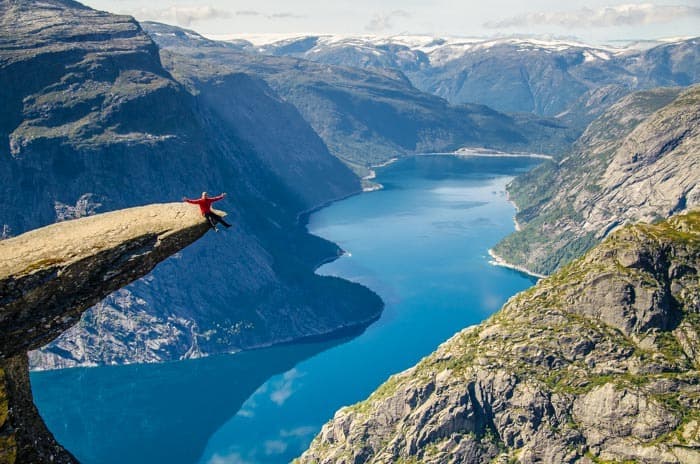 2) Kjeragbolten
Another famous photo on a rock Kjeragbolten, which hangs over a 1000m high chasm, can be taken on this trail. This hike is not the easiest. Prepare for a 10-km walk on the rocky terrain. Many parts of the trail are so steep, that they needed to build metal chains there. So it is actually kind of a "via ferrata".
Count with 5-8 hours for hiking this trek. Unlike at Trolltunga, there usually isn't a long line on the Kjeragbolten because this stone looks much more dangerous and not everyone dares to enter it. All the other hikes can be done even in rainy weather, but Kjeragbolten is quite dangerous in the rain and right after the rain because the wet rocks are very slippery. Read more about this trek here – how to hike Kjeragbolten.
You will be charged 300 NOK for parking.
Hotels near Kjeragboleten: The nearest hotel is Sirdal. Cheaper and slightly farther is Byrkjedalstunet.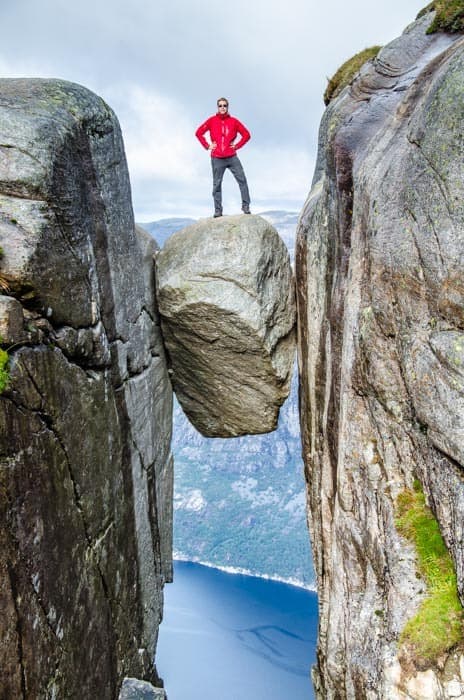 3) Preikestolen (Pulpit Rock)
Along with Trolltunga, Preikestolen's Pulpit Rock is probably the most famous photo spot South Norway has to offer. The perpendicular wall above fjord – the so-called "pulpit" is an absolutely epic place. And this trail has the advantage over Trolltunga that it's relatively easy – only 8 km with an elevation of approximately 350 m.
Hiking the whole trek to Pulpit Rock takes about 4 – 5 hours. Preikestolen is the greenest hike of all these in this post. The others lead all over the rocky terrains, this hike leads mostly through the forest. Preikestolen made it to the list of the best hikes in Europe.
You will be charged 200 NOK for parking.
Hotels near Preikestolen: The nearest hotel Preikestolen Fjellstue is right at the beginning of the trek. Cheaper and slightly farther is Selemork Hus.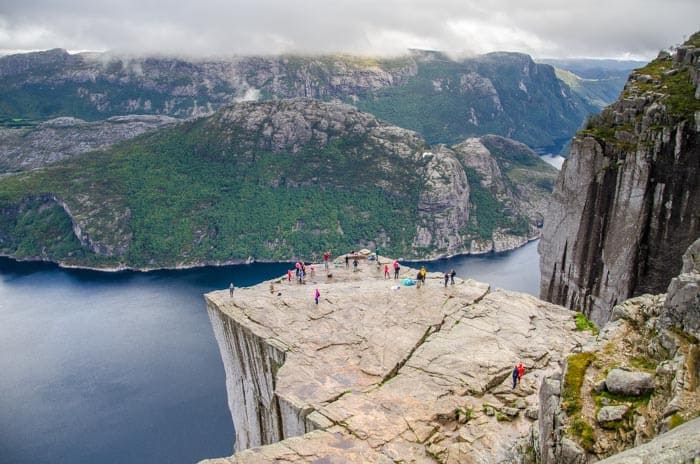 4) Bessegen ridge (Jotunheimen National Park)
Bessegen is a wonderful trail in Jotunheimen National Park. You can look forward to incredible views of two lakes that have completely different colors (one is glacier lake, the other is not). You will see the snowy peaks of Norway's highest mountains in the background.
The trail is usually hiked one way. You need to take a boat on Lake Gjende from Gjendesheim to Memurub, or start with a trail first and go back by boat. Prepare 6-8 h for the hiking itself. It's 17 km long and you will surpass huge elevation. It's often very windy too. However, it's definitely worth it!
Hotel near Bessegen: We recommend to stay in Bessheim Fjellstue og Hytter cottages, which are close to the beginning of the trek.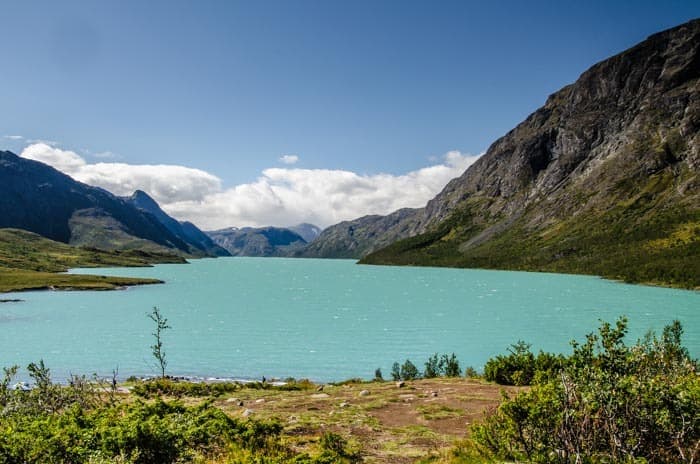 5) Gaustatoppen
A shorter trip to the pretty Gaustatoppen mountain with 360-degree views of south Norway. If you go from the nearest car park at the bottom cable car station, hiking takes about 3-4 hours in total. It's also possible to take a lift up the cable car (but it costs 350 NOK). On a clear day, 1/6 of all Norway is visible from Gaustatoppen mountain.
You will be charged 150 NOK for parking.
Hotel near Gaustatoppen: The nearest hotels are in the village of Rjukan. We recommend Rjukan Gjestegaard.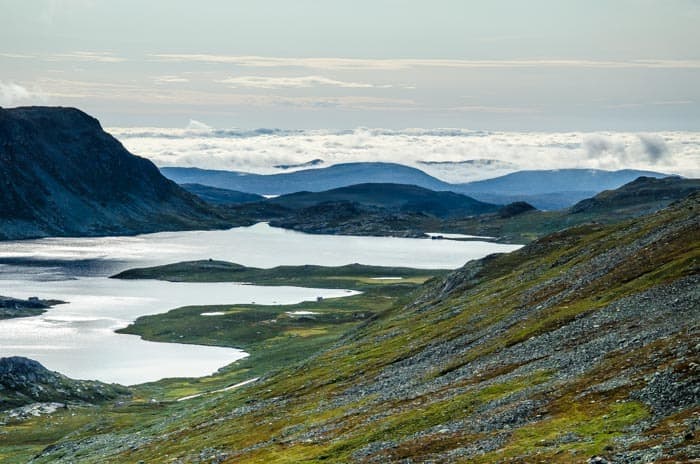 Viewpoints in South Norway
6) Trollstigen
The view of the troll road Trollstigen is absolutely amazing. This road, which overcomes huge elevation in short distance, is on many screensavers and wallpapers in Windows. Driving this road is also worth it, it just needs patience while passing oncoming cars and buses.
Hotels near Trollstigen: The nearest hotel is Trollstigen Resort or cheaper and little further Åndalsnes Guesthouse.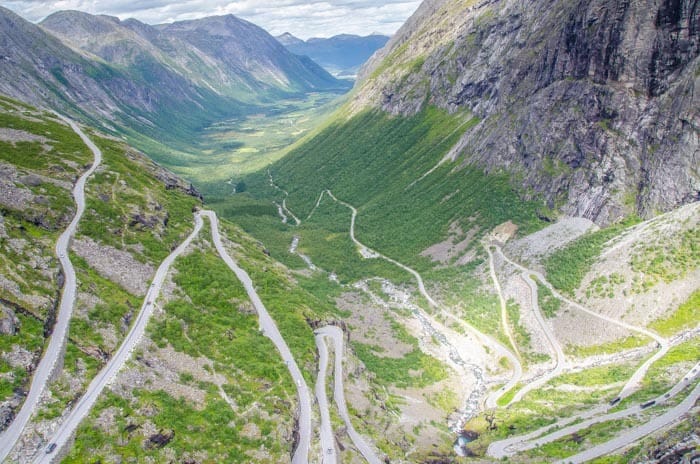 7) Stegastein
Stegastein is a beautiful man-made observation platform above the Aurlandsfjord fjord. Read more practical information in this guide to Stegastein viewpoint.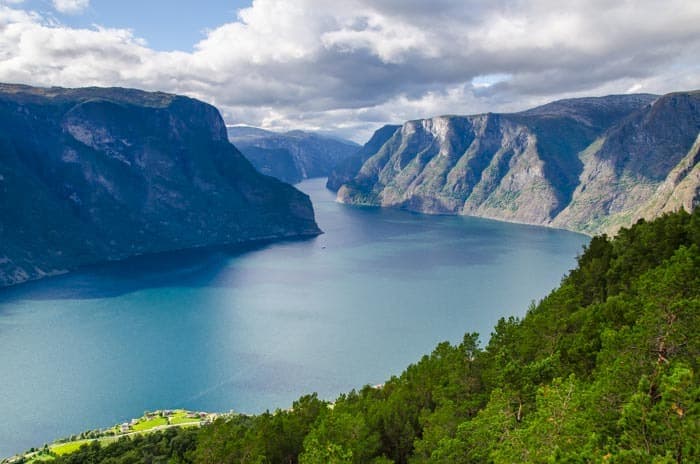 8) Dalsnibba – Geiranger Skywalk
Dalsnibba is an absolutely incredible 360-degree scenic spot! You can see glaciers on one side and Geiranger fjord valley on the other side. The entrance fee is 140 NOK per car, but it is definitely worth it! Just dress warm, it can be cold and windy.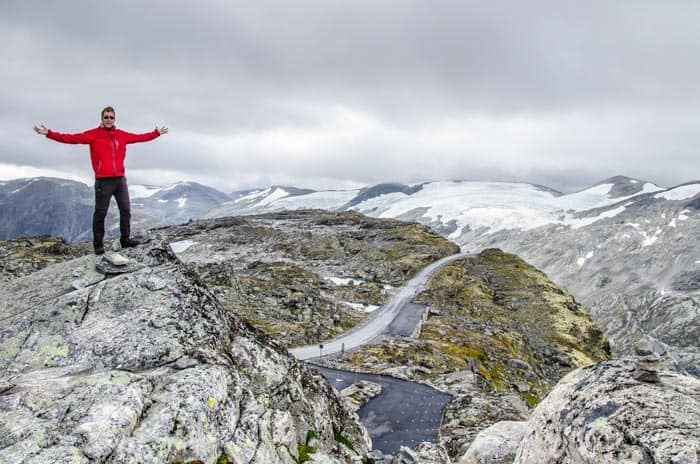 9) Flydasjuvet Rock – Geiranger Fjord
Flydasjuvet Rock is an amazing viewpoint of the fabulous Geiranger fjord. Just a short stop by car and you have plenty of beautiful photos.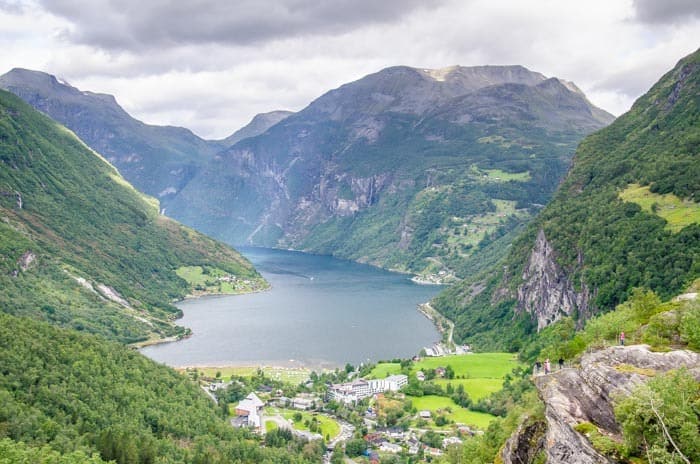 Glaciers in South Norway
It might seem that the glaciers will be mostly in the north of Norway, but also south Norway offers a lot of hilarious glaciers.
10) Nigardsbreen Glacier
Nigardsbreen is one of the most easily accessible glaciers. You need to walk just about 1.5 km long route to get very close. The walk takes approximately 2 hours. It's possible to cut the trip in half with a tourist boat. It is also possible to pay a guided hike and walk directly on the glacier (from NOK 350).
Hotel near Nigardsbreen: We highly recommend the very cheap Jostedal Camping (it's actually a cottage, not camping).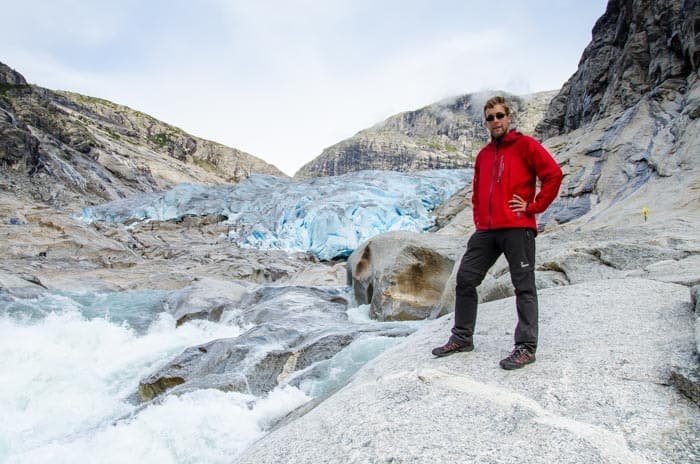 11) Bøyabreen Glacier
A glacier that can be reached by car. Unfortunately, a large part of the Bøyabreen glacier has already disappeared due to global warming, and therefore the tongue of the glacier is quite high on the rock, so it is not possible to reach it completely by foot. But even the view from the nearby parking lot is worth it!
Hotel near Bøyabreen: The nearest and quite a cheap hotel is Lunde Turiststasjon.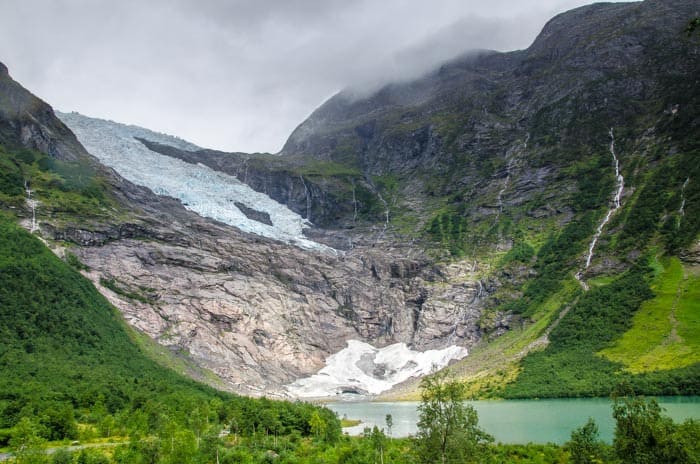 12) Buarbreen Glacier
Buarbreen is another glacier that you can reach very close by foot. The whole trek is about 5 km long and takes about 3 hours. The walk through the picturesque valley along the mountain stream is beautiful itself. This hike is a bit more difficult and there are ropes to help you at some parts of the trek.
Hotel near Buarbreen: You can find the nearest accommodation in Odda. We recommend quite cheap Odda Camping.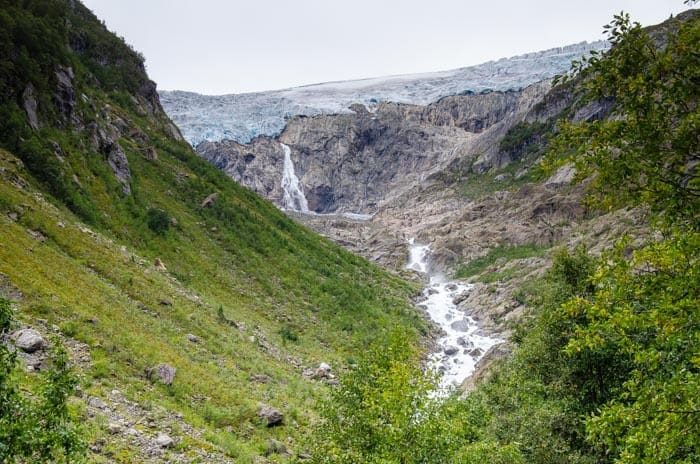 Waterfalls in South Norway
Norway has a truly incredible amount of waterfalls. These are the nicest ones and you can reach them easily by car on your road trip.
13) Tvindefossen waterfall
Tvindefossen is a wonderful branched waterfall right by the road.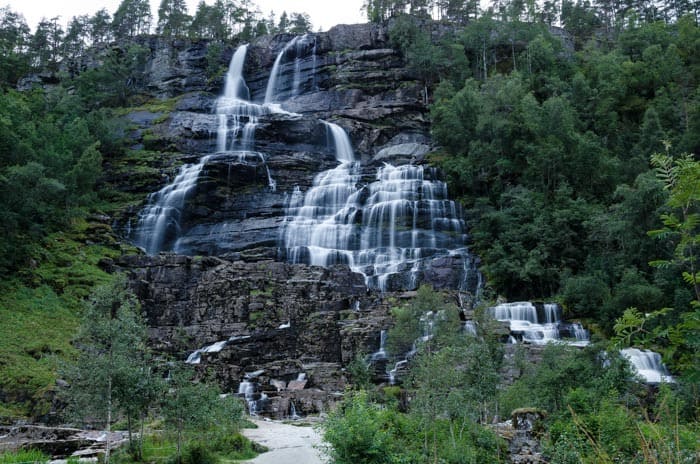 14) Steinsdalsfossen Waterfall
Steinsdalsfossen is a massive waterfall. You can walk directly under it on a footpath.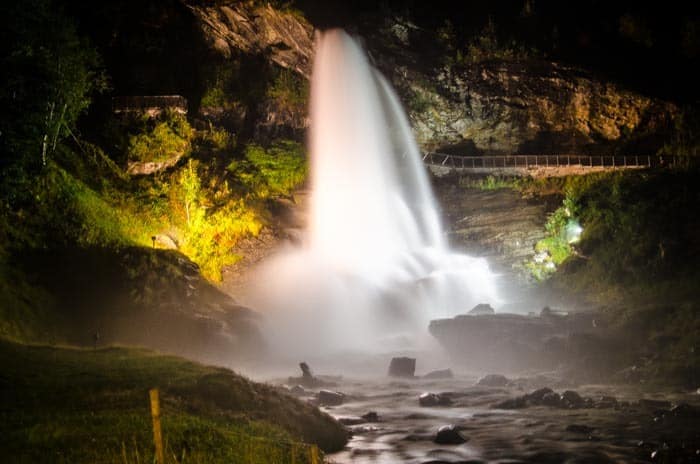 15) Låtefossen Waterfall
Låtefossen is another waterfall right by the road. Passing the bridge in front of him, one can shower himself or his car with the water from the waterfall.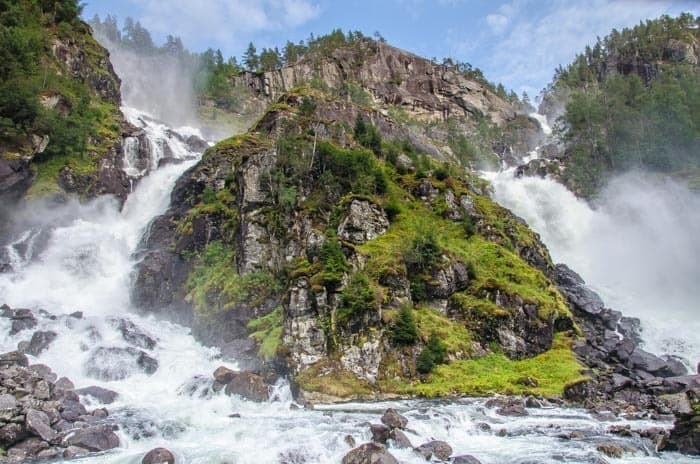 16) Langfossen Waterfall
Langfossen is an extremely long waterfall, which is also accessible by the road.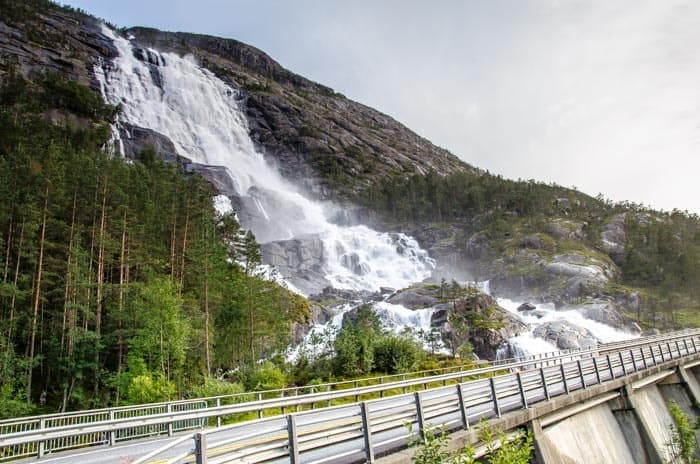 17) Vøringsfossen Waterfall
Vøringsfossen is another amazing waterfall running down the gorge.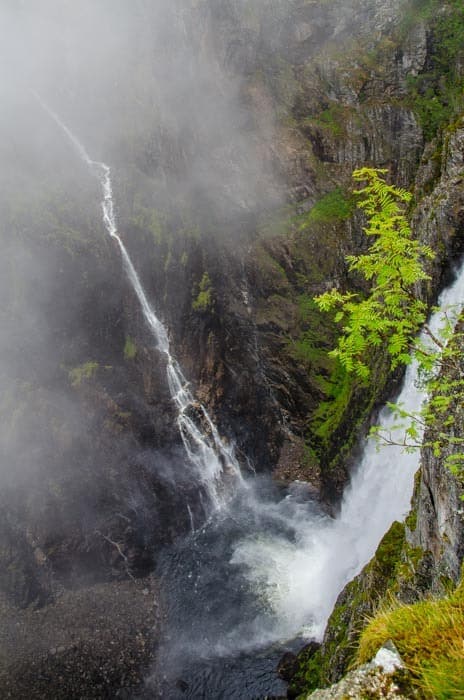 Cities in South Norway
Norway has very picturesque cities, but they are still cities. Norway is famous for its nature, so we recommend to visit the cities on your road trip, but don't spend much time there. Nature is more unique.
18) Oslo
The capital of Norway Oslo is the fastest growing city in Europe. Oslo's main sights can be explored by foot or by bike. Read this 2 days in Oslo itinerary to get some inspiration, what to see.
The most interesting places and tourist attractions to see in Oslo are:
Opera House
National Theater
National Museum of Art, Architecture, and Design
The Viking Ship Museum
Vigeland Park sculpture garden with more than 200 sculptures
Holmenkollen – Mecca of Ski Jumping and Biathlon
Oslo Pass
If you want to spend some time in Oslo and visit museums or join local activities, it's the best to buy the Oslo Pass, which gives you free entry to 30 museums and tourist attractions plus completely free public transport! There are also free entries to outdoor swimming pools, free walking tours and discounts on sightseeing, Tusenfryd Amusement Park, concert tickets, climbing, ski rental, and other special offers in restaurants and shops.
If you want to see some hidden gems, read this guide to quirkiest spots in Oslo.
Hotels in Oslo: We recommend either budget Central City Appartments or slightly more expensive but greatly rated Frogner House Apartments. You can check also other Oslo hotels here.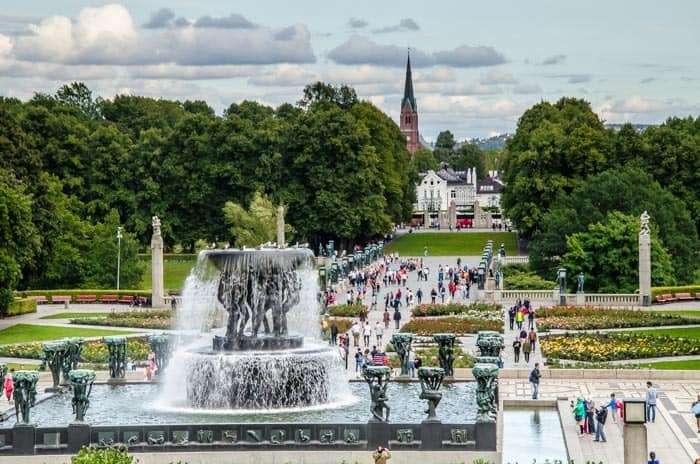 19) Bergen
Bergen is the second most popular city to fly into because cheap flight tickets are common here. The picturesque houses of Bryggen are often in holiday catalogs as a tourist attraction. However, Bergen is the rainiest city in Europe. If you have some time in Bergen, check these unmissable things to do in Bergen and you will not get bored.
Hotels in Bergen: We recommend either budget friendly Bergen Budget Hostel or slightly more expensive but greatly rated Magic Hotel Ixhibition.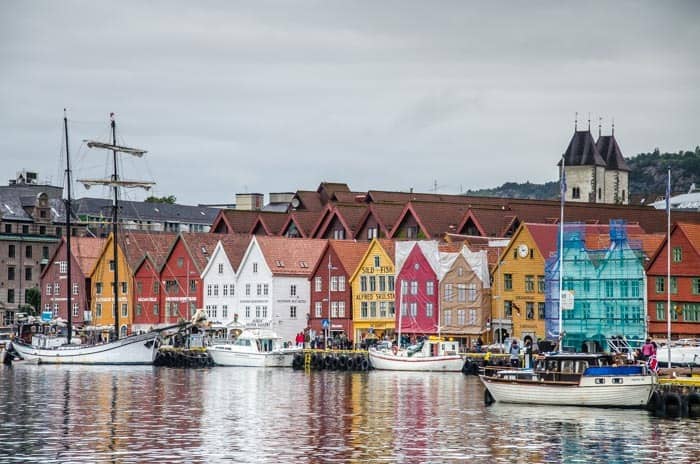 20) Trondheim
Trondheim is another coastal town worth visiting. The Nidaros Cathedral is one of the most beautiful in Norway and views of the picturesque houses from historical Gamle Bybro Bridge is lovely. Another tourist attraction is the Trampe Sykkelheis bicycle lift. You walk by and visit these Trondheim's beautiful places in approximately one hour.
If you have a little more time, visit the Kristiansten Festning fortress, which has a nice view of the whole town.
Hotel in Trondheim: We recommend City Living Schøller Hotel, which is one of the cheapest, well-rated and directly in the city center.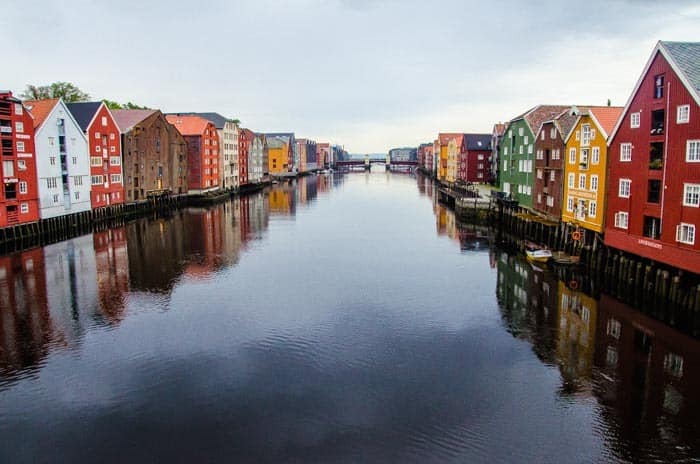 21) Ålesund
Ålesund is a picturesque city on the ocean coast. The most interesting place is definitely the Byrampen viewpoint, from which you can see the whole peninsula, where the city is situated.
Hotels in Ålesund: We recommend either cheaper Volsdalen Camping, which is further away from the center. Or slightly more expensive but well rated and right in the city center – Design Apartment Calm Giant.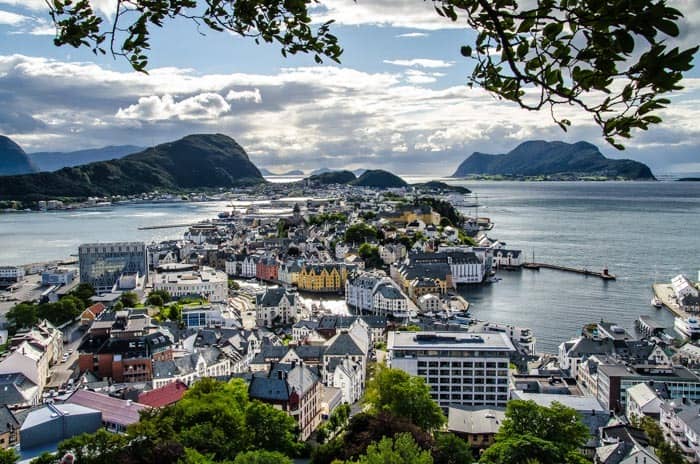 22) Stavanger
Stavanger is the third largest city in Norway. Another picturesque city on the sea coast. You can walk along the port and see Stavanger Cathedral. If you need more inspiration, check this article about the best things to do in Stavanger.
Hotel in Stavanger: We recommend Stavanger Bed & Breakfast with a great central location and good reviews. It's one of the cheapest too.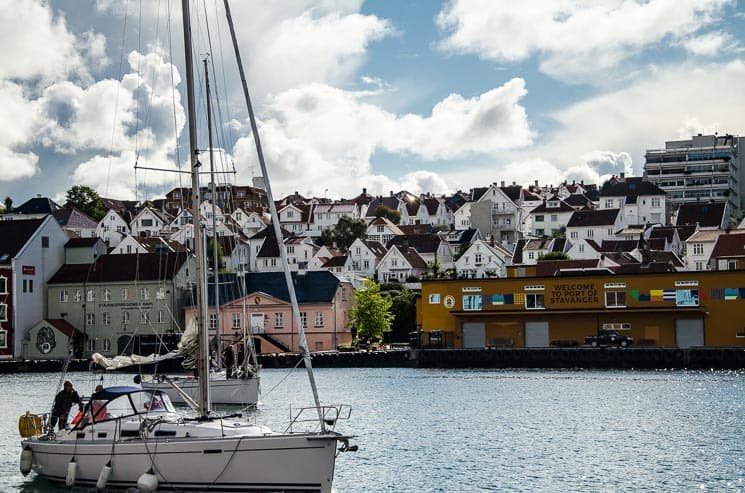 Other interesting places to visit
23) Atlantic Ocean Road Bridge
The road connecting the small islands in the ocean Atlantic Ocean Road is an amazing architectural bridge structure and driving this road on your road trip is a great experience. Moreover, there is nothing to pay for driving over the bridges!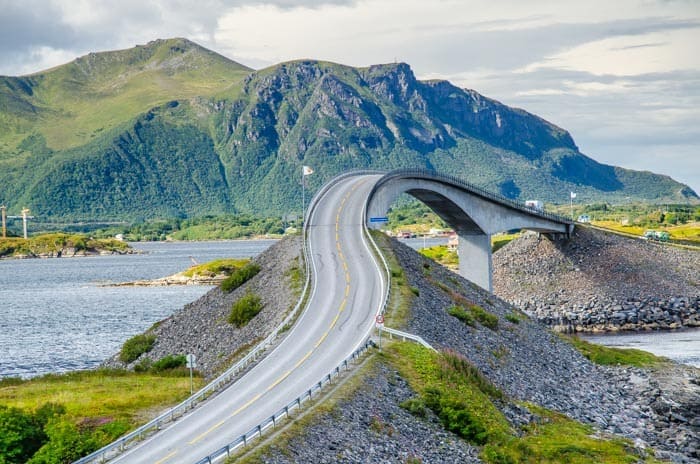 24) Heddal stave church, South Norway
The largest stave church in Norway – Heddal is extremely photogenic. A short stop is definitely worth it!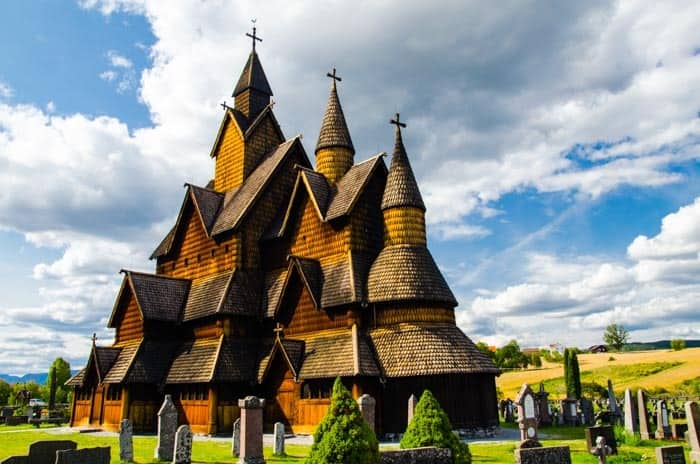 25) Lindesnes Lighthouse, South Norway
Lindesnes is a photogenic lighthouse on one of the southernmost corners of Norway. Views of the surrounding cliffs are amazing.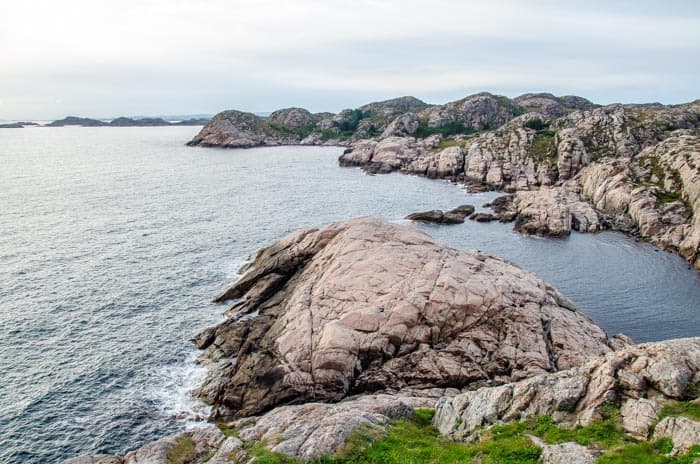 26) Rondane National Park, South Norway
Rondane is another beautiful national park that South Norway offers and where you can spend a lot of time and go on various hiking trails.
Hotel near Rondane: The nearest hotel is Øvre Nordli, which is quite cheap, well rated and is right next to the national park border.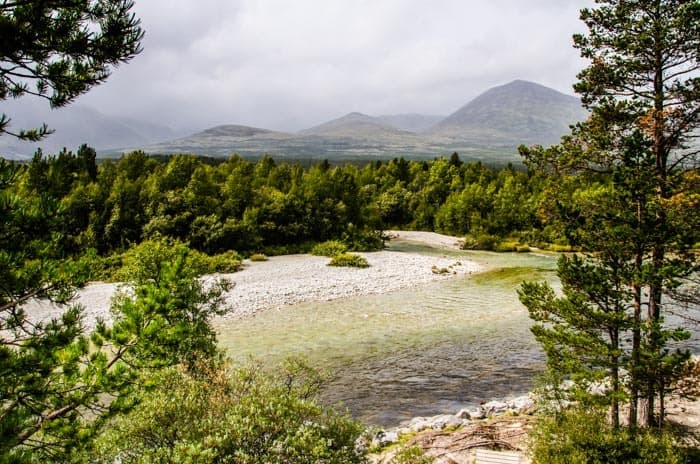 Map of best places to visit in South Norway
We have prepared for you a detailed map of the route and all the interesting best places to visit and see on your road trip to South Norway. You can export the map and upload it to Maps.me or Locus mobile apps.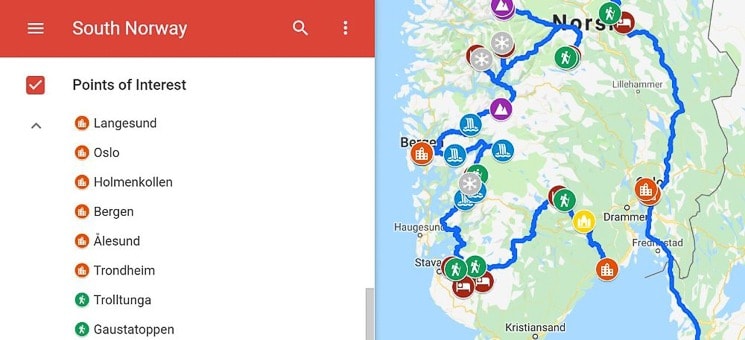 I want to go on South Norway road trip!
And if you haven't read this Norway online travel guide, then we highly recommend to do it!
Are you decided? All you have to do is find the cheapest flight ticket!
If you need to rent a car for your trip, the cheapest car rental offers are here.
And check this amazing video from Norway:
More tips for your travels:
We have prepared for you this comprehensive list of links, discounts, and resources for travel planning in one place. Bookmark this page and whenever you plan a vacation in the future, just open it and save yourself a lot of time.
1) Where to book accommodation?
2) How to find cheap flights?
3) How to rent a car?
We recommend a comparison portal RentalCars.com to compare the best offers of all available rental companies.
Pin South Norway road trip for later or for your friends: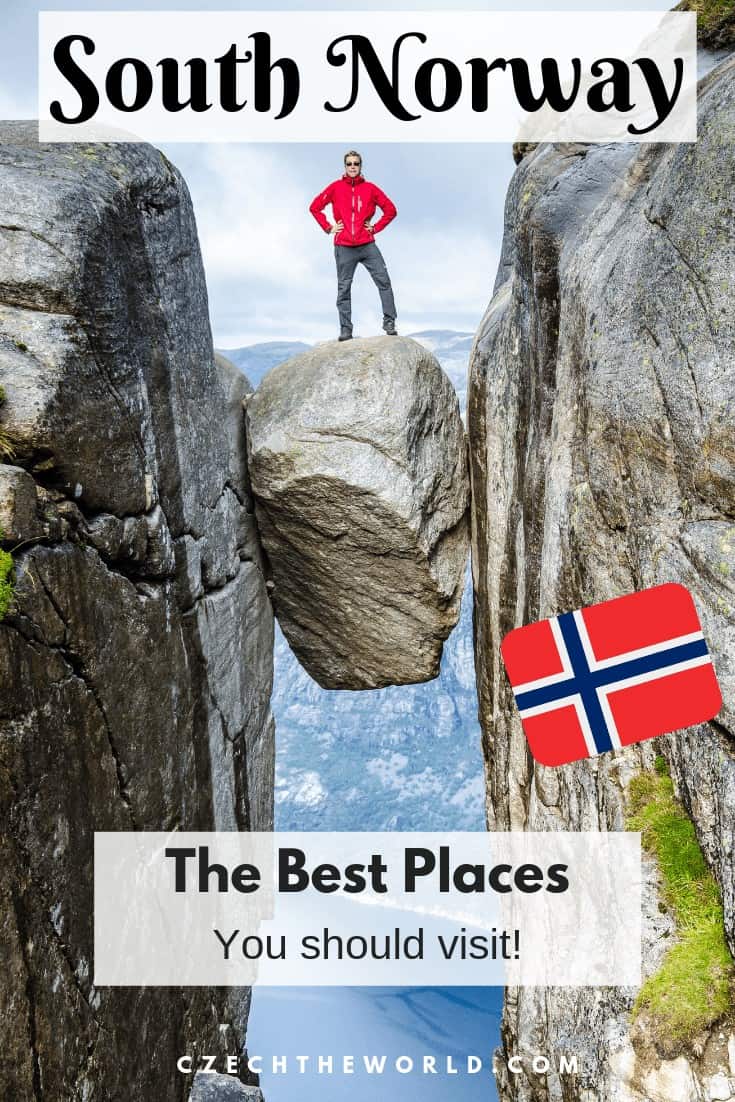 FAQ about South Norway Road trip:
Did this post about South Norway Road Trip help you? Share it with your friends! It can help them too!