This is your online travel guide for your trip to Norway. You will find all the practical information, tips, approximate prices, transportation, weather, ferry information, camping, the best time to visit Norway and more.
Norway is an absolutely unbelievable destination for all nature lovers. Without exaggeration, the whole country could claim as a national park. Endless fjords, magnificent waterfalls, mighty glaciers, and breathtaking national parks, whose beauty underlines picturesque and colorful houses.
Why visit Norway?
Unreal nature – impossible to describe, you have to see it!
Breathtaking fjords – all of South Norway is literally interwoven with fjords cut into steep mountain walls.
Huge glaciers – they are rapidly disappearing due to global warming, but there is still enough of them in Norway. Local glacier fields are among the largest in Europe. Come to see them before it's too late!
Pristine National Parks – Doing some of the one day or multi-day treks in national parks and seeing the virgin nature is really worth it!
Endless amount of waterfalls – they are really at every corner!
Free Camping – Building a tent is legal anywhere outside private grounds, at least 150 meters from the nearest residential building. Save for accommodation and enjoy your sleep in the wilderness.
Easy fishing – Fishing is legal in any salt water (seas and fjords) without any permission in Norway (for fresh lakes and ponds fishing permits are needed). We were fishing for the first time in our lives and caught both a mackerel and a salmon. Everyone can fish in Norway!
Paradise for mushroom pickers – nobody picks mushroom in Norway, so it's quite common to find huge mushrooms right next to the road. Once we found such a huge mushroom, that it was enough for a dinner for 3 people.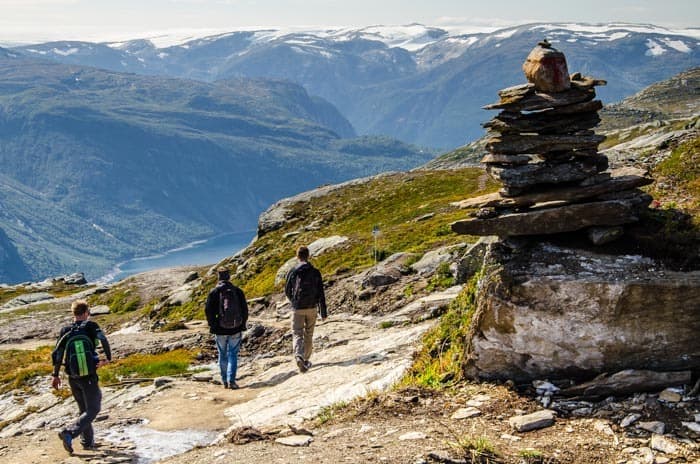 How to get to Norway
Low-cost airlines offer cheap flights to Oslo or Bergen. It is no exception to get a direct return flight from some European city under 50 €. Just beware, that most of these tickets are without checked luggage. Furthermore, be aware that in Oslo or Bergen itself is not much interesting to see. To experience true Norway, you need to go among the fjords.
If you are driving, the best and fastest ferry option is from Denmark's Hirtshals port. From here, ferries run to Langesund and Kristiansand several times a day.
Tip for ferry tickets: prices are lower in the morning (before 9 am) than in the afternoon and evening. Prices vary widely from 30 to 150 €. The cheapest are usually on Fjordline.com.
Another option is to cross the Øresund Bridge between Copenhagen and Malmö. There is a 54 € toll charge for crossing the bridge.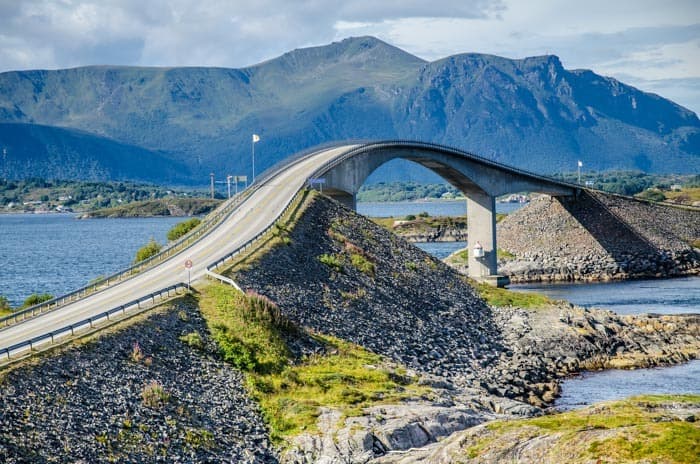 The best time to visit Norway?
You can visit Norway at any time of the year. It depends what you expect from it.
Do you want the best weather and long days?
Visit Norway in the summer. Most likely it will rain less than in spring or autumn (however, it rains almost all the time in Norway, so you can't rely on it). You will have the longest days. The Sun does not set at all behind the Arctic Circle in June and July. But beware that this is the high season and all major tourist attractions places are crowded with tourists.
Want to see amazing spring / autumn colors and avoid tourist crowds?
Visit Norway in spring or autumn. There will be significantly fewer people on all tourist attraction places. But the weather will more likely be worse. It will be also colder and days will be shorter.
Want to see the Aurora Borealis / Northern Lights?
Visit Norway at the turn of October and November or February and March. It's the best chance to see the northern lights at this time of the year. Of course, the more you go north the better.
Want to enjoy the winter snowy landscape?
Visit Norway in winter. However, the temperatures often drop deep below freezing point (up to -30 ° C). Traveling will be significantly slower and lots of tourist attraction places (especially trails) will be closed.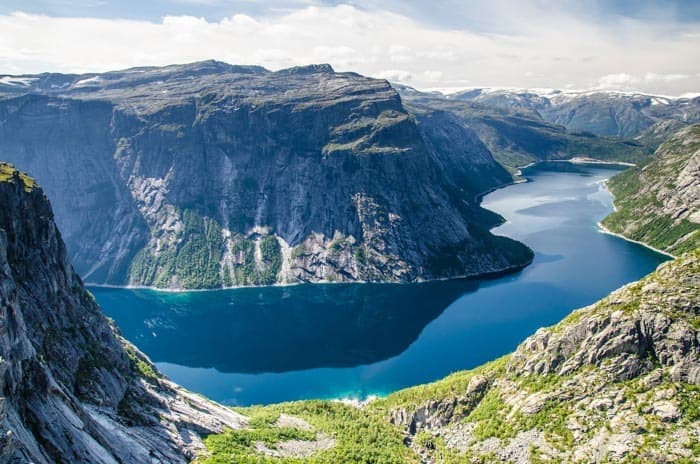 How long do you need for Norway visit?
If you drive a car, south Norway (up to Trondheim) can be done in about two weeks, it is good to have at least 2 people taking turns driving (total over 4000 km). If you want to do all day hikes (which I highly recommend), add a few days more. If you want to go north to Lofoten or Nordkapp, add at least another two weeks.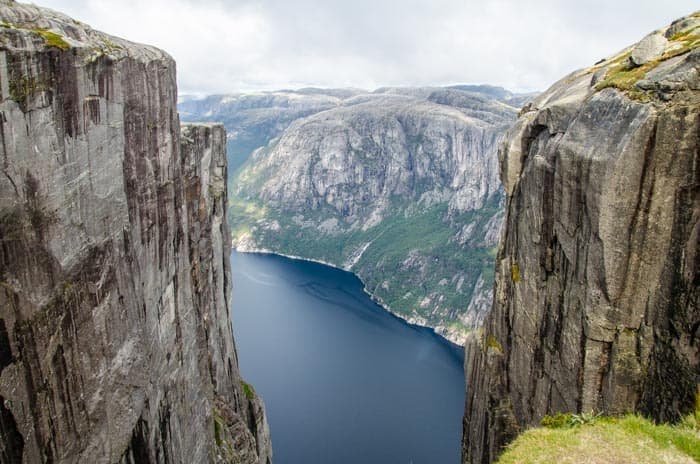 Visa and entry conditions
For Europeans entry into the country is absolutely trouble-free without any visa – although Norway is not part of the European Union, it belongs to the Schengen Area (EEA). US residents can visit Norway and travel for 90 days to Schengen without applying for the visa.
If you are from other country, check if you need visa to visit Norway here: https://www.schengenvisainfo.com/norway-visa/
At the border crossing, you may be checked if you are not importing excessive amount of alcohol (for example, max. 6.5 liters of beer per person). See the quota here: https://www.toll.no/en/goods/alcohol-and-tobacco/quotas/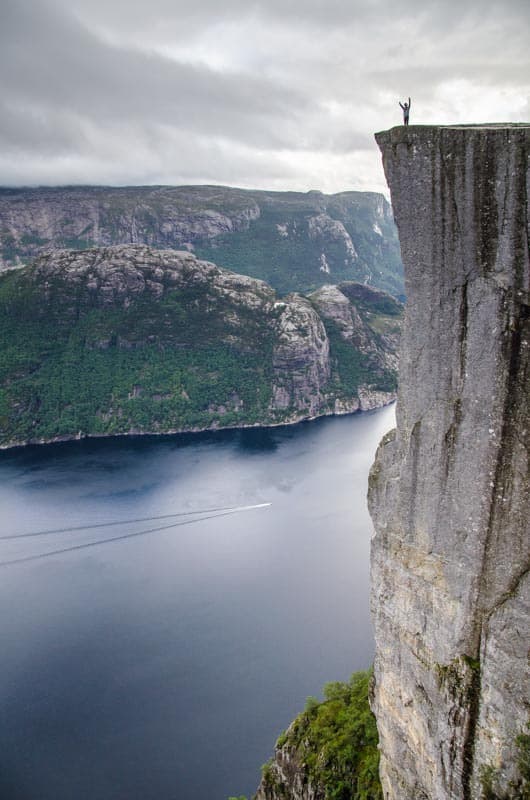 Money and approximate prices in Norway
Everything is very expensive in Norway. If you are driving a car, we recommend bringing all food from home and cook on the stove. You can also save money on accommodation if you sleep in a tent. Camping in Norway is officially permitted anywhere outside the private grounds and at least 150 m from the buildings.
Currency
Norwegian krone (NOK) is used as a currency in Norway. It is almost unnecessary to have cash – you can pay with card almost anywhere. And as I write everywhere, I mean really everywhere – even some toilets accepted credit card payment.
Budget
I can use as an example our 17-day road trip (including a trip from the Czech Republic and back to the Czech Republic). We drove 4 people in our car and carried the vast majority of food from home. We slept in tents all the time. The whole road trip cost us 470 € per person, which is a very nice price for one of the most expensive countries in the world.
When you are planning your budget, you have to take into account transport expenses such as passing through the tunnels or crossing the bridge. You need to register in advance for Norway autopass on this page for these driving tolls: https://www.autopass.no/en/visitors-payment
Approximate prices:
| Approximate price | EUR | NOK |
| --- | --- | --- |
| One night in hostel / guesthouse | 50 – 100 EUR | 500 – 1000 NOK |
| One night in a tent in camp | 20 – 30 EUR | 200 – 300 NOK |
| Food in restaurant | 15 – 30 EUR | 150 – 300 NOK |
| Museum entrance | 10 – 15 EUR | 100 – 150 NOK |
| Public transport in cities (one ride) | 3,5 EUR | 35 NOK |
| Bottled water / can beer / draft beer / wine bottle | 2,5 / 4 / 8 / 15 EUR | 25 / 40 / 80 / 150 NOK |
| Parking | 10 – 50 EUR | 100 – 500 NOK |
| Bread loaf | 2,5 EUR | 25 NOK |
| Ferry on frequent route (4 people in a car) | 20 EUR | 200 NOK |
| Tolls for bridges and tunnels | 2 – 10 EUR | 20 – 100 NOK |
| Petrol 1l | 1,4 – 1,5 EUR | 14 – 15 NOK |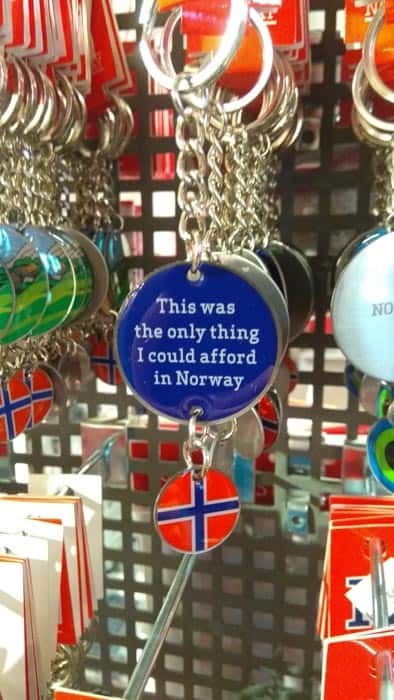 Hotels and Accommodation
There are plenty of hotels accommodation options in Norway, but it is quite expensive. It's best to sleep in your own tent, because to build a tent is legal anywhere outside the private land, at least 150 meters from the nearest residential building. Save on accommodation and enjoy sleeping outdoors. If you want real accommodation, the easiest way is to search at Booking.com.
Food
Norway is the most expensive country in Europe. Although we knew in advance that the prices will be high, it still surprised us how extremely high! The only quite affordable food were cheap and delicious marmalades, a chocolate spread, and a pretty good bread.
Going to restaurants or fast-food is unrealistic for low-cost travelers. The only relatively affordable fast food is 15 NOK McDonald's cheeseburger or "Wiener" hot dog, which you can get at the "Circle K" brand of petrol stations.
Tip: It's best to bring as much food from home as possible.
If you really want to taste local cuisine, the tastiest delicacies include fresh or smoked fish, fish soup, mutton or reindeer meat.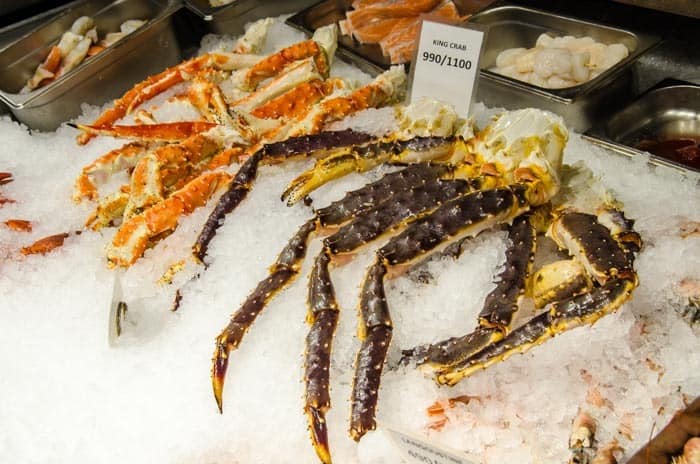 What to watch out for in Norway
Norway is a very safe country in terms of crime. Stealing is very rare in the country.
However, what you should be aware of, is the fast weather changing. Nordic weather is very unpredictable and the forecast doesn't work well even for a few upcoming hours. It's necessary to equip yourself with good clothes and basically keep your raingear all the time with you.
The typical Norway quote is: "There is no bad weather, just bad clothing."
You also have to be aware at the hiking trails, which are often high in the rocks above the fjords, and there is almost never any railing to preserve the virgin nature. Therefore it's quite easy to fall down somewhere.
The water is drinkable everywhere – from the tap and at most places it's even possible to drink water without filtration from the mountain streams.
We also recommend arranging travel insurance even if you have the European Insurance Card because there is a very high participation rate.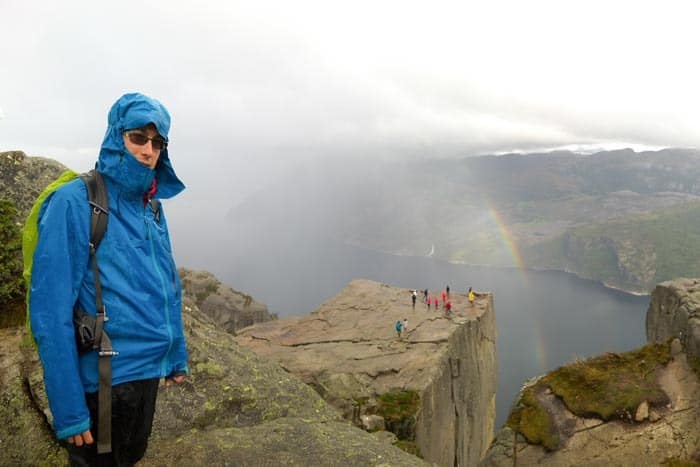 What else should you know
There is strict alcohol prohibition in Norway. It's almost impossible to buy a high percentage alcohol /liquors and the cheapest canned beer can be bought at around NOK 30 and is not very good.
Almost everybody can speak pretty good English. Moreover, Norwegian has a lot of similar words to English and German, so you will probably understand some written phrases.
Norway is a fisherman's paradise! It's legal to fish without permission in the fjords and generally at any salt water and there is plenty of fish everywhere. We were fishing for the first time in our lives and caught both a mackerel and a salmon. Fishing equipment can be purchased in every small supermarket.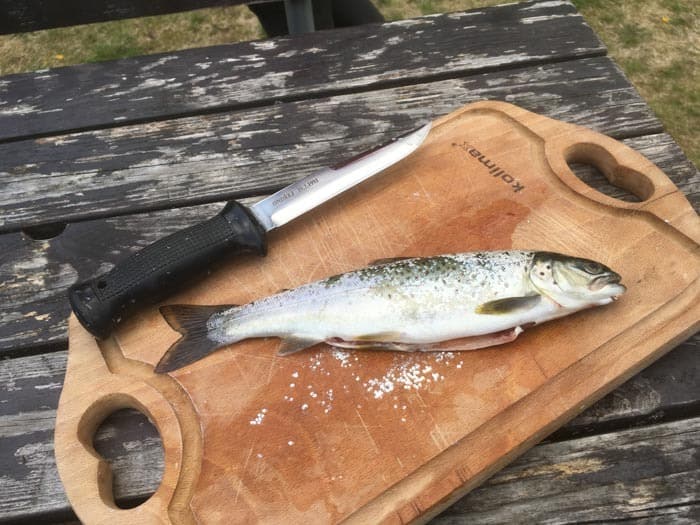 Mushroom pickers will be pleased too. Nobody picks mushrooms in Norway, and they grow everywhere. It's not a problem to gather dinner in a few minutes right by the road. We often went to the forest to build a tent and we found a lot of mushrooms around us. The same applies to forest fruits, which also nobody picks.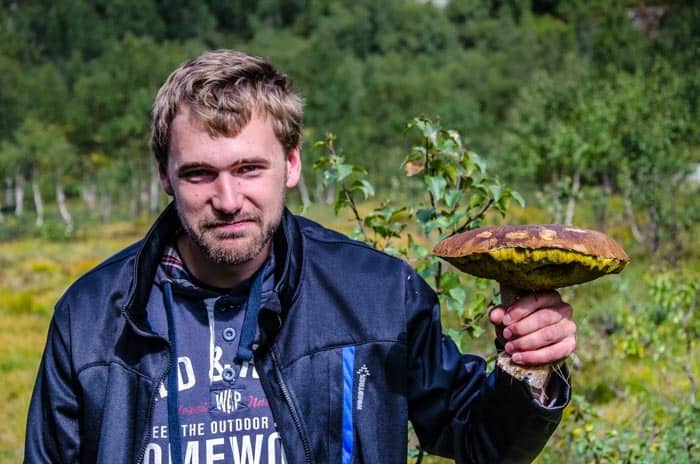 More tips:
You can find lots of useful information about Norwegian wild camping at WildCamping.tips.
Sockets are Europlug (Type C & F) in Norway. You need a power adapter for other types.
Free Wi-Fi is available at most tourist attraction places or at Coop or Rema 1000 stores.
Toilets are in most cases perfectly clean. You don't have to worry about going to public toilets anywhere. They are mostly free, or you can pay with a card.
Most shops and supermarkets are closed on Sundays.
Transport in Norway is slow – speed restrictions, narrow roads, tunnels, and ferry transportation are common.
It is necessary to take a ferry in many places, among the fjords. Ferries travel very often at all busy places (usually 2-3x per hour, even late night or early morning). The ferry always costs around NOK 200 for 4 people in the car.
Norway Emergency numbers are: 110 – firefighters, 112 – police, 113 – ambulance
And more:
There are so many tunnels in Norway. Most of them are free, but you have to pay an automatic toll in the longest ones.
There is an incredible amount of beautiful waterfalls around fjords. Many of them are not even on the map at all (it would be a major tourist attraction place anywhere else in the world).
There are expensive car parks near the most popular tourist places (e.g. Trolltunga NOK 500, Preikestolen 200 NOK).
You can buy outdoor clothing, raincoats and fishing gear at almost any store.
Tips at restaurants are automatically added to the price in restaurants, but it is customary to round up the price.
If you like sheep, you will have enough and enough of them in Norway. Especially on the roads!
And if you like trolls, you will enjoy them too. Troll is kind of a Norwegian mascot.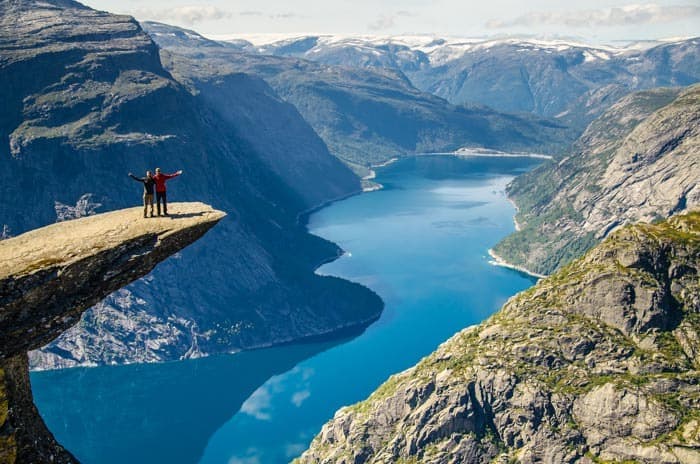 What places to visit in Norway?
We have prepared for You a detailed map of the route and all the interesting best places to visit and see on your road trip to South Norway.
You can export the map and upload it to Maps.me or Locus mobile apps.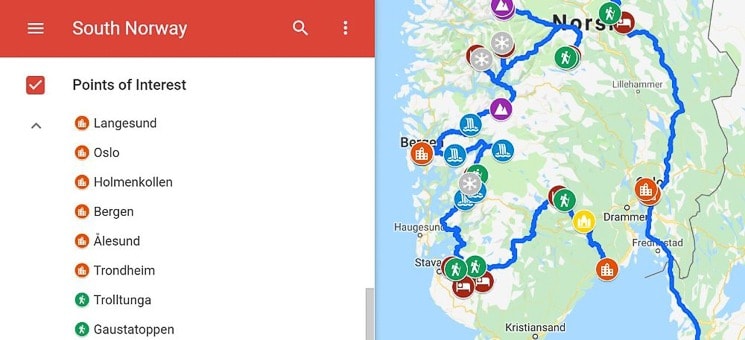 Just go!
Norway is truly an incredibly beautiful country that everybody should see! Don't be discouraged by its expensive reputation and go on your trip! Unfortunately, more and more tourists are coming to Norway, so go as soon as possible! Pristine and breathtaking nature is waiting for you.
If you have any questions, do not hesitate to ask in the comments.
Check this article about specific tips and lists of places to visit and see on your road trip here: South Norway Road Trip: 25 Best Places to Visit.
I want to go on a trip to Norway!
If this blog post helped you, you can do us a favor and buy your flight tickets, rent a car and book your accommodation using our links. It doesn't cost you anything extra and we will get a small commission, which we will use for further web improvement.
Are you decided? All you have to do is to find the cheapest flight ticket!
And if you need to rent a car for your road trip, then budget car rental offers are here.
And check this beautiful video from Norway:
Pin this for later or for your friends:
Did this post help you? Share it with your friends! It can help them too 🙂
Disclosure: Please note that some of the links above may be affiliate links, and at no additional cost to you, we earn a commission if you make a purchase. We recommend only products and companies we personally use and we use this income for further improvement of this website. Thank you!
---
Adriana & Matěj
Travelers, sport enthusiasts and photographers behind this blog. Creating high-quality and informative guides for your travels. Read more about us here.