This comprehensive guide will take you through the most beautiful places and tourist spots in Luzon Island in the Philippines. You will find out the most important information like prices, transportation and how to get there, accommodation or the estimated time needed for visit.
1) Tourist Spots in Luzon – Rice terraces in Banaue & Batad
There is a lot of rice fields in northern Luzon but in Batad and Banaue they are concentrated in one hilly place, where they create an absolutely amazing landscape. The locals call those rice terraces the eighth wonder of the world!
The rice terraces in Batad can be reached only by walk. We definitely recommend visiting this lovely remote mountain village! It is almost unbelievable that there are still inhabited places that you can reach only by foot. We spent there whole 2 days – walking through these amazing rice terraces and taking pictures. According to the locals, rice terraces are a profitable business.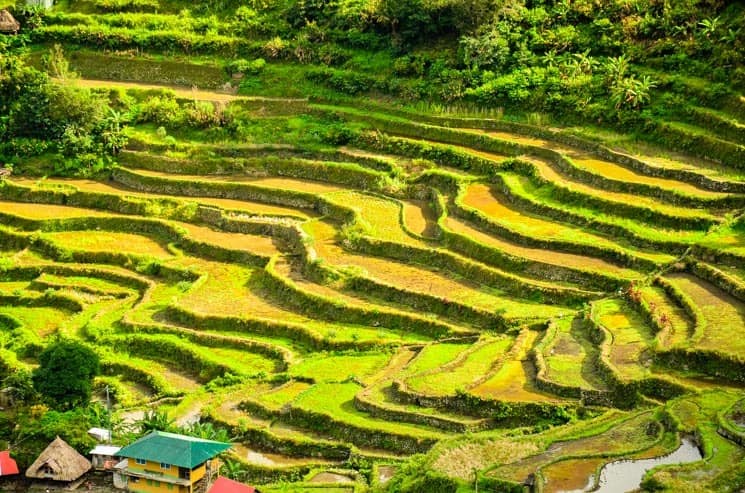 How to get to Banaue & Batad?
A lot of tourists visit only Batad rice terraces as the only place in Luzon. Well, this monumental scenery is absolutely worth it! Although, we recommend combining this trip with Sagada.
Getting from Manila to Banaue
You can book bus tickets from Manila to Banaue and back at 12GO. The journey between Manila and Banaue takes 8-10 hours. You can get a one-way ticket from $ 13 (PHP 450).
There are 3 bus companies, each starting from a different location in Manila:
Ohayami Transit – corner of Fajardo Street and Lacson Avenue, Sampaloc Manila
Danga Transit – Florida Cubao Terminal near Kamias
Coda Lines – Cubao HM Transport Terminal
Getting from Banaue to Batad
Batad is located about 18 km from Banaue. The Jeepney (minibus) to Batad goes regularly only once a day, at 3 PM. The journey takes about 45 minutes and it cost 150 PHP. Jeepney back to Banaue leaves from Batad early in the morning (ask for the exact time at your hostel).
If you miss that Jeepney, you can go by tricycle for 400 PHP (or for 300 PHP only to the saddle – it is 3 more kilometers by foot from there). Alternatively, you can arrange some other taxi, but that is going to be more expensive.
Another option is to take the Jeepney towards Bangaan or Mayoyao and get off at Batad Junction. From here it is 6 km by walk (and it's uphill).
Sagada – Bontoc – Banaue
If you are arriving from Sagada, you have to get to Bontoc first. There is a regular Jeepney from Sagada to Bontoc (timetable is available at Sagada tourist office). There are shared vans going from Bontoc to Banaue for 150 PHP. They are supposed to have 1-hour interval during the morning, but the driver is waiting for the passengers to fill up the van completely. The journey from Bontoc to Banaue takes about 2 hours.
If you want to get from Sagada to Batad in 1 day, you should leave Sagada early in the morning.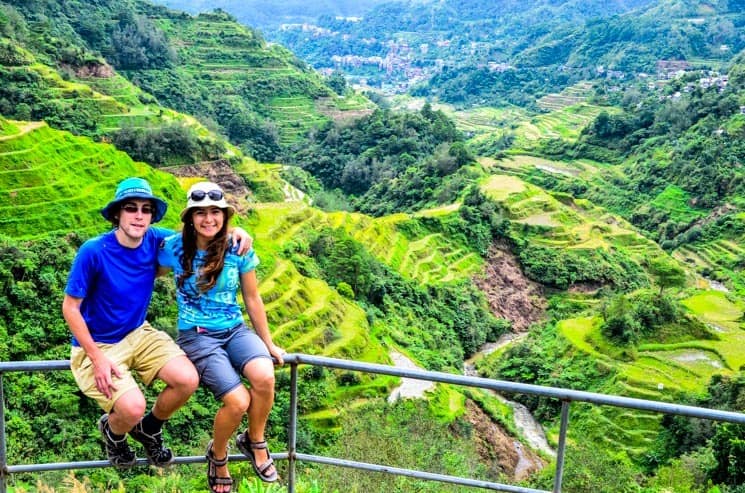 Where to stay in Banaue?
There are multiple different options in Banaue. We recommend Bogah Homestay with a wonderful view of the rice terraces.
Where to stay in Batad?
Our favorite place was Ramon's place. If you search a good value for money pick Batad View Inn and Restaurant. In general, don't expect anything luxurious (everything is very difficult to bring/carry here). Expect simple facilities, but very welcoming hosts.
You can also choose from many other options, whether at Agoda or Booking.
What should you consider?
In any case, we do not recommend traveling with a suitcase to Batad village. Prepare for a mountain trek to get there, so the suitcase is not an ideal choice. Everything is much easier with a backpack in the Philippines.
Batad – Trip to the Tappiya waterfall
Trek to Tappiya Waterfall is a popular hiking trip from Batad. Narrow paths around the rice terraces with significant descent will bring you to the Tappiya waterfall. The landscape is beautiful and you can extend your trek as you wish by wandering around the beautiful rice terraces.
They will try to offer you to pay for trekking guides at your accommodation, but that is not necessary (GPS and offline map is enough).
Recommended time to stay in Banaue a Batad
We recommend spending at least 2 full days to enjoy the rice terraces and the mountain area of Batad and Banaue, there.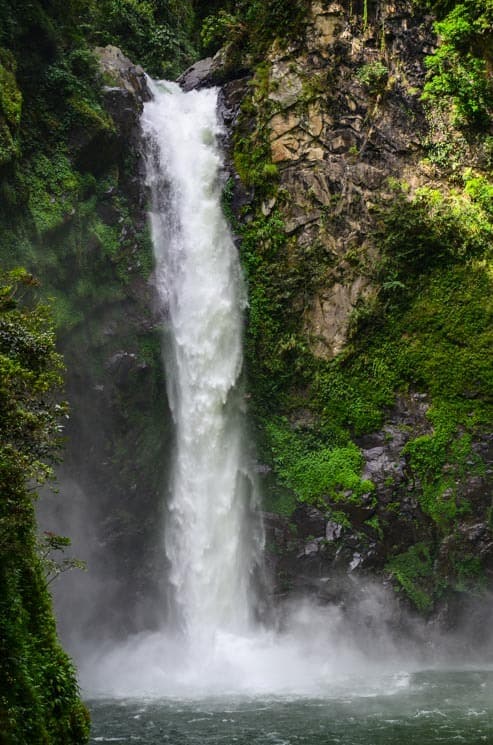 2) Tourist Spots in Luzon – Sagada
Sagada is a magical and very interesting village, which has a lot to offer. Whether you plan to visit the mystical aerial cemetery, so-called Hanging Coffins or stroll to a nearby waterfall, beautiful church, or explore Sagada Caves with a dose of adrenaline speleology!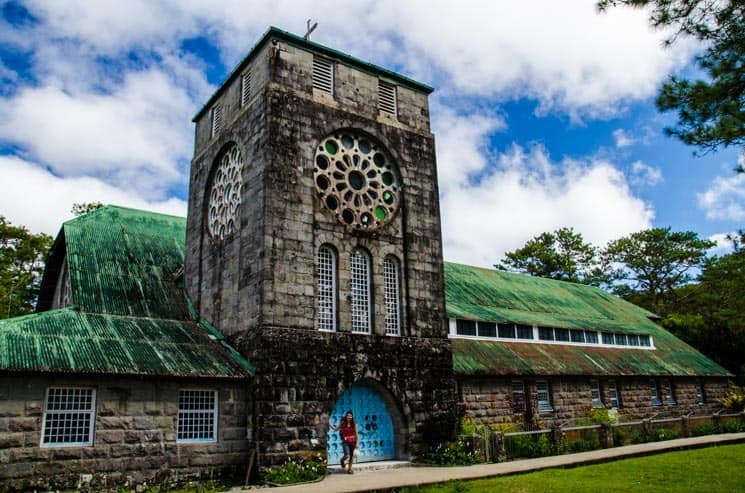 How to get to Sagada?
From Manila to Sagada
If you are heading from Manila directly to Sagada, there is nothing easier than booking your bus online. The journey takes 12 hours and buses depart from Manila in the morning. Prices start at $ 18.
From Baguio to Sagada
You can get to Sagada by GL Trans buses, which leave Baguio every hour from 6:00 AM, the last bus departs at 13:00. Buses depart from the bus terminal: Baguio City. The journey takes 5-6 hours. You can buy tickets on the spot.
After you arrive in Sagada:
The bus stops right in front of the tourist information office, where you have to register and pay the tourism fee (you won't be able to book any activity without this confirmation).
There is an ATM at the tourist information office.
Accommodation in Sagada
There are some options to choose from in Sagada. We can recommend Agape Log Cabin And Restaurant with a beautiful wooden interior in the heart of the village.
2a) Hanging Coffins in Sagada
A truly mystical place is located nearby the village of Sagada. There is an aerial cemetery high in the rocks called Hanging Coffins. Several dozens of coffins are either hung directly on the rock or simply stacked on top of each other in caves among the rocks. That is the 2,000-year-old Igorot burial tradition.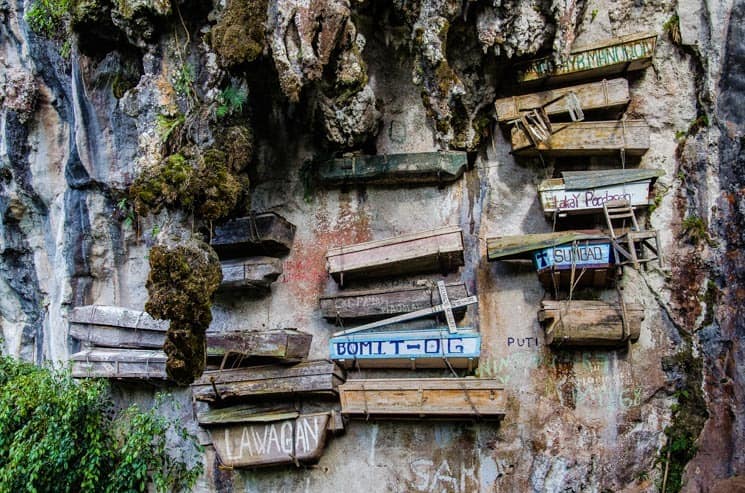 However, not everyone can be buried in this honor way. There are some criteria:
A person must be over 80 years old
Must have children
His/her children must be married
And also must have grandchildren
Although the Philippines is a Christian country, this funeral ritual is open to non-Christians as well. The only difference is the type of coffin. Non-Christians are buried in a hollowed tree trunk tied with a rope and placed inside in a fetal position.
Except Hanging Coffins hanging you can see also a lot of coffins in the caves around the trail in Echo Valley. Some coffins are already falling apart.
Why are the hanging coffins hanging?
Our guide told us, that they were simply worried that dogs will eat the corpse. Another reason was that they wanted to be closer to the sky due to the belief that the higher the dead were placed, the greater the chance for their spirits reaching a higher nature in the afterlife. Believe it or not, this tradition is still ongoing, the latest man was buried in 2010.
Hanging Coffins: Entrance fee and guides to Echo Valley
You are required to pay for a local guide and there is no other way to visit Echo Valley without the guide. You can join some other people to pay for one guide together. If you are 4 you will pay around 200-300 PHP per person.
The journey to the Echo Valley begins several dozens of meters behind the Sagada church. You can leave your backpack at the stand where the entrance fee is collected. Your guide is probably going to be someone local. Our guide told us that her grandma was buried high in the rocks in the Echo Valley.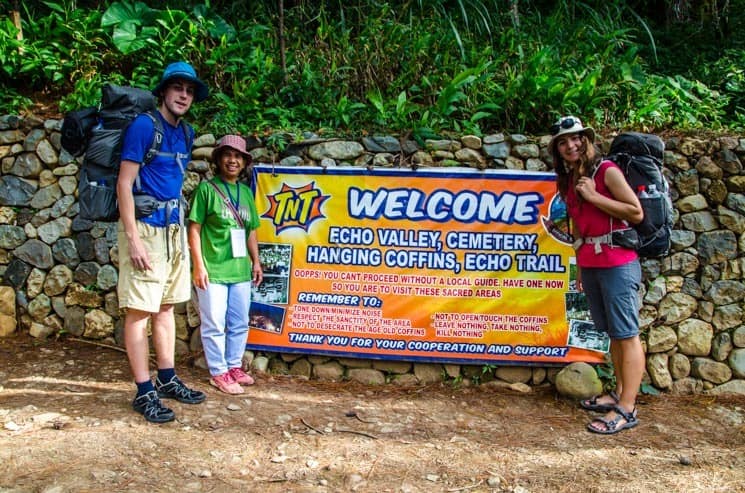 2b) Sagada Caves
Sumaguing-Lumiang Cave is truly impressive creation of mother nature. You can easily book a guided caving tour at the Tourist Center. There are 2 options:
Shorter Samuguing Cave (tour last approx. 2-2,5 hours), which is quite easy and safe, or:
Lumiang – Sumaguing Cave connection, which is quite adventurous ( tour last approx. 4-5 hours)
Lumiang-Sumaguing cave connection – Sagada
We decided to take the adventurous option. But we did not expect that much adrenaline… We got headlamps and started climbing down to the bottom of the cave. Some places required nearly acrobatic positions (seriously, nothing for overweight people). Well, most of the rock was really slippery and I don't even want to know how deep was the abyss we had to climb around with no safety materials. After this excursion, we understood why there were T-shirts with giant letters – "I survived Sagada" in every souvenir shop.
Prepare to get a little wet and dirty, you are going to climb wet rocks, and sometimes you will need to climb up the rope as well. Regarding the safety standards – this would not be allowed in Europe 😀 Be prepared for that and enjoy it!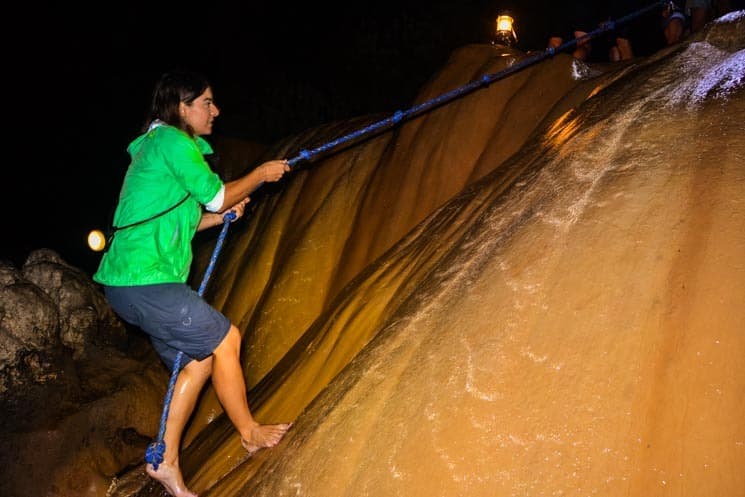 2c) The Church of Saint Mary the Virgin in Sagada
Be sure to visit the Church of Saint Mary the Virgin. It is an Anglican church that was built in 1904 by American missionaries. You can visit it on the way to Hanging Coffins.
2d) Bomod-ok and other waterfalls in Sagada
You can take a nice track to the Bomod-ok waterfalls, where you can even swim. Allow about 4-6 hours for the whole trip. There is a possibility to arrange a guide for 500 PHP in the tourist office.
If you want to explore other waterfalls in the area, you can visit Bokong Falls, with a beautiful lagoon where you can swim or another waterfall – Pongas Falls.
Recommended time for Sagada
You will need 2 days to fully enjoy what Sagada offers.
3) Tourist Spots in Luzon – Baguio
Baguio is a lovely city where you will probably stop on your way to Sagada. It has become the summer "capital" of the Philippines thanks to its high altitude (1540 meters above seas level) and the pleasant temperature. Check this Baguio itinerary to plan your trip.
3a) Mines View Park in Baguio
Viewing deck at Mines View Park is one of the most famous and most visited places of Baguio. It is located in the north-western part of the town (4 km from the center). Mines View Park offers beautiful views of the city and former gold mines and copper mines. Apart from several souvenir stalls, you can try traditional Cordirela Regalia clothing.
How to get to Mines View Park?
There is a Jeepney line "Plaza to Mines View" available from the city center. The terminal is located at the bottom of Mabini Street opposite the Danes Bakeshop. The journey takes 5-10 minutes and costs around 12 PHP.
3b) Baguio Cathedral
Cathedral of Our Lady of Atonement in Baguio is located right on the top of the hill with a nice view of the city.
If you go by walk from the center, you will find a long and steep staircase on a very steep street. It is a beautiful Roman-Catholic Cathedral and we can definitely recommend visiting it!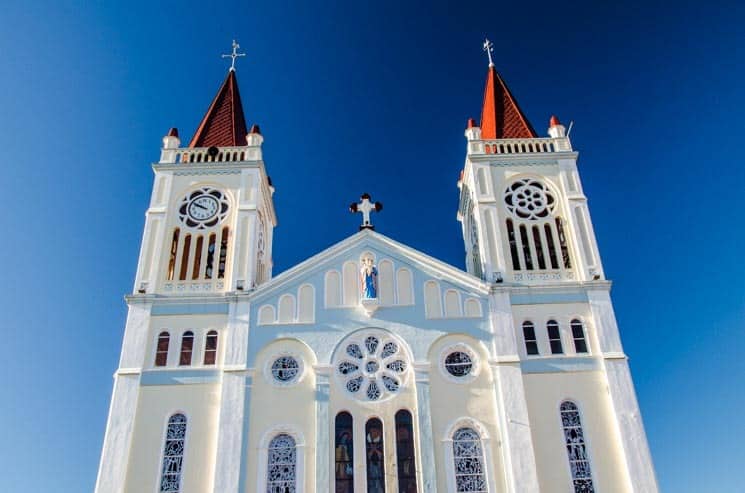 3c) Baguio City Market
Baguio City Market is a very nice place to see, even if you don't plan shopping. You will see a lot of fruits, vegetables, spices, fish, etc. The City Market is spread along Magsaysay Avenue.
3d) Burnham Park
Burnham Park is located in the very center of the city is a nice place to have a walk. You can buy ice cream, fruits, go for a "Swan ride", rent a bike or even roller-skate in the indoor arena.
We found a good and cheap restaurant there – The Ganza Restaurant.
3e) Baguio night market
If you stay overnight, visit the night market. It takes place every evening, between 9 PM and midnight right next to Burnham Park in the middle of Harrison Road.
3f) Baguio Botanical Garden
If you are a fan of different flowers and plant species, you may also like visiting the botanical garden. Baguio Botanical Garden is also known as Igorot Village (there are the original cottages or carved sculptures) and at the entrance, you can also take a picture with a group of locals wearing traditional costumes. There is no entrance fee to Baguio Botanical Gardens. Garden closes at dusk.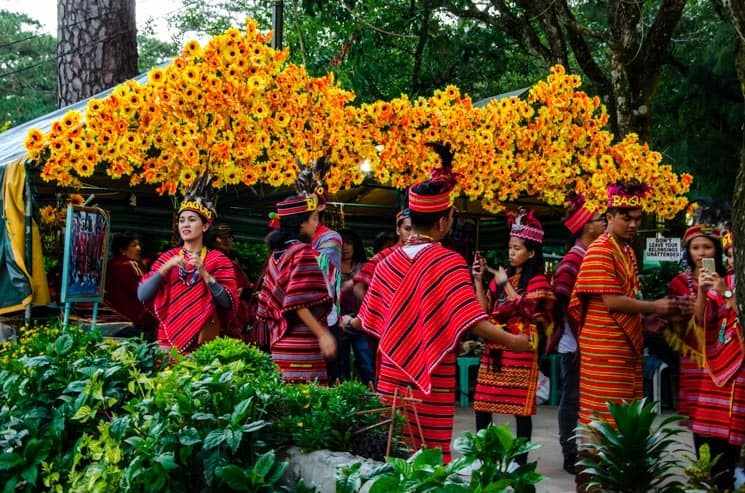 How to get to Baguio Botanical Garden?
The entrance to the Botanical Garden is located on Leonardo Wood Road, between Write Park and Teachers Camp. You can get there by various Jeepney lines from the city (going in the direction of Mines View, Pacdal Beckel, Country Club, Navy Base, Tuding and Itogon).
3g) Other interesting places in Baguio
How to get to Baguio from Manila?
You can easily get to Baguio from Manila. Victory Liner buses depart regularly from the following bus stations:
To book tickets and search for departure times, check out VictoryLiner.com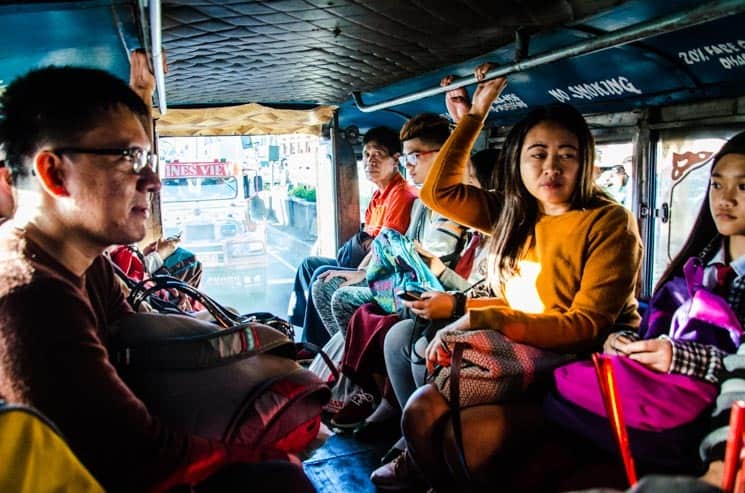 Where to stay in Baguio?
There are many hotels and hostels in Baguio.
Metro Pines Inn is a nice accommodation in the city center, near the Park. If you search for budget accommodation in the city center, check out Baguio Kangen. In Mines View areas there is a good Ibay Zion Hotel or cheaper hostel JONY's Place.
4) Tourist Spots in Luzon – Hundred Islands National Park
This could be the most beautiful National Park on Luzon island. There are exactly 123 small islands in this beautiful National Park. You can hire a boat and your captain or boatmen will guide you among these cute islands. It is just a very short distance from the island to the island. There is a very nice view from several Islands! You can even ride a zip-line from one of these Hundred Islands. I must admit that this zip-line was the most beautiful one I've ever tried! Actually, there is a wide range of activities. You can make a single day trip or choose the overnight option.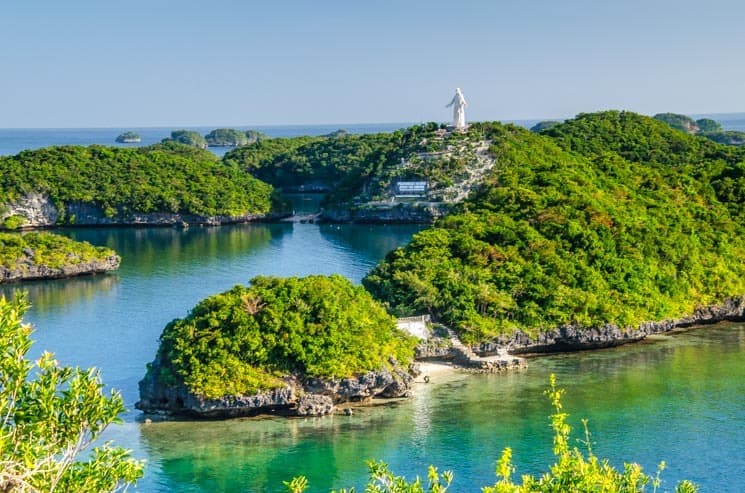 What to expect?
There is a statue of Jesus – almost like in Rio, a cave you can swim in (and also jump into at the high tide), another island has an excellent restaurant, beach, and bridge from one island to another. You can also enjoy a superb zipline with amazing views on Governor's Island, do a cool snorkeling stop or visit a bamboo bar, which has a perfect ramp for jumps.
All-day private boat cruise with a personal driver cost around 32 $.
Entrance fee to Hundred Islands National Park – Luzon
Before embarking on an adventure cruise, you need to visit Park Infocentre, which is right in the harbor. You a required to register there and pay the entry (you will receive a document which you will present to your boatmen).
Park entrance 30 PHP per person.
Environmental fee 40 PHP/day per person.
TIP: Bring enough cash! It is not possible to pay by card on islands.
Boat trip
As mentioned, you can choose between a one-day trip and overnight stay. If you decide to take overnight stay, except that it will be at least twice as expensive. It is also necessary to book accommodation on the islands (from 1000 PHP) or if you have your own tent, you only pay 200 PHP. They will tell details at the information center.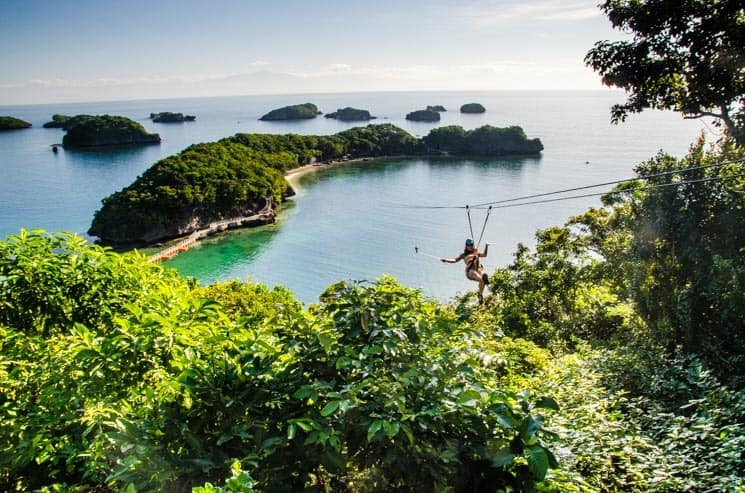 Hiring a boat (with boatmen)
Price of the boat depends on its size. You can arrange a group of people to share costs. But consider that the trip is variable and it's up to your decision (group decision if you are more people there) how much time you spend on each island. So different people will have different needs, that is why it's maybe worth paying for the private boat.
Small boat (1-5 person) – 1400 PHP per day (3000 PHP for 2 days)
Middle size boat (6-10 person) – 1800 PHP per day (3800 PHP for 2 days)
Big boat (11-15 person) – 2000 PHP per day (4500 PHP for 2 days )
Activities at Hundred Islands National Park – Luzon
Hundred Islands National Park offers a lot of activities. Here is a price list:
Zipline (Governor's Island) – 250 PHP. This zipline is definitely worth it! The view is absolutely amazing!
Jet ski – 1000 PHP/15 min.
Banana Boat – 250 PHP
Helmet Diving – 400 PHP. Diving duration – 20 minutes
Kayaking – 250 PHP/hour
Hiring a snorkeling set – 250 PHP for a whole day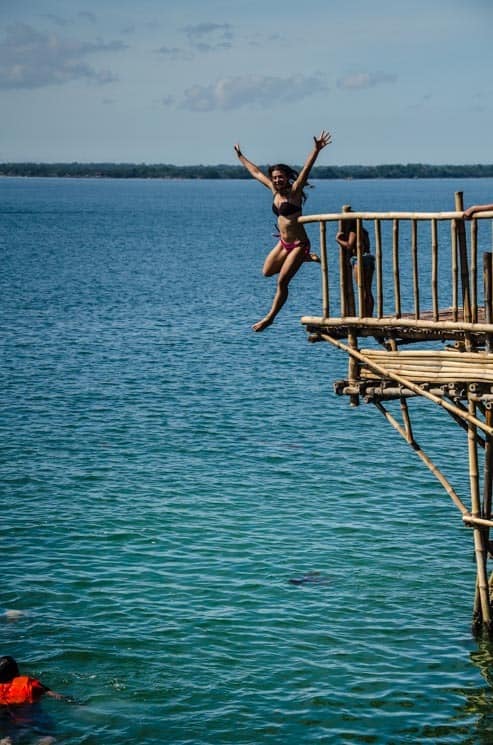 What to pack with you?
Cash
Sunglasses
Sunscreen

Swimsuit

Snorkeling equipment (you can rent it)
Water
Snack (you can also eat at island restaurant – they have delicious fish) 🙂
Where to stay?
Kylah Pension (Transient) House has a perfect location directly in the harbor. On the other side, the cheapest option is Villa Milagros Pension House (accommodation in a shared room). You can also check other options in the area.
If you are heading to Bolo Beach, you can stay at the Santorini mini-resort with a private beach, Santorini has excellent references.
How to get to Hundred Islands National Park?
Bus from Manila to Alaminos
The first step is to get to Alaminos. You can book direct buses to Alaminos from Manila at 12GO. The journey takes about 3-4 hours. From Alaminos, you can easily reach the port by tricycle. Look for the Lucap tricycle terminal.
5) Tourist Spots in Luzon – Mt. Pinatubo
Mount Pinatubo is a volcano with a beautiful Crater Lake in the middle. Its colors change every week according to the lake plankton lifecycle. The color can range from turquoise blue, green to brown.
The trip is a great experience from the beginning. There is a wide river, so you will be transported by an army vehicle, which must be assisted by a giant tractor so help it cross the river. You can't get there without a guide, it is necessary to join an organized tour, which includes transport across the river and to the beginning of the hiking trail.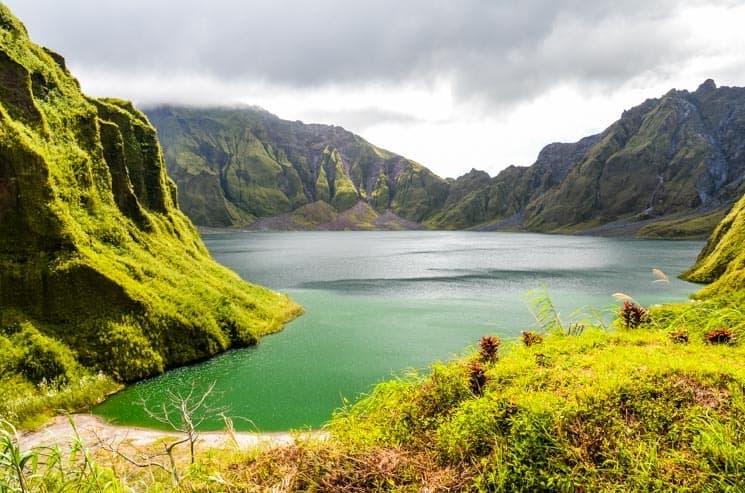 What to expect?
As soon as you get to the "truck" base, there is going to be a little trip introduction with coffee or tea. Time to get ready to jump on the army vehicle or jeeps and head off. The road is incredibly dusty. You can see the indigenous people of Aeta Tribe on the way. As soon as trucks arrive at the trailhead, it is time to start 7 km hike up. There are toilets at the beginning if you need.
The trail leads through the volcanic landscape and laters through the gorge with the river. There are some simple souvenirs shop and snack bars on the way. There is a beautiful view of Crater Lake at the end. The color of the lake will be a surprise…
Book your tour and Jeep Pinatubo Adventure here.
You will need 1 whole day for this trip.
What to pack for the Mount Pinatubo track?
Scarf (against all that dust on the way by trucks)
Hiking shoes
Water
Packed lunch and snack
Raincoat
Hap/Cap
Sunscreen
Sunglasses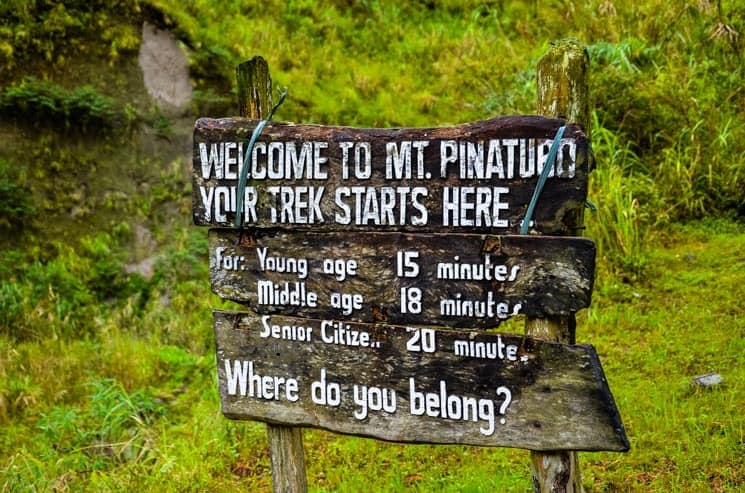 How to get to Mount Pinatubo?
There are some options to choose from. You can either go directly from Manila, join the tour at designated pick-up locations or come directly to the "truck" base nearby Mount Pinatubo.
If you go by bus directly from Manila, be prepared for very early departure (around 3 or 4 AM from Manila).
Aeta tribe
You are likely to meet locals returning from the nearest town on their water buffalo and later even visit them directly in one of their huts!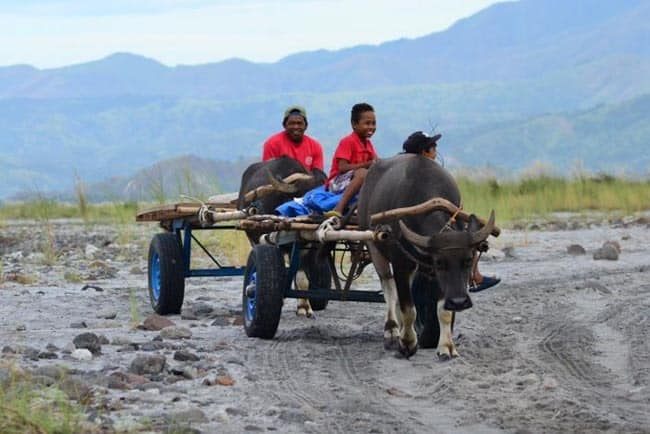 6) Tourist Spots in Luzon – Vigan
If you are a fan of Spanish Colonial Architecture, you should definitely visit Vigan. The city is listed at UNESCO World Heritage List. Head off for a walk through the historic city center and stop by the magic singing fountain or the ancient Bantay Tower. You can read more here about the tourist spots in Vigan.
7) Tourist Spots in Luzon – Manila
I would like to give you a friendly advice: Don't stay in this city longer than you need to. Manila is a city of contrasts. Although you can find there, luxury western cafés, where coffee cost around 3 USD or fast foods like McDonald's, you can find there also street grills, where a 9-year-old boy is preparing dinner for you and even his younger brother assists him with accepting payments meanwhile their father (who is sitting nearby) is watching them.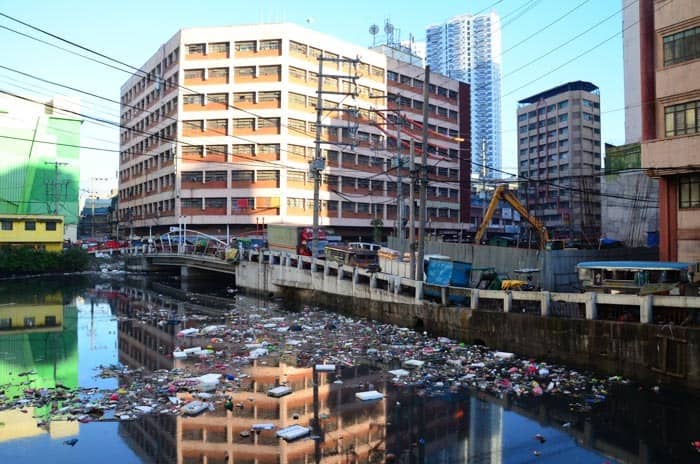 You can get across half of the city for 0,15 UDS only. Believe me, it is not a pleasant experience, I was glad I didn't suffocate with all that smog! If you drive Jeepney or a tricycle, you have no chance to avoid literally black clouds of smoke from all these old vehicles. Every single ecologist would get mad there! Rivers and streets are full of garbage, rubbish, and dirt.
During our travels, we are used to walking around the city according to our GPS and point of interests. It's NOT the best idea in Manila! During that walk, we found ourselves in places where you realize how lucky you are that you can live somewhere else. We saw children sleeping on the streets or other people who live in the most primitive "shelters" around the street. Chickens and cocks were tunning around the streets in the middle of this ugly city. It was highly inappropriate to take pictures of that scenery, so there is no illustration.
Manila Ocean park
If you have some time, Manila Ocean Park is nice place to visit. You can see the aquariums, parrot, and seal show. The best and cheapest is the Ocean Park Attraction Pass (with the lowest price guarantee).
Accommodation in Manila
The best accessible area near the airport is Pasay. There is also a bus station, from where you can get o buses to explore places in Luzon Island.
Map of Tourist spots in Luzon
We have prepared for you a detailed map with all these tourist spots in Luzon in the northern Philippines. You can export the map and upload it to Maps.me or Locus mobile apps.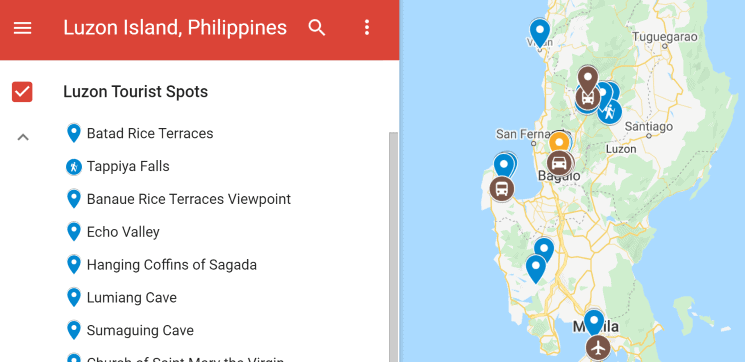 Let's go to Luzon Island, Philippines!
Find your tickets to Luzon, Manila! Good deals around Asia has also Momondo.
More Philippines inspiration:
Are you planning a trip around other islands in the Philippines? These articles might come handy:
Check this awesome aerial video from the Philippines:
Enjoy your travels and tell us if you miss any nice tourist spots in Luzon, the Philippines.
More tips for your travels:
We have prepared for you this comprehensive list of links, discounts, and resources for travel planning in one place. Bookmark this page and whenever you plan a vacation in the future, just open it and save yourself a lot of time.
1) Where to book accommodation?
2) How to find cheap flights?
3) How to rent a car?
We recommend a comparison portal RentalCars.com to compare the best offers of all available rental companies.
Pin this post for later or for your friends: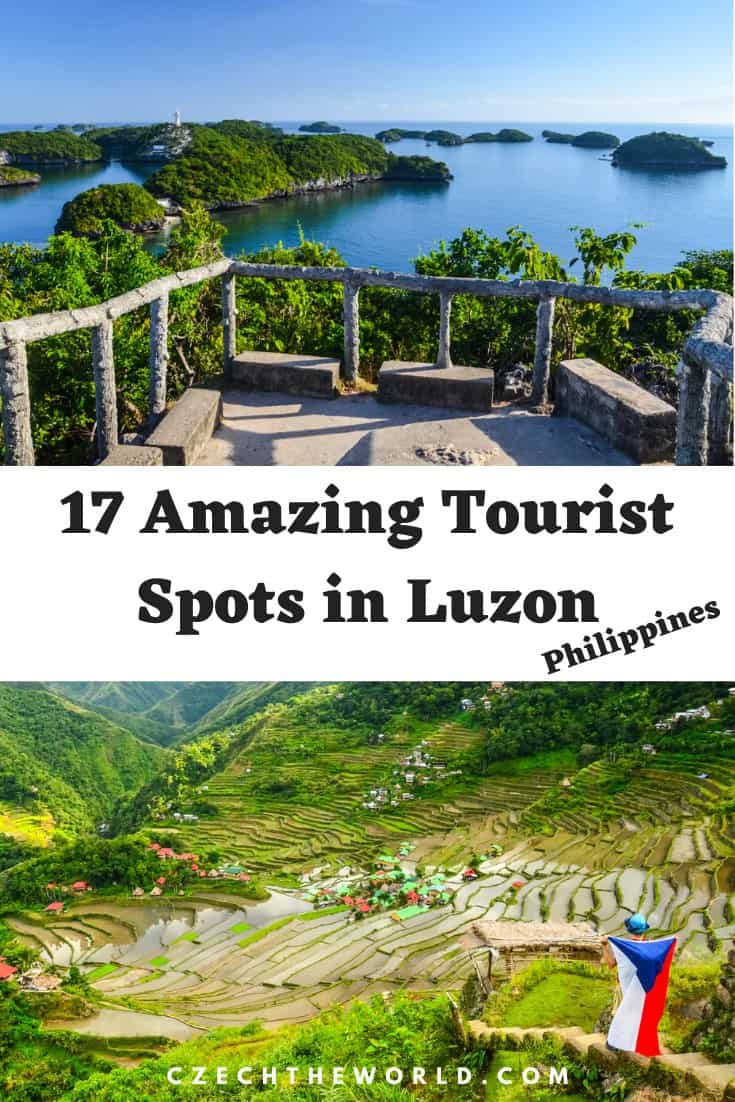 FAQ – Frequently asked questions:
Did this post about the Philippines help you? Share it with your friends! It can help them too!

Disclosure: Please note that some of the links above may be affiliate links, and at no additional cost to you, we earn a commission if you make a purchase. We recommend only products and companies we personally use and we use this income for further improvement of this website. Thank you!