The Philippines is such a beautiful country and Cebu is one of the most stunning islands to visit. Check our collection of 15 amazing tourist spots in Cebu.
We have divided them into several categories – waterfalls, hiking trails, coastal towns and beaches, Cebu city, and surrounding islands. Enjoy your trip!
Tourist spots in Cebu – Waterfalls
1) Kawasan Falls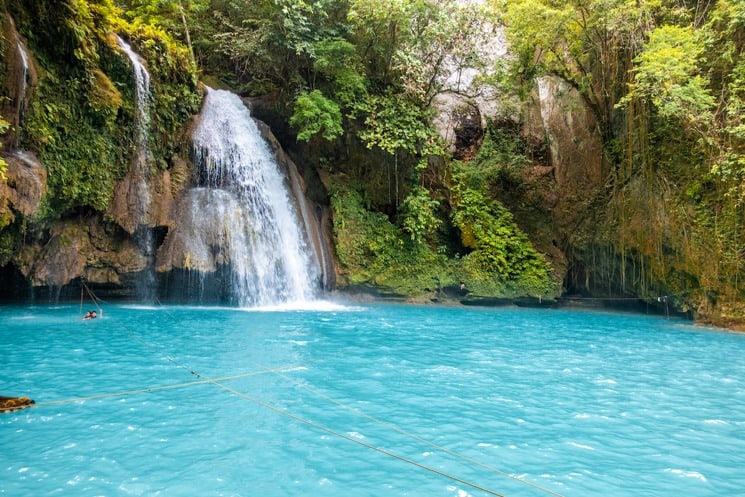 Kawasan Falls is one of the most beautiful and picture-perfect waterfalls in the world which is located near the town of Badian on the south-west of Cebu Island. The easiest way to go there and have fun is to book a canyoneering tour. Usually, the tours offer pick-up and drop-off from your accommodation.
For this tour, you don't need to have climbing gear since you are not doing any abseiling. You just need to put on your swimming suits, helmet, and life jacket (both are provided by the tour operator). Your day will be all about jumping and sliding down the numerous waterfalls and swimming into clear turquoise water pools while admiring the breathtaking nature.
If you don't want to take a tour, you can still go by yourself to the falls. Most tourists prefer to stay in Moalboal where there is a public bus every 30 minutes going to Badain. You can alight at the entrance of the Kawasan Falls.
From Cebu City, you need to go to the south bus terminal to take the bus to Badain. Some tourists who stay in the south, hire scooters to go to the falls.
Contributed by Mansoureh from Travel with Mansoureh.
2) Dao Falls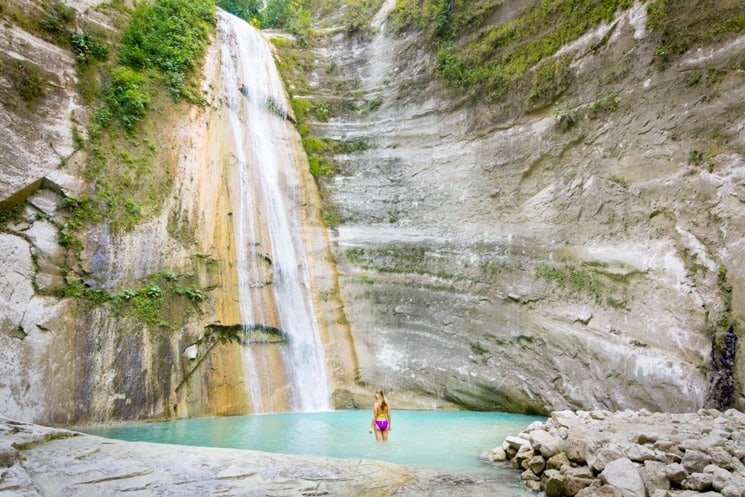 For a beautiful hike with just a touch of adventure make sure Dao Falls is on your list.
To reach the trailhead, head roughly 2km north on the main road from the town of Samboan and then turn inland. The road winds its way up into the palm tree-dotted hills of Cebu. This tiny road can be a bit confusing, but just follow the signs and if you feel like you're getting lost ask a local to point you towards the waterfall.
After 2km you'll reach the parking lot for the waterfall. The entrance fee is just 60 PHP (~$1.20) per person plus 20 PHP for motorbike parking. The hike is easy to find, but you'll still be accompanied by a local guide who will expect a tip at the end. This is a common practice at many of the waterfalls on Cebu Island, so don't bother trying to hike without a guide.
The trek leads you down a steep dirt trail to the bottom of the canyon and that's where the fun really begins. You'll wade through waist-deep turquoise blue water and then start to climb up the steep edge of the canyon along a man-made trail cut into the side of the rock wall.
You'll emerge at the 50-meter tall Dao Waterfall which plunges into a large pool at the bottom. It's perfect for photos and a quick swim before heading back up the trail. This stunning waterfall is a bit more off-the-beaten-path than the ever-popular Kawasan Falls, so there's a decent chance you'll have this stunning waterfall all to yourself!
To get to this waterfall from Moalboal, you'll need to rent a scooter or grab a bus. From Moalboal, you'll want to head south on Santander-Barili-Toledo Road and follow the signs going to Oslob. Once you pass through the Santander municipality, you'll want to keep your eyes open for the whale shark tour signs on the right side of the road, and that's when you know you're getting close. Look left to see the sign for Tumalog Falls right after Pilario-Castillo Travellers Inn, drive a ways down the road, and you'll begin your walk to the falls! This stop is best paired with Sumilon Island, so don't forget to add that to your itinerary as well!
Contributed by Nick from Wandering Wheatleys.
3) Inambakan Falls
I've visited a lot of places in the world. I've seen a lot of jungles, waterfalls, and nature. However, Inambakan Falls stands out as one of the best waterfalls – not only in Cebu – but in the entire world. What is Inambakan Falls? It's a towering 100-ft waterfall cascading down into a blue pool. The pools perfect for a relaxing day escaping the heat, getting into the Jungle, and taking a relaxing dip in the cool waters. The falls are 5 tiered. Meaning if you climb up the main falls you find smaller falls pouring into turquoise pools. Because of its secluded location, the falls remain off many tourists' radars. And chances are you will have the entire cascading falls, and sky blue pool to yourself. Which is just one more thing to love about Inambakan Falls.
The best way to get there is by renting a motorbiking and driving yourself. You can also hire a driver if motorbiking isn't up your alley. The last, and longest option is by bus. Although this takes some careful planning and doesn't take you all the way. The falls are on the far south of the island and are a huge drive from Cebu city. However, it's possible to do a round trip in a day. Personally, I'd make this a weekend trip, and staying at a homestay, or little village in the south. Moalboal the biggest town close to the falls. It's a great place swimming, photos, or just taking in the beauty of nature.
Contributed by Stephen from Copenhagen Rocks.
4) Tumalog Falls
On the Southern end of Cebu Island lies one of the most beautiful waterfalls on this island of the Philippines, Tumalog Falls. While this wonderland is one of the many popular places to visit in Cebu, it is also one of the best, for obvious reasons: turquoise blue water, beautiful scenery, and an entire fairy pool-esque atmosphere to leisure in for the morning.
To maximize your experience at Tumalog Falls, you want to make sure you get there as early as possible because the crowds swarm in fast as the day goes by and the area can feel like a sardine tin by 9 am. This waterfall is strong, mighty, and a whole lot larger than it appears in photos so be prepared to be in awe when you float underneath this thing!
The most ideal place to stay before visiting this waterfall would be in Oslob, since that is the closest municipality to the falls, but if you want to be in a location that has a bit more to offer, Moalboal is a very fun, beachside down that has amazing diving and restaurants. Oslob is around a forty-minute drive to Tumalog whereas Moalboal is almost two full hours, and if you're on a scooter, then sore buttcheeks are almost guaranteed. Most people base themselves in Moalboal for the entirety of their trip on Cebu Island and I recommend the same.
Contributed by Aaren from What Do You See.
Tourist spots in Cebu – Hiking Trails
5) Osmeña Peak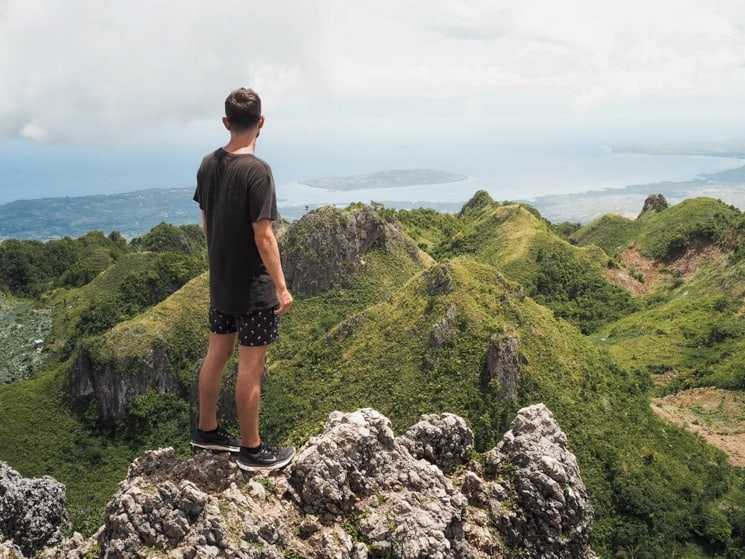 When exploring tropical islands, a hike may not be the first thing that comes to mind. Climbing up a mountain on a hot and humid day may not seem particularly appealing but luckily Osmeña Peak in South Cebu offers a relatively short and easy climb to the summit. As well as being quite an easy hike, the 360-degree view from the top is totally worth the effort. The surrounding landscape is unique as hundreds of small peaks protrude from the hillside, and this hike is often compared to the Chocolate Hills in Bohol. The views are also uninterrupted all the way down to the ocean and on a clear day, you can see for miles in every direction.
The drive from Moalboal to Osmeña Peak takes around 1 hour and 45 minutes, although the final 30 minutes of the drive is stunning as you wind through the many peaks at the top of the mountain. The higher altitude also means that there is a noticeable drop in temperature as you make your ascent up from sea level.
The entrance fee for the hike is only 30 PHP and you are not required to take a guide. The path is easy to follow and should take less than 30 minutes to reach the top. This is a spectacular hike and due to the remote location, there is usually only a handful of people at the top that you have to share the view with. It also offers something a little different than the other tourist attractions in Cebu.
Contributed by Luke from The Coastal Campaign.
6) Casino Peak
The island of Cebu in the Philippines is probably most famous for its stunning waterfalls, such as the Kawasan Falls. However, one of Cebu's best-kept secrets is Casino Peak, which belongs to the beautiful mountain range in the center of the island! The reason why not many people make it to this part of Cebu is probably the long drive since there's no tourist hotspot nearby. Your best chance is basing yourself in the fishing village of Moalboal – however, be prepared for a long scooter drive (about 2 hours one way!). Starting from Oslob, you're not much faster either.
Trust me, the long journey is worth it though! First, the drive is beautiful – the road leads through small, local villages and breath-taking scenery. Once you make it through the mountains to the main road, follow Google Maps and the signs leading to Casino Peak. The last bit will be on a dirt road and certainly doesn't feel very touristic, but just keep going.
Once you get to the parking lot, you'll see a table set up, where you have to pay a small fee in order to climb the peak. The hike won't take longer than 20-30 minutes and is pretty steep. Make sure to wear closed shoes, since there isn't any proper trail available. On the top, you'll see the big Philippines flag – and the views are incredible! This viewpoint isn't very touristic, I had the top of the mountain all to myself. By the way: Make sure to also visit Osmena Peak once you're in the area! The highest point of the island is only a few minutes' drive away.
Contributed by Patrick from German Backpacker.
7) Kandungaw Peak
The Kandungaw Peak is an epic mountain ridge in Dalaguete, Cebu with beautiful viewpoints and dramatic drop-offs. It is known as the tallest peak in Dalaguete with its summit on almost 900-meters above sea-level. Despite the trail isn't that long, it is one of the steepest. So be prepared to feel your legs burning during this strenuous hike of about 30-45 minutes.
How to get there: There are several options to get to Kandungaw Peak, for example with a local bus or habal-habal (bike transport). But the easiest way is definitely to rent a motorbike and drive to the starting point yourself. The Kandungaw Peak is on Google Maps, so it's easy to find with signs along the road. A lady in the information booth will welcome you, write down your name for safety and collect the entrance fee of 30 pesos per person.
What to expect: The hike begins with about 100 steep cement stairs leading up the mountain, resulting in heavy breathing and burning legs. The first part takes you through a local mountain village with amazing views on the valley. After the stairs, the trail is getting more flat before you make your way up to the first summit. There are a total of four viewpoints to see on your way, and one cave to explore. But you have to ask a local or look very carefully for the path leading to the cave. The several viewpoints are all amazing, with 360 degrees view on Cebu. From the summit, you can see Badian island, but also Osmena Peak and Casino Peak. You can take stunning photos from the different look out points, but always be careful when climbing the rocks.
Where to stay: In Dalaguete are some great Airbnb's to stay. But Moalboal is a more common place where travelers base themselves.
Contributed by Ilse from Digital Travel Couple.
Tourist spots in Cebu – Coastal Towns and Beaches
8) Oslob
Oslob is a small coastal town three hours to the south of Cebu City and is best known for the controversial facilitation of whale shark interactions. It is a hugely popular activity and tourists flock in droves to get that pic up close to the whale shark.
The water is crystal clear, and you are almost guaranteed some great photo opportunities. But there are some serious downsides to this activity.
The whale sharks are temped to the shoreline with food. They swim right up to small paddleboats and have buckets of krill poured right down their throat.
The lure of easy food has changed their migration patterns and diluted the quality of their diet. Add to that the unregulated tourist numbers that crowd these animals and you can quickly understand why the experience will leave a bad taste in the mouth of many who visit.
If you are looking for a more authentic experience then I would recommend also visiting Donsol. This is the best place to swim with whale sharks in the Philippines and is a far more satisfying experience.
But if you want to stick with Oslob make sure you go early in the morning, and be sure to give the animals plenty of space… Oh, and don't be surprised with the foreigners price. At least they are upfront about it here.
Oslob is easily accessible by Bus from the Cebu South bus terminal. You have the options of an air conditioned bus, and a slightly cheaper non AC bus. Look for the route headed to Bato via Liloan and should cost around p150.
Contributed by James from Team AJ Travels.
9) Moalboal
Moalboal is an amazing place to visit in Cebu. It's easy to get from Cebu City to Moalboal. You will have to ride a bus from South Bus Terminal in Cebu City for 3 hours and prices are around $3 USD.
There are many things to do in Moalboal. The most popular is the island hopping visiting Pescador Island. While doing this boat trip you will enjoy snorkeling where you will be able to spot turtles and a few fishes. But the most beautiful part is the sardines battle run where you will spot sardines everywhere. Snorkeling and diving in Moalboal is simply great!
Around the Moalboal area there are beautiful beaches and our favorite is visiting Lambug Beach where you can spot star fishes and enjoy white sand and clear water. The best way to move around Moalboal is renting a motorbike but if not you can manage with public bus or tricycle.
Other great thing to do around Moalboal are visiting waterfalls. The most popular are Kawasan Falls with that clear blue water is such an instagrammable place. Make sure you try the canyoneering to have an amazing adventure. Also one hour from Moalboal you can visit Aguinid Falls a 7 level waterfalls where you will have to get a guide to reach all the levels. You can stay 1-2 hours doing this activity.
We recommend you to stay around Panagsama beach area since there are options for accommodation for all the budget and a a few restaurants at night. We recommend you to stay at Pescadores Sea View a mid budget accommodation where sunsets are amazing, you can go swimming and snorkeling and you can rent their transparent kayak.
Contributed by Ruben from Gamin Traveler.
10) Lambug Beach
Lambug Beach is a white sand beach in the town of Badian, the same town where the famous Kawasan Falls and Canyoneering are located. It is the best beach to visit in South Cebu although the beach is still considered a hidden gem.
We visited Lambug Beach after canyoneering and visiting the Kawasan Falls. My husband and I went to Lambug Beach with our canyoneering guide by riding a motorcycle. Our guide was supposed to drop us in our accommodation in Moalboal after the tour but we asked him to do a side trip in Lambug Beach since it is along the way.
There is no entrance fee to visit Lambug Beach moreover tents, cottages, or lodgings are available for rent. We've seen a big resort in Lambug Beach but it was closed for renovation. You will see from the outside that it is a lavish resort with several cottages, a restaurant, a bar, and a huge stage for a party.

Lambug Beach is quaint and serene. Aside from its white fine sand and crystal waters, the beach is less crowded compared to the other famous beaches in the South Cebu. It has a long line of coconut trees while establishments were few and retained at a distance.
Lambug Beach is the best place to pause and unwind after all the thrilling adventures like canyoneering in Badian, swimming with the school of sardines in Moalboal, or hiking in Osmena Peak. After relaxing in Lambug Beach, we still recommend staying in accommodation in Moalboal for convenience since most establishments are nearby.
Contributed by Katie from The Hollapinos.
Tourist spots in Cebu – Cebu City
11) Cebu City
Cebu City has been a global trading center for centuries and is nicknamed the "Queen City of the South". Many visitors see Cebu City only very briefly, viewing it as just a staging post to get to the nearby islands, beaches and dive spots. And while the city is largely a modern boomtown with lots of skyscrapers and shopping malls, it's also home to some historical sights worth seeking out.
The Philippines is the only Christian country in Asia, and Cebu City is the birthplace of Catholicism on the continent. A reminder of this is the cross planted in 1521 by Ferdinand Magellan, the Portuguese explorer who sailed under the service of the Spanish crown. Magellan died here in Cebu at the hands of Mactan warriors who resisted his attempts to convert them to Christianity. The wooden cross is housed inside an octagonal stone shrine, which is covered with mural paintings on the inside.
Another historical and religious monument is the Basilico Minore del Santo Niño. The statue of baby Jesus ("el santo niño") housed here is considered to be the oldest religious relic in the country. It's highly venerated by locals, and there's even a museum displaying the jewelry and clothes used to decorate the statue. Also worth visiting is the Fort San Pedro, which according to the sign out front is "the oldest and smallest triangular fort in the Philippines". The museum inside displays treasures from the San Diego galleon, a ship that sank on its way back to Spain from Mexico. As a large and sophisticated city, Cebu also has plenty of great restaurants serving Filipino dishes as well as more international fare.
Contributed by Wendy from The Nomadic Vegan.
12) Casa Gorordo Museum
If you are visiting Cebu, there are so many fascinating places of interest and historic value that are fabulous to explore in the historic district of the city. One of them worth visiting is the Casa Gorordo museum in the historic part of the central district which is a wealthy home that shows that typical lifestyle, architecture, personal collections, and artifacts of a wealthy family in the Spanish era colonial home. This living museum shows you everything from the bottom to the top and what it was like to live in the colonial days of Cebu and in this beautiful home. The well-preserved home showcases the original collections, furniture, and gorgeous craftsmanship of local artists and wooden carvers that designed the beautiful details, furniture, and other Filipino artifacts.
You start by doing a video experience of the development of the home and about the inhabitants who were the wealthy Gorodo family who built the home in the 1850s. After the video, you can do a guided docent tour or your own DIY self audio tour that is easy to follow through all the beautifully designed rooms and personal collections of the family. There are gardens, a gift store, and also a lovely small cafe selling delicious local desserts and other snacks that help to support the museum and a nice experience while visiting the museum. If you are spending more time exploring Cebu, check out this 3 day Cebu tour for more inspiration and details of what to see and do around the city.
Contributed by Noel from Travel Photo Discovery.
Tourist spots in Cebu – Islands around Cebu
13) Malapascua Island
There are so many highlights to my trip to the Philippines but one that particularly stands out was scuba diving with the thresher sharks in Malapascua Island. It took a long, very hot, and no air-conditioned bus to get to Malapascua in the North of Cebu. But it was definitely worth it! As a diver, sharks were already very high on my bucket list of animals to see and thresher sharks are just the most amazing creatures. They have these googly eyes like the ones kid stick on their artwork at school and the tails are just so unusual. These sharks are usually 2 meters and the tail itself adds another 1 meter to their size!
The thresher shark dive usually starts with a very early wake-up call and we were on the boat just as the sun came up. This is the best time to see thresher sharks because they are at the cleaning stations (an area where small fish clean them of parasites and any wounds) at around 25 meters depth almost every morning. We were lucky enough to see 3 thresher sharks. In order to not scare the sharks away, the dive simply involves kneeling in the sand at the bottom and holding onto a piece of rope while the sharks casually swim around nearby, circling while they are being cleaned and enjoying their "spa". Definitely recommend for the divers and the more adventurous travelers out there. It's one of the best diving in South East Asia.
Contributed by Steffi from Beach Bum Adventure.
14) Bantayan Island
The province of Cebu is known for its beach destinations where you can snorkel, scuba dive, or simply beach bum. You have several options on where to go. But if it's the most beautiful shores you're looking for, then head to Bantayan Island.
Bantayan Island is located in the northern part of the province. It's a medium-sized island divided into 3 municipalities. Tourists often stay in Sta. Fe, where the beach resorts are located.
Undoubtedly, the best beach on the island is Kota Beach. It's inside a private resort called Kota Beach Resort, but you can also swim even if you're a non-staying guest. Kota Beach has fine, white sand and turquoise water. It's the very picture of a tropical paradise. You can swim, relax on lounge beds, drink fresh coconut, or eat fresh scallops and crabs sold by wandering vendors.
Other beaches you can visit include Paradise Beach, Alice Beach, Sugar Beach and Maricaban Beach.
One of the best things to do in Bantayan Island is beach bumming, but if you're looking for other sports, you can also go on island hopping, snorkeling, and even stand-up paddling. Bantayan Island is also one of the handful places in the country that offers skydive activity. For casual tourists, a land tour is available where you will ride a tricycle and visit old churches, gardens and cave pools. If you want to explore the rest of the island, you can charter a private tricycle to the other municipalities other than Sta. Fe.
From Cebu City, it takes 5-6 hours to get to Bantayan Island. Ride a bus to Hagnaya Port and then a ferry to the island.
Contributed by Tara from Tara Lets Anywhere.
15) Siquijor Island
Siquijor wasn't on my original Philippine itinerary, but once I arrived in the country, I heard from even the most jaded travelers that it was their favorite island in the Philippines. So, I changed my schedule up a bit to make sure I could fit it into my itinerary. And boy was I glad I did!
If you've been in the Philippines long enough, you'll start to feel that one island blends into the other one to the point that it feels like the movie, Groundhog Day. But Siquijor is special. For one thing, you can snorkel over a beautiful coral reef that's right off the beach. No need to go on any pricey island-hopping tour to snorkel as you need to in Palawan. Second, the island is home to some gorgeous waterfalls like Cambugahay Falls and Lagaan Falls, where you can swim in pools at the base of the falls. Another great experience is not for the faint of heart—cliff diving at Salagdoong Beach. And finally, if you're really the curious type who loves some culture and mystery in their travels, you can visit a shaman where you can buy a love potion or potion to ward off evil spirits for 1,000 pesos.
To get to Siqujior from Cebu, the best way is to first travel by ferry to Bohol and then from there take another boat to the Lorena pier on Siquijor. If you need some inspiration for planning, check this Siquijor itinerary.
The most popular area to stay in is in San Jose where the island's best beaches are (Paliton Beach and Tubod Beach). For budget travelers, try the dorms at Love Shack or Tagbalayon Lodging House. A good mid-range place is Mandala Tribe Treehouse. But if you've got some money to spend, I highly suggest staying at Coco Grove Beach Resort.
For more tips, check these things to do in Siquijor.
Contributed by Julie from The Bamboo Traveler.
More Philippines inspiration:
Are you planning a trip around other islands in the Philippines? These articles might come handy:
Pin tourist spots in Cebu for later or to your friends:
Did this post about tourist spots in Cebu help you? Share it with your friends! It can help them too!
Disclosure: Please note that some of the links above may be affiliate links, and at no additional cost to you, we earn a commission if you make a purchase. We recommend only products and companies we personally use and we use this income for further improvement of this website. Thank you!