Birmingham, the second-largest city in Britain, is known for its rich heritage, diverse culture, and tourist attractions.
The city is located in the West Midlands and is known for its 18th-century industrial landmarks. Birmingham is acclaimed as the "city of a thousand trades" in the world after it received city status back in 1889.
Thanks to the number of businesses headquartered in Birmingham, today, it is also recognized as the 'first manufacturing town' in the world.
The vast amount of history paired with the city's contemporary recreational activities makes this place an ideal destination for tourists and sightseers. More than 40 million tourists and vacationists visit Birmingham yearly. But, considering the countless places of interest that this city is home to, it might become tough to choose the ones that should be part of your itinerary when you visit. For your convenience, we've put together a list of the top 25 best places to visit in Birmingham:
25 Best Places to Visit in Birmingham
1) Victoria Square and Birmingham City Center
Victoria Square is also known as the heart of Birmingham city. It is a pedestrianized square in Birmingham, which is also the home to the Town Hall and Council House. This place can be explored via the Birmingham Center.
Along the way, you can also visit the masterpiece of Victorian architecture called the Town Hall, which was built in 1832. Today, it's popular as a Symphony Hall in which A-list singers and artists perform regularly.
Victoria Square's mesmerizing artwork offers plenty of photographing opportunities. This place also offers different cultural events, concerts, and festivals from time to time.
2) Jewellery Quarter
Jewellery Quarter is another popular tourist attraction in Birmingham, which is home to Europe's largest concentration of jewelry trade.
More than 40% of Britain's jewelry is produced in this area. There are over 200 workshops and special jewelry-retailing shops that offer state-of-the-art jewelry pieces with huge savings.
There are plenty of attractions for tourists, including art galleries, museums, and restaurants. The famous Pen Museum is also located here, marking the history of Birmingham city as the center of the international pen manufacturing business in the 19th-century.
3) Thinktank, Birmingham Science Museum
Thinktank Science Museum is one of the best places to visit in Birmingham if you're traveling with children and young budding scientists.
This award-winning place includes a vast number of interactive and hi-tech exhibitions. From robots to steam engines and chocolate-packaging machines, Thinktank Science Museum Birmingham has something to offer for everyone.
Housed inside the Millennium Point building, there are four floors loaded with interactive science exhibits and historical collections about the innovative tech inventions around the world.
Take a trip to the Science Garden outer space that includes a human-sized hamster wheel, 30 exhibits, and a planetarium.
You will also find a gift shop and cafe in the building where you can relax and enjoy your favorite snack with a cup of coffee.
4) Barber Institute of Fine Arts
The Barber Institute of Fine Arts is next to Birmingham University. It includes ancient artworks from the renaissance period till the 20th-century.
This place houses artwork of renowned artists, including Manet, Bellini, Degas, and Watteau. Don't forget to check out the institute's schedule of classical lunchtime and evening concerts.
This place was erected between 1936 and 1939. In addition to the art gallery, the Barber Institute of Fine Arts also includes libraries, offices, and an expansive concert hall.
If you love music, art, and delicious food, then this place is for you.
5) Birmingham Botanical Gardens
Botanical Gardens are one of the best places to visit in Birmingham if you love rainforests and landscaped greenery. This place is situated in Edgbaston and is spread across 15-acres.
There are innumerable things you can do in these gardens. They are close to the center of the city and are popular because of their magnificent bonsai tree collection and tropical birds.
There are more than 7000 exclusive plants. 'Omiya', a 250-year Japanese tree is also planted there, which is a center of attraction for nature lovers across the globe.
Apart from that, there's a range of eccentric plants in the nursery, including Himalayan Cedars.
6) Cadbury World
Cadbury World is a popular tourist attraction located at Linden Rd, Birmingham. Here, you can have a fun chocolate day with your kids and loved ones.
The visitors here get to learn about the chocolate-making process. There's also a big theme park and the world's biggest Cadbury shop where you can purchase gifts for your family.
There's a dedicated African adventure play area and a Cadbury cafe to relax. Cadbury World includes 14 zones that portray the different stages of the Cadbury business.
Cadbury World also offers character dining, afternoon tea, and character birthday facilities to the visitors. If you love chocolate and looking to experience a day as a chocolatier, then this place is a must-visit destination for you.
7) National Sea Life Center Birmingham
The National Sea Life Center is one of the most-visited tourist attractions in Birmingham. There are more than 60 exhibits related to sea life. The National Sea Life Center includes all of your favorite marine creatures in one place.
From magnificent sharks to vibrant clownfish and inquisitive sea turtle, you'll be able to get closer to them than ever before.
The tropical ocean display and a beautiful underwater tunnel is where you can come face-to-face with a range of enigmatic creatures.
The massive underground water tank steals the show. The penguin Ice Adventure habitat enables tourists to watch the captivating penguins, and the feeding programs adds on to the fun and adventure.
You can also check out a 4D informational cinema and a Birmingham Wildlife Conservation Park to watch different animal species such as lemurs and red pandas.
8) Birmingham Museum and Art Gallery
Inaugurated in 1985, the Birmingham Museum and Art Gallery is believed to be one of the coolest places to visit in Birmingham.
It has a collection of artwork by famous artists and painters from the 17th to 19th centuries. The City Center Museum includes more than 40 art galleries showcasing top-notch collections and artwork.
You can also explore artifacts of ancient Egyptian civilization, including mummies, metalwork, and jewelry.
The popular diplodocus called 'Dippy the Dinosaur' is also on display. This museum also has interesting things relating to the archeological finds dating back to ancient times.
These things include old coins, handicrafts, and paintings. The Pinto collection includes over 6000 wooden toys, whereas the Edwardian Tearooms offer an assortment of food and drink options for the visitors.
If time permits, take a quick tour to the Ikon Gallery, which is a modern art museum and is popular amongst contemporary art lovers around the globe.
9) St. Philips Cathedral
The St. Philip's Cathedral is a historical cathedral church that was erected in 1715. Earlier it was built as a Parish church and raised to the present status in 1905.
This place is a fine example of English Baroque architecture and is one of the oldest buildings in town. Home to some remarkable treasures, the cathedral is simply fascinating inside and out.
If you admire architectural brilliance and art, then you should visit this artistic masterpiece that offers an unparalleled experience for visitors and worshippers.
10) Birmingham Back to Backs
The Birmingham Back to Backs is a restored 19th-century courtyard that is preserved as an example of hundreds of thousands of similar houses built on the principle of shared courtyards.
There's also the 1930-style sweetshop that remains open from 10:30 am till 5 pm. All back to backs had been pulled down in the 1970s when they had been proclaimed unfit for human occupancy.
11) Library of Birmingham
The Library of Birmingham is ranked as the biggest library in the UK. It is also considered as the largest public place in Europe.
This place includes a tourist information center, a Discovery Terrace, and a Secret Garden. The library stays open throughout the week except for Sunday. There's also a cafe and a shop for visitors.
12) Birmingham Wildlife Conservation Park
Birmingham Wild Life Conservation Park is located on the edge of Cannon Hill Park in Birmingham. It is a small zoo that is home to a unique collection of animals, including lemurs, pandas, and snakes.
This place is run by Birmingham City Council and is one of the biggest tourist attractions, especially for families with children.
13) LEGOLAND
Discover a world of fun at the LEGOLAND Discovery Center, Birmingham. There are different themed zones, Merlin's apprentice ride, a creative workshop, and a LEGO City Builder where you can bring your imagination to life. From huge skyscrapers to hearty villages, you can make almost anything with the help of colorful bricks.
14) Bullring Shopping Center
Bullring is a major shopping center located in central Birmingham. This place houses shops featuring diverse high-street fashion, accessories, and household goods. There are more than 200 shops, restaurants, and department stores.
15) Cannon Hill Park
Cannon Hill Park is a must-visit place for Tennis lovers. The tennis courts have recently been renovated.
Besides tennis, you can also experience fishing, running, cycling, and walks when you visit this place. Cannon Hill Park is popular because of the magnificent surroundings that you can enjoy during your activity.
10 More Places to Visit around Birmingham
16) Alton Towers
Alton Towers Resort is a popular theme park in Staffordshire, which is famous for its spas, mini-golf, and a beautiful theme park. Rides are exciting, and there are options for everyone. Prebooking is essential for all visitors, including passholders.
17) Drayton Manor
Drayton Manor is a fun-filled tourist destination that is home to thrilling rides and attractions. There's a 15-acres zoo where you can explore more than 100 animals from all around the world.
Thomas Land is a must-visit zone if you have kids along. There are different exciting rides for kids of all ages, including runaway coasters, carousels, and helicopter tours.
18) Black Country Living Museum
The Black Country Living Museum is a 26-acre open-air museum that is just 9 miles away from the main city.
This place offers a rich insight into the world's first industrial landscape. It consists of more than 50 authentic buildings and an ancient mine shaft that you can explore.
The costumed guards add to the overall appearance of this place. Their job is to explain to the tourists the kind of lifestyle led by the people back in time. You should visit this place if you want to explore the history of industrialization.
19) West Midland Safari Park
West Midland Safari Park is situated in the heart of Bewdley in Worcestershire. This place is home to a wide range of exotic and endangered animal species.
Highlights include an adventure theme park, Land of the Living Dinosaurs, Ice Age, Discovery Trail, Boj Giggly Park, and an African Village.
20) Warwick Castle
Experience the medieval escape and the knight's village in the Warwick Castle, Birmingham. This castle was originally built by William the Conqueror in 1068.
Warwick is a small county town located on a bend of the famous River Avon. This castle is absolutely stunning with breathtaking views.
21) Dudley Zoo
Dudley Zoological Gardens is a heaven on earth for animal lovers. Home to the world's rarest animals, this place should be on your bucket list if you want to experience a real fun day with your family and kids.
22) Greyfriars House and Garden
Discover medieval merchant's house and walled garden in Greyfriars House, Birmingham. This place is a hidden gem and a top tourist attraction located in the center of Worcester. It's a small place with knowledgeable staff and guides.
The small garden and a patio is a perfect place to have some quality time. Elsie's Tearoom offers a limited but adequate menu.
Visit Greyfriars if you want to explore a magical place with a long history in Birmingham.
23) Coventry Transport Museum
Experience the fascinating history of road transport in Britain by paying a visit to the Coventry Transport Museum. Highlights include a beautiful collection of cycles, motorcycles, and other commercial vehicles.
There are royal limos and other luxury cars on display. Don't forget to take a ride to a classical sleigh if visiting in the winter. Fun educational interactive displays are another added attraction that entices visitors all around the year.
24) Herbert Art Gallery and Museum
Herbert Art Gallery and Museum is another top-rated tourist attraction located at Jordan Well, Coventry. A particular treat for art lovers, this museum is named after Albert Herbert, one of Coventry's most popular philanthropic industrialists.
The art gallery houses fine sculptures and paintings, portraying different parts of the city. There is a massive costume collection dating back to the 19th-century. This collection includes contemporary clothing depicting the city's diverse styling techniques.
The museum offers many learning and educational activities for the sightseers. Also, there's a cafe on-site where you can relax and enjoy some of your favorite snacks.
25) Broadgate, Coventry
Broadgate is a beautiful pedestrian-friendly square in the center of the Coventry city. This pedestrian-friendly place is popular for its connection with the famous American Technicolor historical drama film ' Lady Godiva of Coventry'.
Holy Trinity Church has one of Birmingham's three spires. This place boasts an ancient stone pulpit, tapestries, and eye-catching windows.
We bet you didn't know about all of these fascinating tourist destinations in Birmingham. But now that you do, it's time to book your flight, pack your bags, and have a wonderful vacation in Birmingham.
Map of the best places to visit in Birmingham
We have prepared a detailed map of all the best places to visit in Birmingham to help you plan your trip out. The map can be exported and uploaded to the mobile map app like Maps.me or Locus maps.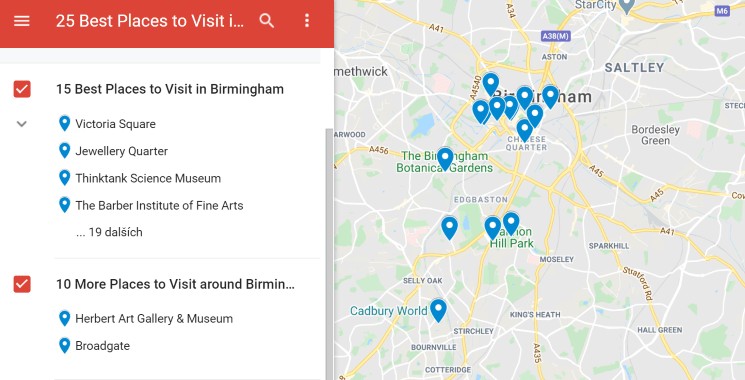 Best Places to Visit in Birmingham Video:
Author's bio:
Uzair Ahmed is a digital marketing and SEO Expert working for multiple organizations to boost their business and online presence. He is currently working as an SEO analyst at OptimusLawUK. You can contact him on Twitter, Facebook, or Email.
More tips for your travels:
We have prepared for you this comprehensive list of links, discounts, and resources for travel planning in one place. Bookmark this page and whenever you plan a vacation in the future, just open it and save yourself a lot of time.
1) Where to book accommodation?
2) How to find cheap flights?
3) How to rent a car?
We recommend a comparison portal RentalCars.com to compare the best offers of all available rental companies.
Pin Places to Visit in Birmingham for later or for your friends:
Best places to visit in Birmingham – FAQ:
Is there a downloadable map of the best places to visit in Birmingham?
How to find accommodation in Birmingham?
Accommodation options in Birmingham are huge. The easiest way is to book hotel or hostel at Booking.com.
What are the best places to visit in Birmingham?
Did this post about the Places to Visit in Birmingham help you? Share it with your friends! It can help them too!
Disclosure: Please note that some of the links above may be affiliate links, and at no additional cost to you, we earn a commission if you make a purchase. We recommend only products and companies we personally use and we use this income for further improvement of this website. Thank you!