Koh Phangan (Ko Phangan) is one of the beautiful Thai islands which is popular not only for its famous Full Moon Parties but also for more than 20 beautiful beaches, which offer a great place for relaxing and snorkeling. Koh Phangan offers a variety of activities where everyone will find something to do. Let's have a look at the best things to do in Koh Phangan, whether you prefer active adventures like kayaking along the coast, discovering temples, waterfalls, and beaches or you rather go on a yoga retreat.
This blog post is not only about the top things to do in Koh Phangan – we have also prepared a bunch of practical information where you will learn how to get to the island, interesting places to see, what are the best beaches, and other travel tips. Koh Phangan should be on every Thailand itinerary.
Best things to do in Koh Phangan: Activities
1) The Challenge Phangan
If you like sport, adventure and a bit of adrenaline, then this water park is exactly for you. It's definitely one of the best things to do in Koh Phangan. Challenge Phangan offers very unique obstacle course full of inflatable things, sinking bridges and other obstacles that require skills and dexterity. You can join the monthly contest and compete against time. Who overcomes the final and the most difficult obstacle, wins a drink. Honestly, we enjoyed so much fun and spend around 6 hours there. So, don't wait and get your unlimited pass to the Challenge Phangan.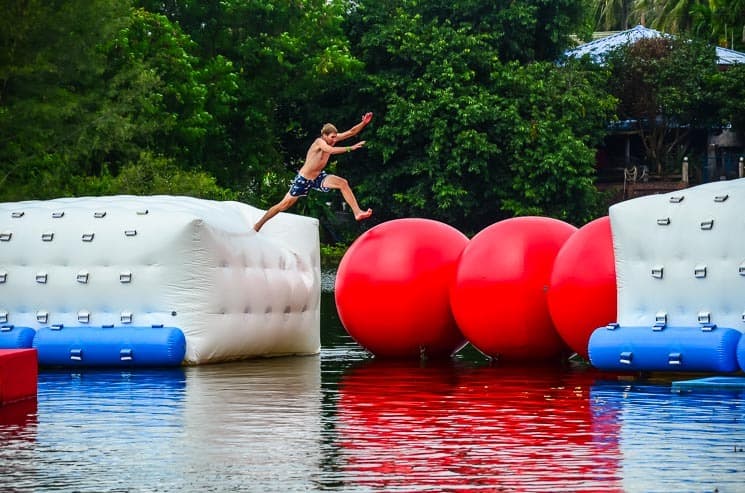 2) Rope course and zip line
If you want to enjoy some adventure at heights, you can try a rope course and zip line "Just for Fun – Canopy Adventure, Thailand". They also offer zipline courses combined with archery and Thai cuisine.
3) Kayak
You can hire a kayak on most of the beaches. It usually costs around 100-150 THB per hour. There are discounts on all-day kayak rental. The most beautiful kayaking area is the west coast from Koh Ma to Wok Tum, where you can discover one beach next to the other.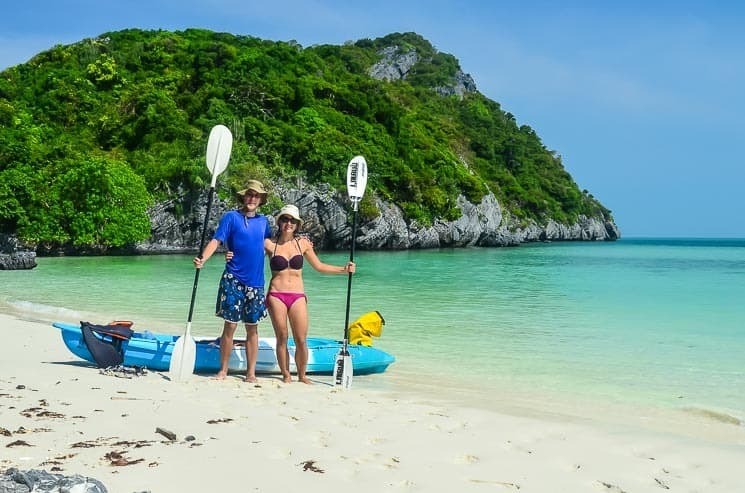 4) Slip N Fly
Another cool water park to try is Slip N Fly. It's a little bit more expensive than the Challenge Phangan and it's mainly about slides. You can get your day pass here. You can check out the video, and see, what is waiting for you:
5) Get your PADI diving license
People from all over the world come to Thailand to do their PADI diving license, so why not try PADI Scuba Diver Course in Koh Phangan.
6) Night market = the best gourmet experience
You will love Thailand especially for its evening markets full of delicious food! Night markets are the culinary gateway to Thai culture. One visit and you will keep coming back. There is everything from seafood, noodles, rice delicacies, grilled meat, to fried insect, perfect desserts, ice cream or fresh smoothies and fruit shakes. All of that for very reasonable prices.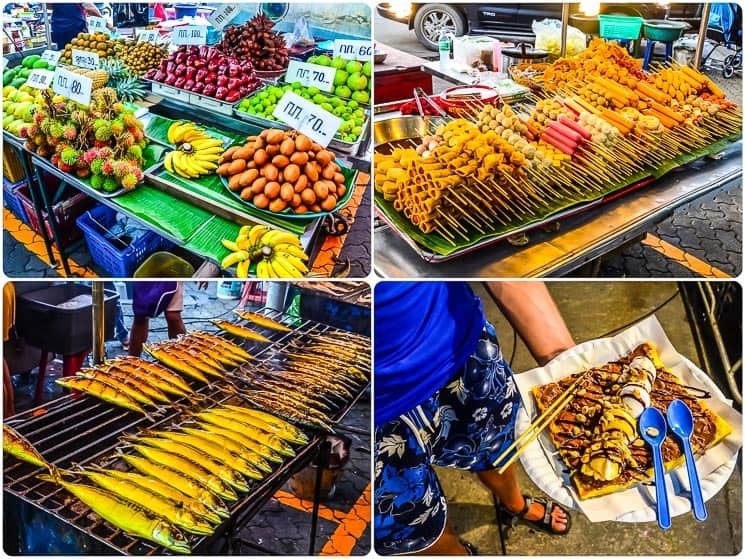 Where to find Night Markets at Koh Phangan:
What should you try?
Exotic fruit – Durian, Mangosteen
Fried insects (available on the market)
Pad Thai (Typical Thai noodles)
Seafood, grilled fish
And hundreds of other delicious Thai specialties
7) Thai cooking class
Thailand is well-known for its delicious cuisine, and if you enjoy cooking, you can try some Thai cooking class. That is the ideal program for a rainy day. Koh Phangan offers various cooking classes, you can try for example Same Same at Hat Rin, C&M Study Center, Jang's Thai cooking school and many others.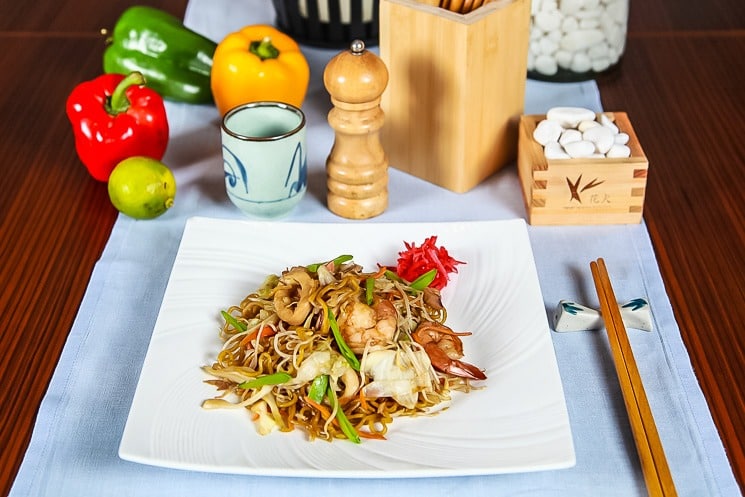 8) Yoga
Some travelers visit Thailand to try yoga. There are several studios that offer both individual lessons and longer courses (e.g. Gaia Yoga). A single lesson costs about 300 THB.
9) Meditation courses
If you wish to learn how to focus and calm the mind you may try a 5-day Meditation Retreat Course, full of different types of meditation or find something shorter.
10) Full Moon Party
It has been three decades since the group of tourists enchanted by a full moon on Koh Phangan decided to make a celebration. Since then, it has become a tradition. Nowadays, Full Moon Parties attracts visitors from all over the world every month. This huge party take place at Hat Rin Beach (Haad Rin). There is an admission fee of 100 THB, which is collected for beach clean up. The Full Moon party is such a huge event that host 10 to 30 thousand visitors every month!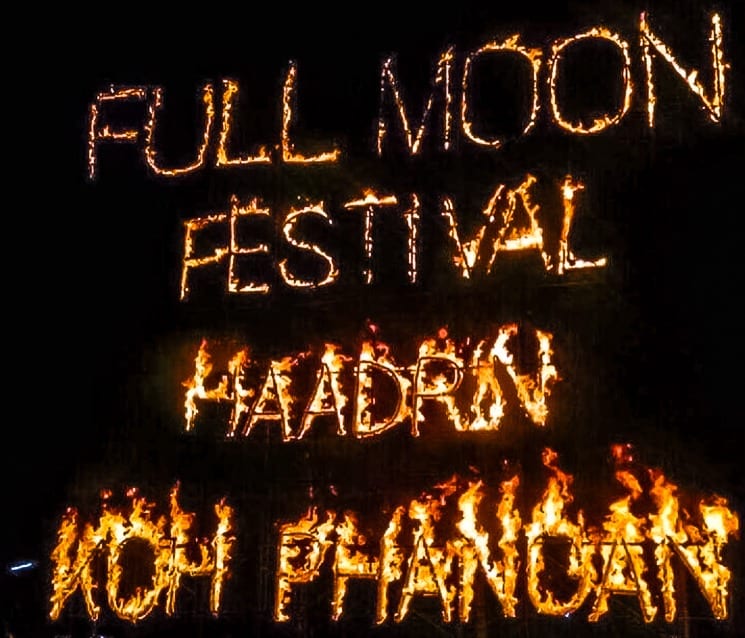 The party starts at dusk and ends at dawn. During the celebrations, you can witness a fire, dance and bartender shows. There are also lanterns, fireworks, color painted people, loud music and alcohol. Accommodation in this area is booked long in advance, before the Full Moon party. Those who prefer quiet places should rather choose the opposite side of the island, which is much calmer.
If you aren't coming to Koh Phangan at the time of the full moon, you don't have to be disappointed. There are so-called Half Moon parties and Black Moon parties, which means that there is a party every week.
Half Moon party
This party has another organizer, a different place and a little bit higher admission fee. For information about the event, visit the Half Moon Festival website. It is not that crowded as the Full Moon Party.
Black Moon party
"Peace, Trance, Dance", that's a slogan of the New Moon party, which is held every month on Mac's Bay beach. More information on the BlackMoon culture website.
Note: Prices of accommodation at Hat Rin are about 30% higher than normal in a time period of Full Moon Party.
Things to do in Koh Phangan: Trips
1) Trip to Koh Tao
If you are a diving fan, you shouldn't miss a snorkeling or diving trip to the nearby Koh Tao island. Diving lovers from all over the world come to Koh Tao Island to get a cheap PADI diving license. Koh Tao has an incredibly rich underwater life. You can see fish of all kinds and colors including sharks! We have a practical guide with activities and the best places to dive on Koh Tao: 25 Best Things to Do in Koh Tao.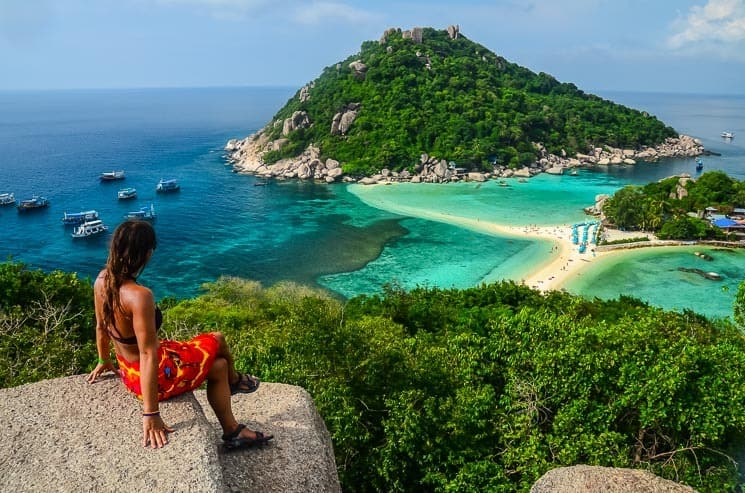 2) Ang Thong National Marine Park
Ang Thong National Park is a hidden gem of the Gulf of Thailand. Head off for an amazing day trip to Ang Thong. If you like the tranquil place, we recommend staying at least one night in Ang Thong! Especially if you like kayaking. The national park consists of small islands, among which you can paddle the whole day. There is a beautiful lagoon, a cave, an awesome viewpoint, plus you can swim with bioluminescent plankton during the night!
Read all the information you need to know: Ang Thong National Marine Park, Thailand – Ultimate Guide to (Multi) Day Trip.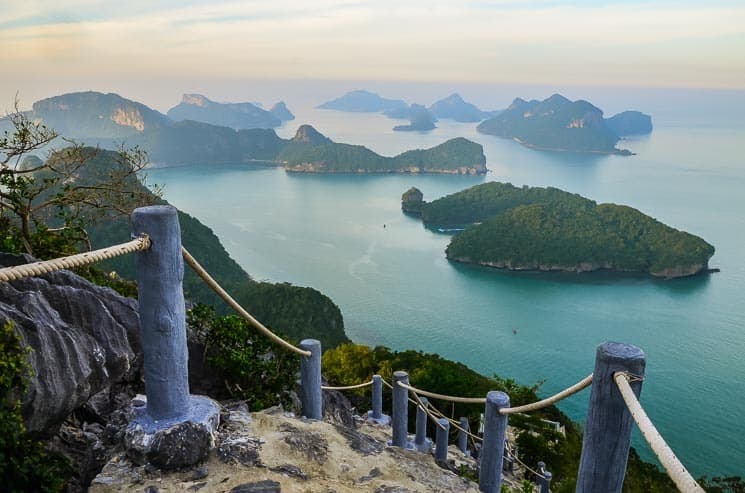 3) Rent a scooter/motorbike and explore the island
There is no better way for island exploration than visiting all the beaches, waterfalls, and attractions with a rented scooter. Are you scared because you have never sat on a motorbike? Neither did we, so we tried it and it was a great trip. You will find a lot of rentals on Koh Phangan, prices are around 150-200 Baht per day. The roads are quite good and safe. If you want to make a trip to waterfalls, Phaeng Falls is a good choice.
Things to do in Koh Phangan: Best Beaches
Beaches are definitely high in the list of the best things to do in Koh Phangan.
1) Hat Yuan Beach
Hat Yuan is a beautiful beach from which you can follow a wooden walkway between the rocky coast to the neighboring Bay of Hat Thian.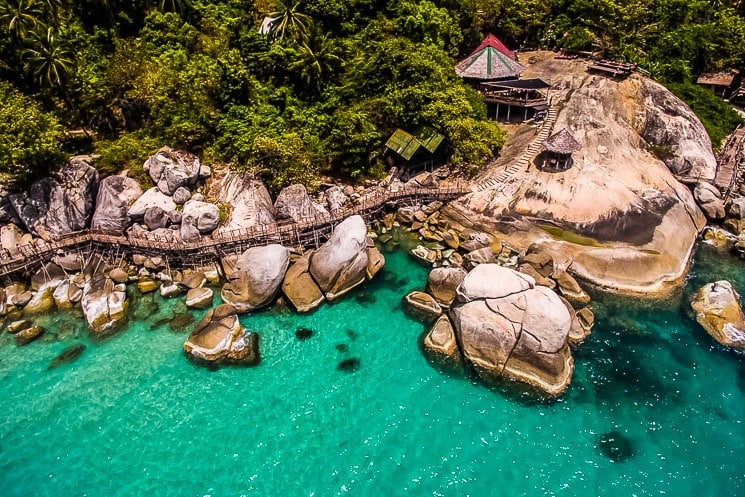 2) Bottle Beach
Bottle Beach is a well-hidden beach, with access by a gravel road or by boat. If you are looking for some calm and peaceful beach, this is the right one.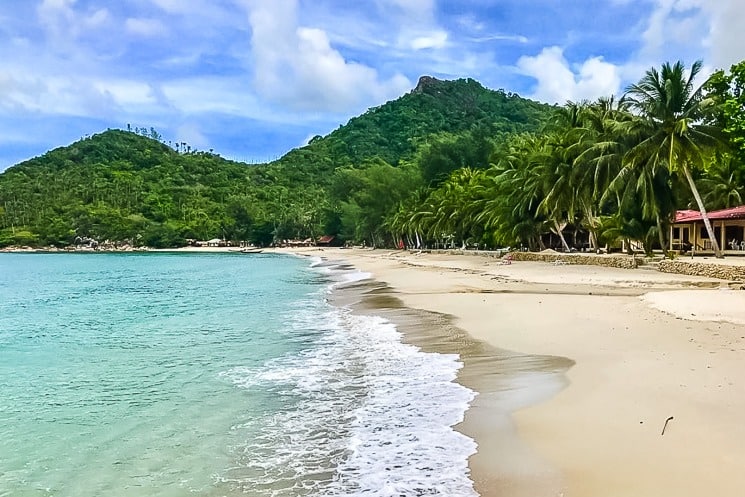 3) Mae Hat Beach
This beach is quite interesting because it connects the island of Koh Phangan with a small island of Koh Ma. In the photo, you can see Mae Hat beach on the left side of the photo.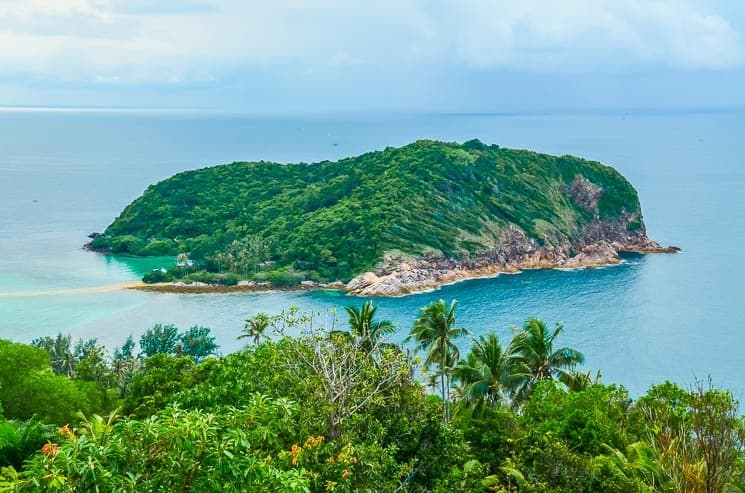 4) Hat Salad Beach
Small and quiet beach, located in the Hat Salad village. The water is clean and you can find several restaurants nearby.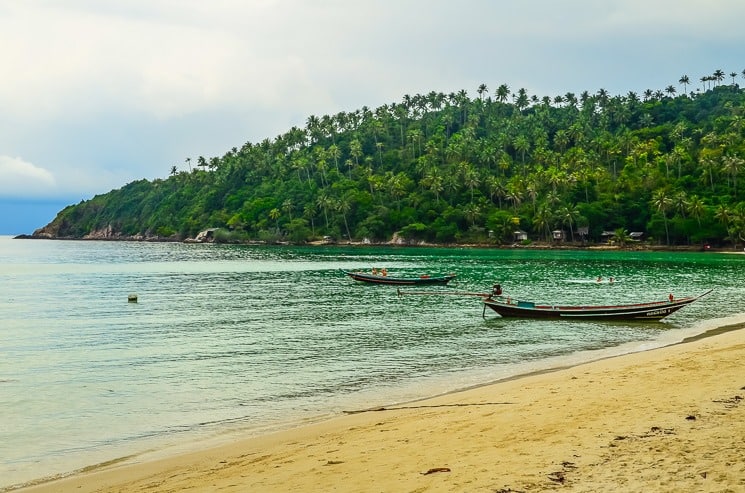 5) Malibu Beach
White sand beach with coconut trees and clear water. Ideal beach for families with children, the beach is shallow, especially at low tide.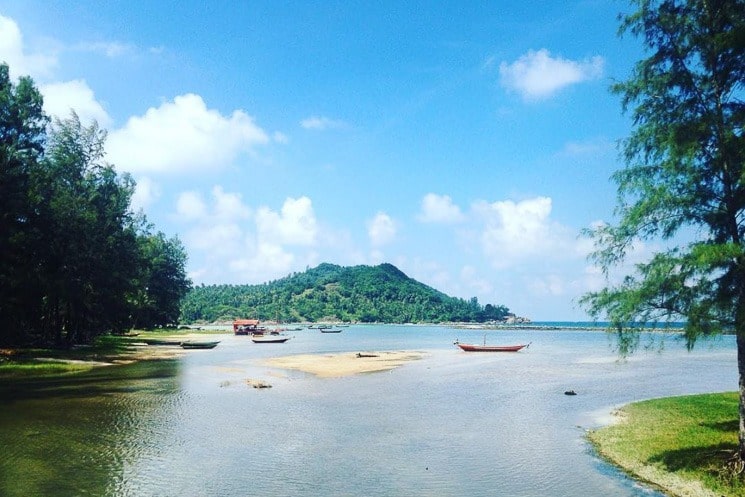 6) Hat Yao Beach
Hat Yao is a kilometer-long beach which is often called "the perfect beach of Koh Phangan".You can also find there a coral reef, which makes the place ideal for diving. Along the beach, there are various types of accommodation, restaurants, and bars.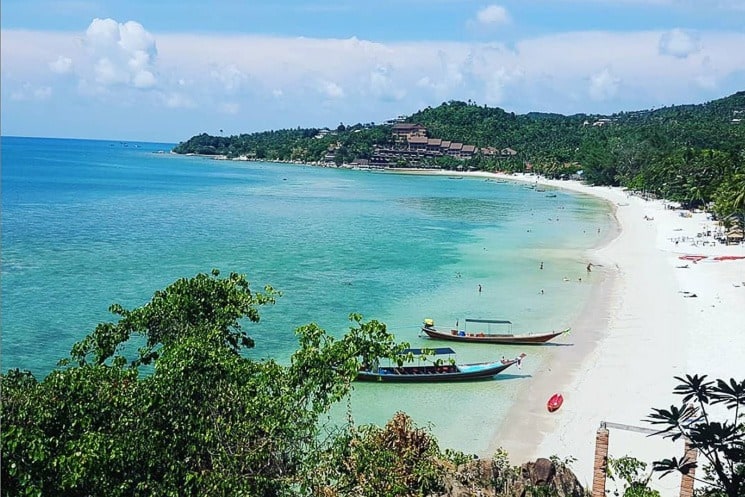 7) Thong Nai Pan Yai Beach +8) Thong Nai Pan Noi Beach
Thong Nai Pan is a great place if you are looking for some peaceful and more remote place to avoid tourist crowds. There are two different beaches. Yai is bigger and there are usually fewer people. Thong Nai Pan Noi is a smaller beach with some luxurious resorts.
9) Hat Rin Beach
Probably the most famous beach in Koh Phangan, because of its famous Full Moon party, which takes place right on this beach. Hat Rin Beach is quite busy even without parties.
There are many other beautiful beaches on Koh Phangan and relaxing on the beach definitely belongs among the top things to do in Koh Phangan.
Best Things to do in Koh Phangan: Map of places and activities
We have prepared a detailed map of all the top things to do in Koh Phangan to help you plan your trip out. Points of interest are divided by categories. Each category has a different color for easy orientation. The map can be exported and uploaded to the mobile map app like Maps.me or Locus maps.
Koh Phangan – Accommodation
Nearby Hat Rin and Full Moon Party:
Quiet parts of Koh Phangan:
More inspiration on where to stay in Koh Phangan.
Getting to Koh Phangan
Ferry from Surat Thani to Koh Phangan
There are several ways how to get to Koh Phangan from Surat Thani:
The fastest option is the Lomprayah ferry that departs directly from Surat Thani. The journey takes 2,5 hours and the boat sails 3 times a day.
A slightly cheaper option is a combination of bus and boat ticket (so-called "Joint ticket") This boat departs from more distant Donsak.
The last option is a night ferry, which leaves at 22.00 and the cruise takes about 6 hours. There is bedding and so you can sleep the whole way to Koh Samui. You save 1 night at ho(s)tel by taking this boat.
If you spend the night in Surat Thani, you can ask for current options and prices at your reception desk. You can also buy tickets online in advance, where you can find "joint tickets" from $10 (Phantip 1970 or Raja Ferry).
If you are looking for accommodation in Surat Thani we can recommend 4Hearts Loft House with incredibly helpful staff and free transfer to the port.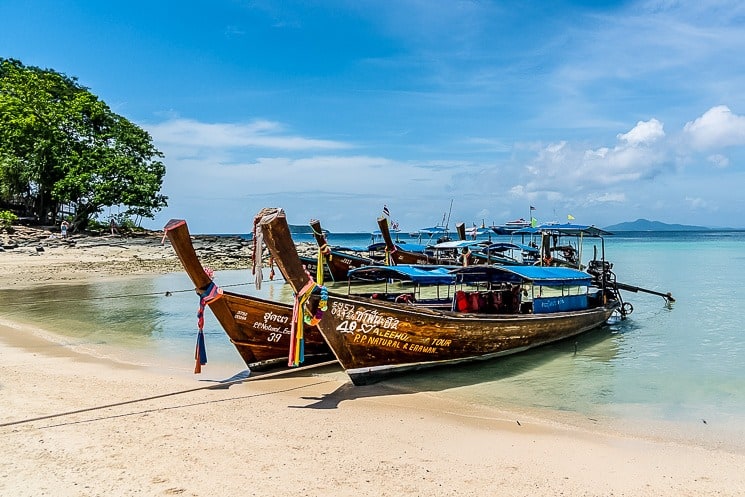 Getting from Bangkok to Koh Phangan
There are several options for getting to Koh Phangan from Bangkok. The fastest and therefore most expensive option is a flight to Surat Thani or to the neighboring island of Koh Samui. The best flight deals around Asia can be found at Momondo.
The next option is to choose either a train or a bus. We can definitely recommend a night train, which is the most comfortable option. The train journey from Bangkok to Surat Thani takes about 12 hours.
Tickets and their combinations can be booked online at 12Go. You can also buy them right at the station. It can be cheaper but you risk that the nearest connections will be full and you will have to wait a few hours (in that case is better to buy them 1-2 days in advance).
Ferry from Koh Samui to Koh Phangan
Ferry from Koh Samui to Koh Phangan is part of the ferry line among the islands and the mainland ports of Surat Thani / Donsak. If you are already on Koh Phangan, there is nothing easier than asking for tickets at your hotel reception desk. You can also buy ferry tickets in the harbor.
Flights to Thailand
Skyscanner usually has good deals on flight tickets. If you are flying within Asia try also Momondo.
Best time to visit Koh Phangan
The best time to visit Koh Phangan is from late December until mid-April. The average temperature is around 28 to 32 °C. The weather from May to September is not completely bad, but you have to count on rain showers from time to time. You should avoid October and November because of the monsoon season.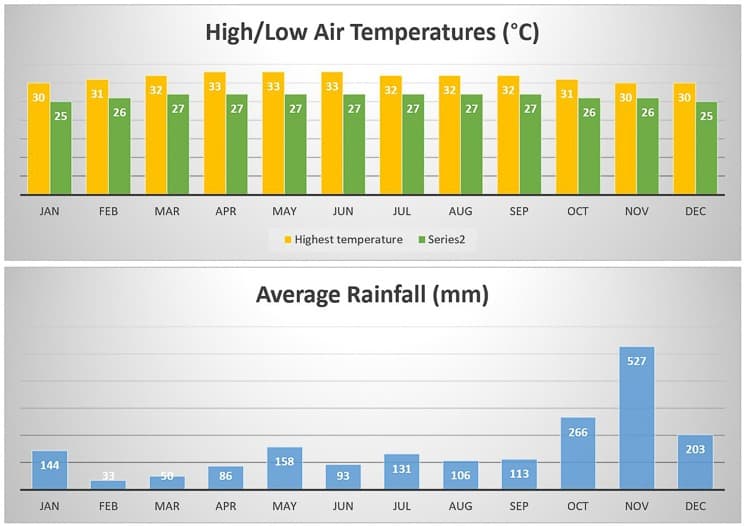 Prices at Koh Phangan
100 Thai Baht (THB) is $2.7. You can use the exchange rate calculator.
| | | |
| --- | --- | --- |
| What? | Price in THB | Price in $ |
| Meal at local restaurant | 100 THB | $2.7 |
| Fruit shake | 30 – 50 THB | $0.8 – 1.4 |
| Bananas (1 kg) | 18 THB | $0.5 |
| Petrol (1 l) | 30 THB | $0.8 |
| Taxi (1 ride) | 120 – 170 THB | $3.2 – 4.6 |
| 1 night at hostel | 200 THB | $5.4 |
| Room for two at cheaper accommodation | 350 – 450 THB | $9.5 – 12.2 |
Koh Phangan or Koh Samui?
A quite easy solution is to spend a few days on both islands. Koh Samui is larger, so it offers more places to see and do (there are more temples than in Koh Phangan). For golfers, Koh Samui will be the no. 1 choice. Koh Phangan is smaller and you will find calm corners here, as well as a unique Full Moon Party. From Koh Phangan, it is closer to the diving paradise at Koh Tao.
Koh Phangan – Practical tips
Plugs – In Thailand, you will find a combination of different types of outlets (A, B, C), they vary from hotel to hotel, so taking the adapter might be handy. The voltage is 220 V, frequency 50 Hz.
Tap water is not drinkable.
Vaccination – there is no compulsory vaccination, but its recommended to be vaccinated against Hepatitis A, B, and Typhoid Fever.
Check out this awesome video about Koh Phangan:
More island in Thailand to visit:
More tips for your travels:
We have prepared for you this comprehensive list of links, discounts, and resources for travel planning in one place. Bookmark this page and whenever you plan a vacation in the future, just open it and save yourself a lot of time.
1) Where to book accommodation?
2) How to find cheap flights?
3) How to rent a car?
We recommend a comparison portal RentalCars.com to compare the best offers of all available rental companies.
Pin things to do in Koh Phangan for later or for your friends: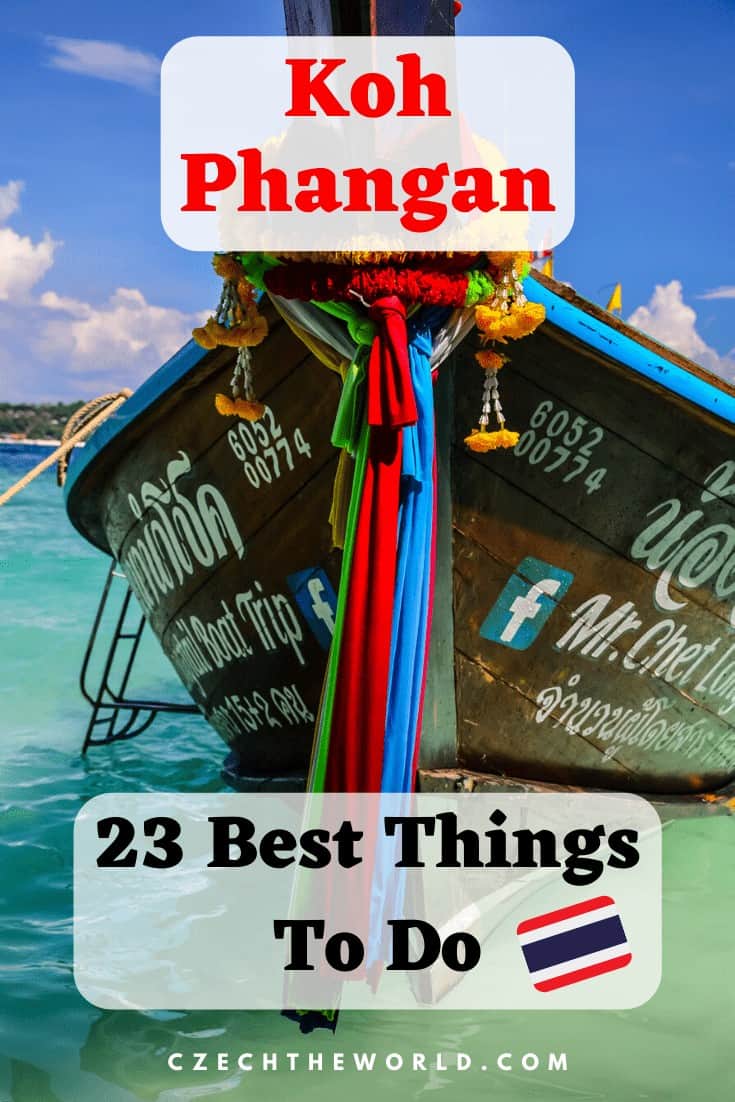 FAQ – Things to do in Koh Phangan:
Did this post about things to do in Koh Phangan help you? Share it with your friends! It can help them too!
Disclosure: Please note that some of the links above may be affiliate links, and at no additional cost to you, we earn a commission if you make a purchase. We recommend only products and companies we personally use and we use this income for further improvement of this website. Thank you!