This is your Ultimate Myanmar Backpacking Guide. You will find all practical information about transportation, accommodation, eVisa, food, backpacking, offline map, beaches, vacation, the best time to visit Myanmar and more.
Authentic and extraordinary land, unspoiled by tourism. That's Myanmar. One of the most Buddhistic countries in the world. If you are looking for an adventure and a higher level of traveling on your own, we promise that you will be excited by visiting Myanmar in the Southeast Asia!
As soon as you enter Burma, you will feel like 100 years back in time. Locals aren't used to tourists so far, so they are still very helpful, kind-hearted and curious!
1) Why should you travel to Myanmar?
Ancient temples, pagodas, and monuments. Nowhere else is such a big concentration of temples, monasteries and Buddha monuments. In Myanmar, there is the largest reclining Buddha in the world.
Kind People – Burmese are truly kindhearted and welcoming people. You will feel the contrast especially if you have spent some time in Thailand, Laos or Cambodia, before visiting Myanmar. (People in Thailand usually see you as a walking wallet…).
Minimum tourists (so far) – Burma is one of the last countries in Southeast Asia that is not crowded by tourists yet. If you prefer places, where you don't meet a bunch of tourists, Myanmar is the ideal destination for your travel and vacation.
Photography paradise – historical sights and golden pagodas will not let you sleep – literally! Sunsets and sunrises are perfect in Myanmar landscape! I bet you will be waking up again and again to see these absolutely amazing sunrises.
Beaches – Beautiful, white sand palm beaches with turquoise water. Best of all, these beaches are literally empty! Their only visitors are sometimes children from nearby villages
Great for your budget – Myanmar is ideal for low-cost travel and vacation. Our entire month's expenses, including visas, transport, food, accommodation and flight tickets from Bangkok did not exceed 600 USD! (2018)
Back in time journey – Not literally, but you will feel like 100 years back in Myanmar. At least somewhere and in some situations. Myanmar countryside looks like 150 years behind in time compared to the western world. Local people still live from fishing and live in bamboo chalets on the beach.
2) Myanmar Backpacking: Best time to visit
November to March: the best time to visit Myanmar. During this period is dry "winter". Don't misunderstand the expression "winter". It's still pretty warm (around 25-30° C) and truly dry. We didn't experience a single drop during the whole month.
March to May – Summer season with unbearable hot temperatures.
June to October – Rainy season – it rains constantly, so it's not a good idea to visit Myanmar.
3) Myanmar Backpacking: Visa
A classic eVisa is a perfect choice if you plan to visit Myanmar for 28 days or less.
eVisa cost $50 and is valid for 28 days.
Within 3 days after the registration, you should receive a confirmation of your visa by e-mail. eVisa is valid only for a single entry.
You should print out the confirmation of your visa (received by e-mail). You will show them at the airport upon arrival.
Attention: It's necessary to choose a place (airport or land borders) where you will enter the country. You also need to fill in the address of your first accommodation!
Visa: Exceeding length of stay
Staying longer in the country is not a big problem. You only need to pay 3 extra dollars a day. They collect the fee upon departure from Myanmar.
4) Myanmar Backpacking: How to get there?
By Air
The best way to travel to Myanmar is via Bangkok. (You can find return flights tickets from Europe for about 600 USD). For flights from Bangkok to Myanmar, we recommend searching though Momondo. A one-way ticket from Bangkok to Yangon costs around 50 USD.
Land Border crossing
Available Airports and land border crossings (to enter the country):
Yangon (International Airport),
Mandalay (International Airport)
Nay Pyi Taw (International Airport)
Tachileik (Thailand-Myanmar Ground Transition) *
Myawaddy (Thailand-Myanmar Ground Transition)
Kawthoung (Thailand-Myanmar Ground Transition)
Tamu (Incicko-Myanmar Ground Transition)
Rih Kwah Dar (Incicko-Myanmar Ground Transition)
Borders with China, Bangladesh, and Laos are currently closed for foreigners. Two Indian land border crossings are open. The current state at individual crossings can be found here.
Be careful only with Mae Sai / Tachileik borders crossing – although foreigners are allowed to travel across the border, there is a closed zone behind the Tachileik area. In case you want to continue through the zone, you will have to pay high fees for traveling through the closed area. That's why we recommend taking another land border crossing.
On the way out of the country, there is one extra option via the: Phunaron / Htee Kee border crossing. You are not allowed to enter the country via this border, but you can leave Myanmar via Phunaron / Htee Kee border crossing without any problem. It's the shortest way from Dawei to Bangkok. You can easily get to the nearest Thai town of Kanchanaburi by minibus (is cost about 80 THB).
* Read the conditions of the land border between Thailand and Myanmar
5) Myanmar Backpacking: Accommodation
There are not many options to choose accommodation in Myanmar.
Forget Couchsurfing or Airbnb. Tourists are required to stay in a licensed hotel or hostel with registration for foreigners.
Camping is also prohibited, and it's quite well guarded.
You can usually expect breakfast in the morning.
Quality and quantity vary ho(s)tel to ho(s)tel. Even a very small and cheap hostel can surprise you with a perfect breakfast.
Prices for 1 room range from 10,000 to 25,000 MMK per night (6 to 15 USD).
You have to show your passport to check in at ho(s)tel.
You are allowed to stay overnight in the monastery. For this stay is appropriate to leave at least a small contribution to the monastery.
Homestays on multiple day treks (e.g. Kalaw – Inle lake) are allowed.
Booking Accommodation in Myanmar
The best page to book accommodation in southeast Asia is Agoda.com. They usually have more offers and it's mostly cheaper than Booking. We used both. It's always good to compare offers.
In more remote places, the hotels and hostels are sometimes not listed on any website. Then just go there personally and ask for a room, they will usually have one.
6) Myanmar Backpacking: Transportation
Transportation in Myanmar is crazy! Crazy and adventurous. I bet transportation will be one of the strongest experiences of your travel around Myanmar. In general, Myanmar does not have good quality roads – even though they are slowly but constantly constructing new ones.
You can book some buses online at 12Go. These connections are mostly between Yangon and bigger cities.
Finding out your bus at the bus station can be difficult.
Ask for bus tickets at your hotel. The price of the ticket purchased at the reception desk is unlikely to vary from the ticket purchased at the bus station and sometimes even pick up is included.
Ask several people around the bus station, where you can find your bus (going to XYZ), somebody will get you to the right bus.
It's good to research at least some information about your connections on the internet and write down the name of your destination.
Having the written name of the destination is your key to success (many cities are pronounced completely differently than written) – just show it on your mobile phone.
Note: Having a local SIM card with data is absolutely necessary. Travel without the internet would take way longer.
Buses
You'll be amazed by the differences among various type of buses you meet in Myanmar. We had a chance to take smelly cargo bus (1/3 for passengers and the rest for load) and on the other side, we ride also by 5-star bus with huge business class seats, food, blankets, headphones and drinks on board.
We recommend taking air-con buses for long distance rides. It's definitely worth the comfort.
Dress warmly! The temperature inside the bus is usually much lower than outside, so you can get easily sick.
Prepare for a dusty ride (take some scarf on your mouth).
There will be enough stops for buying food.
Be prepared for:
Overnight buses – Night buses are very popular in Myanmar especially for long distances. Be prepared for early morning arrivals, it's not an exception to arrive at 2-3 AM. The most common arrivals are around 4-5 AM.
Extraordinary "toilet" stops – especially in remote areas, the bus stops at the edge of the road. Women go to one side of the bus and men go to the other side.
Burmese pop songs and shows – If you don't want to listen to the "great" Burmese production don't forget your headphones.
Long breaks/pauses – When the bus stops, it's usually long. Often an hour-long lunch/dinner break.
Tip for girls – if you are traveling to more remote areas (poor quality of roads), you will appreciate your sports bra (roads can be incredibly bumpy).
Crossing Myanmar national borders by bus
During longer journeys, you won't avoid national borders. The process is simple: bus stops, everyone has to get out and show a passport or national ID. It takes longer, especially for foreigners. Customs officers often ask, where are you heading to, where is your hotel or how do you like Myanmar so far. It's not complicated, it just takes time.
Trains
Traveling by train is definitely an unconventional experience in Myanmar! We definitely recommend trying it. We were fascinated by the first ride!
The lower the class you take the more authentic travel experience it is.
Ladies with a huge basket of corn on their heads are balancing without a problem in the crowded train.
Vendors with all sorts of goods are walking through the train back and forth – there are definitely scenes to watch.
For longer rides, we recommend paying a few kyat more for the comfort of the first class, you will appreciate it.
If you want to enjoy the view, do not be afraid to ask for the window seat.
TIP: Do not buy train tickets online, prices are 10x higher on the internet!
Boat cruises
A boat cruise is a great option if you are already tired of bumpy roads. There is breakfast, lunch and snack included if it's a longer cruise.
More expensive and takes longer, than bus
Much more comfortable
Nice experience of sightseeing unconventional life on the Irrawaddy river banks
The most popular are boat cruises from Bagan to Mandalay or Mandalay to Bagan
Taxi, Grab, Uber
Do not be afraid to haggle hard with the taxi drivers. Especially when they approach you on your way out of the bus.
An ideal option for city travel is Grab, which is something like the Asian version of Uber. It's a very popular and cheap way of transportation. We strongly recommend downloading this app into your phone.
You can check the price in advance and avoid haggling with taxi drivers.
You can "Grab" either classic car or motorbike. Motorbikes are cheaper than cars. A great choice for solo travelers. If you are 2 or more, the car is always cheaper.
Pay in cash, not with a card! Locals haven't learned yet how the system works, so they might ask you to pay again in cash.
Grab is cheaper than Uber! Uber was actually more expensive than a regular taxi in some places!
Motorbike rental
Don't be afraid, to rent a motorbike in Myanmar. We have never sat on a motorbike before we visited southeast Asia and we were strongly against motorbike driving in the past. We have rented 15 different motorbikes or scooters in Myanmar and it was great.
Don't forget to ask for a helmet.
Your promise is usually enough as a deposit for a motorbike.
They don't ask for driving license (it happened only once out of 15 cases).
Don't look for the classic gas stations – look for homes with gasoline bottles.
There are several times more motorbikes than cars.
Motorbike is often the only way to explore the surroundings.
Local roads don't let anybody go faster than 40-50km/h.
7) Myanmar Backpacking: Food
Burmese cuisine doesn't belong to the most renowned ones. Especially if you spent some time in Thailand or Vietnam, you will wish to go back quickly.
Street food
Myanmar street food offers various salty and sweet fried pancakes, rolls, balls – they fry nearly everything. We often ate noodles or soups (from 300 MMK). You can also get cooked corn, eggs, sweet rice in a banana leaf, piece of watermelon or other fruits.
Restaurants
In every restaurant, you will typically see several pots with curry (the local name for meat and sauce).
Go to restaurants crowded with locals. This is a very good sign of a good and cheap restaurant. Locals are usually able to tell you if it's pork, chicken or fish is that.
You can simply point to a particular pot to choose your dish.
Besides the meat, you will be served with rice and plenty of other bowls of vegetables. It's usually a nice feast.
If you are on the coast, we recommend trying fresh fish or seafood. It's usually very good and fresh
Hostel breakfast
Breakfast varies from hotel to hotel. but usually, you can expect rice with an egg or soup and toast. Sometimes fruits might be served. Tea and coffee is a must.
If you love milk and dairy products, you will be disappointed. Basically, there is no way to find any (local people seem to miss certain digestive enzymes).
8) Myanmar Backpacking: Money and Prices
The official currency of Myanmar is Myanmar Kyat (MMK). By only 4 ATM withdrawals you become a millionaire.
Card payment is not accepted at the vast majority of places

(except for some hotels). You can exchange cash in "money exchange offices". US dollars and Thai Bahts can be exchanged without any problems.

There are ATMs in the majority of Myanmar cities. However, if you are going to the countryside, it's better to stock yourself with some cash.
Beware: ATMs in Burma allows you to withdraw a maximum of 300,000 MMK only. There is a universal withdrawal fee of 5,000 MMK.
Beware #2: Do spend all your Burmese Kyat before leaving Myanmar! It's nearly impossible to find a place, where they accept Myanmar Kyat. There should be one in Bangkok – SuperRich.
Approximate prices in Myanmar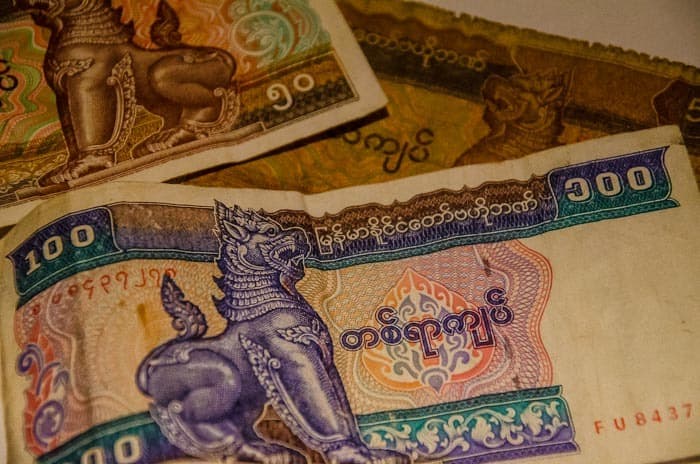 Backpacking budget
Our daily backpacking budget was approximately 20 USD per person. To have an idea about our travel style, here are a few examples:
We were backpacking in Myanmar for 28 days and spent 560 USD per person.
Went to nearly to all Myanmar interesting places to visit (paid entrance fees).
Renting motorbikes on a regular basis.
Choosing the more budget hotels on Agoda.
Eating quite often in restaurants.
Traveling mostly by buses.
Took a boat cruise and other small tours.
There is an advantage of 2 people backpacking together because you can always rent only one scooter/motorbike. Accommodation for 2 in one room is also cheaper.
Haggling/Bargaining
Speaking from our experience, the majority of people in Myanmar are good ones, who don't want to rip you off. And even if they put the price little bit higher, you won't even notice that. While buying a street food or shopping in stores, it´s usually not necessary to bargain unless you are a haggling lover.
It's good to ask for the price in advance! For example: if you already ate the food, you can no longer haggle the price.
It's a completely different thing with taxi drivers! You should always try to haggle with them. Especially if they approach you first.
Ask for a discount if you stay in your hotel for several days.
Inle Lake area and Mandalay are already touristy and you should haggle there.
TIP: If someone approaches you first with an offer of XYZ, take advantage of your negotiation position. Refuse the offered price and put it lower. He/she came up with something you might not be interested in, so take advantage of it.
9) Myanmar Backpacking: Religion and Traditions
Buddhism
Myanmar is one of the most Buddhistic countries in the world. Thousands of temples, pagodas, and Buddha statues on every corner of this country.
There are more than half a million monks and other 75,000 women living in the monasteries.
Men are dressed in dark red robes, while women wear pink ones.
Regular visits to the temples belong to the everyday life of Burmese people
There is religious music playing during the night and early morning from pagodas every day (don't forget your earplugs).
How to dress while visiting places of worship?
We should always have covered shoulders and knees while visiting temples, pagodas, or other religious sites.
You are also not allowed to wear shoes neither socks.
It's common to leave your shoes at the entrance to the temple/pagoda.
If you want to take a picture of the Buddha, never turn your back to an image of Buddha. Your head also should be lower than his.
Betel
You will surely notice that local people often chew a strange thing. They usually have a red mouth and dirty teeth. That's caused by betel.
Betel is an easily available stimulant that is loved across all Myanmar. It's dry and chopped areca nut in a leaf of pepper with a limestone paste. Betel causes that people often have a red mouth and poor quality of teeth.
Thanaka – Myanmar traditional face paint
A more pleasant habit of Burmese is to use Thanaka. Women, men, small or big, young and old have been using this "cream" since ancient times.
Thanaka cream is made by grinding wood of a Thanaka tree with a small amount of water.
It's used as make-up as well as sunscreen.
Thanaka is applied together with a few drops of water.
Social TIP: To experience even more engagement with the locals, put some Thanaka on your face and you will see what happens. Locals were so excited to see us wearing Thanaka!
Avoid the cultural faux paux!
Girls beware of the power of your underwear! Now, we are not joking. If you want to have your clothes washed in the hostel, skip the underwear. Even a smiling nice old lady can start screaming at you. Burmese are very superstitious. Men believe that touching a woman's pants will make them lose all their strength.
If you wash your laundry yourself, don't hang it out of the room or to a string that is higher than person's head. It's very impolite as well.
Kissing is forbidden
Kissing in public is inappropriate in Myanmar. There is a kissing ban on trains and platforms. In general, we have hardly even seen any couples holding hands.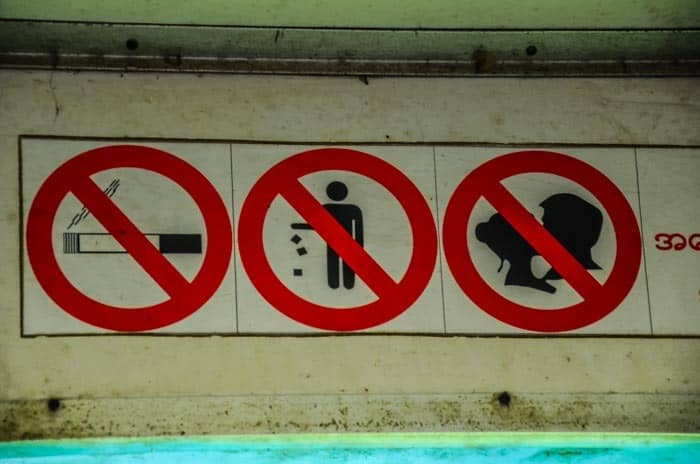 10) Myanmar Backpacking: Security
Myanmar might have been a dangerous place to travel a few years ago, but things have changed. Although you might hear about some conflicts in the news, Myanmar is a safe area for tourists. You don't even have a little chance to get into closed/restricted areas. Not even by mistake!
Burma is divided into several regions. There are regular checks and passport controls on regions borders. Everybody on a bus has to get out an went through check. Customs officers often want to know what your next destination and your planned accommodation is.
11) Myanmar Travel Guide: Diseases, hygiene, and recommended vaccination
Soon you will find out that Myanmar has not the best hygiene standards. That's why don't forget to pack hand sanitizer. Always have basic medications with you. Especially for digestive problems (e.g. Smecta, Endiaron, and others…).
Notice that tap water is not drinkable. Always buy bottled one.
Vaccination shouldn't be underestimated. The basic vaccinations while traveling to Southeast Asia should be Typhoid Fever and Hepatitis A and B. In case you are entering the country from a region with a high risk of Yellow Fever (typically from African countries), then vaccination against yellow fever is required.
12) Myanmar Backpacking: Language and basic phrases
Burmese is a very complicated language because it has its own unique alphabet. Even numbers have their unique characters. If you learn at least a few basic phrases, you will surely conjure up smiles on faces of the locals. The absolute must know is:
Greetings – Hello / Good day – Mingalaba
Thank you (very much) – Jezuba (tembate)
Other useful phrases:
You are welcome – Iabate
O. K. – Okay
How much does it cost? – Be lau le?
Is it alright? (for example, take a picture) – Asem pi la?
The vast majority of Burmese people don't speak a word in English. In larger cities or touristic areas, some of the local guides speak a little bit. There is usually someone, who speaks basic English in hotels and hostels. If you need something, you can find a picture of that thing in your mobile phone and simply show it. That usually works.
13) Myanmar Backpacking: SIM card and mobile data
Tons of billboards and ads of mobile operators might spoil the authentic experience of some old villages, and rural areas. On the other hand, it means that Myanmar is pretty well covered by mobile signal and data availability.
You can buy a SIM card nearly in every small shop on the street. Local people will gladly help you to choose the right one for you.
14) Myanmar Backpacking: Other Practical Tips
Wait for the golden hour – photos of temples are the most beautiful in sunset/sunrise light.
Wear polarized sunglasses, especially if you're visiting coast (sea colors are incredible)!
Always ask for prices in advance.
Prefer VIP (air-con) buses for longer journeys.
Take a scarf to cover your face while traveling by an old bus (it might be incredibly dusty).
Dress warmly for the bus ride (it might be cold with air-con or during the night).
Girls, wear a sports bra while traveling on the bus.
Ask for a helmet when hiring a motorcycle.
Do not wash women underwear in a ho(s)tel laundry and do hang in common areas above your head.
Enter barefoot and keep covered shoulders and knees while visiting places of worship (pagodas, temples…)
Travel adapter might be needed in Myanmar. They use several different types of sockets across the country. Sockets have the standard voltage of 230V with a frequency of 50Hz.
Remember – the smile is a universal greeting!
15) Myanmar Backpacking: Interesting facts
The majority of children all over Myanmar use Bye-Bye instead of hello. Someone probably taught them, that it's universal greetings.
Women and children are commonly working on constructions (Lot of men are monks in monasteries).
They have plenty of cows everywhere but don't have milk or dairy products.
Valentine' day is a BIG thing in Myanmar. Everybody is dressed in red color. It seems to be the only day you can see couples holding hands, etc.
People carry everything you can imagine on their heads.
Burmese are a very noisy nation, they scream at each other and quarrel in public.
In general, there are nearly no traffic rules (larger or pushier vehicle goes first).
They drive on the right side of the road, but most vehicles have steering wheels also on the right.
Locals stop foreigners to take pictures with them.
16) Myanmar Backpacking: Which Places to Visit?
Here you can see a detailed map of all the best places to visit on your backpacking in Myanmar. You can export this map and import it to your mobile app such as Maps.me or Locus Map.
This article aimed to give you a bigger picture and comprehensive guide for all travelers, who are planning to visit Myanmar. Are you interested what are the best places to visit in Myanmar? Read this blog post: Myanmar: 35 Best Places to Visit – Your Guide to Burma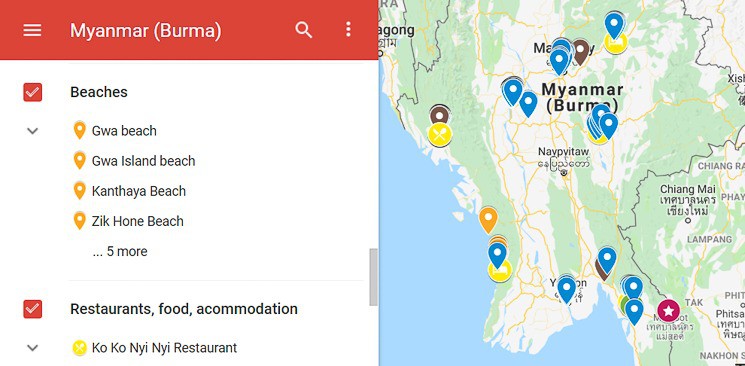 Check this beautiful video about Myanmar:
Would you like to ask some further questions? We will be happy to help you!
Have you been backpacking to Myanmar and would you like to update any information in this backpacking guide? Write us a comment!
Happy travel and vacation in Myanmar!
Pin Backpacking in Myanmar guide for later or for your friends:
Backpacking in Myanmar guide – FAQ:
Did this Backpacking Myanmar guide help you? Share it with your friends! It can help them too!