Ecuador – that's high Andean mountains, snow-capped volcanoes, the Amazon rainforest, or the stunning wildlife paradise of the Galapagos. Although Ecuador is a relatively small country, it offers travelers a rich mix of experiences. This country is a delight for all nature lovers, mountaineers, as well as those who come here to experience shamanic rituals with Ayahuasca.
In this article, we have prepared an extensive guide for your trip to Ecuador. We have practical travel tips and a list of amazing places in this diverse country that are worth visiting.
Visas and Ecuador entry requirements
For EU citizens, Visas are not required to enter Ecuador. It is always good to check the current conditions on the official Ecuadorian government website or at the Ecuadorian consulate in the country.
However, when entering Ecuador, be careful to have a return (or other) ticket from Ecuador. Officially, it should be enough to provide proof of financial means for your stay in Ecuador and a ticket, but we almost missed our flight from Panama due to this formality.
We were saved by the handy OneWayFly ticket rental service. For about 20 USD, you can get a document showing your departure from the country in just a few clicks. This comes in handy if you don't know how long you want to stay in Ecuador.
When entering Ecuador, you will receive a stamp in your passport for a 90-day stay. If you exceed this limit, you will be required to pay a relatively high fine.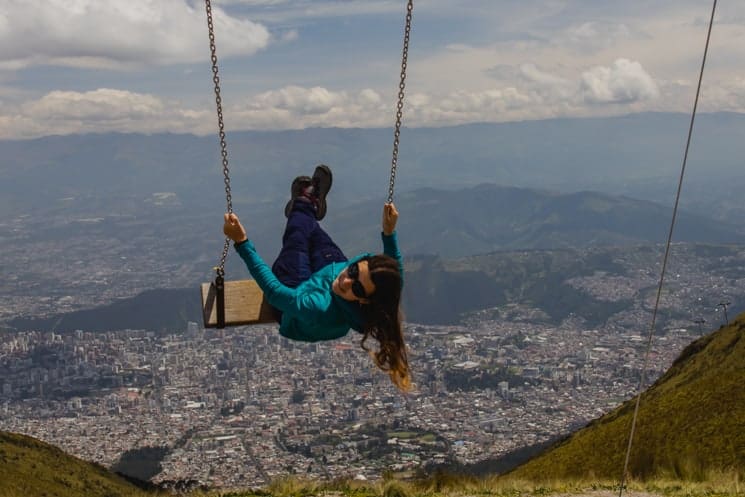 Weather and Seasons in Ecuador
When is the best time to visit Ecuador?
If you love sunny days, the best time to visit Ecuador is during the summer – from June to September. Especially if you want to enjoy views of the monumental volcanoes without clouds.
December, which is the driest month of the rest of the rainy season, is also a good time to visit.
On the other hand, the months to avoid are March and April, which are the rainiest of the year.
It should be noted that the above description of the weather applies to the Ecuadorian "highlands."
Weather and Season in the Amazon
In the Amazon, the dry season begins in January. The rainy season in the Amazon is from March/April to July. The other months are variable in terms of weather. However, visiting the Amazon is worth it in any season. The only difference is the chance of seeing different animals (e.g. there is a bigger chance to see dolphins in the wet season, the dry season is on the other hand good for other species).
Weather and Season in the Galapagos
The best season to visit the Galapagos is from December to May when it is dry and sunny. The sea is calmer at that time, and visibility in the sea when diving is higher. From June to November, it is cooler (especially at night). However, even the cooler season is not considered bad, but you will definitely need a wetsuit for snorkeling.
Traveling to Ecuador in the rainy season
Even traveling in the rainy season is not as "wet" as it may seem. Some days are nice, and some days it rains. The main disadvantage, however, is the clouds that shroud the monumental volcanoes will "steal" some of the beautiful views, which is a pity.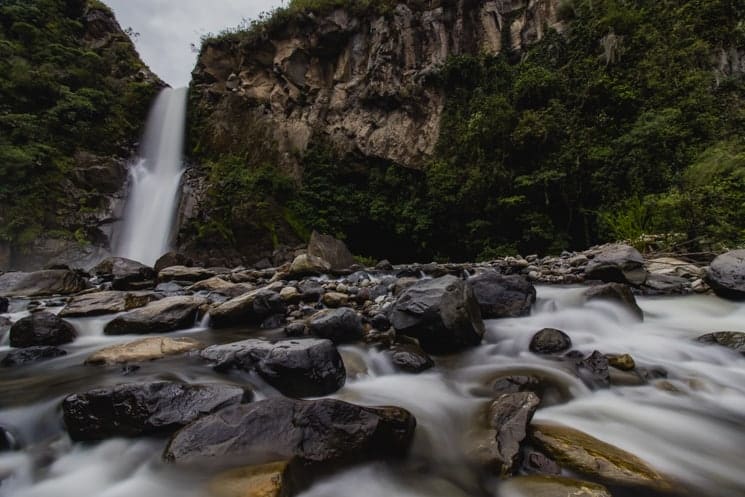 Prices, Currency, and Payment in Ecuador
The official currency of Ecuador is the US dollar.
The ATM that is completely free of charge is called BANRED, it's orange and can be found in Santa Maria supermarkets, or in other places on the streets. Most of the other ATMs take some fees.
Cash payment still predominates in Ecuador. You can pay by card in large supermarkets. Ecuadorian hotels and hostels usually require payment in cash (although there are exceptions). In most cases, you cannot pay for accommodation by card or in advance through Booking.com.
Compared to European prices, Ecuador is quite a cheap country for travelers. You can get a lunch menu, which you can come across at markets or in cities, for 2.5 USD. A room for 2 costs between 10 – 30 dollars per night.
Examples of prices in Ecuador
Bottle of water (1.5l) – 1 USD
Barrel of water (6 l) – 1.5 – 2 USD
Breakfast/lunch/dinner (full menu) 2 – 3 USD
Food in a tourist restaurant 7 – 12 USD
1 ride on public transport – 35 cents
Room for two – 10 – 20 USD per night
Bed in a hostel – 8 USD
Fruit at the market (bag of various fruits) – 1 USD
Bus trip 2 – 7 USD depending on the distance.
These examples do not apply to the Galapagos Islands, where prices are roughly double.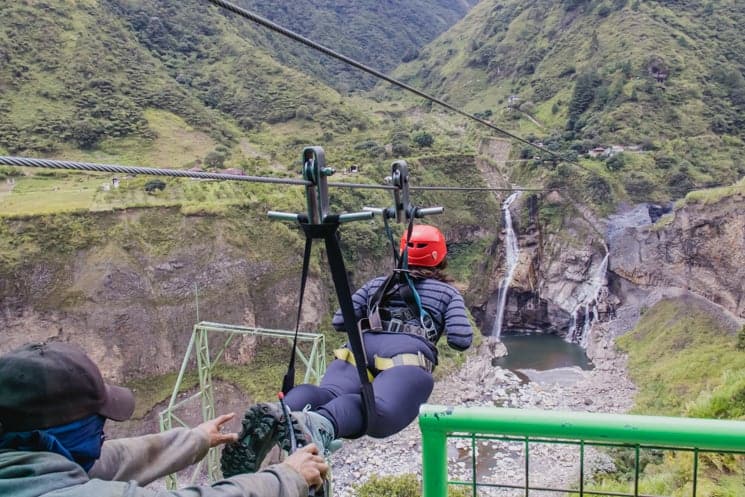 Transportation in Ecuador
Transportation around Ecuador is easy but not environmentally friendly. Buses, cars, and trucks emit clouds of black smoke, so we recommend bringing masks with you when traveling to big cities (they can be purchased on every corner).
Buses in Ecuador
You can practically get anywhere in Ecuador by bus, and their frequency is really high. We almost never had to wait for a long-distance bus for more than half an hour. At bus stations, "chasers and seller" will help you by regularly shouting out the names of various destinations that their bus company serves. You can buy tickets at the ticket counter at larger bus stations, but you can also pay on the bus.
Prices for long-distance buses range from $2 to $7 depending on the distance.
For shorter distances, such as public transportation in cities, prices are usually in the range of cents. In large cities, we recommend searching for connections through Google Maps – they work quite well here!
And the fact that you would have to search for where to go doesn't really happen because everyone will gladly advise you and show you where to go.
Taxis
Taxis in Ecuador are relatively cheap, and you can often get somewhere quickly and efficiently by taxi. If you are traveling with someone else with whom you can split the cost, it's ideal. Ask in advance how much the trip to a certain place will cost. If the price is too high, don't be afraid to negotiate. Short trips around Quito ranged from $2 to $7 depending on the distance. The trip from the airport to the city center (approximately 45 minutes to an hour) cost $26.
Uber and Cabify in Ecuador
Alternatives to traditional taxis are services like Uber and Cabify, where you know exactly how much the trip will cost. The downside may be the wait time (regular taxis are practically on every corner). These services only operate in large cities.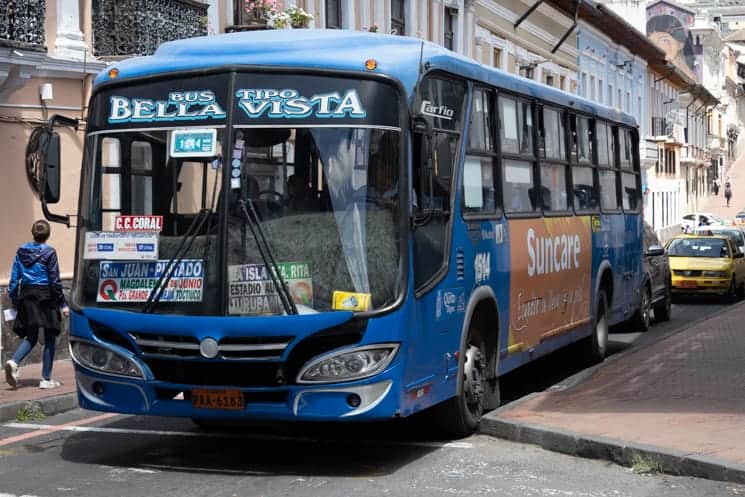 Accommodation in Ecuador
You can easily find accommodation here through Booking.com. During the off-season, you don't even have to worry about it, you can ask directly at the hostel if they have any vacancies and for how much. Basically, you can find enough accommodation capacity in all tourist places and cities.
Accommodation prices range from around 10-20 USD per room for two.
If you find that the hostel is fully booked on Booking.com, you can try going to the hostel and ask if they have any vacancies. We've had several instances where they had vacancies even though they weren't listed on Booking.com.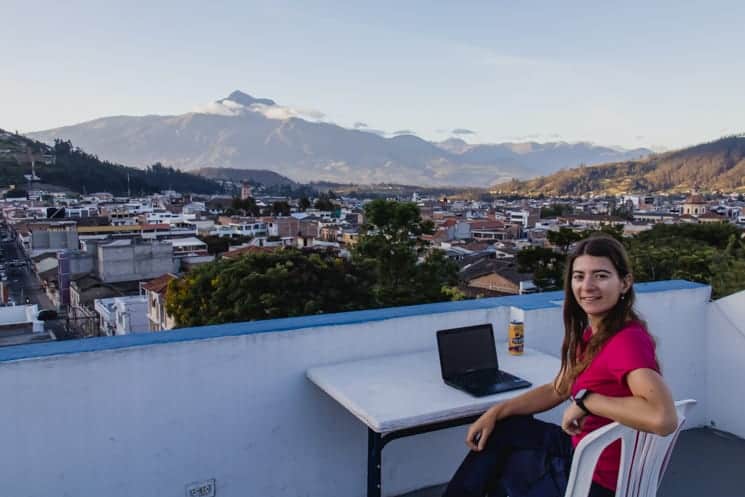 Practical information for traveling in Ecuador:
The electrical outlets in Ecuador are of the American type A and B, with a voltage of 120 V and a frequency of 60 Hz. Depending on where you are from, you might need a travel adapter when traveling to Ecuador.
Vaccinations – Recommended vaccinations for Ecuador include vaccination against Typhoid fever, Hepatitis A and B, and if you are planning to visit the jungle, also against Yellow Fever. Vaccination against Yellow Fever is mandatory if you are coming from an area where it occurs.
High altitude – It is important to keep in mind that Ecuador has high mountains, and you will typically be moving at altitudes around 3000-4000 meters above sea level (with the highest mountains reaching up to 6000 m). Quito, the capital of Ecuador, is the second-highest capital city in the world, located at an altitude of 2850 meters above sea level. Therefore, it is advisable to plan a less demanding program upon arrival to allow time for acclimatization. Locals recommend chewing coca leaves to prevent altitude sickness (you can buy a package at the market for around 2 dollars).
Travel insurance – When traveling to Ecuador, it is important to be aware that many travel insurance policies only cover tourism up to 3000 meters above sea level. However, some cities are located at these altitudes, and if you are planning a larger climb or hike, regular insurance may not be sufficient.
Tap water – Tap water in Ecuador is not drinkable. However, it can be used for washing dishes. Therefore, it is recommended to buy bottled water for drinking.
Strong sunlight – Do not underestimate the importance of sun protection. The sun is very strong on the equator. Remember to bring a head covering, sunglasses, and sunscreen.
SIM card and data – You can find a phone stand on every corner in Ecuador. There, you can buy a cheap SIM card, usually from the mobile networks Movistar or Claro. Both networks have similar coverage and tariffs. Coverage in cities is very good, but there is often no signal in the mountains. Movistar offers a SIM card for 5 USD, and a tariff with 8 GB for 10 USD for 30 days, 2 GB for 7 days for 3 USD, and many other tariffs.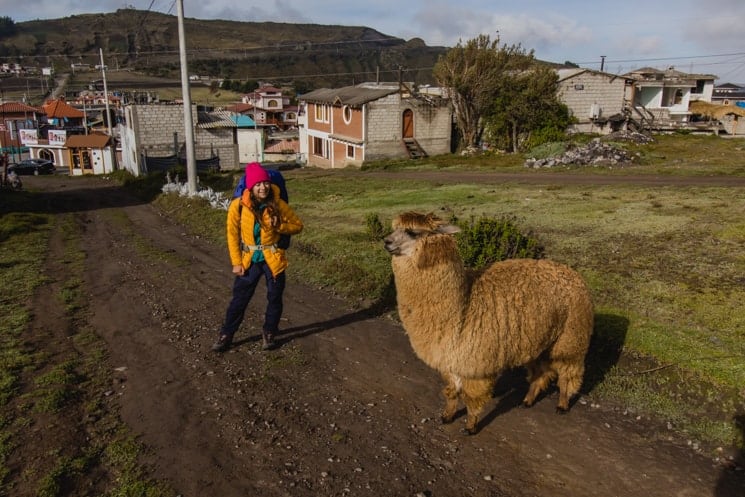 Safety in Ecuador
Compared to other South American countries, crime is lower in Ecuador. I can say that during our entire stay in Ecuador, we never felt any sense of danger. It is a good rule to not wear visible jewelry and carry less cash with you.
In Quito, it is recommended to take a taxi for travel after dark (even for short distances). The otherwise bustling city completely empties out with sunset. Guayaquil is considered the most risky area/city where one needs to be careful of theft. Lately, there were also some cases of thefts in Montañita.
Smaller towns are safer. For example, in the tourist town of Baños, everything is lively well into the evening, with restaurants, stands, ice cream shops, and more.
On old forums and blogs, we read that we shouldn't put our backpacks in the luggage compartment and that it is better to hold them on our lap. However, that is not really applicable anymore. Security has significantly increased here in recent years.
It is always a good idea to check the website of the Ministry of foreigners affairs so see what is the latest situation like.
May 2023 update – there were some unrests in Guayaquil and the coastal areas, so it's advisable to avoid these destinations at the moment.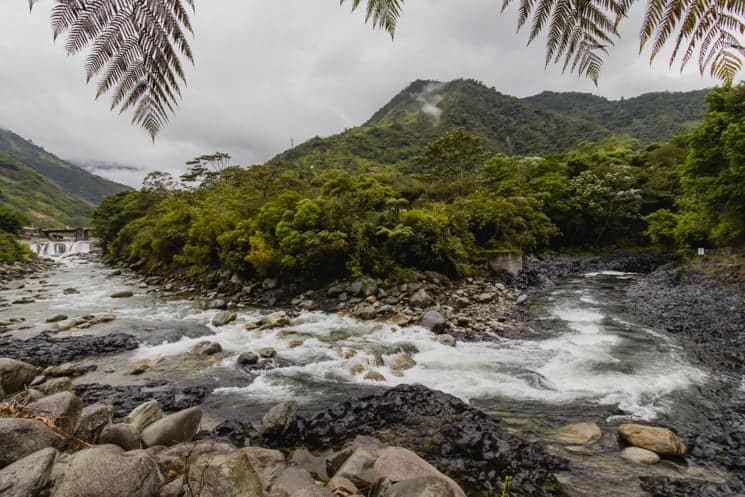 Food in Ecuador
Food in general is good and cheap in Ecuador. At many places, you can find lunch menus that include soup, a main course, and a drink, starting at around 2.5-3 USD. Look for signs that say "Almuerzo". The most common main dishes consist of rice, lentils, and some kind of meat (chicken, pork, fish, or shrimp).
For the same price, you can also find hearty breakfasts that are served practically all morning (look for signs that say "Desayuno").
In addition to these eateries, there are many other restaurants where prices for food start at 3 USD and go up to 10 USD, and sometimes even more.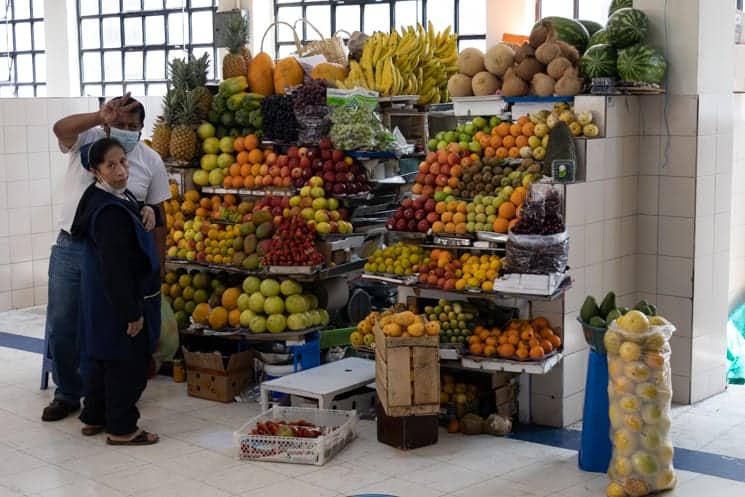 What dishes should you try in Ecuador?
If you like to try traditional cuisine, here are some traditional Ecuadorian dishes that you shouldn't miss:
Encebollado – Encebollado is a soup with yucca, tuna, and a pile of onions (the name translates to "a lot of onions"), often served with popcorn and sometimes even banana chips. It's a delicious dish, and often just having an Encebollado for lunch is enough.
Empanadas – If you're not too hungry, you might come across street food stalls offering empanadas – fried dough pockets usually filled with chicken, cheese, or other flavors. They typically cost around a dollar. To satisfy hunger, you usually need at least two or three.
Morocho – This is usually served for breakfast and is a kind of milk rice in a glass. It's sometimes flavored with spices and raisins.
Ceviche – This is a cold soup with various flavors (often with shrimp).
Bolón de Verde – It's a fried ball filled with meat, often served as a breakfast menu or you can find it in soup.
Tigrillo – It's a mixture of mashed green bananas (plantanos), eggs, and cheese. It's usually served for breakfast, but it's a hearty breakfast (the size of lunch), and you can often order it for lunch too. The texture may remind you of dumplings with egg, but it tastes even better (we definitely recommend it). Often served with a fried egg on top.
Roasted guinea pig (Cuy Asado) – Finally, this Ecuadorian delicacy. A friend raved about it for so long that we didn't hesitate to follow his advice. Roasted guinea pig is an absolute delicacy! Right after the moose steak we ate in Alaska, it's probably the best thing we've ever eaten. It tastes like rabbit, but it's much more delicious and tender. It's usually served with corn, potatoes, and various sauces. Its roasted crispy skin is unmatched. A whole guinea pig costs around 25 USD, but it's definitely worth it. Two people can easily eat one guinea pig, so you might not be afraid to share it with three people. Some restaurants also offer a quarter to taste. The place to taste guinea pig is definitely Cuenca and the Mi Escondite restaurant.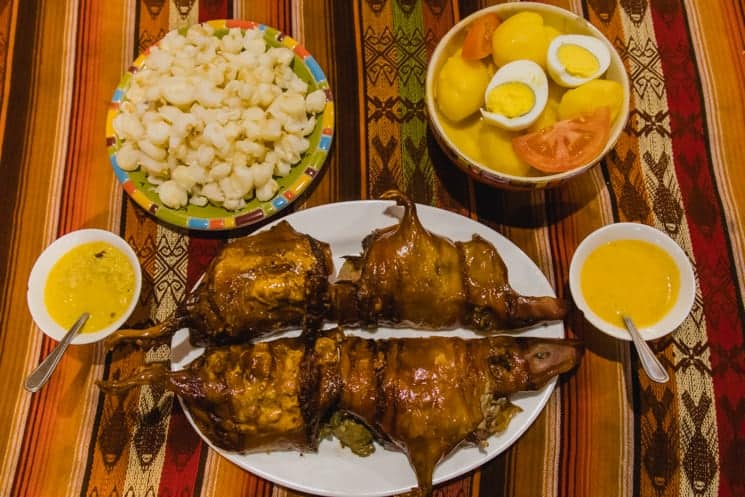 Language
The official language of Ecuador is Spanish. Before traveling here, we strongly recommend learning basic phrases because few people speak English here.
These topics will be useful for you:
Basic phrases
Numbers
Time
Food
Restaurants
Accommodation
Transportation.
Some typical phrases include:
How much does it cost? – ¿Cuánto cuesta esto?
When does the bus to… leave? – ¿Cuándo sale el autobús a …?
Where are the bathrooms? – ¿Dónde está el baño?
At what time? – ¿A qué hora?
I want/we want – Quiero/Queremos
Can I/we – Puedo/Podemos
To go – Ir
A great tool for learning basic Spanish is the free app Duolingo. Alternatively, we recommend downloading the offline translator from Google – that also works. A friend with no Spanish skills managed to communicate using hands and feet. He said, "I speak Czech, and they speak Spanish, but we always manage to communicate somehow" 🙂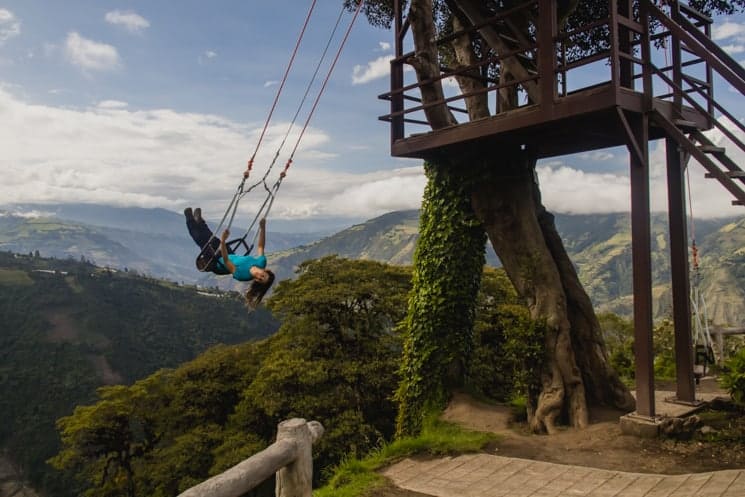 Culture and Religion in Ecuador
The Ecuadorian population is as diverse as the country itself. Most of the inhabitants have mestizo roots – a mix of Spanish colonists and Ecuadorian indigenous people. Currently, 77% of Ecuadorians identify themselves as Christians and 11% as members of the Evangelical Church. Ecuador has a population of over 18 million.
There are also indigenous tribes and with them the tradition of shamanism. Shamans are local healers, but they also transmit myths, legends, and history from generation to generation. They heal the body, but also the spirit, and recently people from all over the world come here for their treatment.
Their most important tool is hallucinogenic substances obtained from rainforest plants. The most famous hallucinogen is probably the Ayahuasca vine (the vine of the soul).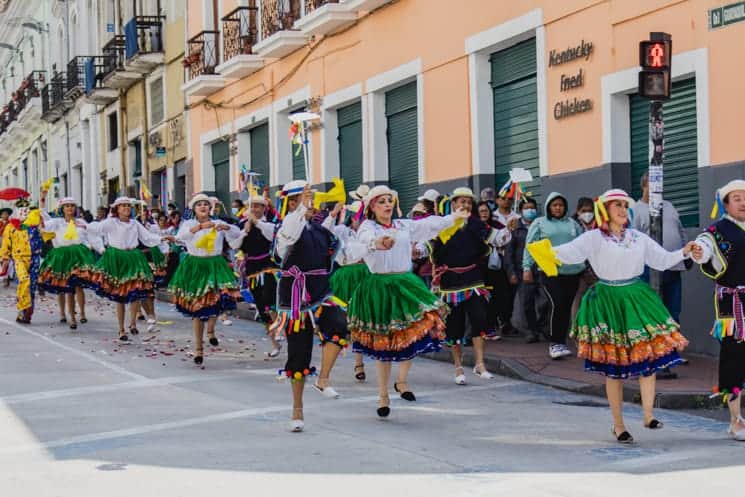 Most beautiful places to visit in Ecuador
Now let's take a look at the places worth visiting in Ecuador.
1) Quito
Your first steps will almost certainly lead to the capital of Ecuador. Quito is one of the highest cities on the planet (2850 meters above sea level) and will come in handy as an acclimatization base if you are planning on other treks. Know that the altitude is really noticeable. And what not to miss in Quito?
Free walking tour – A city walk with a guide is ideal for the first day and for getting to know the city. At the same time, you will learn a lot of interesting information here. We can recommend a tour that starts every day at 10.00 am at the Community Hostel, near the market. The "contribution" for the tour is USD 10. With this tour, you will see the market, where you will taste a lot of different fruits (half of these we ate for the first time here), learn about the history of the city and Ecuador, a bit about local shamanism and herbalism, and you also get recommend a great dining place and see beautiful roses. The next stop is a house where bones are embedded in the floor, you will have a chocolate tasting, and the whole tour ends at one of the churches. The whole tour takes about 3 hours and is definitely worth it.
Teleferico Quito (cable car) – This cable car will take you to an altitude of 4000 meters above sea level and you will see beautiful views not only of the city but also, if you are lucky, of the surrounding volcanoes. There are also beautiful swings just above the cable car (the photos are worth it). A little further, you can refresh yourself very cheaply nearby the horse stand. If you have time and desire, you can set off from here on the first acclimatization hike to the Pichincha volcano (4696 meters above sea level).
Panecillo – is a hill with the statue of La Olla. There is a beautiful view from this hill, and you can also get up to the statue itself. Admission is a dollar. You can get up there by bus. There is also a nice walk down the stairs (but the guide from the walking tour did not recommend it to us (ups, too late) – because it is not supposed to be an ideal neighborhood in terms of safety).
Basilica del Voto Nacional – What is really worth a visit is the roof of the basilica. Admission is $4, and the experience of climbing up to the observation towers is not ordinary – you climb to the very top on steep metal ladders. However, the passage through the roof and the circular stained glass on the floor under the roof are worth it.
Itchimbia and Crystal Palace – If you have plenty of time, you can also take a walk up the hill where the Crystal Palace is.
Where to stay in Quito?
For solo travelers, the Community Hostel is great, where you can easily get to know others and maybe find partners for further exploration of Ecuador. For couples, the cheaper option is also the nice Yumbo Hostel Imperial Quito.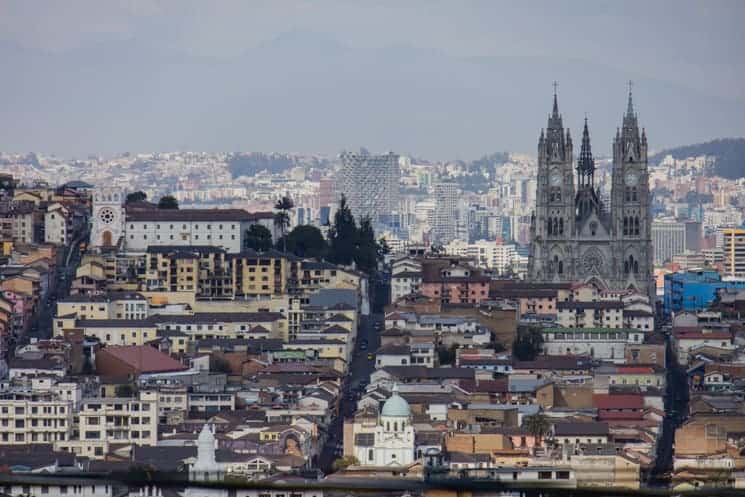 2) Equator – Mitad del Mundo and Intinan Solar museum
You definitely shouldn't miss a visit to the equator. Funny thing is, the original equator with a colossal monument is about 150 meters off. You can find the real equator at the Intinan Solar Museum. But don't worry, it's not a boring museum at all – there are plenty of practical experiments waiting for you. You can try to balance an egg on the head of a nail, walk with closed eyes along a line, or see how water drains from a sink on the equator. Fun experiments are preceded by a short tour of the original Amazonian tribes – for example, you can find here the original shrunken heads of famous skull hunters. Admission is $5 and the tour takes about an hour.
After the tour, stop by the trees at the entrance, where you can observe hummingbirds.
The mentioned fake monument can be found at a place called Mitad del Mundo (Middle of the World). Admission is also $5 and there are interesting exhibitions here as well. If you have little time, the Intinan Solar Museum is more than enough.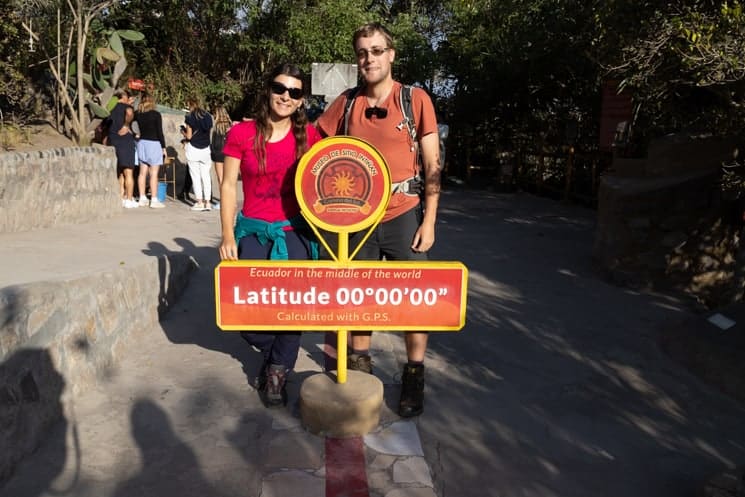 3) Amazon – Cuyabeno Reserve
A trip to the Amazon would deserve a separate article. If you are planning to visit the Amazon during your trip to South America, there are several options available. The Cuyabeno Nature Reserve, the Yasuní National Park, Tena, or you can also visit the Amazon from Peru. According to travelers' reviews, all these Amazon excursions are quite similar, but Cuyabeno is one of the cheaper options.
We participated in a tour organized by the Community Hostel in Quito, which took us to the Dolphin Lodge, and we were absolutely thrilled. The 5-day tour cost 320 USD, and the 4-day tour cost 270 USD. We think that 4 days are enough for an introduction to the jungle. So, what can you expect?
You will take a night bus to the Puente Cuyabeno bridge and then continue your journey by boat into the jungle (the river is the only way). On the way, you will have the opportunity to see many animals, birds, monkeys, and caimans. The whole journey to the jungle is actually about observing animals. Our guide, Elias, was a passionate naturalist and told us a lot of information about everything we saw, from plants, and insects to larger animals. We also visited the local community, where he himself came from. Together, we tried the traditional preparation of a yucca dish and briefly visited a shaman. In the evening, we went on a ride to observe the sunsets on a nearby lagoon, and we also had a night expedition into the jungle.
Personally, I was afraid of insects, leeches, and mosquitoes, but actually, none of that was a problem. There were fewer mosquitoes than on any Czech river in the summer, and other insects (such as spiders) were fortunately only visible at night in the jungle. This experience was definitely an integral part of our visit to Ecuador, and we can warmly recommend Dolphin Lodge. These Eco-lodge projects were created precisely to help local communities.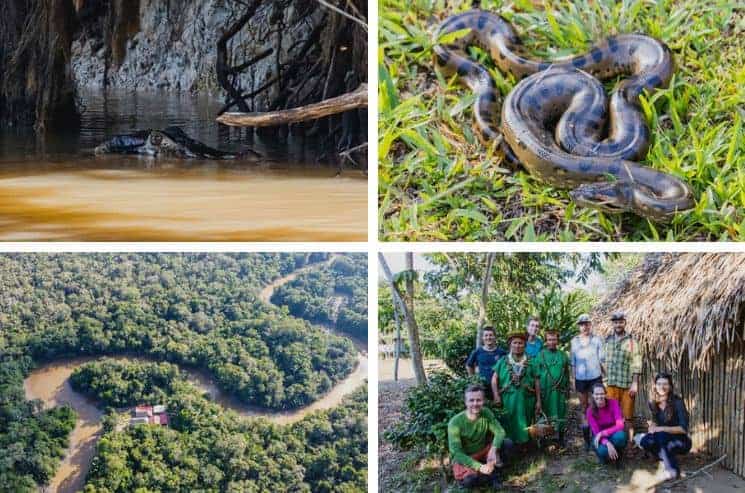 4) Otavalo – Laguna Cuicocha
If you have time, you can head to Otavalo, a town north of Quito. The main reason to come here is to do the trek around Laguna Cuicocha. It's also nice to walk around the local market, which offers a lot of artistic items, especially ponchos. Another nice stop and walk is the Cascada de Peguche waterfall.
We recommend this accommodation with a luxurious rooftop terrace!
Trek around Laguna Cuicocha
We have prepared for you an article with all the necessary information: Laguna Cuichoca: All you need to know before you go.
In short, you can get there by bus with one transfer. First, you need to get to the town of Quiroga (bus for 0.4 USD), from where a direct bus to the lagoon departs (0.5 USD). A faster alternative is a taxi directly from Otavalo (10 USD to the lagoon). The trek around the lagoon takes you to an altitude ranging from 3100-3450 meters above sea level. The circuit measures 12 km and takes about 5 hours.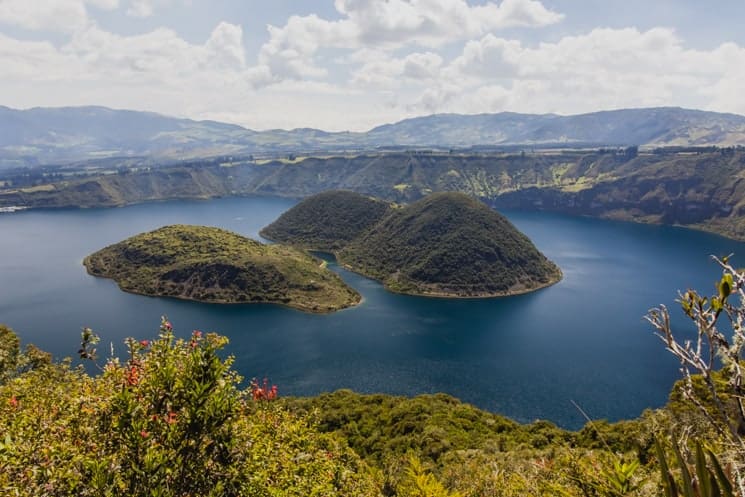 5) Mindo
Another stop that you might like is Mindo, where there are plenty of waterfalls and the area is known primarily for hummingbird watching. The trek around the waterfalls – Ruta de las Cascadas – is particularly famous. You can also ride a zipline here. We didn't visit Mindo ourselves.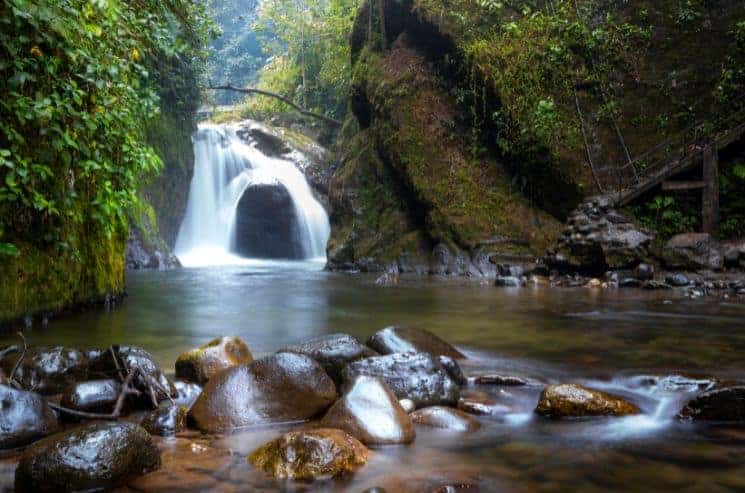 6) Laguna Quilotoa
One of the most famous treks in Ecuador leads to Laguna Quilotoa. You can either take a complete 3-day trip that ends at the lagoon or make a day trip from the town of Latacunga. Buses regularly run from the bus station in Latacunga for $2.5 USD. There is a $2 entrance fee to the lagoon per person.
The loop around the lagoon is 10 km long and you should reserve at least 5-6 hours for it. Again, be careful of the altitude (3800 – 3900 m above sea level). There are many restaurants near the lagoon that offer lunch menus for around $5 USD. You can also go down to the lagoon and rent a kayak. There is also a campground near the lagoon.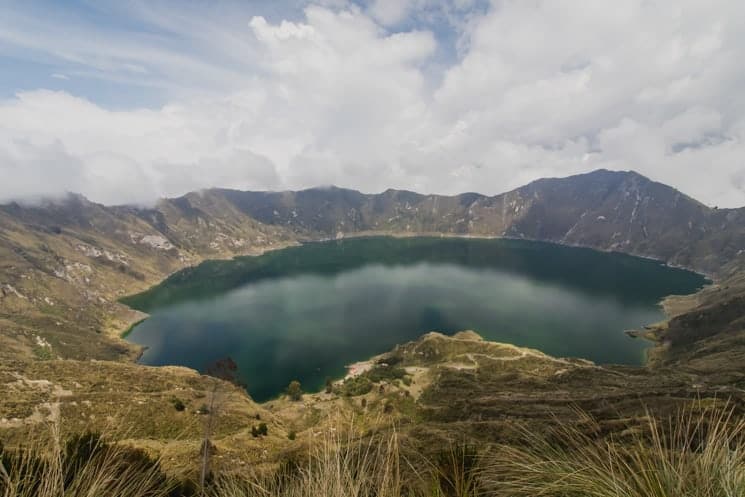 7) Cotopaxi Volcano
From Latacunga (or Quito), you can go to Cotopaxi National Park to see one of the beautiful Ecuadorian volcanoes. You can climb Cotopaxi with a mountain guide or just hike to the mountain hut, where expeditions depart for the summit. You can also camp in the park (for free or $5 USD, depending on whether someone comes to collect the fee or not). Camping at the lagoon was also our plan, but unfortunately, the high volcanic activity did not allow it.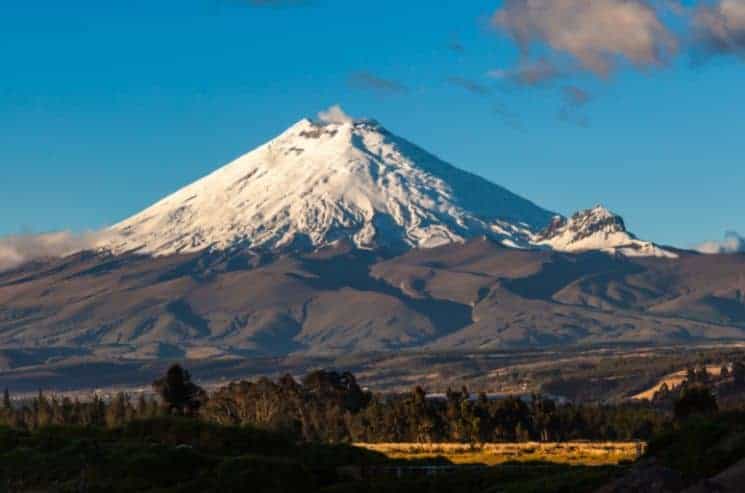 8) Chimborazo Volcano
The highest volcano in Ecuador, Chimborazo, attracts many mountaineers because it is a relatively easy "6000 meters plus" high volcano. Expeditions are held here every day and cost around $350 USD. Unfortunately, it is not always successful (our friends had to turn back from 5800 meters due to avalanche risk).
Another popular activity is downhill cycling from the volcano. Bikes are taken to the highest point, which can be reached by car, and a 40-kilometer descent awaits you.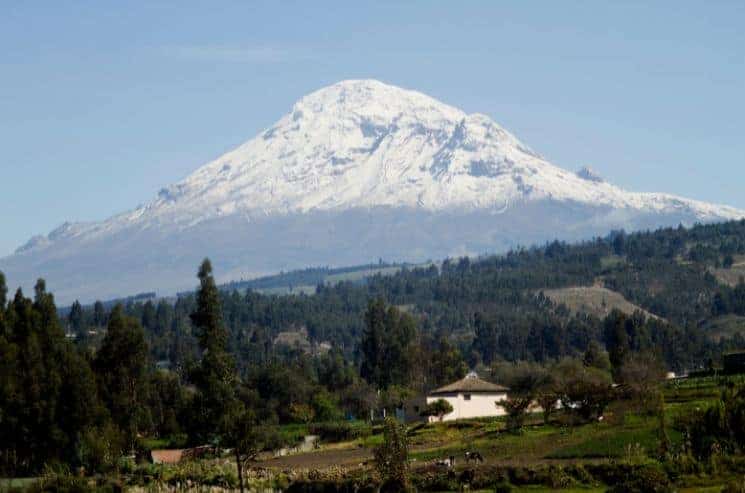 9) Baños
Baños is a town in a beautiful mountain valley that offers endless activities. In a way, it resembles New Zealand's Queenstown in this regard. You can find almost all outdoor activities you can think of here, from canyoning, rafting, mountain biking to giant swings, zip-lining, bungee jumping, and thermal springs.
So, what is worth visiting in Baños?
Casa del Arbol – Casa del Arbol is a beautiful area located in the hills high above Baños that offers beautiful views and lots of fun. Several swings invite you to take beautiful photos, as well as other viewpoints, installations, and flowers in the garden. You can also take a short zip line ride here. Admission is only one dollar, and refreshments are also very reasonably priced, where you can sit and relax. You can get here from the city by bus, which runs at 2 pm (or earlier) from Pastaza Street (intersection with Montalvo or Luis A. Martinez Street). The bus back to the city leaves at 1 pm, 4 pm, and 6 pm. You can also walk back to the city, but we recommend doing so only if you have offline tourist maps like Locus or mapy.cz.
Giant Swing above the town – Columpio Fantasias De Volar – this is an amazing madness swing with which you will fly over the city. Yes, the views are beautiful, and after the first swing, you can truly enjoy it. It cost 12 dollars per person for this adrenaline activity.
Ruta de las Cascadas – Probably the most popular activity is Ruta de las Cascadas – a journey around waterfalls. If you want to enjoy them all freely and unlimitedly, we recommend renting bikes. They will cost you 5 (or 10 dollars) per day (depending on the rental company). We found very nice bikes here on Oriente Street. The trip along the waterfalls is all-day. Along the way, you can stop at an incredible zip line over the canyon (Tarabita Agoyan) or ride over the gorge in a cable car, which is somewhat similar to zip-lining. Prices are favorable (10 dollars for one ride or 15 for two rides). As the journey continues, you will see many other cable cars and zip-lines, but we think that the best views are from the very first one.
Pailón del Diablo – at the end of the Ruta de las Cascadas trip, a real gem awaits you. An 88-meter-high mighty waterfall will amaze you – and wet you, if you want to get really close. There are two entrances and two paths leading to the viewpoints. If you are short on time, better views are from the right bank. You will turn there just before the bridge (there are signs for Entrada Nueva). Admission is the same on both sides (2 USD). And if you wait here until it gets dark, you will see the waterfall illuminated in all colors. Photos in this article might help you with deciding on which entrance to choose.
Thermal pools under the waterfall – Termas de la Virgen is a popular place to relax after a long day. At the entrance, you have to rent a swimming cap (for 50 cents), and then you can enjoy the warm water with a view of the waterfall. Admission is 3 dollars per person.
Where to stay in Baňos? We stayed in Transilvania with a beautiful waterfall view from the balcony.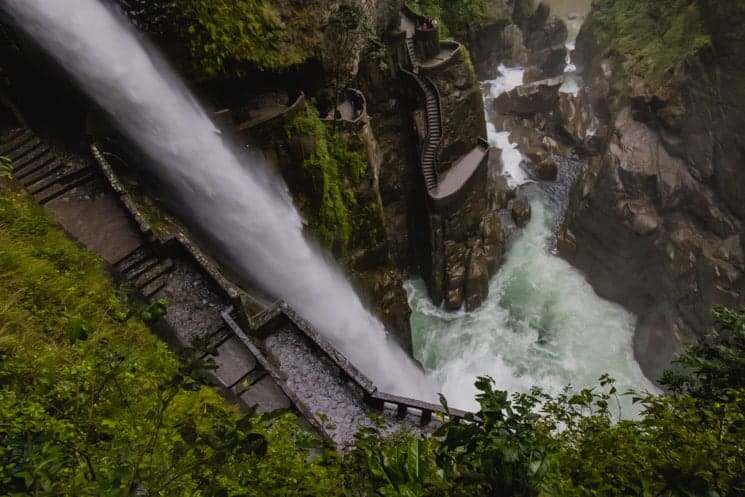 10) Ingapirca ruins
On the way from Baños to Cuenca, you can make a nice stop at the archaeological site of Ingapirca. Visiting Ingapirca can be done in one day on the way from Riobamba (bus at 7:30 am) or by bus at 5:00 am from Baños. You can buy a ticket to El Tambo or Cañar, from where buses or taxis depart.
A guided tour costs 2 USD with a guide from the archeological park – if you don't want to wait or want a tour in English, you can pay an additional 3.5 USD per person for an English-speaking guide.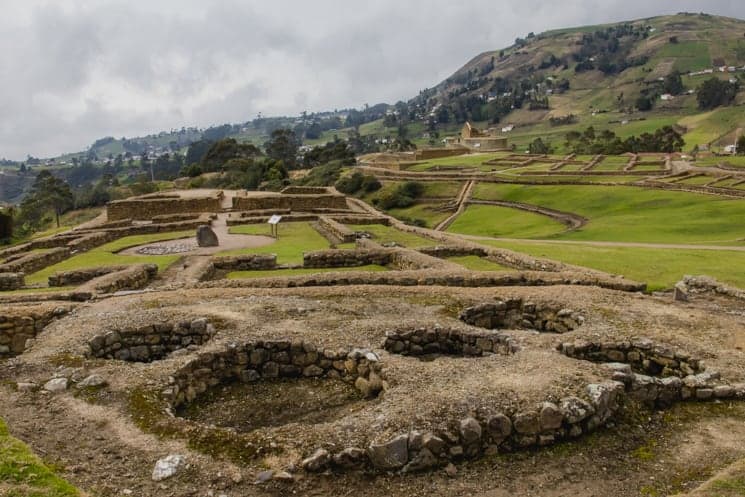 11) Cuenca
Cuenca will likely be your stop on the way to the Cajas National Park or to the airport in Guayaquil. Here you can check the best things to do in Cuenca. Cuenca is a nice city that you can walk through in about half a day. Worth visiting is the cathedral (you can go up to the roof for 2 dollars), a walk along the river, and if you like museums, the Pumapungo Museum is also worth a visit.
If you're not afraid of trying new things, a TOP activity in Cuenca could be roasted guinea pig. A friend who stayed in Ecuador for almost half a year gave us a tip on 2 restaurants: Mi Escondite and Tres Estrellas. Roasted guinea pig is a Latin American specialty and is excellent! For us, this delicacy ranks first with venison steak. The crispy roasted skin and meat are even better than rabbit. One guinea pig and its side dishes, which are plentiful (even too much) for two people, cost around 25 USD, but it's worth it for the experience!
Budget-friendly tip for accommodation in the center with a rooftop terrace is – Hostel Check Inn.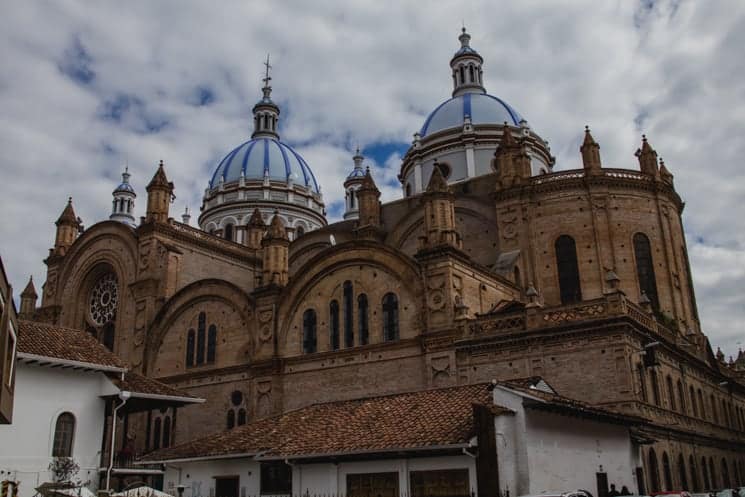 12) Cajas National Park
We would easily put Cajas National Park in the first place when it comes to the treks we did in Ecuador. You can make a nice day trip from Cuenca. The bus here runs from the main Terrestre terminal and costs 3 USD. The park only allows 92 people per day, so during the season, it is recommended to take one of the first buses at 7 or 8:10 in the morning. You must have your passport with you for registration, but a photo of it will suffice.
You can download the national park app directly. However, Locus or mapy.cz will also suffice. One of the best day routes is a combination of trek no. 2 and trek no. 1 – in this order. Once you reach the highest peak at 4295 meters, beautiful views of both sides of the valley with hundreds of lakes will open up to you. There are reportedly almost 800 lakes and ponds here!
To return from circuit no. 1, you do not have to go all the way back to the visitor center, but you can walk to the road and catch a bus, which runs very often (all day in both directions).
Remember again that the park is located at a high altitude – around 4000 meters above sea level.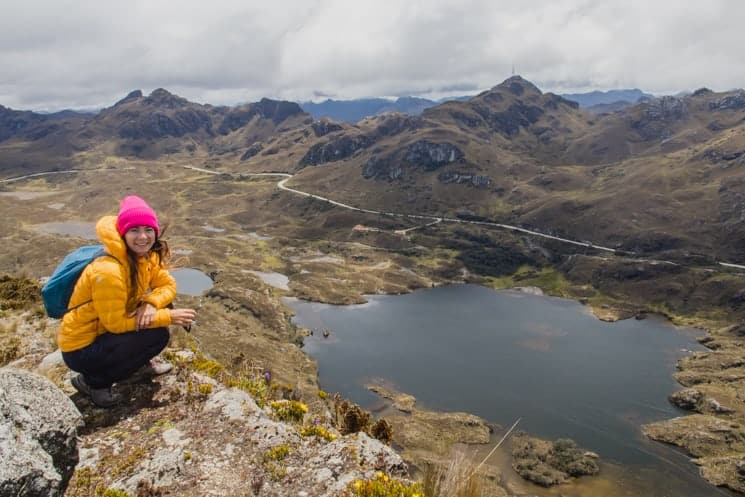 13) Other volcanoes in Ecuador
In Ecuador, there are several high volcanoes that you can climb. For those covered in ice, you will need a guide. However, there are plenty of companies that can provide you with a mountain guide and the necessary equipment for the climb. Keep in mind that due to their high altitude (around 5-6 thousand meters above sea level), proper acclimatization is needed to conquer them.
Pichincha (4784 m)
Cayambe (5790 m)
Illiniza Norte (5248 m)
El Altar (5319 m)
Tungurahua (5023 m)
Sangay (5286 m)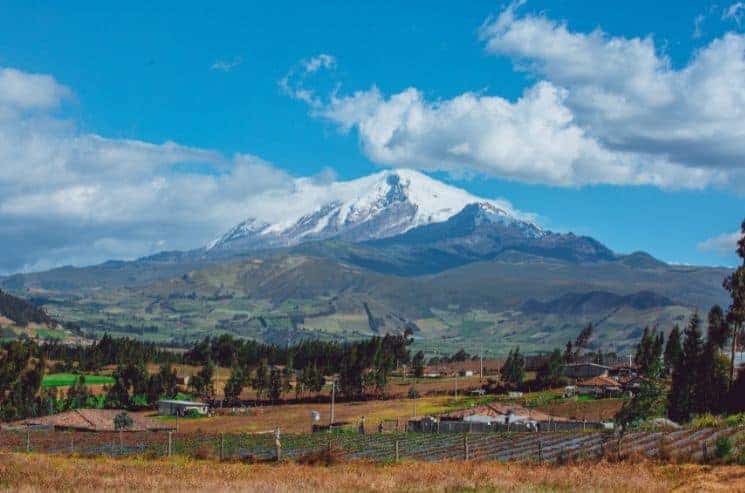 14) Montañita
Beach lovers will enjoy Montañita, a beach destination where you can also surf.
For more practical tips, check this guide to Montanita.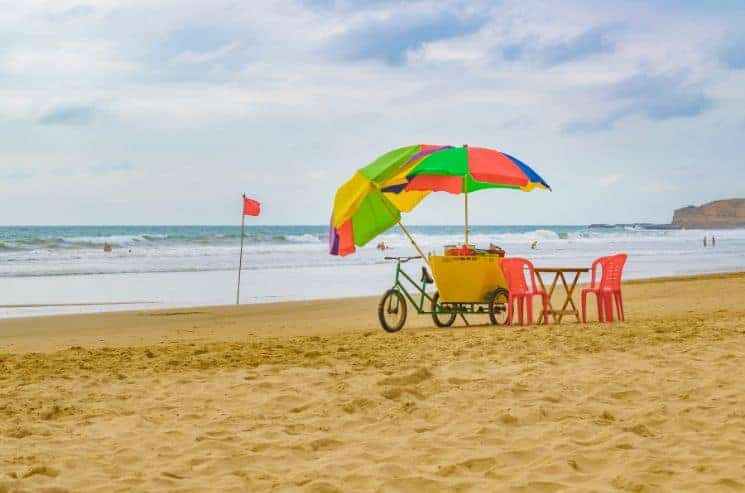 15) Isla de la Plata
If you don't have time to visit the Galapagos Islands, this small island near the Ecuadorian coast is worth a visit. You can get there by boat (day trips are also available). Locals call it the "little Galapagos" because you can see a lot of animals here too.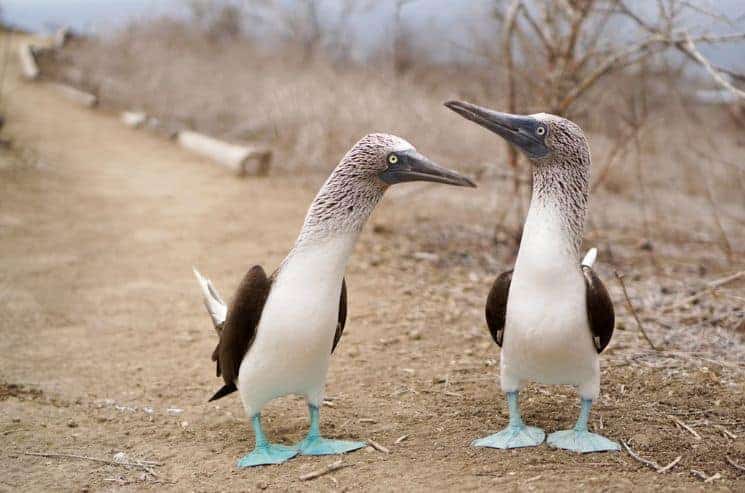 16) Galapagos
The Galapagos Islands are an absolute must-see destination in Ecuador. It is an incredible animal paradise where animals and humans live in perfect symbiosis. For us, it was the number one animal destination we have ever visited.
Perfect snorkeling, swimming with sea lions, hundred-year-old turtles, pelicans eating fish almost out of your hand (at the fish market in St. Cruz), huge sea turtles that are practically everywhere – it's just an animal paradise and a thousand times better experience than any zoo. These animals are not afraid of humans at all, on the contrary – a sea lion won't hesitate to kick you off a bench if they feel like it. And when they're in the mood, they'll play around with you in the water.
The Galapagos Islands are simply another amazing destination that amazed us.
Read our guide to Galapagos: Galapagos from A to Z: Ultimate Guide to Wildlife Wonderland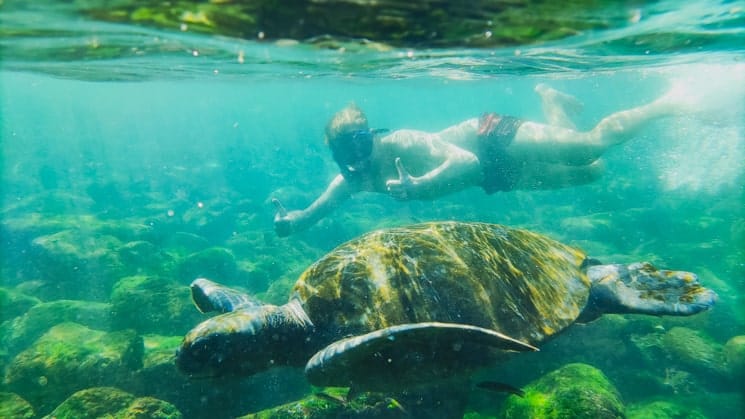 Map with the beautiful places in Ecuador for download
Here we have prepared for you a detailed map of Ecuador with all the important points worth visiting during your travels in Ecuador.
The map can be exported and uploaded to one of the mobile applications, Locus Map or Maps.me. This way, the map can be used completely offline!
Here you can find all our maps for travel planning.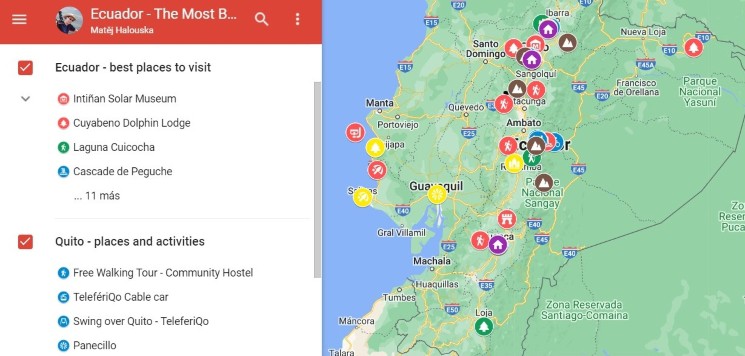 Check our other guides for Ecuador:
Pin Ecuador Guide for later or to your friends: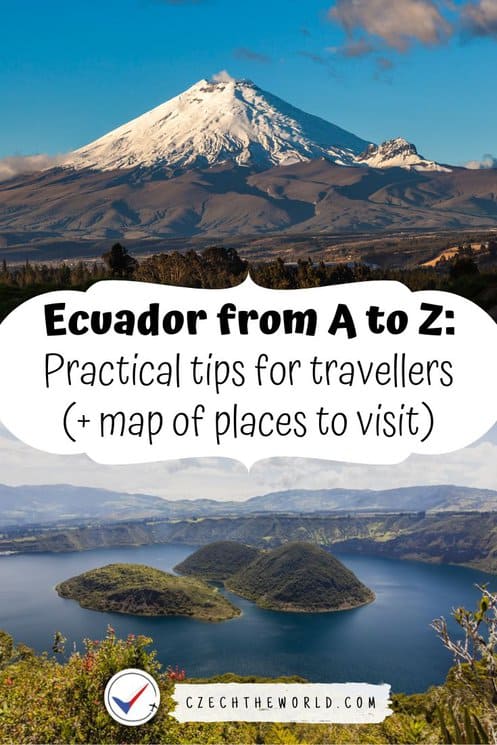 Do you like our post about Ecuador? Share it with your friends!