The Routeburn Track is one of New Zealand's most famous hikes. Visitors from all around the world come to hike the trail that's part of New Zealand's 10 Great Walks. These walks are the most diverse in the country showcasing stunning landscapes and a huge range of flora and fauna, and the Routeburn is one of the best!
From start to finish you'll get to experience the Southern Alps in all their glory crossing rivers, mountain passes, valleys, and lakes. It's truly one of the best hikes on the South Island and should be at the top of everyone's bucket list. With that said, there is a lot to know before you go.
From the best time of year to hike the trail to what to pack, here's a complete guide to hiking the Routeburn Track!
About the Routeburn Track
The Routeburn Track is a 32-kilometer point to point hiking trail located in both Mt Aspiring National Park and Fiordland National Park on the South Island of New Zealand. The Routeburn Shelter is located about an hour from Queenstown and it marks the beginning of one end of the trail, and The Divide near Te Anau marks the other.
The 32-kilometer journey is one of the best hikes near Queenstown and can be hiked in either direction. It typically takes two nights and three days staying in campsites or mountain huts along the way. With that said, you can also hike the entire trail in as little as one day or enjoy one of the short day hikes on the Routeburn Track.
Once you complete the Routeburn Track you need to get a shuttle bus (more on that below) from where you finish the hike to take you back to either your car or accommodation. This drive will take around 4 hours.
Of course, it's all part of the adventure that is the Routeburn Track and any hike so spectacular shouldn't be easy!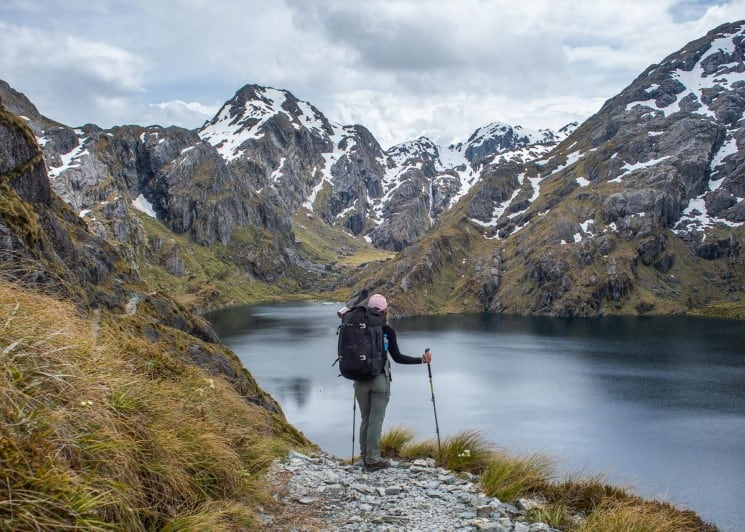 Best time to hike the Routeburn Track
Much like the other Great Walks such as the Tongariro Alpine Crossing, the Routeburn Track is open for the official Great Walk hiking season from the first week of November to the last week of April annually.
Within that season there is no best time to hike the trail, however, November and December are the wetter, colder months so many people choose to hike the trail in January and February. By March, temperatures begin to cool down again but this is also the easiest time to get bookings on the trail.
Although you can hike the trails outside of the official season, it is dangerous and not recommended by the DOC (Department of Conservation.) In fact, the Routeburn Track passes several high-risk avalanche zones and people have unfortunately lost their lives on the trail in the offseason.
Accommodation on the Routeburn Track
There are a total of two campsites, three huts, and two lodges on the Routeburn Track. In order, from the Routeburn Shelter to The Divide they are:
Routeburn Flats Hut & Campsite (7.5 kilometers from Routeburn Shelter)
Routeburn Falls Hut and Lodge (2.3 kilometers from Routeburn Flats)
Lake Mackenzie Hut, Campsite, and Lodge (11.3 Kilometers from Route Burn Falls and 12 kilometers to The Divide)
Each campsite and hut can be booked in advance on the DOC website, however, the lodges are only for those choosing to hike the Routeburn on a private tour with Ultimate Hikes. Remember, you can hike the trail in either direction choosing any variation of these accommodation options. So, be sure to pick distances between huts to your ability.
Quick fact: For those that don't know, huts are small wooden buildings owned by the DOC used to house hikers on popular hiking trails. There are two categories, serviced and unserviced huts. All huts have bunk bed accommodation with a mattress, and serviced huts (like those on the Routeburn), have cooking facilities and running water. On Great Walks, all of the huts are maintained by a hut warden who also briefs hikers on weather conditions. Some of the huts, like Routeburn Falls, are really nice and feel almost luxurious!
Routeburn Track itinerary & what to expect
There is no right way to hike the Routeburn Track. You can choose to hike the trail in as much or as little time as you want limited to the fact, however, that you cannot spend more than two consecutive night at any of the huts or campsites.
Of course, the optimal time to hike the trail that's recommended by the DOC (and what I did) is two nights and three days. You can do this by staying in any variation of the huts and campsites available.
My exact itinerary started at Routeburn Shelter near Glenorchy. I spent one-night camping at Routeburn Flats Campsite before hiking to Lake Mackenzie Campsite and then out to finish at The Divide. Overall, it was a relatively easy itinerary.
Here's what to expect on each section of the trail:
1) Routeburn Shelter to Routeburn Flats
This section of the trail is 7.5 kilometers long and follows a very slight incline (around 250 meters) to Routeburn Flats. It's considered easy and along the way, you'll walk alongside the Dart River, past the beautiful Bridal Veil Falls, before arriving at Routeburn Flats. Allow around 2.5 hours for this section of the trail.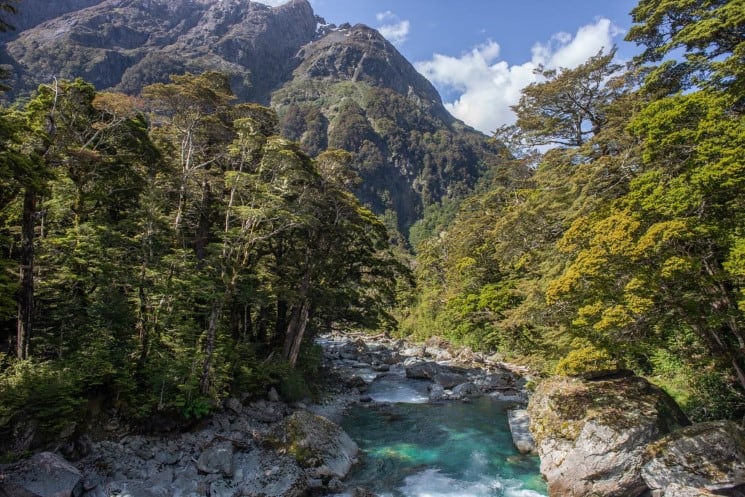 2) Routeburn Flats to Routeburn Falls
From Routeburn Flats to Routeburn Falls it's only a 2.3-kilometer walk, however, there is an elevation gain of 300 meters. This part of the trail is more difficult but only takes around 1 hour. Because of this, most hikers will either stay at Routeburn Flats or Routeburn Falls, not at both.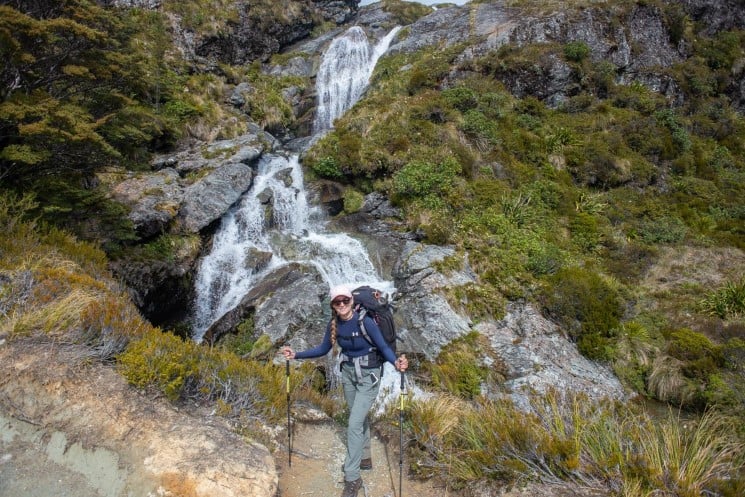 3) Routeburn Falls to Lake Mackenzie
From Routeburn Falls to Lake Mackenzie it's an 11.3-kilometer walk that climbs 250 meters in elevation before beginning a descent to Lak Mackenzie. Despite descending, there are still lots of small uphill sections as well as steep terrain especially as you head down to Lake Mackenzie. This part of the trail is the most beautiful though and the views of the Southern Alps are breathtaking. Allow 5 to 6 hours to complete the trail.
4) Lake Mackenzie to The Divide
The last day on the trail involves a steady decline to The Divide where you'll finish the track. This section takes around 4 to 5 hours and is relatively easy, but with that said, you'll need to make it to The Divide in time to catch your bus back to Queenstown (vice versa if you hike in the other direction and finish at Routeburn Shelter.)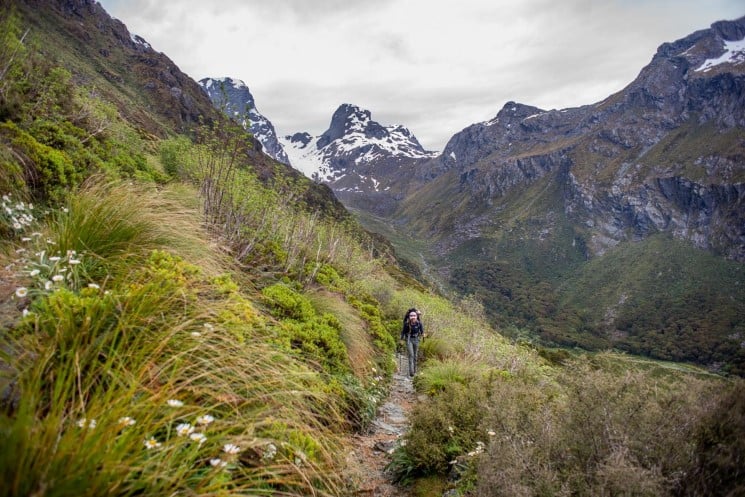 The Key Summit Track
The Key Summit is a famous hiking trail that you can hike with a slight detour from the Routeburn Track. This is really common to do. I didn't hike the Key Summit when I hiked the Routeburn Track simply because I was too tired. But I have done it on a different occasion as a day hike, and believe me, it's well worth checking out.
For those who do want to enjoy this breathtaking hike while on the Routeburn it will need to be done either on your first (if you start at The Divide) or last day (if you finish at The Divide.) The trail is located just past the old Lake Howden Hut and from the Routeburn Track you need to allow 1.5 hours extra to hike up to the viewpoint and back down again. However, the view is totally worth it!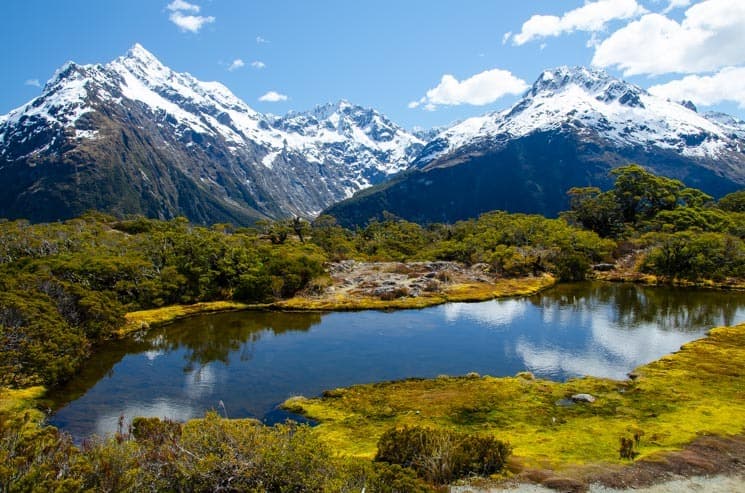 Booking campsites and huts
During the Great Walk season you need to book all your huts and campsites well in advance. Because the Routeburn Track is a Great Walk, it is very popular, and often the huts and campsite completely book up.
Once you have your itinerary sorted you need to book your huts and campsites right away. Bookings usually open up in late May or early June for the upcoming season in November, however, you should always check for DOC announcements on their website.
Once the huts and campsites on the Routeburn Track are fully booked your only option is to hope someone cancels their booking and you can take their spot. This is done using the website NZ Huts which notifies people who use their service of cancelations.
Hut and campsite prices
For locals (living in New Zealand for at least 6 months at the time of booking) huts on the Routeburn Track cost $65 NZD for per person per night for adults and are free to children. International visitors pay the same for adults but pay $32.50 for children. For that, you get a bunk bed with a mat as well as access to a gas cooker, running water and a toilet.
A campsite costs much less at only $20 for locals and free for children but you must bring your own equipment to sleep in and cook in. Of course, you have access to running water and a toilet. International visitors once again pay the same for adults, but $10 for children.
Cancelations
The DOC charges 10% of the booking fee if you cancel up to 15 days before your booking, 50% if you cancel between 14 to 4 days, 75% from 3 to 1 days, and 100% on or after arrival unless you have a medical reason. If you do have a medical reason, the person with the medical certificate and their companion will get a full refund.
Routeburn Track – Map and elevation profile
You can download the handy brochure by DOC with the map of the track, huts, campsites, and facilities. We can also recommend a great outdoor offline navigation: Lucus Map.
Transport to and from the Routeburn Track
As I mentioned above, once you finish the Routeburn Track you will need to either get back to your car or hotel. This is because the Routeburn Track starts on one side of the mountains and finishes on the other. In fact, by car, it takes 4 hours to drive from The Divide to Routeburn Shelter!
Luckily, this is super common and not something to worry about booking too far in advance. In fact, there are several companies that offer this service.
The three main ones are TRACKNET, Glenorchy Journeys, and Info & Track. All offer a similar service and similar rates. For example, all three companies charge $84 NZD for the bus from The Divide back to Queenstown. The main difference is the times they leave, so check their websites out and choose the one best for your itinerary.
Facilities on the Routeburn Track
There are minimal facilities on the Routeburn Track, however at each campsite and along the trail you will find basic pit toilets. On top of that, every hut has gas cookers that are free to use for those staying at the huts (campers need to bring their own cooking equipment.) Drinking water is also available at every campsite and hut.
You can fill your water bottle in streams along the way too and it's considered generally safe to drink. With that said, if you're concerned take a filtration device with you or a Steripen.
There is also an emergency shelter at the Harris Saddle.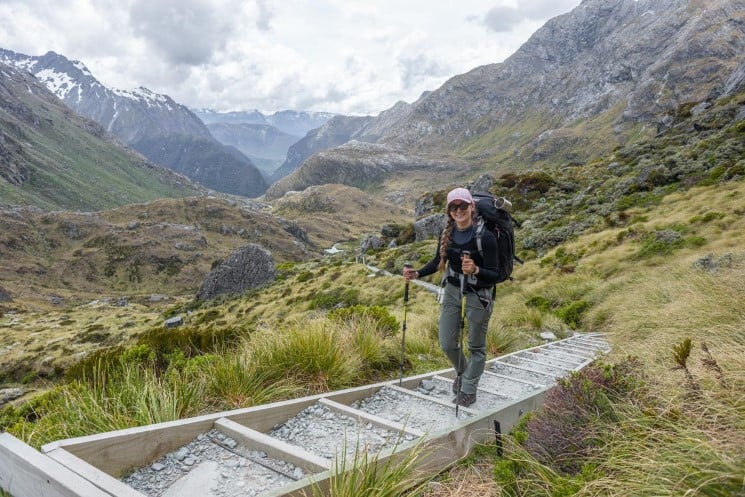 What to pack on the Routeburn Track
Water bottle (at least 1 L preferable 2!)
Wet weather gear
Layers of warm clothing
Pots and pans to cook in and drink from
Cooking equipment (if camping)
All your food
Hiking poles (they are a huge help on this trail)
Waterproof hiking boots
First aid kit
Emergency locator beacon (can be rented from DOC office in Queenstown or Te Anau)
Protection from the sun (i.e. sunglasses, hat, and sunscreen)
Water purification (optional)
Essential things to know before you go
Parking at the Trailheads: Parking at each trailhead is completely free, however, you are not allowed to spend the night in your vehicle.
Check in with DOC: It is required by the DOC that you check-in at their office the day before or the day you start the trail. You must leave your intentions and return date and it's recommended to come back in after the hike to check-in again.
In case of bad weather: If weather conditions change you may be asked not to continue on. Although you won't be charged, you should allow a day or two of free time on either side of the hike in case you need to spend a couple extra nights at a hut or campsite. Bring extra food too.
No cellphone reception: Most of the Routeburn Track has no cell phone reception. Because of this, Emergency locator beacons are recommended.
Conclusion
The Routeburn track really is one of my favorite hikes in New Zealand. From start to finish you'll be amazed by the beauty of the mountain landscape and likely meet some friends along the way. It's an adventure and that's what visiting New Zealand is all about!
By Bailey from My Queenstown Diary
About the Author:
Bailey is a blogger, lover of mountain peaks, craft beer, and of course, New Zealand! Not long after visiting NZ for the first time, she packed her bags leaving behind the cold weather in Canada to settle in this beautiful place called Queenstown! She shares tons of information about Queenstown and the South Island on her blog, My Queenstown Diary.
Pin this hiking guide for later or to your friends:
FAQ – Frequently asked questions:
Did this post help you? Share it with your friends! It can help them too!
Disclosure: Please note that some of the links above may be affiliate links, and at no additional cost to you, we earn a commission if you make a purchase. We recommend only products and companies we personally use and we use this income for further improvement of this website. Thank you!