Rotorua is well known for its adrenalin and outdoor activities. White Water Rafting adventure is one of them. If you have ever wondered about rafting in New Zealand, there are some reasons why to choose the Kaituna river with Tutea Falls waterfall.
Tutea Falls – World's highest rafted waterfall
If you want a unique adventure, why not trying the highest waterfall you can ever commercially raft? Tutea Falls is 7 meters tall. Riding it down is just a fabulous experience and one of the best things to do on New Zealand's north island! You can watch great photos and videos, but none of them tells you the real feeling when you are actually in the waterfall.
New Zealand's Grade 5 white-water adventure
There is a great chance to pump some adrenaline in your blood.
Kaituna Cascades Tour
There are a few different companies doing White Water Rafting adventure on Kaituna River in Rotorua. We have chosen Kaituna Cascades because their base is right next to the river (all other companies have bases much further).
White water rafting – what to expect?
You might be interested in what to expect during the Kaituna river rafting. First of all, it is good to know that no prior rafting experience is necessary. You will be given comprehensive "dry" training before going to the river.
Everything starts when you arrive at the Kaituna Cascades raft company meeting hall. It's super easy because their base is right next to the Kaituna river. You will sign up a form and after short welcoming instructions, you will have a chance to get changed to a wet suit (optional) and a fleece jacket. You will also get helmet and good quality life jacket.
When everybody is ready, its time for dry training. Your guide will go through all important things and safety instructions. He will show you, how to correctly sit in the raft and the right way to paddle. You will try to paddle as a team and train how to behave while riding down the waterfall or what to do if you accidentally fall into the water.
Before final walk to the river, there is one more important thing – a team photo. Final look depends also on your creative guide – I bet you will love that picture! And then it's time for….
White water rafting in Rotorua
The best 50 minutes of white water rafting adventure you can ever imagine! One of the best things to do in Rotorua. Your team is going to ride down 14 great rapids in a tight and twisting warm water jungle canyon.
At the beginning, there is a quite calm part where you are going to practice everything you have learned on the ground including jumping to the water and rescuing. Since then the real fun starts! First double waterfall! Your adrenalin is already pumped in. There are some nice pools on the way as well, so we could jump out the raft and swim around. It was cool because the stream takes you from the raft and then brings you back.
Few more rapids and THE Tutea Falls waterfall is here! Few more instructions to repeat, "war cry" to shout out loud and go!! 3 strokes, hold tight, jump in and wait! Waaaater everywhere!
Oh my gosh, we did it! That was super awesome! So we can proudly pose for the picture, can't we? 🙂
This Tutea Falls waterfall was simply epic! During the fall you don't have time to realize, that the whole raft was for a short time completely under the water!
There were some more great rapids, where we did some funny "rodeo rides", standing rides, etc.
Overall the tour is a good mix of rapids, waterfalls and couple calm sections, where you can enjoy the great surroundings.
So much fun with a professional guide
The whole white water rafting adventure was a blast. One of the reasons was our great guide, who made it so much fun. We have never felt bored. He was making jokes, rodeos, jumps or provoking water fights with other rafts. Even though some of the rapids were grade 5 (very difficult), we have never ever felt unsafe. Kaituna Cascades guides are just pure professionals! You can 100% trust them!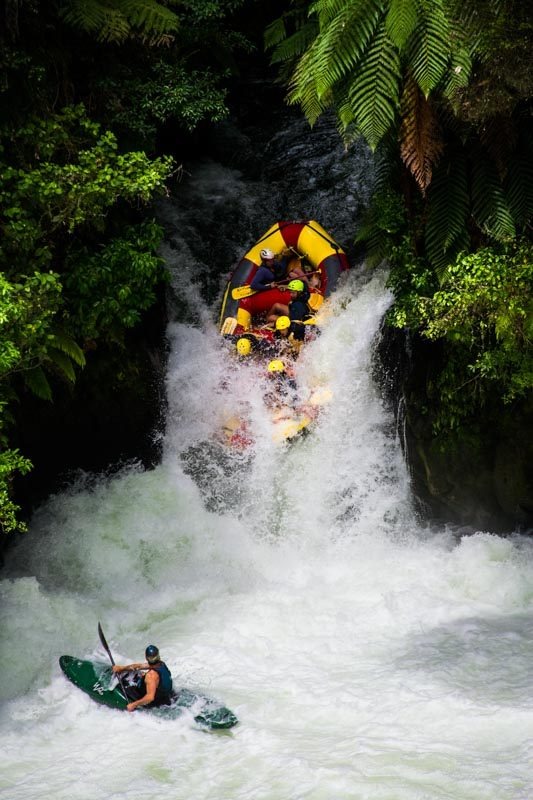 What else to say? It was simply fantastic! This was honestly the best day in Rotorua for us and the best rafting we have ever done in our lives! It's well worth the money!
I Want to do white water rafting adventure on Kaituna river, Rotorua!
Great! Just book the white water rafting tour here! And tell us, how did you enjoy jumping Tutea Falls! If you book it using our link, it doesn't cost you anything extra and we will get a small commission, which we will use for further web improvement. Thank you!
More New Zealand Adventure
Wanna more adventure? Check these:
More tips for your travels:
We have prepared for you this comprehensive list of links, discounts, and resources for travel planning in one place. Bookmark this page and whenever you plan a vacation in the future, just open it and save yourself a lot of time.
1) Where to book accommodation?
2) How to find cheap flights?
3) How to rent a car?
We recommend a comparison portal RentalCars.com to compare the best offers of all available rental companies.
Pin this for later or for your friends:
Did this post help you? Share it with your friends! It can help them too!
Disclosure: Please note that some of the links above may be affiliate links, and at no additional cost to you, we earn a commission if you make a purchase. We recommend only products and companies we personally use and we use this income for further improvement of this website. Thank you!