Your guide to Tongariro Alpine Crossing. Parking, best shuttle bus, the best time of year to hike, trek description, distance. What clothing and equipment do you need? All you need to know!
The Tongariro Alpine Crossing is often ranked among the TOP 10 most beautiful one day hikes of the world and 16 amazing hikes in New Zealand. This 8-hour trek across a volcanic alpine landscape with dramatic contrasts of steaming vents, ancient lava flows, vivid crater lakes, and stunning views is undoubtedly one of the biggest attractions of the Northern Island of New Zealand. This place is even more tempting for fans of J.R. Tolkien. Trek leads thought the Lord of the Rings landscape and you can simply walk in Mordor or Mt Doom (Ngauruhoe) if you want 🙂
Description of the Tongariro Alpine Crossing
You may be surprised by many warnings about the difficulty of the Alpine Crossing. Numerous signs along the route are designed to discourage less experienced tourists. It's because local Mountain Rescue Service has to rescue 2-3 people a week from the trek.
You don't have to worry if you have already some hiking experience. However, it's never good to underestimate the mountain terrain and weather!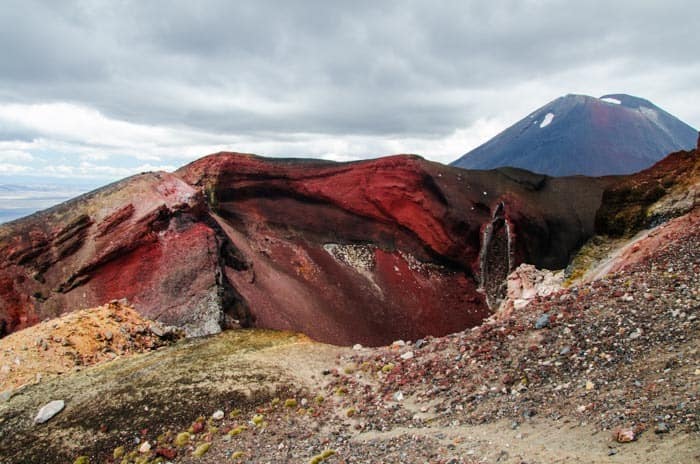 Transportation and parking at Tongariro Crossing
Car park
There is a limited 4-hour period car park if you wish to park at the end of Mangatepopo Road (the beginning of the Alpine Crossing trail). This car park for hikers who plan to do only short walks to the surrounding area. Don't even try to park here longer than 4 hours (there are guards who are writing down all license plates and time of arrival to the Mangatepopo Road car park).
You can either park in the National Park village, where are the most hotels around located. You then need to book a return shuttle bus. Another option is to book one-way shuttle bus and park on their private carpark. Either way, you have to take a shuttle bus.
Best Tongariro Crossing Shuttle Bus
You have to take a Shuttle bus to do Tongariro Crossing. They will take you to the beginning of the trek and pick you up in the afternoon at the end of the trek. The bus driver will tell you the exact time of pick-ups (you will receive the timetable card as well). It's best to start as soon as possible (take a bus at 7 or 8, the latest at 9), to have enough time for your hike.
Shuttle bus example:
If you take a bus at 9:00, you will have 8.5 hours to finish the hike and get on the last bus. If everything goes well, it shouldn't be a problem. If you take a bus at 9:00 you can't do a side trip to Mount Doom, which is about 3 extra hours. In case you are not able to catch the last bus, call your bus driver. They have individual pick-up service for an extra $25 for people who are late.
There are 3 best shuttle bus options, you can choose:
We recommend booking your Tongariro Crossing shuttle bus as soon as possible! It could be fully booked early.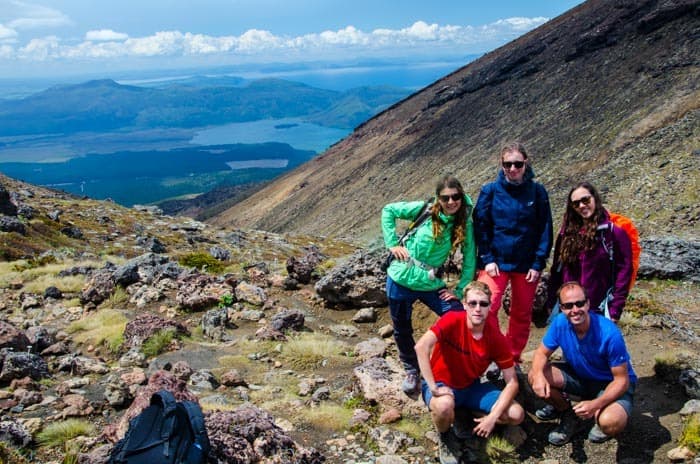 Description and distance of Tongariro Alpine Crossing
The distance of Tongariro Alpine Crossing is 19.4 km (12 miles). Time for hiking the whole distance is about 8 hours (photo stops included). It can be done in faster or sporty pace in about 5 to 6 hours. Slower hikers should count 9 – 10 hours. It's a total of 800 meters elevation gain and 1125 meters elevation loss (if you hike from Mangatepopo to Ketetahi). Tongariro Crossing is a one-way trek, so you will need to help yourself by taking a shuttle bus.
The trek begins at the end of Mangatepopo Road and there are toilets and little shelter. (It's possible to go in the opposite direction, but we wouldn't recommend that, because you will start from much lower elevation). The car park is also the starting point for shorter walks.
Now let's have a look at each section of this one day hike:
Walking times for following sections are approximate and can vary individually.
1) Mangatepopo Valley to Soda Springs
Walking time: 1 – 1.5 hours
The first part of the trek to the Soda Springs sidetrack is only a slight climb. There are comfortable boardwalks and nice path. The whole walk is like a lunar landscape with the Mt Doom (Ngauruhoe or Mordor) 🙂 in the background.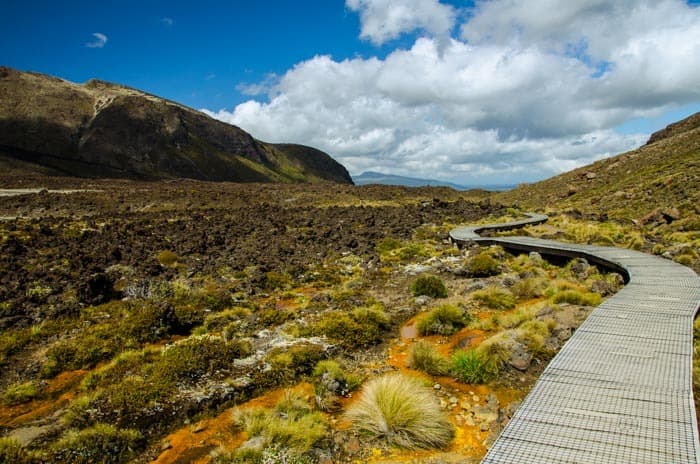 2) Side trip to Soda Springs
Walking time: 15 minutes (return trip)
Just a short walk (about 5 minutes' in one direction) will take you to the Soda Springs Waterfall. Although the water from the spring is clean and cold, it is NOT suitable for drinking (due to its high mineral content).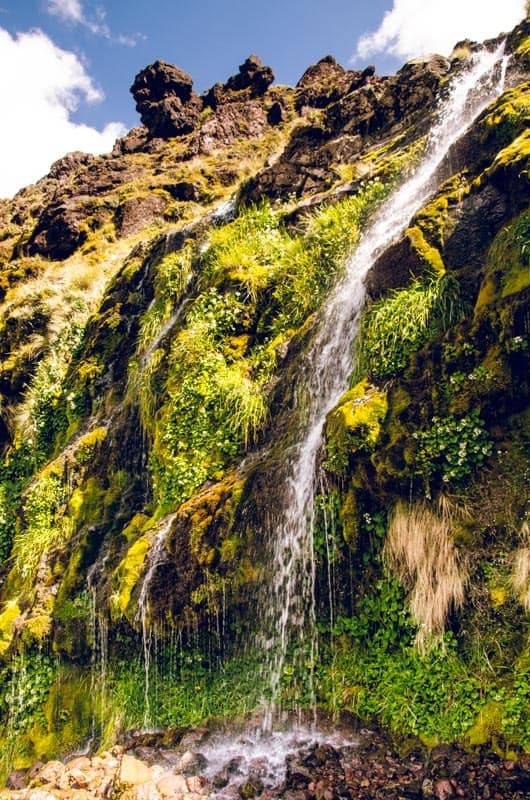 3) Climb to the South Crater
Walking time: 1 hour
This climb is known as the Devil's Staircase. The track climbs steadily, gaining 340 m. It goes through lava flows from eruptions of the 19th and 20th century. There are toilets at the beginning. Majority of this path are stairs or manmade walkway. On a clear day, you can see as far as Mount Taranaki.
Be prepared for possible wind and rapid temperature drop in the South Crater. The combination of orange-red color and landscape shapes resembles the planet Mars. After crossing the crater bottom, there is the last bigger climb to the top of the Red Crater (the highest point of the entire trek).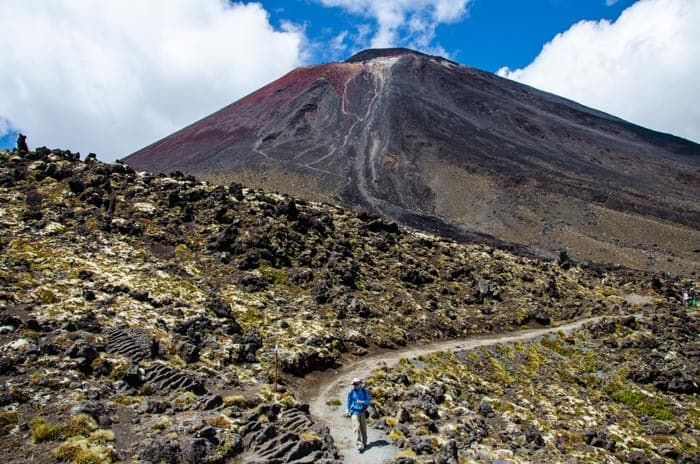 4) From the South to the Red Crater
Walking time: 45 minutes – 1 hour
The Red Crater is a totally accurate name! The Red Crater has a look of hell! You will feel the volcanic activity by all your senses here. From its peak (1886 meters above sea level) you can finally see the Emerald Lakes.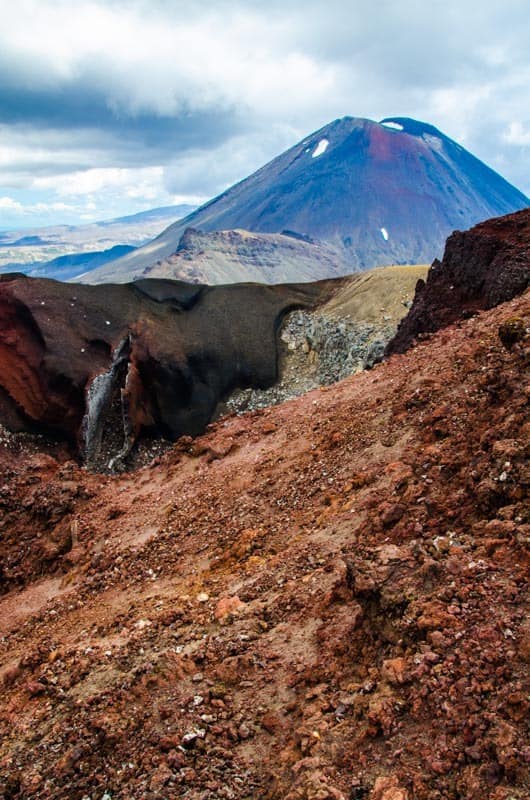 5) Emerald Lakes
Walking time: 10 – 20 minutes
Perhaps the most famous photos of the entire Alpine Crossing trek capture these vivid Emerald lakes. Brilliant emerald color is caused by minerals from the volcanic thermal area. You can see steam flows from the ground nearby lakes. The lake water is cold and acidic – Don't try to swim in there.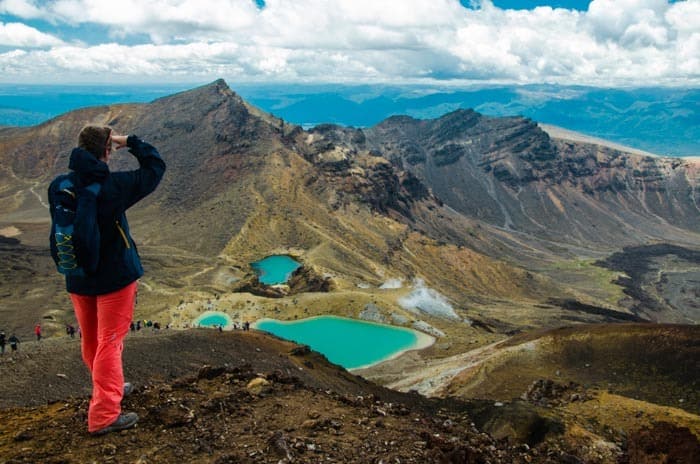 Descent from the top of the Red Crater can be unpleasant. It's a steep terrain with a lot of loose stone. Trekking sticks can be very handy here. This section is technically the toughest part of the Alpine Crossing.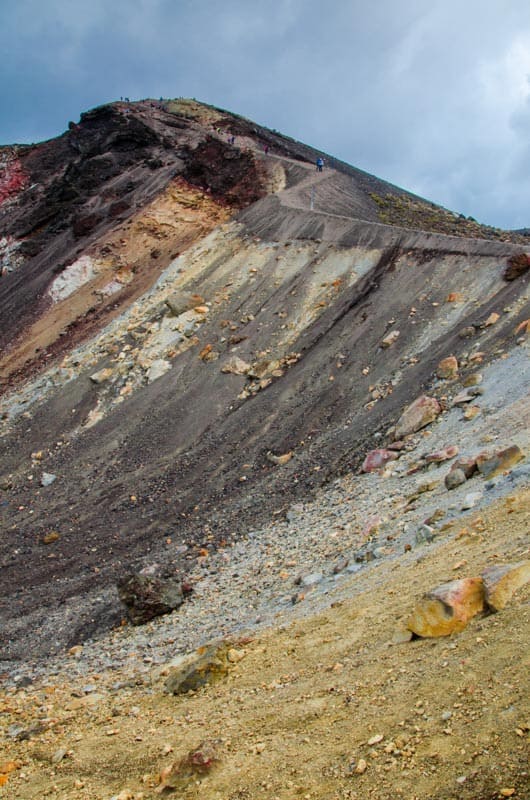 6) Emerald Lakes to Ketetahi Shelter
Walking time: 1.5 hours
While the Great Walk of Tongariro Northern Circuit turns to Oturere Hut, Tongariro Alpine Crossing continues through the Central Crater to the Blue Lake. This lake is sacred for Maori people. You will find toilets nearby. There is a nice view of Lake Taupo. Long descent to the Ketetahi Shelter starts here. The landscape is not significantly changing since then. The trail turns in the artificial pavement and many small staircases on the way down. There are toilets at Ketahahi Shelter.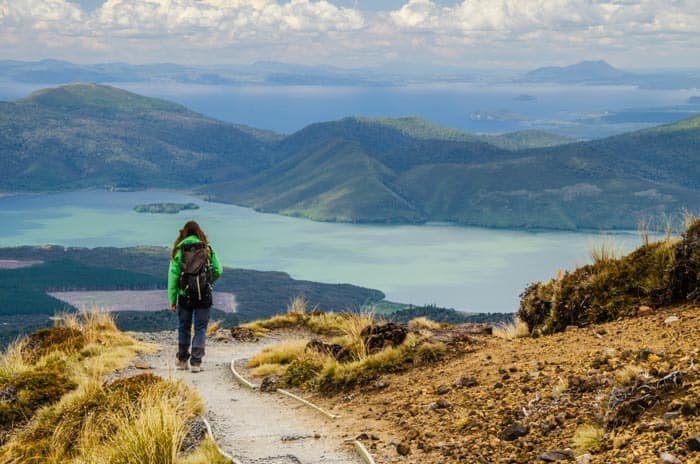 7) Ketetahi Shelter to Ketetahi Bus Park
Walking time: 1.5 – 2 hours
The track continues to descend, later begins the forest section. It also passes over the tongue of a lava flow and Active Vulcanic Hazard Zone (you will see the signs there). It's recommended to walk quickly through this section and not to enter it in case you hear the noise from above. It's accompanied by Manga-a-te-tipua Stream.
Warning
Don't drink this water – it's polluted with minerals from the thermal area of Ketetahi Springs.
We recommend watching the time in the final section, so as not to miss your bus! Shuttle buses depart from Ketetahi Bus Park usually once an hour.
There is a waterfall just ahead of the end of the track. So, you can make a short side trip (if you have spare time before your bus arrival).
Side trip to Mt. Ngauruhoe (Mt. Doom) from Tongariro Crossing track
Walking time: 3 hours (return trip)
Fans of the Lord of the Rings might want to do the "Mount Doom" (Mordor) side trip. If you decide to do so, add 3 additional hours to your trip. The track to Mt. Doom starts from the signpost in the South Crater. Route up is steep with no markers. The best way up the Mordor is by the rocky ridge to the left of the scree slopes. Be careful, there is a lot of loose stones.
Facilities on Alpine Crossing (Water, Toilets, Shelters)
Water
Although there are several springs along the way, the water is not drinkable. It's polluted by a high amount of minerals from the adjacent thermal area. Therefore, it's necessary to bring enough water to keep you going the whole trek. We recommend a minimum of 3 liters of water per person.
Toilets
As this is a very popular trek among visitors, you will find a lot of dry toilets on the way. There are markings along the trek, so you will know, where are the next ones.
Waste and rubbish bins
There is a nice rule in New Zealand. Leave nothing but footprints, take nothing but pictures. So, take out everything you bring in. Trash bins are only at the beginning and at the end of the track.
Huts
There are no huts on the one-day Alpine Crossing trek. Huts can be found only on the
"Great Walk" Northern Circuit route. The route of the Great Walk is approximately 43 km long, and it makes a circle across the National Park.
Gear list and Summer Clothing
You should never underestimate the mountains. It might be quite warm during the summer, but it's always good to take proper clothing including several layers and rain gear. Temperatures can be low if you are up there (so someone can appreciate gloves as well). Don't forget to take:
Enough water (ideally at least 3 l)
Food for the whole day
Sunscreen (New Zealand's sun is very strong)
Sunglasses
Hat or cap
Waterproof jacket/Raingear
Several layers
Hiking shoes/boots
First Aid Kit
Mobile phone with a map
Hiking poles (if you have them, they will be handy)
Prepare for a smooth day at Alpine crossing with an official video guide:
Weather for Tongariro Alpine Crossing
Predicting weather for mountain terrain is very difficult in general. You must count that the weather can change quickly in the mountains. It can be sunny, windy, cloudy, rainy – all of that I one day. In case it's extremely bad weather since the morning (fog, wind, rain), consider leaving the Alpine Crossing to another day.
Have a look at the weather forecast for following days:
TONGARIRO NATIONAL PARK WEATHER
TIP: Plan 1 or 2 extra days for this area, in case you couldn't do the trek on the first day due to the bad weather conditions. On average, it can rain every second day on Tongariro Crossing.
Check the current Volcanic activity:
You can check current Volcanic activity at Geonet website.
Best time of year to do the Tongariro Crossing
Best time of year to do the Tongariro Crossing is the summer season, which starts from October and lasts until April. I would recommend going early or late in the season because the temperatures will not be as high and it trek will be less crowded.
You should have a good experience and gear like crampons and an ice axe to do Alpine Crossing in the winter time. If you do not have enough experience or equipment, hike it either in summer or book a guided tour!
Great Walk – Tongariro Northern Circuit
If you think that one-day Alpine Crossing is not enough for you, then you can try so-called "Great Walk" of the Tongariro Northern Circuit. It is about 43.1 km long circuit that leads through a volcanic landscape, mountain meadows, glacial valleys and the very heart of the National Park. Reserve 3-4 days for this Great Walk.
If you plan to do the Great Walk in the summer season (from mid–October to April), you need to reserve huts in advance! Reservations are not needed during the winter season. To find out more information about the Great Walk and hut booking, visit the official site of the Department of Conservation.
Freedom camping at Tongariro National Park
There is a nice Freedom camping area around Urchin Campground. There are 6 campgrounds nearby each other, so if some of these campgrounds are full, you can find a place at the other one.
Campgrounds:
You can find a lot more about these campsites if you download the CamperMate app.
Accomodation near Tongariro Crossing
The best is to find accommodation in the National Park Village, where is the starting point of most shuttle bus companies. You will be picked directly from your hotel and they will take you back to the same place.

We highly recommend to book the accommodation in advance, because it's a very popular place the hotels are often fully booked.
You can choose here:
Check this beautiful video about Tongariro Alpine Crossing:
Are you ready for the next adventure that New Zealand offers?
Or how about some rafting or sliding adventure:
Pin this for later or for your friends:
Did this post help you? Share it with your friends! It can help them too 🙂
Disclosure: Please note that some of the links above may be affiliate links, and at no additional cost to you, we earn a commission if you make a purchase. We recommend only products and companies we personally use and we use this income for further improvement of this website. Thank you!
---
Adriana & Matěj
Travelers, sport enthusiasts and photographers behind this blog. Creating high-quality and informative guides for your travels. Read more about us here.