La Paz Teleferico, also known as Mi Teleférico, is a remarkable cable car transportation system that offers visitors a breathtaking and efficient way to explore the city of La Paz, Bolivia.
This unique mode of transportation not only provides stunning panoramic views but also serves as an integral part of the city's infrastructure. In this ultimate guide, we will introduce the history, interesting facts, and mainly the essential information to help you make the most of your Teleferico experience.
We rode all the telefericos (several times), so we can help you choose the best one for you!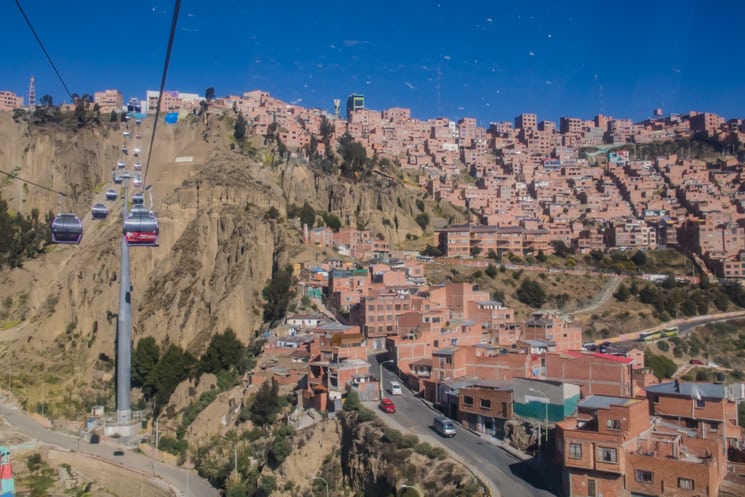 History of La Paz Teleferico
La Paz Teleferico was inaugurated in 2014 and has quickly become an iconic symbol of the city. The construction of this cable car system was a significant investment aimed at improving transportation options and reducing traffic congestion. Since its inception, it has revolutionized the way people move around La Paz, providing a swift and reliable means of commuting.
The cable car system was constructed by the Austrian Doppelmayr company – the same company that made nearly all of the ski lifts in the European Alps.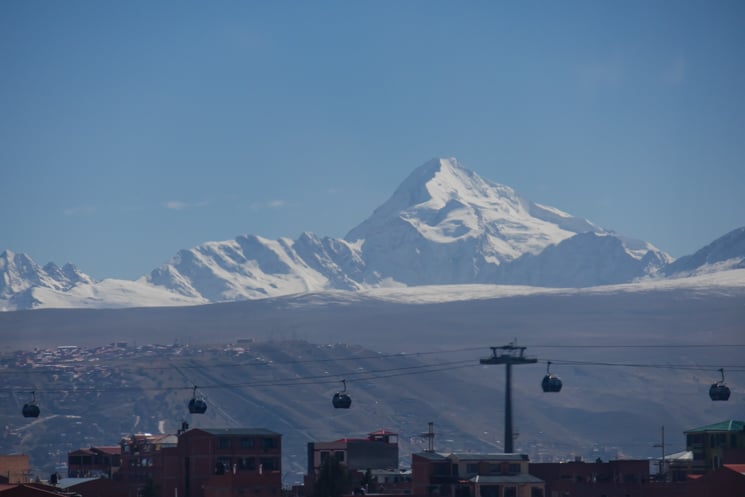 Interesting Facts about Mi Teleferico Cable Car
Did you know that La Paz Teleferico is the highest cable car system in the world? It traverses the Andes Mountains, reaching altitudes of over 4,000 meters (13,000 feet), offering unparalleled views of the city and surrounding landscapes.
This extraordinary feat of engineering consists of several interconnected lines that cover various parts of the city, making it an efficient mode of transportation for both locals and tourists.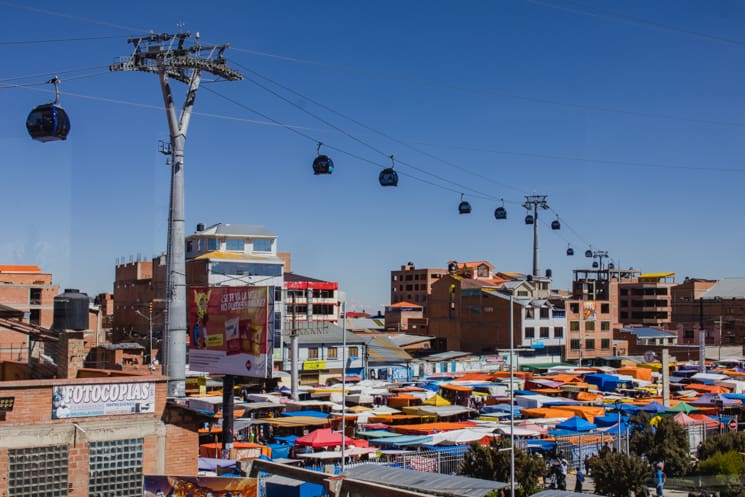 Which Cable Line is the Best and Why?
You might wonder which line to choose. Here we have some hints that might help in with deciding. We personally recommend doing a loop plus Yellow and Green, but if you have limited time, this might help you:
Red Line
Among the numerous cable car lines in La Paz Teleferico, the Red Line stands out as one of the most popular and scenic routes. This line takes you on a mesmerizing journey from El Alto to the heart of La Paz, showcasing the contrasting landscapes and vibrant cityscape along the way. The Red Line provides an excellent opportunity to capture breathtaking photographs and enjoy the beauty of La Paz from above.
Yes, everyone loves the read one. But our favorite was the Green one!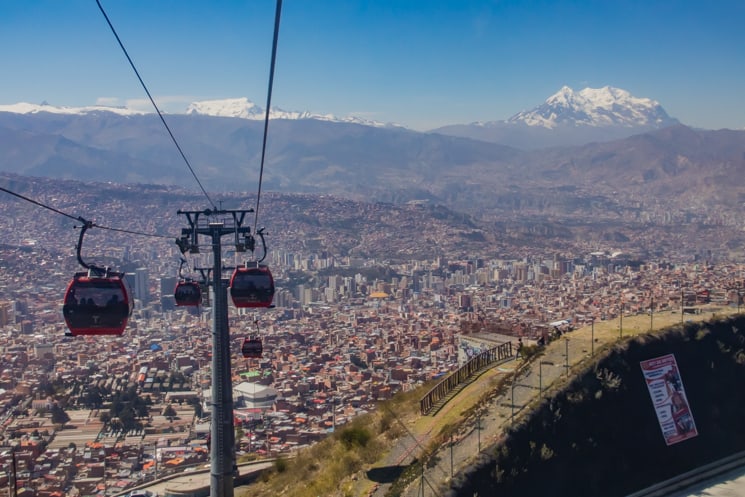 Green Line
The Green Line takes you to the outskirts of the city, where you can admire the natural beauty that surrounds La Paz. These cliffs are just amazing! If you plan to visit Valle de La Luna, we can highly recommend taking the Green Line and from its end continuing by typical "Micro" (something between a Microbus and van, which is a typical public transport in La Paz).
Other lines
If you have enough time, I would suggest going to as many as you can. Each cable car line has its own unique charm and attractions.
The Yellow Line offers stunning views of the famous Moon Valley (and you need to ride it so as to get to the green line if you go there from the city center).
Blue Line connects you to the historic district and the bustling markets of La Paz (there is a HUGE market on Sunday in El Alto).
Well, all of them are interesting, and exploring multiple lines allows you to experience the diversity of the city.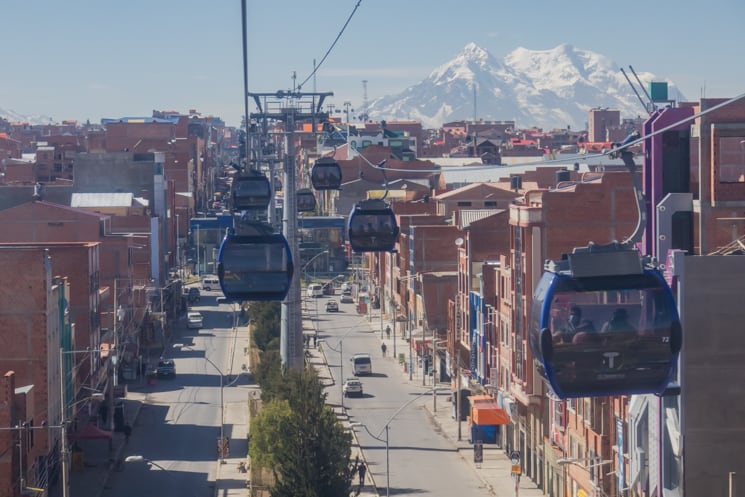 Map of La Paz Teleferico Lines
Here is a map of all the Mi Teléferico lines:
The map can be found also here.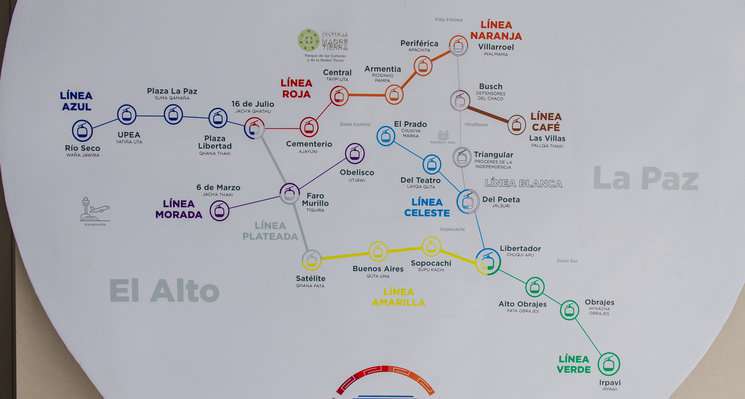 How to Plan Your Teleferico Day Trip
Before you head off for the panoramic ride, try to plan out what places you might like to visit (so you can hop off the La Paz cable car at the right spot). If you don't want to make any stops, the best way to explore the teleférico is the circle trip.
Circle Teleferico Trip
Making the circle Teleferico trip is easy. Find the nearest station and ask for the circle trip or simply for all the lines within the "circular route" (yellow, silver, red, orange, white). Just remember that if you plan to do that circle the ticket is valid only for 2 hours. So if you plan to get off somewhere, buy the ticket just to that certain station. Later you can buy a new one.
The same rule goes for the situation when you want to ride all the lines (circle and detours for violet, green, café, and blue lines). You are not able to ride the circle plus detours within 2 hours.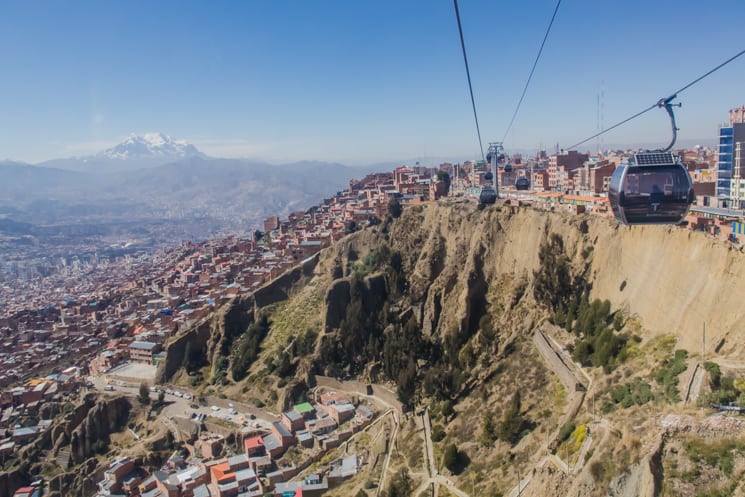 A ticket for a single color line costs 3 Bolivianos (BOB).
The price for each additional connecting line is 2 BOB.
Prices and Opening Hours:
The cost of riding La Paz Teleferico is very affordable.
For example, 2 consecutive lines (of different colors) cost 5 Bolivianos (BOB).
If you know your final destination, just tell them the name of your final station and you will get the ticket that you need.
Rechargeable cards, such as the Mi Teleférico card, offer flexibility and discounts for frequent travelers.
Operation hours
The cable car system operates daily.
Monday to Saturday from 6:00 AM to 10:00 PM
Sunday and Public Holidays from 7:00 AM to 9:00 PM
It's always a good idea to check the official website or ask directly at the station for any updates like possible maintenance closures, etc.
La Paz Cable Car – Conclusion
La Paz Teleferico is not just a mode of transportation; it's an experience that allows you to see La Paz from a whole new perspective. I hope you will enjoy your rides as we did.
Read also:
Photo gallery: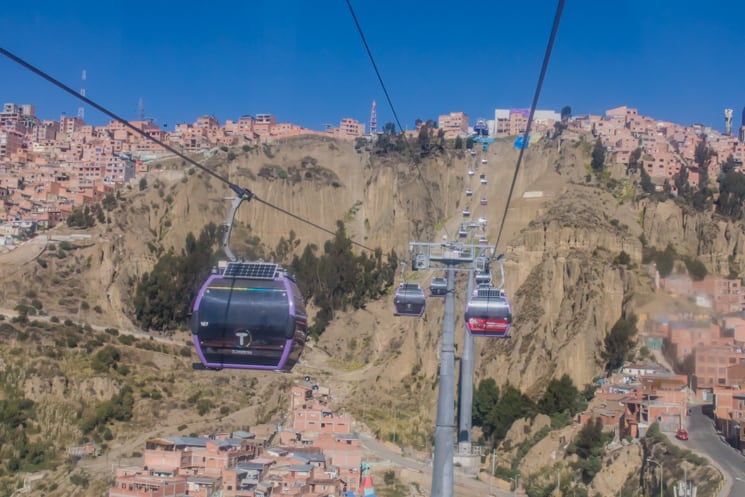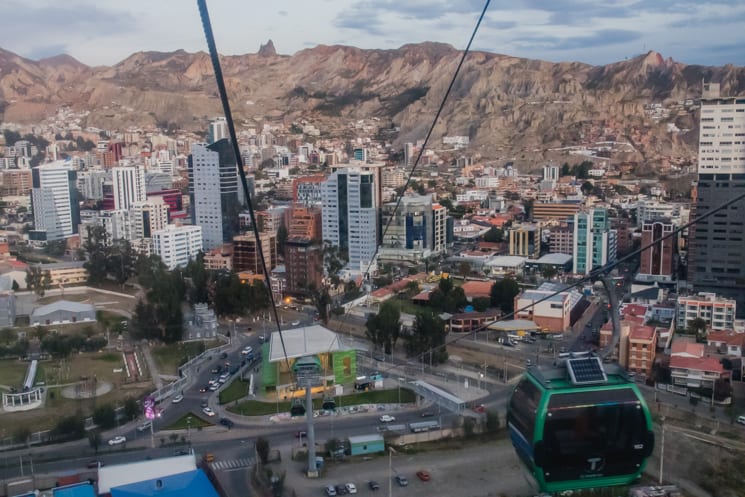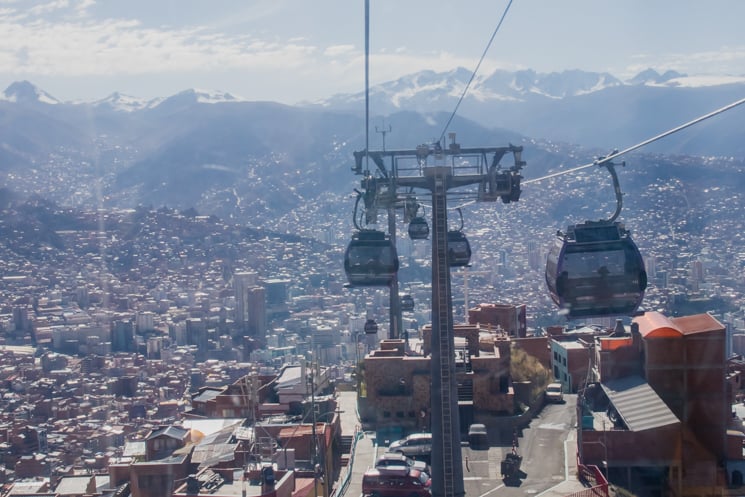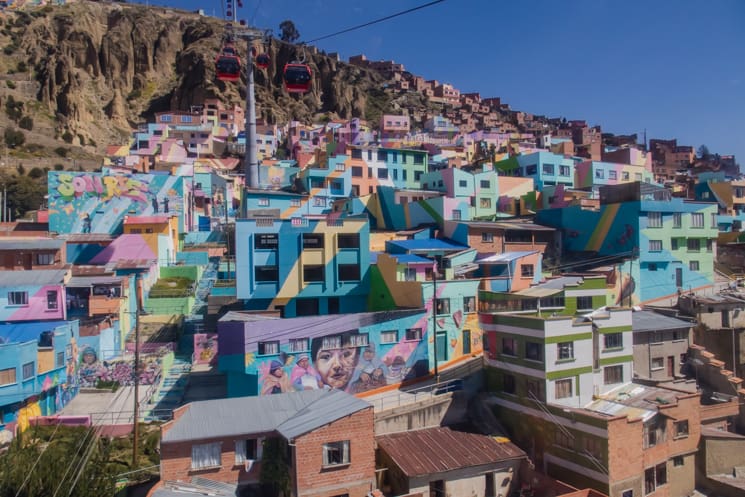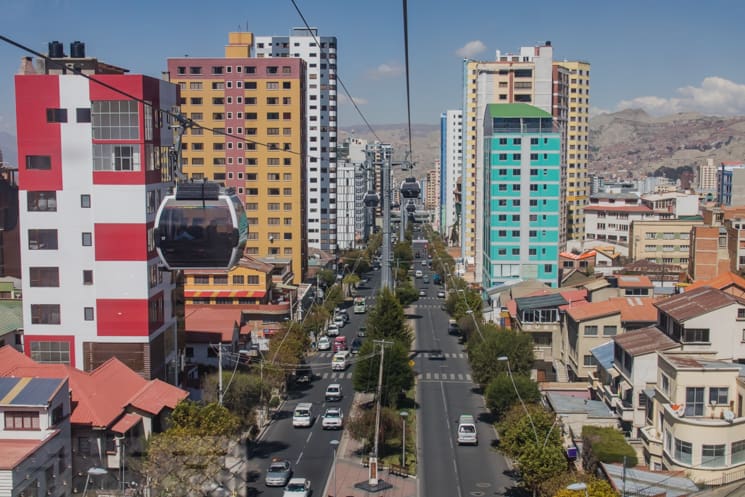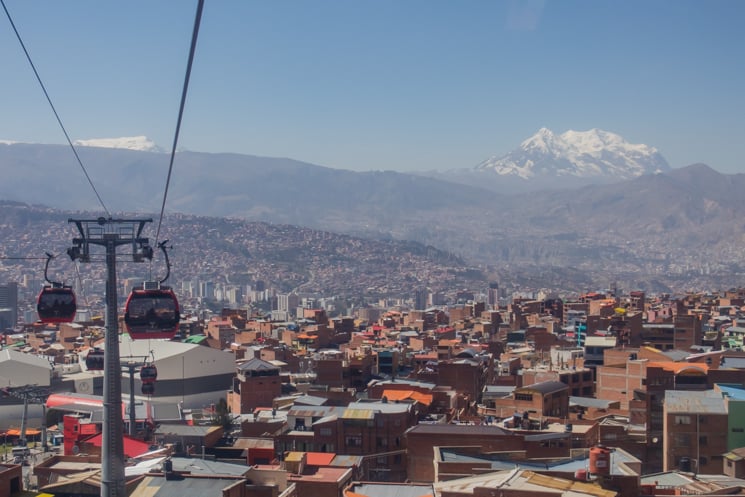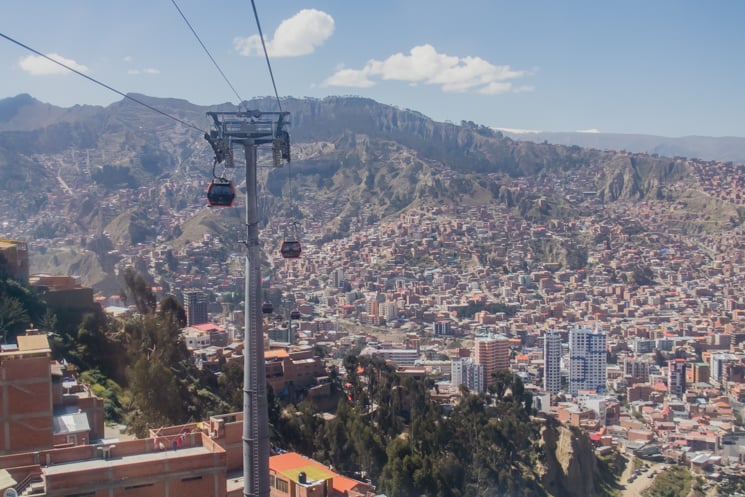 Disclosure: Please note that some of the links above may be affiliate links, and at no additional cost to you, we earn a commission if you make a purchase. We recommend only products and companies we personally use and we use this income for further improvement of this website. Thank you!