Nestled at the edge of the city of Sucre lies a prehistoric treasure waiting to be discovered – Museum and Dinopark Cretácico de Cal Orck'o. This park offers a unique opportunity to step back in time and witness the ancient world of dinosaurs come to life.
The site is a geological wonder, as it was once a muddy lake (now a vertical wall of limestone) where dinosaurs roamed over 65 million years ago. Today, these ancient footprints are remarkably preserved and offer a fascinating glimpse into the prehistoric era.
We have prepared for you a comprehensive guide to visiting this unique place.
Brief history and significance of Cal Orck'o
The whole story began millions of years ago when the region was submerged under a vast inland sea known as the Western Interior Seaway.
During the Late Cretaceous period, this area was a lush coastal plain teeming with a diverse ecosystem. As the dinosaurs traversed this landscape, their footprints left an indelible mark on the soft mud and sediment, which eventually solidified into rock over time.
Unveiled to the world in 1994 during quarry operations of the Francesa cement company, this extraordinary find revealed a collection of over 5,000 dinosaur footprints, representing approximately 15 different species. From the mighty Tyrannosaurus Rex to enormous Sauropods and Titanosaurus.
By 2023, more than 12 000 dinosaur footprints were found, making it the world's largest paleontological site of this type.
The mining activities at Cal Orck'o were stopped, and after years of excavation and research, Dinopark and Museum Cretácico de Cal Orck'o were established.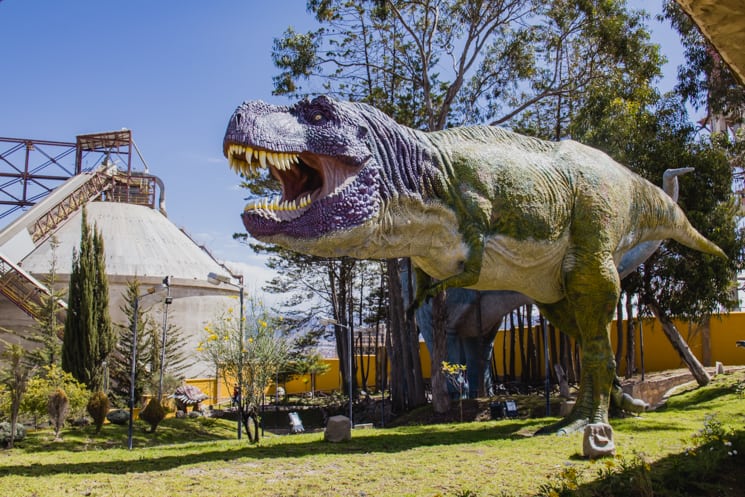 How to get to Cal Orck'o from Sucre?
There are several options to get to the Cretácico de Cal Orck'o from Sucre:
By microbus (public transport)
The cheapest way to get to "Dinopark" is by taking public micro bus no. 4. It leaves from the city center and follows the Arenales street. You can wave it down anywhere. A single ride cost about 2,5 BOB.
There is quite a lot of traffic throughout the city, so if you want to be able to get on the 11.30 museum tour and 12 o'clock Quary tour to see the footprints, start looking for that bus around 10 AM (eventually around 11, to catch the museum tour at 12.30 and Quary tour and 13.00).
Microbus will drop you off at the final stop Francesa Cement Factory. From there you need to continue a couple of dozen meters to the Cal Orck'o. The entrance will be on your left-hand side. You need to follow quite a steep path uphill to finally to get the entrance with the cash desk.
By dinobus
You can also take the official Dinobus, which doesn't stop anywhere but take you straight to the Cretácico de Cal Orck'o.
Dinobus departs from the main Plaza 25 Mayo in Sucre at 9.30, 11.00, 12.00, and 15.00 from Tuesday to Sunday. The round-trip cost 15 BOB. If you decide to take the Dinobus, take the one at 11.00 or 12.00 to catch the tour at 12.00 or 13.00 to the Quarry.
By taxi
You can also take a taxi from Sucre but don't forget to negotiate the price before getting in. On the way back is quite likely, that there are going to be some taxis waiting for customers.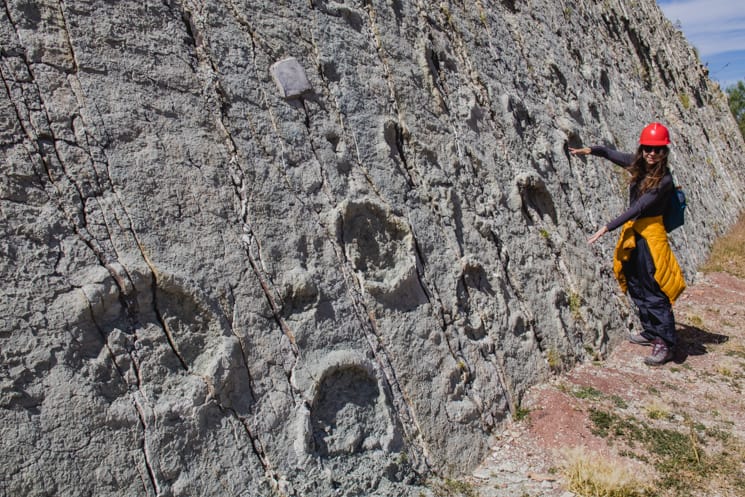 Best time of the day to visit Dinopark Cretácico
If you want to see the footprints in a Quarry from a close distance, make sure to be at the Cretático before 11.30 (or 12.30), so you can join the guided tour around the park and mainly go at 12.00 or 13.00 for the Quarry footprint tour.
Guided tours
All guided tours are included in your ticket.
Park tour
Guided tours are available in both English and Spanish, with a start at 10 am, 11.30 am, 12:30 pm, 2 pm, and 3 pm. The meeting point is right behind the cash desks. If you arrive early, you can visit an audio room, where you can see a nice dino video.
Inside the museum, you'll encounter life-size reconstructions of the dinosaurs that once roamed these lands. The realism and attention to detail are truly remarkable, immersing visitors in the ancient world. During the tour, you'll also learn about the remarkable creation of the vertical limestone wall and the incredible diversity of dinosaur species discovered here, with a total of 15 types identified.
Quarry tour
There are only 2 tours per day – at 12 pm and 13 pm. The meeting point for this tour is on the terrasse (next to the café). You are required to wear a helmet. Closed shoes are perfect for this tour, it is steep and rocky to get down there.
The tour lasts about 45 – 50 minutes and takes you down to the quarry, where you can witness a vertical limestone wall that contains thousands of dinosaur footprints. Your guide will explain the geological processes but also explain which footprints belong to which type of dinosaur.
It is indeed a very interesting experience.
Museum
Last but not least, you can explore the museum and gain a deeper understanding of these prehistoric creatures and their environment. There are interesting models of dino babies, skeletons, and much more.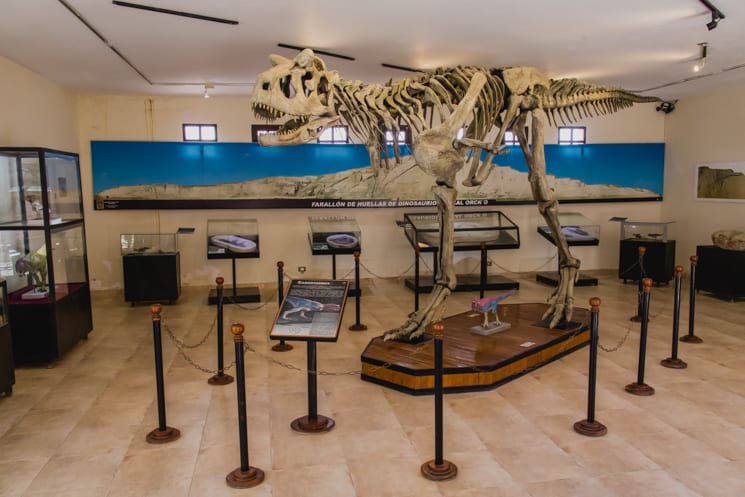 Virtual reality
Once you are done with the dino sculptures and museum visit, you can buy a ticket (for 5 BOB) to try Virtual Reality. It is quite a nice experience. Although it is a short movie (around 4 minutes), the story will take you to the dinosaur era. You will witness the amazing dino species as well as the fight and the tough life of those animals. Ultimately, it will take you exactly to the place of the lake and later the cliff itself, where you can see the footprints nowadays.
It's cheap and nice, so if you have 4 minutes, try it, it is worth it!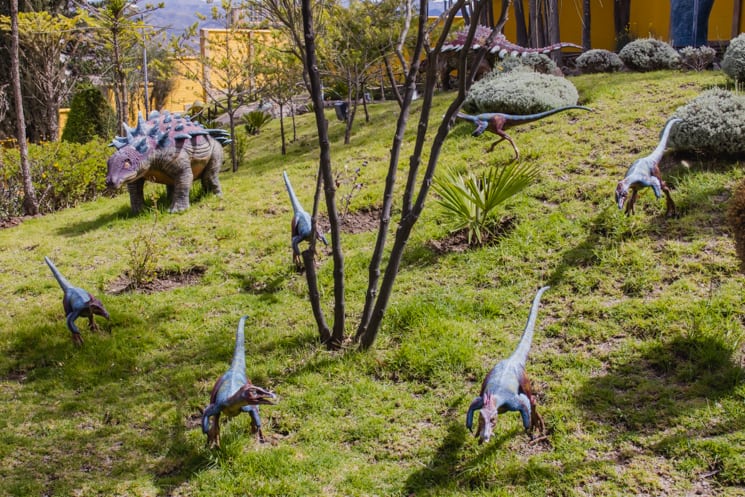 Visiting Dinopark and the museum with kids
Cretácico de Cal Orck'o is also a fantastic destination for families with children, offering a wide range of activities to keep young visitors engaged. Alongside the captivating dinosaur footprints and real-life-sized dinosaur statues, kids can also enjoy a unique "archeology game" where they can dig in the sand and discover dinosaur bones. They can dig and explore, pretending to unearth dinosaur fossils and bones buried beneath the sand.
The park also features dino slides, a dinosaur climbing wall, dinosaur-themed swings, and more.
Opening hours, entry fee, and general information
Open: 9 AM – 5 PM every day, except Mondays
Entry fee: 30 BOB
Location: Google Maps
Facilities: There are toilets, a souvenir shop, and a little resto-café, where you can sit and enjoy the view of the limestone wall.
In summary, Dinopark Cretácico de Cal Orck'o in Sucre, offers an extraordinary experience with its thousands years old dinosaur footprints, captivating museum, and engaging activities.
Read also:
Did you like this post about Dinopark Cretácico? Share it with your friends!
Disclosure: Please note that some of the links above may be affiliate links, and at no additional cost to you, we earn a commission if you make a purchase. We recommend only products and companies we personally use and we use this income for further improvement of this website. Thank you!