Complete travel guide for visiting Alaska. Practical information, tips, prices, hotels, transportation, cruises, tours weather, northern lights – Aurora Borealis, the best time to visit.
Alaska – 49th state of the USA and land of many faces – the land of ice, rough beauty, midnight sun and magical northern lights. When you are in Alaska you will understand the true meaning of the word wilderness. Alaska covers 663,268 square miles (1,717,856 km2) – over twice the size of Texas, but there are not even a million permanent residents.
1) Why should you visit Alaska?
There are not many more beautiful places in the world than Alaska! Especially if you are an outdoor person with an adventurous soul! I guarantee, that you will immediately fell in love with Alaskan virgin nature – nature untouched by man. Breathtaking sceneries of glaciers and beautiful mountains – actually there are so many peaks that most of them weren't even named yet. People are only visitors to this natural kingdom. You can meet wildlife roaming everywhere. Therefore don't be surprised if a moose blocks the doorway or bear crosses the highway – it's their habitat.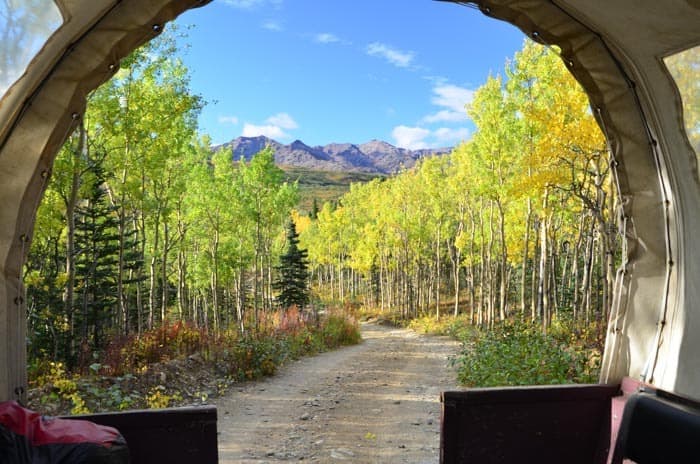 Not only Alaskan virgin nature but the local inhabitants are one of the loveliest and kindest people you can meet! If you visit Alaska at the beginning or at the end of the season, you can witness the most awesome natural phenomena – the Northern Lights! There is nothing more magical than a colorful dancing sky! On the other hand – if you visit Alaska in the middle of summer – you can enjoy the midnight sun. It's great for hikers – you don't have to be afraid of getting back late, because the sun never set.
2) How to get to Alaska?
By air – Alaska Airlines have the cheapest flights to Alaska. There are two main airports in the Alaska – Anchorage, and Fairbanks. If you are flying from Europe, check the cheapest flight here.
By cruise – Cruise ships are very popular especially by visitors coming from the USA. Most of the boat cruises can be purchased as a part of a travel agency package. These cruise ships are most likely coming from Vancouver, and usually last 7 days. Prices start at $650. Read this guide about Alaska cruises and Alaska cruises from Vancouver.
By car – many Americans come to Alaska from the continental part of the US by cars. The trip itself takes about 4 days, but most visitors spend longer time on the road and enjoy the road trip on the way. Having your own car during road trip around Alaska is definitely a huge advantage because distances are huge and public transport coverage is minimal in Alaska. Check the best car rental offers.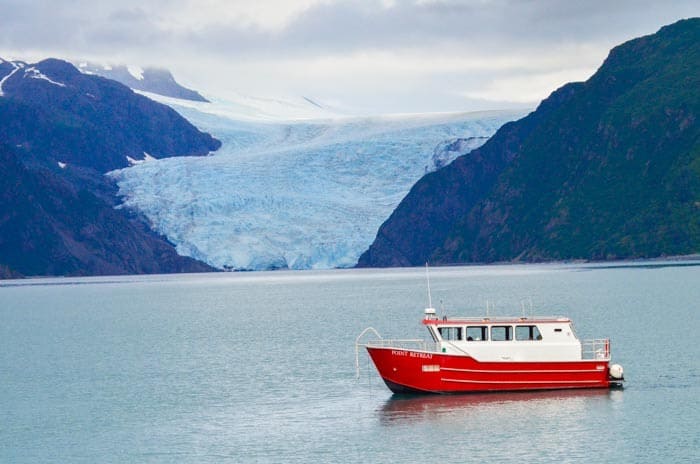 3) Best time for visiting Alaska
The season in Alaska is relatively short (starts in May and ends at the beginning of September). Locals describe single months as follows:
June = Spring
July = Summer
August = Autumn
Everything else = Winter.
We can say that this is a correct description at least in Mid-European benchmarks.
You can visit Alaska anytime, it only matters what are your expectations.
Do you want fairly good weather and extra-long days?
Visit Alaska in June or July. By the end of June, the sun almost never sets – there is only about an hour of twilight. During sunny days you will most likely need to wear just a T-shirt.
Do you want to see amazing autumn colors?
Visit Alaska in the second half of August or at the beginning of September. Autumn colors are absolutely amazing in Alaska and daylight is perfect for photography. Unfortunately, this period is short and lasts just about 2/3 weeks. Since mid-August starts the Northern Lights season as well. Winter comes quickly. The only disadvantage of this period is the weather – it's usually worse than in June/July.
Do you want to see the Northern lights?
The best Aurora season is during the winter time while it's cold and dark. However, you can see the Northern lights as early as by the end of August. We saw the first faint one on August 6 (stronger Aurora was approximately since August 20) and since the beginning of September, you can see Northern Lights almost every second night.
Do you want to see incredible winter scenery?
Winter season is also beautiful in Alaska, but you have to be prepared for it. It's not easy to travel there during the winter season.
Firstly, it's really cold (-50 ° C is no exception), secondly, days are really short – you can have about 4 hours of daylight. Thirdly, transport is also very complicated. Journeys lasting 2 hours in the summer can last for 6 hours in winter.
If you want to experience winter there, I would choose April, because you can get more daylight.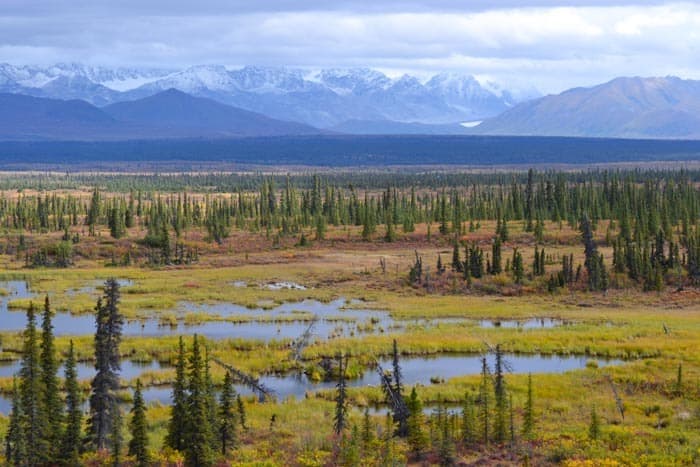 4) Visas and USA immigration
The USA has different entry conditions for different countries. You can find more about visas and USA immigration here.
For the European countries, you can apply for ESTA (Electronic System of Travel Registration). Request ESTA via the official US government website.
ESTA is valid for tourist, business and transit journeys within 90 days.
For ESTA you will pay 14$
If you plan to spend longer in the US, you can apply for a long-term visa at the US Embassy.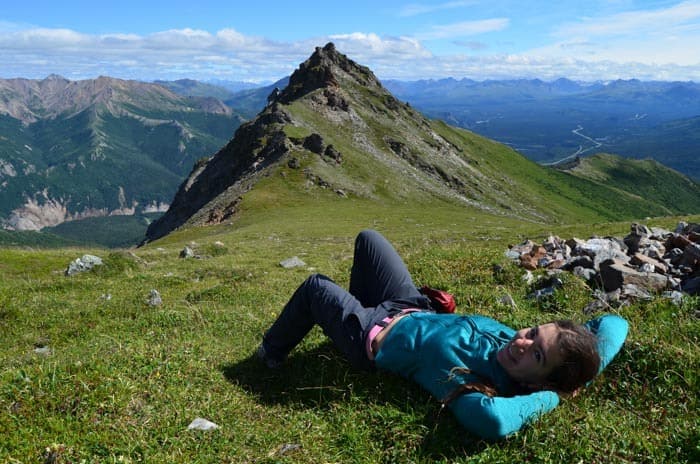 5) Prices and Money in Alaska
Alaska is one of the most expensive areas in the USA. Be prepared for that before visiting. The official currency is the US Dollar. ATMs can be easily found in towns and tourist areas. Credit and debit cards are accepted almost everywhere. Exceptions are city buses where you need to pay by cash in the exact amount.
Daily budget in Alaska
Daily budget varies traveler by traveler. The biggest variable is the accommodation. Many travelers rent a car or a caravan, which can significantly reduce the cost of accommodation. Sleeping in tents is also possible almost anywhere, you just have to follow the bear safety rules (you can find them later in this guide).
Few price examples:
Hotels: hostel from $18, guesthouse from $40 and *** hotel rooms from $60.
Gasoline: $2,8 per gallon (3.8l).
Public transportation: Bus in Anchorage $2, bus in Fairbanks $1,5 (one line), all-day ticket – $3
Entrance to the museum: $11
Food in a cheaper restaurant: $15
Drinks and beverages: 0,3l bottled water – $1,5, draft beer – $25, small can beer in a supermarket – $1,5, a bottle of wine – $13
If you buy basic food in e. g. Walmart, prices are still quite acceptable. Avoid shopping in small villages – prices can get as high as $12 for a gallon of milk (Healy).
You can compare the basic prices on Numbeo.com.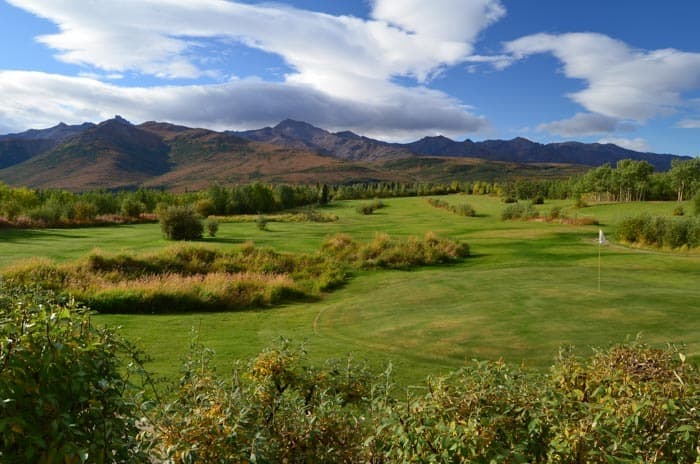 6) Transportation in Alaska
Public transportation
Public transportation in Anchorage and Fairbanks is pretty good and cheap. One bus ride in Anchorage costs about $2, all-day ticket $5. In Fairbanks $1,5 for single ride/$3 for all day ticket.
Routes and timetables are easy to find on Google Maps. You can visit official websites:
Trains, Railroad
Traveling by train is more expensive and a bit slower than a bus, but it's definitely a very nice experience. You can get to the beautiful untouched places by train. Read more about traveling by train in Alaska in this blog post: Across Alaska by Train. You can buy tickets here.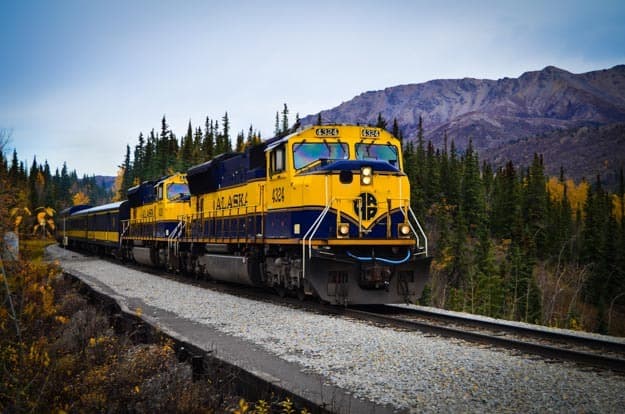 Buses
If you plan to travel by bus, the cheapest option is the Alaska Shuttle. Remember to book your ticket online in advance.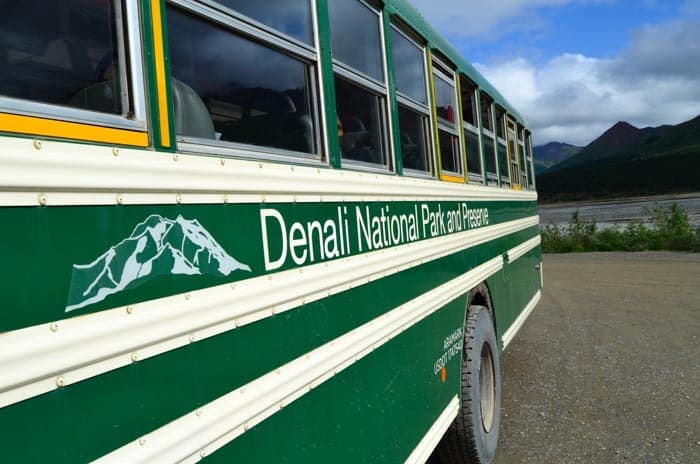 Car Rental
Car rental is pretty expensive in Alaska. Although if you don't want to hitchhike, you don't have many other options than renting a car. The cheapest car rental offers are here.
The advantage of traveling by car is that you might not need accommodation and you can get pretty anywhere you want. Gasoline is also cheaper than in Europe.
Planes
A popular activity is a sightseeing flight around the summit of Mt. Denali. You can also book a glacier landing flight. The prices of sightseeing flights are around $480 per person.
A one-way ticket from Anchorage to Fairbanks can be bought for $80.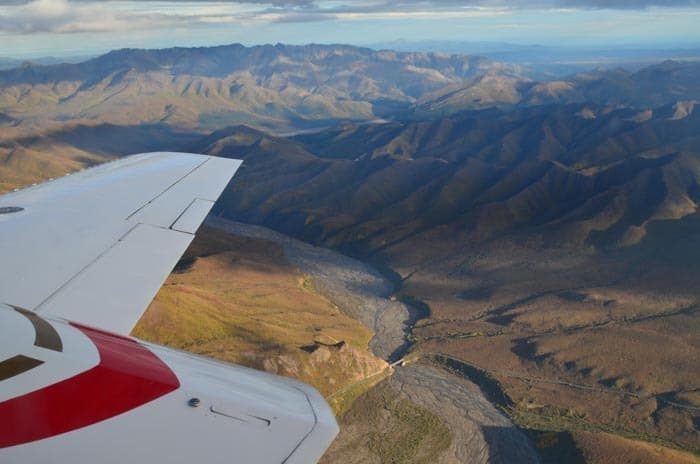 Hitchhiking
Hitchhiking is very easy and safe in Alaska. I can recommend it to everybody who wants to try it. An average waiting was 7 minutes (for backpacker couple). We met so many interesting people here – both locals and travelers and we learned a lot about Alaska, just by listening. Hitchhiking works very well in Alaska also because there is only one main road, so most of the people have the same way as you.
Bikes
The only city where you can find city bikes is Fairbanks (https://fairbikes.com). You pay $7 for the first hour, later $5 for each extra hour. Here you can download the app.
In Anchorage, bicycles can be borrowed in sports shops or bike rentals. In general, we still recommend motorized transport, because distances in Alaska are huge!
Taxi
Taxi service is also quite expensive in Alaska. There is a handy webpage for Anchorage where you can find out a price from place A to place B: Taxifarefinder.com
7) Accommodation in Alaska
The availability of hotels and accommodation in Alaska outside the big cities is quite low and it's very expensive. It's best to sleep in your own car or in the tent (you must observe the rules of camping in the bear area). If you want real accommodation, the easiest is to search at Booking.com.
Hotels and hostels in Anchorage, which we recommend:
Hotels and hostels in Fairbanks, which we recommend:
8) Food in Alaska
Alaska food prices are quite high. If you want to try traditional Alaskan specialties, it will cost you a bit more. Alaska cuisine is great for meat lovers! Hunting is very popular here, so you can taste a variety of venison, seafood and fish specialties.
What dish should you try in Alaska?
Grilled salmon – there is nothing like fresh salmon! If you are a fish lover, Alaskan salmon is the right choice for you. Fresh Alaskan salmon tastes much better than any other salmon you can get in a supermarket.
Alaskan King Crab is a real delicacy, but it's also a bit expensive. You can get a crab for approximately $45.
Caribou chili – another traditional food that gives a unique taste of Caribou meat.
Reindeer burger – if you want to try special kind of burger, why not a reindeer one?
Alaska Seafood Etouffee – a great choice for seafood and shrimp lovers and shrimp
Alaskan Halibut – another excellent Alaskan fish
Reindeer sausage – cheaper way to try reindeer meat
Wildberry desserts – Alaska forest fruits are delicious with any kind of dessert
Bonus: Moose steak – Simply the best meat we've ever tasted! The problem is that you can't get it in a restaurant. If you want to taste it, try to make friends with locals, they usually have full freezers of moose meat 🙂
9) Safety in Alaska
In these days of terroristic attacks and natural disasters, I would say that Alaska is one of the safest places in the world. Alaskan people are very kind and helpful. We were hitchhiking all summer, approximately 50 drivers took us and even though they had sometimes hunting guns in their car, we have never felt unsafe.
However, there are some risks you should be aware of before visiting Alaska:
Wildlife
There is more wildlife than inhabitants in Alaska. It is not an exception to meet bear directly on the road or highway. Therefore, you should follow some basic rules:
Make a noise – In Europe, they taught us not to make a noise while walking in nature. It's exactly opposite in Alaska – you need to be noisy (talk, clap your hands from time to time or play some music). Let know the wildlife that you are there. You simply don't want to surprise a bear.
Walk in groups – a bear attack was never recorded on a group of 3 or more people.
Carry a Bear Spray – Bear spray is simply large pepper spray designed as a bear deterrent. Carry it always prepared on your backpack. It can save your life. Luckily, we have never had to use it but you feel a lot safer if you have it.
Do not run! – If you find yourself close to a bear, never run! It would only trigger the bear's hunting instinct to attack you! Try to walk back slowly. If the bear sees you, make yourself bigger (e. g. put the jacket on your hiking poles and lift it up).
and more:
Do not get too close – Lot of people were injured by a moose because they were too close. Moose might look like an innocent animal, but it's not! Moose is far more dangerous than a bear. Try to stay away at least 25 yards (23 meters). The distance you should keep from a bear is +100 meters.
Do not store any food in tents and cars – Food can easily attract animals. The last thing you want is to have a grizzly visiting your tent. So, keep the distance and store your food in a bear box container at least 100 meters from your tent and never leave anything in your car.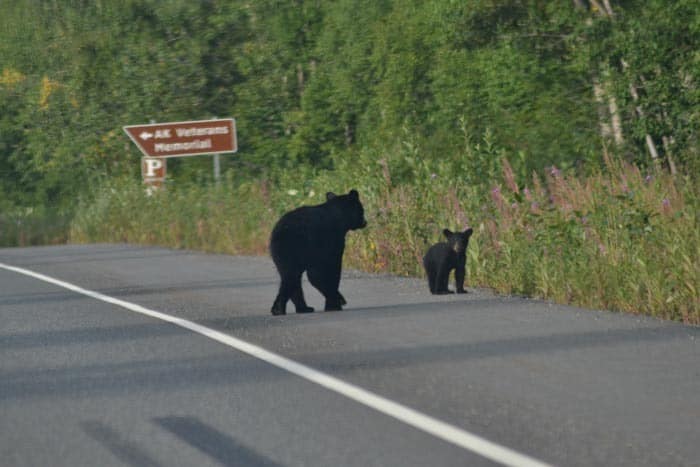 Weather
Alaska is typical for quick changes of the weather. It can be sunny now, heavy rain just an hour later and 2 hours later beautiful weather again! Temperatures can also sharply drop. That's why you should always have some extra clothes and a raincoat with you.
Private properties
There are not many private properties in Alaska, but there are some. In most cases, they are labeled with signs "private property" or "no trespassing". If you see this sign, definitely choose a different way. It's legal to shoot a person if he/she enters the owner's private land in Alaska! Gladly Alaskans are nice people 🙂 But literally, everyone owns some gun in Alaska (it can be legally bought almost everywhere). Most of the people have hunting guns or guns instead of the bear sprays.
Diseases and Hygiene
Alaska may be one of the safest areas in the world. Well, you can catch a cold at most, so don't underestimate your clothing. No specific vaccination is required. If you plan to drink water from natural sources, make sure to filter it and avoid glacier rivers. Tap water is drinkable throughout Alaska.
Mosquitoes
A good thing about mosquitoes in Alaska is that they don't carry diseases. Areas with a higher density of mosquitoes are in the south – around Juneau and in the north behind the Arctic Circle.
10) Events, Traditions, Holidays
World Eskimo-Indian Olympic games
World Eskimo-Indian Olympic games is a great sport and cultural event, which takes place every year in Fairbanks. Eskimos from every corner of Alaska (including the smallest villages far away from the civilization) come to this event every year!
Do not expect classic sports games or contests. If you decide to join this unique event, you will witness incredible sports performances as well as bizarre disciplines such as ear pulling or seal-skinning. The Eskimo Olympics include a fashion show, Miss Eskimo or traditional dances and music as well.

World Eskimo-Indian Olympic games event is usually held on the third weekend in July. Read more in the article: World Eskimo-Indian Olympic games: Seal skinning and much more.
Iditarod race
Probably the most anticipated sports event in Alaska – famous sled dog Iditarod race. Mushing is the most popular sport in Alaska, and the Iditarod race event has a great history. There is an annual opening ceremony in Anchorage. If you are not visiting Alaska during the winter months and you still want to see some Husky champions stop at the Husky Homestead. You can find out more about the event on the official Iditarod race website.
Independence Day
As in any part of the USA, there is a celebration of 4th July – The Independence Day. It takes place even in very small towns. Parades with allegorical cars decorated in national colors are slowly going through the town. People are throwing candies from their cars and children are enthusiastically picking them into prepared baskets. You can also expect other events like concerts, food festivals and traditional fireworks in larger cities like Anchorage or Fairbanks.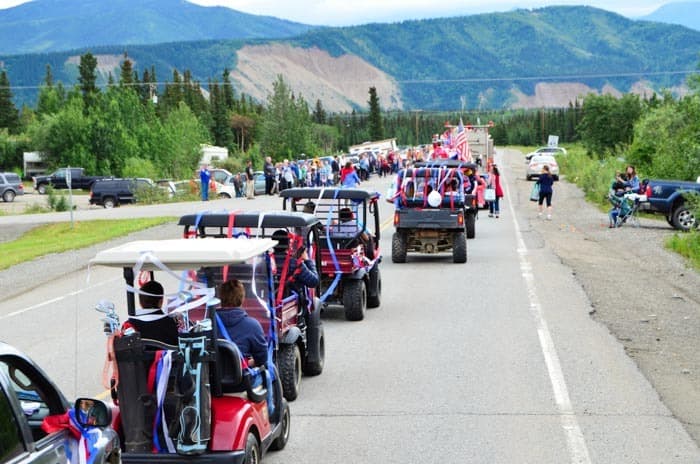 11) Other Practical Travel Tips
The sockets are the same as in the rest of the USA.
Tip culture is also the same as in the rest of the USA. It is expected to leave 15-20% of the cost of services. 10% is the absolute minimum.
Don't expect marked trails. There are some, but not very many. For example, the policy of the Denali National Park is to not create artificially marked trails and encourage tourists to walk different paths every time to preserve the wilderness. Rangers even told us, that we shouldn't share GPS coordinates of our trek anywhere.
Keep in mind that it takes much longer to walk off the trail, your average walking speed is going to be approximately half of your normal speed.
The sun is strong but you probably won't get toned (we weren't using sunscreen at all). The temperature in June and July can range from 15 to 25 °C (60 -80 °F) but it can be even higher. When the sun is shining T-shirt and shorts are enough.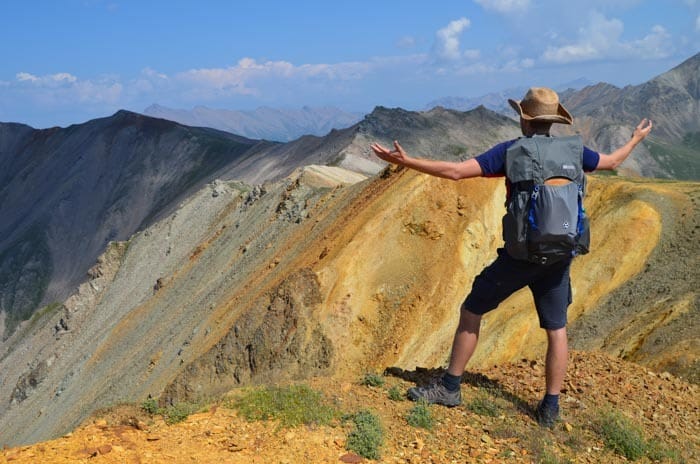 12) Northern lights (Aurora borealis)
If you are going to be in Alaska during the spring or late August, you must not miss this amazing show! The best area of observation is the geographic latitude between Denali and the polar circle. The Geophysical Institute in Fairbanks has the best predictions of the Northern lights (=Aurora Borealis). On this webpage, you will find not only a forecast for upcoming days but also a current activity model and a forecast for the next few hours.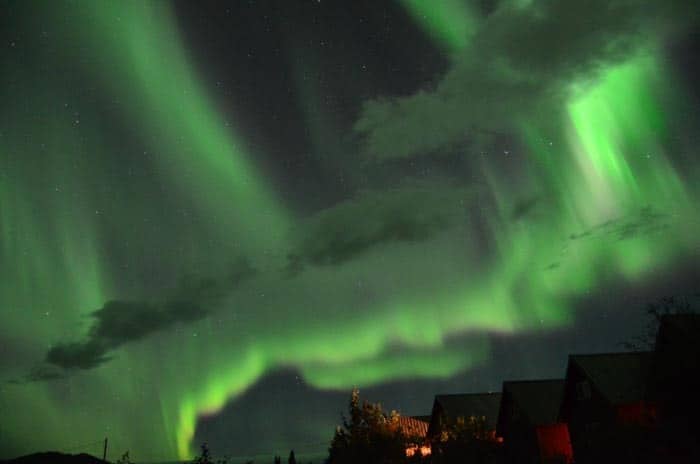 You can also use mobile apps such as Aurora to alert you when Northern Lights / Aurora Borealis increases its activity. If there is an activity level 4 or higher, you have a good chance to see the Northern Lights. Try to get outside of the town to avoid light pollution, it's much better without disturbing lights. Be patient! If you see only a faint green band, wait. After a few minutes or half an hour, you could see a massive light show!
Don't underestimate your clothes and add an extra layer. Hot tea in a thermos is also a great thing to warm you up. The best visibility at the end of August is between 2-3 AM During September, when the night starts earlier, you can have good visibility even from 9-10 PM throughout the whole night.
How to photograph the Northern lights?
The tripod is a must
Exposure time between 4 – 10 seconds
Aperture as low as possible
ISO ranges from 800 to 3200
Manual focus ( you can use a flashlight to enlighten some object in the front, where you can focus).
You can also join the Northern lights photography tour and workshop. Those tours are expensive but might be a good fit for someone wanting to learn Aurora photography.
13) Tours and Activities in Alaska
There are many exciting tours and activities you can choose from:
13) Places to visit in Alaska
1) Denali National Park
Be sure not to miss the Denali National Park during your trip to Alaska, which has absolutely unreal nature, as well as the highest mountain in all of North America. Denali mountain can be seen as far as from Anchorage in good weather. If you are coming to the park from the south, stop by at Denali Viewpoint South. (But don't be disappointed if you don't see the mountain the first day, it has its own specific weather. Only a third of the visitors are lucky to see it).
Activities in Denali National Park:
You shouldn't miss a bus trip to the park. There are several alternatives, but I would recommend the 8 h route to the Eielson Visitor Center. 8 hours seems a lot, but believe me – you will not be bored. You will experience stunning views, wild animals and a driver willing to stop every time a passenger sees an animal.
If you have more time, head out into the wild for a few days with a "camper bus" that will stop you wherever you like. Hiking and camping in unspoiled nature is a real experience. We did not meet a single person during our three-day hike into the park.
If you would like to drive deep into the park in your own car, it's possible once in a year in September and you have to win a lottery. It's totally worth it! Read this guide about Denali Park Road Lottery, where you can find all important information.
For really unforgettable national park experience check out sightseeing flights around Denali. Best prices can be found on flights from Talkeetna.
2) Fairbanks
Gold Dredge 8 – panning for gold
I think there isn't a better place to try panning for gold than in Alaska! In addition, there is a guarantee that you will find gold! Isn't it amazing? So, take a seat, aboard a narrow-gauge Tanana Valley Railroad and hear the tales of prospectors who arrived during the gold rush. More at Golddredge8.com – Panning for Gold.
Another gold panning option is a This tour from Anchorage.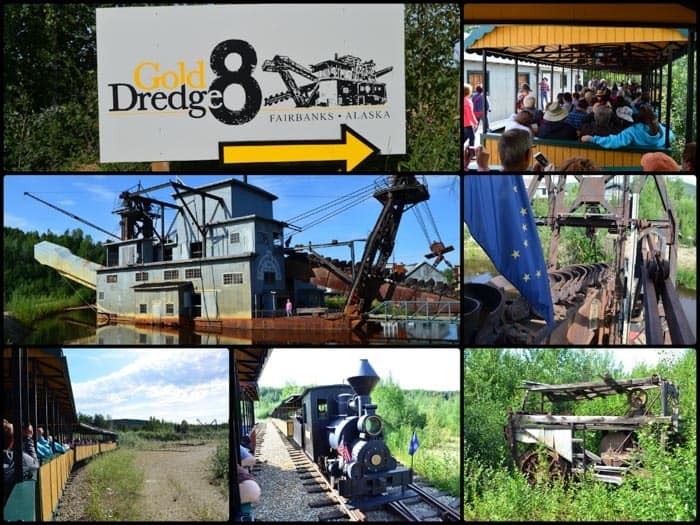 River Boat Discovery
River Boat Discovery is not just a cruise. You have a chance to visit an original Eskimo-Indian Village with Alaskan Native Guides and get closer to the Athabascan culture, see the floatplane takeoff alongside the boat, have a look at the kennels of Iditador winner Susan Butcher and see her husky champions in action and much more. A little snack, coffee, tea, and donuts are included.
River Boat Discovery is a great chance to experience Alaskan life. More at Riverboatdiscovery.com.
If you need more inspiration check these best things to do in Fairbanks.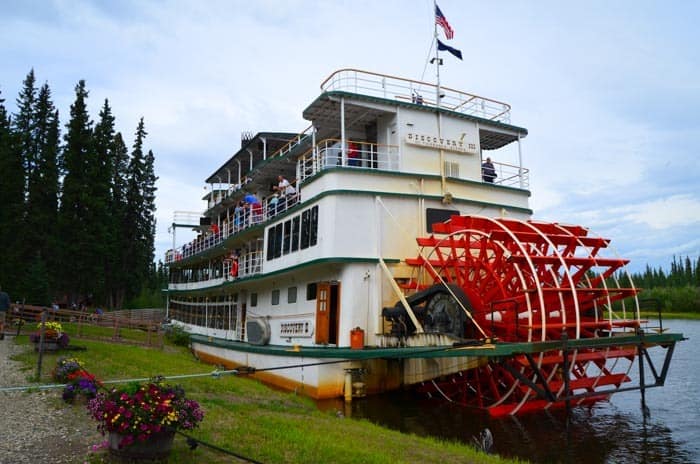 Visit Husky kennel
Dog mushing is a typical part of the Alaskan lifestyle. Dog sleds were the most convenient way to travel and to deliver important supplies between local villages in the wintertime. There is plenty of opportunities to learn about dog kennel or even experience dog mushing. In summer, visit the Buchard family and their Husky Lifestyle Kennel Tours, in wintertime might be awesome to go directly for winter dog mushing tour.
3) Chena Hot Springs
The best time for visiting Chena Hot Springs is during the wintertime. It is a lovely remote place with thermal hot springs, which is a perfect area for stargazing or better – watching the Northern lights. I can't imagine a better place for an amazing show of Aurora Borealis (Northern lights) than hot natural "whirlpool". There are several hiking trails nearby as well. There is also Ice Museum or Reindeer Farm. Ice Museum is open year-round. The easiest way to visit Chena Hot Springs is to join the day trip from Fairbanks.
More information here: Chenahotsprings.com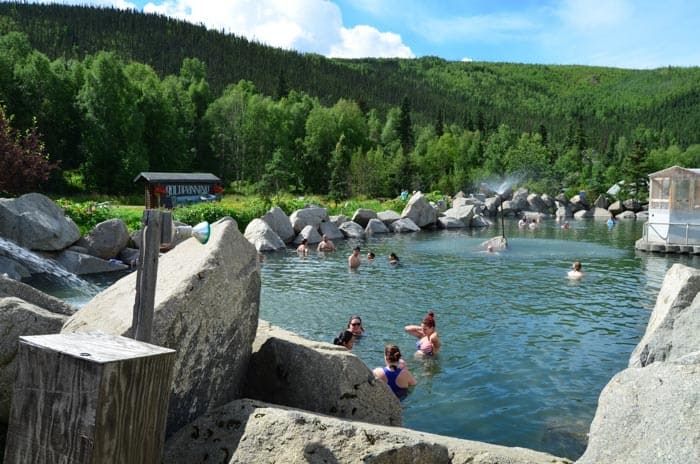 4) 49th State Brewery
Stop for a pint of beer at the 49th State Brewery in Healy. There are several kinds of very good tank beers. Plus – if you are a fan of "Into the wild" story, you definitely shouldn't miss this place! There is a replica of the famous "magic bus" in front of the brewery. This bus was used in the movie.
Official website: 49statebrewing.com/denali
5) Seward – Kenai Fjords National Park
Kenai Fjords National Park near Seward is a place you want to visit to see the glaciers and ocean wildlife. Kenai Fjords provides the perfect combination of both. One of the most exciting glaciers – Exit Glacier, can be reached by foot. To see the other glaciers, you have to take a cruise from the Seward harbor. Boat trips are provided by several companies and you can choose from several options, we recommend to take at least 6- hours trip (which costs about $150) It's definitely worth it!
Hotel in Seward: we recommend to stay in Hotel Seward, which is directly in the town center next to the sea.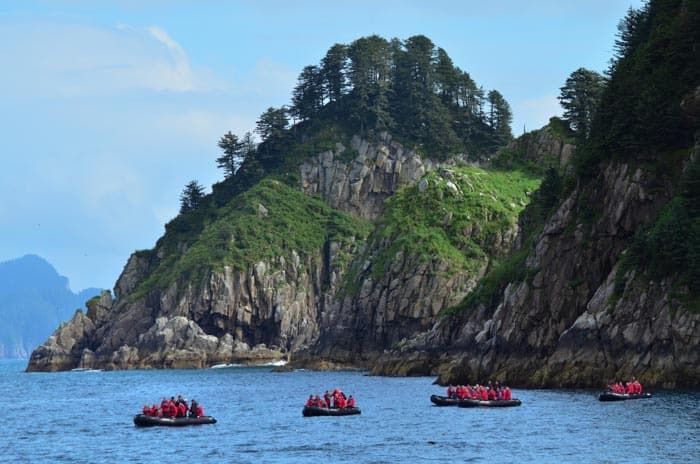 6) Whittier & Valdez
Whittier and Valdez are other places where to see glaciers either by boat or even in a kayak. A great way to explore Prince William Sound and the largest tidewater glacier is to join Columbia Glacier Cruise from Valdez.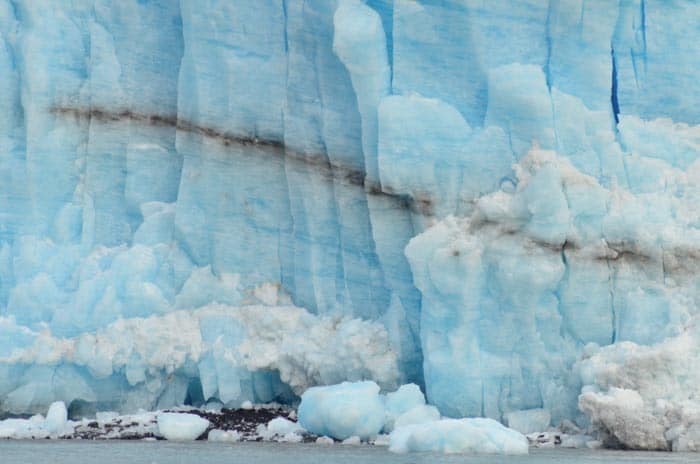 7) Denali Highway
Don't be fooled by the name "highway", this road will eventually turn into a dusty road. There are beautiful views of nature, creeks, lakes, and mountains. You will very likely see some moose, eagle or bear. The nature surrounding Denali Highway is completely different from what you can see in Denali National Park, so it's definitely worth visiting. To get to the Denali Highway take the turn at Cantwell or Paxson depending on which side you are arriving from.
If you don't have a vehicle, you can take this Jeep Tour to Denali Highway.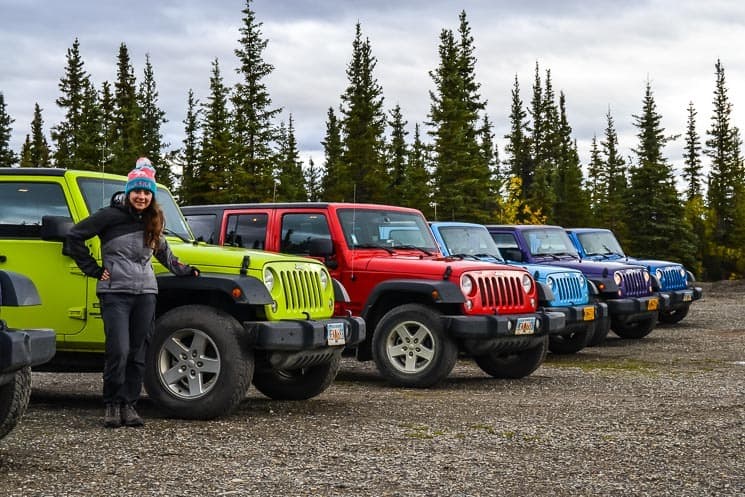 8) Juneau
The beautiful capital of Alaska is further south, but if you are passing through it on your way to/from Canada, check these things to do in Juneau.
I want in for visiting Alaska!
Are you decided? Great, just find the cheapest flight tickets to Alaska!
And if you need to rent a car for your road trip, then budget car rental offers are here.
Check this beautiful video about Alaska:
Learn more before visiting Alaska
Join Facebook Group with tips, advice, and experience of other Alaska travelers: Travel to Alaska – Tips for travelers
If you are interested in some more interesting facts about Alaska and its extremes, you can read this post: Alaska – The land of extremes and untouched nature.
If you have any questions for your Alaska expedition, do not hesitate to write a comment! We will be happy to help and answer your questions!
More tips for your travels:
We have prepared for you this comprehensive list of links, discounts, and resources for travel planning in one place. Bookmark this page and whenever you plan a vacation in the future, just open it and save yourself a lot of time.
1) Where to book accommodation?
2) How to find cheap flights?
3) How to rent a car?
We recommend a comparison portal RentalCars.com to compare the best offers of all available rental companies.
Pin this guide to visiting Alaska for later or for your friends: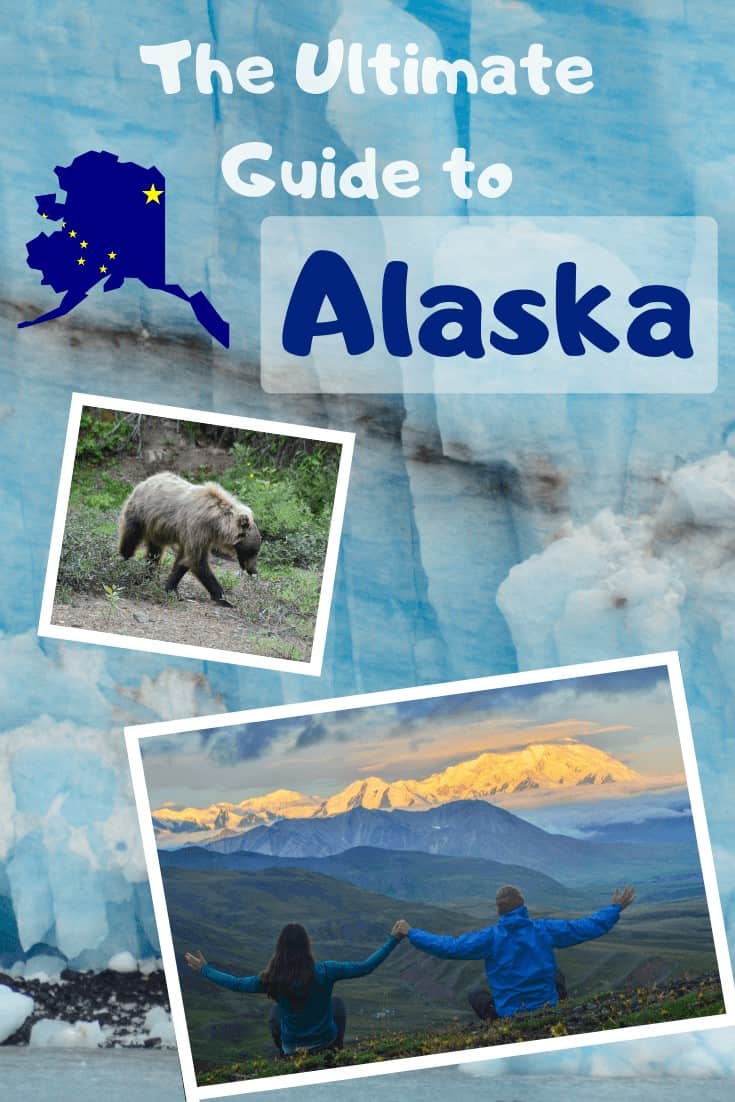 Did this post about visiting Alaska help you? Share it with your friends! It can help them too!
Disclosure: Please note that some of the links above may be affiliate links, and at no additional cost to you, we earn a commission if you make a purchase. We recommend only products and companies we personally use and we use this income for further improvement of this website. Thank you!