Holi Festival is a crazy Indian festival of colors, spring, and love. It is celebrated every year on the day of the full moon of the Indian month of Phalguna (which is usually in March). During Holi celebrations, Indian and Nepalese streets turn into a colorful jungle and colored-water battlefield. People throw colored powder and colored water at each other, regardless of social status. Entering the Indian streets during the Holi festival is at your own risk of being completely colored. Holi festival is an incredible experience for all color and water-fight lovers.
Holi Festival History & Legends
Where did Holi celebrations come from?
Legend of Vishnu, Prahlad and Holika
There is a legend behind the Holi festival, which speaks about a demonic king named Hiranyakashyap. The king Hiranyakashyap gained incredible power: he could be killed by neither a human nor an animal, neither indoors nor outdoors, neither at day nor at night. So he grew arrogant and demanded that everyone should worship him as a god. However, his own son Prahlad disagreed with his father and continued to worship Lord Vishnu. His father tried to kill him several times, but he failed every time.
The evil king decided to ask his sister Holika for help. Holika tricked Prahlad to sit on her lap in the pyre. She believed she was immune to fire. But this spell only worked if she was in the fire alone. In the end, it was Holika who died in the fire. Prahlad, who kept chanting the name of Lord Vishnu, came out of the fire unharmed. Then Vishnu appeared in the form of Narasimha (a man with a lion head) and tore the king apart.
This legend is also the reason, why the Holi festival is a celebration of the victory of good over evil.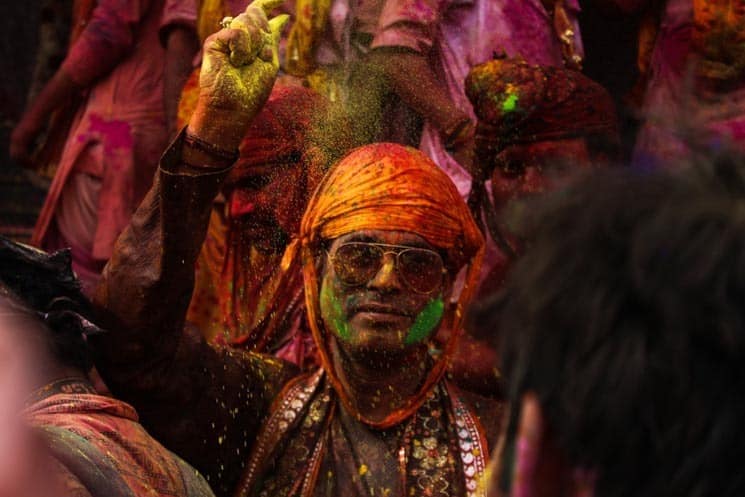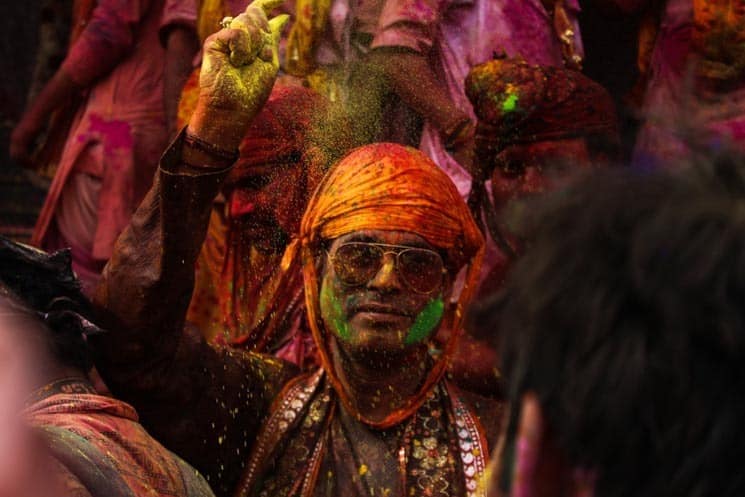 Other legends that bind to the celebrations:
Legend of Krishna and Radha
The legend of Krishna says that when he was a young man, he was afraid that Radha won't like him because he had dark skin while her skin is light. His mother advised him to let Radha paint his face with colors. It was wise advice. Krishna and Radha become a couple, and since then, coloring (not just the face) has been associated with the Holi festival.
Legend of Shiva
Another legend talks about Shiva. This god was associated with deep and frequent meditation. Kamadeva, the god of love, tried to distract Shiva from meditation by the arrow of love. This made Shiva extremely angry a Shiva burned Kama to ashes in a second. However, this greatly affected his wife, who decided for a long meditation, upon which Shiva understands, forgives out of compassion and restores the god of love. The return of the god of love Kama is celebrated on the 40th day after Vasant Panchami as a Holi festival.
From this legend comes also the tradition of bonfires.
When is Holi celebrated?
The date of the Holi celebrations is different each year and related to the full moon of the Indian moon Falgun (Phalguna). According to the Indian calendar, Falgun lasts from late February to late March.
Holi Festival in the following years:
2020: March 10th
2021: March 29th
2022: March 18th
Rituals, Habits, and Celebration of Holi festival
Holi is celebrations of spring, colors, and love. The differences between the castes are blurred and everyone is enjoying the dance, colors, laugh, and celebrations. It is also a time of forgiveness and building healthy relationships among people.
Holi Eve – Holika Dahan
Everything starts a few days in advance when people gather wood to the main city crossroads. Usually, a large pyre is set on fire in the evening of Holika Dahan. Fires are started after sunset. This tradition commemorates the burning of Holika, the evil sister of the demonic King Hiranyakaship. People are gathering around bonfires, singing, dancing and, celebrating the victory over the evil.
Often you can hear people shouting obscenities at the fire as if it was Holika. Then one hears shouts of 'Holi-hai! Holi-hai!' everywhere.
Some people carry back home embers from the bonfire as a symbol of body cleansing and protection from disease.
Holi – Festival of Colors
In the morning after Holika Dahan, the endless chaos begins and last until late afternoon. No one has a chance to avoid it unless locked in a room. Young, old, men, women, children, tourists, no one will stay clean. Everyone is celebrating and these celebrations are wild and rowdy. It's one huge color battle. Everyone throws colored powder and colored water to everybody. Bollywood music plays in the streets and everybody is dancing together. If you go to the streets of India on this day, count on that you won't recognize yourself afterward. Better to take clothes that you never plan to wear again.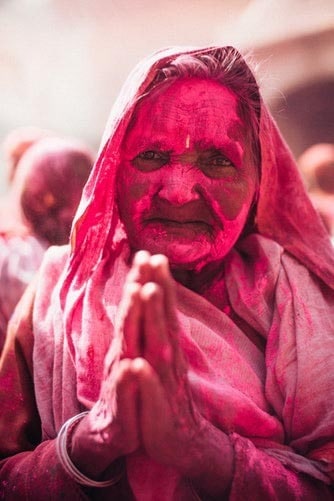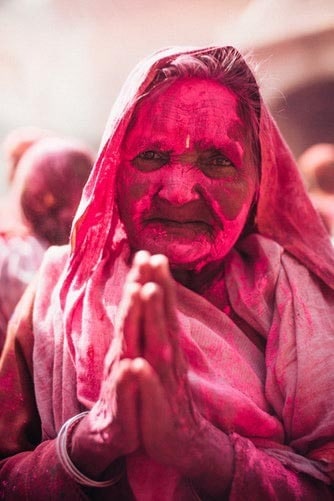 Regional Traditions of Holi Festival
Besides the traditional colorful way of celebrating Holi, there are also dozens of regional variants. Probably the most interesting tradition comes from the town of Barsana near Mathura. In the local "Lathmar Holi", men from Krishna's village are coming to Barsana to tease local women. The women chase men and hit them with bamboo sticks, but men can protect themselves with shields.
The ritual is based on the story of Krishna, who have gone once to Barsana to see his beloved shepherd, Radha. Krishna teased her and her friends, who eventually drove him off with bamboo sticks.
Traditional drinks: Bhang and Thadai
For some people, the celebrations wouldn't be complete without the traditional narcotic beverages of Bhang or Thandai. Their basis is marijuana. They are made from hash paste, milk, sugar, spices, and other ingredients. You can imagine the wilderness in the streets if participants consume drinks like this during the day.
Holi Colors
The tradition of throwing colored powders goes deeper than it might seem. The end of the winter period brought illnesses and weakened bodies. Colors for Holi were made from natural ingredients such as Turmeric, Neem or Bael, which have beneficial effects for the organism after a harsh winter. Here you can see, that Holi festival has practical reasons as well.
Natural colors were used in the past for Holi celebration by applying sandalwood paste, extracts of flowers or leaves. Due to the commercial availability of attractive pigments, natural colors are replaced by synthetic colors lately.
Where to celebrate Holi in India?
Holi is celebrated across the whole India, so don't worry that you will miss out the celebration. However, some places are unique with the various regional differences of the celebrations.
Here are 7 popular cities to celebrate Holi festival in India:
Mathura and Vrindavan
Mathura and Vrindavan are the most popular places of celebration in whole India. Mathura is the birthplace of Krishna and he spent his childhood in Vrindavan. The celebrations last for a whole week in this area. There are stages with music and celebrations are simply spectacular here.
Barsana
Barsana is a town that was a residence of Radha, the girl from the legend about Krishna and Radha. The festival is exceptional there because the men of Krishna's Village come to tease the women in Barsana and women chase them with bamboo sticks. It can be funny as well as interesting show.
Shantiniketan
Celebrations in this city start the day before Holika Dahan. Students wear traditional yellow costumes and perform traditional Indian dances and performances. This city is popular among tourists as a destination for Holi celebrations.
Anaddpur Sahib
The third day of the festival is also celebrated in this area. The Hola Mohalla Festival is an annual feast, where participants demonstrate their skills, especially in martial arts. The festival is accompanied by music and other competitions.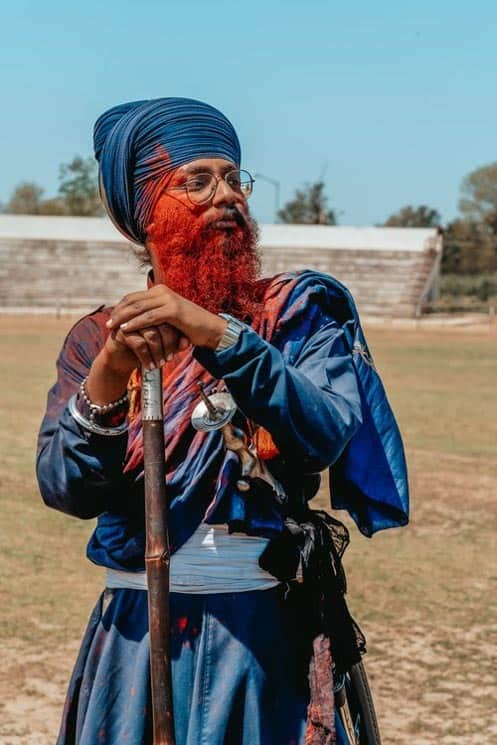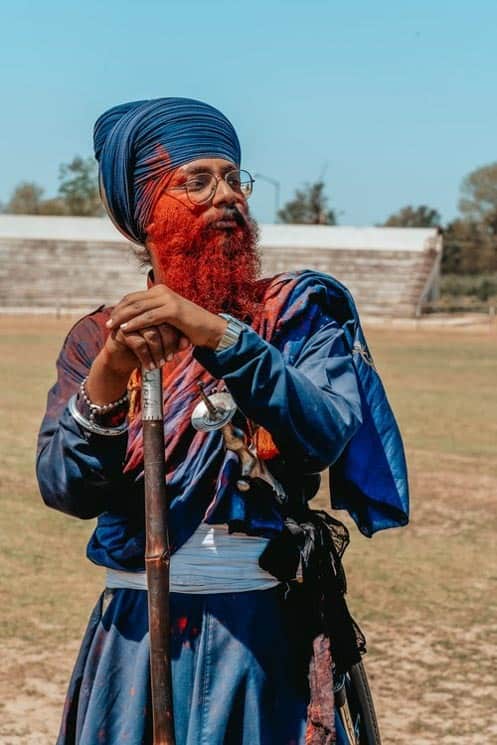 Jaipur
The second day of celebration is special in Jaipur. It is launched by the grandiose parade of elephants, camels, and horses, which are decorated in colorful costumes and compete for the most beautiful animal outfit. There is also an elephant polo played or elephant races.
Goa
The Holi Festival is called "Shigmostav" in Goa and is one of the longest in India, with 14 days of celebration! The highlight of the festival is the 5th day of Shigmostav.
Mumbai
Countless parties are held during the festival in the capital city. Bollywood celebrities also come to Mumbai to celebrate and play with colors.
Read also: 16 Best Weekend Getaways from Mumbai
Accommodation in the Holi season
If you are going to India at the Holi Festival, be sure to book your accommodation in advance. Hotels and hostels sold out quickly. Especially if you want to go to Mathura, which is the most popular destination for celebration, book your hotel a few months in advance. You can find accommodation in India either at Booking.com or at Agoda.com.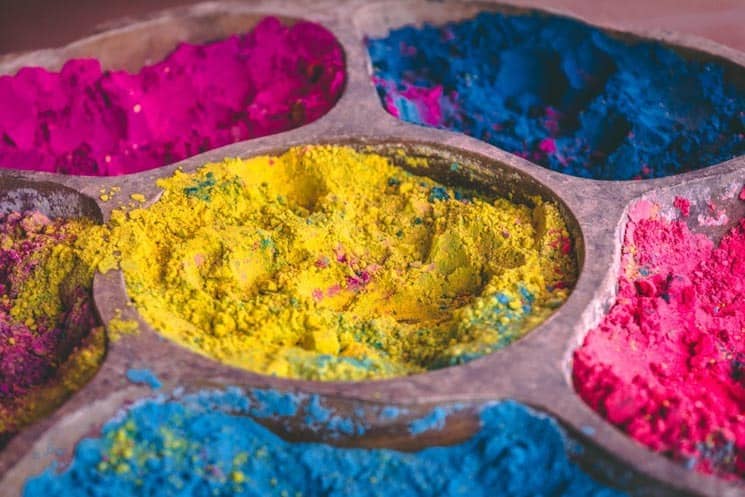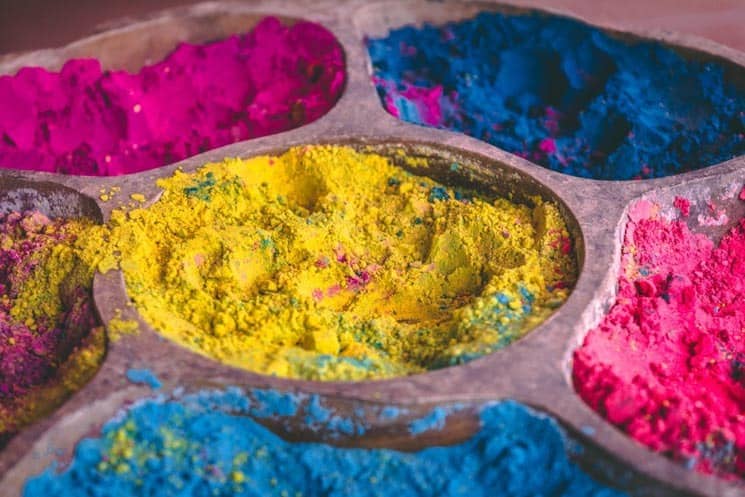 Celebrating Holi in India: Tips for travelers
How to prepare for the Holi festival in India? Here are some tips you will definitely appreciate:
Clothing – take some old clothing that can be destroyed. Count on that some colors stay on your clothes permanently. You can buy some cheap clothes at the local market. Long sleeves and trousers are ideal to protect your skin.
Shoes – applies the same as for clothes. You may not be able to get rid of some colors.
Sunglasses – Eye protection is very important! By wearing sunglasses, you will prevent the colors from getting in your eyes. Again, it is not bad to buy some cheap glasses at the local market, even sunglasses can be destroyed in the colorful craziness.
Electronics – if you plan to take your phone with you, keep it in plastic waterproof packaging. The same applies to your camera. The best option is the GoPro.
Valuables – such as watches or jewelry is better to leave at the hotel.
More Holi tips for travelers
Cream – Before you go into the color battlefield, cream everything you don't plan to cover (hands, face,…). Sunscreen is a good idea. This step will help with color removal afterward.
Coconut oil for hair – if you want to make your life easier, apply coconut oil to your hair just before the color battle. It helps to wash the color out more easily afterward.
For solo female travelers – never go into the crowd just by yourself. You'd better find a few other travelers at your hostel with whom you can enjoy the festival. It's safer and more fun.
Go in the morning – enjoy the festival straight from the beginning, so you can avoid drunker and rowdier people in the afternoon.
Water – take some water with you, especially if you plan to stay in the streets longer.
In case you are in India during the festival and you don't want to be completely covered in colors, don't go out on the day of the Holi.
How to get rid of the Holi color?
You may not recognize yourself once you return to the hotel. How to get rid of the colors you have everywhere?
Use cold water! Warm water would make it more difficult.
Coconut oil is also a good helper for color removal. Lemon can help as well.
You can put egg yolk or curd on your hair for about 30 minutes before washing. It should make the color removal easier.
Where else to enjoy Holi Festival
Do you want to enjoy the festival of colors, but you are far away from India? The Holi Festival is quite well spread around the world lately. There are events, which are inspired by Holi. You can join e.g. Color runs, which are not so much about running, but rather about having fun and getting dirty from colors. There is also plenty of music festivals which use colors, etc.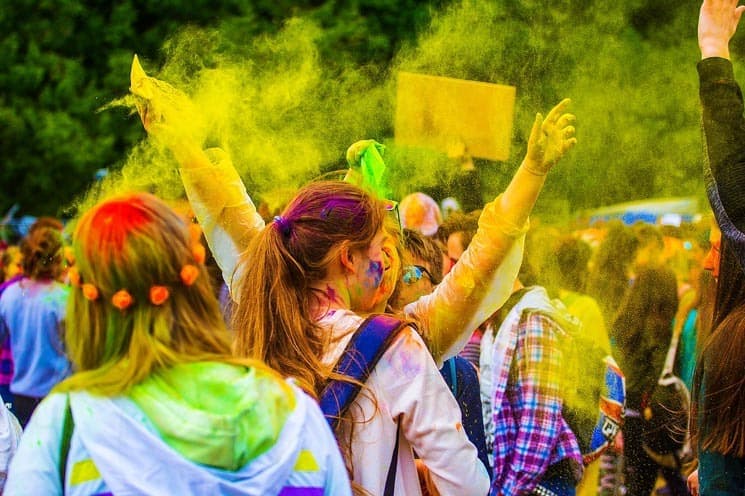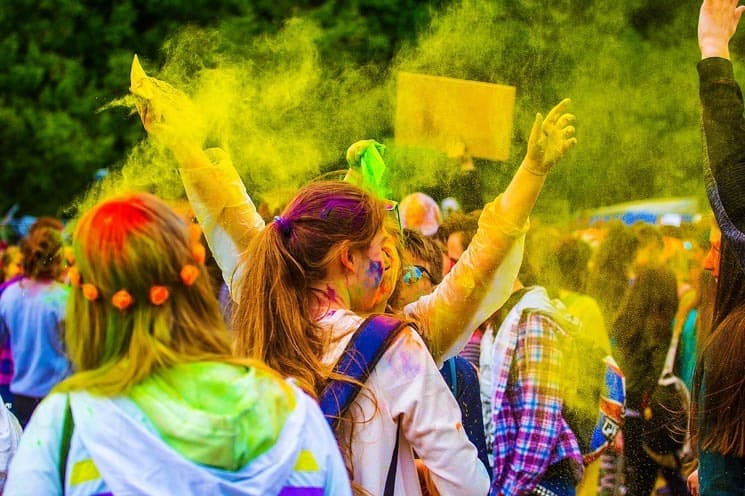 Holi Festival – Conclusion
The Holi Festival is sometimes called the Fool's Festival. It is a literally uncontrolled craziness and one giant party all over the country. It is a perfect opportunity for all who want to experience a wild festival and big color battle.
Have you experienced the celebrations of this festival? Share your experience with us in the comments.
Did this blog post help you?
Did this blog post help you? You can do us a favor and book your accommodation, buy flight tickets, book a tour or rent a car using our links. It doesn't cost you anything extra and we will have a small commission, which we will use for further improvement of this website.
We have also prepared for you this comprehensive list of links, discounts, and resources for travel planning in one place. Bookmark this page and whenever you plan a vacation in the future, just open it and save yourself a lot of time.
1) Where to book accommodation?
2) How to find cheap flights?
3) How to rent a car?
We recommend a comparison portal RentalCars.com to compare the best offers of all available rental companies.
Did this post help you? Share it for your friends! It can help them too!
Disclosure: Please note that some of the links above may be affiliate links, and at no additional cost to you, we earn a commission if you make a purchase. We recommend only products and companies we personally use and we use this income for further improvement of this website. Thank you!