The Czech Republic is famous for its beer for a good reason. We are very proud of our beer and we say it's the best in the world.
Czech beer is extremely cheap. They needed to make an actual law, that there has to be at least one non-alcoholic drink cheaper than a beer in every restaurant!
Czechs drink the most beer per person per year in the world. They drink it like water on every occasion.
You will find all you need to know about Czech Republic beer from Prague insider's point of view.
Czech beer types and categories
The vast majority of beer brewed in the Czech Republic is pilsner lager.
Czech Republic beer categories:
Lehké ("light") – mild and low alcohol percentage beer.
Výčepní ("draught") – the most common type of beer with lower alcohol percentage
Ležák ("lager") – usually stronger and have a more bitter taste.
Speciál ("special") – really varies, usually strong and often special flavours
Czech Republic beer degree scale:
Strength is labeled by degree scale. It is expressed as a weight percentage of sucrose. Most of the time it means – the higher the degree the higher alcohol percentage and more bitter taste. The far most popular is 10° and 12°, but it can be just any degree between 7° and 18°.
10° (desítka) – usually around 4% of alcohol
11° (jedenáctka) – usually around 4,5% of alcohol
12° (dvanáctka) – usually around 5% of alcohol
13° (třináctka) – usually around 5,5% of alcohol
16° (šestnáctka) – usually around 6,5% of alcohol
Czech Republic beer colours:
Light (Světlé) – the far most popular beer in the Czech Republic
Dark or Black (Tmavé) – sweeter, less bitter
Through amber (Polotmavé or řezané) – something between pale and dark.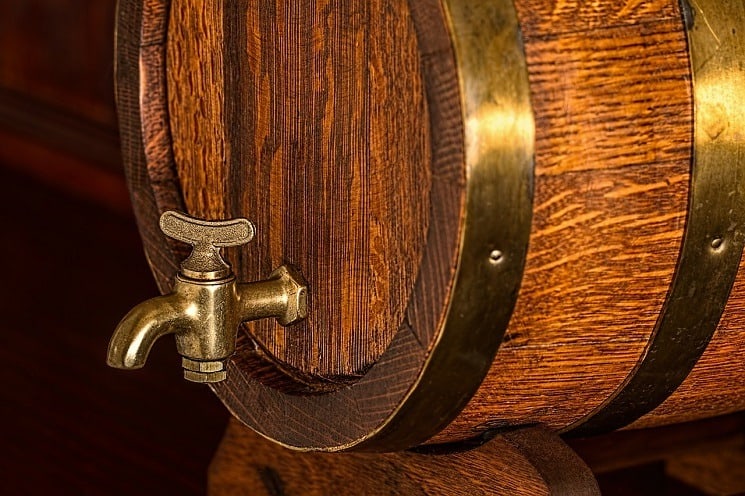 Czech beer brands – which ones to taste?
First of all, the quality of beer hugely depends on the quality of restaurants. If the restaurant is top tier and has everything clean, even worse brand can be decent. On the other hand, if the restaurant is poor, even the best brand could be awful. They also water down bear in some restaurants.
Here you can find a broad survey on the quality of Czech beer brands. It's in Czech language but you can read the name and average rating of all brands. The more % the better beer based on Czech drinkers.
I will now go through all the most famous and most common Czech beer brands and write an average rating from the survey.
Pilsner Urquell – 64% (survey rating)
Taste: very distinct "hoppy" and strong
Probably the most well-known Czech beer all over the world. Pilsner ("Plzeň" in Czech language) is served in every other pub. It's stronger and more expensive (still very cheap).
It can be explained as "The Beer". If you wanna drink just one or two beers, Pilsner is always a great choice. However, if you wanna spend the whole night in the pub and drink many beers, you should consider choosing other less strong brands. Otherwise, you will get drunk very quickly.
The brand that gives a name to the whole beer family – Pilsner. The world's first pale lager gets its name from Czech 4th largest city Pilsen (Plzeň in Czech language).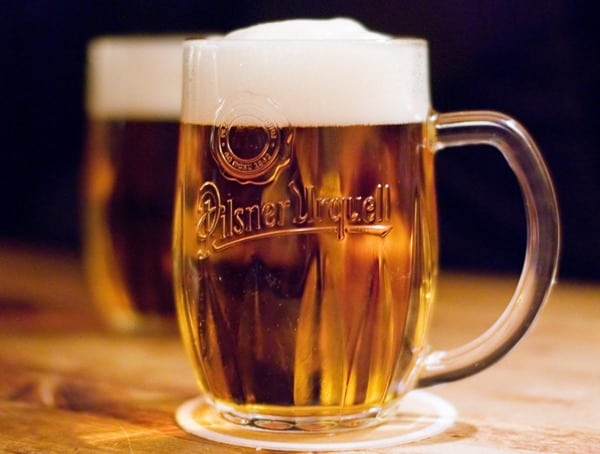 Budweiser Budvar – 66%
Taste: soft, tasty and not so sparkling as others
Budweiser Budvar is a brewery in a Czech city of České Budějovice (Budweis in German). The beer has no relation to the American Budweiser, which stole the original name from the Czech brewery.
Budweiser is very popular among tourists. Most of the Czechs like it, some don't. However, you should definitely try it. It's one of the better quality beer brands (and it's much better than American Budweiser).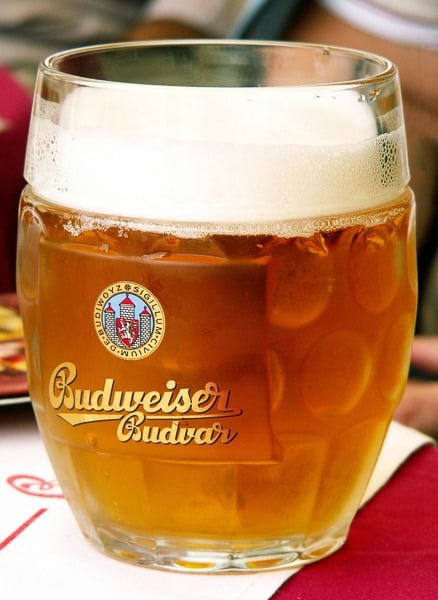 Krušovice – 46%
Taste: sweet and somewhat flat
Famous Krušovice brewery was established by Rudolph II. It's a very unique beer which some Czechs like and some dislike or almost hate. It's worth trying though because it's different than the others.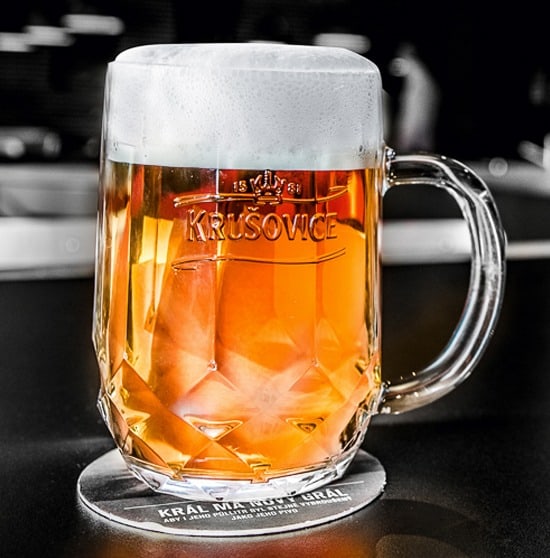 Staropramen – 36%
Taste: light, fruity flavour
Staropramen is one of the most spread and common beer brands in the Czech Republic. It's made in Staropramen brewery in Prague. The quality sometimes suffers, because it's provided in many low-tier restaurants.
It's very popular because it's one of the cheapest decent beers you can get. However, I would not recommend it as something special, it's just ordinary Czech beer (which is still better than most beers in the world).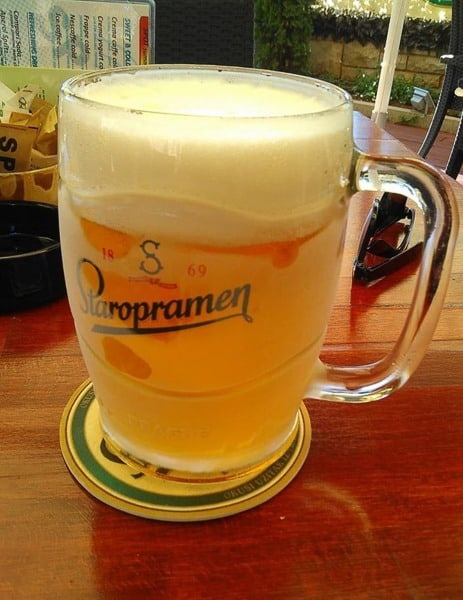 Gambrinus – 44%
Taste: sweet with "hoppy" finish
Gambrinus is the best-selling beer in the Czech Republic. It has a lot of similarities with Staropramen. The quality also suffers, because it's provided in many low-tier restaurants.
Like Staropramen, it's very popular because it's one of the cheapest decent beers you can get. It's also very easy to drink for all occasions, so you can drink a lot of Gambrinus. I would also say that it's just an ordinary Czech bear – nothing special.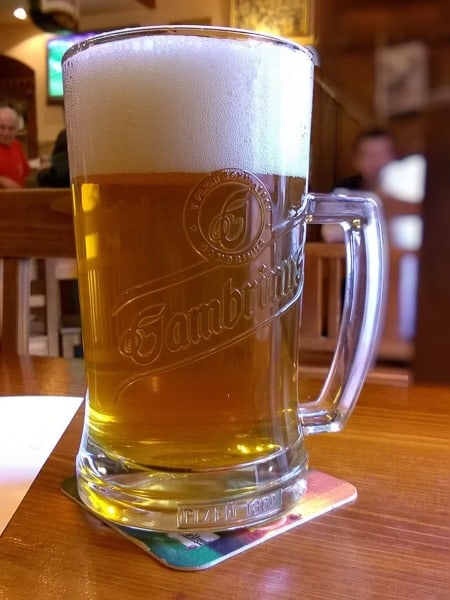 Kozel (Velkopopovický) – 49%
Taste: strong, smooth, often considered the world's finest.
Kozel (which means "male goat" in Czech) from Velké Popovice is the favorite of many Czech students and Erasmus students in Prague (including me). It's one of the best beers you can buy in a bottle and its quality is usually decent even in low-tier pubs.

Its dark variety is probably the most popular dark beer in the Czech Republic.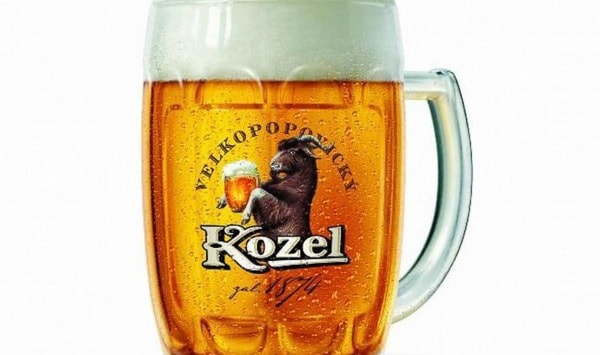 Svijany – 42%
Taste: light sweet and light bitter

Svijany is one of the oldest breweries in the Czech Republic (founded in 1534). Svijany bear is unique because it's an unpasteurized lager, which brings a unique "true" taste to the drink.
The basic Svijany beer is not as unusual, but there are many different special variants, which are very unique and definitely worth trying. I can say, that Svijany is one of my personal favorite beers.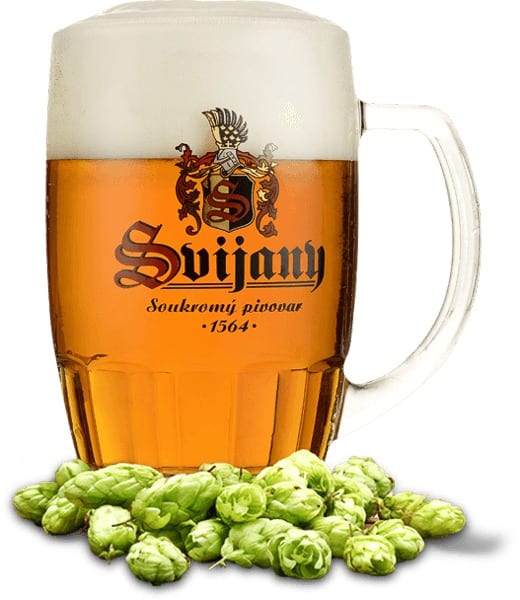 Lobkowicz – 62%
Taste: bitter taste with a touch of citrus
Lobkowicz is not as spread and popular as Gambrinus or Staropramen, however, it's usually good quality. Lobkowitz is a safe bet beer. Nothing as amazing, but never disappoints.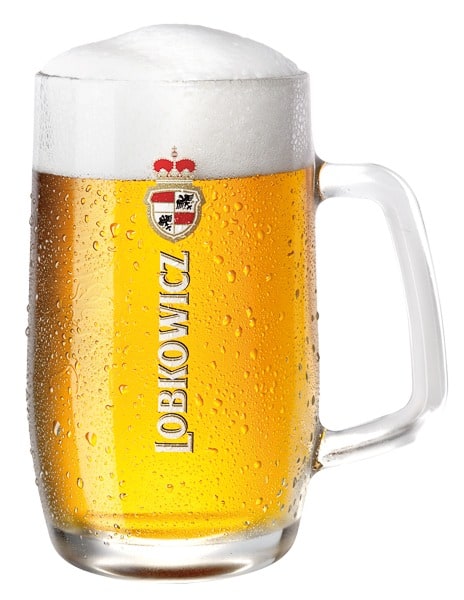 Bernard – 70%
Taste: bitter-sweet flavor and a "hoppy" aroma
Bernard is a family brewery dating back to the 16th century. The brewery was very small till 1991, but its popularity is rapidly rising since then. Bernard is unpasteurized beer and if you're after a strong beer with a lot of personality, this is the brand to try. I personally love Bernard and go for it every time I see it.
Bernard brews also many different flavored beers and very popular non-alcoholic beer.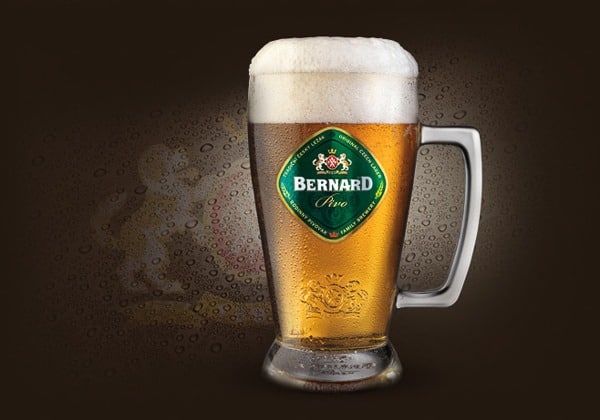 Velvet – 55%
Taste: slightly bitter velvet taste
Velvet is a beer special made Staropramen brewery. It's through amber beer with strong taste and little higher alcohol percentage than average Czech beer. It is inspired by an English recipe.
Velvet is not such a common beer, but if you see it, it's worth trying. It's different than the others and usually good quality.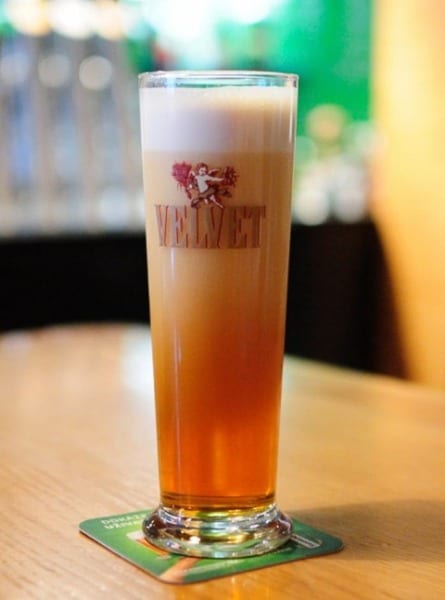 Braník – 39%
Taste: very bitter and hoppy with a touch of citrus.
Braník is usually the single cheapest bottled beer you can buy in a supermarket and that's the reason, why is Braník popular between students. It's definitely not a great beer though and I would recommend other brands.
Braník is made with actual river water from the Vltava, giving it its distinct flavor.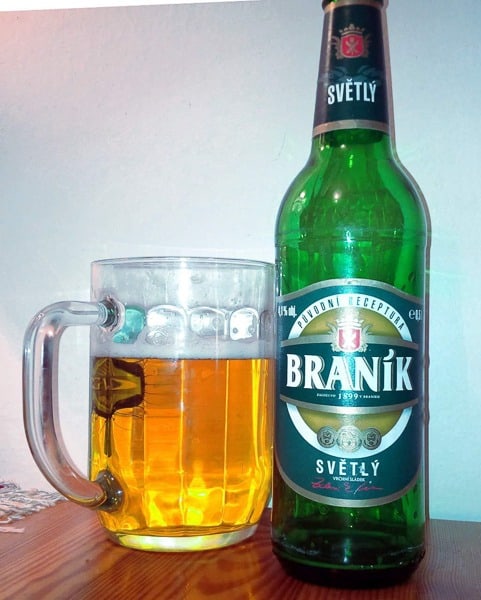 Matuška – 71% (Zlatá raketa)
Taste: lighter and sweeter than the typical Czech lager
Matuška is one of the youngest Czech breweries but it already gained a lot of following. It's a craft beer brewed as clean as possible with no added extracts or sugars.
Matuška produces several beers, including typical ales and lagers full of body. If you want something special, try their Zlata Raketa (meaning Gold Racket). It's a great choice if you want something lighter and sweeter than the typical Czech lager.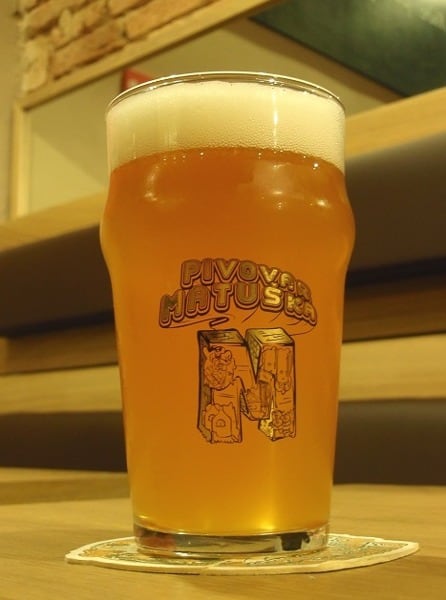 Best Czech beer restaurants and pubs in Prague
What are the places to go during your Prague beer crawl? Let's have a look at the best restaurant and pubs:
U Vejvodů Restaurant
U Vejvodů possesses a richly historic atmosphere that other bars in Prague can only hope to replicate. U Vejvodů is divided into two distinct levels that each have their own personality. On the lower level, there is the beer hall with photographs and Czech brewing other memorabilia from the glory days of Czech brewing and set to the tunes of classic Bohemian folk music. The upper floor is more pub-like with its modern music and younger crowds.
Beers: Pilsner Urquell, dark Kozel
Location: Jilská 4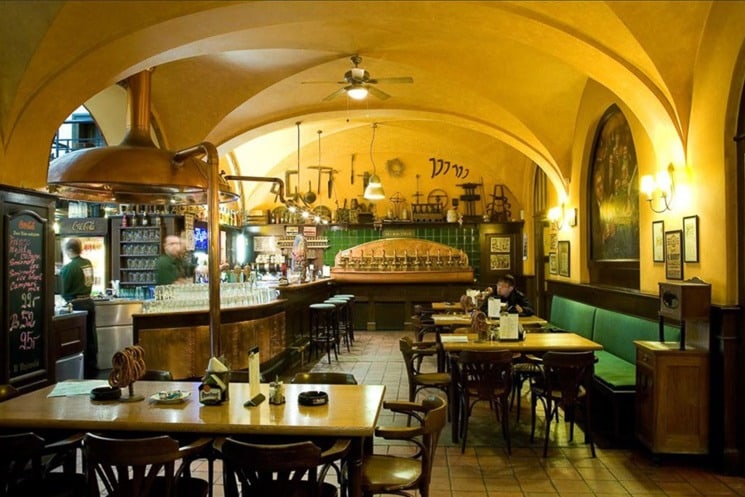 Lokál Dlouhááá Restaurant
Lokál Dlouhááá is a popular retro style restaurant with a great quality Pilsner Urquell from tank. Lokál is great if you want not just to have a great beer but also to taste a typical Czech dish for dinner or lunch.
Beers: Pilsner Urquell, dark Kozel
Location: Dlouhá 33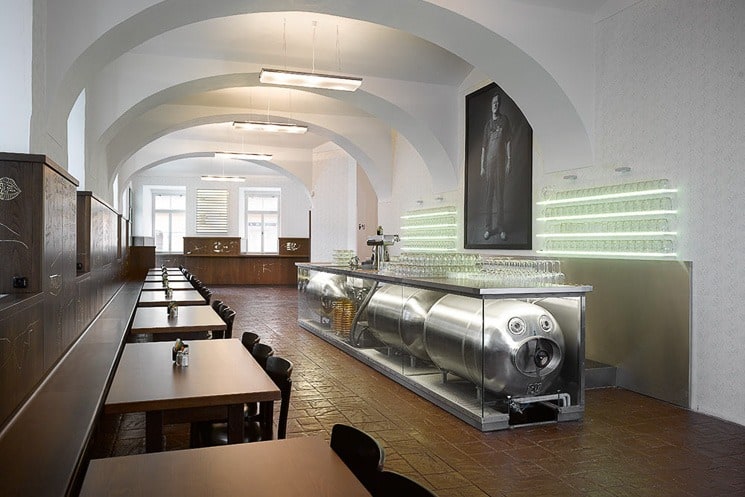 U Glaubiců Restaurant
U Glaubiců is a famous historic restaurant (more than 700 years old). If you want to drink a great beer and try typical Czech food and simultaneously enjoy a bit of Prague history, U Glaubiců is a perfect place. This restaurant is also perfectly located directly on the walking route between Prague Castle and Charles Bridge.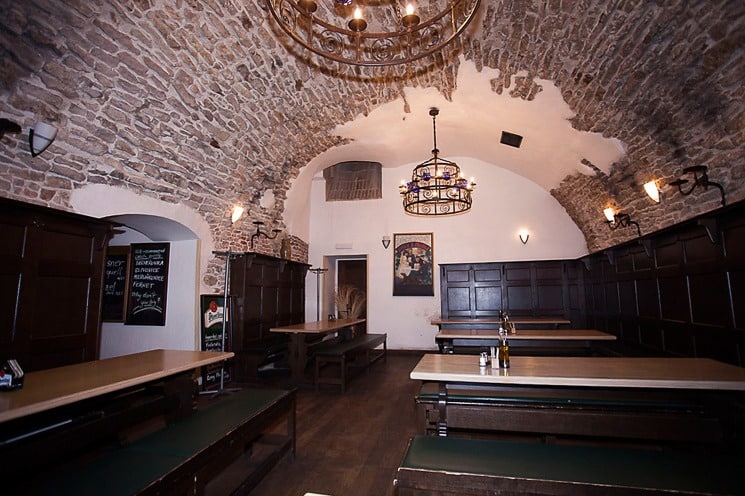 Na Palmě Bar
Na Palmě is a local favorite beer pub. If you want to taste many different special Czech beers and enjoy drinking with locals, Na Palmě is the place to go!
Na Palmě is not well known by tourists, therefore there will be probably just Czech drinkers.
They always have 10 different beers to taste (every week new ones),
It's not located directly in the city center, however, it's just 8-minute direct metro ride from Wenceslas Square.
Na Palmě is a small bar, therefore it's a good idea to book a table (Tel. 605 283 520).
Beers: Únětice + different brands every week
Official website (only in Czech)
Location: Zenklova 13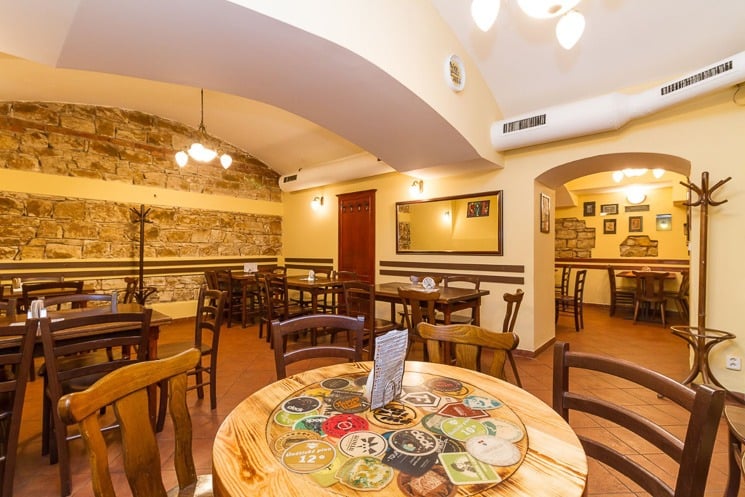 Brewery excursions and beer spa
Pilsner Urquell brewery
If you love beer, you should definitely visit original Pilsner Urquell brewery in Pilsen (about an hour drive from Prague).
You can either drive on your own and book a tour directly in the brewery here.
Duration: 100 minutes
Opening hours vary each month – check here.
Or you can take this day trip from Prague, which will take you to the brewery as well as Bohemia Glassmaking factory, which is the Czech Republic also famous for.
Tour days: every Monday and Wednesday
Duration: 8 hours
Departure time: 9 AM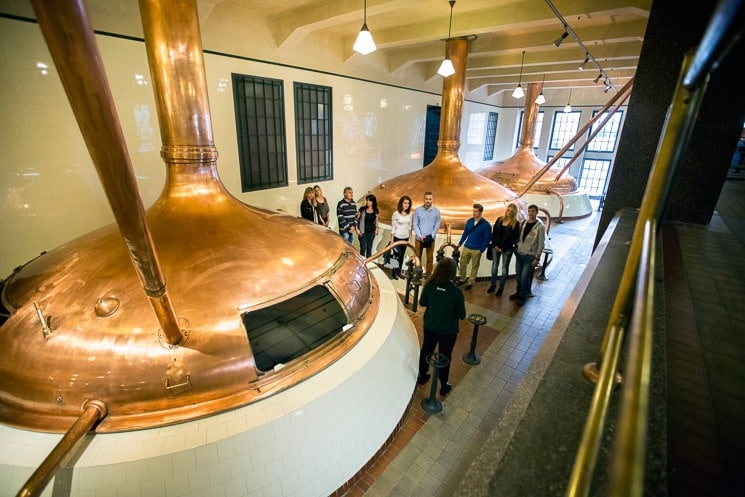 Staropramen brewery
Visiting Staropramen brewery is a great alternative because it's located directly in Prague close to the city centre. You can book your beer tasting tour directly at Staropramen Brewery official website.
Duration: 50 minutes
Opening hours: 10 AM – 6 PM every day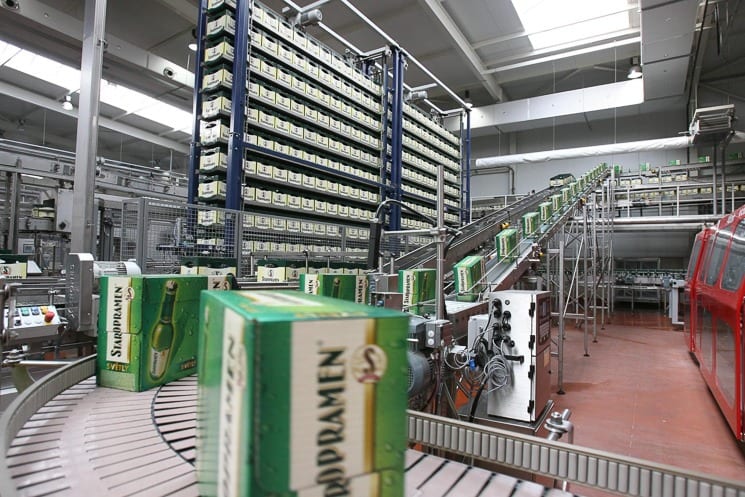 Prague Beer and Czech Tapas evening walking tour
If you would like to take your taste on a journey around some of Prague's best drinking places and taste some traditional Czech snack food, this great evening tour is a must do!
Duration: 4-5 hours
Departure time: 5 PM every day at Wenceslas Square
Amazing reviews – 5/5 stars from 270+ reviewers
Beer Spa Prague Bernard
Beer spa is another popular place, where beer lovers in Prague go. The best is Beer Spa Prague Bernard.
Great locations – near Old Town Square and Wenceslas Square.
Duration: 90 – 120 minutes
Unlimited beer consumption
Book here: Beer Spa Prague Bernard
You can read this personal experience from Prague beer spa to get a better idea, how does it work.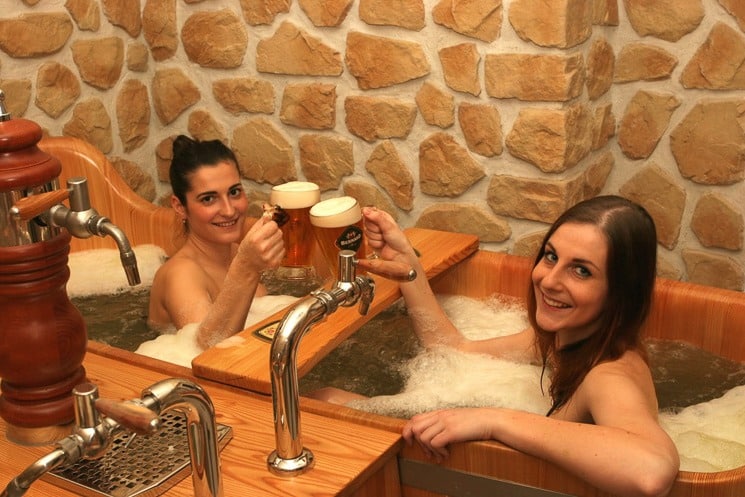 Prague beer map
I have prepared for you a map with all restaurants, pubs, beer spa, and tours from this article. You can also download the beer map and upload it to your mobile map app such as Maps.me or Locus Map.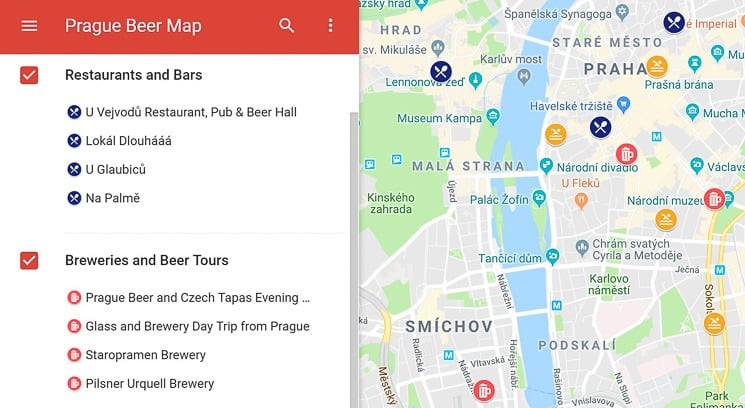 How to order a Czech beer
Honestly, if you go to the pub, everybody knows you want a beer. However, there are some tips, which may come handy:
It's considered obvious to order a "large" beer (0,5l). If you want just small (0,3l), you need to tell "malé" (mah-leh).
It's also considered obvious to order a light beer (světlé). If you want a dark one, you need to tell "tmavé" (tuh-mah-veh).
Tipping is common if you like the service (usually between 5-10%).
Czech Republic Beer dictionary:
| | |
| --- | --- |
| Beer, please | pivo prosím (pee-vo pro-seem) |
| Cheers | na zdraví (na zdravee) |
| Large beer (0,5l / 16 oz.) | velké pivo (vel-keh pee-vo) |
| Small beer (0,3l / 10 oz.) | malé pivo (mah-leh pee-vo) |
| Dark beer | tmavé (tuh-mah-veh) |
| One more beer | ještě jedno (yesht-ye yed-no) |
| I would like to pay, please. | zaplatím prosím (zah-plaht-eem pro-seem) |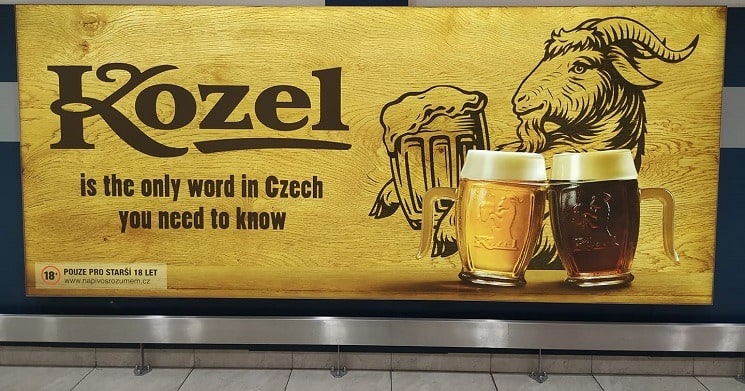 Czech beer interesting facts
1) Czechs drink the most beer per capita in the world
The Czech Republic is on the top in every survey taken. According to this survey, Czechs drink 142.4 liters per capita. Which is more than a 12-oz. (355 ml) beer each day for every Czech man, woman, and child.
2) At least one non-alcoholic drink must be cheaper than a beer
Beer in The Czech Republic is so cheap, that they needed to make an actual law, that there has to be at least one non-alcoholic drink cheaper than a beer in every restaurant! There used to be many restaurants, where even tap water was more expensive than a beer! Crazy but true!
3) The first brewery in the Czech Republic was opened in 993 AD.
The monastery in the Břevnov district of Prague started brewing beer in the 10th Century during the Kingdom of Bohemia.
4) Pilsner-style beer originally comes from Czech city Plzeň
This globally-known style of beer first appeared in the 19th century in Pilsner Urquell brewery in Plzeň (Pilsen in English).
5) Original Budweiser comes from The Czech Republic
Original Budweiser brewery is situated in Czech city České Budějovice (Budweis in the German language). Name Budweiser means "beer from České Budějovice". German immigrant Adolphus Busch started a brewery in the USA afterward and named his flagship beer Budweiser. There were many legal battles to determine who has the legal right to use the Budweiser name.
Check this fun video about Czech Republic beer nation:
Czech beer scam – Žatecký Gus
Maybe you have encountered beer Žatecký Gus, which is impersonated as Czech beer (Žatec is a town in the Czech Republic). This beer has etiquette in the Czech language (with mistakes) and Czech adverts. Žatecký Gus is actually a Russian beer and not very good!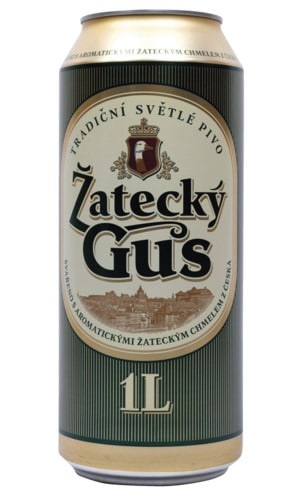 Places to visit in the Czech Republic:
Read our ultimate guide to the best places to visit in the Czech Republic:
Czech Beer Statistics:
More tips for your travels:
We have prepared for you this comprehensive list of links, discounts, and resources for travel planning in one place. Bookmark this page and whenever you plan a vacation in the future, just open it and save yourself a lot of time.
1) Where to book accommodation?
2) How to find cheap flights?
3) How to rent a car?
We recommend a comparison portal RentalCars.com to compare the best offers of all available rental companies.
Pin this for later and for your friends: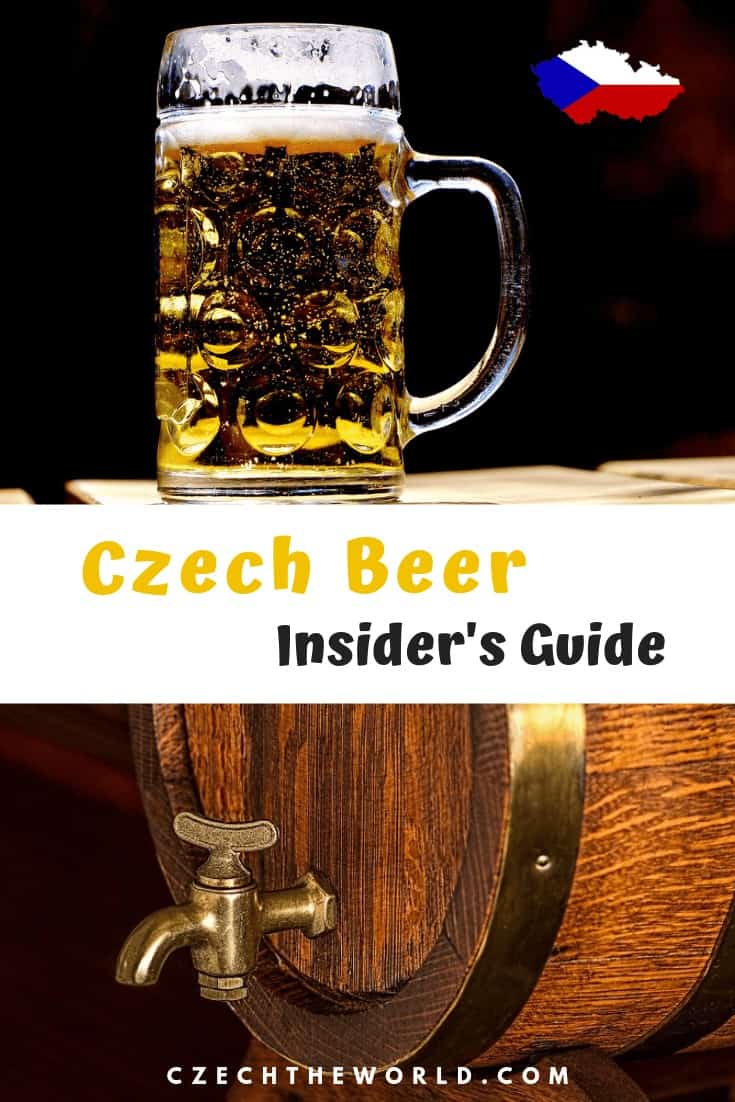 Czech Republic Beer FAQ – frequently asked questions:
Did this post about Czech beers help you? Share it with your friends! It can help them too!
Disclosure: Please note that some of the links above may be affiliate links, and at no additional cost to you, we earn a commission if you make a purchase. We recommend only products and companies we personally use and we use this income for further improvement of this website. Thank you!