Eclectic, energetic, musical – three words to encapsulate Liverpool's transformation from dingy industrial hub to the modern city it is today. Accented with a rich maritime history, this west coast city birthed The Beatles and currently houses the Philharmonic Orchestra. Football fans are no doubt familiar with its name too. Diverse charms aside, there's another reason why Liverpool is a great place to visit and stay: it's the ideal base for day trips.
Multiple train stations cater to day-trippers, the best day trips from Liverpool accessible via the extensive train lines from Liverpool Lime Street or Liverpool Central. From industrialised cities to nature escapes, I scoured the top getaways within an hour or two from Liverpool.
If you have days to spare, definitely cover some of these day trips! There are plenty of things to do that cater to all interests.
Day Trips from Liverpool
This guest post is written by Victoria Philpott, from DayOutinEngland.com. The essential resource for guides and itineraries to England's best days out. Searchable by themes, counties and cities – they're definitely not just for kids!
1. Manchester
Manchester is one of those cities that has a reputation even if you've never been, mainly thanks to its famous football teams but equally for its known musical achievements. Trains from Liverpool Lime Street to Manchester Victoria only take 35 minutes – making Manchester simple and easy to explore on a day trip from Liverpool.
The Museum of Science and Industry is one of the best things to do in Manchester as it covers much of the city's history. John Ryland's Library is another learning space; it is also a stunning architectural piece that dates back to 1900.
My favourite place to visit in Manchester however is the quirky Northern Quarter, home to well-curated pieces in the Manchester Art Gallery as well as prolific street art. I can spend hours browsing the indoor market of Affleck's Palace, with its indie boutiques cozied up behind its red-bricked façade.
When you've exhausted the shops, be sure to delve into Manchester's developing food scene. Arndale Food Market and Mackie Mayor serve up delicious eats.
Manchester also makes for a brilliant night out. Check out the bars down at Deansgate, or if you're into your techno, check the listings for the Warehouse Project.
2. Delamere Forest
Paved walking paths carve their way around 972 hectares of woodland in the Delamere Forest, scented with the musk of evergreen trees. Solid trunks angle high to spread their branches, layers of leafy growth offering shade for hikers. It's one of my favourite day trips from Liverpool for forest adventures.
Apart from the generous trails featured within Delamere Forest, the outdoor activity company Go Ape gives visitors a choice between serene strolls and tree-swinging fun. The best activity by far is the Tree Top adventure; you have to climb up platforms and travel over rope courses between elevated stations. Net climbing and zip wire stations are spread out over the estate.
To explore the area quickly, take the Segway Tour!
You'll up your Segway skills since some spaces are rocky and sloped. Regardless of how you tread the grounds though, bring your comfortable shoes.
3. York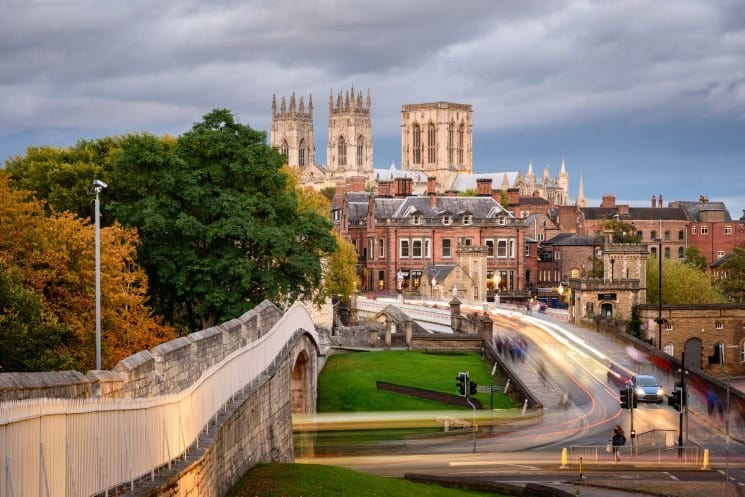 The journey to York from Liverpool is a longer 2-hour journey but history buffs will fall in love with this charming trove of heritage sights. The Shambles should be first on the itinerary, a collective of 14th and 15th-century houses that somehow remains standing in their crooked forms. Butchers' shops have transformed into characterful bookstores, knick-knack stores, decorative ware and other indie attractions. It's said to have inspired Harry Potter's Diagon Alley!
You could sign up for a history tour to make the most of the historical sites in a short amount of time. York has witnessed politics and warfare since 71 AD, including the rise of Constantine. Most of York's top attractions will be covered in the tour, such as the splendid York Minster (one of Northern Europe's largest cathedrals), The King's Manor, York City Walls, Fairfax House, York Castle Prison, Berden Hall and more.
The list of things to see in York is endless so go ahead and plot your own tour if you prefer.
One of my favourite spots in York – mainly thanks to the childhood memories – is the Jorvik Viking Centre. Pay for entry to learn more about the effect the vikings had on our world.
4. Chester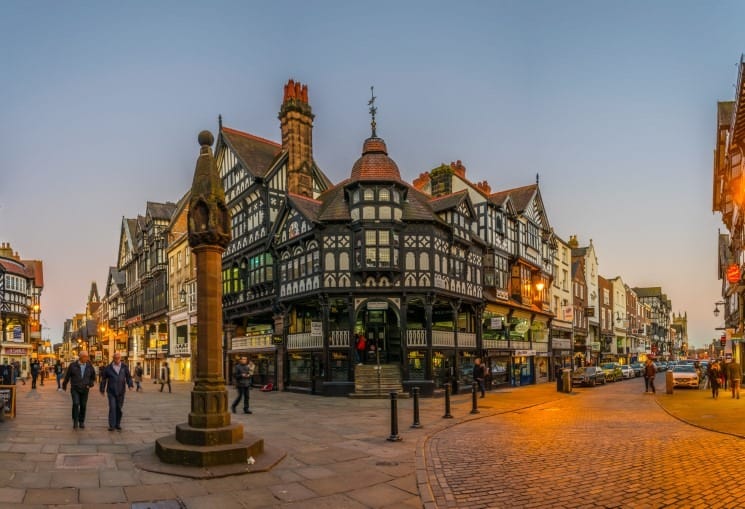 Roman roots are strong in Chester – in fact, it was first conceived as a Roman fortress in 79AD. Aptly named 'fort' or 'city of the Legion', Chester's burnished sandstone walls remain the sole full-circuit defensive wall in Britain. Expect to be suffused with a sense of awe and fragility when viewing landmarks from this millennia-old structure.
Photographers will devour Chester's ornate Eastgate Clock, a surprisingly solid piece formed by gold-tinted whirls and coloured pieces. Chester Cathedral is another complex of aesthetic spaces; 14th-century quire stalls a stately contrast to its Falconry & Nature Gardens. From there, take a languid cruise down River Dee whilst enjoying afternoon tea onboard. The historic Rows feature unique boutiques in medieval frames for the romantics' post-meal stroll.
There are some great days out in Cheshire, the county where Chester belongs.
The most iconic one is Chester Zoo. Home to over 21,000 animals and one of the best zoos in England! Between dropping by the exotic habitats, you can grab a bite to eat and refuel at the animal-themed restaurants.
For more inspiration, check these fun things to do in Chester.
5. Port Sunlight Village
Imagining wide boulevards, picturesque cottages and landscaped parks? Well, Port Sunlight Village is the Liverpool day trip for you.
What was William Hesketh Lever's project to build a village for his soap factory workers is simultaneously an architectural wonder. Just a short train ride away from Liverpool, it's a day trip favourite for many locals.
Every single house in Port Sunlight Village has its own unique design, making for some great photos. Also referred to as Arts and Crafts cottages, these buildings vary in colour and structure. To learn more about this purposeful, idyllic village, you can tours the Port Sunlight Museum before visiting the neoclassical Lady Lever Art Gallery. The masterpieces showcased are mostly from the 19th century, collected by Lever himself.
Tea rooms and cosy pubs are scattered around this charming parkland for both locals and tourists to rest.
6. Lake District
Everyone needs a break from city noise every now and then; a day trip to Lake District is a gift in serenity with vibrant landscapes. Green dominates this natural reserve in forested patches, soft grasslands and manicured pastures. Anyone delving into the mountainous ranges by train or car will have a hard time tearing their eyes away. Lake District is one of the best day trips from Liverpool and also one of the best road trips in the UK.
Make a beeline for Lake Windermere on your weekend getaway; it's the largest of the lakes. Walking boots are a must to fully take in the terrain, but pack water-bound shoes for a cooling ride on water. Picnics are popular among visitors too as there are plenty of fresh spaces to rest after a demanding hike.
Cosy market towns like Kendal and Ambleside are fantastic escapes too. You can spend afternoons browsing art galleries that display local talents. Traditional inns are in abundance if you'd like to stay overnight in country comfort. Check this guide to the Lake District for more inspiration.
If you are planning your trip, check these best places to stay in Lake District.
7. Southport
Summer travellers shouldn't miss out on Southport's aquatic charms. Bring your sunglasses and flip flops for a few hours of beachside relaxation. Meanwhile, canopied boulevards lined with Victorian buildings capture the eye, scalloped with scenic gardens for a balance of architectural marvel and natural charm. If you come into the city around noon, catch a bit at Lord Street before swanning down to the pier.
The pier area encompasses Southport's top attractions: my vision of seaside vacation come to life!
Stroll down to the wooden pier with a takeaway bag of fish and chips in hand. There's an arcade nearby if you're up for a challenge, or maybe you'd fancy a ride on the carousel? The Southport Pleasureland amusement park is great for thrill-seekers. Make the most of the rides! Southport is another cool destination among the day trips from Liverpool.
8. Peak District
Another National Park to rival the Lake District is the Peak District – featuring dramatic landscapes any photographer would love to immortalise. Pack your hiking shoes to better explore its diverse valleys and moorland plateaus.
If I were to list Peak District's top natural attractions, Dovedale's endless steps carved into steep limestone takes first spot. Dark Peak and Kinder Scout embodies the wilder edge of nature; expect ragged gritstone ridges and haunting moors.
There are plenty of treats for gentler explorers too. Lyme Park's tranquil estate combines garden and red deer populace for an alternative ambiance. Haddon Hall and Chatsworth House are unexpected finds, mansions and manors that belonged centuries past but are no less beautiful now.
Are you traveling with kids? Check this guide to the Peak District with kids.
9. Bradford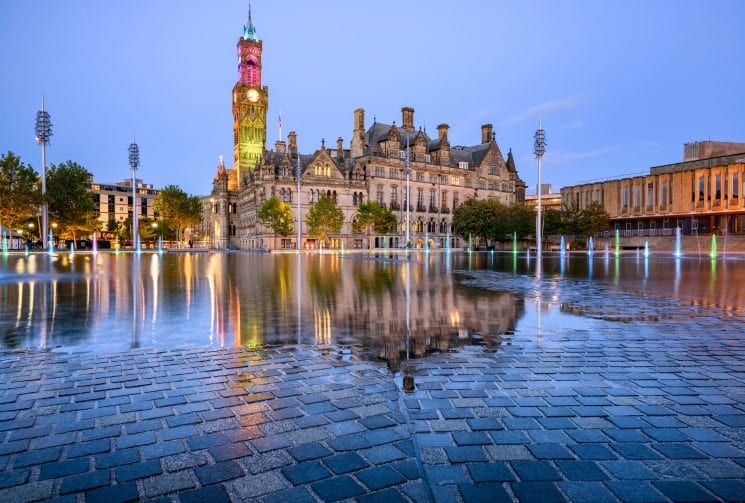 Gorgeous Bradford is often overlooked and it's hard to understand why. While its grim past still lingers in monikers like 'UK's most-improved city', cultural riches run rampant, whether it is the well-respected Bradford Literature Festival or revitalised North Parade district. Saltaire, one of England's UNESCO World Heritage Sites, preserves its manufacturing past.
The Bradford Industrial Museum was first on my to-visit list, exhibits housed in a 19th-century mill. Fascinating right?
In contrast, the National Science and Media Museum is housed in sleek casing to discuss photography, film and television. Bolling Hall was another lesson in medieval eras, the manor house decorated with aged furnishings.
Haworth village's tribute to the Brontë sisters is definitely worth visiting. Their family home is turned into Brontë Parsonage Museum to display the manuscripts, letters and possessions of these 19th-century novelists.
Day trips from Liverpool
So, as you can see, there are loads of interesting day trips from Liverpool to enjoy. I'd recommend basing yourself in the center of the city for a few days, to enjoy all that Liverpool has to offer, and then moving to the scenic outskirts so you can make the most of the day trip possibilities. Have fun on your day trips from Liverpool!
Read also:
Pin 9 Best Day Trips from Liverpool for later: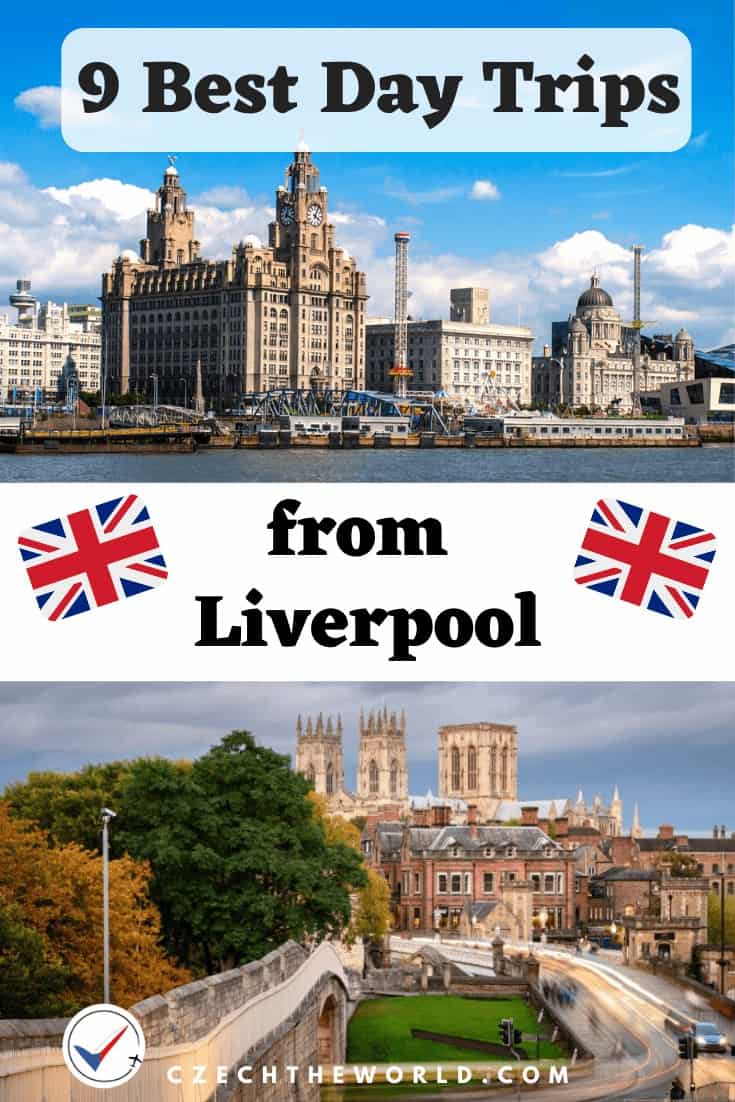 Did you like Best Things to Do in Brighton? Share it with your friends!
Disclosure: Please note that some of the links above may be affiliate links, and at no additional cost to you, we earn a commission if you make a purchase. We recommend only products and companies we personally use and we use this income for further improvement of this website. Thank you!