Colorful, energetic Brighton, UK is an easy 60-minute train ride from London and 30-minutes from Gatwick Airport. Creative types will swear they've been there in a past life when they deboard at Brighton Station and instantly smell the sea. Brighton has many must-see attractions even if you don't surf, and the compact city is easy to explore either by foot or public transport, so you can explore Brighton's picturesque city villages along with this list of the 10 best things to do in Brighton.
1. Royal Pavilion
The breathtaking architecture of this iconic landmark with its onion domes and minarets is the pride of Brighton. Prince Regent first came to Brighton in 1783 as a stylish young man in his twenties. He fell in love with the town and spent so much time here, he decided to commission a seaside home.
The first Royal Pavilion was a humble 18th-century retreat. But in 1815, shortly before he began his reign as King George, he decided to have the resort redesigned to reflect his newly-acquired Oriental taste. He commissioned the work with architect John Nash, renowned for Buckingham Palace and London's Regent Street. The work was completed in 1833. The architecture of the Royal Pavilion is amazing enough, and currently, a collection of over 120 works of art are on loan from Her Majesty the Queen. The works of art were originally commissioned by the Prince Regent and are on display until the autumn of 2021.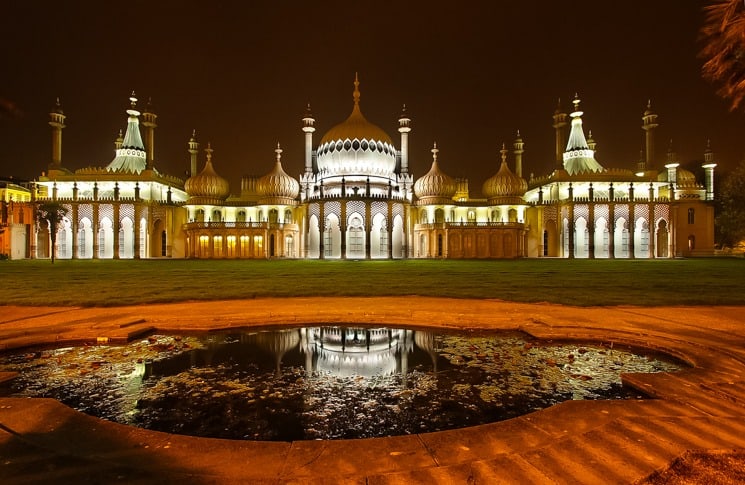 2. Palace Pier
Brighton Pier, often called the Palace Pier, is seaside fun at its finest with vintage stripy deck chairs, fish and chips, and traditional candy floss. Visiting Brighton Pier is often regarded as one of the must-do things on the UK bucket list. Get unlimited rides wristbands for all the thrilling rides. Eat at the restaurants and hang out at a bar or two. Gamers and others should look for the Mechanical Memories Museum where you'll find a wonderful collection of vintage penny machines. You'll see an attendant's booth, but no one will be in it. Change is given by machines.
Go back in time and play pinball, watch puppets perform a stage show, and visit the mind-reading television. A four-story soft play area called Palace Play makes the Pier kid-friendly. Palace Play has something for children of all ages including a special toddler area with a place for adults to have a coffee and watch them. You can also schedule events at three venues, including weddings. Brighton is famous for its stag and hen parties.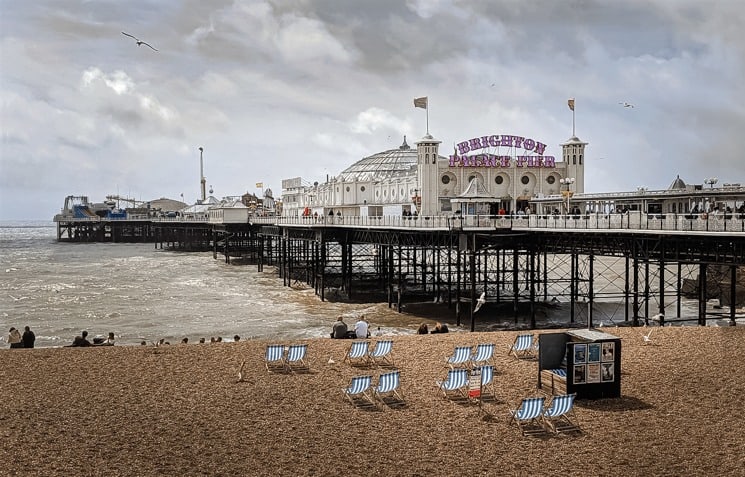 3. Brighton Beach
With the Palace Pier as its backdrop, Brighton's pebble beach is legendary. It constantly stays on the list of the World's Top 10 City Beaches and definitely one of the best things to do in Brighton. The beach and all its provide a summer seaside playground for day-trippers from London and a holiday destination for the world. The beachfront promenade and its iconic Victorian arches is a destination in itself. You'll find bars with suds and signature cocktails and cafes that serve everything from ice cream to high-end seafood cuisine.
Head to the arches west of the pier and browse all the independent traders for beach clothing, gifts, and more. West of the pier, visit the free Fishing Museum to learn the history of Brighton Beach beginning with its origins as a tiny fishing village. East of the pier, Volks Railway is Britain's oldest electric railway. After dark, experience funky beach culture nightlife at places like Brighton Beach Club.
4. British Airways i360
Further up the beach's west end is where you'll experience sweeping views of the area at British Airways fascinating i360 tower. Take a gentle ride up 450 feet to the roomy glass viewing pod. You'll spot several Brighton landmarks, wind farms, rooftop art, and a coastline expanse all the way to the Isle of Wight.
The viewing tower was designed by the same team who imagined and built the London Eye that opened in 2016. Grab a drink at the Nyetimber Sky Bar, the South Coast's highest bar. They serve Brighton Gin, beer from local breweries, and Nyetimer wine. Afternoon tea is served in the West Pier Tea Room, a toll booth replica of the old West Pier from 1866. For dinner, dine at the stylish West Beach Bar & Kitchen on the beach level with sea views from the terrace and a delicious menu of dishes made of locally sourced Sussex ingredients.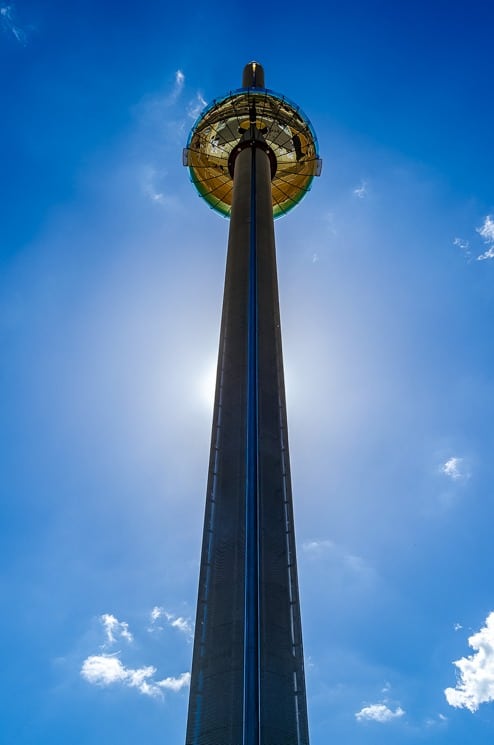 5. Brighton Museum & Art Gallery
Don't miss paying a visit to the Brighton Museum & Art Gallery located in the cultural quarter at the Royal Pavilion garden. It's definitely one of the best things to Do in Brighton. Its diverse collection tells the story of Europe's earliest civilization from the Ice Age to the Saxon era. The archeology gallery 3D facial reconstructions of our human ancestors and how they lived. Exhibits are often loaned from other museums including fascinating artifacts like The Bronze Age Amber Cup unearthed in 1856 and the mysterious intricately designed Sussex loops unique to the area but with no clear purpose. Three art galleries display artwork in the Fine Arts Collection.
6. SEA LIFE Brighton
Constructed in 1872, SEA LIFE Brighton is the world's oldest operating aquarium. It features a plethora of fresh and saltwater creatures. A lagoon display provides close-up views of rays and large fish. An interactive rock pool is a home to starfish and sea anemones. A rainforest display recreates life beneath tropical treetops in a rainforest river teeming with spectacular fish. Past the roots of a giant tree, you'll spot an Anaconda welcoming you to its home.
The Victorian auditorium has seating where you can view a 750,000-liter ocean display or board a glass-bottom boat to see creatures like sea turtles, rays, three species of sharks, and tropical fish from even closer. Be sure to purchase your admission ticket for the boat ride when you first begin your aquarium journey. It's definitely one of the best things to do in Brighton.
7. Old Police Cells Museum
Condemned in 1929, the police cells are now unearthed and featured as an unusual museum. Learn fascinating stories about the police force in times gone by like the mysterious murder of Chief Constable Henry Solomon and other creepy stories from the past when trial cases often ended in the death sentence for petty crimes. The stories involve Sussex's police department fighting crimes and corruption for over 200 years. You can even book an event at the venue like a spooky wedding or a Halloween party.
8. Brighton Toy and Model Museum
Located under the old Victorian railway arches at Brighton Station, the Toy & Model Museum has been in existence since 1991. The museum has one of the world's finest public collections of models and toys with more than 10,000 exhibits on display. Collections include toys from top manufacturers worldwide. See a rare vintage model train collection, Victorian dolls and dollhouses, soft toys by Steif, and a huge collection of die-cast vehicles by Spot On, Corgi, and Dinky. You can visit the toy museum any time except Christmas week until the day until January 2 every year.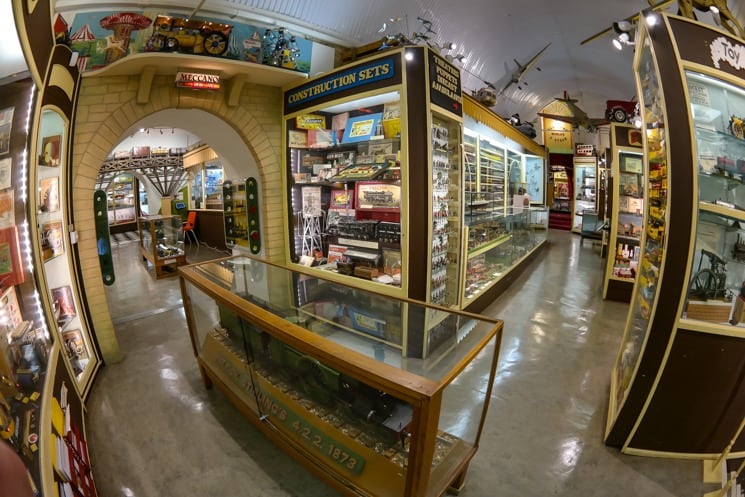 9. Brighton Guided Tours
Various Blue Badge guided and themed tours are available to help you explore Brighton from walking tours to cycling and scenic flights. Only in Brighton is a good walking tour for visitors. It's humorous yet fact-filled and explains why Brighton Beach is such a unique place. Another informative walk, the Sussex Hospice Trail is a 200-mile route with two marked sections available for visitors.
The Brighton Palace Pier Tour follows the footsteps of a Victorian-era stroll along the pier. You'll enjoy the fresh air and scenic views while learning the history of the pier. Brighton Food Tours helps foodies discover all the flavors of the city beyond just the pebble beach and waterfront. Brighton Bike Tours lets you cycle around the city while learning the history of all the sights, and you can see Brighton and Hove with a bird's eye view on a guided aerial tour from a helicopter or plane at Shoreham Airport.
10. Brighton Nightlife
One of the best things to do in Brighton is to enjoy the local nightlife. Brighton has a host of clubs and pubs where you can join in on the beach club culture fun and excitement. Revolution Brighton is an oldie but goodie with inexpensive drinks, classic music, and a crowd that loves to party. Head to Chalk, one of the newer Brighton party spots to experience their incredible sound system. A cool spot with hot music called the Coalition is located in the vintage viaducts overlooking the sea. This club attracts the biggest party headliners in the music industry.
Check out the Arch in the beachfront Victorian arches for the hottest names on the DJ circuit. The list goes on and on offering something for every type of party seeker from karaoke to LBGT-friendly bars and everything in between. 
Extra tip:
If you are in Brighton around late April and early May, you could also do a little trip to see the fantastic bluebells of Nymans Woods in Handcross, which is only a bus ride away."
Best time to visit Brighton:
The best time to visit Brighton is between May and September. Check these plots of average temperatures and rainfall to have an idea about Brighton weather:
Pin Best Things to Do in Brighton for later:
Did you like Best Things to Do in Brighton? Share it with your friends!
Disclosure: Please note that some of the links above may be affiliate links, and at no additional cost to you, we earn a commission if you make a purchase. We recommend only products and companies we personally use and we use this income for further improvement of this website. Thank you!