When you're in Glasgow, you might feel as if you are miles from the best sights Scotland can offer. However, one of the great things about Glasgow is how easily it can prove you wrong.
If you decide to escape the city for the day, you're spoiled for choice about where to go. I've put together a list of my favourite destinations as day trips from Glasgow. No matter which direction you want to go in, there is something on this list for you.
8 Best Day Trips from Glasgow:
1) Stirling
The M80 connects Glasgow with Stirling. The journey takes around 35-40 minutes by car. Alternatively, hop on a train at Glasgow Queen Street and you'll be in Stirling in 29 minutes.
Approaching from this direction means that Stirling Castle is your first glimpse of the city. It sits on a rugged crag, offering a superb spot to defend the area in centuries gone by.
A visit to the castle makes the perfect day out from Glasgow. A castle has been here since the 12th century. However, the oldest parts viewed today are a couple of centuries younger.
Stirling has much more to offer than its iconic castle. I've laid out a few of my favourites below.
The National Wallace Monument
Everyone knows about William Wallace, a Scottish national hero. The monument to his life is just outside the heart of Stirling. Follow the signposts when coming towards the city from the M80.
It is not a simple monument, however. Each level has a room and a story to tell. Discover the Hall of Arms, the Keeper's Lodge, and the Crown at the top of the tower. It is from the Crown that you will see views across the city. Spot Ben Lomond if you can – the natural landmark in the Trossachs.
Church of the Holy Rude
The unforgettable name of the Holy Rude Church might catch your eye. However, it is the history of this stunning building in the Old Town that captures your imagination.
The castle was the only building standing in Stirling when the church was built in 1129. You can wander around the outside, explore inside, and look for bullet marks that speak of ancient battles.
2) North Berwick
Catch a train in Glasgow and arrive in North Berwick on the east coast of Scotland in around 90 minutes. If you travel by car, take the M8 towards Edinburgh. The A720 takes you around the city's southern end. North Berwick beckons in around 90 minutes via this method, too.
North Berwick offers something for everyone. You can wander around the shops and grab lunch in a local café. Nothing beats fish and chips out of the paper with an ice cream to follow (or is that just me?). The seaside town guarantees to blow the cobwebs away.
Two of my favourite places are below. You'll find many more.
West Bay Beach
The beach offers ample parking and numerous facilities. The sandy beach is protected by the curve of the bay. It also means the water tends to be calmer – ideal for paddling and swimming.
Don't miss the harbour at its eastern end. A short distance inland from the harbour is St Andrew's Old Kirk. The ruins of the original church are all that remain following a storm in the 1600s.
Scottish Seabird Centre
Discover more about Scottish seabirds of all kinds at this superb attraction. It offers webcams for a view of Craigleith Cliff, just off the coast. You can learn about puffins, gannets, guillemots, and many more birds here.
You may see different birds depending on migration and the time of year. The Discovery Experience includes a journey through the Flyaway Tunnel. This reveals the story of migration.
North Berwick offers something for everyone. You can wander around the shops and grab lunch in a local café. Nothing beats fish and chips out of the paper with an ice cream to follow (or is that just me?). The wide variety of affordable and mesmerizing cafes, food trucks and local eateries makes North Berwick a popular weekend getaway among the students residing in student housing in Glasgow. The seaside town guarantees to blow the cobwebs away.
3) Kelso
A wee bit farther south from North Berwick, the market town of Kelso beckons. The Scottish Borders town offers a historic centre packed with independent shops.
The quickest road route gets you there in around 1¾ hours. You'd need to change trains to get there that way. It would increase the journey time to around three hours.
If you don't fancy shopping, there are lots of other things to do instead. Such as…
The Kelso Town Trail
A two-mile trail providing the perfect introduction to the town. Download a trail booklet before you go. It explains more about the route and the sights you'll see.
Kelso Farmer's Market
Time your visit to coincide with the fourth Saturday in the month and wander around this popular farmer's market. Local producers sell their wares, and it's impossible to walk away without buying something. Everything looks too good.
You'll see produce from the Scottish Borders region, along with English produce from just over the border in Northumberland.
Floors Castle
An impressive – and inhabited – castle, Floors Castle offers superb cycle trails and routes for walkers. Work up an appetite to discover some of the Scottish dishes in one of two on-site cafés.
The castle was built in 1721. Portions of the gardens date from Victorian times. New additions are there to discover too, including the Millennium formal garden.
For more inspiration, check these things to do in the Scottish Borders.
4) Ayr Beach
Head south-west along the M77 to the A77. You'll be at Ayr Beach in around 50 minutes. Prefer to go by train? They leave Glasgow Central Station around every 30 minutes. The journey to Ayr Station takes just under an hour and a half.
It is noted as one of the best beaches in Scotland. It's won the Seaside Award too. You can go island-spotting as you wander along the long sandy stretches. Arran is usually visible and if the weather is good enough, you might even be able to spot Pladda.
Sightseeing is irresistible once you've arrived. The beach is 3.5km long (just over two miles) so it's great if you want to stick to flat terrain. I've highlighted a couple of other places to explore while you're there too.
Ayr Seafront Playpark
Don't miss this delight if you're visiting with the kids. You can't miss it thanks to its position on the seafront.
Expect two giant slides and lots of play equipment. It's perfect to wear out the kids before or after a few hours on the beach.
Pirate Pete's
Another illustration of how appealing Ayr Beach is for families. It is confirmed as a four-star visitor attraction by the Scottish Tourist Board.
They offer mini-golf, adventure play, and laser activities. They also have a fun park which opens throughout the summer. It closes in October and reopens in March each year.
5) Loch Lomond
This famous loch qualifies as "the largest inland stretch of water in Britain," according to the official website for Loch Lomond and the Trossachs National Park.
There are three routes out of Glasgow by road. The fastest gets you to the park in under an hour via the M8 and A82.
When we are coming from this direction, my partner and I typically stop at Balloch. It's a village at the southern end of Loch Lomond. There's a car park on the left just past the Visit Scotland Balloch Information Centre. Watch for the entrance just before you get to the bridge over the River Leven.
Balloch Castle and Country Park
Great for a wee leg stretcher when you arrive. It covers 200 acres, with plenty of trails and great views of Loch Lomond.
Look for Balloch Castle (although it is a country house, not a castle) and discover the walled garden further into the complex.
Conic Hill
Are you looking for superb views without putting in too much effort to find them? The path up Conic Hill is arguably the best way to get what you are looking for.
It takes around 45 minutes to reach the top. When you turn back to admire the view, you'll see why Conic Hill has become a favourite for many casual walkers. Even the kids should be able to manage this one.
Park in the Conic Hill car park on the north-eastern side of the loch. If you need supplies, the Balmaha Village Shop is opposite. Alternatively, the Oak Tree Inn is available for refreshments before returning to your car.
6) Fort William via Glen Coe
We've seen how close Glasgow is to the southern end of Loch Lomond. The A82 takes you along the western side of the loch and beyond to Crianlarich.
This is the beginning of a scenic drive that lasts around 2½ hours, ending at Fort William. Covering just over 100 miles, you'll be treated to some of the best scenery Scotland can offer.
As the A82 winds its way to the west and north, you'll pass seemingly endless lochs. These include Loch Ba, a loch broken into sections spread over either side of the road. Your journey continues via a road crossing.
A wee bit further along, you'll pass Glencoe Mountain Resort. We took this route a couple of years back. It started to snow as we left Balloch. By the time we approached the resort, heavy snow had been settling. The roads were clear, although care still needed to be taken.
As you approach Glencoe Village, you'll pass the Aonach Eagach Ridge on your right. There are multiple safe places to pull off the road for photo opportunities. Be alert for traffic, especially if you're crossing the road and back.
The road then crosses from South Ballachulish to North Ballachulish via the Ballachulish Bridge. Loch Leven is to your right, while Loch Linnhe is the great expanse of water to your left.
A final drive along Achintore Road (still the A82) brings you to Fort William. Reserve some time to explore while you're there. The 13th-century ruins of Old Inverlochy Castle are worth a look.
7) Aviemore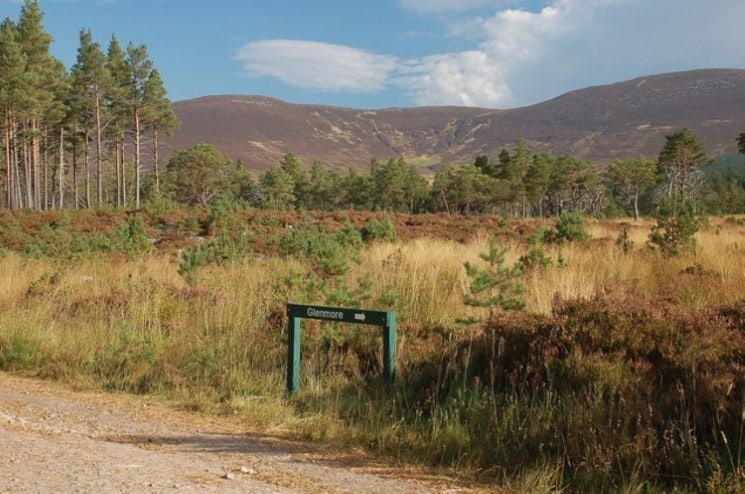 Hop in the car in Glasgow; you can be in Aviemore in just under three hours. It takes a little less by train. Aviemore train station is right in the centre of the town. It's also in the heart of the Scottish Highlands.
Aviemore is a haven for skiers. It takes just under 30 minutes to reach Cairngorm Mountain ski area by car from the centre of town. You will see signposts from the north and south.
The Mountain Shop stocks a great range of gear for snow sports and hiking if you need supplies. They also sell prints inspired by the local landscape – ideal to buy as a souvenir.
Aviemore isn't just for skiers, though. There is plenty for everyone to enjoy here. I've highlighted a few options below.
Strathspey Steam Railway
The entrance to the railway is tucked away down Dalfaber Road. It runs parallel to the main Grampian Road (the 'high street' through Aviemore). Park here and head to the station to board the famous steam train.
It is a hugely popular attraction that celebrated its 40th anniversary in 2018. Prebook your tickets and consider a light lunch or afternoon tea on board. My better half and I had Sunday lunch on board a few years back.
Glenmore Forest Park
There are six forest parks in Scotland. Glenmore Forest Park is just 20 minutes' drive from Aviemore. Head up the mountain road to find it. If you visit Aviemore by train, you can hop on a bus instead.
One of the best walks is the circular route around Loch Morlich. Covering 3.5 miles, it never becomes too steep or challenging. Follow the red waymarkers from Beach Car Park.
A more challenging route is the Ryvoan Trail from the visitor centre car park. Follow the blue waymarkers to discover An Lochan Uaine (The Green Lochan). It's an opportunity to take some stunning photos before you begin a more challenging path to complete the circuit.
8) St Andrews
My final recommendation takes you some 73 miles north-east of Glasgow to St Andrews. Arrive by car in around 1 hour 40 minutes. Alternatively, take a train to Dundee and switch to a bus to complete the journey in about 2¼ hours.
The town is perhaps most famous for its golf course. The Old Course has played host to the Open Championship many times. This first occurred in 1873 and most recently in 2015.
There is plenty more to see in St Andrews if you're not a fan of golf. My favourites are both ruined… but that's the charm.
St Andrew's Castle
The rugged castle ruins stand on a rocky section of the shoreline facing the North Sea. The castle has witnessed centuries of events. Its bottle dungeon is one of its most unnerving sights. The only way to escape it is up… but thankfully today it has a grate over the top of it.
St Andrew's Cathedral
The ruined cathedral is a five-minute walk from the castle. It was built in 1158 and ruined during the Scottish Reformation.
While the cathedral is no longer complete, enough remains to give us an idea of what it would have looked like. Portions of the medieval structure's walls remain. Many burial spots can be visited within the original cathedral ruins and in the cemetery nearby.
My final recommendation takes you some 73 miles northeast of Glasgow to a small town, St Andrews. Surrounded by various student accommodations in St Andrews, it is easily accessible to students, tourists and even locals. Arrive by car in around 1 hour 40 minutes. Alternatively, take a train to Dundee and switch to a bus to complete the journey in about 2¼ hours.
Read also: 9 Best Day Trips from Liverpool
Day Trips from Glasgow – Make the day count
Wherever you live in Glasgow, you can be in a different world in just an hour or two. From a scenic drive to seeing some of Scotland's finest landmarks, there are many treats in store. Where are you going to start? Check also these tips for motorhoming in Scotland.
Author Bio
Graham Grieve is a Scottish blogger who's passion is discovering new places in Scotland. Travelling from his home town of Glasgow, Graham spends his weekends travelling up and down Scotland on camping holidays, hiking tips and weekend getaways. Keep in touch with him at his blog, or on Facebook or Instagram.
Did you like Best Day Trips from Glasgow? Share it with your friends!
Disclosure: Please note that some of the links above may be affiliate links, and at no additional cost to you, we earn a commission if you make a purchase. We recommend only products and companies we personally use and we use this income for further improvement of this website. Thank you!