We have prepared this guide for all adventurers who would like to spend a couple of days and nights hiking and wild camping in the Czech Republic. Tramping and backcountry hiking is very popular among Czechs, so let's have a look at some practical tips and information.
Is wild camping legal in the Czech Republic?
Wild camping in a tent is officially not legal in the Czech Republic. However, overnight stay in the backcountry with little to no shelter (bivouacking) is allowed. It is important to always follow the no fire and leave no trace rules. It is also not allowed to stay more than one night at the same place.
Czech laws divide wild camping into two categories – camping and bivouacking. It's crucial to understand the difference between these two. You will find everything in this article, including a few helpful insider tips.
Wild camping in the Czech Republic – what is legal?
Wild camping is often misunderstood because the boundary between camping (illegal) and bivouacking (legal) is kind of blurred. Let's have a look at the differences:
A) Bivouacking
To bivouac simply means to sleep under the stars or have only minimalist equipment to build a shelter. In other words, a bivouac is a minimalist and temporary camping place where people choose to stay overnight while tramping, hiking, or cycling in the backcountry. The important fact is that you only stay for a maximum of 1 night at the same place. A bivouac should be set up at sunset and lifted early in the morning. In general, when you are bivouacking you don't usually know where you will spend the next night.
A good example of bivouacking equipment (besides a sleeping bag) is a hammock or sleeping pad and a tarp (to protect yourself against rain). In case you are staying in a tent, it can be already seen like camping (according to the Czech Laws).
The most important rules of bivouacking:
Leave no trace (never leave any garbage anywhere and dig your poop under the ground).
No campfires (It's OK to prepare a meal or tea using your gas cooker).
Be quiet – respect the wildlife.
Avoid private properties without asking the owner for permission.
Avoid banned areas (read below).
B) Camping
Camping is defined by Czech laws as sleeping in a tent. This is officially illegal outside of official campsites.
Unlike bivouacking, camping is usually done by people who stay longer at one place. A typical example is when a group of friends goes to the lakeside to make a BBQ and camp there overnight. They usually have a car, and more camping equipment like seats, sun umbrellas, bbq grill, tents, etc. That is an example of camping which is not allowed in the Czech Republic.
Luckily there are many official campsites where you can enjoy camping with friends and family. The most popular camping sites can be found by riversides or lakesides.
Insider's tip: Even though, sleeping in a tent is technically illegal, in case you want to follow the philosophy of bivouacking (see the most important rules of bivouacking above) and your only problem is that you want to sleep in a small tent, it shouldn't be such a big deal as long as you set up your tent after the sunset and leave the place with the sunrise. It's also a good idea to find some more hidden place rather than sleeping close to a road or walking trail.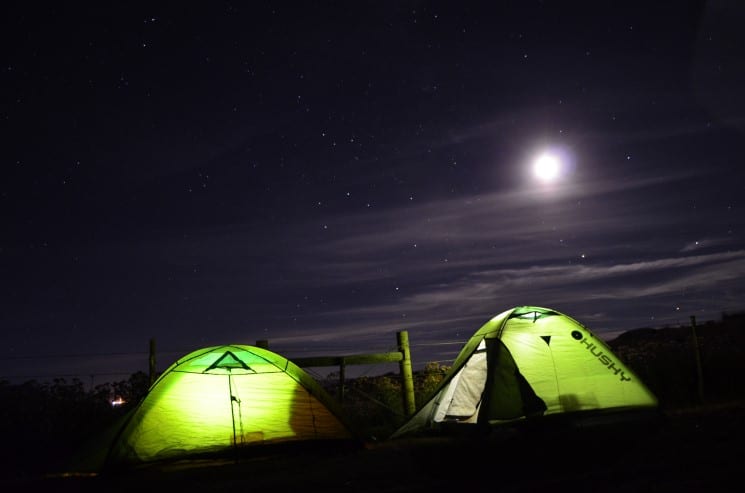 Where you can and can't stay overnight
Although bivouacking is allowed in the Czech Republic, there are several places where you can't stay overnight on any occasion. On the other hand, there are places, where you can legally sleep in a tent.
NO – the first zones of National Parks
First zones of national parks have quite strict rules – you can't go off the marked trails, which means that any form of an overnight stay is not allowed. Therefore, if you are hiking in one of the Czech National Parks (Krkonoše, Šumava, Podyjí), watch for signs with "První zóna národního parku" (first zone of national park) and don't sleep in the area bordered by these signs.
NO – Czech Switzerland National Park
Czech Switzerland National Park is the only national park in the Czech Republic with a special law that bans bivouacking in all its area. So be sure to always stay in campsites, otherwise, you can get fined.
YES – Marked places where you are allowed to stay even in a tent
Some Czech national parks are more tramp-friendly. For example in Šumava National Park, there are places dedicated to overnight stays. You can easily find them in a great tourist map app Mapy.cz named "Nouzová nocoviště" (Mapy.cz are the best and the only map app you will need while tramping in the Czech Republic, it's truly detailed. Just be sure to choose the outdoor map overlay).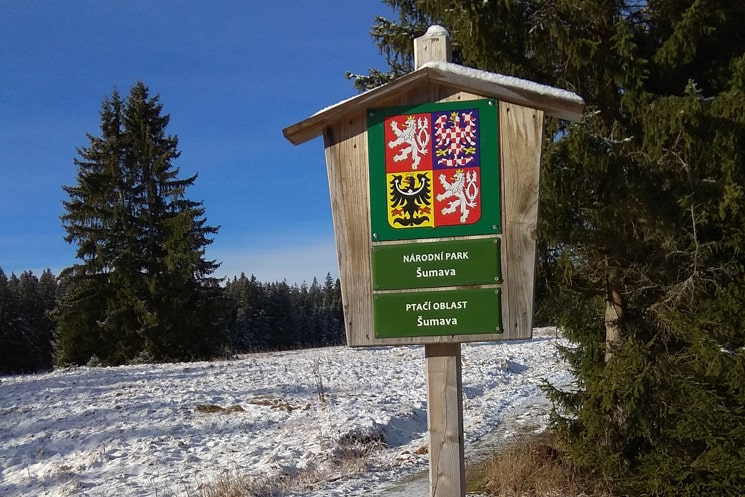 How to find a good spot for an overnight stay?
Soon, you will notice that the Czech Republic has a lot of forests. A forest is a great place for bivouacking because it's usually warmer there than on meadows during the nights. Another great fact is that you are allowed to enter all types of forests (both state and private) – there are no fences anywhere.
If you are looking for a good place to stay overnight, it's good to go off the marked trail to some random small forest road – that way, you won't be disturbed by anyone else. In case you are in mountains, pay attention to the contour lines because you want to find yourself some nice flat spot. You can also look on a map if there are some rock overhangs or caves nearby that can provide great shelter in bad weather.
In case you want to plan your trip a little bit in advance, you can have a look at this map of the shelters. Those shelters are usually partly open, but in general, they provide enough space to protect you from the rain.
The best areas for backcountry adventures in the Czech Republic:
Here is the list of the best areas for tramping and hiking in Czech countryside:
Šumava National Park
Krkonoše National Park
Novohradské hory
Třeboňsko
Krušné hory
Brdy
Jizerské hory
Lužické hory
Orlické hory
Jeseníky
Vysočina
Moravský kras
Beskydy
Bílé Karpaty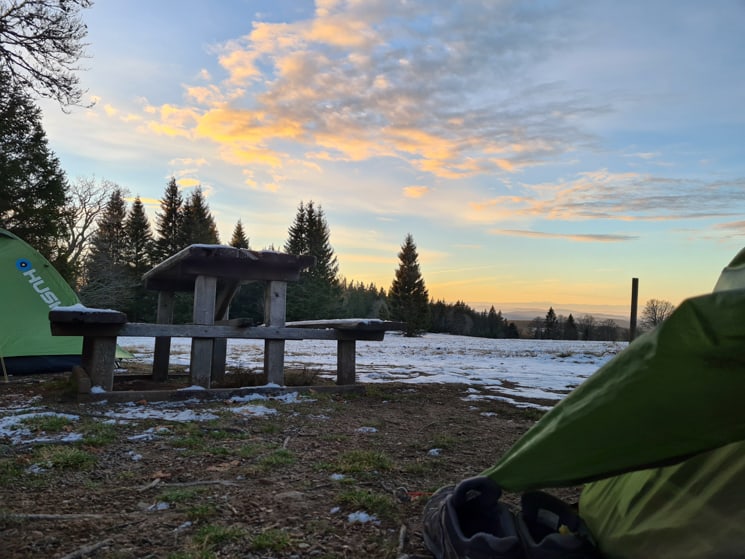 Is sleeping overnight in the car legal in the Czech Republic?
There is no legal regulation for an overnight stay in your car in the Czech Republic. So as long as you respect general traffic rules and avoid private properties, sleeping in a car is legal. There is one handy app called Park4Night, which helps you with finding good places for overnight parking.
What is an ideal season for backcountry adventures in the Czech Republic?
In general, summer (June – August) is the best time for all outdoor activities. Summer temperatures are pleasant, ranging from 20°C to 25 °C, although it's pretty common to have colder or even warmer days. Summer night temperatures are lower (10 – 15°C).
If you don't mind a little bit cooler weather, spring and autumn are also nice seasons to head off to backcountry. Spring can offer beautiful blooming trees and meadows, while autumn will enchant you with its beautiful colored leaves.
The Bottom Line
In conclusion, it's important to say that no matter if you are camping, bivouacking, or staying in the car, always respect nature and leave the place as you found it (or in better condition). There is a nice saying: Take nothing but pictures, leave nothing but footprints! Please follow this rule.
Read also:
Did this article help you? Pin it for later and to your friends: