Coastline bursting with gorgeous islands, and hidden treasures further inland, Croatia is an absolutely stunning country to visit. It has served the last decade as a popular tourist destination for Europeans, but its magnificent scenery couldn't stay secret for long. With shows like Game of Thrones using Croatia as a set, the incredible vistas have now became well known worldwide. We have prepared for you a list of 12 best places to go in Croatia.
Culturally, Croatia has much to offer, just because of its location. From the western pull of Catholicism and Orthodox Christianity, Croatia has a vibrant religious past. The Balkans influenced the Croatian culture as well, gifting the Croatians with culinary delights like grilled food and warm hospitality towards visitors.
Here are 12 best places to go in Croatia:
1. Dubrovnik
Probably the most famous attraction in the country, the whole city of Dubrovnik is a UNESCO World Heritage Site. It's an ancient walled city which has survived many bombardments, most recently in the 1991-95 war. Within the city, you can find gorgeous squares, beautiful churches, and a buzzing atmosphere. The city is perfectly perched on the gleaming Adriatic Sea.
Without a doubt, Croatia's biggest city is also its biggest tourist destination and definitely one of the best places to go in Croatia, but it's easy to see why. The picturesque orange roofs and the white buildings right on the water's edge give this town a truly Mediterranean feel. Yet, many will say that the local museums and culinary experiences aren't nearly as established as many other European cities, even including others in Croatia. Spring and summer are when Dubrovnik truly shines, although avoid the later summer months if you wish to avoid day-trippers from local cruise lines. If you need more inspiration, check these unique things to do in Dubrovnik.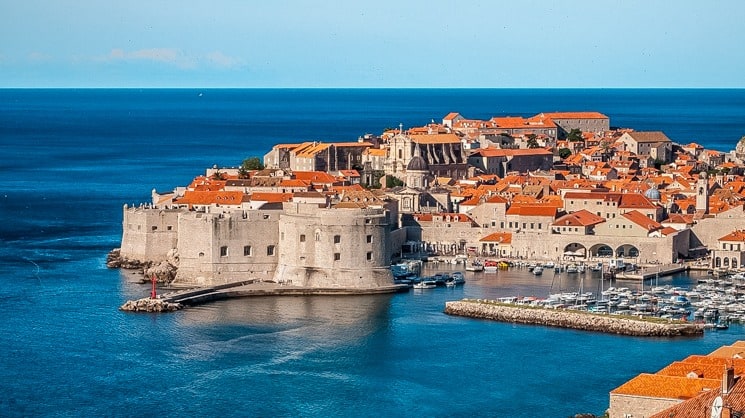 2. Hvar
Hvar is Croatia's most famous island, and some have gone so far as to name it the most beautiful island in the world. Historic Hvar Town was originally a haven for pirates. When the Venetians drove out the Croatian invaders in 1290, Hvar Town became the capital of this small island. The long history of Hvar is intertwined with wine, making it one of the most famous wine areas in Croatia, producing both red and white varieties. Most wines are from local vineyards, from the Plavac Hvar.
Hvar is also a big night-life spot on the Adriatic coast, with many bars open late in the main harbor area. Seafood is a common item on the menu, with the most popular meal being gregada, a fish stew cooked in white wine.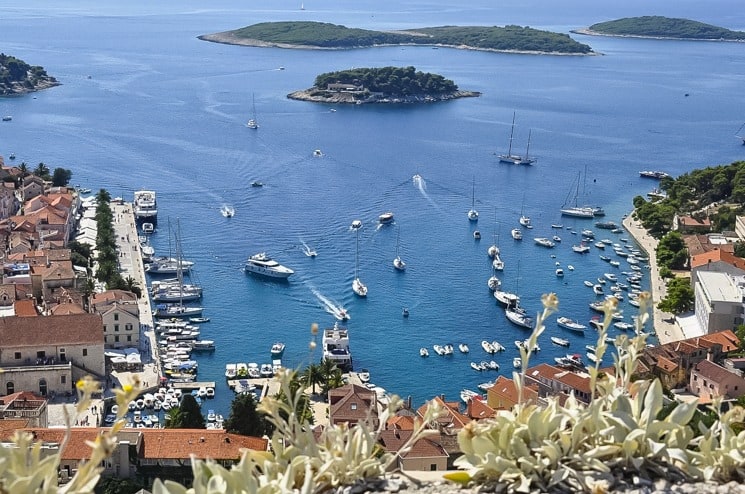 3. Plitvice Lakes National Park
You have to see Plitvice to believe it. Definitely include it in your Croatia Itinerary. A series of pristine emerald lakes connected together by dramatic waterfalls make it an absolute wonder. The whole national park is a colorful treat, covered in mossy land and endless water. There is a wooden boardwalk to help you walk through it all as you wonder at the breathtaking nature here. From frogs that serenade you, to fish swimming beneath clear water, Plitvice is a national treasure. If you need more information, check this guide to Plitvice Lakes National Park.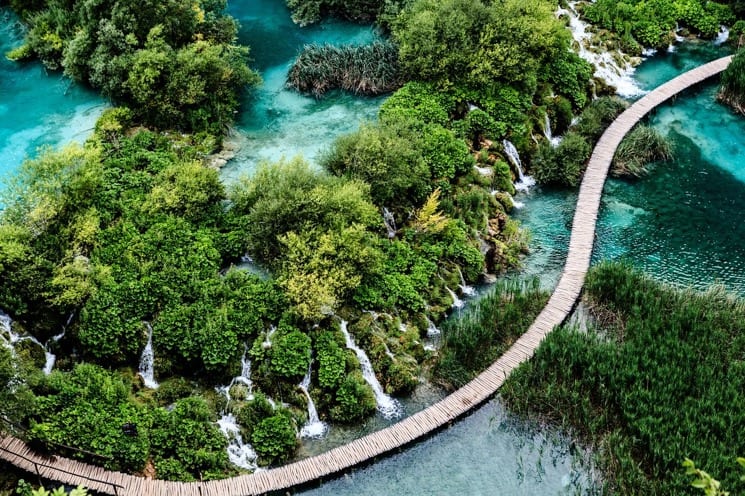 4. Mljet
Another of Croatia's stunning islands, Mljet's entire western side is designated as a national park and covered in a lush pine forest. It also has serene lakes in the brightest blue, an island monastery and the picturesque port town of Pomena. There are also some great beaches on the east side of the island. Wine, olives, and goat cheese are all easily sourced from Mljet, along with seafood sourced from the clear Mediterranean waters.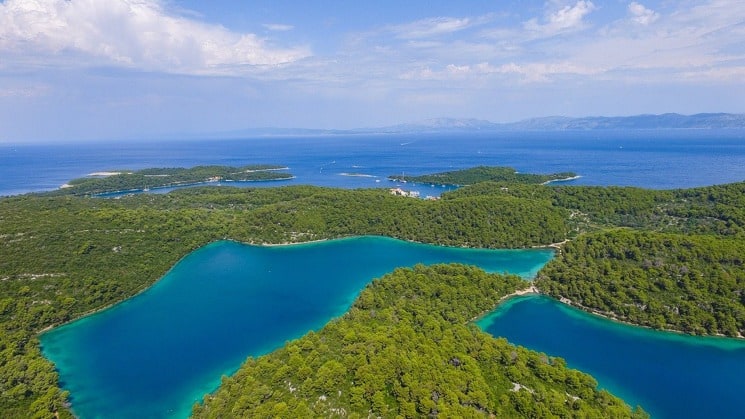 5. Zagreb
Croatia's most famous assets are islands, but Zagreb is a great reason to stray from the coastline. The city has a wonderful coffee culture, especially on Tkalčićeva street, which is a long pedestrian street full of excellent bars. Food in Zagreb ranges from experiment and fusion to simple and tasty grilled fish, along with bakeries and plenty of cafes. You can also find a lot of historical attractions in Croatia's buzzing capital. There is a gritty, urban modern feel to this city, probably thanks to the many concerts and art festivals that frequent each year.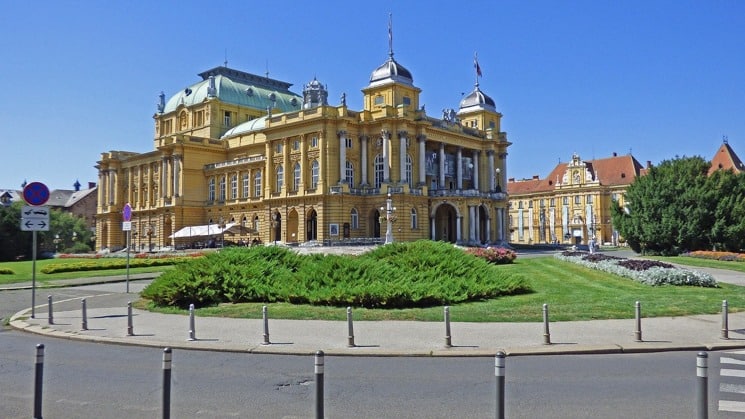 6. Split
The ancient Roman ruins of Diocletian's palace makes up part of the city of Split, and uniquely, people still make full use of the ruins. They live and work within it, as it forms part of the functioning city itself. You can find plenty of restaurants and shops within its walls, and indeed it's the liveliest part of this city. There are a variety of festivals that are scheduled here during the summer months, and several beaches located within easy distance from the city make this is a wonderful holiday escape and one of the best places to go in Croatia
7. Zadar
Another city with plenty of Roman ruins, Zadar sits on a mainland peninsula at the halfway point of the country. Like many other cities in Croatia, the food and wine are excellent, but Zadar is most famous for its incredibly unique sea organ: a set of steps descending into the sea that play certain melodies according to the tides. For some reason, this beautiful city isn't as popular with tourists but there are many beautiful things to do in Zadar. Additionally, it is cheaper to visit than the larger Croatian cities and the ruins are pristine. If you need some inspiration for planning, read this Zadar itinerary.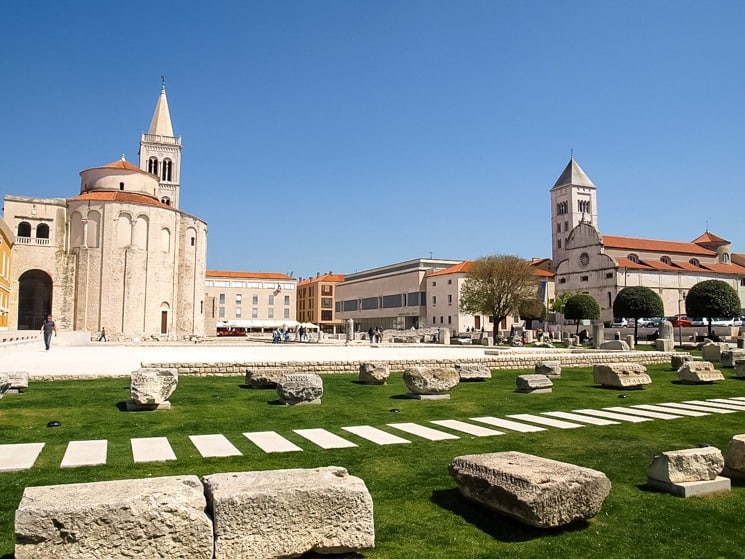 8. Istria
The Istria region is quite close to Italy and the lifestyle feels delightfully Italian in many ways. Istria produces some of the best olive oil in the world, as well as top-class wines. Local dishes are extremely delicious, and there is an abundance of fresh fish and seafood. Istria is also one of the few places in the world where you can find tasty white truffles. Rocky beaches line the coast, but most who visit here come not for the beaches, but for the food and the atmosphere. Lonely Planet called it a "gastronomic paradise", noting that it is similar to Tuscany.
9. Vis Island
Vis is Croatia's most remote island, so if you want a paradise where you can get away from it all, then Vis is your place. It has a lot of perfect little hidden coves and breathtaking beaches. In fact, one of the beaches, Stiniva, has been voted the most beautiful in Europe. Vis was the set for Mamma Mia 2, and the Croatian-meets-Greek architecture is unique and stunning.
Reasonably priced seafood, a lack of expensive boutiques, and delicious pizza make Vis a cheaper option than Italy for tasty food and clean water for swimming. There are still abandoned army bases, reminding you that Vis wasn't opened for tourism when the rest of Croatia was in the 1960s, but as a tourist, this works in your favor. The quiet beaches and cheaper food make it a lovely place to holiday.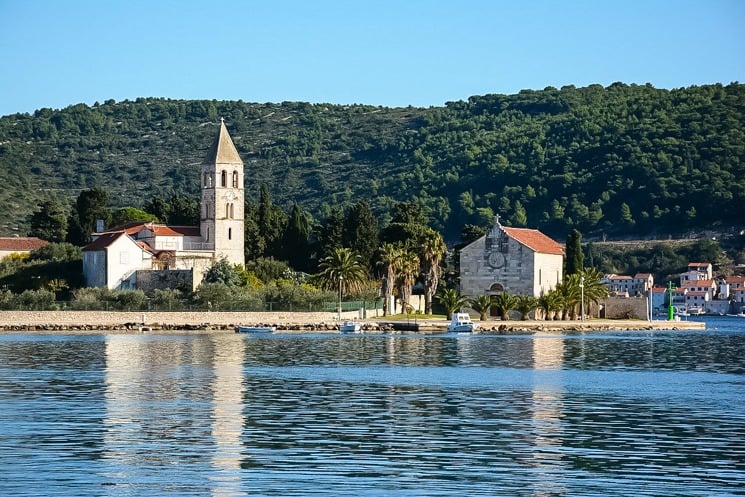 10. Brač
Unlike nearby island Hvar, Brač doesn't have a fancy reputation, which is great if you want an authentic Croatian island experience without all the glamorous yachts and billionaires. On the southern coast is Bol, home to the famous Zlatni Rat beach with its distinctive horn shape; a famous image of Croatia which you may have seen before. Brač has a rich history down to the very white stone, used for building by the Greeks, but it remains a down-to-earth location with delicious food and beautiful scenery.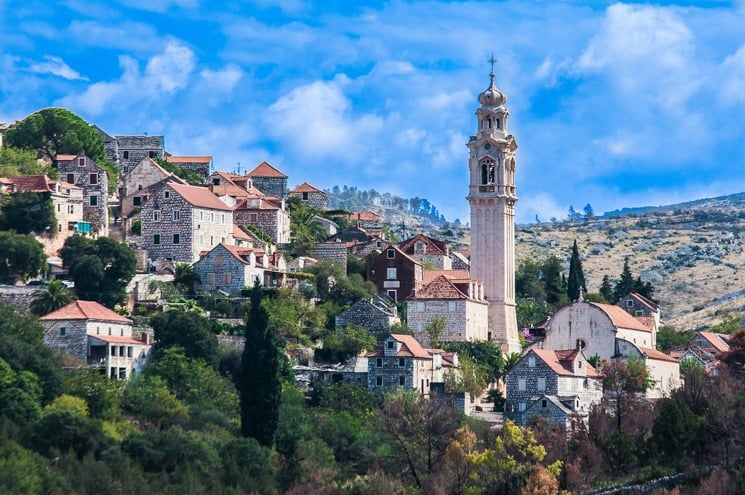 11. Korčula
Situated on the island of the same name, Korčula feels a lot like Dubrovnik but without the endless crowds of tourists, thanks to the picturesque stone houses with orange roofs. The town is soaked in history and is blessed with intriguing little side streets that make for an excellent ramble. The centerpiece is the impressive St. Mark's Cathedral that boasts the restored Annunciation by Tintoretto within. You can find excellent local taverns for a delicious meal in many places across this whole island.
12. Krka National Park
Situated slightly away from the alluring coastline, Krka National Park is definitely one of the best places to go in Croatia. The Krka river is fast-flowing and manifests itself into some breathtaking waterfalls, with each one being different and unique. The contrasts between the rushing water and the lush green surroundings mustn't be missed.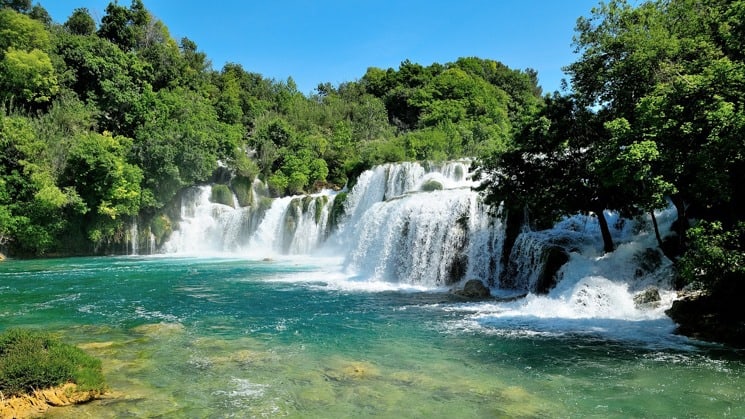 Croatia is one of Europe's most beautiful countries, and surely no other European country has a more stunning coastline just begging to be explored, with great history, culture, and food to boot. Avoid the tourist magnets of Europe, and instead, check out Travel Department to find your perfect Croatia tour today! If you would like to spend a longer time there, check this article about cost of living in Croatia.
Read also:
More tips for your travels:
We have prepared for you this comprehensive list of links, discounts, and resources for travel planning in one place. Bookmark this page and whenever you plan a vacation in the future, just open it and save yourself a lot of time.
1) Where to book accommodation?
2) How to find cheap flights?
3) How to rent a car?
We recommend a comparison portal RentalCars.com to compare the best offers of all available rental companies.
Pin these best places to go in Croatia for later or for your friends: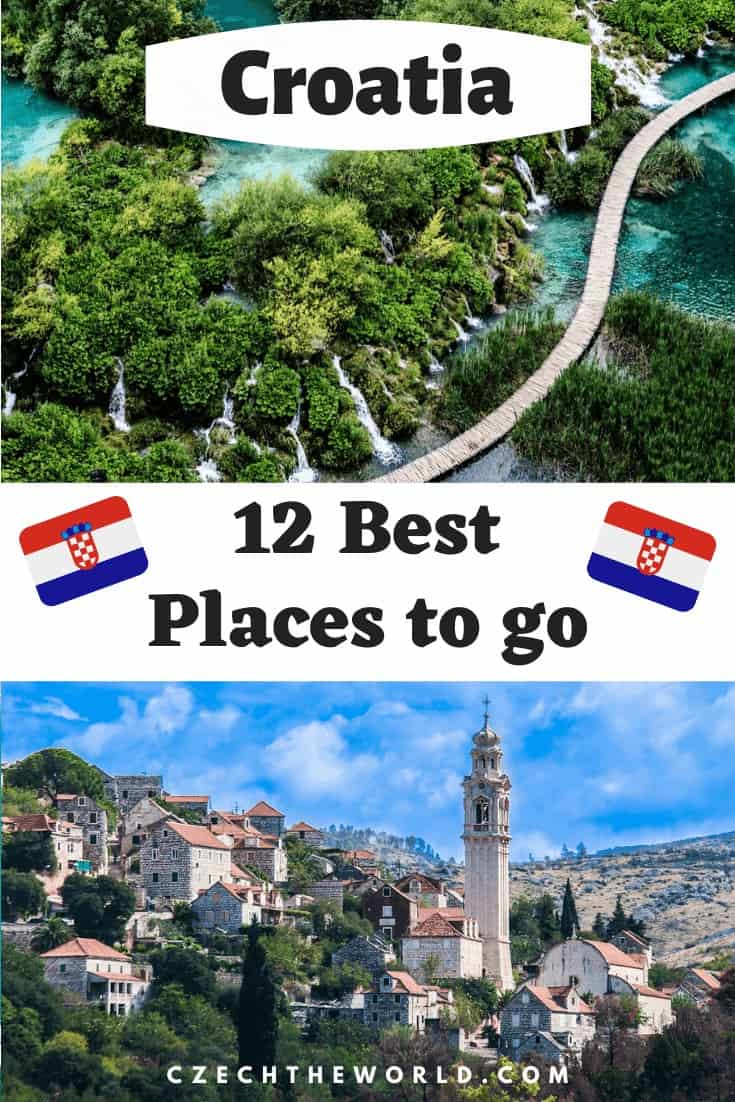 Did this post about the best places to go in Croatia help you? Share it with your friends! It can help them too!

Disclosure: Please note that some of the links above may be affiliate links, and at no additional cost to you, we earn a commission if you make a purchase. We recommend only products and companies we personally use and we use this income for further improvement of this website. Thank you!