Visiting Dubai and have got only four days? The good news is that 96 hours in Dubai gives you the ideal amount of time to take in all of its greatest architectural landmarks and must-experiences. Whether you're traveling to Dubai for the first time or even revisiting, there is always something exciting or brand-new to explore in the city. After all, Dubai is intense and ever dynamic. So if you're looking for an inspiration or a source to pre-plan your perfect travel program, this 4-day Dubai itinerary will get you started.
But, just before we get into details, have a quick look at this useful information plus time-saving tips which makes your Dubai vacation much easier.
Best Time To Visit Dubai
It's no doubt that the best time to visit Dubai is in winter months from November to March. But, know that this is the peak season and the prices for almost everything from accommodation to airline tickets will be high during this period. It's, therefore, vital to pre-craft your Dubai vacation months before to grab the best deals. On the other hand, traveling to Dubai during off-season or summer months (May to August) has its benefits too. With a staggering collection of indoor air-conditioned entertainment and leisure attractions, you'll never feel bored and the bonus is that the accommodation and airline rates are exceptionally cheaper during these months.
Important Things To Know About Dubai
From the world's tallest man-made structure and the only seven-star hotel to the busiest airport and the one-of-its-kind man-made island, Dubai is the destination of record-breaking landmarks.
Dubai is the second-largest city in the UAE.
Dubai's cultures and traditions are deeply rooted in Islamic beliefs. So choose modest, non-revealing clothing and don't eat in public during Ramadan as respect to its local traditions.
Moreover, avoid any kind of PDAs in the public.
Take prior permission before taking pictures of government structures and locals (especially Emirati women).
While alcohol consumption is not illegal in Dubai, make sure that you don't drink it in public; it may cause you to pay a hefty fine. The same applies to smoking as well.
Know your Dubai visa requirements; while the nationals of certain countries are eligible for a visa-free or visa-on-arrival, visitors from other destinations should mandatorily obtain a Dubai visa in advance.
Top Dubai Vacation Tips
Plan, plan, plan! But, don't just plainly plan; make sure you do it months in advance. By this way, you'll find everything falling within your budget or just the way you want it.
Buy a NOL card to get around in the city. This smart card can be used to pay for Dubai's diverse public mode of transport (operated by RTA or Road and Transport Authority).
Metro with both red and green lines are the most ideal way to get from one point to another within the city. It's clean, fast and a must-experience too, being driverless and completely automated.
But, if you want to skip all hassles as part of getting around in the city, you can book an all-inclusive sightseeing tour or hire a half-day or full-day vehicle with driver.
Pack appropriate clothing for your Dubai trip. Dress in layers (particularly in the evenings and nights) if you're coming here in winter. Comfortable, cotton dresses are recommended for your summer Dubai visit. That said, carry a shawl as it's colder within the malls and other indoor attractions.
With intense sunlight throughout, don't miss to bring essentials like sunscreens, hats, sunglasses etc.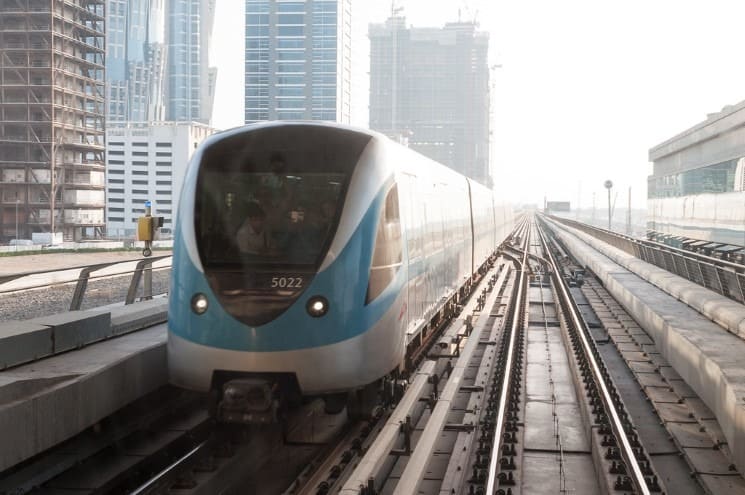 So let's now get started with our 4-Day Dubai Itinerary!
Dubai Itinerary – Day 1
Highlights of Day 1: Bastakiya Quarter, Abra Ride, Souks, Dubai Frame, Burj Khalifa, Dubai Mall and Dubai Fountain Show
Yes, you'll see the majority of the Dubai's major classic and classy attractions today.
Morning: After breakfast, head out to the city's historic neighborhood at Al Fahidi or Bastakiya Quarter. This beautifully preserved heritage site gives you a glance of how Dubai used to be back in the early 19th century. For a more comprehensive overview of Dubai's modest past, you can pay a visit to one of its museums, mainly Dubai Museum which is housed inside Al Fahidi Fort, the region's oldest fort.
Mid-Morning: Dubai Creek is one of the city's significant historic landmarks. It divides the city into two parts: Bur Dubai and Deira. So, now as you're in Bur Dubai area, come take an abra ride to reach its other side. Priced at just AED 1, it's one of the most amazing yet cheapest ways to experience the exuberant vibe of the bustling Dubai Creek. But as you reach here, you'll realize that it's hard to speed-read this part. Blame its packed traditional bazaars, particularly Gold Souk with hundreds of shops selling gold ornaments. As haggling is encouraged in these souks, this allows you to grab some unique souvenirs and prized gift items at unbelievable rates. You could easily spend a day here, but as you have to cover a lot in a day, limit your sightseeing in this part to two to three hours.
Afternoon: When it's time for lunch, choose to grab local delights like shawarma on the go or treat yourself with a refined menu at a lavish dining venue. There are plenty of dining spots ideal for all pocket and taste buds. Post lunch, board a metro or hire a taxi to make your way to Dubai Frame within Zabeel Park. You'll need two hours or so to admire this picture-frame-like structure. Apart from its past and future galleries, the star highlight is its sky deck with a glass bridge. You can expect to see both old and modern Dubai from here.
Evening: Most delightful experiences await you as you arrive at Downtown Dubai; it's a complete contrast to Dubai's classic sights across Bastakiya and Dubai Creek. Start your Downtown Dubai exploration with a tour of the world's tallest structure at Burj Khalifa; snap great pictures and then ascend to its observation deck on 124th or 148th level for a sightseeing experience like no other. You can further explore Dubai Mall which is the world's biggest mall and also home to the Dubai's best leisure attractions such as Dubai Aquarium Underwater Zoo, KidZania, Ice Rink etc. Culminate your day one sightseeing by watching the Dubai Fountain Show – a spectacularly choreographed music and water extravaganza.
Dubai Itinerary – Day 2
Highlights of Day 2: Water Activities, Palm Jumeirah and Dinner Cruise at Dubai Marina
Going to Dubai and not seeing its man-made, palm-shaped island will be a great loss. So, the second day is all about exploring attractions in and around Palm Jumeirah.
Morning: If you're an outdoor or a water sport enthusiast, Dubai offers superb opportunities. Sign up for a water sport package (inclusive of Flyboarding, banana boat ride, jet skiing etc); beyond fun and adventure, this is one of the ultimate ways to appreciate the Dubai's exquisite coastline.
Alternatively, you can also head out to Atlantis Aquaventure to experience the exhilarating ever water rides and slides. Located inside Atlantis, The Palm Resort, Atlantis Aquaventure also gives you the chance to be in awe at the remnants of the Lost City of Atlantis, thanks to its segments such as Lost Chamber Aquarium with over 65,000 marine creatures on display. Moreover, there is Dolphin Bay where the playful antics by adorable dolphins are sure to take your breath away.
Afternoon: After working up all energy, make your lunch as lavish as possible by dining at one of the restaurants within Atlantis, The Palm, or move out to try relatively inexpensive treats that are available at the food trucks along the Boardwalk or the waterfront promenade. It further gives you the opportunity to appreciate the spellbinding views over the Persian Gulf and surroundings. Following this, set out to take in Palm Jumeirah and its dazzling sights on a monorail ride, covering the routes from Atlantis, The Palm to the Gateway Station.
Evening: Extend your sightseeing to the sail-shaped Burj Al Arab; for those who wish to experience its regal interiors can book an afternoon tea session within one of its restaurants. Continue to Madinat Jumeirah and then to Jumeirah Beach, the region's most popular public beach.
Finally, you'll visit Dubai Marina which is yet another dazzling neighborhood of the city. One of the most recommended ways to see its avant-garde architecture and attractions is to take a two-hour dinner cruise along Dubai Marina in a traditional wooden dhow. Immerse yourself in the stunning city skyline as you savor great food and amazing entertainment like Tanura show onboard.
Dubai Itinerary – Day 3
Highlights of Day 3: Abu Dhabi Sightseeing
Lying about a two-hour drive away from Dubai, Abu Dhabi is the UAE's largest as well as the capital city and worth a great day trip for its mix of charming cultural points of interest and superb leisure attractions. So why not reserve the third day to admire the Abu Dhabi's amazing attractions. While you can take a bus ride to Abu Dhabi, our suggestion is to take a full-day Abu Dhabi city tour inclusive of entry tickets to one of its top / newest attractions such as Ferrari World Abu Dhabi, Warner Bros Abu Dhabi, or Louvre Abu Dhabi Museum.
Morning: Starting with a pick up from your Dubai hotel or accommodation, it takes almost half a day to cover the first part of your Abu Dhabi sightseeing. You'll visit one of the UAE's greatest cultural landmarks at Sheik Zayed Mosque; this place of worship is an unmatched spectacle in white, incorporating Mughal, Moorish, and authentic Islamic architectural elements. This is followed by a trip to Heritage Village which is modeled after an Emirati oasis village in order to give you an insight into the region's authentic culture and heritage. There are also photo ops at the region's top attractions such as Emirates Palace Hotel.
Afternoon: Subject to your chosen entry pass, you'll proceed to Yas Island or Saadiyat Island for the next part of your Abu Dhabi trip. You'll visit Yas Island if you've added attractions like Ferrari World Abu Dhabi, Warner Bros Abu Dhabi, or Yas Waterworld to your city tour. Alternatively, a ride to Saadiyat Island leads you to Louvre Abu Dhabi Museum; it is not only unique in terms of its celebrated, classic displays, but also for its awe-inspiring architecture style that is instrumental for its cool, rain of light effect.
Evening: Just before you head back to Dubai, spend some time at Corniche area which stretches for about eight kilometers along the city's northwestern shoreline. This seaside promenade makes an incredible hangout place for families and kids, with its spotless ambiance complemented by pedestrian pathways, dedicated cycling tracks, kid-exclusive play areas, cafes, and restaurants. That's not all; it has also some of the city's most astounding attractions in the vicinity, including Qasr Al Watan, Emirates Palace, and Observation Deck at 360.
For more inspiration, read these things to do in Abu Dhabi.
Dubai Itinerary – Day 4
Highlights of Day 4: Ski Dubai and Desert Safari
Add some really cool, relaxed and thrilling experience on today's travel agenda.
Morning: Have breakfast and then head straight to Ski Dubai within Mall of the Emirates. This is a must-experience especially during your summer trip to Dubai. Rightly so, it lets you enjoy a variety of snow or winter activities like skiing, snowboarding etc, interestingly even when the outside temperature is over 50 degree Celsius.
Afternoon: From afternoon to till it's time for desert safari pick up, just wind down or keep these hours to yourself. Relax in your room, go shopping, or get a pampering spa treatment, among others.
Evening: With a desert safari, end your Dubai trip enjoying a blend of traditional, thrilling, and tranquil experiences. Set out on a heart-pounding 4X4 dune bash ride, witness spellbinding sunset views, and follow it up with an array of Bedouin-inspired cultural activities like henna tattooing, Shisha smoking, falconry, and camel ride. You'll also get to relish BBQ dinner with traditional performances such as Tanura show and belly dance before you culminate your once-in-the-lifetime desert safari.
For more inspiration, read these unique things to do in Dubai.
Dubai Itinerary – Conclusion
We've crafted this 4-Day Dubai itinerary in such a way that you can use it, no matter you're traveling to the city during summer or winter months. So don't delay anymore to take your much-awaited Dubai trip; it's one of the ultimate destinations for an unforgettable holiday in the Middle East.
Read more:
Top 10 Things to do in Dubai – Video:
Check also this video with Top 10 things to do in Dubai:
More tips for your travels:
We have prepared for you this comprehensive list of links, discounts, and resources for travel planning in one place. Bookmark this page and whenever you plan a vacation in the future, just open it and save yourself a lot of time.
1) Where to book accommodation?
2) How to find cheap flights?
3) How to rent a car?
We recommend a comparison portal RentalCars.com to compare the best offers of all available rental companies.
Pin Dubai itinerary for later or for your friends: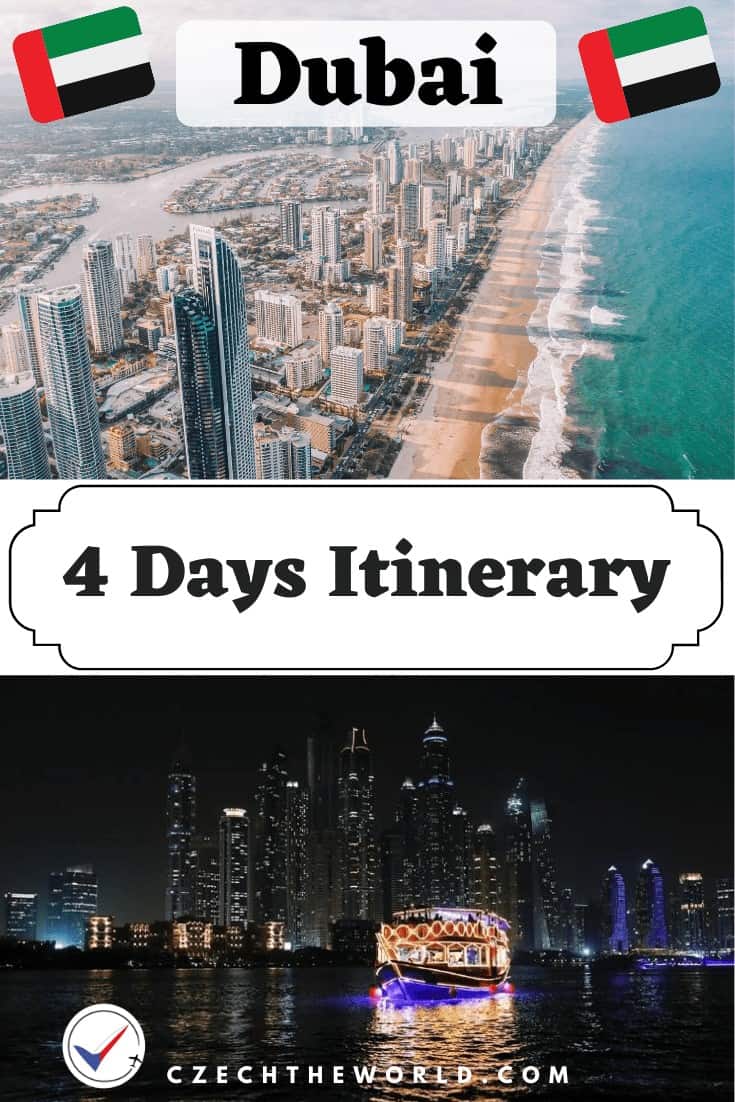 Did this 4-day Dubai itinerary help you? Share it with your friends! It can help them too!
Disclosure: Please note that some of the links above may be affiliate links, and at no additional cost to you, we earn a commission if you make a purchase. We recommend only products and companies we personally use and we use this income for further improvement of this website. Thank you!