Dubai is an amazing place that is inundated with visitors throughout the year. There are breathtaking landmarks and architecture that can be explored during the day. But after sunset, Dubai transforms into a magical land with glittering lights that beckons its visitors. Exploring this city during the night is a fascinating experience in itself. Want to know the best places to visit in Dubai at night? Read on!
Places to Visit in Dubai at Night:
1) Dubai Marina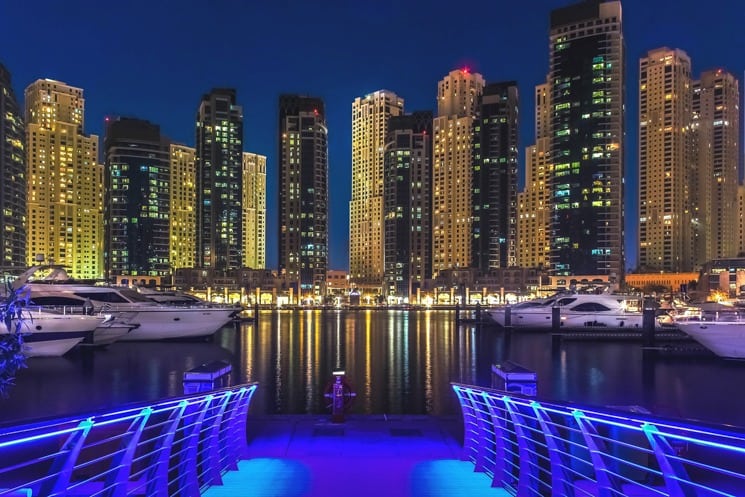 Dubai Marina is an enchanting waterfront development along the Persian Gulf coastline. Lined with luxurious hotels, upscale shopping malls, classy restaurants, and boutiques, this place is vibrant and full of entertainment options. It is also home to the Dubai Marina Mall complex which is a complete shopping and entertainment experience in itself. This place is perfect for a leisure stroll, a jog, a nice romantic walk with your partner, or just chilling at the waterfront.
2) Burj Khalifa
This majestic structure is well known for its jaw-dropping views during the day. But at night, the view from the 124th level of the building is simply magical. Take one of the fastest elevators in the world to witness a 360-degree view of the entire city. You will be treated to incredible sights of the Palm Islands, Dubai Marina, Madinat Jumeirah, and the illuminated skyscrapers. This is one unique experience that you will cherish for a lifetime.
3) Dubai Mall
No trip to Dubai is complete without a visit to its shopping malls. Right next to Burj Khalifa is the famous Dubai Mall that is home to more than 1200 local and international outlets. Even if you don't want to shop, you can just walk around and explore this opulent place. There are plenty of activities within the mall such as an ice-skating rink, multiplexes, Dubai Dino, a human waterfall, and the aquarium which will keep you entertained for hours. There are many restaurants and eateries and also an enormous food court that will keep your hunger pangs at bay. Dubai Mall is definitely one of the best places to visit in Dubai at night.
Check also these best things to do in Dubai for more inspiration.
4) Dubai Aquarium and Underwater Zoo
Come face to face with some of the most magnificent aquatic life such as stingrays, sand tiger sharks, and even a King Croc in the largest suspended aquariums in the world. Take a stroll through the 48-meter tunnel and witness the spellbinding marine life in all its glory. You can try snorkeling or even swim with the sharks. This is one of the best adventures at night in Dubai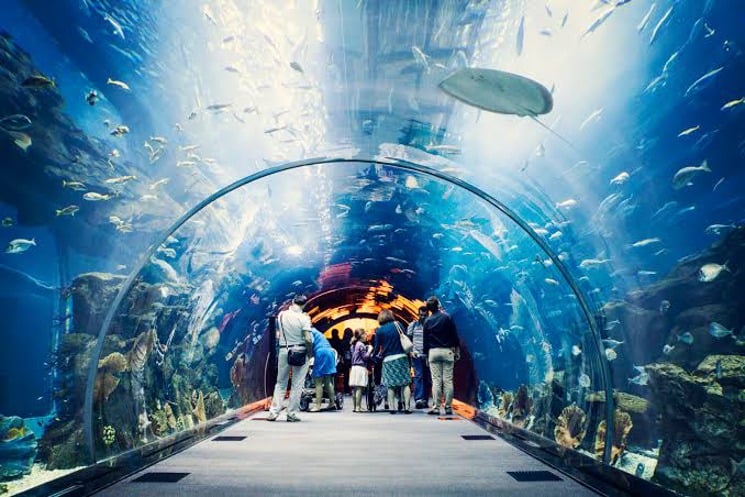 5) IMG Worlds of Adventure
This is a themed amusement park that is divided into five thrilling zones – Lost Valley, Cartoon Network, Marvel, Novo Cinemas, and IMG Boulevard. Get up close and personal with your favorite superheroes such as Hulk, Thor, Spiderman, and Iron Man. Enjoy rides based on Powerpuff girls, and Ben 10. Encounter some terrifying dinosaurs in the Lost Valley zone. It is an ideal place to spend time with family and friends.
6) Night Desert Safari
Your Dubai trip will be incomplete without experiencing the spectacular deserts. The desert safari offers countless activities such as dune bashing, sandboarding, quad biking, camel riding, and falconry. Spend the night under the stars and experience the Bedouin hospitality. Enjoy cultural performances such as Belly Dancing, Tanura Dance Show and Fire Show, and savor a mouth-watering barbeque dinner. You don't need any other reason to apply for your Dubai visa now, do you?
7) Dubai Fountain
One of the most popular attractions in Dubai is the Dubai Fountain. The beautifully choreographed fountain is illuminated with colorful lights and shoots up water to more than 500 feet. The show starts every 30 minutes and with entrancing Arabic and international music playing in the background, this one is a treat to the senses. The best view of the fountain is on board an Abra, the traditional wooden boats, that sail on the Burj lake.
8) Dhow Dinner Cruise
Set sail on the tranquil waters of the Dubai Marina or Dubai Creek on the Dhow, the traditional vessel in Dubai. You can enjoy some cultural performances such as the Tanura dance show and other entertainment activities. Witness the picturesque views of the Dubai skyline with illuminated souks, the Rolex Tower, and other prominent landmarks. Relish a sumptuous dinner consisting of diverse cuisines from all over the world. This will be one of the most unforgettable experiences of your life.
9) Gold Souk and Spice Souk
Visit the largest gold market in the world, the Gold Souk that houses hundreds of shops selling amazing jewelry. You can buy precious stones, gold, and diamonds here at competitive prices. If you are not in the mood to shop, just seeing the dazzling display of gold ornaments at the windows is mesmerizing. Head over to the Spice Souk and get your hands on a myriad of spices such as cardamom, nutmeg, vanilla, saffron, cinnamon, cloves, tea, and the likes. Bargaining with the sellers for the best prices is highly recommended. Though you can always visit these markets during the day, seeing the hustle-bustle of the markets at night is a wonderful experience.
10) Jumeirah Public Beach
After a busy day, head over to Jumeirah Public beach to witness a spectacular sunset. The beach offers a pleasant breeze and is the best place to hang out in the evenings in the summer in Dubai. Though swimming is not allowed post-sunset, you can take a walk and enjoy the soothing sound of the waves around you. Enjoy the stunning night views of Dubai from the beach.
11) La Perle
La Perle is one of its kind permanent theatre show in Dubai. It is created by the famous Italian Art Director, Franco Dragone, who is known for his theatrical extravaganzas such as La Reve in Las Vegas and The House of Dancing Water in Macau. La Perle includes acrobatics, flying, contortion, diving, and astonishing stunts that are performed by world-class performers and acrobats from 23 different countries. The icing on the cake is the aqua theatre which features rains, torrents, waterfalls, and stunning special effects. La Perle is certainly one of the best places to visit in Dubai at night.
12) Dubai Frame
A recent addition to the magnificent Dubai skyline is the Dubai Frame. Located in the famous Zabeel Park, this largest picture frame in the world is an engineering marvel. Head over to the 93-meter long glass bridge on the top to witness the most stunning views of the city. The frame acts like a bridge between old Dubai on the north and modern Dubai on the south. At night, the entire city spreads like a glittering blanket in front of you offering panoramic views of Dubai. While there, take a walk at Zabeel Park and enjoy the serene ambiance.
13) Souk Madinat Jumeirah
The Souk Madinat Jumeirah is a modern take on the classic Arab markets or souks as they are called in the native language. It is an ideal place to learn about Arabian heritage and culture. This area buzzes with activities post-sunset as the various shops, restaurants, cafes, bars, and boutiques are thronged with innumerable visitors. There are many events such as live entertainment and musical shows that promise you a gala time. It is the best place to buy souvenirs for your loved ones.
14) Ski Dubai
Spread across an area of 22500 square meters is one of the largest indoor ski resorts in the world. A perfect way to take a break from the sizzling temperature of Dubai, Ski Dubai offers you -4-degree temperature throughout the year. Enjoy an array of activities such as skiing, snowboarding, tobogganing, snow training, and many more. There is an 85-meter high mountain with 5 slopes of varying steepness, and an ice cave for the kids. They are also home to the delightful penguins from Antarctica which are sure to bring a smile on your faces.
15) Global Village
The Global Village is a massive open-air market that opens during the winter months of October to April. This incredible cultural event showcases various landmarks and other attractions of different countries under one roof. There are pavilions consisting of the best food, handicrafts, shows, games, rides, and other merchandise belonging to different countries and promises you and your family loads of fun and entertainment.
16) Dubai Opera
Another impressive structure in Dubai is the Dubai Opera that is located right next to the Burj Khalifa. The outer structure resembles the 'Dhow', which is the traditional sailing vessel in Dubai. This outstanding art and cultural center has a seating capacity of more than 2000 persons and hosts multiple performances such as concerts, ballets, orchestra, theatre, conferences, and the likes. This is one place that is one of the perfect places to visit in Dubai at night.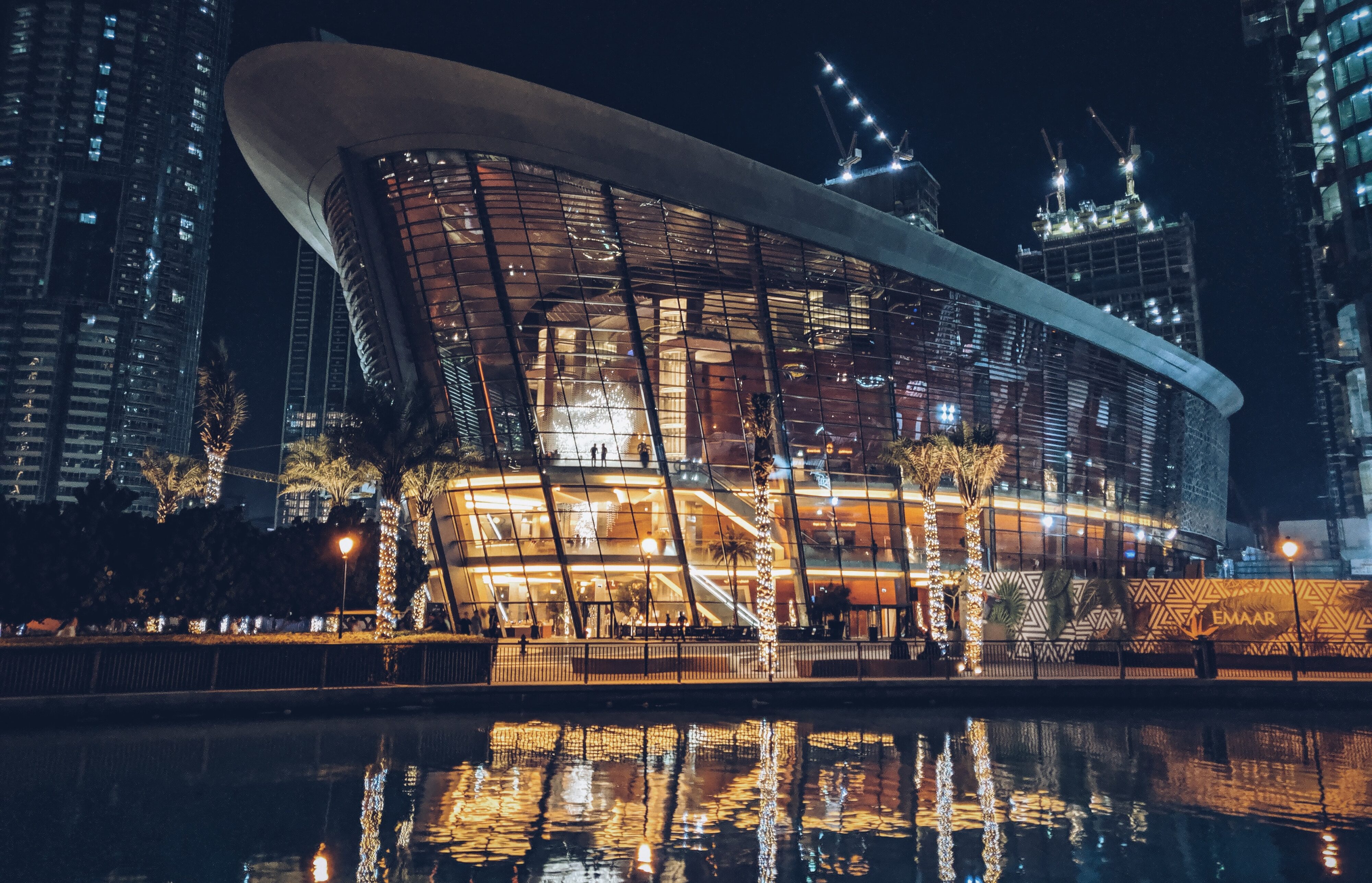 17) JBR Walk
The Walk at JBR near Dubai Marina is a delightful mile-long stretch dotted with high-rise structures, plazas, and boutiques. There are many swanky restaurants and cafes linings the streets on both sides offering the perfect relaxed evening for its visitors making it one of the best places to visit in Dubai at night. They also host many events and pop-up markets where you can buy the latest artifacts, jewelry, handicrafts, and other home decors. This entire place is bustling with activities post-sunset and is sure to provide you plenty of entertainment.
18) Motiongate Dubai
Located in the Dubai Parks and Resorts, this exciting theme park offers varied rides and attractions based on some of the most successful Hollywood movies. You will be transported to the land of your favorite movies once you step into the grounds of this theme park. Meet your beloved characters from movies such as Madagascar, The Smurfs, The Hunger Games, Kung Fu Panda, Ghostbusters, and more. This one is a must-visit for die-hard Hollywood fans.
19) Dubai Garden Glow
Dubai Garden Glow is based on a unique glow-in-the-dark concept and is one of its kind in the world. The garden has been decorated with millions of energy-saving bulbs and recycled fabrics. The park consists of distinct experiences – Art Park, Dinosaur Park, Ice Park, Magic Park, and the Glow Park each of them offering amazing experiences for children and adults alike. This incredible light architecture is a visual feast and will surely leave you speechless.
20) Buddha-Bar
Known for its splendid interiors, Buddha Bar offers brilliant views of the amazing Dubai Marina. The elegant interiors, glamorous chandeliers, lavish decors, and large bay windows provide a striking ambiance for a relaxed evening. The delectable fusion cuisine of Thailand, China, and Japan and incredible music played by the DJ, make it one of the most happening hangouts in Dubai.
21) Spa in the Palace Downtown
After a hectic day of sightseeing, what better way to end the day. Head over to the Spa in the Palace Downtown for a much-needed pampering session. You can choose from a wide range of options such as almond oil rub, chocolate body crush, aromatherapy, and more. Say goodbye to your stress and surrender yourself to the peace and tranquility of the place. You will feel relaxed and rejuvenated and this tailor-made indulgence is worth every penny.
22) VR Park
Well known as the largest indoor virtual reality and augmented reality park in the world, VR Park offers 30 thrilling rides that play with your minds and eyes. The rides here provide a hair-raising experience in different themes such as action, horror, and adventure, and blur the lines between perception and reality. Rides such as Burj Drop, The Raft, APE-X, and John Wick Chronicles are sure to give you an adrenaline rush. It is one of the fun things to do at night in Dubai.
23) Madinat Theatre
Located in the heart of Souk Madinat, the Madinat theatre resembles an ancient Arabian citadel. Boasting a capacity of 442 seats, the theatre has hosted some of the best plays from Shakespeare to Broadway musicals, from the UK Comedy Club show to the Moscow City Ballet. This place is also open for private events such as product launches, school/college graduation ceremonies, and corporate meetings.
24) The Lost Chambers Aquarium
This is the best place to discover the world of extraordinary marine life. Based on the legendary underwater city of Atlantis, the aquarium is divided into lagoons and chambers and situated in the Atlantis, The Palm resort. Witness a plethora of exotic creatures such as stingrays, seahorses, sharks, lobsters, piranhas, and many other colorful fishes. This place promises a great time for the entire family.
25) Cavalli Club
Spread over 3 levels, the Cavalli Club is one of the most extravagant places in Dubai to visit at night. One of the oldest running clubs in Dubai, this place boasts of opulent interiors replete with luxurious furnishings, black quartz flooring, Swarovski crystals, and majestic chandeliers. Adding many bars and an upscale Italian restaurant to the mix, there is no doubt why this place is frequented by all the partygoers and celebrities.
Places to Visit in Dubai at Night – Conclusion:
Not only during the day, but Dubai also has countless attractions that can be safely explored at night. From electrifying nightclubs to exclusive restaurants, imposing high rises, to pristine beaches, Dubai transports you to a fantasy land at night.
Read more:
Places to visit in Dubai at night – Video:
Check also this beautiful drone video from Dubai at night:
More tips for your travels:
We have prepared for you this comprehensive list of links, discounts, and resources for travel planning in one place. Bookmark this page and whenever you plan a vacation in the future, just open it and save yourself a lot of time.
1) Where to book accommodation?
2) How to find cheap flights?
3) How to rent a car?
We recommend a comparison portal RentalCars.com to compare the best offers of all available rental companies.
Pin Places to Visit in Dubai at Night for later or for your friends:
Did this post about the Places to Visit in Dubai at Night help you? Share it with your friends! It can help them too!
Disclosure: Please note that some of the links above may be affiliate links, and at no additional cost to you, we earn a commission if you make a purchase. We recommend only products and companies we personally use and we use this income for further improvement of this website. Thank you!