If you've already stayed in Paris and seen the Eiffel Tower from all possible angles, it's time to see another side of France. Provence is a region in the south of France, mainly known for its coastal cities such as Nice, Marseille, and Cannes. But there is much more to discover in Provence, and if you're an outdoors' lover, you're in luck! With this 3 day itinerary, we'll focus on the beauty of nature in Verdon Park and its surroundings.

We'll visit Verdon Natural Regional Park and its lavender fields, the surprising Grand Canyon of Europe named the Gorges du Verdon, stunning turquoise lakes, traditional villages built in between cliffs, and even some waterfalls!
Ready to discover Verdon Park with this 3-day travel itinerary?
Let's go!
Day 1: Lavender Fields & Valensole in Verdon Park
For the first day of our Verdon Park itinerary, we'll visit Valensole, an area famous mostly for its lavender fields and cute traditional village.
1) Sunrise in the Lavender Fields
Trust me, you don't want to be in the lavender fields during the day. Why? Well because first, it's going to be absolutely packed with tourists from all around the world. Second, because it gets pretty hot out there, and there is no protection from the direct sun. And third because during the day the fields are filled with bees.
The best time to visit the lavender fields is at sunrise. There are lavender fields pretty much anywhere in Valensole, so just drive around and stop whenever you see a lavender field.
When is the best time of the year to visit Lavender Fields in Provence?
If you want to make sure you'll see the lavender, you'll need to travel between mid-June to mid-July. If you come during any other time of year, the lavender fields will be all green; not bad, but probably not what you're looking for.
While the lavender fields are the main attraction in the area, there are also sunflower fields in Valensole; some of them are pretty tall, and they look impressive! When you walk in the fields, remember to be respectful; don't step on the flowers, and don't pick the lavender.
2) Visit the Valensole Village
After catching the sunrise in the fields, make your way to the village of Valensole for a nice breakfast. Valensole is a traditional Provence village, and you'll have a lovely time strolling around the narrow streets. The historic center is full of stunning colorful old houses, and the St Blaise church is definitely worth a visit.
If you want to take some of the lavender home with you, now is the time. Visit the many traditional shops where you'll find handcrafted products around the lavender: candles, oils, soap, and even edibles like ice cream and nougats! Sit on the terrace of a local restaurant, and enjoy the local hospitality for lunch.
3) Swim in the Esparron de Verdon Lake
Now that you've had lunch in Valensole, it's time to take the road! Drive for around 25 minutes to the Lac Esparron de Verdon, and stop at the viewpoint after the dam (location here). Park your car there, and enjoy the view over this beautiful little lake with turquoise water.
When you're ready to move on from this incredible view, step across the fence and walk down the little path: be careful it's slippery. Follow the trail all the way down to the water, and you'll get your own private spot to swim in the lake! I love this lake because even though it's in a very crowded area, there is actually almost no one at this place. This will be your private lake but shh, don't tell everyone!
If you are going to spend a night in Esparron try Appartements Hameau du Port.
4) Sunset at the Lavender fields
As stated above, you don't want to be in the lavender fields during the day. The best time to be there is at sunrise, and at sunset, too. Right before the sun goes down, the lavender fields will be almost empty from all of the tourists (there will still be photographers out there, though). This is the perfect time to come back to the fields, and enjoy this magical place under the light of the setting sun.
This will be the best time of the day to grab beautiful photos, so get your camera out and start shooting! After enjoying the sunset, head back to your hotel for dinner, and have a good night-rest to get ready for the second day, where you'll explore the Gorges du Verdon. A great option of where to stay is Les Terrasses de Valensole.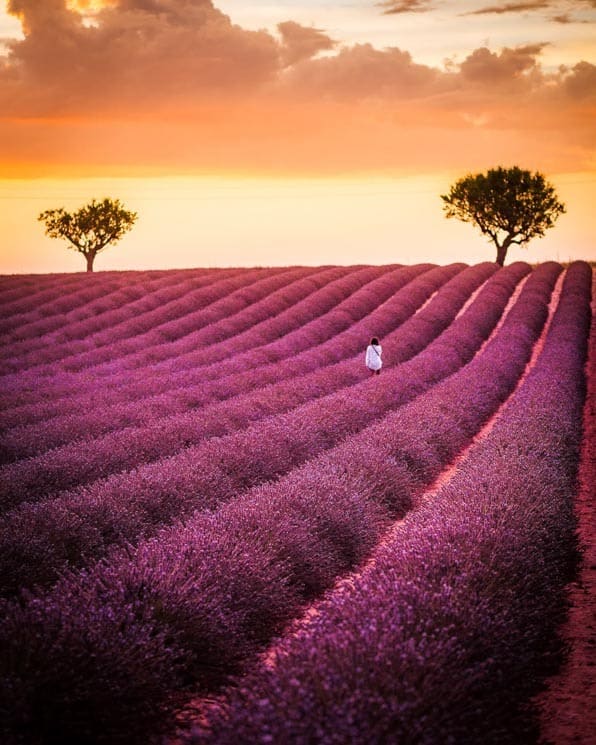 Day 2: Explore the Gorges du Verdon
The second day of this itinerary is where we'll see the Gorges du Verdon (Verdon Gorges), also called the Grand Canyon of Europe.
The Gorges du Verdon is a massive river canyon in Provence, with the Verdon river passing through at the bottom. The river, years after years, during thousand of years, carved its way through the cliffs and created this incredible canyon that you can see today.
The canyon varies from 250 to 700 meters high (820 to 2,300 feet), and it's the home of many huge vultures. There is a road circling on top of the Gorges, and this is where we'll go on this second day!
1) Drive the Southern Rim Road of Verdon Gorge
Start your day early to make sure you beat the crowds. The drive through the Verdon Gorges is one of the best road trips, but the last thing you want is to be stuck behind a huge line of cars moving extremely slow. Wake up early, grab a quick breakfast, then head to the "Balcons de la Mescla"; from there, drive on the road north.
Enjoy your drive on top of the Gorges du Verdon, where epic views will unravel before your eyes at every turn in the road, and make sure to stop in the many viewpoints along the road, such as:
Pont de l'Artuby
Belvédère Aiguines
la Corniche Sublime
Belvédère du Plan
Cirque de Vaumale
Col d'Illoire
If you want some extra fun join Aquatrekking in Verdon Canyon (it require also some extra time, so you may do it 4th day).
2) Lunch at the Château d'Aiguines
At the end of the southern rim road, you'll reach the town of Aiguines. The town is mostly famous for its castle, the Château d'Aiguines.
Take the time to visit this little village, then enjoy lunch at the terrace of one of the many restaurants you'll find there.
During the summer months, we recommend tasting Charentais Melons as a local specialty.
3) Visit Moustiers-Sainte-Marie
After lunch, take the road again and drive around 20 minutes to reach Moustiers-Sainte-Marie. This village is considered as one of the most beautiful villages in France. I'm sure you'll agree with that as soon as you get to lay your eyes on this village built in between 2 cliffs.
The medieval village, more than just being extremely beautiful, is also known for its ceramics tradition. Take the time to walk the streets of the village and discover the local culture.
Lovely place for overnight stay is Hôtel La Bonne Auberge.
4) Drive the Northern Rim Road of Verdon Gorge
Finish the afternoon by driving on the second part of the Rim Road, the Northern part.
The Route des Crêtes is equally as nice as the Southern Rim road, and you're in for some epic vistas. You'll be driving on the highest part of the Verdon Gorges, 700 meters above the river down in the canyon (2,300 feet).
There are also plenty of opportunities for a stop along this road, so make sure to take it slow, enjoy the views, and stop whenever you see something cool! Here are some of the cool stops:
Chalet de la Maline
Belvédère du Tilleul
Belvédère de l'Escalès
La Palud
Auberge du Point Sublime
Belvédère de la Carelle
Belvédère Trescaire haut / bas
5) Sunset at Sisteron (north from Verdon Park)
The afternoon is over, it's time to end this second day in Provence. But how do you finish this epic day with something that's up to the standards of what you just saw?
La Palud-sur-Verdon
Stop quickly at La Palud-sur-Verdon after driving the northern rim road of the Verdon gorges, and chill for a bit to recover your spirits after this high-adrenaline drive. Get something to eat, a coffee, and then get back on the road.
Sisteron
Drive to your next spot: Sisteron. It's about a 1h45 drive to Sisteron from La Palud-sur-Verdon, and you'll get there pretty late. The best thing to do is to book your hotel in Sisteron so you don't have to drive to somewhere else after you catch the sunset there.
Just like the village of Moustiers-Sainte-Marie, Sisteron is one of the most beautiful villages in France. It's built at the base of an epic-looking mountain and looks straight out of a fantasy movie. The two main things to see in Sisteron are the Sisteron citadel (a massive castle built on top of the hill), and the Sisteron Cathedral.
And of course, the village in itself is an absolute beauty; find a nice spot with a view over the village, sit back and enjoy the colors of the sunset over Sisteron. Hôtel de la Citadelle offers a beautiful place right between a river and Sisteron citadel.
Day 3: The Lakes in Verdon Park
And there we are, our final day in Provence, with this 3rd day of the 3-day Verdon Park travel itinerary. This last day will be a bit less fast-paced, and you'll be able to relax while soaking in the sun.
1) Lac de Sainte-Croix
The first stop of the day is the Lac de Sainte-Croix, the main lake in the area. It's an artificial lake that was created in 1973 when the Sainte-Croix dam was built. It's the 3rd biggest lake in France, and there is plenty of different areas where you can go to the banks of the lake.
Simply pick a spot, then head there to relax on the beach. If you want to remain active, there are also plenty of things to do: you can swim in the lake, rent a pedal boat or an electric boat. Check also these Verdon Activities for adventurous spirits. Obviously such a beautiful lake attracts the crowd, so make sure to go there in the morning to enjoy a little bit of tranquility at the lake.
2) Lac de Quinson
When the crowds start to form at the Lac de Sainte-Croix, it's time to move to another lake, less crowded. If you were on the northern side of the lake, it will take you 20 minutes to drive to the Lac de Quinson, and around 1h if you were on the southern side.
There is a wide parking lot in front of the lake, and you'll be able to easily find a spot to park your car. The vibe at this lake is very laidback and family-friendly, and there is a restaurant and a café if you want to eat something or have refreshments.
While the water is a bit cold in this lake (the water comes straight from the mountains through the Verdon river), you can rent a pedal boat or an electric boat. Rent a boat and go exploring the Verdon Gorges from a different perspective, right on the river!
3) See the Waterfall in Sillans-la-Cascade
Located only 25 minutes away from the lac de Quinson, Sillans-la-Cascade is our next stop for the day. "Cascade" means "Waterfall" in French, and as the name suggests, there is one epic waterfall in this village.
Park your car in the city, then follow the trail that leads down to the waterfall. You'll only need 5/10 minutes to reach the waterfall: you'll first be on a viewing platform, where you'll have a stunning view over this waterfall, looking straight out of Bali, Indonesia. Sadly swimming is forbidden in this waterfall, but don't worry, I've got something for you.
There's actually a second waterfall, located further down the stream, and you can swim there! Even in summer, the water is cold, but if you're a bit daring you'll have a sweet time at this waterfall.
Cool place to stay nearby is Auberge du Grand Chêne.
4) Visit the Troglodyte Cave of Villecroze
The last stop of the day is in Villecroze, a 15 minutes drive away from Sillans-la-Cascade.
As you get to Villecroze, head to the cave; you'll first come across the municipal park, a surprisingly nice park with plenty of trees and beautiful flowers. It's a perfect place to sit down and relax for a while! It even has a massive waterfall, coming from the top of a cliff at the end of the park.
But the main attractions in Villecroze are the troglodyte caves: they date from 700,000 years ago and were formed during the last ice age. These caves are listed as Natural Monument Sites, and you can actually visit them!
For dinner, head across to the neighbouring village of Tourtour. Perched at the top of a hill, this gorgeous medieval village is one of the most beautiful in all of France. Here you'll find a number of excellent family-owned restaurants in its central square. La Farigoulette is particularly excellent and has a stunning terrace with views out over the surrounding countryside.
If you are staying nearby there is a Hôtel le Rocher in town.
3-days Verdon Park Itinerary on a map
We have prepared a detailed map of all the mentioned places in this Verdon Park Itinerary to help you plan your trip to France. Points of interest are divided by days. Each day has a different color for easy orientation. The map can be exported and uploaded to the mobile map app like Maps.me or Locus maps.
Weather and best time to visit Verdon Park
The most popular time to visit Verdon Natural Regional Park is during the summer, especially in July and August when the weather is constantly sunny. For fewer crowds, visit Verdon in the shoulder season (May or September). If you want to see blooming lavenders, plan your visit from mid-June to mid-July.
Ready to visit Verdon Natural Regional Park?
So there you have it, your 3 days Verdon Park itinerary to discover this beautiful part of France! From lavender fields and turquoise lakes to traditional villages and waterfalls, I'm sure you'll enjoy this trip to the south of France.
Start planning your trip to Verdon Park with exclusive discounts on transport and accommodation.
Verdon Park 3 days Itinerary- Author's bio
Kevin is a French travel blogger & photographer from Paris. He tries his hardest to document his travels through photos & written travel guides, to share his adventures with the world on Kevmrc.com. You can find him also at Instagram | Facebook | Pinterest
More tips for your travels:
We have prepared for you this comprehensive list of links, discounts, and resources for travel planning in one place. Bookmark this page and whenever you plan a vacation in the future, just open it and save yourself a lot of time.
1) Where to book accommodation?
2) How to find cheap flights?
3) How to rent a car?
We recommend a comparison portal RentalCars.com to compare the best offers of all available rental companies.
Pin this for later or for your friends: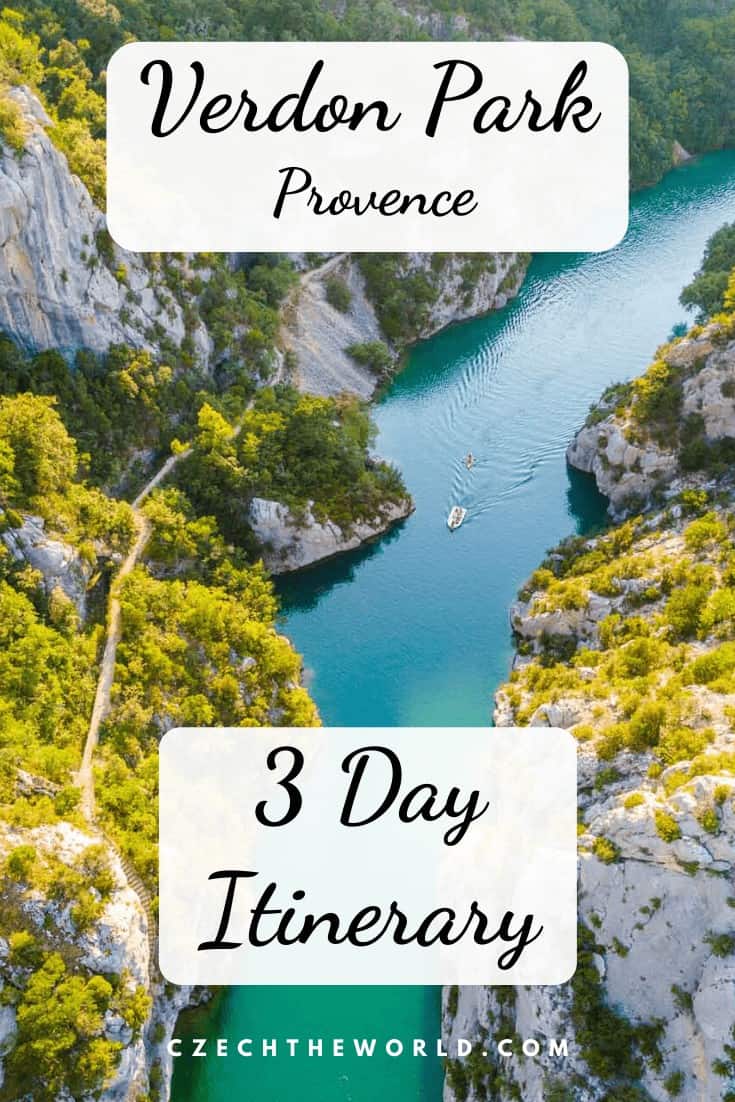 Did this post help you? Share it with your friends! It can help them too!
Disclosure: Please note that some of the links above may be affiliate links, and at no additional cost to you, we earn a commission if you make a purchase. We recommend only products and companies we personally use and we use this income for further improvement of this website. Thank you!