Are you wondering, how to name your travel blog? Check our ultimate collection of the best travel blog names that will help with your success. Some of these already exist, so you can use that as an inspiration and come up with similar idea.
We have divided these names into several categories – from the name, country, catchy, creative, unique, cool, and more… You can jump to those categories in the table of contents:
Travel Blog Names Using Your Name
Jack and Jill Travel
I Am Aileen
WanderLuce
Veronika's Adventure
Thomas & Clay Get Away
David's Been Here
Pinoy Adventurista
Oneika the Traveller
RexyEdventures
Lulu Meets World
Travel Like a Prince
Letters To Barbara
Fernweh Sarah
Alex in Wanderland
Candice Does the World
Curb Free with Cory Lee
Travel Junkie Julia
Mapping Megan
Absolutely Lucy
What's Dave Doing?
Alison's Adventures
DominiquesDeparture
Claire's Itchy Feet
Katrinka Abroad
Anna Everywhere
Kami and the Rest of the World
Where In The World Is Rebecca?
Jones Around the World
Travel with Bender
Charlie on Travel
Backpacking Matt
Wanderlust Chloe
Renee Roaming
Jon is Travelling
Jessie on a Journey
Phila Travel Girl
Emelie's Travels
Journeys with Jessica
Bren On The Road
Los Viajes de Paula
Explore With Erin
Where Is Czarina
Katie's Postcards
Wayfaring Rachel
Rachel's Ruminations
Angie Away
Caroline in the City
Emily Luxton Travels
Erika's Travels
Adventurous Kate
Mindful Travel by Sara
Castaway with Crystal
Helen in Wonderlust
Bel Around the World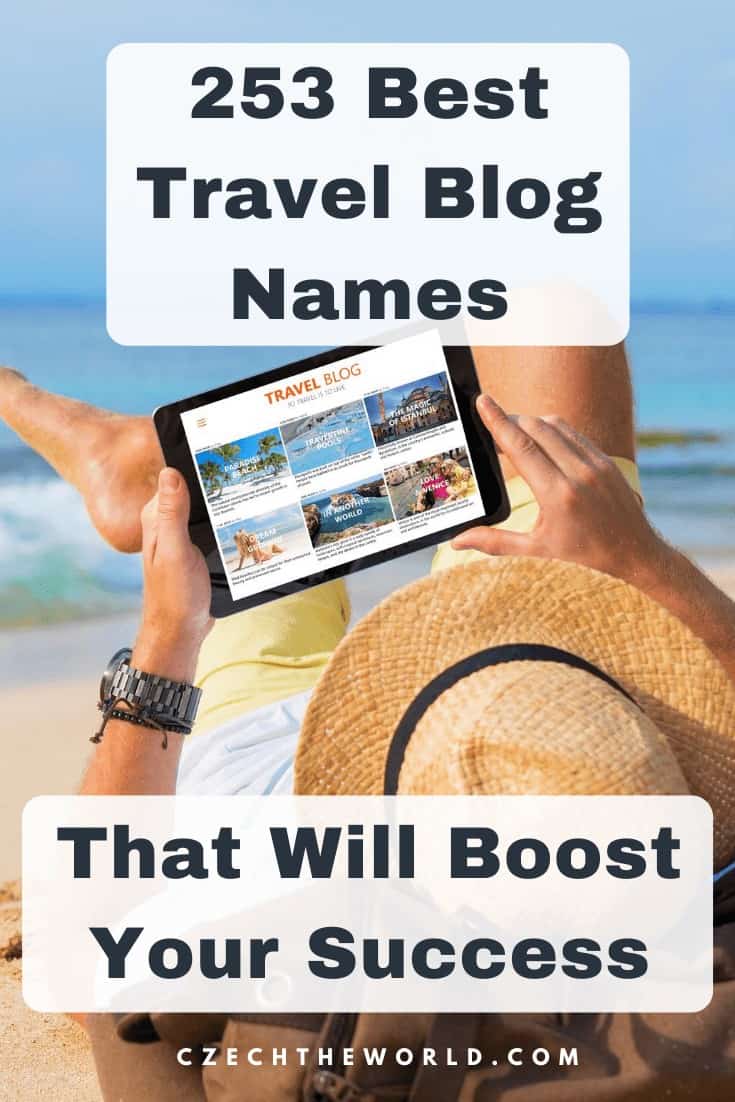 Names with Country, City, Continent
European Diaries
Alaska TravelGram
Snow in Tromso
The Aussie Flashpacker
Love and London
Island Girl in-Transit
Indie Traveller
American Travel Blogger
Bohemian Trails
Trans-Americas Journey
California Through My Lens
Belize Adventure Travel
Europe Up Close
Two Scots Abroad
Dutch Dutch Goose
Dispatches From South America
Aussie on the Road
WhyGo Italy
iBackpackCanada
The Toronto Seoulcialite
Silverspoon London
Runaway Brit
Notes from Spain
A Brit and A Southerner
World in Paris
Brit on the Move
Traveling Colognian
Swedish Nomad
From Ice to Spice
Jungles In Paris
Planit NZ
Roaming the Americas
Europe A La Carte
Typing To Taipei
NYCity Mama
Backpacking Africa For Beginners
Adventures Around Asia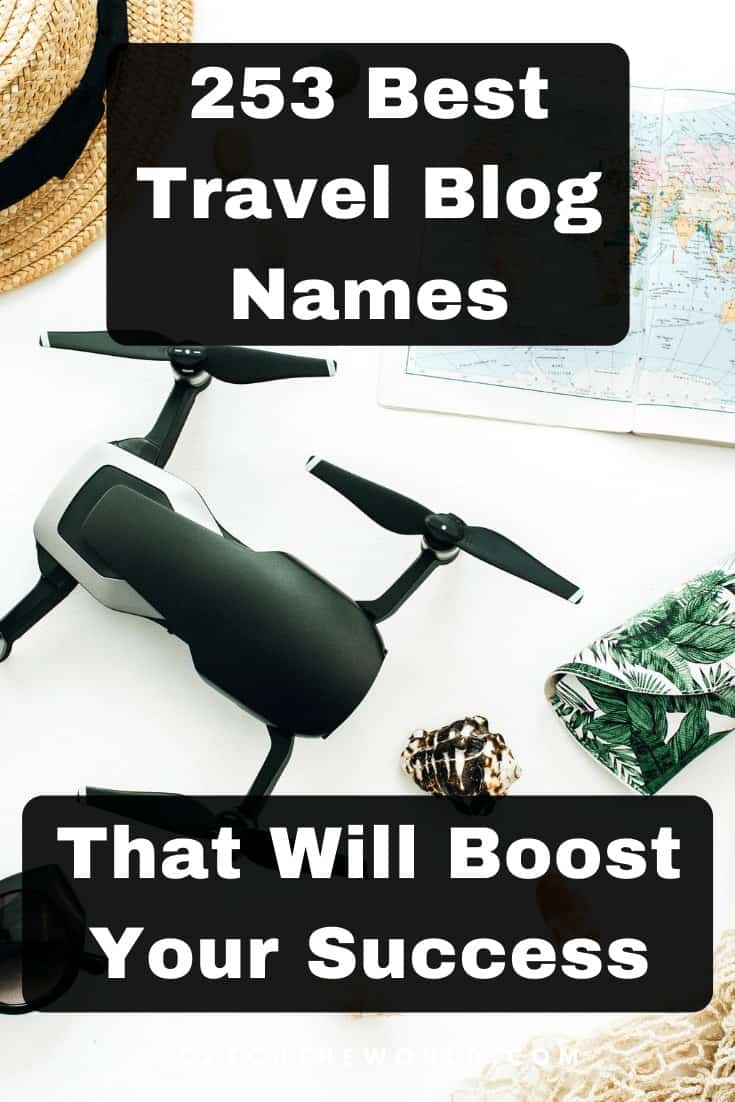 Creative Travel Blog Names
Kaleidoscopic Wandering
Showering in the Ocean
Blissful Guro
Roads & Kingdoms
Daily Travel Pill
Migrationology
While I'm Young and Skinny
Fluent in 3 Months
Salt In Our Hair
A Capricious Compass
One Point Five Billion Inches
Chasing Coconuts
Am I Nearly There Yet
Uneven Pavement
Couple's Coordinates
Rails, Waterways, and Contrails
Drifter Planet
Gallop Around the Globe
Tray Tables & Seat Backs
Losing Sight of the Shore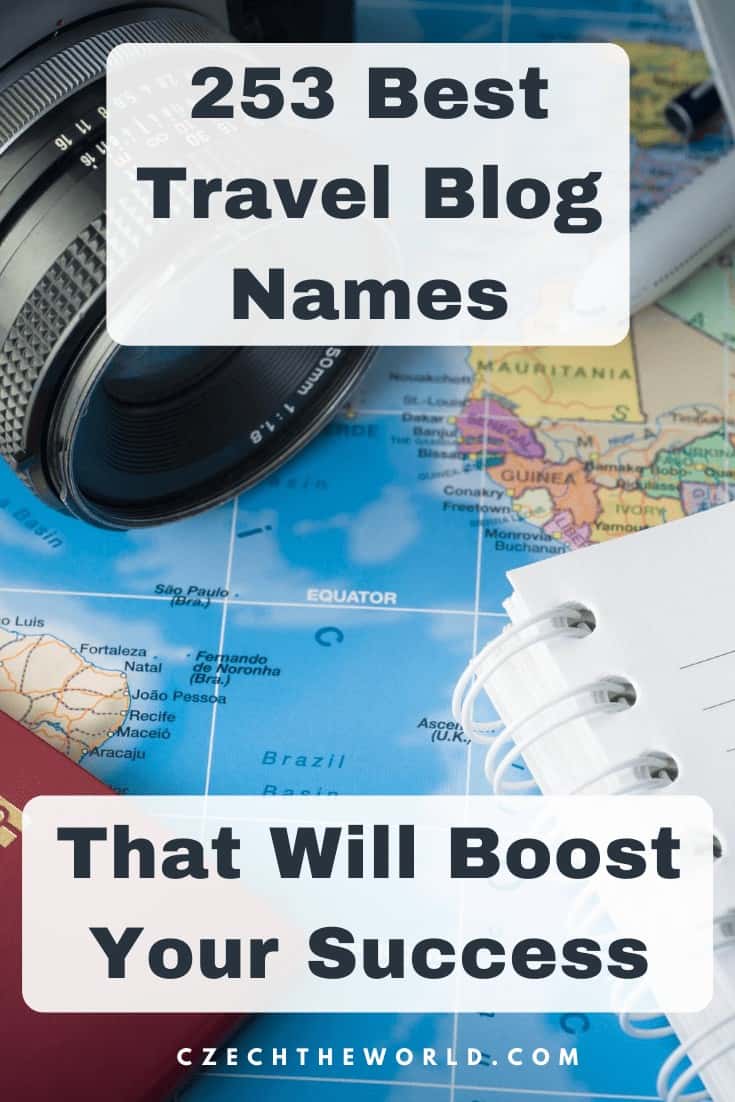 Catchy Travel Blog Names
What a Trip
Ready, Jet Set, Go!
Beyond Commonality
Earth's Attractions
Paradises on earth
Green Global Travel
Will Fly for Food
Timely Exploration
Go See Write
Who Needs Maps
Travel and Repeat
One Mile At A Time
The Professional Hobo
Pause the Moment
Away from Routine
The Family Without Borders
Land Lopers
Hidden beauties
Bucket List Journey
Finding the Universe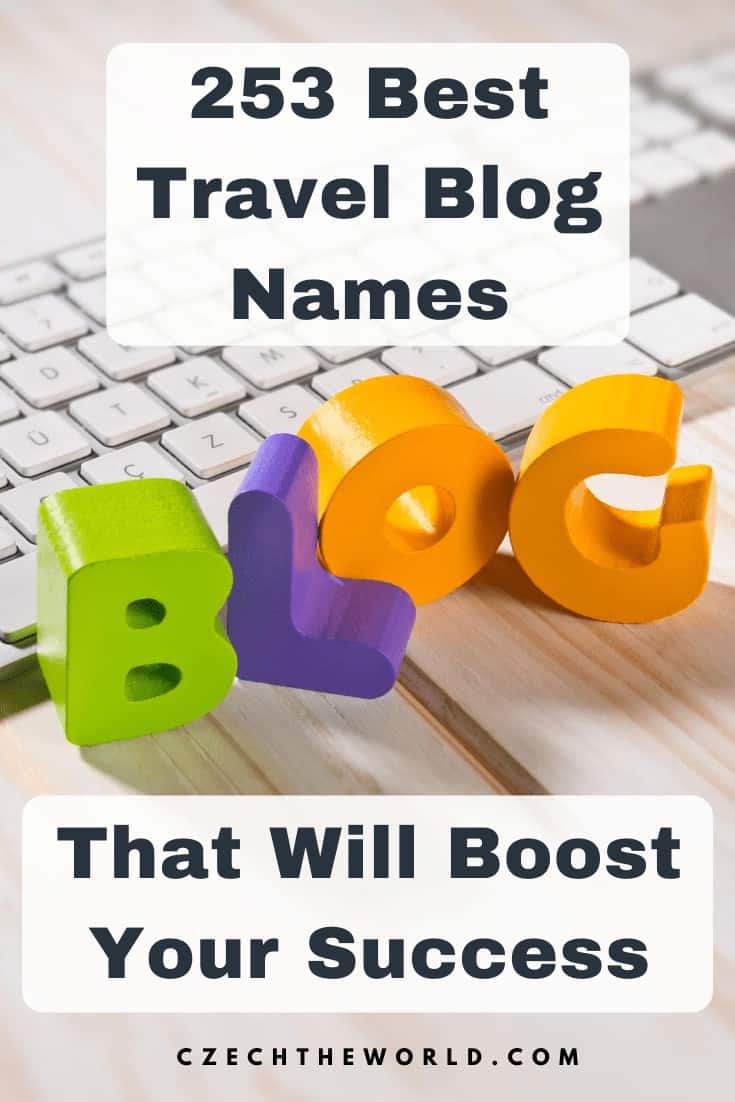 Unique Travel Blog Names
Paper Planes & Caramel Waffles
Disrupting the Rabblement
Scrapbook Journeys
A Little Adrift
Seasalt Secrets
Maiden Voyage Travel
Camels & Chocolate
Heather On Her Travels
Around the World in 80 Jobs
Chronicles In Wonderland
One Step 4Ward
Hole in the Donut
The Boho Chica
Tapped Out Traveller
Blissful Guro
The World Incorporated
Am I Nearly There Yet
Tweet Pray Love
Bearfoot Theory
Silks Road and Beyond
On the Whoa
Rooftops and Flipflops
Bridges & Balloons
Trails Unblazed
Art of Non-Conformity
Screw the Average
Around the Orbis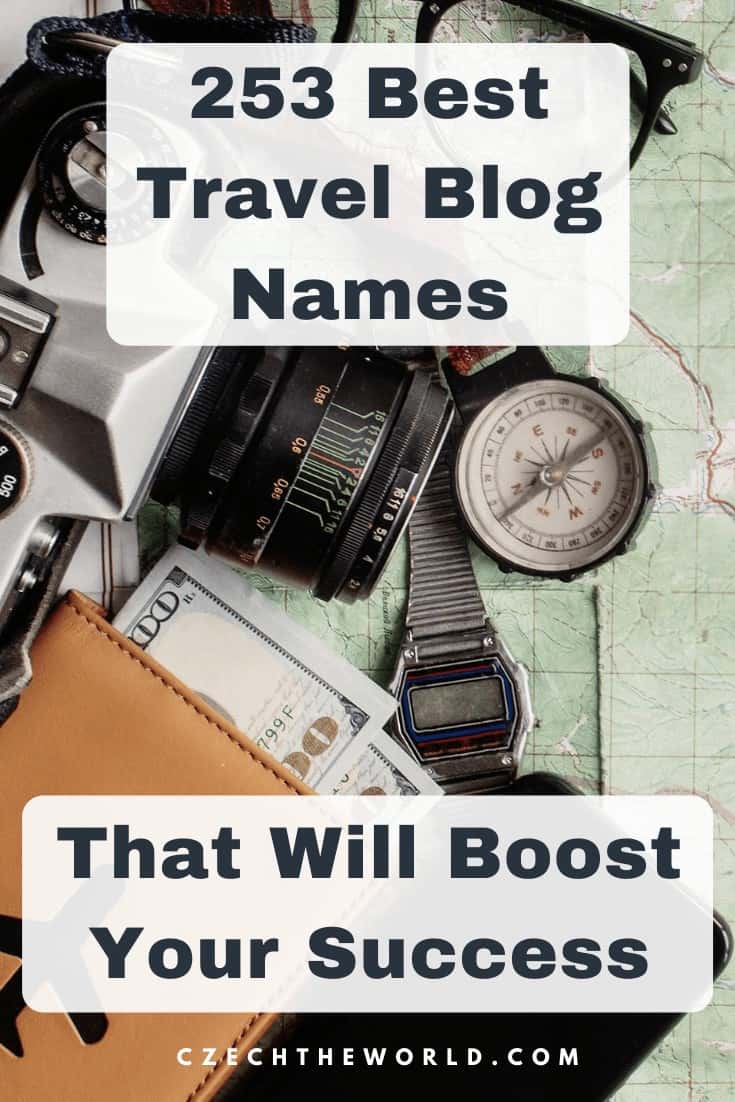 Puny Travel Blog Names
TripHackr
Gone Sun Where
The Trvl Blog
I Luv 2 Glove Trot
Grrrl Traveler
The Toronto Seoulcialite
Hecktic Travels
HollyDayz
Explorista
Treksplorer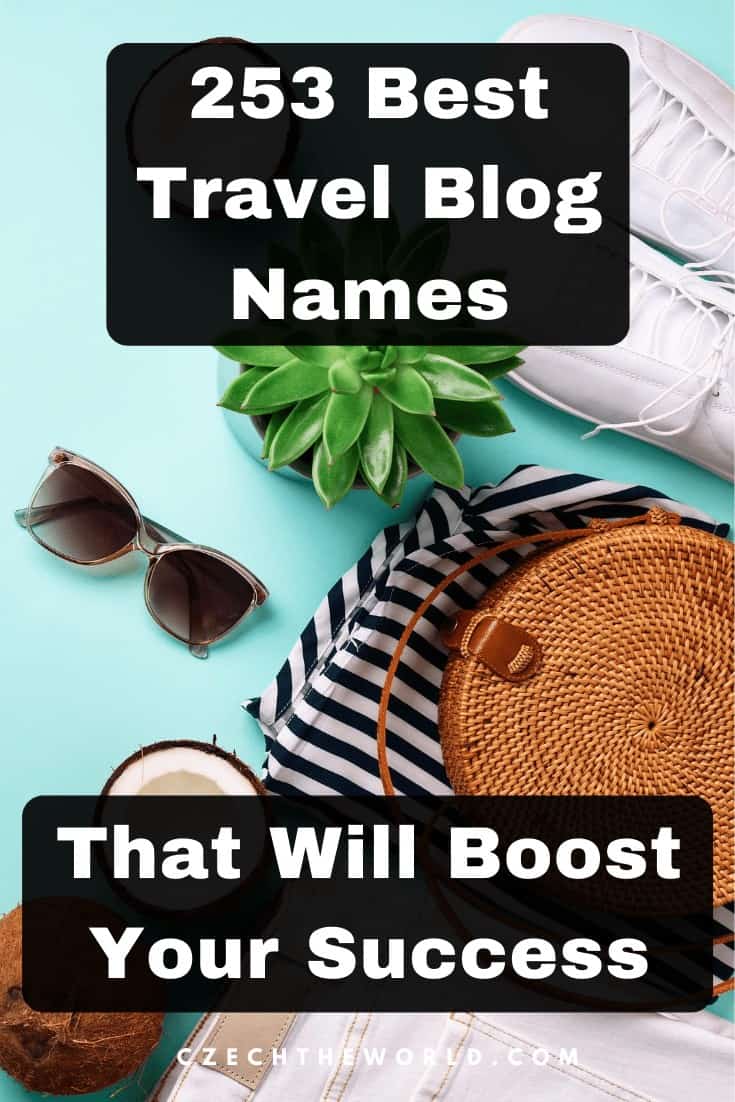 Travel Blog Names using Animal
Travel With Bird
Nomadic Chick
Cats and Dogs Living Together
Two Monkeys Travel
Confessions of a Scorpio
Cold Turkey
Our Oyster
Trav Monkey
Monkeys & Mountains
Ferreting Out the Fun
The Traveling Squid
Two Birds Breaking Free
Camel Oasis
World Travel Toucan
The Blonde Abroad
Time Travel Turtle
Traveling Honeybird
Traveling Weasels
Owl Over the World
Goats on the Road
Read also: 253 Travel Blogs Accepting Guest Posts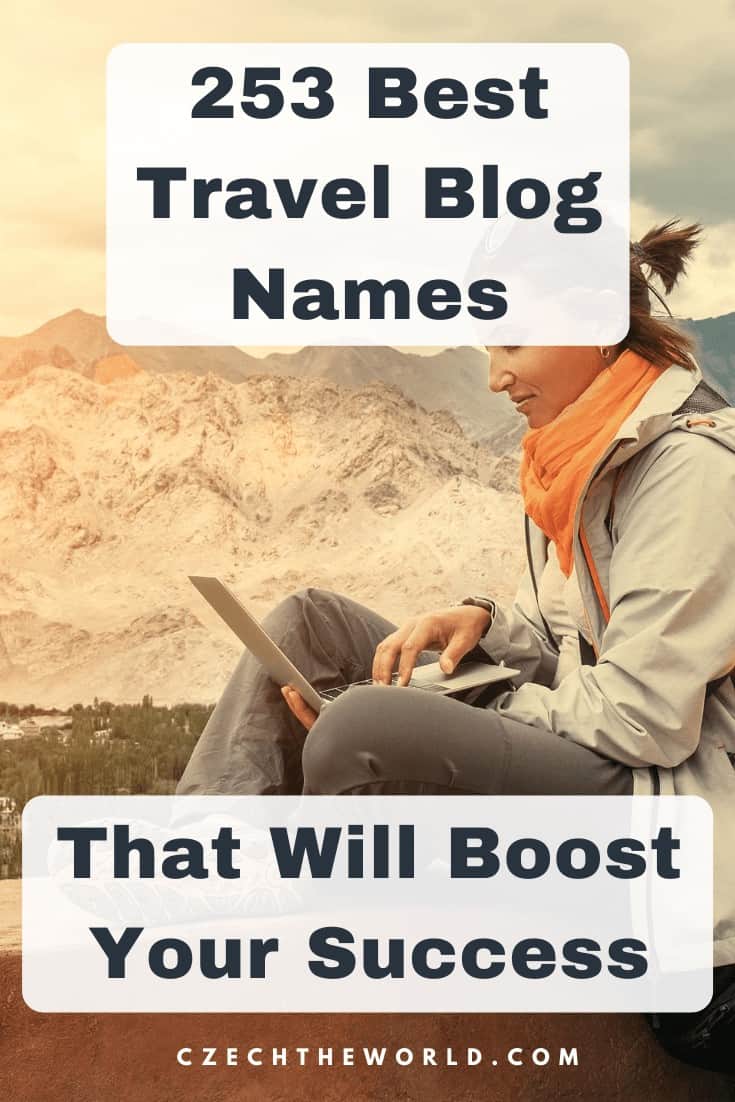 Cool Travel Blog Names
Maps 'n Bags
Hangbags And Hammocks
My One Big Planet
The Next Somewhere
Nomad Revelations
My Peace Love Life Blog
Forever Lost In Travel
Location 180
Live, Dream, Discover
Scratch The Map Travels
Off Path Travels
Live Like It's The Weekend
Never Ending Footsteps
Changes in Longitude
The Runaway Girl
Roar Loud
Screw the Average
Always At Gate B
Once in a Lifetime Journey
I Should Log Off
Memorable Travel Blog Names
Family on Airplane
Wandering Educators
Symbolizing Travel
Fearless Outing
Offbeat Travel
Ready your bags
Shores and Mountains
My Itchy Travel Feet
Hilltop to sea bottom
Crazy Sexy Fun Traveler
BucketListly
Maps 'n Bags
Chronicles In Wonderland
Hand Luggage Only
More Travel Cases.
Desire and bag
Never Ending Footsteps
Twenty-Something Travel
Dish Our Town
Journeys and Tours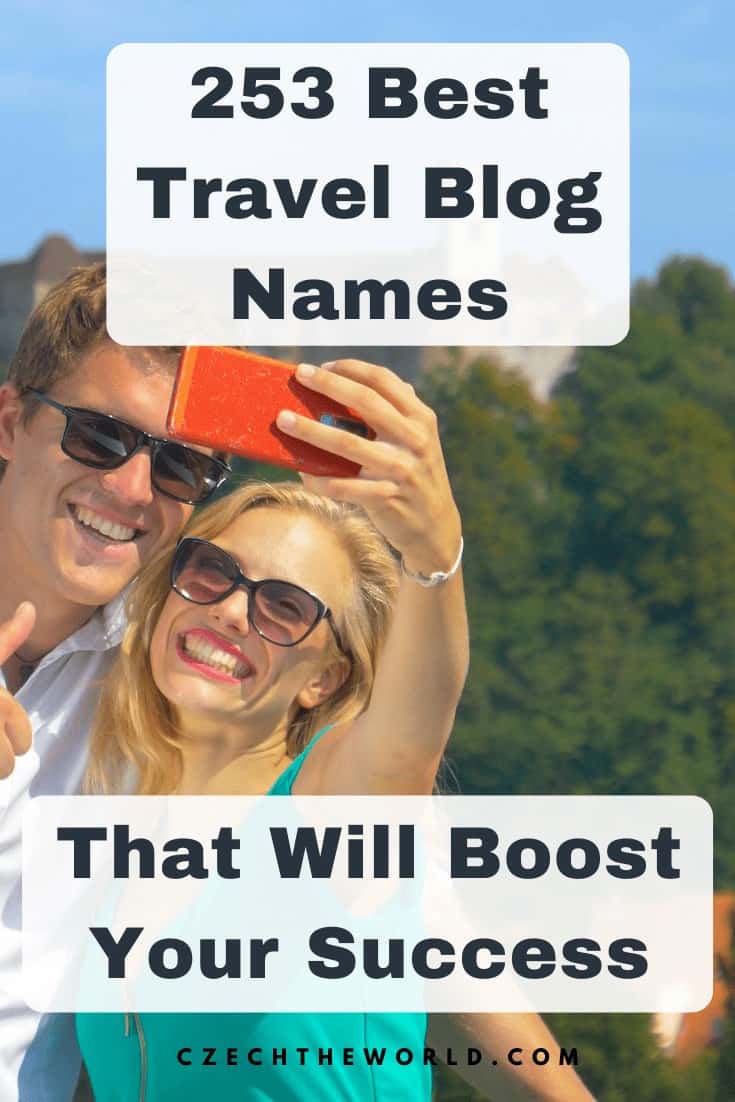 Cute Travel Blog Names
Hippie in Heels
Steph the Wayward Pilgrim
Wandering Soul's Wander Tales
This Battered Suitcase
Suitcase & Heels
Oh Darling, Let's Be Adventurers
Roads & Kingdoms
Simply Travelled
Her Coffee Diaries
Miles and Smiles Away
Travel with the Smile
I'll Take The Window Seat
Silks Road and Beyond
Unnavigated
Honey, I Shrank The Globe
A Jaunt with Joy
Live Laugh Love Travel
Sail Away With Me
1 Fun Girl Travels
Big World Tiny Budget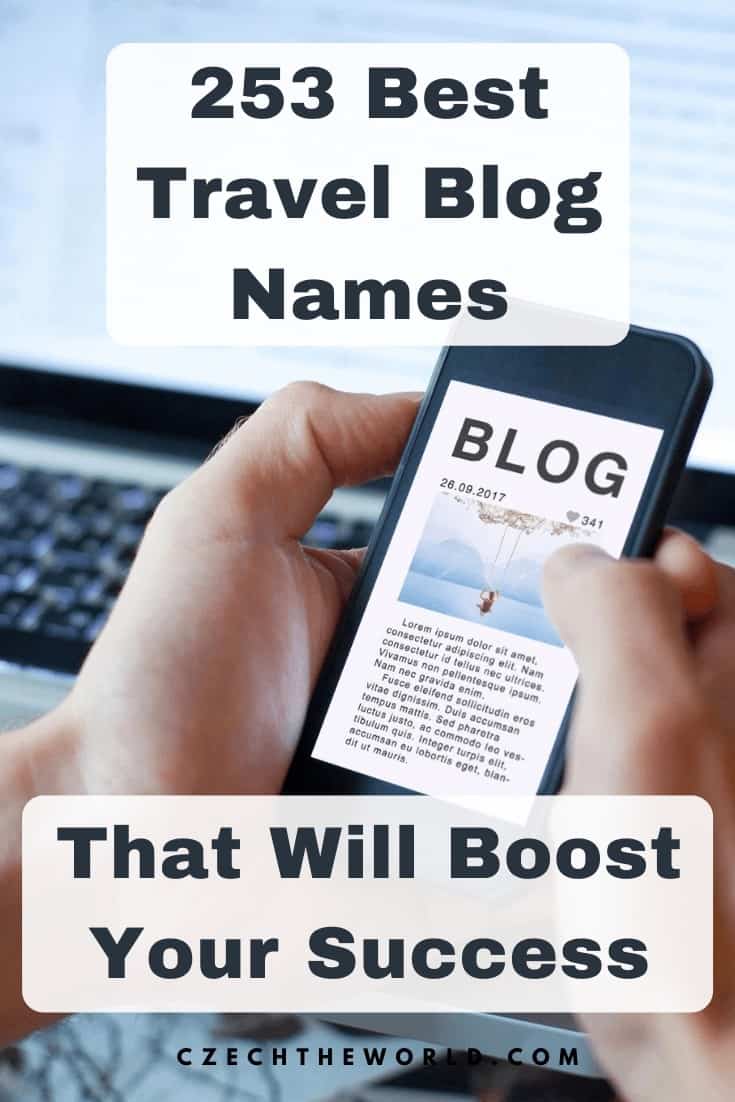 Clever Travel Blog Names
Travel. Experience. Live.
Retire Early and Travel
Destination: Not Home
Dream Big Travel Far
Destination: Anywhere
Everything Everywhere
eTramping
Travel In Two Languages
The Freedom Traveler
Life At 36,000ft
Six Year Gap Year
Traveling 9 to 5
Don't Forget To Move
Escaping Reality
Reset ReBoot Record
It Takes Two To Travel
Stop Having a Boring Life
A Couple For The Road
One-Way Ticket To Life
Embolden Adventures
Travel Blogs Names Generator
Aren't these travel blog name ideas enough? You can also try this travel blog name generator.
Did you choose your blog name?
Now you only need to buy domain and setup hosting – we recommend Bluehost for new bloggers and BigScoots for an established site with a lot of traffic.
More Names Collections
Read also our other collections with ideas for names:
Video – How to name your travel blog:
How to name your business?
Pin this travel blogs names ideas for later and to your friends: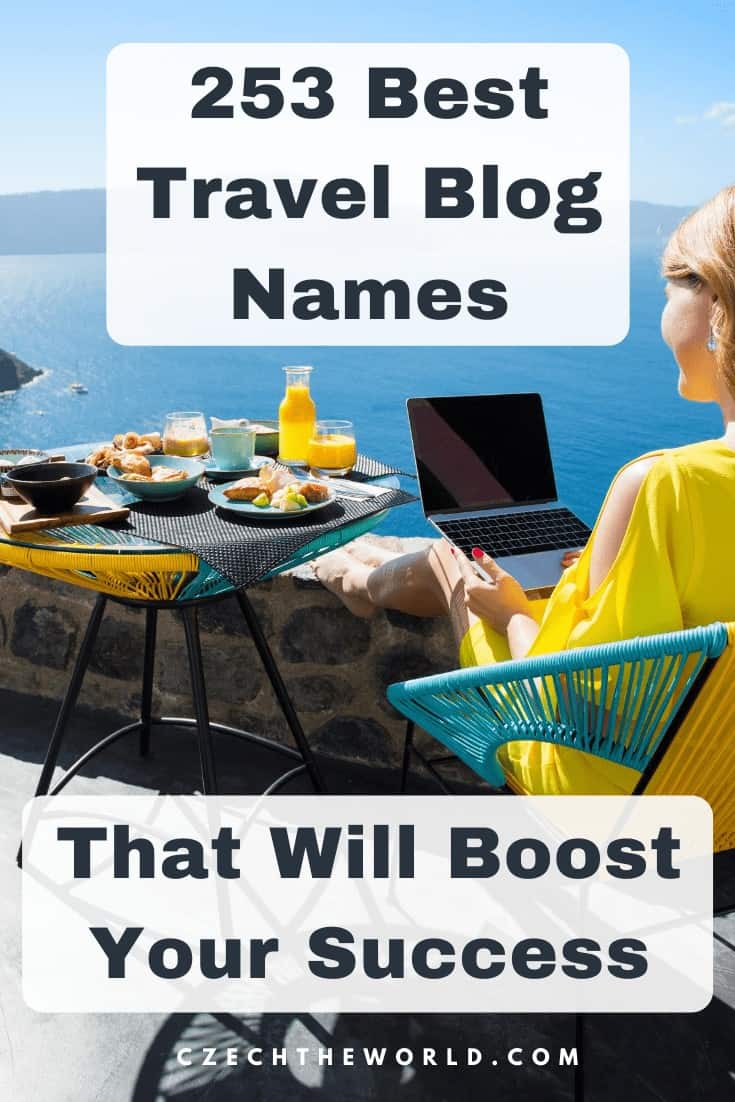 Do you like this post about travel blogs names ideas? Share it with your friends: