Are you wondering, how to name your bakery? Check our ultimate collection of the best bakery names that will help with your success.
We have divided these names for a bakery into several categories – The Best, catchy, creative, unique, fancy, cute, modern, French, and more…
You can jump to those categories in the table of contents:
The Best of the Best Names for a Bakery
Golden Bakery
The Cake Whisperer
Bake n' Take
Mom's Bakery
Baked With Love
Grandma's Kitchen
Dangerously Delicious Pies
Cakey Bakey
Pie in the Sky
Sunrise Bakery
Cake Art
Daily Delights
The Sweet Spot
Goldstar Bakery
The Sweet Sensations
Molly's Cupcakes
Corner Bakery Cafe
Cherry On Top
Catchy Bakery Names
Blue Dream
Cherry Merry
Upper Crust Bakery
The Nutty Bunch
PURE Cupcakes
Tasty Bakery
Hot Biscuit
Breaking Bread
Rico Bakery
Front Season
Evans Bake Shop
Cake & Cream
Bread Talk
Take the Cake
Charm City Cakes
Gimme S'more
Bake Off
The Baking Room
Honey Bunny
The Cake Corner
Zak the Baker
Crispy's Donuts
Donut Bar
Bread & Butter
Knead to Know Bread
The Chocolate Chip
Cake and Art
Cake My Day
Mad Batter
The Pie Chart
The Rolling Scones
The Dream Pies
Hotty Buns
Holy Dreams
Give U Treat!
The Donut Hole
Lucky Bakery
Grandma's Best
Irresistibly Warm
Masterpiece Cake
Bakers Delight
Marla's Sweet Treats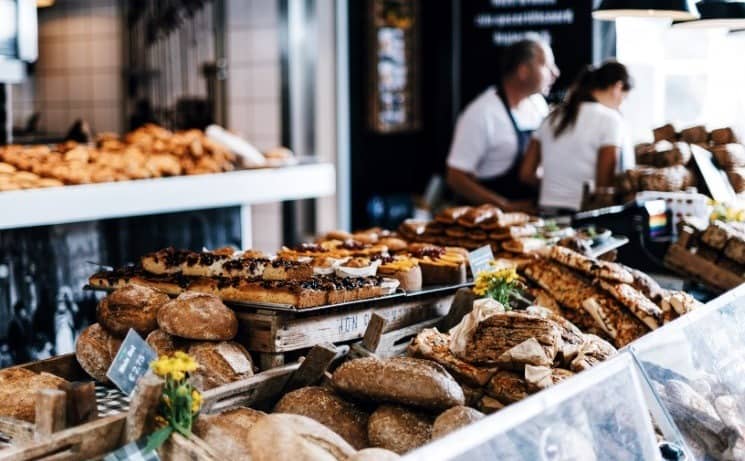 Creative Bakery Names
Bake in Care
Better Batter Bakery
Cupcake Notion
Rocking Rolls
Flying Apron
Cookie Monster
The Skipper Sweets
Drive-By Pies
The Salty Donut
Mix-Up You Need
Pink Frosting Bakery
Cakes Walk
It's a Piece of Cake
Buns of Steel
The Great EsCake
Nutty Creations
Village French Bakery
Sweet Cheeks Baking Company
Confection Connection
Southern Girl Desserts
Holy Cannoli
Sugar & Spice
Cake Monkey Bakery
Heavenly Cakes Creations
Sugar Booger
In Your Face Cakes
The Gingerbread House
The Baker's Table
Sugarbloom Bakery
Cakes, Cookies & Confections
Stairway to Leaven
Pinecrest Bakery
Crummiest Cakes
The Cooling Pan
Flour Power Cakery
Creamy Ideas
Delectable Desires Pastries
Twisted Cakes
Sticky Buns
Forgot the Flour
Unique Bakery Names
Artsy Tartsy
Blissful Bites
Grateful Bread
Pieous
Tokens of my Confections
Tiers of Joy
Pastry Emporium
Milk Jar Cookies
Bakeology
The Cooling Rack
Bootstrap Bakery
Crumble & Flake
Au Bon Pain
Cotton Cakery
Humble Pie Desserts
Big Sugar Bakeshop
Butternut Bakehouse
Sugar Shaker Bakery
Frost Me Gourmet
Cupcake Nation
Gluteus Minimus
The Flaky Croissant
The Mix-Up
The Bun Also Rises
Flour Box Bakery
Euphorium Bakery
Cupcakes Squared
Sift Dessert Bar
Fluffy Buns
Donut Panic
Lodge Bread Company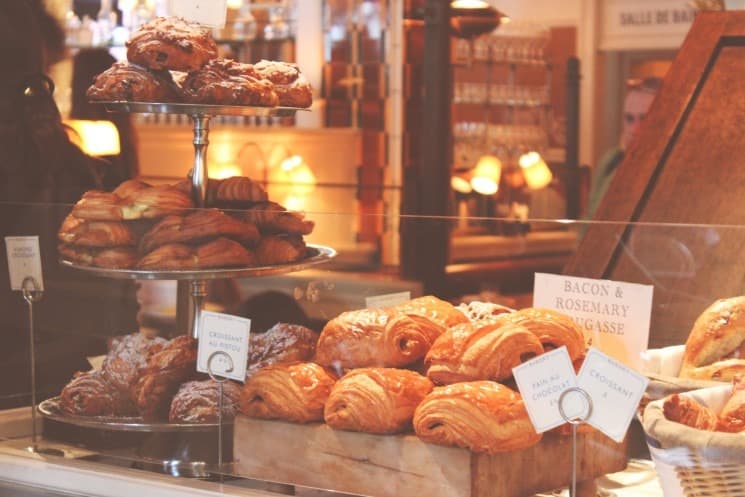 Fancy Bakery Names
Bread in New York
Carl Marletti
Éclair de Genie
Cake Lounge
Royal Bakery
The Cakesmith
Red Velvet Bakery
New York Cupcakes
Cake Superior
Sweet Lady Jane Bakery
The French Oven
Chester's Cheesecakes
Cupcake Paris
The Cake Lair
Galeries Lafayette Gourmet
The Smiths Bakery
Queen of Beans
Paradise Bakery & Cafe
Pierre Herme Cambon
Read also: 359 Best Bakery Slogans to Boost Your Business Success
Cute Bakery Names
A Bun in the Oven
Dream Sweets
Sweet Little Things
Treats of Sweets
Sugar Daddy
The Cake Fairy
Bakery Bits
Cakewalkers
Cute Cakes
Queen's Bakery
Dream Puffs
Bunnie Cakes
Cakes With honey
Flour Shower
Cutie Pies
Angel Bakery
Babycakes
Happy Bakery
The Cupcake Bakery
Tea Time Cakes
Skippity Scones
Sweet Sensations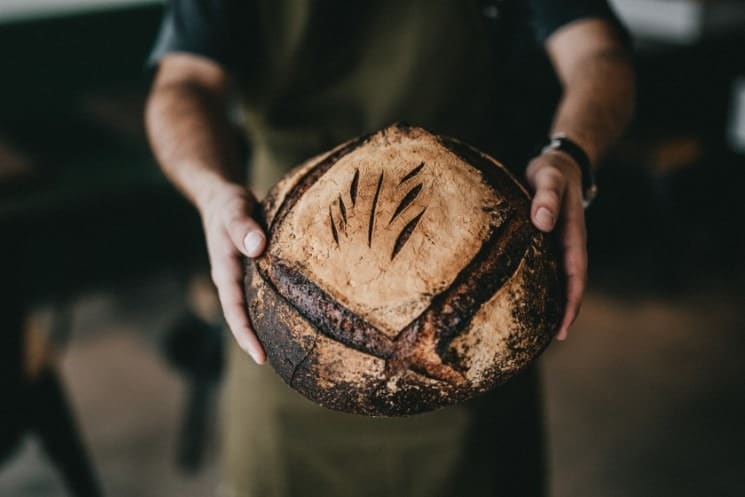 Modern Bakery Names
Baking Corner
Cookie Area
Modern Bakery
The Village Bakery
Just Cakes
Cake and the City Bakery
Lucky Rice Cake
Hot Crossed Buns
Boardwalk Bakery
Crafted Baked Goods
Doughy Delights
Collin Street Bakery
Muffin Top
Bread Lounge
Cake O'Clock
Incredible Cheesecake Company
Roma Bakery
Dolly Madison Bakery
The Cake Room
Frost Goddess
You Knead This Cake
Super Buffet
Finest Donuts
Cookie Encounter
The Cookie Jar
Absolutely Muffin
Manhattan Cupcakes
The Breadline
Cool Bakery Names
Amazin Glazing
Do You Know the Muffin Man?
Sensational Bites
Sugar Street Sweets
Tiny Delight
The Sweet Corner
Golden Donut
Top Tier Treats
Sweet Tooth
Angel Maid Bakery
Crumbs Bake Shop
Bliss Bakery
Wonder Bakery
Proof Bakery
Sweet Indulgence
Muffin Man
Street Sweets
Make It Sweet
Super cakes
Starry Lane Bakery
The Crusty Croissant
Flour Bakery & Cafe
Anytime Cakes
All Your Cake
Sunrise Breakfast
Sweet Cakes Shop
The Good Stuff Cookie
Nothing Batter Cakes
Flavorish Bakery
Dream Pies
Diamond Bakery
Extraordinary Desserts
Honey n Cakes
Break O'Clock
Three Dog Bakery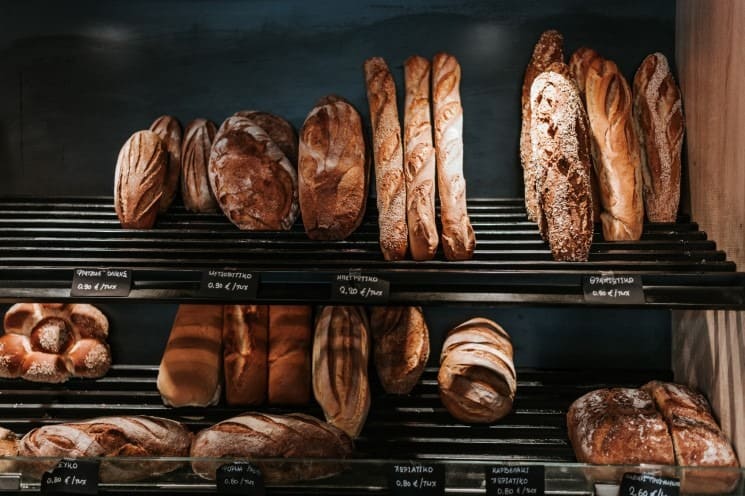 Elegant Bakery Names
Aki Boulanger
Angels Cakes
My Cupcake World
Our Daily Bread
The Real Almond Cake
Carla's Sweet
The Muffin Cakes
Queen of Tarts
Jake's Cakes
The Milk Bar
La Central Bakery
Sweetie Pies
The Cake Time
Me Myself & Pie
Sugar Coated Cake
The Vanilla Bean
Cake Time
Mousse Boutique
The Sweet Room
Perfect Pastries
Doughnuts Shop
A Cupcake Queen
Delicious Arts
Heavenly Donuts
The Cake Bake
Le Cookie Encounter
Chocolate Bar
Clever Bakery Names
Flour Power
Outside the Bread Box
Pan and Pin
The Bread Basket
Piece of Cake
Quick Bakes
Butter Up Bakery
Pie in the Pan
Plentiful Pastries
Frost Me Cafe
Cake Lake
The Boxing Bread
Wake and Bake
Cake a Diem
Treat Confectionery
Valley Bakery
The Bread Box
Bread & Salt Workshop
Hole in One Doughnuts
Out of the Oven
House of Bread
The Cup Shop
The Dough Knot
Snack Rack
The Twisted Churro
Semi Sweet
Waive the Grain
Pretty Baked
Stop and Smell the Flours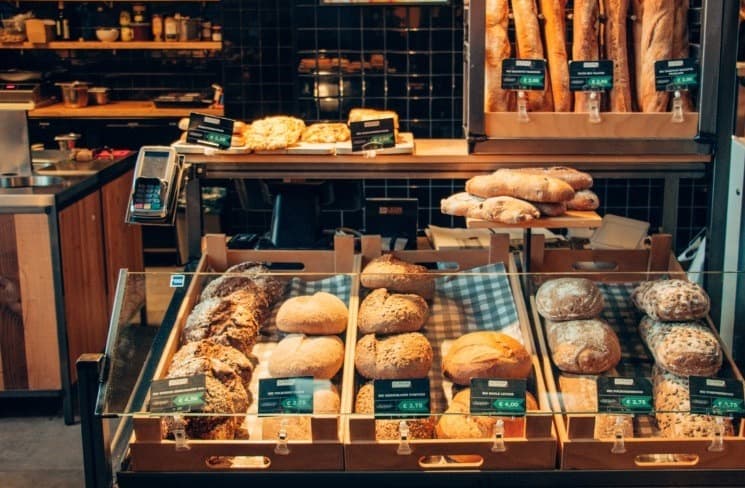 Trendy Bakery Names
Bake O'Clock
Holy Dishes
Chief Bread Maker
True Loaf Bakery
Olee Cake and Pastry
Pie Baker
Milk & Cookies Bakery
Sweet Layers
Bread with Butter
Taste Bakery Café
Creamy Pastries
Especially Cakes
Petite Sweets
The Dreamy Mix
Sugar Momma
Monster Cookies
Junior's Bakery
Delicious Treats
Colonial Bakery
Manhattan Bakers
Prime Baguette
French Bakery Names
La Crème de la Crème
Vanille
Le Grande Boulangerie
Fait Maison
Salon Glace
Cannelle
Cerise
Gourmandise Pastry Shoppe
Mon petit chou
La Boulangere
Éclair de Genie
Eiffel of Cakes
Délicieux
Noisette
Oh la la Bakery
La Vie En Rose Bakery
Le gâteau d'amour
Bon Appetit Sweets
Le Meilleur Cake Shop
Framboise
Belle gateau
Liberte Patisserie
Tout de Sweet
Crumbs of Paris
French Kisses Bakery
Patisserie Possibilities
Memorable Bakery Names
I bake it you take it
Cookies Tonight
Cake n Bake
Cookie Crumble
Cinnaholic
Bread and Butter
The Nutty Shop
Faith Bakery
Sweet Revenge Bakery
Cookie Corner
Cake and Spoon
Snickerdoodles
Cake Walk
The Muffin Man
Sunrise Pies
The Rolling Pin
Bake Away
Eats and Treats
Cake House
The CinnaMan
Bake n' Flake
Pie Bar
Helmut Newcake
Cakes of Paradise
Blackmarket Bakery
Charlotte Bakery
Names for a Bakery Generator
Aren't these bakery names enough? You can also try this bakery name generator.
More Names Collections
Read also our other names collections:
Video – How to name your bakery:
How to name your business?
Pin this for later and to your friends: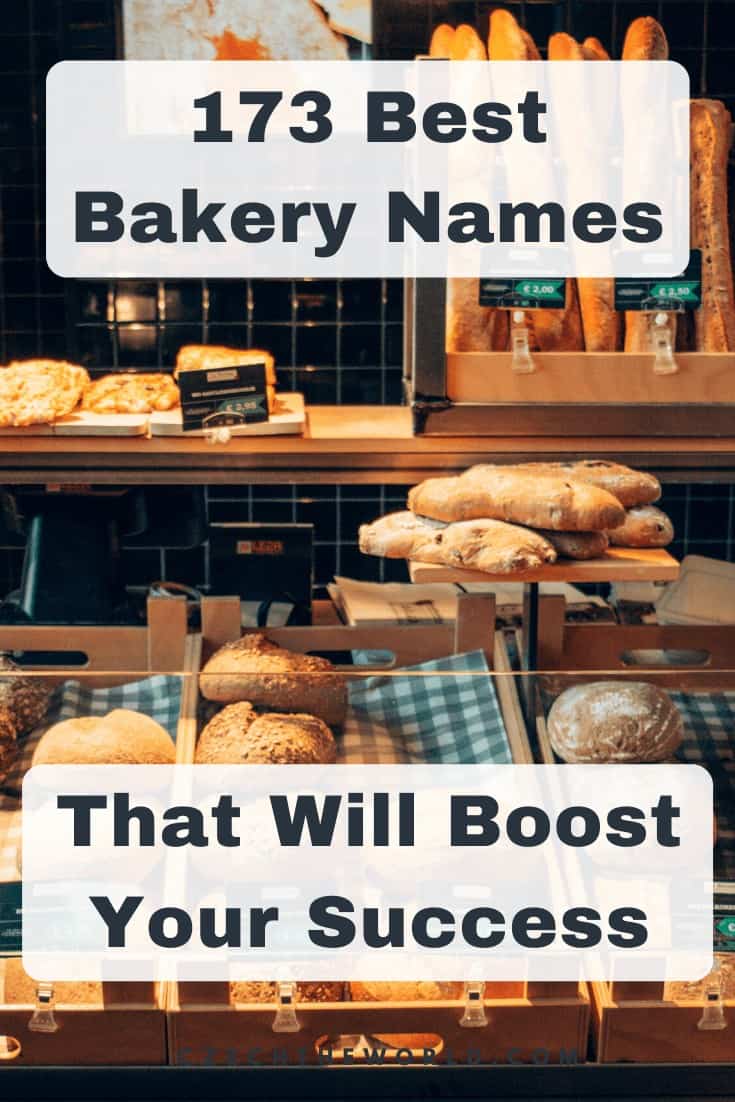 Do you like this post about names for a bakery? Share it with your friends:
Disclosure: Please note that some of the links above may be affiliate links, and at no additional cost to you, we earn a commission if you make a purchase. We recommend only products and companies we personally use and we use this income for further improvement of this website. Thank you!