Do you need perfect Instagram captions to get more likes, shares and be an Instagram hero? Check our large collection!
We have divided these attitude captions for Instagram into several categories such as – the best, for boys, for girls, for couples, for work, for gym, and more…
You can jump into your desired category using table of contents:
Best Attitude Captions for Instagram
Living my life unapologetically and owning every second of it 🌟
Overflowing with glam, no room left for anyone's nonsense 💅
I don't just show up; I make a statement by being present 👑
In a world of imitations, I'm striving to be a one-of-a-kind voice 📣
My confidence is so high; even my selfies don't need a filter 📸
Calling the shots in my life, because I'm the CEO of my destiny 💼
Not just staying in my lane but slaying in it, thank you very much 🔥
Authoring my life, one rule-breaking chapter at a time 📝
I'm too busy breaking glass ceilings to worry about breaking hearts 💔
Conforming is boring; I was born to defy norms and stand out 🌈
Don't have time for negativity; I'm too busy being rad 😎
Why chase anyone when I already know I'm the ultimate prize? 🎣
Woke up today with one goal: to be anything but mediocre 🌞
Know your worth, then confidently add the tax, shipping, and handling 💵
Mastering the art of balancing sassy remarks with pure class 👠
You can try to study me, but be warned, I'm a Ph.D. level course 🎓
I'm an ever-changing masterpiece, constantly learning to master peace 🎨
History has proven that queens can rule perfectly fine on their own, thank you 👸
Taking life's punches in style, like a boxer owning the ring 🥊
Perfection is overrated; authenticity is my preferred currency 🌻
Built to expand into greatness, not to fit into societal norms 🌹
Kindness is my language, but don't misinterpret it as a weakness 😇
I'm as selective with my circle as I am with my selfies, quality over quantity 🤳
Too busy shining to let anyone cast a shadow on me ✨
Filling my life with gratitude, no room left for hate or attitude 🙏
We're all lost to some extent, but at least I'm lost in style and grace 👗
Spreading a unique kind of magic that's authentically mine 💫
Whether you're on team love or team hate, my brilliance isn't up for debate 🌟
I don't just chase sunsets; I chase new opportunities for better beginnings 🌇
Navigating life with a kind heart, a fierce mind, and an untamed, brave spirit 🦁
Haven't changed, just upgraded to a new level in the game of life 📈
Your vibe magnetizes your tribe, so I keep mine positively electric 🌀
When reality tried to limit me, I hung up and dialed into my dreams 📞
I bend under pressure but never break, resilience is my second name 💪
Living every day fearlessly chasing what sets my soul alight 🔥
Why wait for the sun? I create my own sunshine, even when clouds loom ☀️
My heart is too filled with love to waste any time on hate 🥰
No dream is too big when you're willing to put in the work to make it real 🛠
Beauty might get the first glance, but it's my personality that leaves a lasting impression 💖
I'm not just passing through life; I'm here to conquer my dreams, one goal at a time 🏆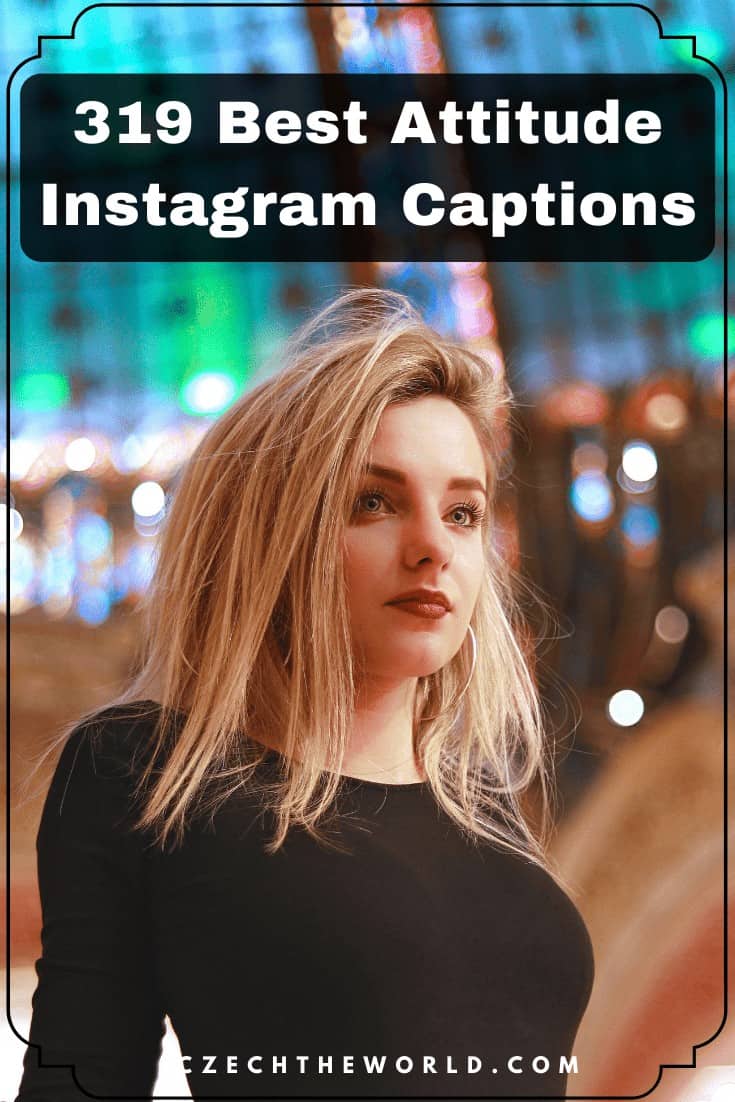 Attitude Instagram Captions for Boys
Breaking the rules, not hearts 💔
Building empires and legacies, not just followers 🏰
Setting the bar high, then jumping over it 🏆
Fearless and focused, that's the motto 🦁
Rolling like a boss, 24/7 💼
I don't play games; I change them 🕹
I'm not a businessman, I'm a business, man 💵
Less talk, more action, let's go 🔥
A king only bows down to his queen 👑
Game face on, always 😎
My vibe, my tribe 🌀
Living large and taking charge 🌆
Not arrogant, just better 🤷‍♂️
If you're not with me, you're against me 👊
Don't count the days, make the days count 🗓
Fuelled by ambition, not just caffeine ☕
Hustling in silence, success is my noise 🚀
Failure is not an option; it's a stepping stone 🛤
Not everyone gets the same version of me 🎭
I don't make excuses; I make results 💪
My life, my rules, no apologies 📜
Style is a reflection of attitude and personality 👕
Can't stop, won't stop 🛑
I came, I saw, I conquered 🌍
Leveling up, one win at a time 📈
Either you're with me or you're in my way 🚧
Life's too short for bad vibes and bad friends 👥
Being a gentleman never goes out of style 👔
Chase dreams, not people 🏃‍♂️
They told me I couldn't, so I did 👏
I'm not here to fit into your world; I'm here to build my own 🌎
Too lit to quit ✨
The only way to do great work is to love what you do 🖥
Swagger so bright I don't even need a spotlight 💡
My life, my choices, my lessons, my victories 🏁
Not a follower, a trendsetter 🔥
Not lucky, just blessed 🙏
Making money, not excuses 💰
Don't follow your dreams, lead them 🌠
It's not an attitude, it's the way I am 🤟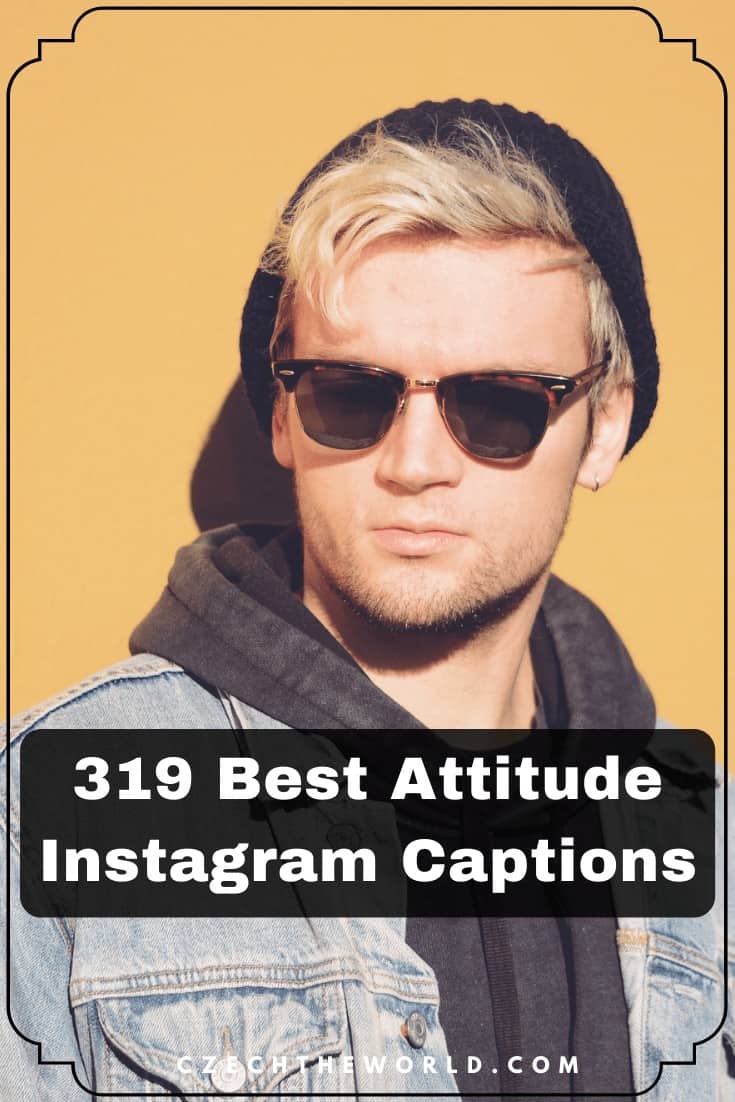 Attitude Instagram Captions for Girls
A queen never leaves her throne to address a jester 👑
Mess with me? I'll let karma do its job. Mess with my family? I become karma 🌪
Goal digger and proud of it ⛏
I wear confidence like couture 👗
Classy, sassy, and a bit bad-assy 👠
Not everyone likes me, but not everyone matters 🤷‍♀️
Self-love is the best love 💖
Ambition on fleek 📈
I'm not bossy, I'm the boss 💼
Turning my haters into motivators 🤩
Don't mistake my kindness for weakness 🌸
Sweet as sugar, tough as nails 🍭
Be the kind of woman that makes other women step up their game 💪
If you can't handle me at my worst, you don't deserve me at my best 🌹
Slaying my own dragons 🐉
Fire in her soul and grace in her heart 🔥
Dare to be different 🌈
Life is short, make every hair flip count 💁‍♀️
I don't have an attitude problem; you have a perception problem 🕶
No rain, no flowers 🌧
A girl should be two things: who and what she wants 👸
Sparkling my way through life ✨
Beauty is power; a smile is its sword 🗡
Don't be afraid just to be you 🌟
My confidence is designer-made 🎨
Doing it for myself and loving it 🙌
Not fragile like a flower, but fragile like a bomb 💣
You can't spell awesome without ME 😎
Be yourself; everyone else is already taken 🦄
I'm not short, I'm concentrated awesome 🍯
Embracing the glorious mess that I am 🌪
I'd rather be someone's shot of whiskey than everyone's cup of tea ☕
Be as picky with your men as you are with your selfies 🤳
Talk to the palm 🌴
My life isn't perfect, but my lashes are 👁
Dressing like I'm already famous 👗
High heels, higher standards 👠
I'm the girl you've always wanted 💅
Life's a peach, and I'm just playing in the sand 🍑
Brains, beauty, and a whole lot of attitude 🧠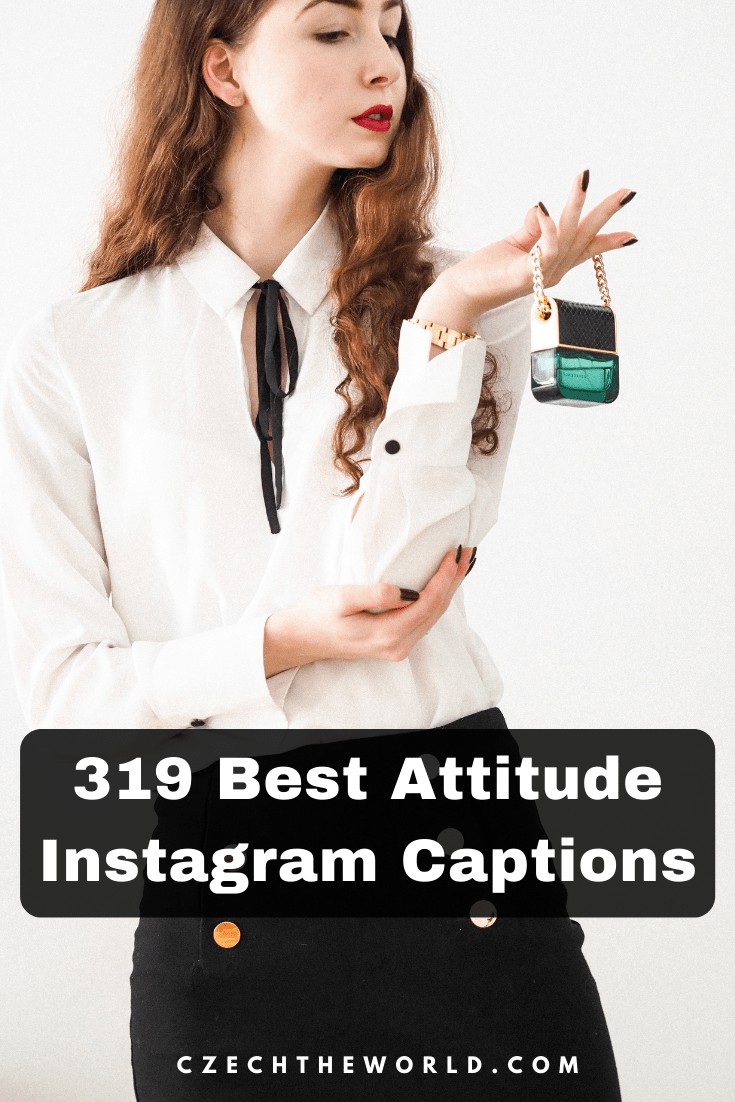 Love and Relationship Attitude Instagram Captions
Love me for who I am, or watch me as I go 💃
In love and unapologetically thriving 🌟
Too fab to be single, too cute to be cheated on 💅
A perfect relationship? Nah, just perfectly imperfect with you ❤️
When you can't find the sunshine, be the sunshine for each other ☀️
Relationship status: committed to self-love and maybe you 💖
We're not just surviving; we're thriving in love 🔥
Finding my forever in this temporary world 🌍
The right love will never interrupt your glow up ✨
Slaying together; it's a forever kind of thing 👑
Side by side or miles apart, you're always in my heart 💕
Loving you is like breathing; I just can't stop 🌬
Chemistry so electric, it could light up a city 🌃
You're my favorite daydream 💭
Two souls, one fire 🔥
Together, we're a beautiful kind of chaos 🌀
You and I are more than just vowels 💏
With you, the mundane becomes magical 🎩
Not lucky in love; I'm blessed 🙏
We're the couple even Netflix can't compete with 🎬
Love is an art, and we're each other's masterpiece 🎨
My love for you is a journey, starting at forever and ending at never 🛤
You make my heart skip a beat and my days a bit sweeter 🍭
You had me at "hello," but I stayed for the "I love you" 💘
Love is a two-way street constantly under construction 🚧
Love like you've never been hurt and live like it's heaven on Earth 🌏
You're the missing piece I've been trying to find 🧩
Our love is a fine wine; it only gets better with time 🍷
My heart recognizes you, even when my eyes didn't 💌
Stealing kisses and your fries 🍟
The world may change, but my love for you remains constant 🔒
Every love story is beautiful, but ours is my favorite 📖
You and me, it's a vibe 🌟
You may hold my hand for a while, but you hold my heart forever ❤️
You're my "once in a lifetime" kind of love 💫
Love is not about how many days, months, or years, but about how much 📆
You make me laugh even when I don't want to smile 😄
Our love story is my favorite genre 📚
A day without you feels like a year, a minute with you feels like a lifetime ⏳
No caption needed, our love speaks for itself 💑
Must Read: 177 Best Love Status Ideas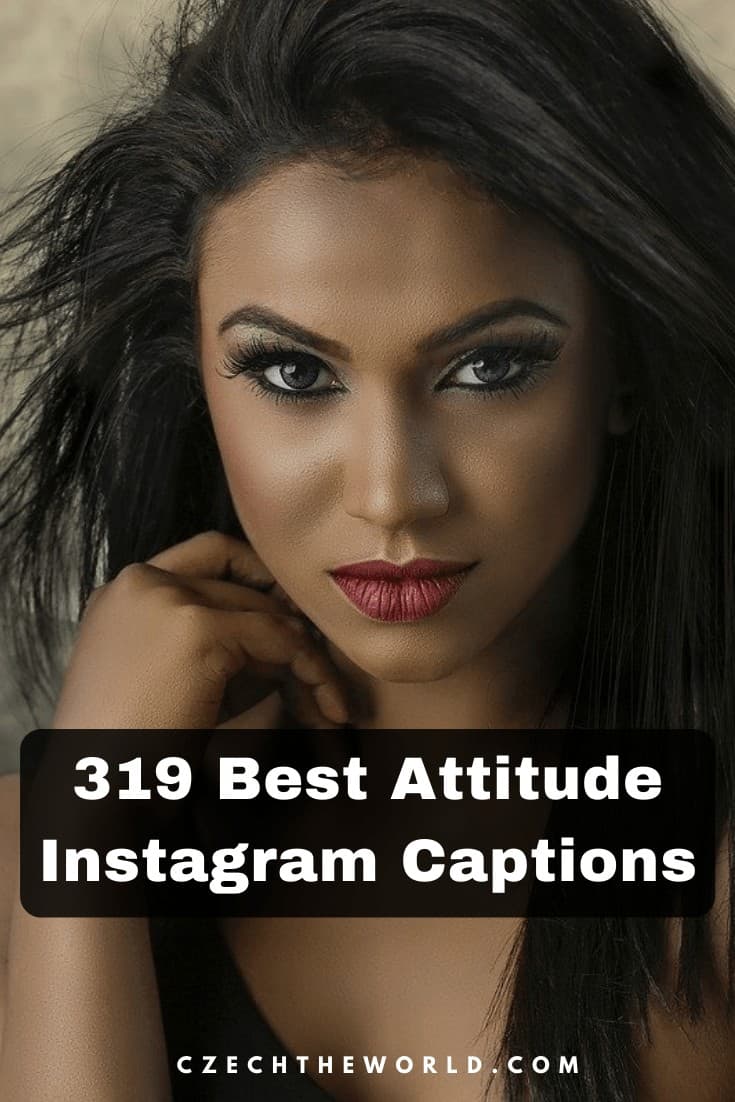 Attitude Instagram Captions for Friends
Friends who slay together, stay together 👯‍♀️
Besties by choice, sisters by heart 💕
Our friendship is tighter than our jeans 👖
The good vibes tribe 🌀
We're not average, that's why we're best friends 🌟
We don't do drama, we do business 💼
A day without friends is a day wasted 🗓
Breaking hearts and curfews 💔
Elevating each other, one laugh at a time 😂
You can't sit with us, unless you're cool 😎
Kind hearts, fierce minds, brave spirits 🦁
Side by side or miles apart, we're always connected 💞
Same squad, different day 📅
Friendship level: Unbreakable 🔒
In squad we trust 🤞
Friendships aren't made, they're built like empires 🏰
Too glam to give a damn, especially when we're together 💅
Soul sisters and mischief misters 🤪
You call it chaos; we call it family 🏠
We vibe on the same frequency 🎵
I'd go to war for my squad 💣
With friends like these, who needs enemies? 🤷‍♀️
Rolling with the homies 🚗
A true friend sees the first tear, catches the second, and stops the third 💧
We don't sweat, we sparkle ✨
Double trouble, twice the fun 👯‍♂️
Laughing so hard that we forget why we're laughing 😹
When worst comes to worst, squad comes first 🤗
Surround yourself with those who light your path 🔦
Birds of a feather, slay together 🦚
Your vibe attracts your tribe 🌸
Lifelong memories start with the craziest ideas 💡
We're not friends; we're a small gang 🤜🤛
Loyalty over luxury, always 🛡
Best friends are hard to find because the best ones are already mine 🍀
Each friend represents a world within us 🌍
Friends are the bacon bits in the salad of life 🥗
We go together like coffee and donuts ☕🍩
In it for the long haul, no pit stops 🚀
Real queens fix each other's crowns 👑
Must Read: 317 Best Instagram Captions for Friends
Attitude Instagram Captions for Selfies
Self-love is the best love 💖
In a world full of trends, I want to remain a classic 🎩
If you got it, flaunt it 💁‍♀️
I don't take selfies; I collect masterpieces 🖼
Caffeine and confidence ☕
Smile big, laugh often 😄
Embracing my imperfections, it's called self-love 💕
Be your own kind of beautiful 🌸
Feeling myself, might delete later 🤳
Owning my vibe, not renting it 🌟
Confidence level: selfie with no filter 📸
I woke up like this #flawless 💅
Making them stop and stare 🛑
I'm not a selfie expert; I'm a selfie artist 🎨
No job is complete without a selfie 😎
I'm the queen of my own little world 👑
Inner peace is the new success 🧘‍♀️
Sometimes you have to be your own hero 🦸‍♀️
This is my selfie, there are many like it, but this one is mine 📷
The only approval you need is your own 👍
Selfies: because sometimes you're your own best view 🌄
I am who I am, your approval isn't needed 🤷‍♀️
Me, myself, and I 🤟
Because some moments are selfie-worthy 🤩
Glowing with the flow 🌟
Don't mistake my kindness for weakness 🌸
Not everyone likes me, but not everyone matters 💅
My life, my rules, my selfies 📷
Take only pictures, leave only footprints 👣
Let your smile change the world, but don't let the world change your smile 😊
When you take a selfie so good, you can't believe it's you 🤳
Sending my selfie to NASA, because I'm a star ⭐
Making peace with my broken pieces 💔
Mirror, mirror on the wall, who's the fiercest of them all? 🔮
Life is a movie, and this is my close-up 🎥
Dare to be different 🌈
Some call it arrogant, I call it confident 🤷‍♀️
Lighting up my own path 💡
Sky above me, earth below me, fire within me 🔥
Pretty in pink, bold in attitude 💖
Attitude Instagram Captions for Couples
We're not perfect, but we're perfect for each other ❤️
The Bonnie to my Clyde 🚗
Love us or hate us, either way, you're thinking about us 😘
We go together like peanut butter and jelly 🥪
Two hearts, one beat 💕
We're not relationship goals; we're relationship reality 🛡
We don't love casually; we love deeply 💖
Not just my love, but my partner in crime 👫
Too glam to give a damn, especially together 💅
You're the yang to my yin ☯️
Love is a game we both like to play 🎮
Making memories with you is my favorite thing to do 📷
Too cute to be diluted 💦
We're the couple your mom warned you about 😈
Not just a love story, we're an epic tale 📚
Our love is timeless; it doesn't need a watch ⌚
We're like a deck of cards; different but perfectly matched ♠️♥️
Our relationship is like fine wine, it only gets better with time 🍷
Double trouble, twice the love 👯‍♂️
The only thing better than me is us 💑
Why be moody when you can shake your booty? 💃🕺
We're so awesome, even our selfies need a seatbelt 🤳
Setting couple standards since [year] 🗓
Not Romeo and Juliet, we want a love that lives, not dies 🏹
We vibe differently, that's why we're together 🌟
You don't marry someone you can live with; you marry someone you can't live without 🤵👰
Picture-perfect memories made with you 🖼
We laugh at the dumbest jokes, put up with each other's worst moods, go along with the craziest ideas; that's us 🤪
Together we're a rare kind of majestic chaos 🌀
We love so strong, haters wanna learn from us 💪
Creating our own fairytale, one selfie at a time 📸
Our love isn't for the faint of heart ❤️‍🔥
When we're together, we're cooler than everyone else 😎
Dynamic duo in love and life 🦸‍♂️🦸‍♀️
Our love story is like a roller coaster, full of ups, downs, and a lot of loops, but we always enjoy the ride 🎢
We don't do basic; our love is extraordinary 🌈
In a sea of people, my eyes will always search for you 🌊
Our relationship is like a cup of tea, a special blend of you and me ☕
Not looking for a fairytale because our love is real 👊
The flame of our love will never die, for it burns through the stars for eternity 🔥
Attitude Instagram Captions for Work
Dressing like I'm already the CEO 👔
On a mission to build an empire and leave a legacy 🏢
I've got hustle and heart 💖
Dream big, work hard, stay focused 🎯
Doing it for the 'Wow, you got hot' at the high school reunion 💪
Meetings & coffee, the lifeblood of business ☕
Aspiring to inspire before I expire 🌟
Success is my favorite accessory 💍
Working smarter, not harder 🧠
Turning dreams into deadlines 🗓
Ambition on fleek 👌
Do it with passion or not at all 🔥
Behind every successful person is a substantial amount of coffee ☕
Grinding now so I can shine later ✨
There's no elevator to success, you have to take the stairs 📶
Think like a proton, always positive ⚛️
Monday is a state of mind, get in the right one 💼
On the grind and in my prime ⏳
Building my future, one spreadsheet at a time 📊
Crushing goals and taking names 📝
Strong women get things done 💪
My workspace is my happy place 🖥
If opportunity doesn't knock, build a door 🚪
Breaking the glass ceiling, one promotion at a time 💎
Seize the day and the deal 🤝
If you're offered a seat on a rocket ship, don't ask what seat 🚀
Ready to disrupt the status quo 🔄
Keep your heels, head, and standards high 👠
Slaying spreadsheets like a pro 🗡
I'm not bossy, I am the boss 😎
Excellence is not a skill; it's an attitude 🏆
Be so good they can't ignore you 👀
Productivity fueled by caffeine ☕
Big goals require big moves 🛫
Born to express, not to impress 🎙
Perseverance pays off, literally 💵
No hustle, no progress 🚧
Goal-digger mentality 💎
A calm sea never made a skilled sailor ⚓
The best is yet to come, watch me 🌅
Attitude Instagram Captions for Sports
Play like you're in first; train like you're in second 🏆
Winners train, losers complain 🥇
Leave it all on the field 🏈
The grind never stops 💪
Break a sweat, not your spirit 💦
Talent wins games, teamwork wins championships 🏀
It's not how big you are; it's how big you play 🏐
Be the game changer ⚽
Champions keep playing until they get it right 🎾
You miss 100% of the shots you don't take 🏒
When you feel like quitting, remember why you started 🏊‍♀️
Records are meant to be broken 📈
It's hard to beat someone who never quits 🥊
The harder the battle, the sweeter the victory 🏁
In it to win it 🎯
Don't practice until you get it right; practice until you can't get it wrong ⚾
I don't play the game; I dominate it 🏋️‍♂️
Make your haters your motivators 💥
Winning isn't everything; it's the only thing 🏅
Success is where preparation and opportunity meet 🤝
Victory requires payment in advance 🏆
When the going gets tough, the tough get going 🏉
Swim fast, die last 🏊
Catch me if you can 🏃‍♀️
In a world full of cheerleaders, be the athlete 👟
Giving up is simply not an option 🚴
Sweat + sacrifice = success 🌟
Take the risk or lose the chance 🎲
Your only limit is you 🚀
The body achieves what the mind believes 🤸‍♀️
Eat, sleep, conquer, repeat 🔁
You're your only competition 🤼
Keep your eye on the ball, not the opponent 👀
Turned my can'ts into cans and dreams into plans 🗺
Never let good enough be enough 🌈
Progress, not perfection 📈
Goals so big they intimidate you 🌍
Second place is just the first loser 🥈
Strong is what happens when you run out of weak 💪
Fall down seven times, stand up eight ⛹️‍♂️
Attitude Instagram Captions for Travel
Wanderlust and city dust 🌆
Catch flights, not feelings ✈️
Globetrotter with an attitude 🌍
My passport is my favorite journal 📕
Exploring the world, one selfie at a time 📸
A bad day in Paris is still better than a good day anywhere else 🗼
I'm not lost; I'm exploring 🌲
The road less traveled has the best views 🛤
Feet on the ground, head in the clouds ☁️
Eiffel in love with this city 🇫🇷
Jet lag is for amateurs 🛫
Making the world my playground 🎡
Eat well, travel often 🍴
Not a tourist, but a traveler 🎒
I haven't been everywhere, but it's on my list 🗺
Going where the WiFi is weak and my spirit gets strong 🏞
Sky above, Earth below, peace within 🌏
From the 'gram to the globe 🌐
Not all classrooms have four walls 🏔
I travel, therefore I am 🧳
Adventure, here we come 🚗
If traveling was free, you'd never see me again 💨
Beach vibes only 🏝
Sun, sea, and a dash of attitude 🌊
Lost and loving it 😍
A journey of a thousand miles begins with a fabulous pair of shoes 👠
I follow my own compass ⬆️
Sunsets and palm trees 🌴
Vacay mode: Activated ✅
The world is a book, and I'm just getting past the first chapter 📖
Roam if you want to 🗺
Mountains aren't just funny; they're hill-areas ⛰
What's life but one grand adventure? 🎢
Some call it adventure, I call it my way of life 🌈
My favorite travel essential: a sense of humor 😂
Not all those who wander are lost, some are just looking for coffee ☕
Dare to live the life you've always wanted 🌟
I'd rather have a passport full of stamps than a house full of stuff 🛂
Collect moments, not things 📷
The adventure begins when the WiFi ends 📵
Attitude Instagram Captions for Fitness and Gym
Your workout is my warm-up ♨️
Fitness: a lifestyle with no finish line 🏁
Commit to be fit 💍
Abs are made in the kitchen 🍽
Good things come to those who sweat 💦
It's not a diet; it's a lifestyle change 🌱
A one-hour workout is 4% of your day, no excuses 🕒
I've got 99 problems but a gym ain't one 🎵
The only bad workout is the one you didn't do ❌
Turn fat into fit 🔄
Excuses don't burn calories 🔥
A mile a day keeps the pounds away 🏃‍♂️
I bend so I don't break 🧘‍♀️
Rest day? Where's the fun in that? 🚫
The gym is my playground 🤸‍♀️
Exercise your mind and your body will follow 📚
If it doesn't challenge you, it won't change you 💪
Train insane or remain the same 🤯
Progress, not perfection 📈
Fit is not a destination, it's a way of life 🛤
No sweat, no glory 💦
Exercise now, selfies later 🤳
Flexing my way to fitness 💪
Train like a beast, look like a beauty 🌸
You can't spell challenge without change 🔄
Eat clean, train dirty 🥦
Pain is just weakness leaving the body 💢
I don't stop when I'm tired; I stop when I'm done 🏋️
Sore today, strong tomorrow 💯
Your body is a reflection of your lifestyle 🌱
Be your own competition 🥇
The best project you'll ever work on is you 🛠
Wake up, work out, look hot, kick ass 🔥
Discipline is just choosing between what you want now and what you want most 🕑
Fitness is not a destination; it's a way of life 🛣
Cardio? Is that Spanish? 🤔
Less talk, more action 🤐
Strong mind, stronger body 🧠
Gains, gains, gains! 📈
Don't wish for it, work for it 🌟
Attitude Instagram Captions for School or College
Studying hard or hardly studying? 📚
Work hard, nap harder 😴
Conquer your syllabus like you would a weekend Netflix binge 📺
Taking notes or taking names? 📝
4.0 GPA, but make it fashion 👗
Slaying my grades like I slay my outfits 👠
Caffeine and kindness ☕
I came, I saw, I conquered the library 📖
Friends, fun, and a 4.0 – who says you can't have it all? 🤷‍♀️
Mind sharp as a pencil, attitude sharp as a knife ✏️
The tassel is worth the hassle 🎓
On a study break, be back never 🛑
The only all-nighters I pull are study sessions 🌙
Making memories while acing tests 📸
Turning lectures into legacies 🏛
On a mission to change the world, one exam at a time 🌍
My backpack is my second home 🎒
Campus queen, diploma dream 👑
"A" is for ambition, not just grades 🅰️
Graduating, but make it fabulous 🎉
Freshman year: survival mode activated 🚨
Crushing books and breaking hearts 💔
Brains and beauty, I've got the whole package 🎁
The only limit is your mind 🧠
My GPA is my wingman 💯
Dorm life, big dreams 🏢
Classy, sassy, and a bit smart-assy 📚
Crushing exams like I crush my workouts 💪
Majors change, but the grind stays the same 🔄
Stress doesn't really go with my outfit 🚫
Friends, finals, and late-night food runs 🍕
If opportunity doesn't knock, build a classroom door 🚪
Seniors do it better 🥇
Study tip: Turn off your phone and do your work 📵
Your future is created by what you do today, not tomorrow 📅
Learning today, leading tomorrow 👩‍🎓
The best memories come from bad ideas done with best friends 👯
If you think I'm smart now, just wait until graduation 🎓
Making my mark, one essay at a time 🖋
My degree, my rules 🎓
Attitude Instagram Captions for Holidays
Jingle all the way, and make it count 🔔
Bunny by day, party by night 🐰
Beware, for I am festive and full of dinner 🍴
Christmas calories don't count 🍰
When life gives you lemons, make mulled wine 🍋
I came for the boos 👻
New Year, new me? Just kidding, I'm fabulous already 💅
A December to remember ❄️
Thankful, blessed, and mashed potato obsessed 🥔
Put a little jingle in your mingle 🔔
I'm the reason we're on the naughty list 📜
Scaring is caring 🎃
Have yourself a merry little cocktail 🍸
Lighting up the holidays, and not just with fairy lights 💡
Cupid's got nothing on me 💘
On Valentine's Day, we wear pink 💗
Happy, holly, and oh-so-jolly 🌟
Resolutions are made to be broken 📜
The best way to spread holiday cheer is singing loud for all to hear 🎶
Happy everything and merry always 🎊
Sleigh my name, sleigh my name 🛷
All I want for Christmas is you… to stop asking what I want 🎅
My ugly sweater game is strong 🎄
Naughty, nice, and full of spice 🌶️
Halloween isn't just a day; it's a lifestyle 🎃
Making spirits bright, one cocktail at a time 🍹
Valentine's Day: Single and fabulous 💁‍♀️
Decking the halls and breaking the rules 🦌
Why limit happy to an hour? 🕒
Feast mode: activated 🦃
It's not what's under the tree that matters; it's who's around it 🎁
Spooky season is a state of mind 👻
Cupid called; he wants his arrow back 🏹
Happy Holislays! ☃️
Fireworks in the sky, fire in my attitude 🎆
New Year, Same Me, Bigger Goals 🎉
The real treat is the friends we spook along the way 🍭
Wrapped and ready, like a boss 🎁
Who needs mistletoe? 😘
Don't get your tinsel in a tangle 🎄
Attitude Instagram Captions for Nature and Outdoors
The mountains are calling, and I must go 🏔
Wild and free just like the sea 🌊
Wherever you go, go with all your heart 🌲
Nature doesn't need a filter 📸
Take only pictures, leave only footprints 👣
I've got sunshine on a cloudy day ☀️
Find me where the wild things are 🌿
Let the sea set you free 🌊
Go where you feel most alive 🌱
Mother Nature's my therapist 🍃
The sky's not the limit, it's just the view 🌌
Keep close to nature's heart 💚
Feeling good-natured 🌳
Sun's out, buns out 🌞
Wander often, wonder always 🗺
Catch me by the sea 🎣
Nature's calling, I must go 🌲
Under the stars and over the moon 🌕
Into the forest I go, to lose my mind and find my soul 🌳
My altitude is adjusted by my attitude ⛰
Beach more, worry less 🏖
Going to the mountains is like going home 🏡
Every sunset is an opportunity to reset 🌅
Life is better in hiking boots 👢
The best view comes after the hardest climb 🧗‍♀️
On cloud nine ☁️
Flower child with a rock and roll heart 🌸
Nature's peace will flow into you like sunshine flows into trees 🌲
Wind in my hair, salt in the air 🌬
I got 99 problems, but a beach ain't one 🏝
Life is better in a bikini 👙
Breathe in the wild air 🍃
Let's wander where the Wi-Fi is weak 📵
Nature is not a place to visit, it's home 🏞
Adventure awaits, but first coffee ☕
I'm not lost, I'm exploring 🗺
What's life but one grand adventure? 🎒
Sleep under the stars, and wake up with the sun ☀️
You can't buy happiness, but you can buy a tent ⛺
If you're not barefoot, then you're overdressed 👣
Read also: 513 Best Instagram Captions for Nature Photos
Attitude Instagram Captions for Fashion and Style
Dress like you're going to see your worst enemy 👗
Cinderella never asked for a prince; she asked for a night off and a dress 👸
Black is my happy color ⚫
Fashion fades; style is eternal 👠
Make every outfit count 🛒
A selfie a day keeps the haters away 📷
More issues than Vogue, but it's all good 📖
I don't do fashion; I am fashion 🕺
Fashion is what you buy; style is what you do with it 👒
Haute couture is my cardio 💃
My life might not be perfect, but my outfit is 👚
Vintage vibes and modern lives 🎩
I wear confidence on my sleeve 🎽
Why fit in when you were born to stand out? 🌈
Denim is a way of life 👖
In a world full of trends, I want to remain a classic 🎥
Too glam to give a damn 💄
Always overdressed, never stressed 🎀
Sunglasses and red lips make everything better 😎
Less is more, unless it's jewelry 💍
Never underestimate the power of a good outfit on a bad day 👗
Elegance is the only beauty that never fades 👸
I don't dress up for anyone but me 🎩
On Wednesdays, we wear pink 💖
I've got that Friday feeling… on a Monday 🌟
Fashion is the armor to survive the reality of everyday life 🛡
Walk like you have three men walking behind you 👠
High heels, high standards 👑
Flawless from head to toe 🌺
It's not about the brand; it's about the style 🏷
Every day is a fashion show, and the world is the runway 🌍
When in doubt, overdress ✨
Style is knowing who you are and not giving a damn 👏
I've got enough clothes, said no one ever 🛒
Style is the perfection of a point of view 👀
Fashion says "me too," style says "only me" 🌟
Style is a way to say who you are without speaking 🤐
Clothes mean nothing until someone lives in them 🤩
Keep your heels, head, and standards high 👠
Life's too short to wear boring clothes 🎉
Check our other Instagram captions collections:
How to get highly engaged Instagram followers?
Pin these attitude captions for Instagram for later and to your friends: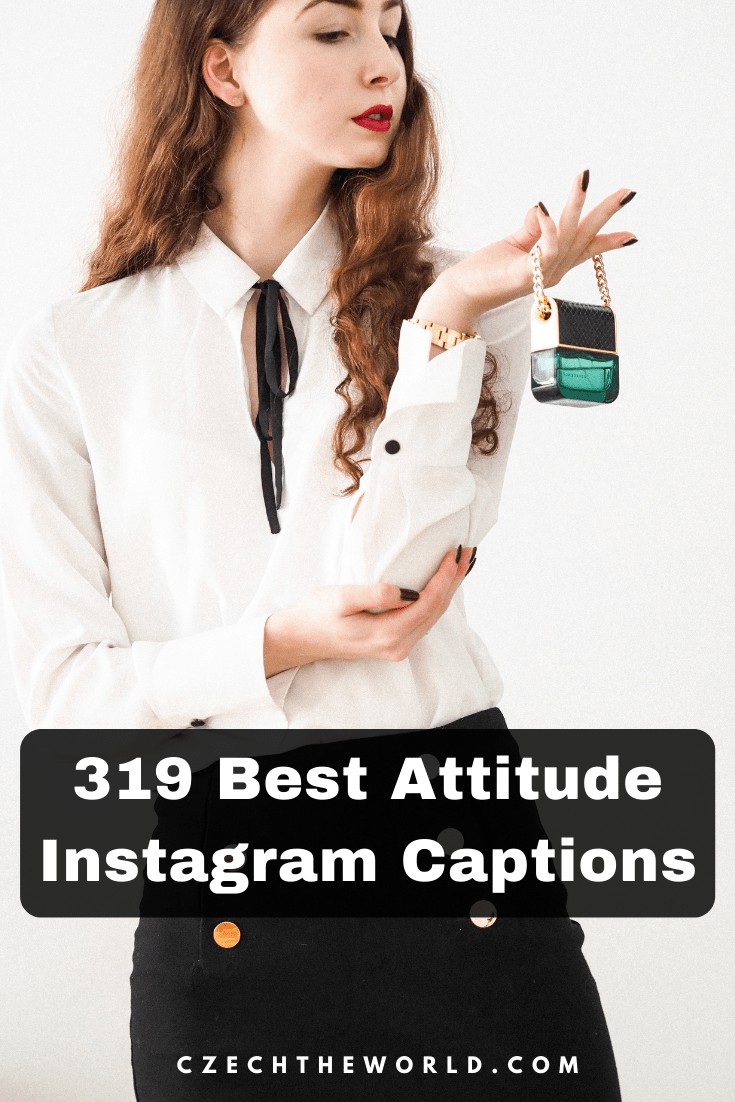 Do you like these attitude Instagram captions? Share it with your friends:
Disclosure: Please note that some of the links above may be affiliate links, and at no additional cost to you, we earn a commission if you make a purchase. We recommend only products and companies we personally use and we use this income for further improvement of this website. Thank you!