Are you wondering, which slogan to use for your photography business or hobby? Check our ultimate collection of the best photography slogans that will help with your business success.
We have divided these slogans into several categories – catchy, creative, unique, clever, modern, memorable, and more…
You can jump to those categories in the table of contents:
Catchy Photography Slogans
Images that tell story
Capture the world as you see it
Bring your creativity to life.
Capturing ideas to adorn you
Capture it all.
Nobody Does It Like Picture.
Beautiful Things!
See the beauty of photography.
Just Gotta Have Picture.
Start The Day With Camera.
Memories in a snap.
It's all about moments
See life from a different perspective.
Your love stories told through our lens… with heart and soul!
Bring your inventiveness to life
Born To Capture
Photography moments captured…naturally
Your photo will speak for you
Image Matters.
Nothing tells a story like a photo
Let your smiles shine.
Use the right lenses for the job
A camera that puts a world of possibilities at your fingertips. Literally.
Life is beautiful, let me capture yours
Your memories last a lifetime with us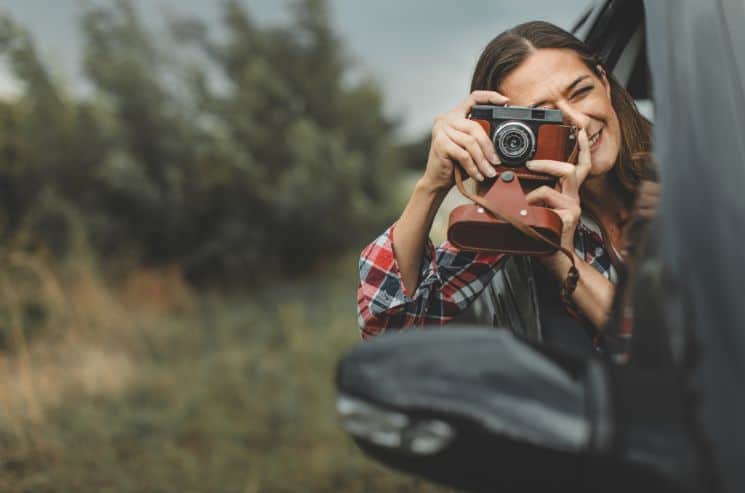 Creative Photography Slogans
Capturing the beauty of your everyday life
Control. Create.
Every Camera Has A Story.
The Joy Of Photography.
Moments to remember for a lifetime
Say it in pictures
The best photographs are often candid shots
Photography Has What It Takes.
Today's special moments. Tomorrows priceless treasures.
Let every image speak for you
Be ready to shine
Explore. Create. Inspire.
Escape the reality
Today, everything exists to end in a photograph.
Turn a photo into a work of art.
Capture it now
Imagine more.
The best camera is the one that's with you
Your image, your Focus.
Transforming views.
Go through your best moments
Go Farther With Picture.
Memories won't wait
Picture Is My Passion.
Unique Photography Slogans
Choose the light
Creating the art of click
It all happens in a click
Create the entire scene – simply!
The power behind the picture.
Bringing Joy of Every Photo
Spreading a million smiles
Always be prepared: Have a camera at all times
Every story needs a picture!
All You Need Is Camera
Your life in print
Don't let your memories fade
People change with time but not pictures.
Turn a cloudy day into something beautiful.
The better the pictures, the less you notice the camera
Photographing the souls.
The world is more colorful than the eye can see.
A reason to cherish and smile.
Create your beautiful photo with the best filters!
Don't leave your memory behind
Wait for your best shot of life.
The Painter Constructs. The Photographer Discloses.
Frame your shot
Capture love, joy, and everything in between
Never say no to a good portrait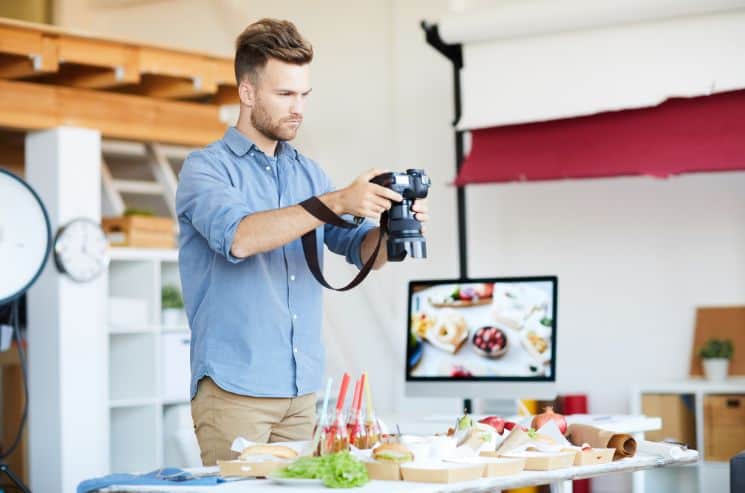 Fancy Photography Slogans
Explore the beauty of nature.
Think Imagine Create.
Worth capturing, Worth Viewing
Nothing perfect than a picture-perfect
Capturing the moments that captivate your heart
Capture the moment one shot at a time.
To capture ten thousand words in the blink of a moment.
Let the world see your creations
Get lost in wonderful everyday moments
A medium for authentic communication of ideas
Capture the beauty in everyone and everything
It's printed in a memory.
Capture an experience worth remembering
Create a statement without saying any word.
Capturing Images beautifully
You are the instrument, your photos are the music
Today's special moments. Tomorrow's priceless treasures.
Photography helps to remind your past.
It's always a good time for great portraits
Today's unique moments, Tomorrow's invaluable riches
What happens inside your mind can happen inside a camera!
Live with your best moments
Revealing Great Photography.
Images are Powerful
It's a photographer who takes good pictures, not the camera.
Luxury Photography Slogans
Photography is the art of moments frozen in time
Creating a timeless look, coupled with a flawless moment
The Leader in Photo Excellence.
A life well captured.
Enhance your field of view
See Life at a different perspective
The best day of your life deserves the best photos of your life
We capture your memories forever.
Real Life, Real Memory. Captured.
Pictures create the power of living.
Adding Moments of life
Click with Creative Wonders
Photography is reserved poetry of the real
Discover yourself through your camera.
Celebrating good events in photographs.
Forged in the fires of passion.
Make a statement without saying a word.
Pure Essence of Creativity
Capture the spirit of your journey
Capturing the story of your life, one chapter at a time
Capturing the beauty of your journey.
Capture the Beauty of Scene
We see the world through different lenses
Framing Serene life Moments
Be ready to capture the next moment.
Cute Photography Slogans
Capture the unexpected
Never miss another important moment again
Photography is an art that captures your moments.
Picture this.
Capture it all
Capturing the magic of the moment.
Let the smile do the healing
It's in the lens.
Content without words.
Make the world photogenic.
Bring your creativity to life
You're on camera.
Every Image has Power
The power is in your hands
Playing with colors
Photography is about simplicity
Wait for the best shot
Your unique story.
Smile, the camera loves you!
Snap your beauty.
It's all in the smile
Capturing thoughts
A click of happiness.
Captured your Stories
Put hope in every click
Modern / Trendy Photography Slogans
Capturing from reel to real
Capture the moment with perfect colors
Clicking beyond normal
Images matter.
Memories in a snap
A Good Photograph is Knowing Where to Stand.
You'll love what you'll see.
The surprise in everyday moments
Fill the World with Colourful joy
Share your lens with the world.
Get the details right
You Captured
Like a picture perfect memory.
A photograph is a pause button of life.
You'll never see the same way again.
Discover your inner artist
Choose the moment
Clicking impossible to possible
Listen with your eyes.
There are no rules for good photographs. There are only good photographs.
Your world in picture.
Capturing the beauty of your journey
Your best shot.
Don't photograph what you see, photograph how you feel about what you see
Snap the moment.
Clever Photography Slogans
Life, Just a Click Away.
The Story I Fail to Put into Words.
Capturing moments, not photos.
Shoot. Caught.
Clear Vision, Clear View
Feel the flash.
Don't Play With Fire, Play With Picture.
When you see it, shoot it
Simply Clicked. Better Enjoyed.
Make your photos talk
Photography makes life uncomplicated.
Take a photo, it lasts longer.
There is no substitute
Character, like a photograph, develops in darkness.
A Good Snapshot stops a moment from running away.
Lights, Camera, Capture
Smile and let your guard down!
A photo with no meaning is just noise
Be fearless, get your camera out
Lose a hobby. Gain a passion.
Creating stories in pixels
From pictures to moments
Stop the moment from slipping away
Smile, Snap, Frame
Keep it real.
Memorable Photography Slogans
Photography is the universal language
Make every moment last.
Moments lost, memories stored
The moment you forget.
Photographs are to memories what memory is to time
The work of a photographer is to simplify reality.
Tell a story that's unique to you
Creating a timeless look, coupled with a flawless moment.
Imaging a world beyond imagination.
Capturing in the blink of a moment.
Remembering for years
Life is a series of images.
Never forget a moment.
Pictures with voice
Your memories are priceless. Protect them.
Our lens capture your moments in all their flavor and fancies.
Savoring the best moments.
Capturing moments from today…Creating memories for a lifetime.
Clear the vision to capture
Savoring the best moments
The work of a photographer is to simplify reality
Let your true colors shine through
Your favorite moments preserved forever
Frame the moment that matters
Real life. Memories. Captured.
Funny Photography Slogans
Click all you want.
A Camera is a Save Button for the Mind's Eye.
If a picture is worth a thousand words, what's a talking picture worth?
Don't wait, just click.
We can create a scene
Hitting the Shutter.
We capture your every blink.
Life is like photography. You need the negatives to develop.
We take photos as a return ticket to the moment otherwise gone.
Don't Stop Seeing.
Don't mess with me. I have a camera.
Shoot the inlaws, frame the wife, hang the kids.
A true shutterbug
Been there. Lit that.
Just hit the shutter
Change your lens, change your story.
Images that are Show Stealers.
Been there, Spark that.
Don't laugh at me …… I have the camera!
Back it up. Get it back.
My Mom Shoots People.
Photography Is My Therapy.
Snap it
I Didn't Choose Photography. Photography Chose Me.
There are no bad photographs, only less interesting ones
Cool Photography Slogans
The art is at your fingertips
When people ask what equipment I use, I say – my eyes.
Capturing the beauty of your everyday life.
Emotions through photos.
It's going to be a great picture.
Capture life's moments.
Because every picture tells a story…….let me help you tell yours
Life's good when you're taking pictures.
Capturing the unexpected
What you can see you can photograph.
Every picture speaks
It's everything in the photo
Prepared to Capture Tomorrow.
Nothing makes a story better than a good picture.
Freezing moments for you.
The power to capture the world in a single image
Go extreme. There's no turning back.
Shoot in black and white if you have to
Clicking precious moments.
Capture life with style.
Capture the raw beauty of nature
A life well captured.
Judging from your photography, maybe its time to hang it up.
The best photos aren't planned
You don't capture a photograph, you make it
More Slogans Collections
Read also our other slogans collections:
Catchy Photography Slogans
Creative Photography Slogans
Do you like this post about slogans for photography? Share it with your friends:
Disclosure: Please note that some of the links above may be affiliate links, and at no additional cost to you, we earn a commission if you make a purchase. We recommend only products and companies we personally use and we use this income for further improvement of this website. Thank you!