Are you wondering, which slogan to use for your travel agency? Check our ultimate collection of the best travel agency slogans that will help with your business success.
We have divided these slogans into several categories – catchy, creative, unique, clever, modern, memorable, and more…
You can jump to those categories in the table of contents:
Catchy Travel Agency Slogans
Not Look Back
A Symbol Of Freedom.
Let us transport you with our highly affordable and reliable holiday packages.
Say Yes to New Adventure
Don't Listen To What They Say, Go See.
Let's just run away
Providing new, improved experience.
It's a big world out there, go explore.
Awaken To A Different World.
New year new destinations.
We make every trip special.
Free your mind
One visit is never enough.
Making the world your playground.
Traveling is the spice of life.
It's time to get away
Travel to conquer space & time
Find new roads.
Adventure Is A Path.
Where the journey begins!
Go where you feel the most alive
When experience counts.
Let's get lift
The best places in the budget
Travel new destinations to explore the world.
The world is yours
A Destination For The New Millennium.
Solving all your travel troubles.
Enjoy all seasons of world.
Invent a new route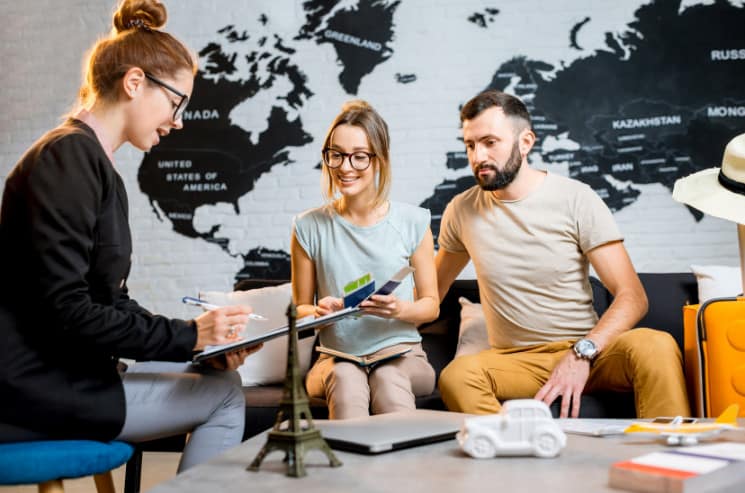 Creative Travel Agency Slogans
Stop buying things and go travel.
Fill more adventure in your life.
Know Yourself, Challenge Yourself
Take a trip anywhere with just one click
Be one of our frequent travelers.
A new pulse of dream
We'll show you the world.
Say yes to new trip always
A Different Light.
In times of turbulence, trust us to get you there!
The best way to get away.
This world is worth watching
We don't offer tours – we offer experiences!
Your pocket-friendly planner
Where you book matters.
Destination: The World!
Don't listen to stories, tell the stories
Handling all your travel worries.
Inspiring Destinations Within Your Reach.
Choices You Make.
Get back home and tell about it!
Leaving home is not a requirement for travel
Travel can open your mind.
See something different.
Explore all corners of this beautiful planet with just one agency!
We believe life is better on the move
Get a travel break and refresh life.
Get With Us And Get Away.
A Touch Of The Exotic.
Feed Your Wanderlust.
Unique Travel Agency Slogans
Adventure Awaits, Go Find It.
It Leaves You Speechless.
All You Need is Love & Passport
Memories Not Dreams.
Live a new different life
Let us help you find a new place.
Occupy The World.
It's Time To Fly.
More Than The Usual.
Just go and live your life.
Live Your Life By a Compass
The fool wanders, a wise man travels.
Quench your travel thirst with us.
No borders, no lines. Just you and the world
Take a walk on the wild side… with our travel agency!
Your one stop traveling problems solution.
We maximize your vacation experience the right way.
Pleasing People The World Over.
Travel is the healthiest addiction.
No Fixed Plans.
Leave Yourself Behind.
Little things travel has taught me
The world is calling your name… but we can take you there faster!
We make your wings.
Providing stressless travel worldwide.
World can't hide from us.
A More Rewarding Way To Travel.
Fuel Your Soul With Travel.
Out Your Door.
To the world of an incredible vacation.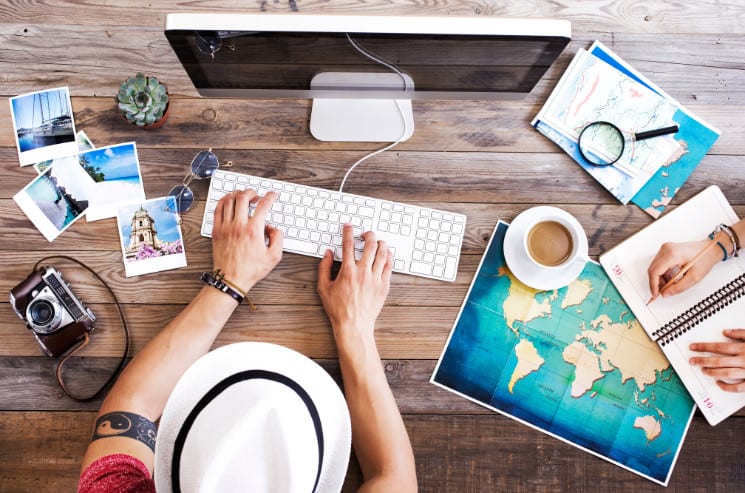 Fancy/Luxury Travel Agency Slogans
Explore A New Treat.
Greatest Moments Delivered.
Welcome to the world of possibilities… we can book it for you!
Name your destination; we show the way.
Focus On What Makes You Different.
No matter where you're going from, we take you there.
Greatest Reward, Luxury Travel.
Travel is the only thing you buy that makes you richer.
Lets you Explore the Best
Premium traveling services in town.
I Wanna Travel The World.
Endless Discoveries.
Where great journey begins.
Sky is the limit.
Get it on the map
High-quality experience with competitive prices.
There's no map large enough to contain all the places we'll help you visit!
We help you travel better
Quality Travelling, Quality Service
Fly like a CEO, pay like a temp.
It's time for an adventurous vacation.
Fascinating your vacation time.
Travel in style, mile for mile.
Great Journeys – Fascinating Places.
A royal experience in traveling.
Travel is an investment in yourself
It pays to fly…
Design a Life with Travel
Great Journeys – Fascinating Places.
A Signature Of Excellence.
Read also: 539 Best Travel Agency Names to Boost Your Business Success
Cute/Romantic Travel Agency Slogans
If you want to go far, go together.
Every trip needs a travel companion – we're it!
Making the whole world small in traveling.
Meet the world
Travel from the worries of life.
You've got places to go! Let's make it happen.
Sweet memories come to life again.
We're in it for the experience
You say adventure, we say let's fly away!
Less Drama – More Travel
The perfect partner of your trip
Catch Our Smile.
The smiling agent for travel
Great Faces Great Places.
Come with us and see what's out there…
The Too Good To Hurry Travel.
Meet with different people during travel.
Make your special one happier
The world is waiting.
We'll get you there.
Memories are the valuable investment.
Fill The Places.
Make your heart full of joy.
It's all about the beautiful moments
Wherever you're going, we're going too.
Let`s get lost together
Sharing good moments
Where stories were Born
Beauty Amplified.
Feel special in the skies.
Modern/Trendy Travel Agency Slogans
Keep your luggage ready!
Keep calm and travel on.
Your flying partner.
The next level of travel.
Possibilities beyond imaginations.
Your first choice in exploring the world.
Don't be a tourist, be a traveler.
We know where you're going…
Travel to live, Live to travel.
When in doubt, travel.
Commit to travel.
Experience the excitement!
We plan. You pack.
Stop worrying and enjoy the journey.
Feel the life-changing experience.
No matter where in the world you want to go, we can help get you there
Name the destination to find you there.
Bringing you above the clouds.
Making sky best place for you.
Let's find some beautiful place to get lost.
Your wings already exist
Adding a Joy to your Journey
Packed with purpose
Spreading smiles across the globe
Go, find, explore
You've Arrived.
For the wanderlust in you
Feed Your Wanderlust.
Beauty, Charm, And Adventure.
It's time to inspire
Clever Travel Agency Slogans
Exploring the world explores you.
Don't leave the world unexplored.
All Aboard For Abroad!
Dream It , Visit It.
All you have to do is FLY
Adventure You Can.
Book A Ticket & Just Leave.
We're the ultimate trip planners.
Experience The Uncommon Element.
Here to get you there
Endless Discoveries.
Every Trip Is Special Trip.
Your imagination is your only limit with this new travel agency.
Fill those passport pages.
Travel is a human necessity
Don't Forget To Travel.
Creative Holidays Create Your Kind Of Holiday.
Jobs fill your pocket, adventures fill your soul.
A Whole World On A Single Island.
Sandy beaches to snowy peaks.
Here to help travel lovers.
Exploring The World In Comfort.
You don't choose where you go, the journey chooses you.
We understand. We plan.
Time to fly.
Escape with us
Vacation mood on.
Air, Sleep, Dreams.
Be An Adventurer.
A New Pulse Of Dream.
Memorable Travel Agency Slogans
Conquer the world with us.
See the world in full color.
Meet yourself in new destinations.
Live a new life at every destination.
Greatest moments delivered
Delivering you the most important moments.
Travel is new sunshine
Meet your loved ones through us.
Explore the new day to do
Travel more to discover yourself.
Traveling opens door to creating memories.
Remember to Explore.
Adding happiness in your travel.
Real-life is traveling the world.
Escape Completely.
Collect Moment.
Experience a refreshing tourism experience.
We have a world to see.
Make your vacation magical.
It's about the journey.
Make lovely memories besides dreams.
Travel far. Eat well. Live long.
Making people happier from many years.
A World To See.
Create memories for life.
Escape the ordinary.
Buy Yourself The Freedom.
A New Sky, A New Life.
Adding more enjoyment to your freedom.
Leave your stresses behind and come along for the ride.
More Slogans Collections
Read also our other slogans collections:
Catchy Travel Agency Slogans
Creative Travel Agency Slogans
Do you like this post about slogans for travel agency? Share it with your friends:
Disclosure: Please note that some of the links above may be affiliate links, and at no additional cost to you, we earn a commission if you make a purchase. We recommend only products and companies we personally use and we use this income for further improvement of this website. Thank you!