Are you wondering, which slogan to use for your fitness business? Check our ultimate collection of the best fitness slogans that will help with your business success.
We have divided these slogans into several categories – catchy, creative, unique, clever, modern, memorable, and more…
You can jump to those categories in the table of contents:
Catchy Fitness Slogans
It's good for your heart, so it's good for you!
Every day is a chance to become better.
Shape your body like the way you want it.
Feel great inside and out
Give your body a great fitness leap.
If you want to be a hit in life, you gotta be fit and fine.
Train every day, eat good, lift heavy!
A New Year – A New You.
Strength: It all starts here
Today is the tomorrow you said you wouldnt cheat on. Make it count.
Lift today, shape yourself tomorrow.
Accomplish more, feel better, get fit!
Before starting your workout, remember that preparation is key.
The pain you suffer today is the sign of tomorrow's victory.
You're never too old to get in shape
We change lives.
It's More Than a Game.
Raise the bar of your fitness.
A healthy mind in a healthy body.
Celebrating health.
You have to hustle if you want muscle.
It's a way you can help control your weight.
Get a jump on your day.
Getting fit is never easy but always worth it
Push yourself hard towards your goals.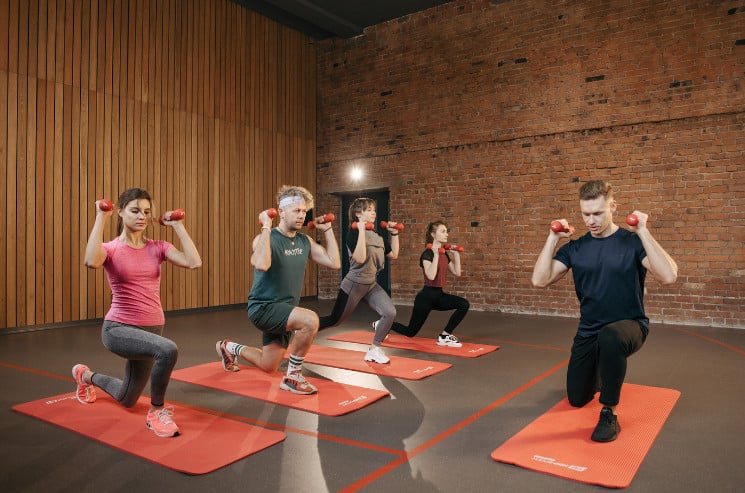 Creative Fitness Slogans
Rest a while and run a mile.
Practice hard, play strong, pain is glory.
Exercise six days a week then nothing will make you weak.
Train your mind first
It's not a diet, it's an attitude.
If it doesn't challenge you, it won't change you!
Don't count your hours in the gym.
Live longer, live stronger.
Lose the excuses
Losing weight doesn't have to be hard. Just take it one day at a time!
Make yourself proud.
Be physically fit – you know you'll like it!
Feel the pain and keep going
Get tougher with great fitness.
Take action today
Be an Inspiration.
Muscles will suit you.
Own your health!
Dare to be great with spectacular fitness.
Bodies of stamina & strength.
Fitness isn't just what you eat; it's also how much you move around.
It is your time to reset your life.
Your body hears everything that your mind says.
You'll have energy to keep up with your kids.
Your body doesn't get better by itself, you have to put effort.
Unique Fitness Slogans
Make every workout session count!
Before your body, your mind comes to the gym
Getting fit is a choice
Making life tougher
Put in the work – Get results
Commit to be fit.
Transforming ordinary into extraordinary.
Separation comes from preparation.
Read the labels and take the stairs!
Willpower knows no deterrents.
Live sweaty, workout smarter
Sweat up a storm.
Cuts that attract
Build a strong character.
Reward yourself with a goal
We don't just fight fat, we fight obesity
Commitment overcomes all barriers
Exercise your psyche and body.
Fitness is the way forward.
Shape it up!
Finding your inner fitness instinct.
As long as you keep breathing, you have time to exercise.
Having a bad day? Break a sweat.
Dare to be great.
The way to get started is to quit talking and begin doing
Fancy Fitness Slogans
Better you, better life
Everyone in life needs balance.
It's easy when you're 110% committed
Fitness isn't a goal, it is a lifestyle.
Willpower knows no obstacles.
Fitness leads you to a better life.
Where fitness comes naturally.
Workout for life
Progress not Perfection ​Just Breathe!
Be a motivation.
Dream. Achieve. Excel.
Your first step to fitness.
Energize your life
Look different, feel different.
Fitness is not a destination. It is a way of life.
Aim high and you will never shoot below your mark.
Become fit to stay resilient.
Push the limits harder to get stronger.
We train your body to be great and fit.
A strong body makes a strong mind
You'll reach your goals — through sweat, determination, and discipline.
One body, one life. one you
Discipline in lifting will provide you excellence.
If you are tired of starting over, stop giving up
Find your focus.
Read also: 173 Best Motivational Gym Quotes That Will Boost Your Workout
Luxury Fitness Slogans
The Price of Excellence is discipline.
Transforming ordinary into extraordinary
Beautiful body. Beautiful mind
Start where you are. Utilize what you have. Do what you can.
Success never comes to those who quit.
Exercise is the key to a healthy lifestyle
Aiming high keeps you motivated to achieve physical fitness.
Fitness for Health Resolution
Building confidence. Building fitness.
Fitness should be your attitude.
Exercise to be strong and your life will prolong.
Everything you need is outside of your usual range of familiarity.
The pain you suffer today is the sign of tomorrow's victory
Take your fitness to the higher standards with us.
Push yourself harder to become better.
To be fit is one thing but to maintain a healthy lifestyle is another
Those who don't discover time for exercise should discover time for disease.
Get in the best shape of your life
A fit body is the energy source for goal-achieving activities.
Practice some exercise to be healthy, wealthy and wise
Make yourself more grounded than your reasons.
Push your limits to achieve more than you ever thought possible
Respect your body
In Pursuit of Good Health.
Passion is the fire that burns within!
Cute Fitness Slogans
Love what you're made of
The secret is sweat and dedication.​
You are what you do
Strong is the new skinny
It's never too late to lose that weight.
The harder you push, the stronger you become
The only regret that matters is not trying
Make every moment count
Make it or break it!
Be active, be healthy
Love yourself enough to work harder.
Take back your body.
Hustle to acquire muscle.
You'll never regret a workout
It's never too late to feel great.
It's not a sprint, it's a marathon
Get a bounce on your day.
If you're tired of starting over, stop giving up
Get Fit, Stay Fit
Exercise until the body obeys.
Stay happy, stay fit.
Slow progress is better than no progress
There is no finish line
You are what you eat
Be strong, live long
Modern / Trendy Fitness Slogans
My muscles are my best clothes.
Fitter, healthier, happier
Focus on what you lift.
A great body takes time and patience
Get in the groove.
Take action, not advice!​
Cardio is good for your heart, not for your booty.
Don't just pray for it, work for it.
Breathing is easier if you exercise regularly.
One day or day one. You decide.
Get In. Get Fit. Get on with Life.
Don't stop here – keep going!
Solid workouts for better fitness
Thrive for fitness and health.
Strong is what happens when you run out of weak.
Stay slim and look great forever.
Exercise works!
Improvement matters.
Thrive more. Feel great
Elevate your workout
If you're sweating, you're growing
Feel the burn
Harder. Better. Faster. Stronger.
Use your muscles to get stronger.
Get in shape, feel great
Clever Fitness Slogans
Yes, it is possible, and No, it isn't easy.
No pain, no gain!
Lose the weight or meet your fate
Everyone needs to get off the couch
Make yourself stronger than your excuses.
I hate working out… but I love how it makes me look!
Sweat in the gym is the guarantee stamp for your health.
The main terrible exercise is no exercise.
Being physically fit isn't easy, but who said it would be easy?
Time to sweat! ​​No Excuses, Just Results.
Life is short, lift heavy things
Accept the challenge of those who tell you that you can't do it.
Too fit to quit.
Get fit or stay sick.
Start now, don't wait for the New Year
Better sore than sorry
Run the race of your life
Not everyone can be skinny but anyone can be strong
Ain't nothing like the real thing baby! Except maybe crunches.
Losing never felt so good.
Get in here and do something
Don't be fat, get fitter and strong now.
I don't sweat, I sparkle.
Exercise everyday and watch that fat melt away
Fight flab to get fit
Memorable Fitness Slogans
A healthy diet and regular exercise is the way to improved health
Tune everyone into fitness.
Exercise your mind and body.
Commit to being fit.
Train yourself to be perfect
Be healthy, fit, and fine
Achieve balance and harmony in your life
It is your choice to win
Everything you want is outside of your comfort zone.
Get fit and look great.
Fitness is an attitude.
Excuses provide paths to failure. Use them wisely.
You are worth it.
Make yourself stronger than your excuses
Celebrating wellbeing.
Don't be too busy for physical fitness; make time for it!
Training on the way to fitness
Sweat your heart out, get fit and have fun
Forever fit, forever strong!
Don't wish for it, work for it.
Tomorrow is the main clear page of a 365-page book. Compose a decent one.
Committed to Get Fit!
Our goal is to help you reach yours.
Love your health every day and every way
Only you can make it happen.
Funny Fitness Slogans
If you want pancakes for dinner, dont forget to do your squats.
Unless you puke, faint, or die, keep going!
If lying is wrong, then doing sit-ups is right.
Overweight sucks
Exercise in the morning before your brain figures out what you're doing.
Burn your fat, don't be a brat.
Are you fat and ugly? Join the gym and just be ugly!
Everyone Needs a Tune-up.
Abs are made in the kitchen
You can cry, just don't be a baby.
Fitness is the ultimate fashion.
Crunch. No judgments.
Life has its ups and downs. We call them squats.
Select your size!
Weights before dates.
The only bad workout is no workout.
Move it or lose it.
Fat free is not the way to be.
Stop watching the clock
Installing muscles…. please wait
Only fat loss is a good loss in this world.
Sweat is just fat crying
Get thin and win.
The gym is the beauty Saloon for your muscles.
The hardest part is waking up.
Cool Fitness Slogans
Set realistic goals and stick to them
Every day is a choice.
If you aren't sweating, you probably didn't work hard enough.
I don't work out because I hate my body, I work out because I love it.
The hardest part is walking out the front door.
Never stop running
Rise and grind
No excuses!
Fitness is 50% Mental and 50% Physical.
Eat Sleep, Gym, and Repeat.
Don't slow down, speed up!
Get rid of excuses, not muscles
It's not over until it's over
Where health, beauty, and fitness meet.
Dare to be awesome.
Get active and get noticed
It's not how many times you fall, its how many times you get back up.
All that can be done for better shape is a healthy workout.
Hustle to be the best in fitness.
Fight for Fitness.
Fitness isn't just for models and athletes anymore: it's important for everyone.
Get the body you deserve.
Accelerate your results
Bring exquisite fitness to your home.
Fitness Rocks
More Slogans Collections
Read also our other slogans collections:
Catchy Fitness Slogans
Creative Fitness Slogans
Do you like this post about slogans for fitness? Share it with your friends: