Are you wondering, which slogan to use for your skin care business? Check our ultimate collection of the best skin care slogans that will help with your success.
We have divided these slogans into several categories – catchy, creative, unique, clever, modern, memorable, and more…
You can jump to those categories in the table of contents:
Catchy Skin Care Slogans
Fall in love with your Skin
A whole new world, a whole new look.
Best kept secret.
Where beauty begins…
Natural, Beautiful, You.
Twist. Glide. Shine.
Make your skin shine
The road to clear skin
Be beautiful.
Your skin's first line of defense.
Get the glow
Oil-free shine
Let the skin breathe
Indulge in skin pampering.
Skincare is more than just a fad.
Flawless skin in no time
Skin care is about maintaining healthy skin.
Get a flawless and bright skin.
Use only high quality skincare products.
Feel natural, be natural.
Making perfect skin possible
Skin care is about taking care of your body.
Your skin is unique- treat it as such.
When Only The Best Will Do!
A brush of perfection.
Creative Skin Care Slogans
Your skin is your introduction.
Beauty is power; a smile is its sword.
Beautiful. Colorful. You.
Skin care is my life.
Be bold. Be daring. Be simply beautiful.
Bring beauty to a whole new level!
You're ready for the world.
Bringing blazing beautiful
Let us help you look your best.
Alive every moment.
Skin care is the first step to feeling good.
A face that's worth the world.
Perfected.
Beauty has a purpose, and purpose is you
Let your skin reveal your story
Getting clear skin is not impossible
The skin you're in.
Because we understand all skin types.
Beauty begins with skincare
Always Make Room for a Little Beauty in Your Life.
Beauty, Brains and booty.
Everything has beauty, but not everyone sees it.
Everything you need to keep your skin beautiful.
The best skin routines ever
Healthy skin, beautiful you
Unique Skin Care Slogans
Feel your skin, think your health.
You don't need tons of products to have great skin, just a few simple things that work together well.
Lift, Moisturize, Protect.
The best time to plan a fresh start for your face is now.
Bringing in you a princess-like beauty
Banish bad skin days for good.
Bringing out the fairy in you
Regular exfoliation and moisturization
Because you're worth it.
Do the drop-dead gorgeous
Beauty lies in healthy mind, body and spirit.
One drop and the rest is taken care
Soft as silk, shimmery as star
Beauty pronounced.
Simple beauty rest, clear skin
Be the envy. Be the show stealer.
Creates a velvety feel on the skin
Break out of the shell
Beautiful people use us.
Experience the perfect.
Keep your skin healthy and young-looking
Skin rejuvenation for the caffeinated generation.
Wow over how
Beauty lies within the skin
Clear skin to a great future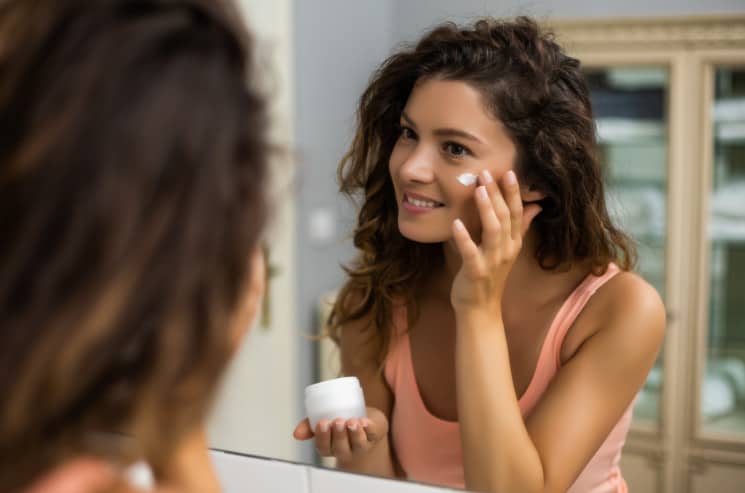 Fancy Skin Care Slogans
Express your magnificence
Amazing beauty routines that works
Beauty beyond boundaries.
Attractiveness for every event
Don't just erase the wrinkles… erase care and stress too!
The finest glow for the unstoppable women
Get your skin up to par
Skin care is about looking your best. It's never about looking better.
A skin care product that is unlike any!
Fabulous In Every Way.
Get the best skin in the city.
The most innovative skincare products around
Beauty that lasts
Enjoy the stay. Love the shine.
Care for your skin, care for your beauty
Because your worth it.
Our newest line that you'll fall in love with — Simply Soft!
Nourish your face with the finest
The ruler of radiance
Our products for your trust
Don't just cover up – heal yourself with the best moisturizer on the market.
Your perfect skin is your path to success
Fetching woman's eternal desire
You are in a beauty contest every day of your life.
Blossom into a new you!
Luxury Skin Care Slogans
Elegance In Every Way.
Better Than Bare.
Glamour for Every Occasion.
Beauty is a state of mind.
Ensuring endless exquisitiveness
For the love of beauty
Polishing the natural beauty in you
We hope you never grow out of it
Be your kind of beauty
Where Skin meets Nurture
Care for your skin now
When the skin is glamour.
The road to youthful skin is here
Let Skin be the first priority.
Where style and passion are born.
An investment worth making
Believe in Beauty.
Beauty is Whatever Brings Perfect
Skin you can see…. And be.
Love your Skin naturally
For the ultimate luxury
Let the breeze feel your Skin
Easy Breezy Beautiful CoverGirl.
Providing oxygen to your Skin deep
The best skin is a skin you can feel.
Cute Skin Care Slogans
We are perfection in a bottle.
Sparkle like a diamond
Relax. Release. Rebalance.
Pretty is as pretty does.
Fine-tuned into healthy skin
Love and pamper yourself
Let's Get Glam.
The best is under your control
So that's why it's called beauty sleep
It's all about you!
Change your skin for the better
Go young!
The softest skin you've ever felt
Smooth as a baby's bottom.
Love the way it looks and feels?
Sweet dreams, sweet face.
More defined. More conditioned. More beautiful lashes.
Stretch your skin, not your budget.
For a beautiful new you
It's my duty to praise your Beauty.
Beauty is your birthright.
Scrub baby!
This feels oh-so-good!
It's Not Easy Looking This Good.
Start fresh.
Modern/Trendy Skin Care Slogans
Firm up sagging areas of the body
Be young always
We Only Test On Party Animals.
Those little miracles.
Know about skincare before it's too late
The secret to clear skin
To be beautiful is to be you.
Definitely a Girl.
Go natural and embrace change
Look fresh, feel fresh.
Clear skin doesn't mean flawless skin. It means healthy skin.
You need your skin to look good.
Your beauty is our profession.
That extra step, that little something more
A healthy skin is the best gift.
Pure n natural.
Look younger, not older
Skin that leaves a lasting impression
Your skin is your foundation, protect it
Make the best of what you've got
One step to flawless beauty
You shine through.
Reflections of perfection.
Make an impression
Get a glowing tan without the burning sensation
Clever Skin Care Slogans
Look & feel fabulous.
Skin is the body's largest organ.
Face your future.
Beauty is the word.
Simple sigh, beautiful life.
We work to ensure your success.
Beauty does the magic
We recommend beauty
The finer the skin, the better
Skin care – it's never too late.
Skin that is simply irresistible
We're the best.
Let thy be your protector
Be as glary as your beauty
Your skin is a serious affair
Skin that truly impresses
Kill them with beauty
Secrets to success: Spotless
Make them adore
The Wow is in the results!
It's not just about the hair, it's the experience.
We sell beauty!
Be your best you.
Smooth skin guaranteed
Beauty's in the eye of the beholder.
Memorable Skin Care Slogans
The best You can be.
Beauty is my attitude
Unveil a youthful glow
All you need is glowing skin.
Beauty with the true shine
Healthy skin is a choice
Love your Skin Enough
Inner beauty is the best beauty.
SPY. Spoil. Pamper. Yourself.
Beauty has no limits.
A cut above the rest.
Show the world your best face
Gentle enough for sensitive skin
Love your skin and it will love you back
Don't let the sun make your skin age – take care of your skin.
Because you deserve to be beautiful.
Beauty on a budget
Take Time for Skin
You are Over the Top
Glow like a gem
Beauty begins with us.
We make you flawless.
Beauty that lies Skin deep
Beautiful you, mesmerized us
Your skin will love you.
Funny Skin Care Slogans
Make It A Lotion Night.
Free Skin For All.
The Lotion People.
Our Skin Will Give You Softer Skin.
You Can't Stop Skin.
Got Skin?
Breakups to makeup.
Don't Leave Your Product At Home.
Hear the begging voice of your Skin
Take care of your skin as it's not gonna leave you ever
Have You Had Your Product Today?
Product, It's As Simple As That!
Who needs makeup, when you can glow naturally
All You Need Is Lotion
You Don't Want Skin As Your Enemy!
Help your Skin
Work Hard, Calamine Harder
Lotion-Lickin' Good.
Eliminate the toxic, try the organic
It's A Bit Of A Product.
Think Skin.
Skin that speaks
Let Your Skin Do The Walking.
Product, To Hell With The Rest.
Skin Rocks.
Cool Skin Care Slogans
Boost sun protection
We take skincare seriously
No cussing, guaranteed!
Share Moments, Share Skin.
Did Somebody Say Lotion?
The moment you fall in love with your skin
The Red-Carpet Beauty
Time to reveal yourself.
When it comes to anti-aging get proactive
Give your skin a new look
It Makes Your Skin Smack.
The face of the future, today.
Maintain healthy and vibrant skin tone
Shine from head to toe.
Natural And Gradual
Timeless Product. Timeless Beauty.
Only the best is good enough.
Sparkle on the inside and out.
3 words – Simple, Fresh, Effective
Unleash the majestic skin of yours
You won't believe your eyes.
Clean. Chic. Creative.
Let your Skin define your age and not the years
Moisturize daily to keep your skin smooth and supple
Skins With Colour
More Slogans Collections
Read also our other slogans collections:
Catchy Skin Care Slogans
Creative Skin Care Slogans
Do you like this post about slogans for skin care? Share it with your friends:
Disclosure: Please note that some of the links above may be affiliate links, and at no additional cost to you, we earn a commission if you make a purchase. We recommend only products and companies we personally use and we use this income for further improvement of this website. Thank you!