Are you wondering, which slogan to use for your basketball team? Check our ultimate collection of the best basketball slogans that will help with your business success.
We have divided these slogans into several categories – catchy, creative, unique, clever, modern, memorable, and more…
You can jump to those categories in the table of contents:
Catchy Basketball Slogans
Make them Believe.
Basketball, everything else is just a sport
Defend and Conquer.
Today's Game – Tomorrow's Champions
Everything is simple with Basketball.
Championships are won at practice.
Teamwork Makes The Dream Work.
You don't win on emotion. You win on execution.
My heart is on that court.
It's not how you begin, but rather how you wrap up!
Defend 'till the end.
Sore today, strong tomorrow
Quest for the Net.
Rise to the Top.
Basketball never stops
Some wish for it, we work for it.
A team above all. Above all a team.
Believe in basketball
Grind together, Shine together.
Make your efforts match your dreams.
Don't stress, regardless we're wearing our warm-ups.
Stand tall, talk small, play ball.
The game you play on the court defines what you are underneath.
Together we achieve more
Unity makes us strong
Creative Basketball Slogans
Push yourself because no one else is going to do it for you.
Basketball – It's A Whole New Ballgame!
Born to great things.
Always ready for a match
Blood, sweat & Basketball
One team, One dream.
I can do anything for basketball
Your misfortune is my diversion.
Push harder than yesterday
For the love of the game.
We never give up
Elevate your Game.
Through the hoop.
Winners prove by actions.
Keep your head up
It's not how big you are, it's how big you play.
Basketball is such an escape from a lot of things.
Reach for the Sky or don't even try.
Basketball. An art.
United by basketball
The difference between ordinary and extraordinary is that little extra.
Our team is our family
Play like a Champion.
Don't wait for the chance, just for the goal.
Basketball for the fittest
Unique Basketball Slogans
When in doubt, dribble
Reaching high keeps a player on his toes.
Victory requires payment in advance.
Feel the heat.
Hard work beats talent when talent doesn't work hard.
Every game is a championship game.
Strength in numbers
Defend and Dominate.
It won't be easy but anything that's worth it never is
A champion is someone who gets up, even when he can't.
Bring out the best in each other.
Basketball. It's simple. Achieve the goal.
Talent wins the fight but teamwork wins the war.
Some call them rivals; I call them unfortunate casualties
Basketball is in our blood
We believe in the power of teamwork
It is tough to win when your thoughts turn to lose.
Go catch the right ball.
Make yourself heard, or don't play at all
Winners don't wait for chances, they take them.
Winners in life don't always win; they don't give up.
We're not here to make up the numbers.
Impossible is simply something no one else has ever seen.
Start Unknown. Finish Unforgettable.
My blood, my sweat, your tears.
Powerful Basketball Slogans
Only training, no complaining
One heart, one mind
Basketball doesn't build character, it reveals one
Today: Settle the score!
We don't let anything slide.
Do it to win it
No time to lose
Never let good enough BE enough!
One soul, one group, one win.
We are one with the ball.
The true champion believes in the impossible.
Stand up for the champions
Out of yourself and into the TEAM.
No pressure. Just game.
Get to the ball first.
Winners prepare, failures grumble.
Keep up the high aim
We are the champions!
Together, we are champions!
Defend till the end.
One ball, one goal
Attitude is everything.
Win the game before it's played
It doesn't get easier, you get stronger
Born to be a winner.
Read also: 375 Best Basketball Team Names (That Will Boost Your Success)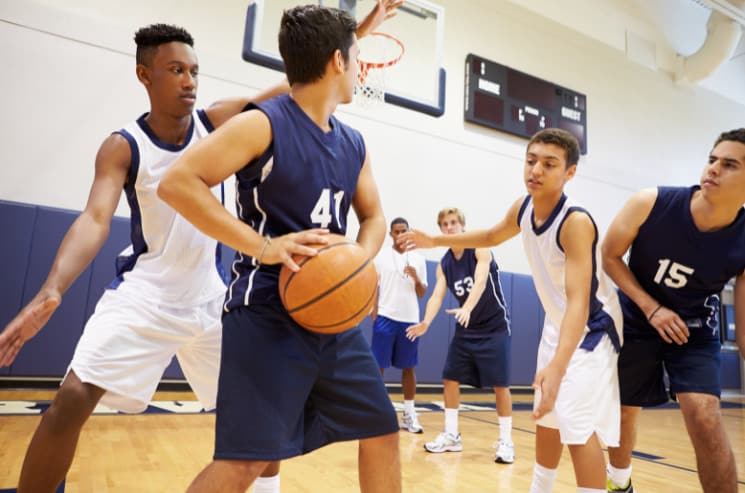 Fancy Basketball Slogans
The price of greatness is responsibility.
Look for the excellence
Bounce back and forth to victory!
Giving up is not an option.
The game of kings
Dribble your way to victory!
Great opportunities come to those who make the most of small ones.
Make good habits, and they will make you.
No one can take away our love for the game.
Victory comes to those who make the least mistakes.
Glory is what we know
Best always comes from the Basketball
Be confident in your abilities
Striving for Greatness.
The will to win is not nearly so important as the will to prepare to win.
A team is great with a player like you
Pursuit of glory
Bring the energy
When air ends up thick, we bode well.
Fear to lose. Passion to win
Skilled in every position.
It takes a player to shoot a shot. But it takes a team to win a game.
A good defense is the best offense.
Come with your A game
A player who makes a team great is more valuable than a great player.
Cute Basketball Slogans
Don't count the score; make the score count
Defend Until the End.
Just dunk it
Make Shots!
Play hard, play smart, play together.
Be like Mike!
I'm just here for the dunks.
I'm not in shape, I'm just in basketball shape.
Be Bold. Be Unstoppable. Be You.
Our heartbeats on the court
What's better than ice cream? Basketball.
Basketball girls rule
Basketball is life, the rest is just details
Ball until you Fall.
Looking for the cool hoops
Basketball all day every day
All Heart.
The hoop don't lie.
Make it count.
Born to be a Basketball Princess
Basketball. Players Love It. Coaches Love It. Fans Love It.
Big Ballin.
Eat. Sleep. Hoop. Repeat.
Basketball with an extra heart!
I have got basketball addiction
Modern / Trendy Basketball Slogans
If its gotta be, it starts with me.
It's difficult to beat a group that never surrenders.
Play Basketball, Be Happy
Aiming High.
Basketball is more than a game.
Dribble with your head up
Whatever it takes.
It's hard to beat a team that never gives up.
One score is all it takes to get on a run
Practice makes permanent.
Sweat plus Sacrifice equals Success.
Pass first, shoot second
Addicted to Basketball
You miss 100% of the shots you don't take
Double the Pleasure, Play Basketball
Bring Your Game.
Do more of what makes you happy, for me that's Basketball
In our court there are no objections — only rejections.
Believe & Achieve.
You have to be a baller to play the game
Bounce back stronger than ever!
Feel the rage
Victory is in our veins
Basketball Never Stops.
Never tired for another game.
Clever Basketball Slogans
Ball Til You Fall.
Demand respect or expect defeat.
Your loss is my game.
The Basketball court is calling and I must go
I play Basketball, what's your superpower?
Every shot counts.
The only thing that will stop me from playing ball is rain or shine.
Tall or small, WE ALL BALL!
Hooping is what we do
Pass, rebound and be a team player
You can't teach height
Just do it even if you suck at it
Practice doesn't make perfect. Perfect practice makes perfect.
Strong bodies make strong minds
It's not how you start, but how you finish!
Peace, Love, and Basketball.
Where shooting rocks you
A day without Basketball is a day wasted
Life is a lot with Basketball.
Our passion is basketball. Our business is sports.
Everyone grows when they play basketball.
Tthe ball don't lie
Reach out to the basket
Just buckets
Rise to the challenge
Memorable Basketball Slogans
Consistency matters
Winning is a propensity, Success is a decision.
There's no 'I' in team, but there is an 'i' in win
Victory is the goal.
Grit N' Grind
Basketball doesn't build character, it reveals one.
Don't play like you want to be famous, play like you are famous
Determination gets you there.
My heart is on that court
The future of basketball is here!
It's not the hours you put in, it's what you put into the hours.
It's a game of inches, but the inches are what win games.
Making Hoop Dreams Come True.
Strive for Greatness.
All it takes is all you've got.
It's not about who you play with, it's how you play the game
It doesn't take athletic ability to hustle.
Only legends like basketball
The game that teaches you lessons of life.
Hustle and heart set us apart.
Pain is temporary
It takes a player to make a shot. But it takes a team to win a game.
Basketball is life.
Be defensive yet aggressive
It's about the team, not the hero
Funny Basketball Slogans
7 days without shooting hoops makes one weak.
Dribble and Dunk, I play with spunk!
You may be beautiful, but not even Cinderella is getting to THIS ball!
Actions speak louder than coaches.
We will win so the coach doesn't lose his job.
Offense sells tickets. Defense wins championships.
Winners train, losers complain.
When life gets complicated, I play Basketball
Get your swerve on.
Don't make me come to the court
I can't believe I'm still in my uniform
Dribble like no one is watching
Action speaks louder than buckets
Second place is for the first loser.
Born to play Basketball, forced to go to school
Your sweat is your fat crying. Keep it up.
Basketball – My drug of choice
Basketball takes balls
Hoop There It Is.
Don't worry, we're still wearing our warm-ups.
Where the ball goes, we go
The Court is in Session.
Winners rocked, losers shocked
If you want me to listen to you. Talk about Basketball.
There's no elevator to success, take the stairs.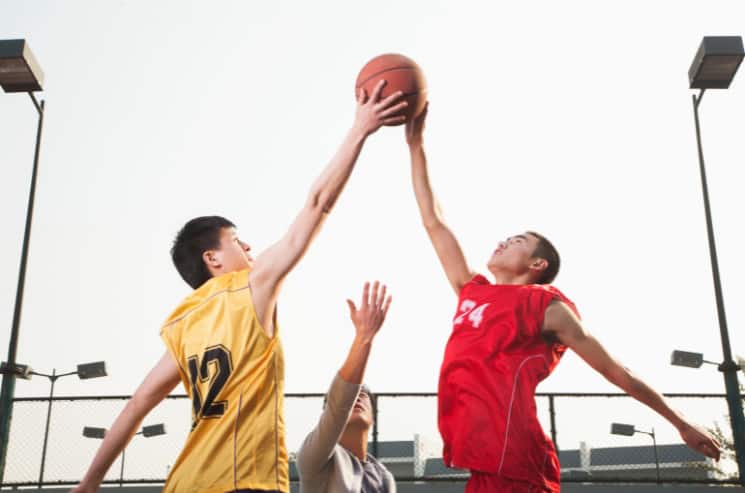 Cool Basketball Slogans
This is our court.
No excuses. No explanations.
Leave Your Heart on the Court.
Coz we believe in actions, not in words.
We refuse to Lose.
Let your playin' do your talkin'.
A game of the warriors
The court is where we belong.
Wish Together, Swish Together.
Basketball redefined.
Everything is simple with Basketball
Our team is not responsible for lost or stolen pride.
Go BIG or go home.
Winning isn't everything, it's the only thing.
Making basketball more fun
The game that brings out the champion in you
Addicted to Basketball.
Basketball star, in the making!
Respect All, Fear None.
Refuse to lose.
Winning takes practice, losing takes guts
Hustle for the ball
Take the risk
Basketball – not for the weak
Basketball is a lifestyle
More Slogans Collections
Read also our other slogans collections:
Catchy Basketball Slogans
Creative Basketball Slogans
Do you like this post about slogans for basketball team? Share it with your friends: