Do you have a plan about where to visit once the pandemic is over? Most countries are now beating the Coronavirus, and most countries are now easing their lockdowns to allow international flights. If you haven't planned your next tourism destination, Zambia can be a perfect Africa destination to add at the top of your list!
This Southern Africa country offers a variety of attractions like parks, diverse world life and rich African culture. Zambia is also a democratic country where you can go about with your safaris without worrying about your security. Below are the top 5 things to see in Zambia that attracts hundreds of thousands of both local and international tourists every year.
1) Victoria Falls
Situated on the border between Zambia and Zimbabwe, Victoria Falls are one of the most famous attractions in Africa due to its large size. These falls on the Zambezi River have a width of 1.708 metres and a height of 108m. You can have a clear view of the falls and the boiling point (Where river Zambezi turns towards Batoka Gorge) from the Knife-edge Bridge. Other viewpoints include the Falls Bridge, Devils Pool, Livingstone Island and the Lookout Tree.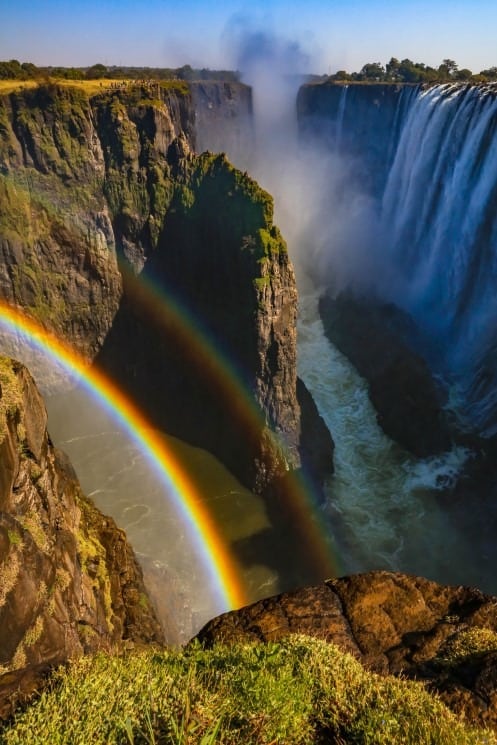 2) World's Largest Dam
Kariba Dam situated on the Zambezi River in Zambia is the largest dam in the world. The dam was built between 1955 and 1959 by Italians and has a height of 128 metres and a width of 579 metres. This dam can hold up to 185 billion cubic metres of water and produces 1320n megawatts every year using its two turbines. Repair works are currently ongoing to prevent the dam from collapsing.
3) Siavonga
Siavonga is a welcoming town for both local and international tourists as it is full of accommodative holiday homes and welcoming locals. The town spreads out along the north banks of the human-made Lake Kariba and is only a two and half hour drive from Lusaka (Zambia's capital).
4) Samfya Beach
Samfya beach on the South Western shore of Lake Bangweulu is a breathtaking destination with beautiful sceneries and white sandy beaches. The beaches are the only ones in Zambia since the country is landlocked. You can choose to drive from the capital city and take advantage of the trip to enjoy Zambia's countryside and spend a night in the lake's waterfront lodges.
5) Nyika Plateau National Park
This national park located in the most Eastern part of the country is one of the highest points in Zambia. The Plateau is composed of vast grasslands, with valleys with tropical forests and full of wildflowers. You can easily spot elephants, zebras, the red duiker and several other animals. Surprisingly, most of the park's area is in Malawi, plus you also have to enter the park from the Malawian side.
Parting Words
Zambia and Africa continent in large is one of the must-visit places in the world if you want to interact with nature and admire its beauty. The continent is full of game parks with amazing views and varieties of animal species and birds, plus many more attractions. Make sure to take a trip to down to Zambia as soon as the pandemic is over!
Did you like Things to see in Zambia? Share it with your friends!
Disclosure: Please note that some of the links above may be affiliate links, and at no additional cost to you, we earn a commission if you make a purchase. We recommend only products and companies we personally use and we use this income for further improvement of this website. Thank you!