As Sweden's fourth-largest city, Uppsala has roughly just 220,000 inhabitants. It's known for being a 'university-town' as Uppsala University is one of the most prestigious in the Nordics as well as the oldest, being established in 1477. The city, as with most of Sweden, is most enjoyable in the summertime, where the longer days and warmer temperatures bring everyone outside to bathe in the sunshine.
This city is conveniently located close to the largest airport in the country (Stockholm) so getting to Uppsala is as easy as taking a 17-minute train ride. If you are coming from the capital, the train ride is only 31 minutes with a direct train from Stockholm Central Station.
Due to how compact the city is, most of the sights are within walking distance to each other. However, the best way to see the city is by renting a bike. Since most students and residents cycle through the town, Uppsala is considered to be very bike-centric, making it one of the safest cities for cyclists. A weekend is long enough to get a taste of what Uppsala has to offer and to see what makes it so special.
This guide was written by Chris from Ecksplorer.com, who lives in Uppsala, therefore has a great insider's point of view.
Here are the best things to do in Uppsala you should consider seeing on your trip to this part of Sweden:
1) Uppsala Cathedral
The current seat of the Archibishop of Uppsala, the Uppsala cathedral is the tallest in the Nordic countries at almost 119 meters. It is constructed in a French Gothic style and is the burial place of Gustav Vasa, considered the father and founder of modern Sweden. It is the dominating feature of the city skyline in addition to the Uppsala Castle.
2) Uppsala Castle
As the highest building in Uppsala, the Uppsala Slott (or Castle) is most known for its bright pink outer façade. It has played a central role in Sweden's history and is now the site of the Uppsala Art Museum. Due to a massive fire in the town in 1702, its reconstruction was delayed significantly since much of the stone remaining in the castle was used to build the Stockholm Palace. In the warmer months, you can book a tour to step out onto the roof of the Castle for a bird's eye view of the entire town. Book in advance to avoid disappointment.
3) Gunilla Bell
Sitting right next to the castle is a small bell tower, otherwise known as the Gunilla Bell. This bell was commissioned by King John III's wife, Gunilla Belke. The bell used to be in the castle itself, ringing for over a hundred years. However, after the 1702 fire, the bell was moved to its current position on the Stirbiscop Bastion.
4) Botanical Garden
This garden is open for all visitors everyday of the year. Its perfectly manicured gardens have served as the backdrop for weddings and concerts. It is perhaps best seen during golden hour and sunset.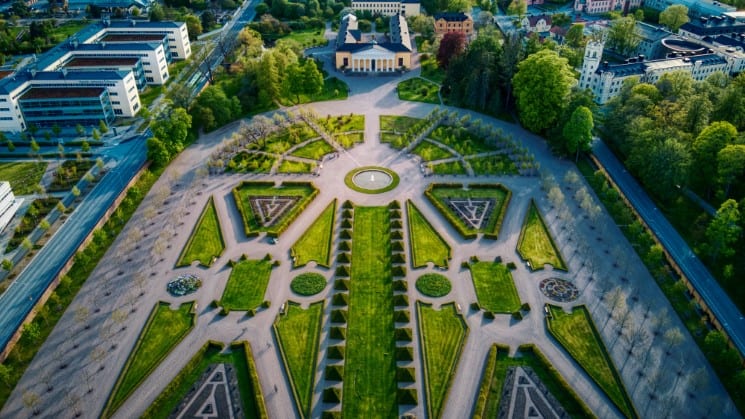 5) Linneanum
This building is located within the botanical garden and at its heart, is actually an Orangery. It was built over 200 years ago and still functions as an orangery. Also featured are figs plants, olives, agaves and an extensive cacti collection. Named after Carl Linnaeus, the famous Swedish botanist, it was opened 100 years after his birth. Four trees, called Linnaeus Laurels, are also housed here and have been growing for over 250 years.
6) Fyrisån
This is the river that flows north to south through the town. Along the Fyris are picnic tables and walking paths that are popular social spaces, especially during the summer. During the winter, the entire length is adored in Christmas lights, adding to the festive atmosphere.
7) Gustavianum
This is the oldest building of Uppsala University and now functions as the university museum. It was named after Gustavus Adolphus, the main benefactor. It is perhaps most famously known for its anatomical theater, which is the second oldest remaining in the world.
8) Gamla Uppsala
Swedish for 'old uppsala', this area is a few kilometers north of the city center. The local museum here also details the history of the area. Most notable are the 'Royal Mounds' here which are representative of the burial sites of the three Norse Gods, Thor, Odin, and Freyr. These days, this spot is popular for summertime picnics.
9) Studenternas IP
This is a large stadium used for various sports functions throughout the year. The most notable activity to watch here are the Swedish Bandy Finals, held every year in the winter. Bandy is a Swedish sport that can be described as a mix between ice hockey and football. When winter sets in, the ice rink is prepared and is open to everyone for skating at no cost. Currently, there are no places to rent ice skates, however this may change at some point.
10) Hågadalen-Nåsten Naturreservat (Håga for short)
This nature reserve is located on the west part of the city and is replete with hiking trails. It is 17 square kilometers filled with lush woodlands, forests, and farmland but is mostly known for its animal diversity.
11) Stadsparken
There are a ton of green spaces in the city center and Stadsparken is the largest. It is situated along the Fyris river, just north of Studenternas IP. When the sun is out, regardless if it's hot or cold, you can see people here walking through, having food among friends, and enjoying the weather.
12) Gotlandsparken
Another park in Uppsala, that is much smaller. What makes Gotlandsparken so special however is its location just across the Uppsala cathedral, making for some dramatic photographic opportunities during golden hour and sunset.
13) Güntherska
This café is the best place for a Swedish 'fika'. A fika is a Swedish institution. It's essentially a means of grabbing coffee, eating a baked treat (usually a kardemummabulle), and socializing with close friends. The main ingredient of a good fika is the food. Güntherska's entire menu is flawless. It's central location along the Fyris river makes it a popular place for locals and tourists alike.
14) Miss Voon
This chic restaurant is located at the top of the Elite Hotel Academia. The food here is excellent but the best part has to be the views. Sitting right next to the train station, you get a vantage point of half of the town. In the summer months, the outside patio is open for guests to enjoy.
Bonus. If you find yourself here just as the colors are changing, colorful fall foliage turns all of the green spaces in the city into a mosaic of colors.
Though not the most popular city to visit in Sweden, it is regarded as a charming spot amongst all swedes and is worth seeing.
All pictures and video by eCKsplorer: www.instagram.com/ck_the_explorer
Best Things to do in Uppsala Video:
Did this blog post help you?
Did this blog post help you? You can do us a favor and book your accommodation, buy flight tickets, book a tour or rent a car using our links. It doesn't cost you anything extra and we will have a small commission, which we will use for further improvement of this website.
We have also prepared for you this comprehensive list of links, discounts, and resources for travel planning in one place. Bookmark this page and whenever you plan a vacation in the future, just open it and save yourself a lot of time.
1) Where to book accommodation?
2) How to find cheap flights?
3) How to rent a car?
We recommend a comparison portal RentalCars.com to compare the best offers of all available rental companies.
Pin Things to do in Uppsala for later or for your friends: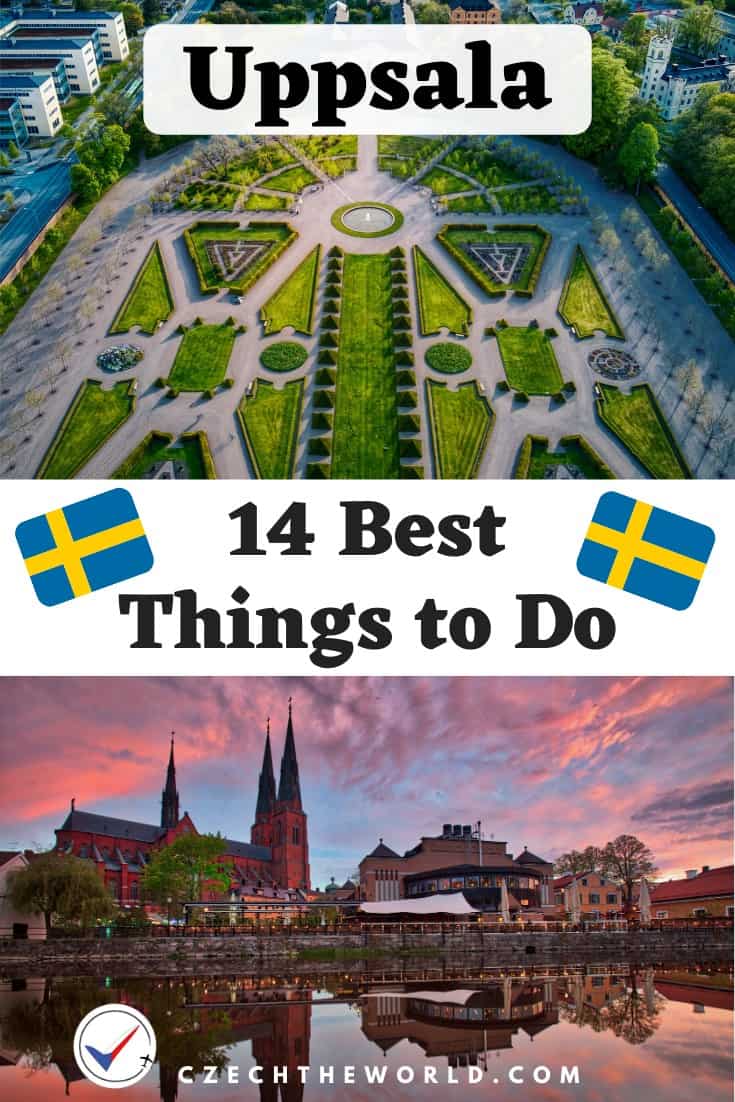 Did this post help you? Share it with your friends! It can help them too!
Disclosure: Please note that some of the links above may be affiliate links, and at no additional cost to you, we earn a commission if you make a purchase. We recommend only products and companies we personally use and we use this income for further improvement of this website. Thank you!